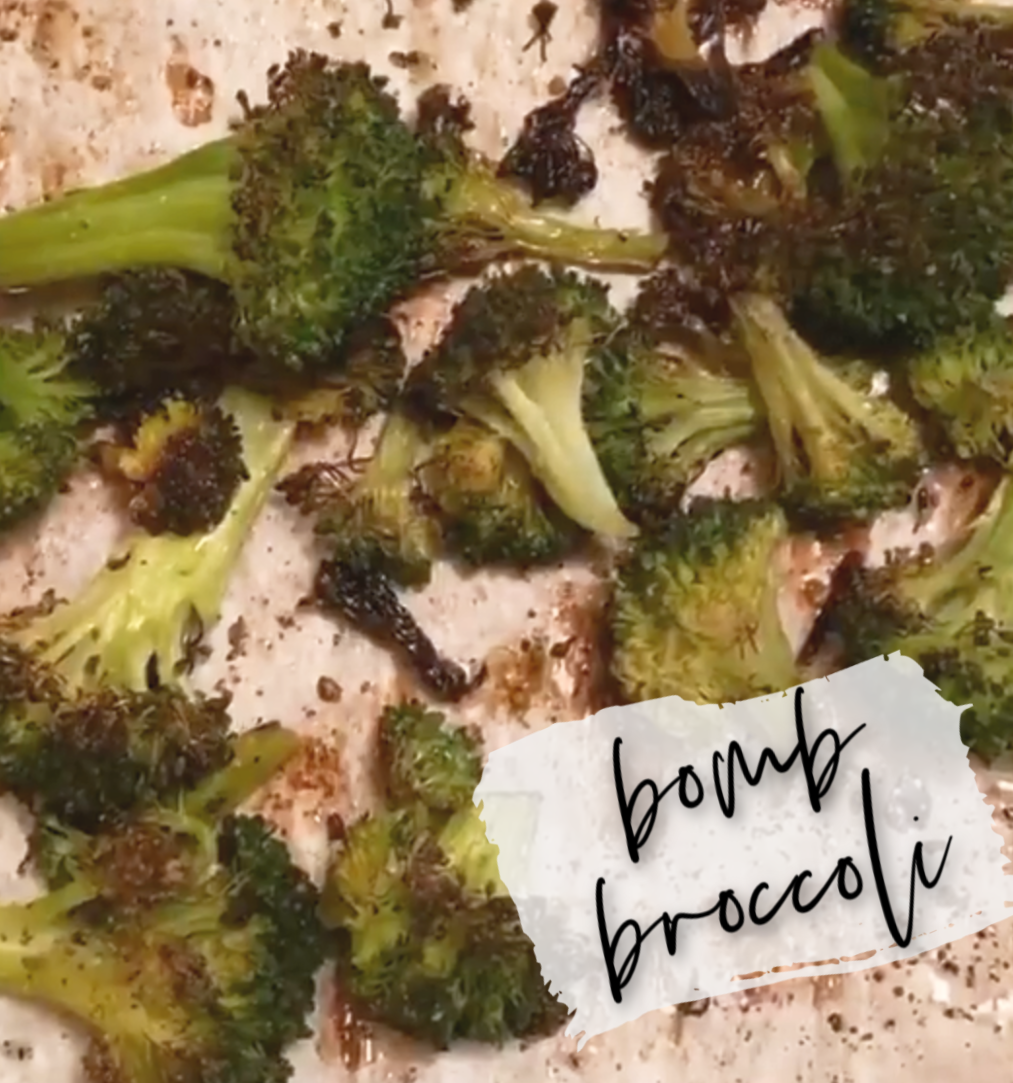 Last summer while in Ohio, I created a crispy roasted broccoli recipe and it's become my most tagged post on Instagram ever…. I like to refer to this crispy roasted broccoli dish as Bomb Broccoli.
This crispy roasted broccoli recipe has since become a family favorite. Matt or I usually make it at least twice a week as a side dish for dinner.
As long as you have either fresh or frozen broccoli, chances are that you already have the rest of the ingredients to make this yummy crispy roasted broccoli.
Kenny loves it too, which is saying a lot when you have a green veggie recipe that is toddler-approved. 🤗
If you have a picky eater who doesn't like their green veggies, please give this crispy oven roasted broccoli recipe a try. The fact that the broccoli is crunchy instead of mushy seems to make a big difference for our little one.
This crispy roasted broccoli reminds her of french fries which is a win for this mama!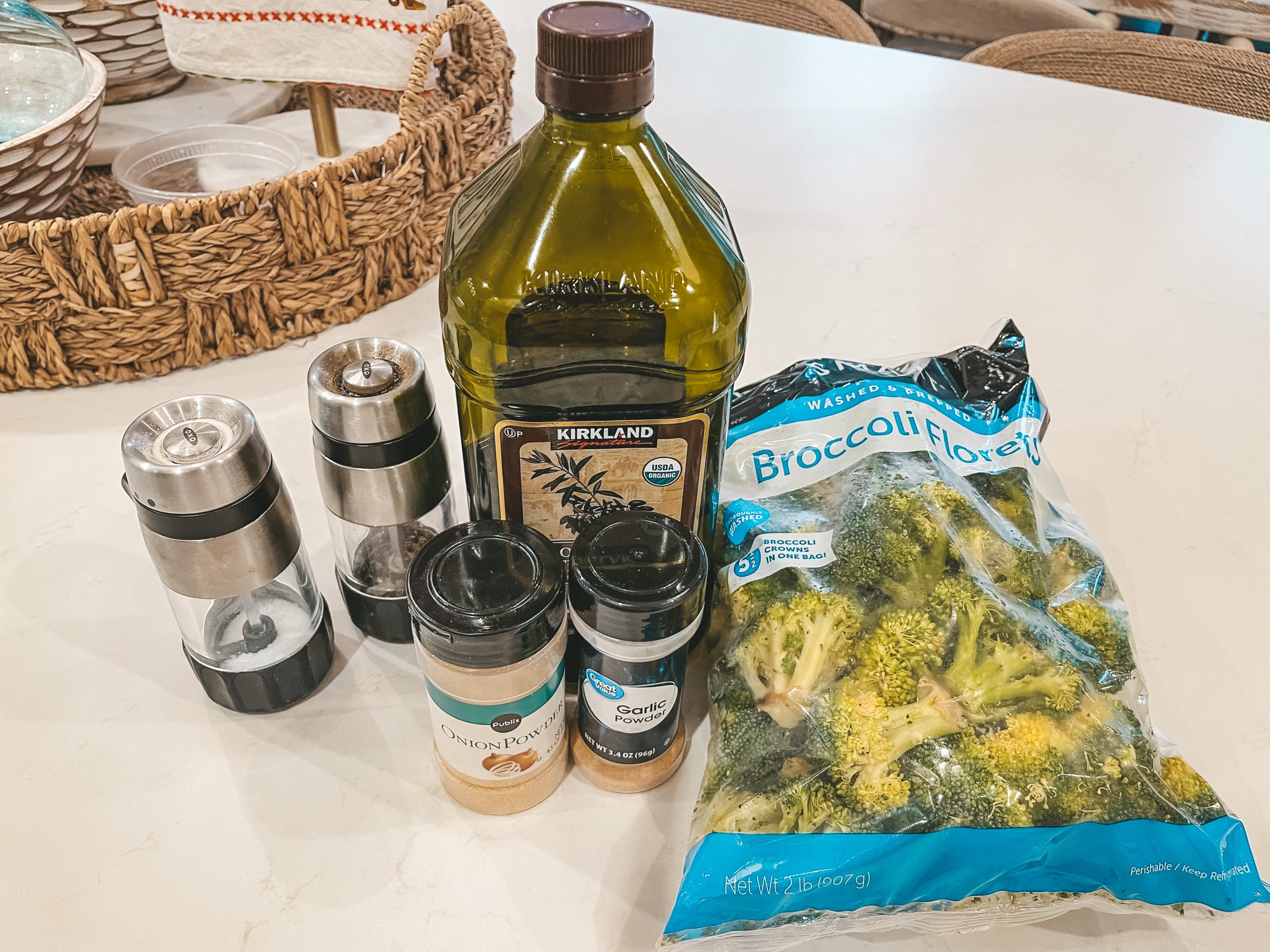 I'm a huge broccoli lover.
I'll eat this green veggie raw or cooked with absolutely nothing on it. I like broccoli prepared basically any way, except with onions.
When I'm alone, I often eat a big bowl of broccoli with extra virgin olive oil or ghee, garlic powder and sea salt for dinner. Add a little sprinkle of red pepper flakes for a small kick. It's a guaranteed way to get a good-sized serving of greens on that day.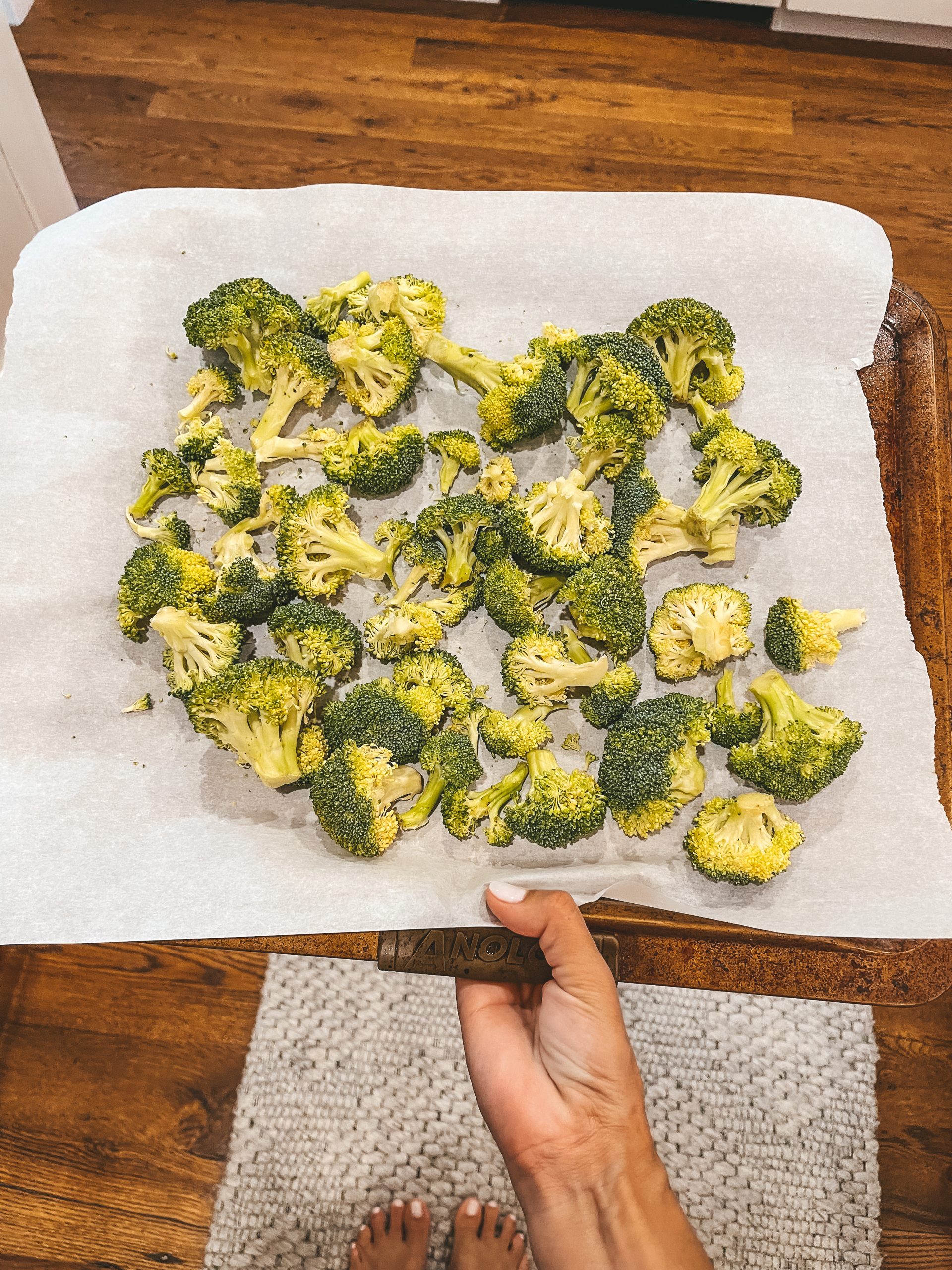 You'll always find multiple bags of fresh broccoli florets in my fridge and freezer.
But, of all the ways I enjoy this green veggie, the baked broccoli is hands down the best. And it's just so easy to make.
This broccoli is crunchy and absolutely delicious. You can bake as little or as long as you like, depending on how crunchy you want your broccoli to be.
You can also switch up the seasonings or lemon juice and experiment with different flavors.
I do suggest always using parchment paper on your baking sheet or sheet pan to get the perfectly crunchy broccoli every time.
Roast broccoli makes the perfect side dish for so many meals. It's gluten free, dairy free, and great for meal plans.
I've tried this method with other veggies and it's just as good. Roasted crispy roasted brussels sprouts are so yummy too. You should also consider trying this in your air fryer as well!
I love baking cauliflower this way and adding turmeric. Turmeric cauliflower is so tasty and a crazy healthy side dish to add to so many different meals.
shop this post



Bomb Broccoli
Ingredients
1

head

broccoli

1

garlic powder

1

olive oil

1

sea salt

1

black pepper
Instructions
Preheat oven to 425º. Cover cookie sheet with parchment paper. Evenly spread out broccoli florets on pan. Sprinkle with olive oil, garlic powder, sea salt and pepper. Mix around with hands to combine the seasonings. Roast for 25 minutes or until edges are nicely browned.
Notes
Broccoli may be frozen or fresh.  Fresh broccoli does tend to end up crunchier.
Top with shredded cheese for extra yumminess.
Like this crispy roasted broccoli? Give these recipes a try as well…
Crock Pot Chicken and Green Bean Casserole Recipe