quick and easy one pan chicken and rice casserole
I love when a recipe is easy. But, who doesn't?
I especially love when I recipe uses only one pan… Hooray for less dirty dishes!
This recipe is both of those things.
Oh, and it's gluten free too. If you want it to be.
I am all about a good casserole. There is something so hearty and comforting about a delicious, creamy casserole for dinner. This recipe I found in my Pawpaw's cook book he made me and it's so easy that anyone, yes anyone, could make it.
In order to make this recipe gluten free, I skipped the Campbell's Cream of Chicken soup and opted for the Pacific Foods Organic Cream of Mushroom soup as it is gluten free. I also used chicken breast tenders as opposed to full or half chicken breasts as the tenders cook faster. Chicken tenders also are easier for me to keep moist (hate that word!) whereas chicken breasts can dry out very easily.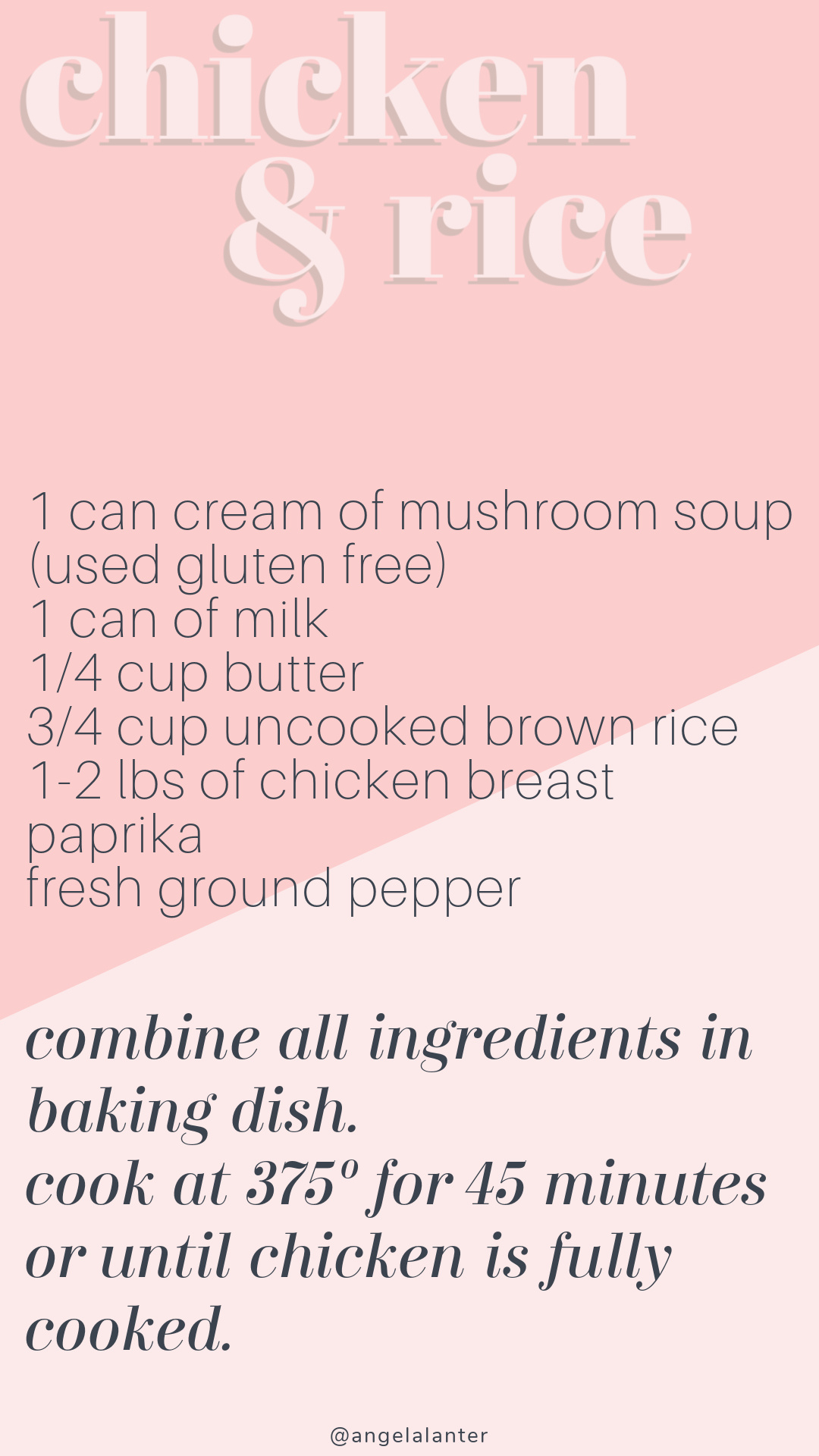 Either bookmark this page or screenshot the recipe below so you can add it to your menu this coming week!
Chicken and Rice One-Dish Bake
Ingredients
1

can

cream of mushroom soup

1

can

milk

3/4

cup

uncooked rice

4

boneless, skinless chicken breasts

1/2

cup

butter

sliced

1/4

tsp

paprika

1/4

tsp

pepper
Notes
Preheat oven to 375º.
In baking dish, mix together all ingredients except chicken.  Once combined, lay chicken on top of mixture.  Sprinkle with additional paprika, pepper and sea salt.
Cover and bake for 45 minutes, or until chicken reaches an internal temperature of 165º.