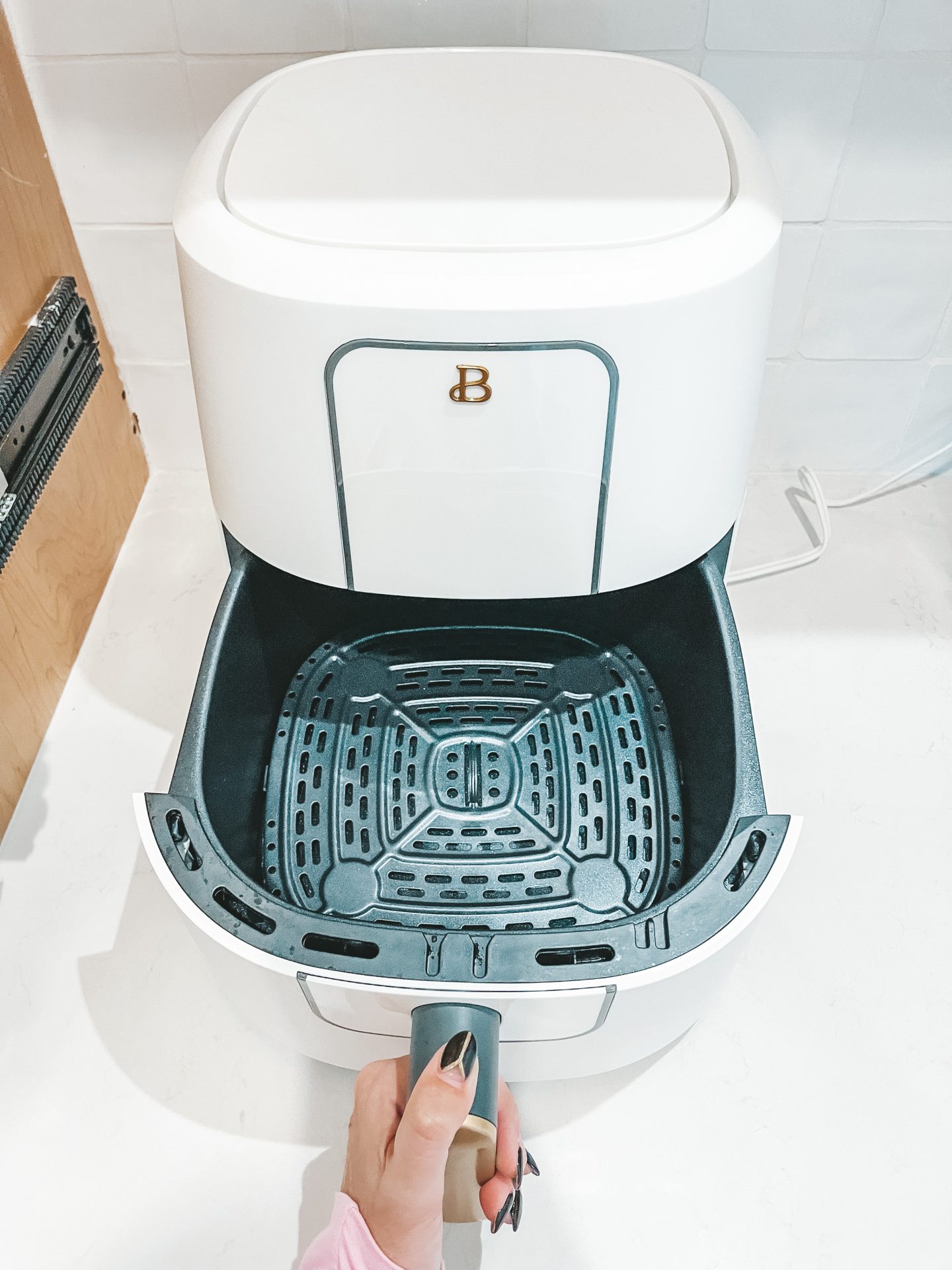 In the market and browsing white air fryers? Here's my experience with one and a full review.
I've had an air fryer in my kitchen arsenal for several years now and it's easily become my favorite small appliance. Because I use it so often, I figured it was time for a white air fryer in my all white kitchen, on my white kitchen counter. Let's check out some white air fryers currently available to purchase.
Enter the Beautiful 6 Quart Touchscreen Air Fryer. This is the one that stole my heart.
Yes, she's beautiful, but the brand name is actually Beautiful, lol. Technically it's Beautiful by Drew Barrymore.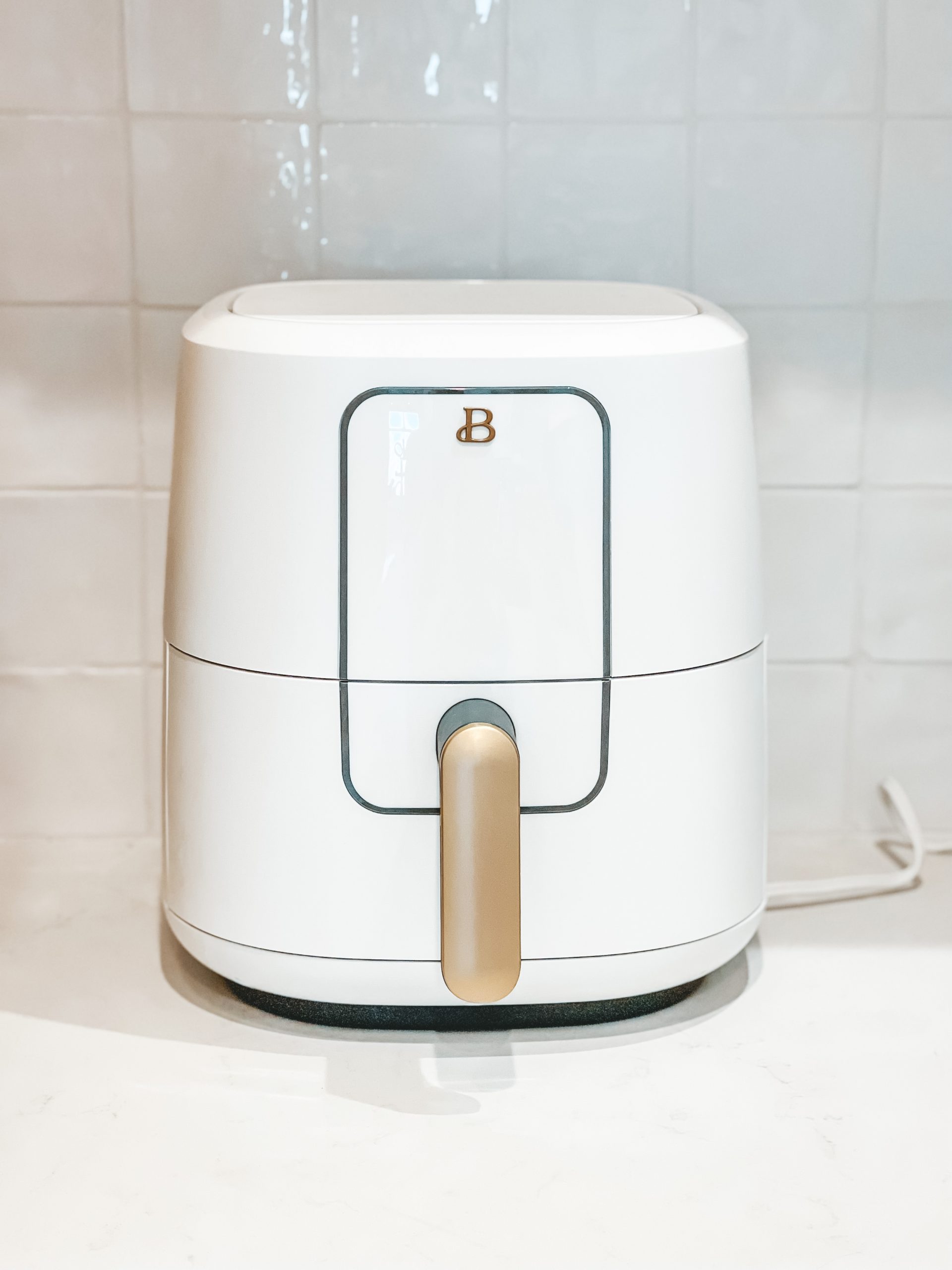 See?? Isn't she purty?
I don't even mind having her sit out on my kitchen counter, she just flows so well with my all white kitchen with gold hardware.
If you don't want white, this air fryer also comes in black, gray and mint green. All colors come with the gorgeous gold details.
Last night I posted this chicken leg recipe on my Instagram and I received so many questions about the air fryer that I knew I needed to write a blog post to review it.
These chicken legs were a big hit at our house last night.
Kenny ate every bite of hers!
I just drizzled them with extra virgin olive oil. Then sprinkled them sea salt, fresh cracked black pepper, garlic powder and onion powder.
I set the air fryer at 400º for 25 minutes.
Halfway through, I flipped the chicken legs and seasoned the other side as well.
These were SO tasty. Even better though, they were clean. No added junk or breading.
shop this post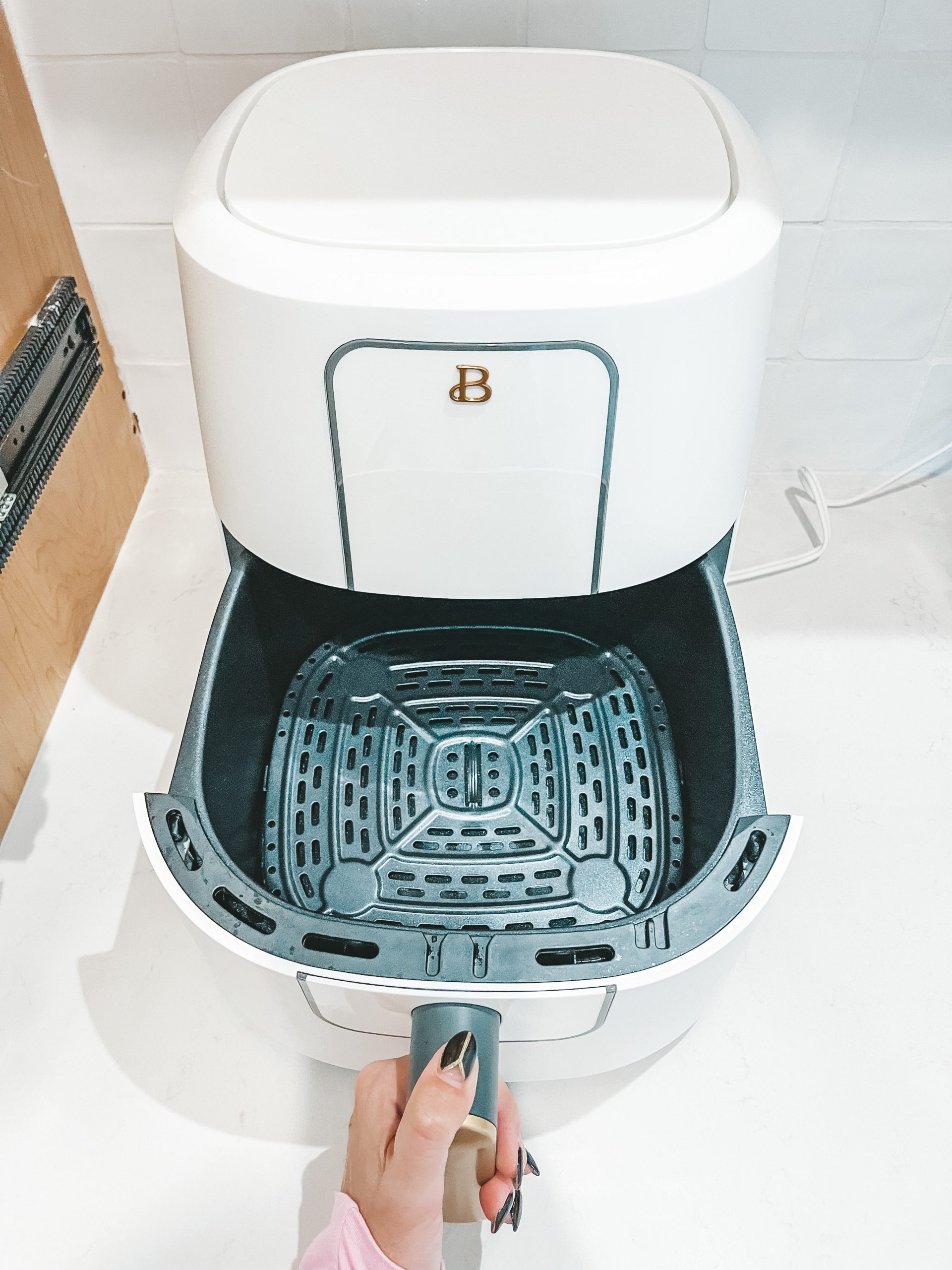 If you're new to air fryers, here are a few of my favorite ways to use it…

my favorite air fryer uses

They make the BEST hot dogs. Heat them up, then add the buns and put them back in for 1-2 minutes. So good!
Better than the microwave to heat up leftovers because it doesn't dry out your food.
Our favorite way to make french fries, whether homemade or frozen.
Makes delicious homemade chips: kale, sweet potato, you name it!
Veggies are so good in the air fryer! We love broccoli, brussel sprouts, cauliflower and more.
Best way to reheat pizza!
So easy to make bacon in.
Great for meat if you don't have access to a grill.
I've made copycat Chick-fil-A nuggets in my air fryer that were identical to the real thing!
It doesn't dry out chicken like the oven, so try your air fryer for your next chicken dish.
Chicken wings are so, SO good in the air fryer.
I feel like I'm just scratching the surface with these tips, but you can see where I'm going here… The sky is the limit with your air fryer.
Shop the Beautiful collection below.
shop this post


I love the Drew Barrymore Beautiful collection at Walmart so much that I now own like four or five different pieces from it, all in white and gold of course.😂
I just ordered the white scissors set too, because I can never have enough kitchen scissors. I mean, every time I look for a pair of scissors, I can never find them!
Here's a look at some of my favorite white pieces from the Beautiful collection.
shop this collection


more white air fryers


Why choose a white air fryer?
If you have an all-white kitchen, a white air fryer will match the aesthetic of your home so much better than black or silver.
Is it easy to use an air fryer?
YES! My air fryer is hands down my favorite kitchen appliance (besides my coffee maker lol!)
Is the Beautiful by Drew Barrymore white air fryer good quality?
It's excellent quality. I highly recommend this air fryer!