One week ago today, we officially announced that our lives are changing forever. Baby L is on the way and the excitement has only built for us with each passing day. Our first official baby package arrived this morning from Little Me and I opened it this morning on my Insta-stories. My heart basically exploded over all of the tiny, adorable pieces!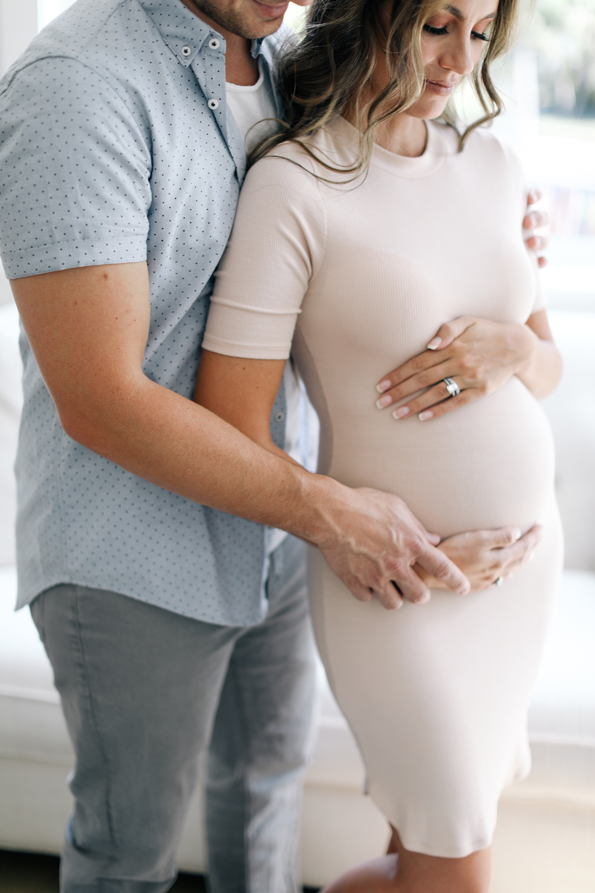 Now that I'm fully into my second trimester, I'm feeling the baby move which is such a rewarding experience. I shared on Monday's episode of Hello Bump the guilt I felt at 6 weeks because I didn't have this overwhelming sense of love for our baby yet. Those feelings were obviously very human and I think many women don't feel like they can verbalize them, if they also have those feelings. At 6 weeks, I didn't feel pregnant… Instead, I felt like I had a bad case of the flu. I was overall pretty miserable. If I'm being 100% transparent with you, I was feeling a bit depressed for the first time I can really remember in my life. I was down about feeling so sick and knowing that there were all these changes coming… Changes with my body, with our lives and in our marriage. Please don't take my honesty as me saying that I wasn't ecstatic about becoming a mom. I've never for one second regretted this pregnancy. It was as if my physical condition was taking a toll on my mental and emotional states, making me feel depressed.
Those sad feelings only lasted a few short days, but I wanted to take a moment and be very real and very raw with you here in case there were any other women who are experiencing sad moments in the beginning of their pregnancy. If that is or was you, girlfriend you are not alone! To me, these feelings are totally normal. We're going through so many changes in our bodies and seeing how different our lives are going to look in just less than a year. Again, in my opinion, these feelings and thoughts are totally normal, especially for us first timers.
Click below to listen to Episode #2 – "Not My Uterus" of Hello Bump Podcast. Or click here to listen via iTunes.


Today, we released Episode #3 of Hello Bump which covers weeks 7 and 8 of my pregnancy. In this episode we get to hear the baby's heartbeat and see an ultrasound for the first time. We share our feelings about that doctor's appointment as well as a clip of Baby L's galloping little pulse (so sweet I could cry all over again!) We talk more about my symptoms, give you WAY too much info about my bodily functions and talk about my OBGYN putting me on anti-nausea medication, Diclegis. Personally, I'm having so much fun going back and listening to our experiences and thoughts again. It's such a fun way for Matt and I to relive this experience with each other with every new episode we publish!
We also talk about the genetics blood test I went through and the mutations that were found in my genes. This was a bit of a freak out moment for me at first until I dug in and found out what my mutations were and what they meant.
While we're talking about this episode, do any of you have this crazy fear of vomiting like I do? It's a very real fear that gives me serious anxiety when I start to feel nauseous. Let me know in the comments section below! Also, let me know if your husband had pregnancy symptoms along with you.
Click below to listen to Episode #3 – "Don't Come Home without Donuts" of Hello Bump Podcast. Or click here to listen via iTunes.
Please be sure to
SUBSCRIBE
to our podcast on iTunes! Please take a moment, if you haven't already, and rate and review
our podcast on iTunes
. Your ratings and reviews are SO important because they allow us to climb the iTunes charts which helps more listeners to discover our new show. We would love to be back at #1 spot on the Kids & Family iTunes chart like we were last week but we can only get there with your help!
Photography by Jon Volk.