There's only one room almost finished in our house so far and it's my beauty room. I'm filming a beauty room/studio reveal next week, so stay tuned because you're going to DIE over the organization and decor! In case you missed it, here is my beauty room/studio tour from our old house. I kept my Ikea cabinets and desk, but with the addition of the Pax system (I've shown sneak peeks on Instagram Stories) we'll probably be repurposing the tall Alex drawers.
Today I wanted to show a sneak peek of our main guest bedroom. This room was on the top of my list to finish when we moved in. We unfortunately haven't spent much time at all in our new home since we had to move to Atlanta right away. When we got home, I found out I was pregnant and the sickness began so I didn't have the energy to work much on our house decor. Now that I'm feeling better, I'm starting to put the house together. Today I'm going to show you a couple photos from our guest bedroom. I'll do a full reveal of the room once we get the bedding and artwork purchased and in place.
Many of you will remember the nightstands that we had in the guest room at our old house (see this blog post). I wanted to buy new nightstands to go with the new Pottery Barn upholstered headboard we bought. Matt asked if I could give him a chance to paint or stain or old Crate & Barrel nightstands first, so I thought why not? He did such an amazing job with our coffee table so I knew he'd come up with something beautiful for our nightstands. Here is the finished product: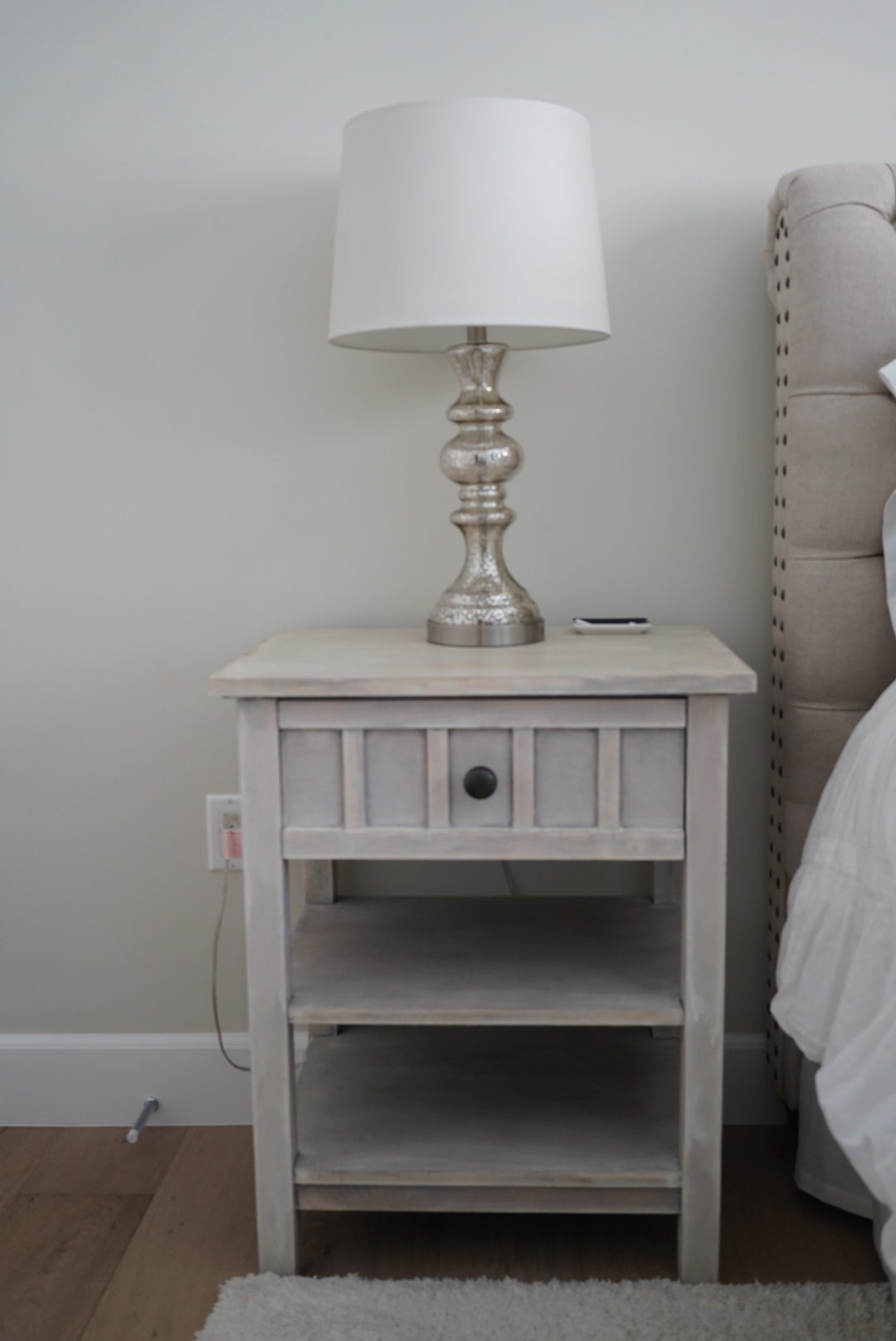 I love the way that they turned out! We still need to replace the drawer pulls, and I'm leaning towards some I recently saw at Anthropologie.
Next up is my console table. We have a big blank wall in the guest room that separates the bathroom and the closet. I saw this photo on Pinterest and thought that table would be exactly what I need to go with my pair of Restoration Hardware Toscane stools. I already had a large blue canvas painting on the wall, the only thing missing was a table. My problem was I couldn't find this table or one similar anywhere. I took to Etsy and stumbled across the custom furniture store, Old Pine, and I fell in love with their work. Old Pine makes the most gorgeous pieces from reclaimed wood and I knew that they would be able to make a table for my guest room that would be absolutely perfect for the space! I sent the Old Pine team this inspiration photo and they went straight to work. They drew up a sample of the table they would build and kept in communication with me throughout the entire process. I was blown away when we saw the finished piece. It was so gorgeous and it fit the space perfectly! Here's a photo of the Old Pine table: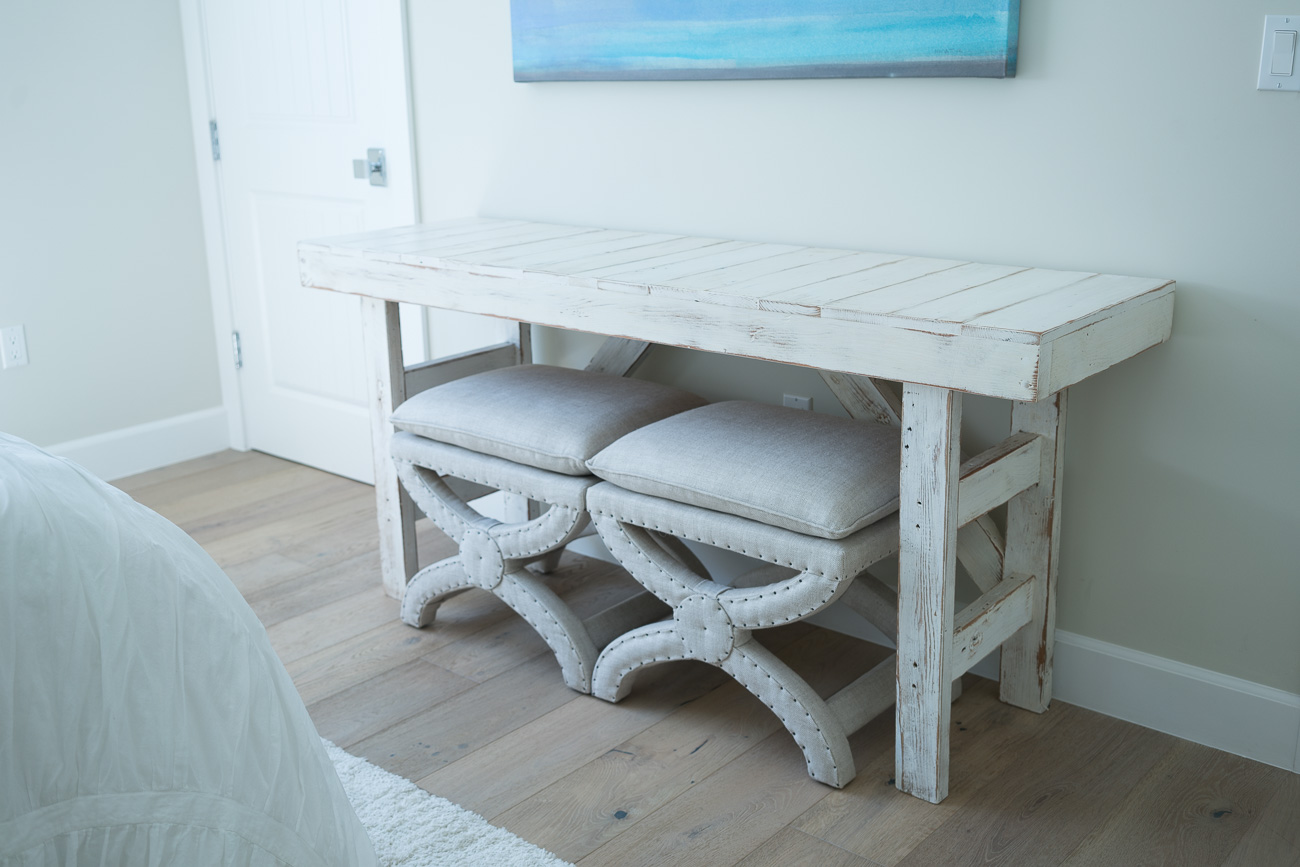 The stools fit perfectly under the table! The table is distressed white and the quality is incredible. Please check out Old Pine if you are in the market for any custom furniture pieces or if you're looking for a reclaimed wood piece for your home.
I just purchased the most gorgeous bedding for this bedroom while vacationing in 30A last week. I can't wait to get the bedding all together to show y'all. I'm an all-white bed girl, but I wanted to bring a fresh color into this room. I'm so excited about what the finished product will look like!
If you're eyeing the Restoration Hardware Toscane stools, but don't like their $395 price tag ($296 for members), then I've done a little detective work for you. Overstock makes this stool, which is available for $276. Personally, I'd rather have the RH version, as I think the Overstock version doesn't look like it's as nice of quality. Wayfair makes a lookalike stool that comes in multiple colors and is reviewed very well by customers. The Wayfair Weybossett Ottoman is only $178 and looks very similar to the Toscane, with the exception of the attached cushion on top. I think this is a great budget-friendly option.