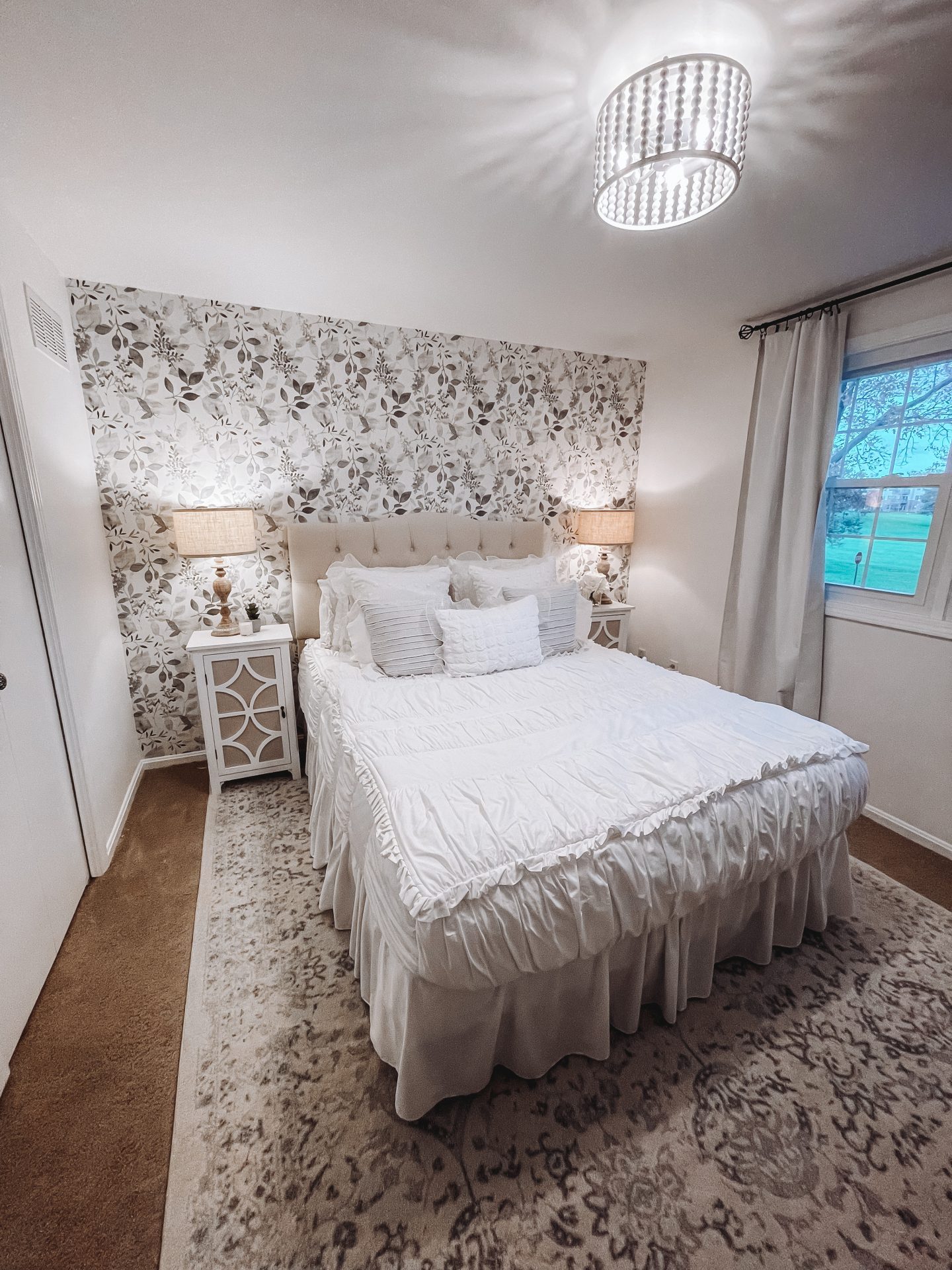 Guest room wallpaper is always a great idea.
I'm so serious.
I have a new obsession with peel and stick wallpaper for two great reasons: it's affordable and it's very easy to apply.
Look how boring our Ohio townhouse guest bedroom was before wallpaper…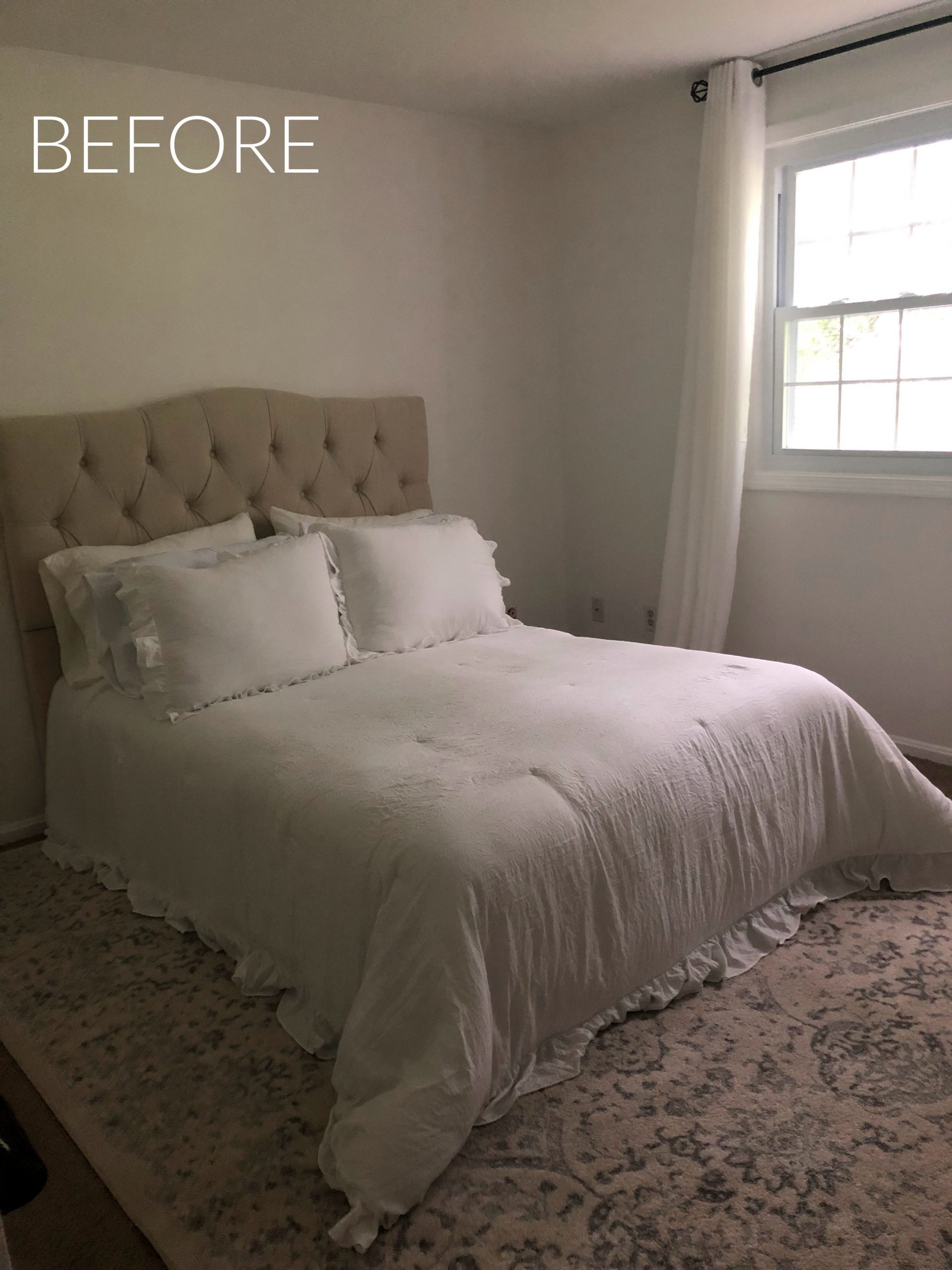 When it comes to interior design, updates can get pricey fast. If you are working on any room, especially a guest bedroom, and want to make a huge impact in your home without a huge hit on your wallet, then you should consider wallpaper.
There are so many gorgeous patterns to choose from nowadays for any space in your house.
Love guest room wallpaper too? Here are more ideas you should check out!
A Sneak Peek into our Guest Bedroom
How to Create a 5-Star Worthy Bed
9 Updates that Refreshed my Home for Spring
Want to spruce up your dining room on the fly? How about a statement wall in the color blue?
Is your living room feeling boring? What about a faux grasscloth paper? Grasscloth is one of my favorite ways to hide imperfections in walls like wavy drywall lines, nail pops, and more.
Want to give a designer feel to your master bedroom? Here are some wallpaper ideas: What about a beautiful floral wallpaper or art deco style?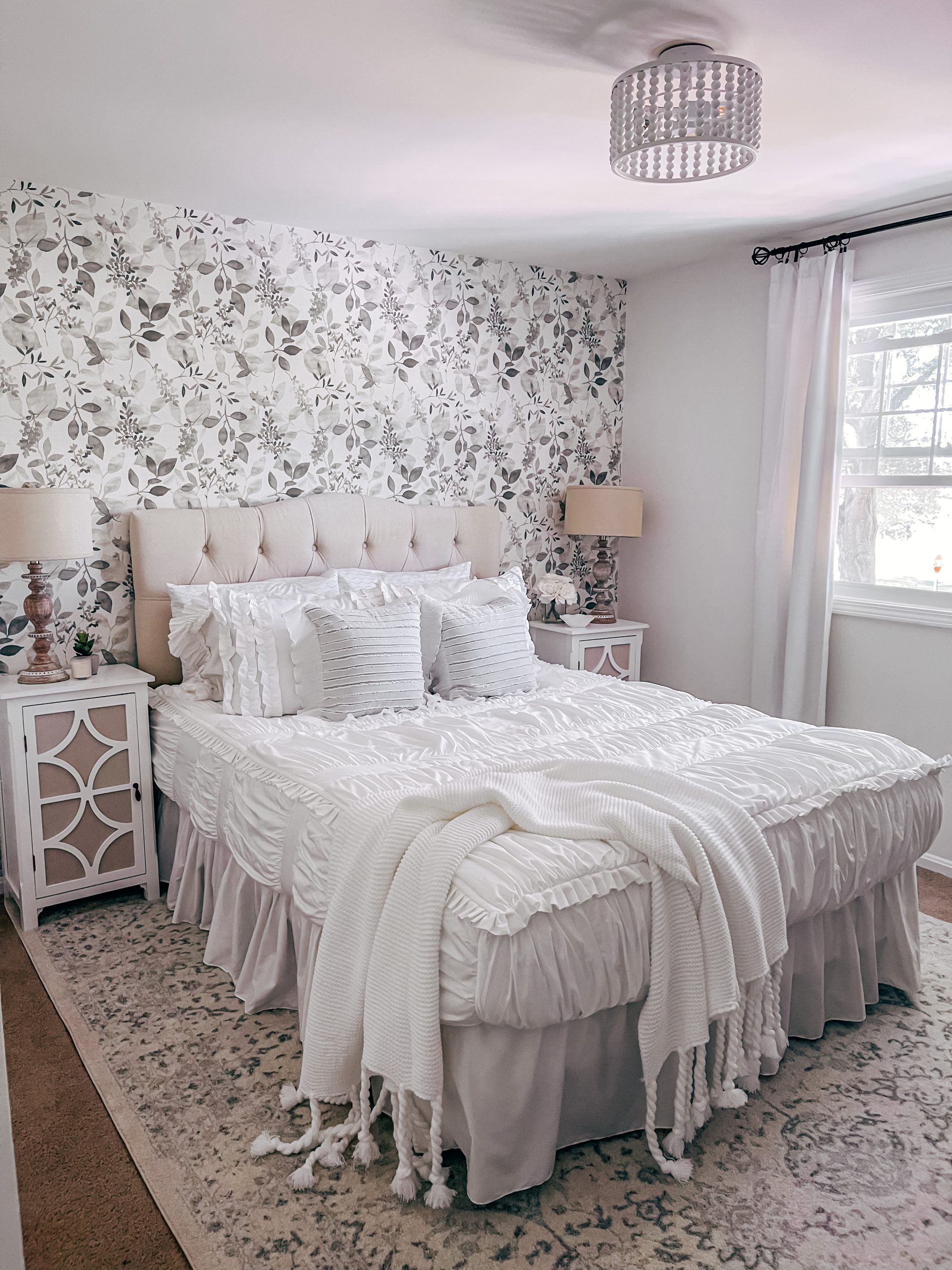 Just looking through the different prints will give you so many room ideas and a ton of design inspiration.
For us, our guest rooms have been feeling a little lackluster lately, especially the one in our Ohio townhouse. I needed some bedroom ideas, but I stumbled across these peel-and-stick wallpapers on Amazon and never looked back.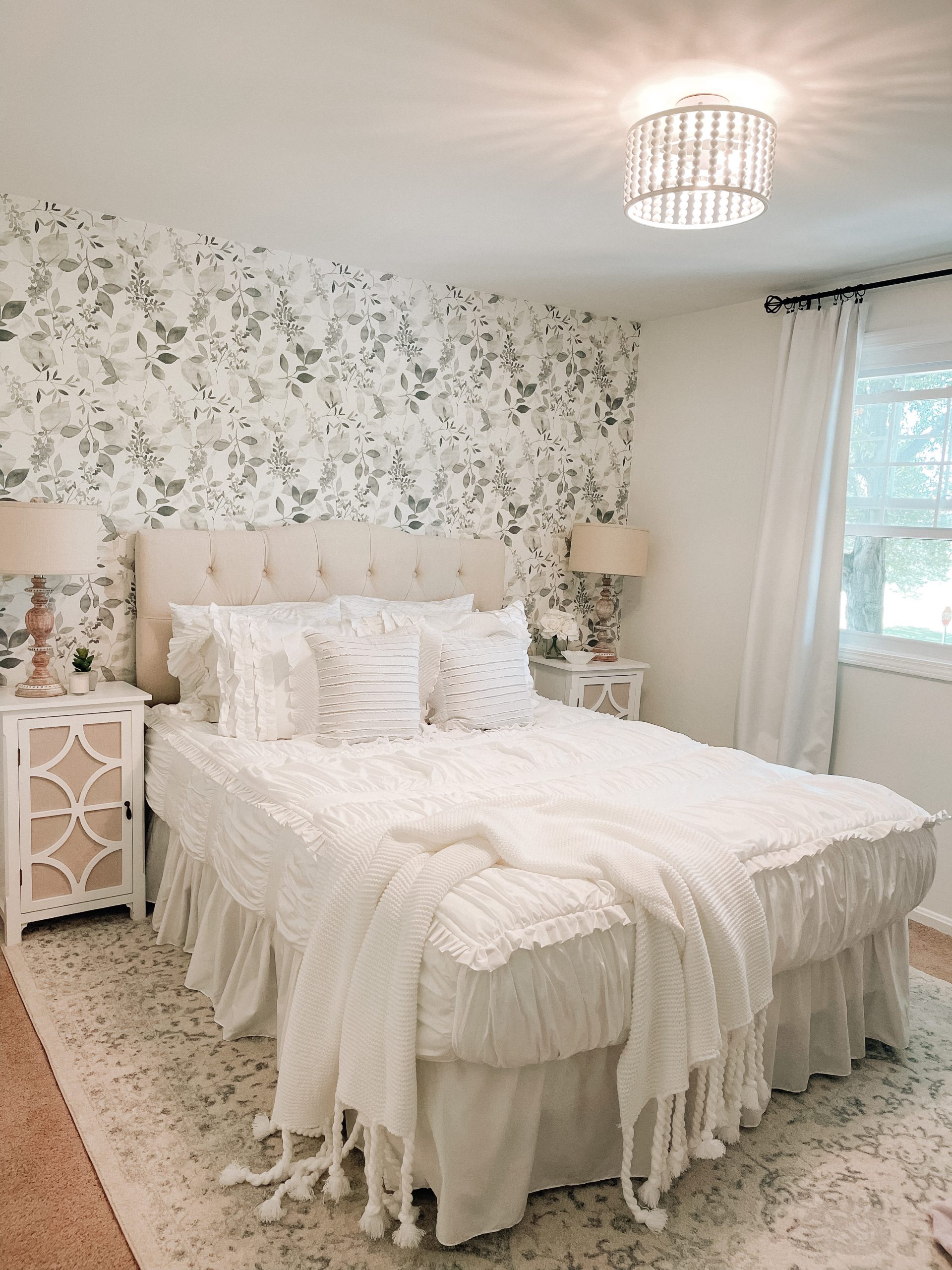 You can shop for just about anything that pops into your head.
When it comes to bedroom design, I tend to always choose white or neutral linens, white paint, and clean walls. I'm not a clutter fan and too much artwork, framed pieces, or whatever on the walls quickly feels chaotic for me.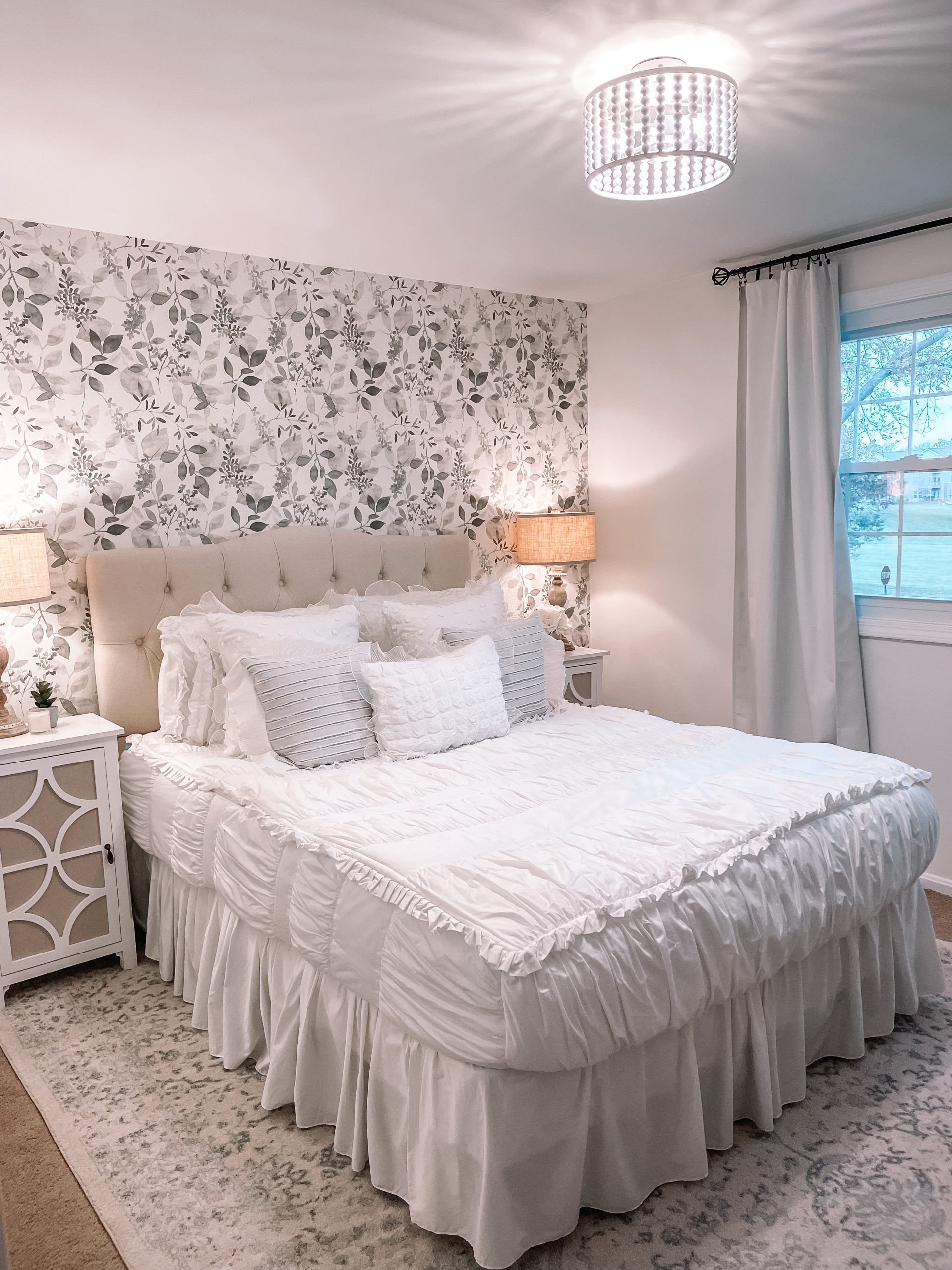 A bedroom is supposed to feel relaxing. It's a space for unwinding, sleeping and needs to bring a sense of calm to anyone who stays in it.
floral wallpapers



I was worried that a floral wallpaper would feel too busy and make the space feel uncomfortable and not cozy for my guests. Luckily, I feel like this choice in pattern design paired with the furniture accessories creates a calming atmosphere, which is exactly what I was going for in this space.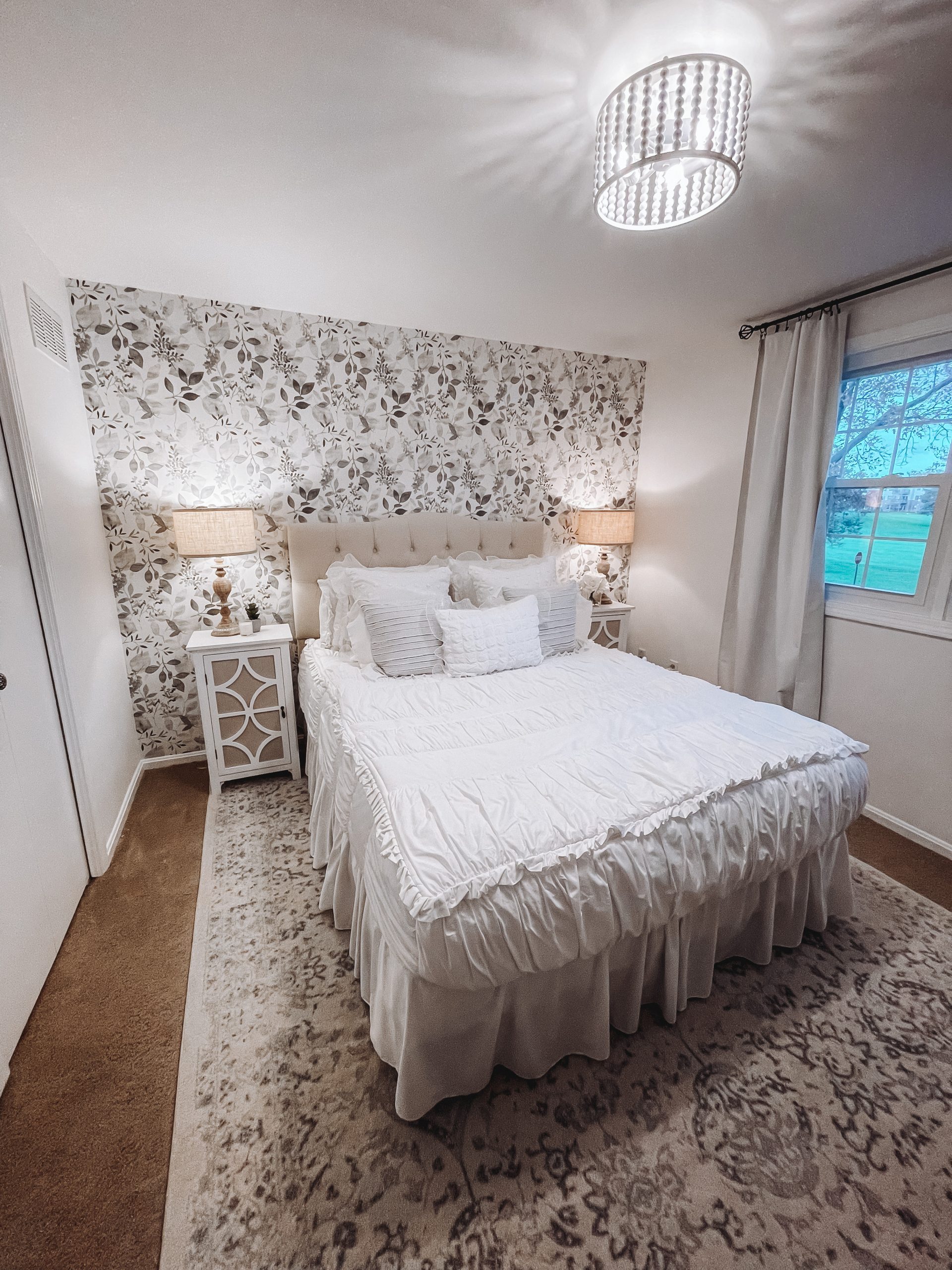 I was also nervous that because it's a smaller room, a busier print like the one I chose would make the guest room feel like a tiny, shoebox apartment in New York City. But, again, luckily that wasn't the case at all for us.
If you are looking for some great bedroom design ideas, start by checking Pinterest, Instagram, and Houzz. I use all three when I'm planning to work on a new project in my home.
For Pinterest, I quickly search what I'm doing such as: guest bedroom makeover.
On Instagram, I try looking at hashtags for design inspiration. I love to look through images when I search for 30A design or coastal interior design. Both make my eyeballs just so happy.
peel and stick wallpapers



Houzz is a different beast altogether and quite honestly, I don't think I have a full handle on it yet. Sometimes, I think it's easy to navigate. Other times, I have no clue what I'm doing and just wing my way through my search. It's my last resort, but sometimes I'll find a total gem on there that gives me exactly the beautiful design ideas I needed.
shop this room



So, are you ready to try some guest room wallpaper in your home yet?
Looking for more interior design content? Get more inspiration here.
A Sneak Peek into our Guest Bedroom
How to Create a 5-Star Worthy Bed
9 Updates that Refreshed my Home for Spring