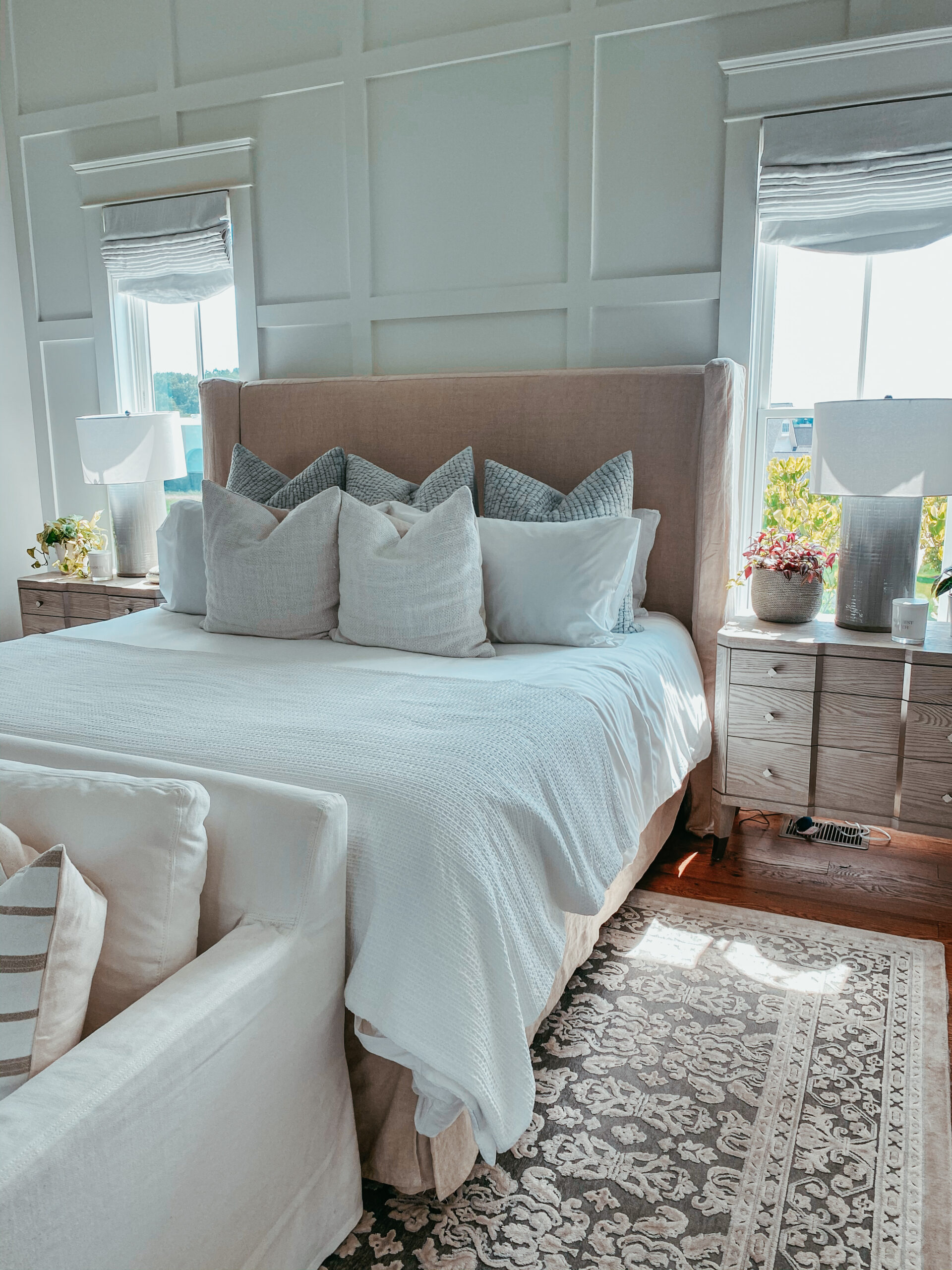 How to Create a 5 Star Resort Worthy Bed
229,961 hours.
That's how many hours the average person will sleep in their lifetime.
Essentially, you'll spend approx. 1/3 of your life in. your. BED!😳 WOAH!
You better believe I want my bed to be the softest, fluffiest, most luxurious place in my house. I want to feel like I'm curling up to catch my zzz's in a fluffy white cloud, hence the all white beds.
Yesterday I shared a video of me changing out the linens on my bed on Instagram. Little did I know that my DMs would be flooded with questions about my bedroom.
I started responding to all of your questions, but quickly saw that it was the same questions over and over again. I decided to take to the blog to answer all of the questions in one blog post so you can easily reference the info in one post.
And you'll be able to create your very own resort worthy bed.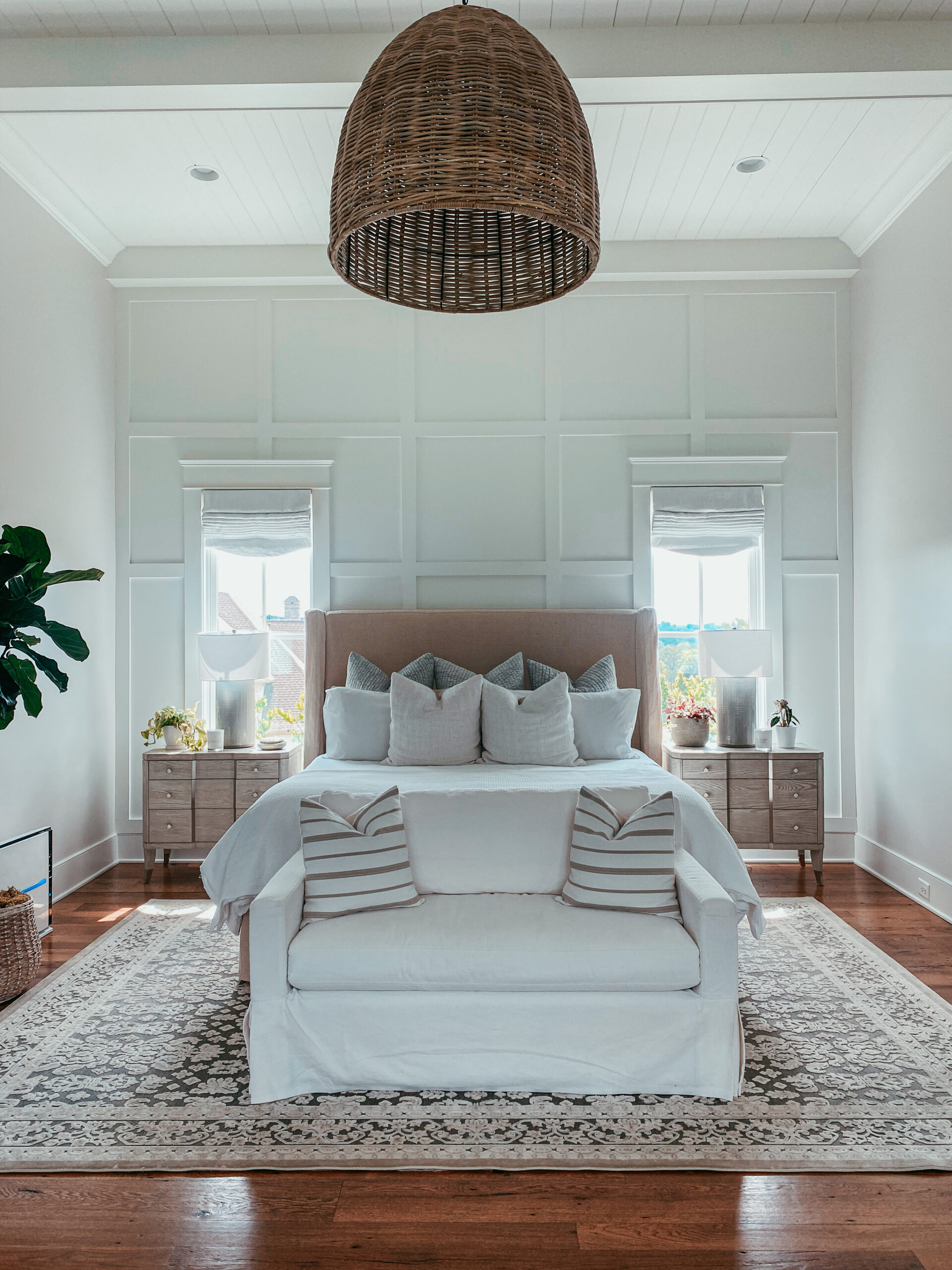 the walls
Our bedroom walls are painted Sherwin Williams "Eider White". The trim work and entire trimmed out wall behind the bed are painted Sherwin Williams "Pure White". The ceiling is also "Pure White".
lighting
The extra large pendant light in the center of the room was purchased locally from my favorite home decor store in Franklin, PD's. They do not have an online store, but if you call them, they can help you out.
Our lamps are from Pottery Barn. They are a gorgeous soft grayish-blue ceramic with a concrete base.
flooring
We have 100 year old reclaimed barn wood throughout our house, which is why the planks are all different sizes. Talk about character! Our rug is a 9×12 and came with us from our LA home. Love this rug so much, it's interesting and very soft to walk on.
windows
Another popular question is about my window treatments. I have relaxed roman shades in white linen that are motorized. We had them made locally and picked out the fabric ourselves.
nightstands
For me, the two hardest pieces of furniture to shop for are nightstands and counter stools. It took us months to finally decide on nightstands and I think these are the perfect fit.
These are Domaine Bachelor Chests by Bernhardt Furniture. They are currently out of stock, but scheduled to be back on December 7.
bed
We have the Charleston bed from Four Seasons Furniture in King size. The bed skirt you see at the base is a part of the bed.
This was a custom order we had made for our last house in LA and we've been working on getting a new slipcover in white. Pottery Barn makes a very similar bed at a better price point that you should check out if you like this style.
sofa
I get asked all the time about our sofa at the end of our bed. It's a custom order Belgian track arm slipcovered sofa from Restoration Hardware in White.
pillows
Surprisingly, one of the most asked questions the past 24 hours has been about my pillows. Specifically, which pillows do we use to sleep with.
This is surprising to me, because a lot of people are picky sleepers and pillows are such a personal thing.
I have two pillows I absolutely LOVE and rave about.
The first one is this Claritin pillow. This pillow is perfect for my neck pain, meaning it's not too soft and not too hard. Major bonus points for the built-in allergan barrier!
I'm a side and back sleeper and this pillow is seriously a dream. Be sure to use your 20% off coupon if you snag one. I HIGHLY recommend this pillow.
The other pillow both Matt and I love is the Casper pillow from Target, which happens to be on sale today. I grabbed one in store in Ohio for Matt to try and loved it so much, I kept it for myself lol.
The Casper pillow comes with a 100 night trial with free shipping, so I figured why not give it a try? We both ended up loving it and use these pillows on our Ohio bed and now Matt uses it every night.
Let's chat about filler pillows (that's what I call the pillows used purely for filling the pretty shams!) Not all pillows are created equal. If you like to karate chop your Euro pillows (26″x26″) like me, then you need a good down filled pillow.
I use these from Amazon and they work amazing. They are not cheap, but I'll use them for years to come when I switch our my shams. They're extremely well made and great quality.
I'm not as picky with my pillows in my King shams, I use PB down alternative pillow inserts.
My Euro pillows are Bella shams from Orchids Luxe Home in "Cyan". My white throw pillows are from Homegoods.
mattress
We currently have a Temper-Pedic Supreme Breeze cooling foam mattress and adjustable base in a King. We rarely ever use the adjustable base, it's a big waste of money in my opinion.
I love our mattress, but Matt goes back and forth on it. Some days he thinks it's just too soft for his back. I think it's the perfect softness and sleep so good in it.
If you're looking for a resort worthy bed, then a mattress will make or break your bedroom.
In Ohio, we have the Beautyrest Hybrid BRX1000-IP mattress and Matt seems to favor it over the Temper-Pedic. His back doesn't seem to bother him as much in Ohio. I love this mattress too, but the Temper-Pedic is #1 in my book.
bedding
I saved the best for last. There are SO many questions about how I make my resort worthy bed so I'm going to break it all down for you here.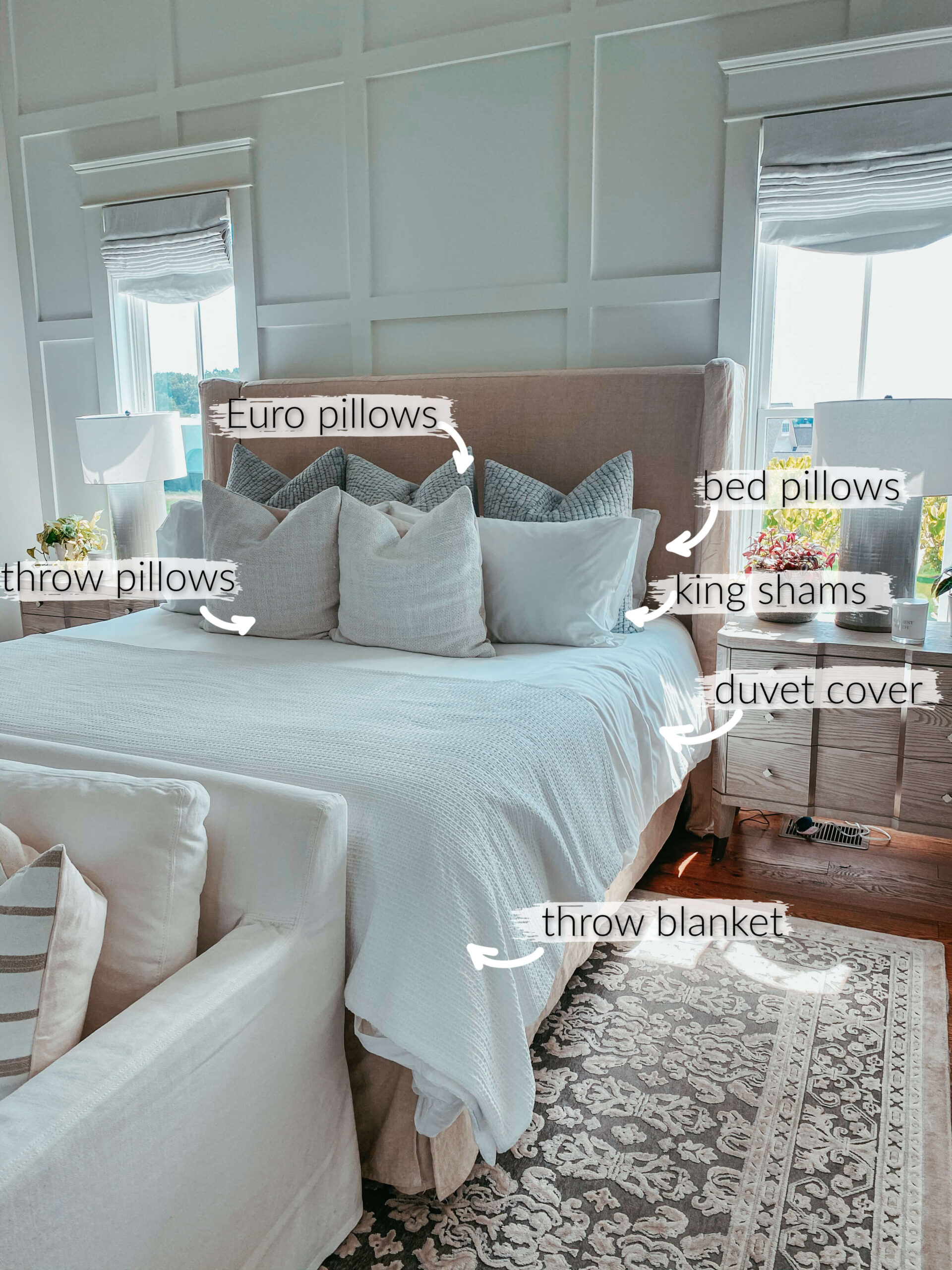 I always arrange my pillows beginning with my bed pillows (sleeping pillows) first. These aren't the prettiest pillows in the bunch, so they get hidden in the back.
Next I either do my Euro pillows or King shams, depending on if I want my bed to be more white with a pop of the light blue or show more of the blue.
Last, I have two throw pillows with a textured cover. If you're going all white for your bed, you really should bring in different textures to prevent your bed from being too boring or sterile looking.
I have the Brooklinen Luxe sateen duvet cover and then a folded Nicole Miller duvet cover (empty) from Homegoods at the foot of the bed for added texture. The empty duvet cover is basically serving as a throw blanket.
Let's talk duvets.
You know how the beds on display in places like Pottery Barn seem so fluffy and you can't figure out why? That's because they always use two duvets in their duvet covers. I've been doing this trick for a couple years now, and it really does make your bed look nicer… BUTTTTTTTTTT, there always seems to be extra fabric, right?!
I don't understand how a King duvet cover is so much larger than a king duvet? Even when I use two duvets in the cover, there's still that dang extra fabric on the sides.
I finally broke down and ordered an oversized king duvet and guess what, NO MORE EXTRA FABRIC! Talk about a game changer. I'm planning on ordering a second oversized duvet for Fall and Winter just to get my duvet looking extra fluffy and cozy on my bed.
So I think I covered all of your questions about making a resort worthy bed. If not, leave a comment below and I'll add in anything I might have missed.
PS- please, please, PLEASE bring in some live greenery into your bedroom. It grounds your space, making it feel more organic. The plants will keep the air your breathing all night long clean.
Not to mention, they'll just make you happy when you see them. I have a fiddle leaf fig, wandering jew, African mask and a pothos in our bedroom. Remember: You should have one houseplant per every 100 sq. ft. of your home.
shop this post