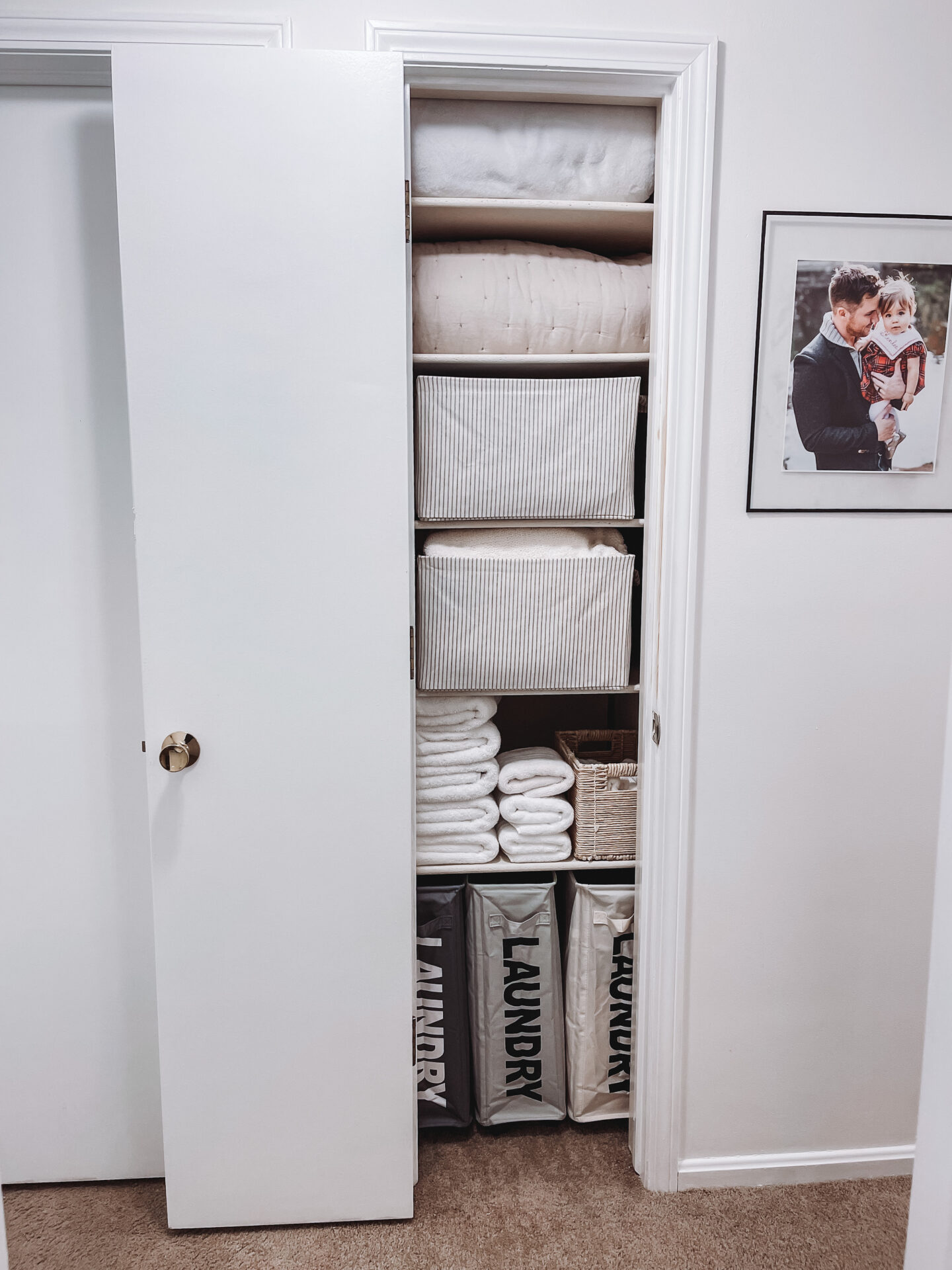 At our townhouse in Ohio, one project I have yet to fully tackle is our bathroom closet organization.
When I say, "Bathroom Closet," I'm actually referring to our hall linen closet because we have minimal storage in our two full bathrooms and our one half bath.
Our home in Nashville has two good-sized bathroom linen closets, and even the home I grew up in had a sizable linen closet in it. So, I was really surprised when we moved into our townhouse and saw how little space they allowed for storage in all of the bathrooms.
So really, I guess this is more linen closet organization than it is bathroom closet organization… Or maybe it's just a hybrid of the two since this space contains all of our overflow from the bathrooms because they can only hold so much in their under sink cabinets.
I took to Pinterest for organization ideas but found everything I needed on Amazon. I wanted the ability to store everything neatly, but also give everything easy access and make things very easy to find.
Organization projects are my favorite, so I had fun with this one.
The first thing I did was sketch out the closet and measured out each shelf for height, width, and depth, that way I knew what space I was working with before I actually started shopping.
After I knew the sizes I has to work with, it became so much easier to organize the space. Because I'm working with such a tiny space, I had to maximize every square inch to be sure I had space for all of my towels, linens, toilet paper, beauty products, and more.
I decided to go with baskets, organization bins, and rolling laundry hampers in neutral colors to keep the space looking very neat and tidy.
Here's how our hallway linen closet looked to begin with…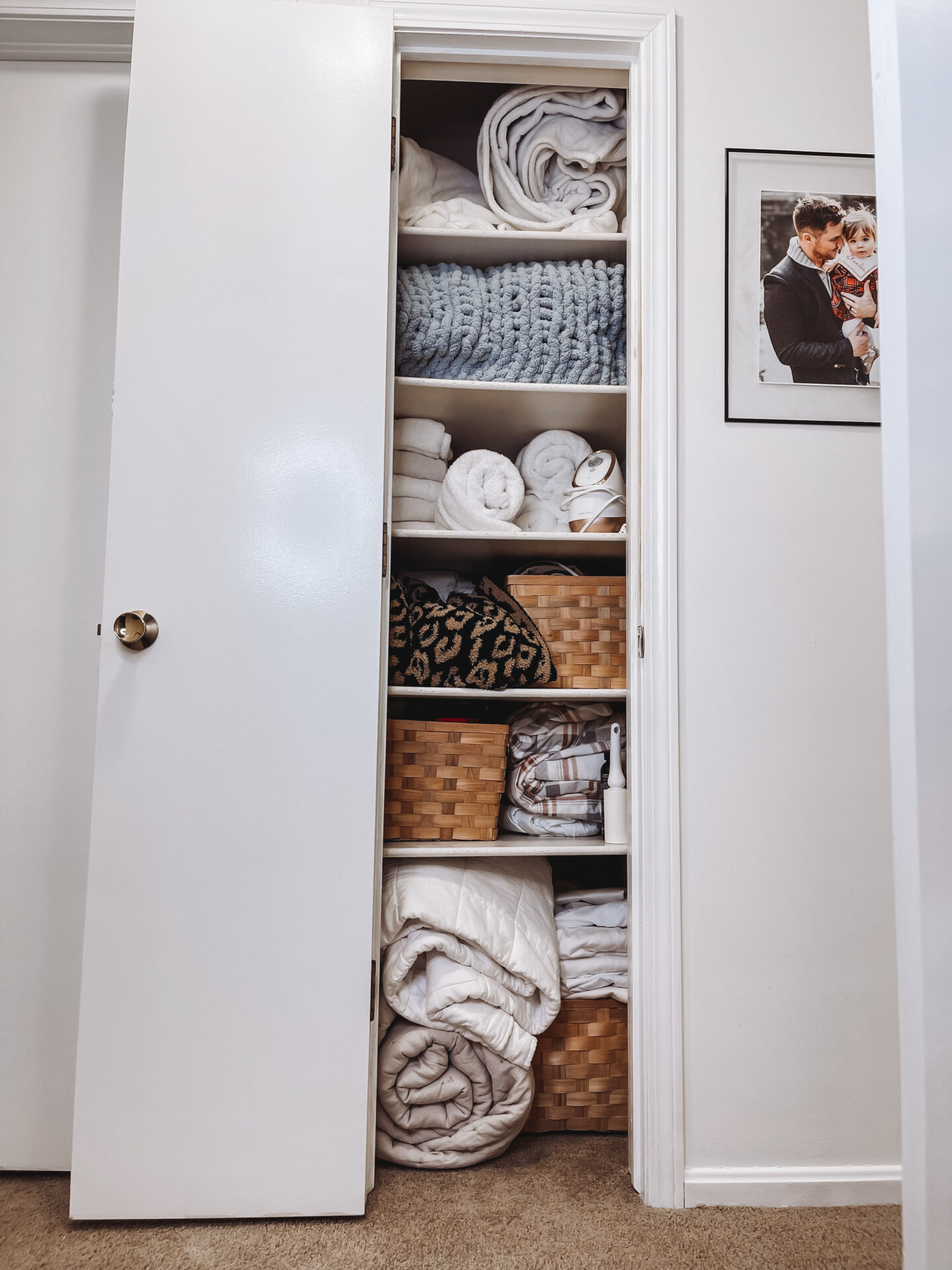 Not terrible, right? But definitely could be better.
Things just got shoved in wherever they could go since we have so little space to work with.
First, I swapped the wicker baskets for fabric storage bins, as opposed to the cheap-looking plastic storage bins. I love these storage baskets because they're really great quality, look more like home decor than storage solutions, and are so affordable. I ordered the "Nature and Gray" color combo. I went with the medium-sized bins to store all the items in, and they were $25 for a 2-pack of bins.
Next, I moved the position of several shelves to allow more space on the bottom and smaller spaces on the upper shelves.
Last, I used three rolling bins on the bottom to store our dirty laundry. Since we don't have space in the bathrooms for hampers, I wanted to create a space for the entire family to put their dirty clothes. These rolling hampers are just about the best thing ever.
I went with one light, one medium, and one dark-colored hamper to make it easy to keep our whites, lights, and darks separate, come laundry day. For reference, I went with the S-40 sized bins.
Here's my linen closet makeover…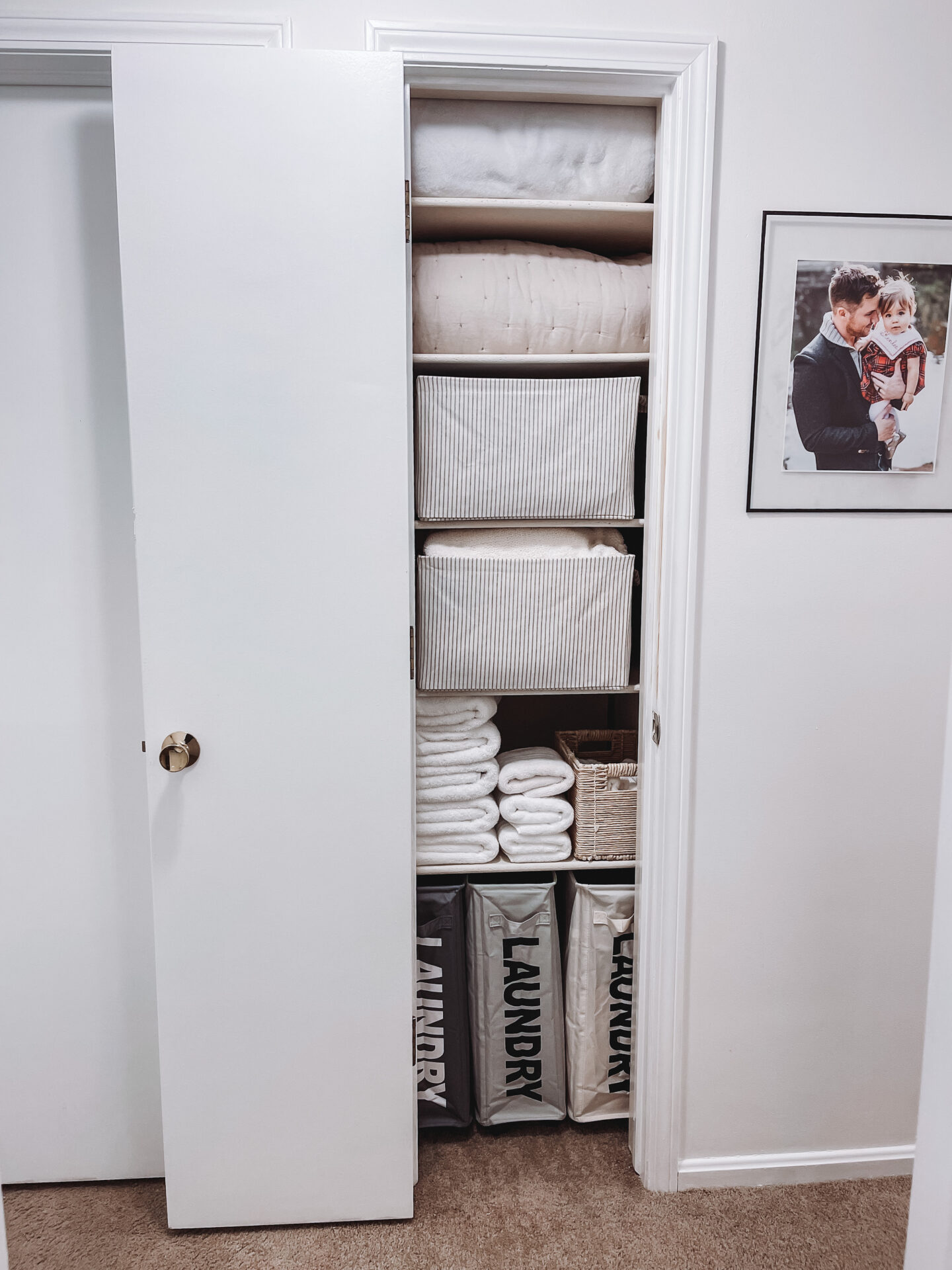 Ain't she pretty? Any time I organize, I automatically purge old items to donate. So, yes I did part with some stuff, but really I just used my space better.
All linens were tightly rolled and packed into bins.
Our towels and hand towels look like they're on display, being front and center, so I chose to switch from my go-to towel roll, and instead went with a very pretty trifold.
If you are looking for bathroom organization inspiration or closet organization ideas, check out Pinterest and TikTok for some fresh, new organizing ideas.
shop this post

Bathroom Closet Organization