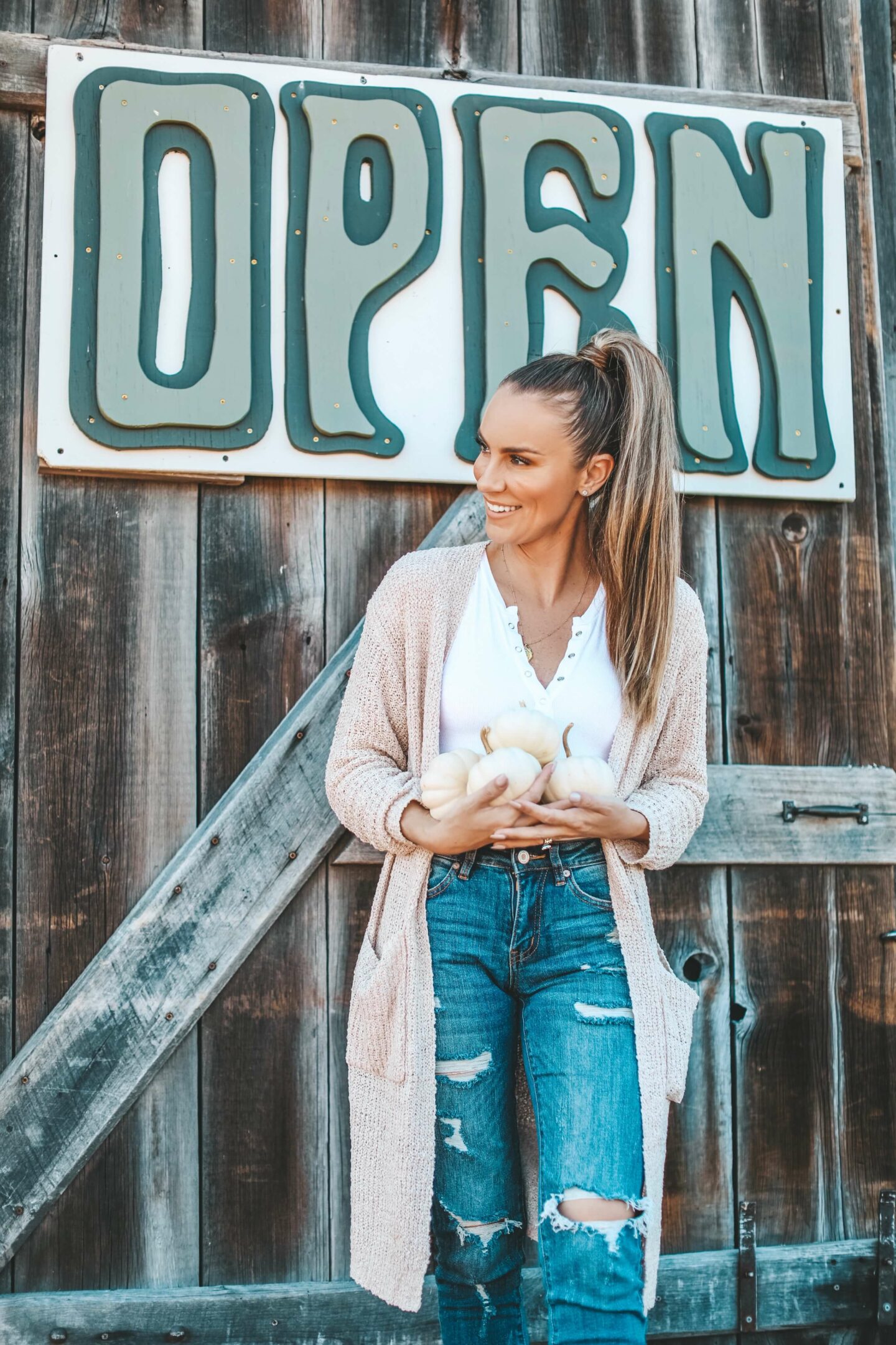 Am I the only one who missed the memo? The official first day of Fall was this past Monday, September 23rd. Huh? Here in Ohio, it's been so hot that Fall hasn't even been on my mind. I mean, of course I've done a little decorating for the impending season, but I just assumed that I was a little early this year. Nope. I was right on target apparently.
Here's the real kicker… The first day of Winter 2019 is December 21. What the what?!? Like, four days before Christmas?! That feels like full-on middle of winter time, am I right? Mind = Blown.
To get myself in the mood for all things Autumn, I took a trip to a nursery and grabbed some pumpkins and other decor for our townhouse. I shared a little tutorial on my Stories last week, did you happen to catch it? I used a tree stump, hay bale, pumpkins and mums to add a seasonal touch to our entry. Over the weekend I DIY'ed a wreath and added a Harvest sign.
This season is so fun to decorate for because it's the warm up lap before the Christmas decorating marathon. Another thing so fun about Fall is the fashion. It's a chance style deep, warm colors and layer pieces to create the ultimate cozy looks without having to cover it all up with a heavy winter coat.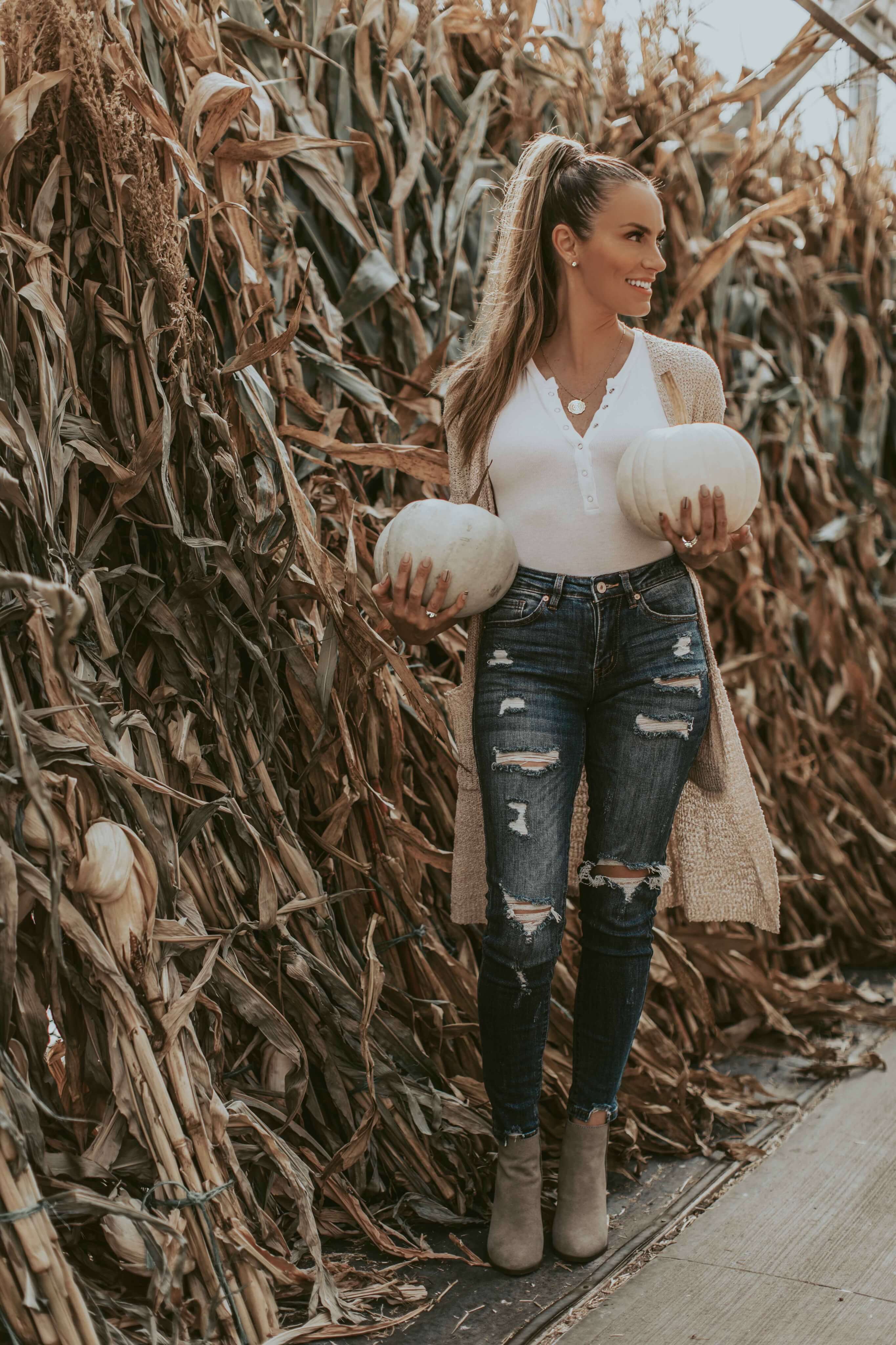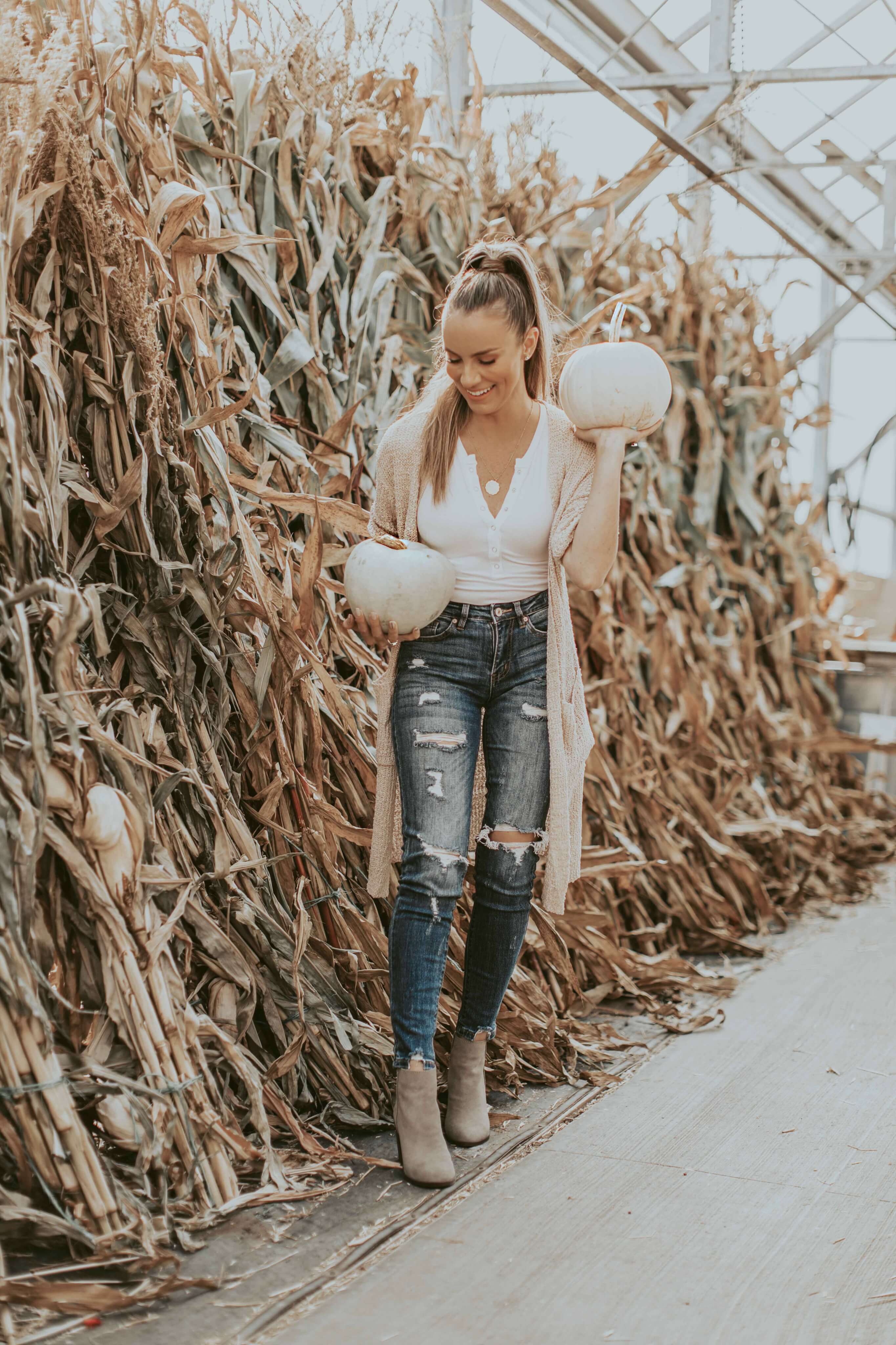 I'm seeing a lot of trends this season that I'm personally super excited about. These are just observations I've noticed while shopping. Here are a few trends I've already hopped on board with…
2019 Fall Fashion Trends
Bodysuits. I've never given up this trend. You can always find at least one bodysuit in my closet, and it's usually vintage. I think bodysuits are so chic. They look perfectly styled at all times since there's no extra fabric requiring tucking. I don't necessarily tuck in every shirt, but when I want to wear an outfit that would look better tucked in, I immediately reach for a bodysuit. I've noticed this year that there are bodysuits literally everywhere. Here is a roundup of a few of my personal faves:

Animal Print. Unless you've been living under a rock, animal print has taken over. Mostly you see leopard print, but there's also a ton of fun snake print pieces available too. Check out this snake print bodysuit. Two trends in one piece an it's pretty amazing.
Camo Print. I've never been big on camouflage. That is, until this summer. Early this summer, I found this pastel camo sweatshirt on Amazon and I still love it. Now, I'm seeing camo virtually everywhere. Now, I love finding ways to incorporate camo into my wardrobe. I love this camo outfit workout outfit I posted on Instagram this week.
Suede. Leather is a no-brainer when the temps starts to fall. Suede is a classic cold weather fabric, but I've been noticing more of it recently than in the past Fall seasons. Check out this faux suede midi skirt that's on trend and modest, I love the shade!
Sherpa. There's no cozier fabric on earth than sherpa. When I find a super soft sherpa piece, I buy it in every color. I don't even care if it's cute or not, lol. Cozy trumps all else for me.
What trends do you think we'll see a lot of this Fall and Winter? Have you bought any new Fall pieces? Let me know in the comments below.
what I'm wearing