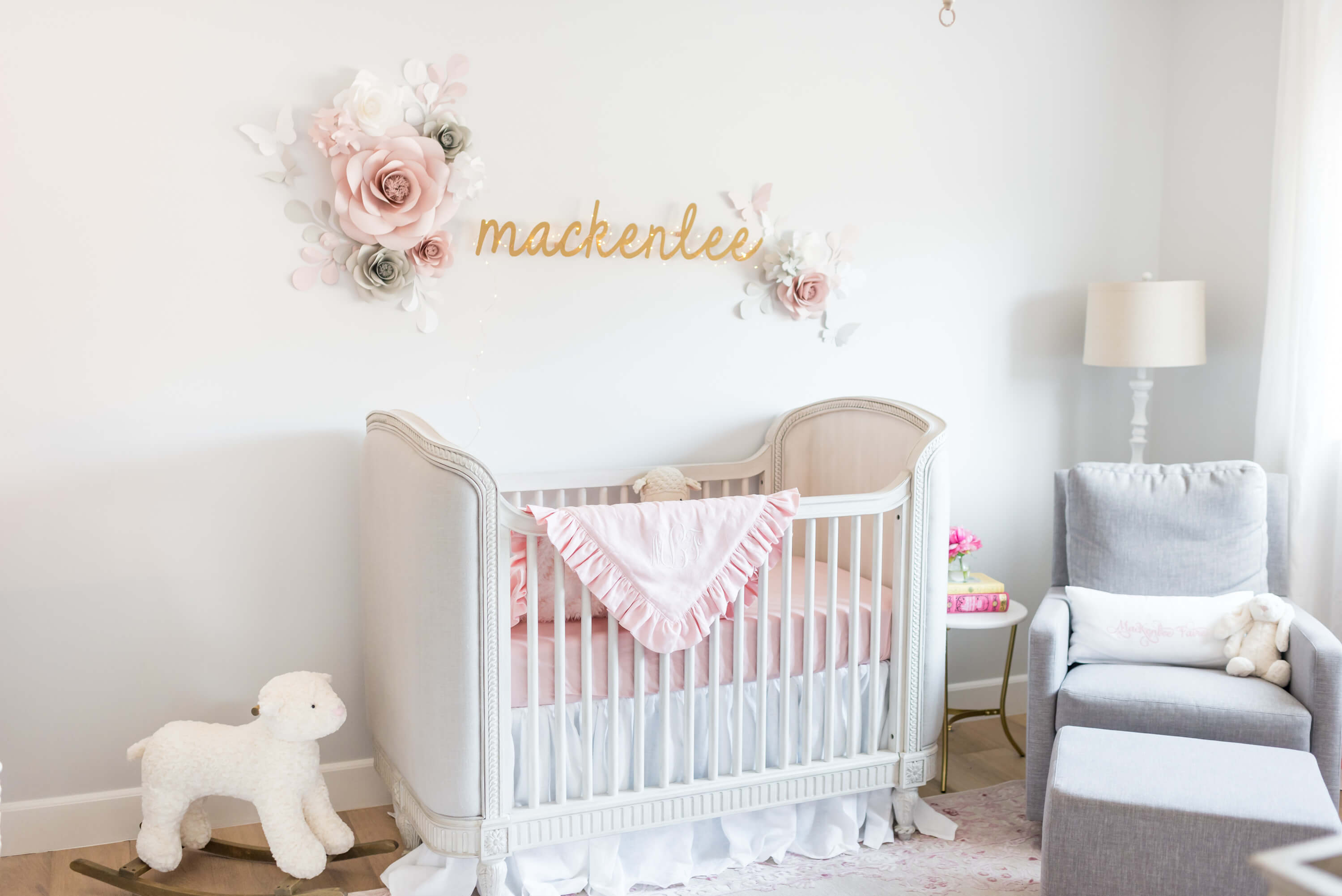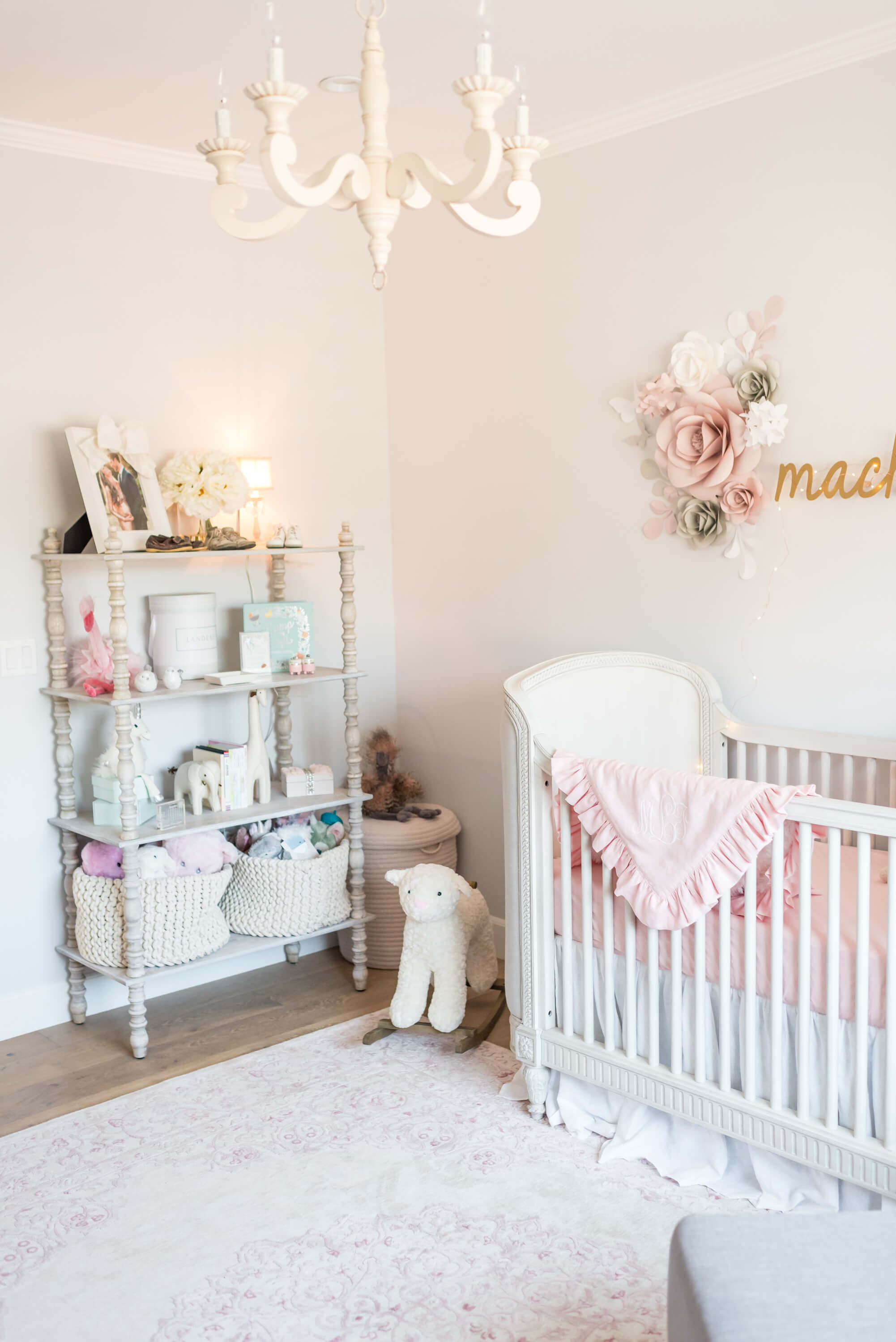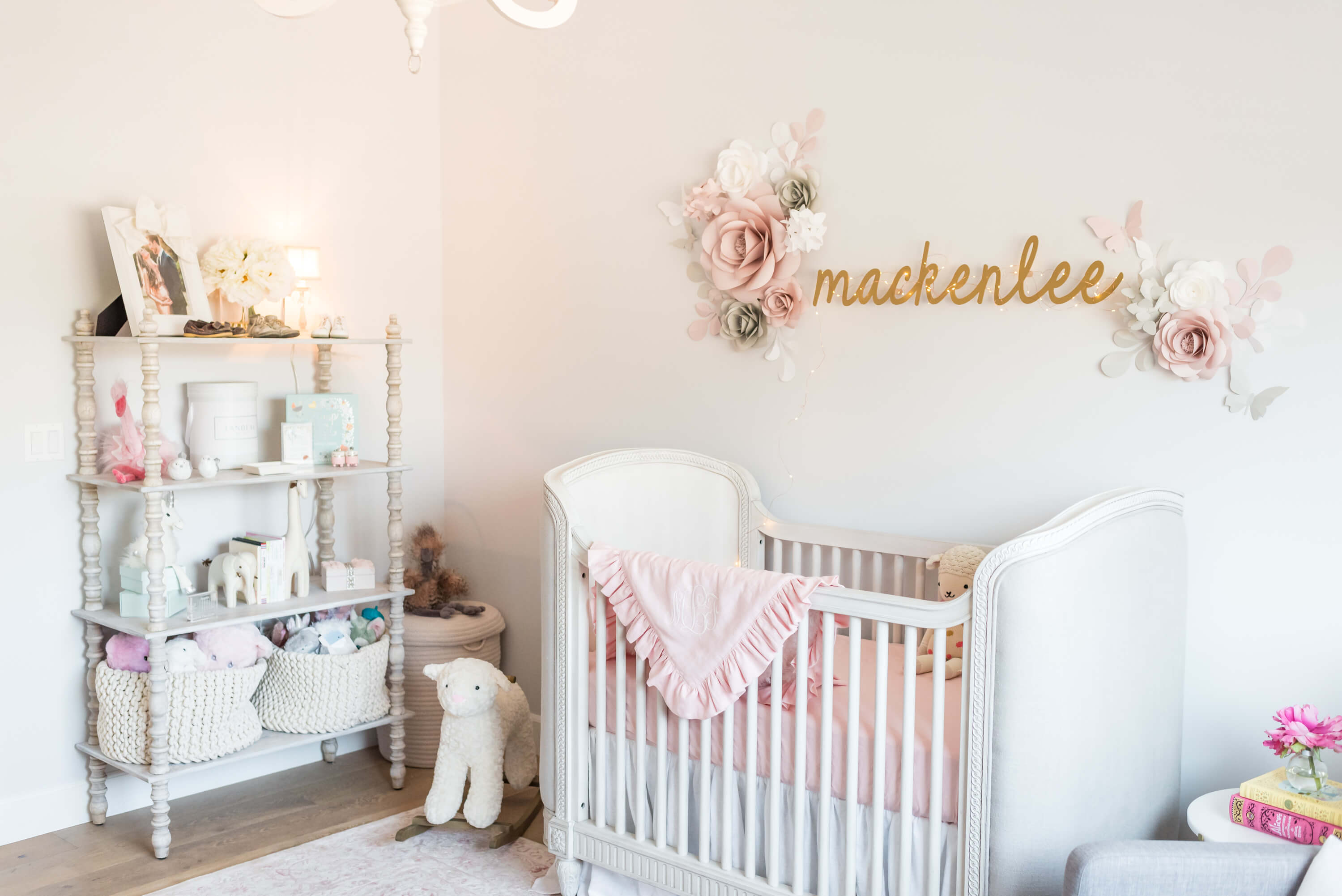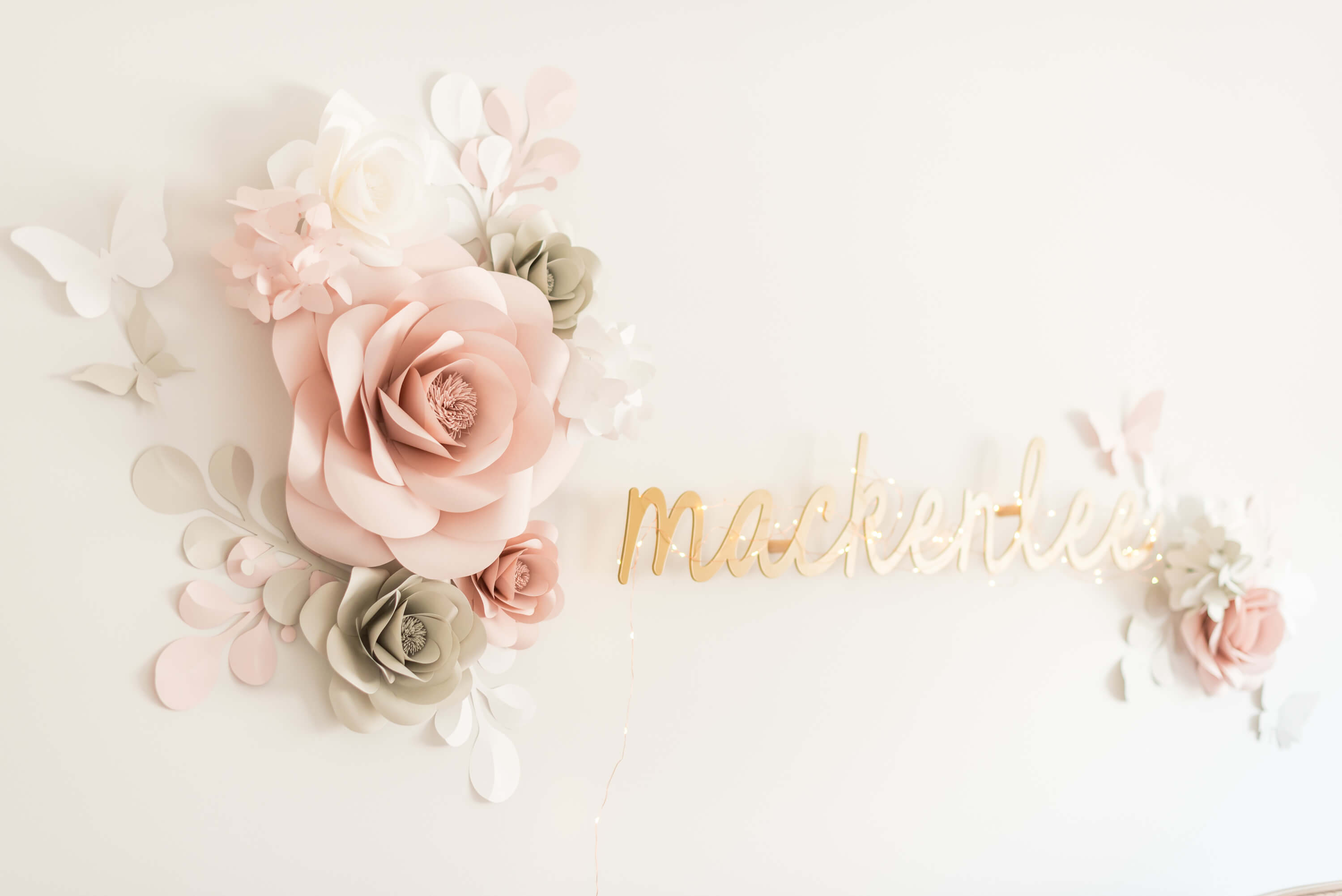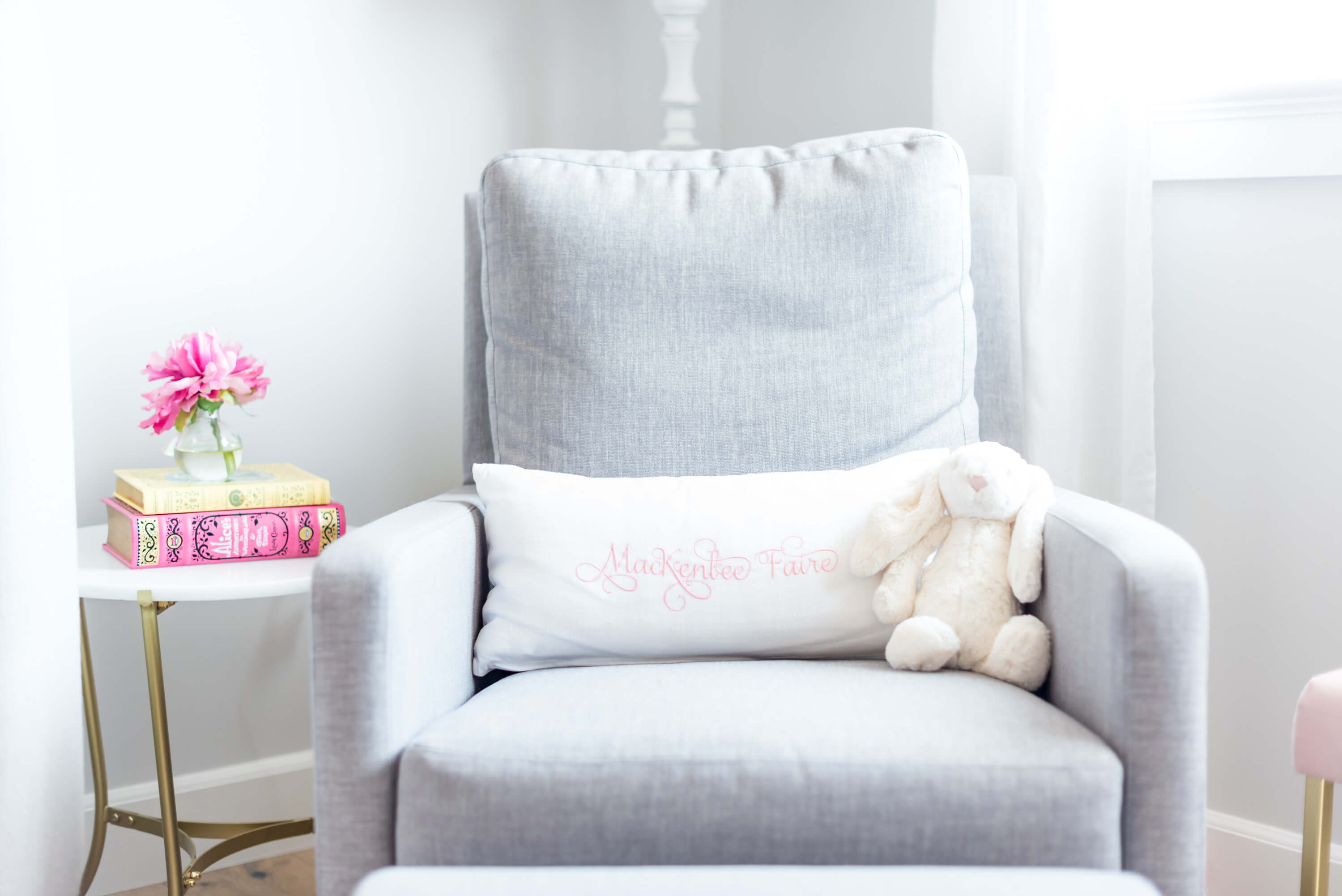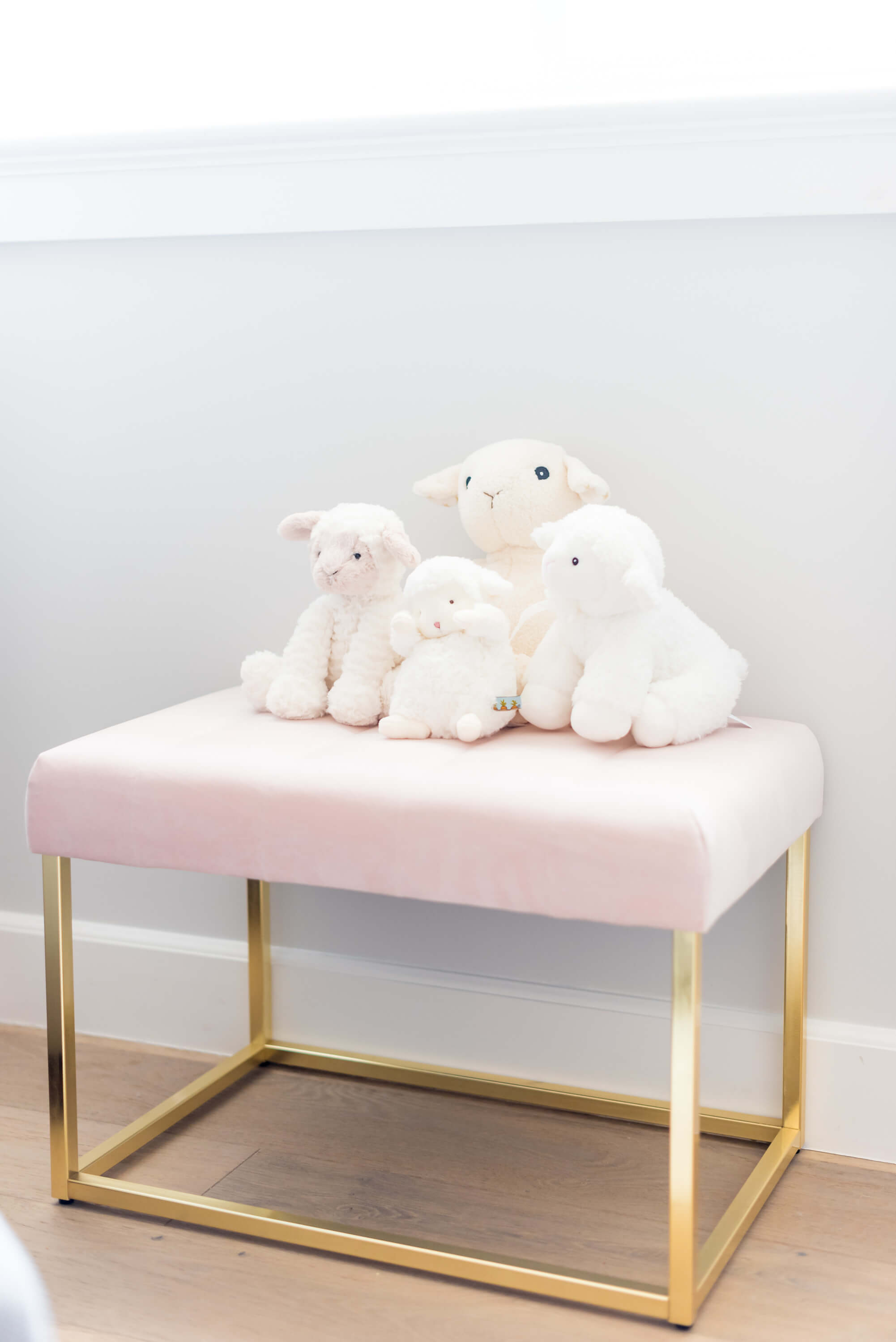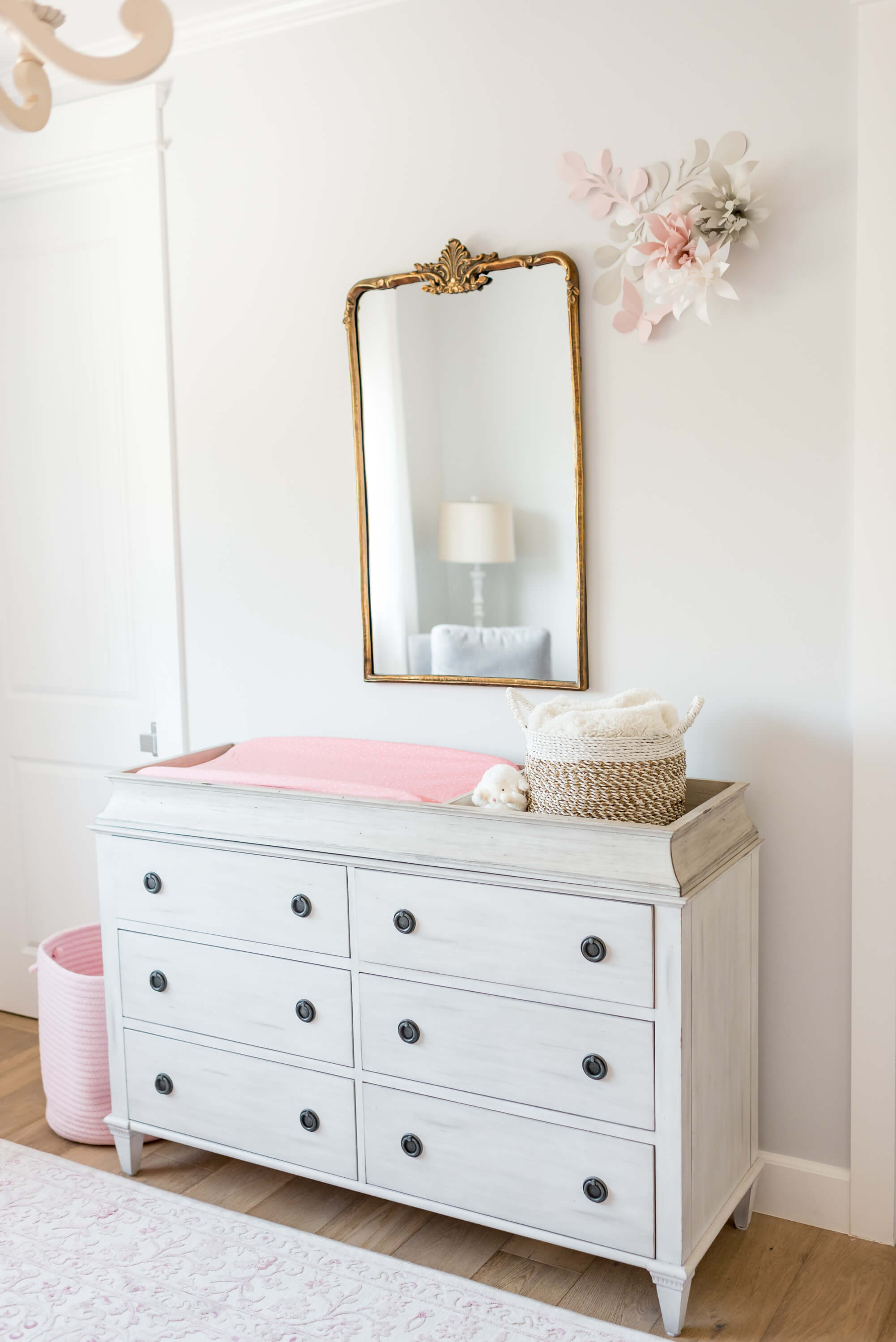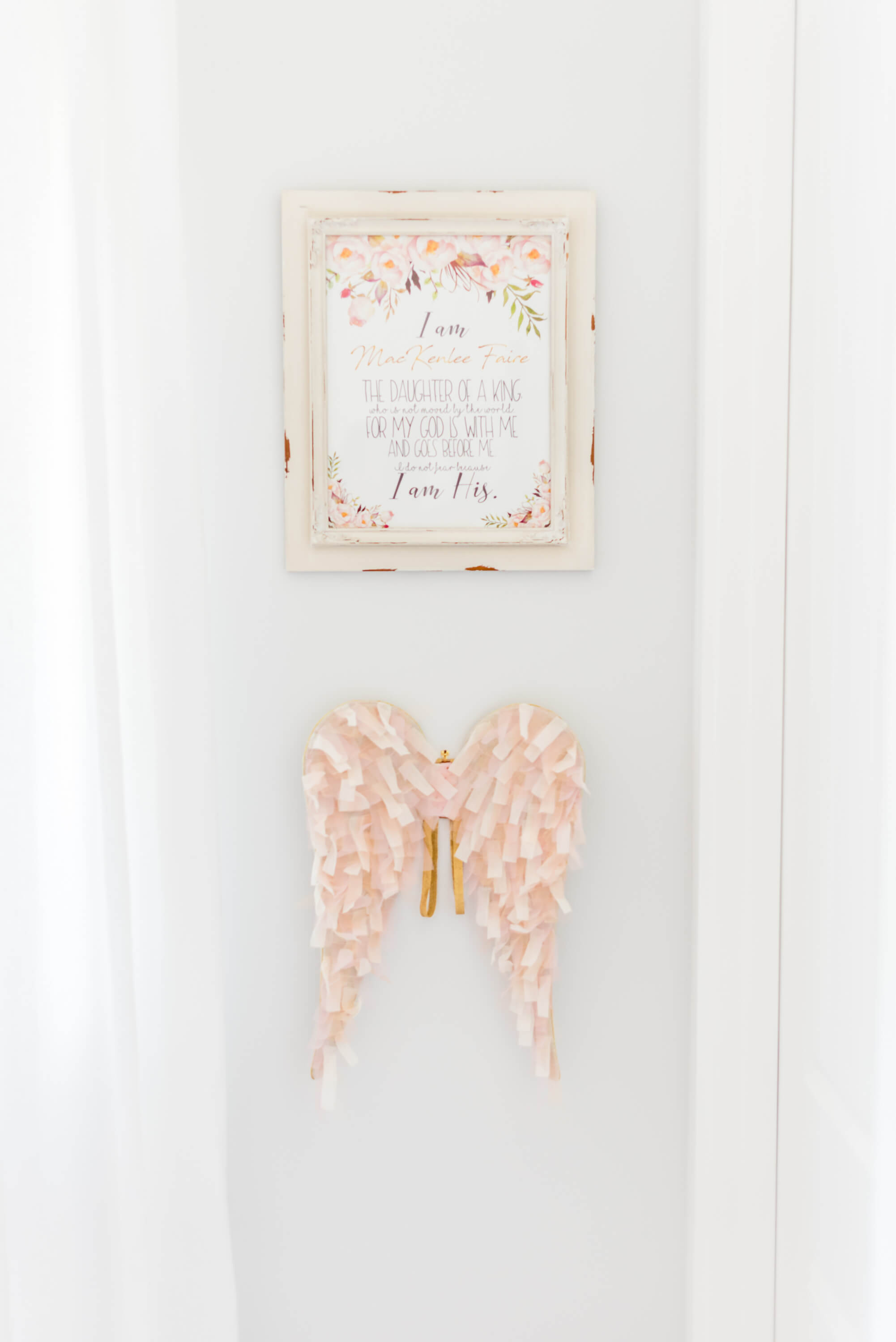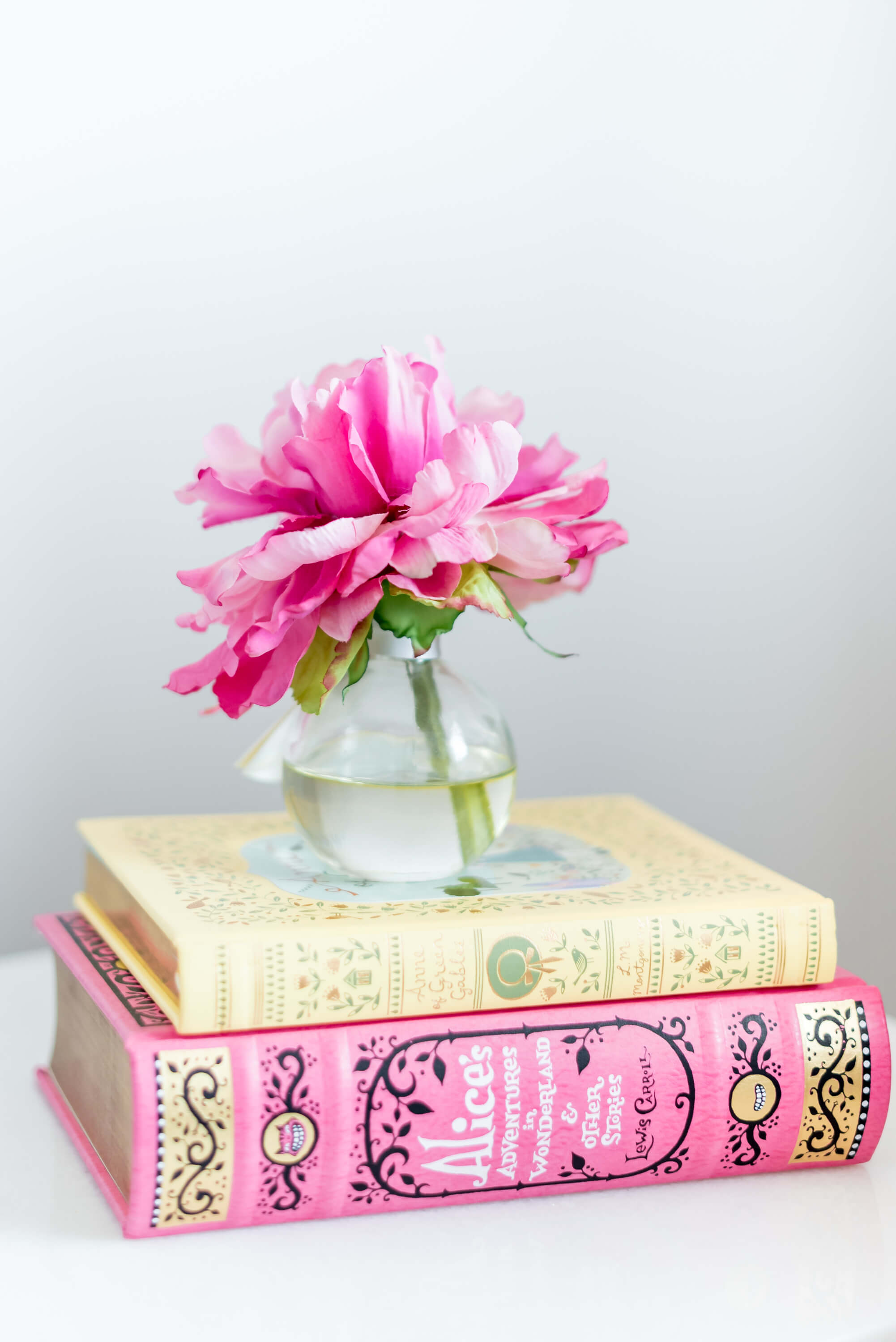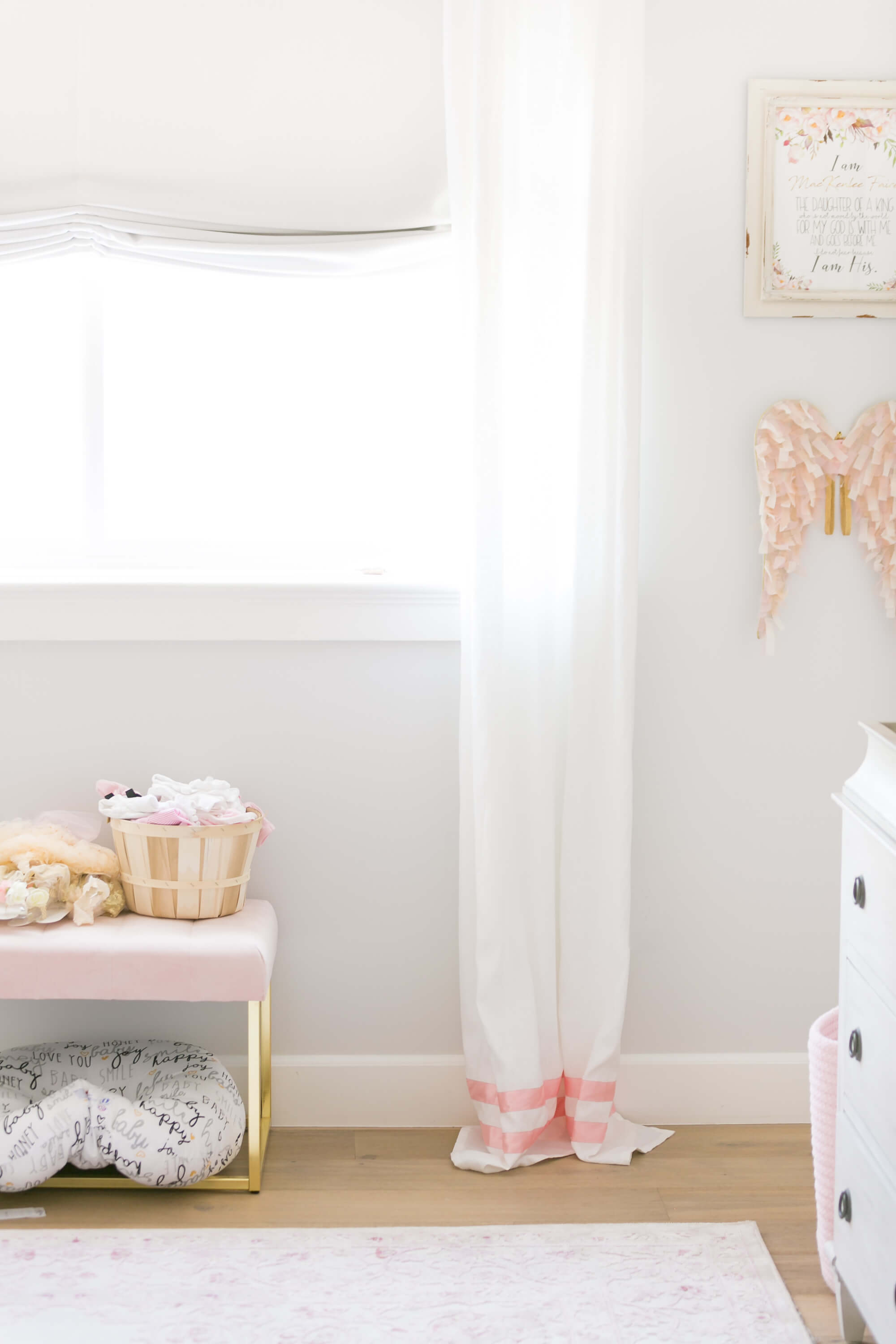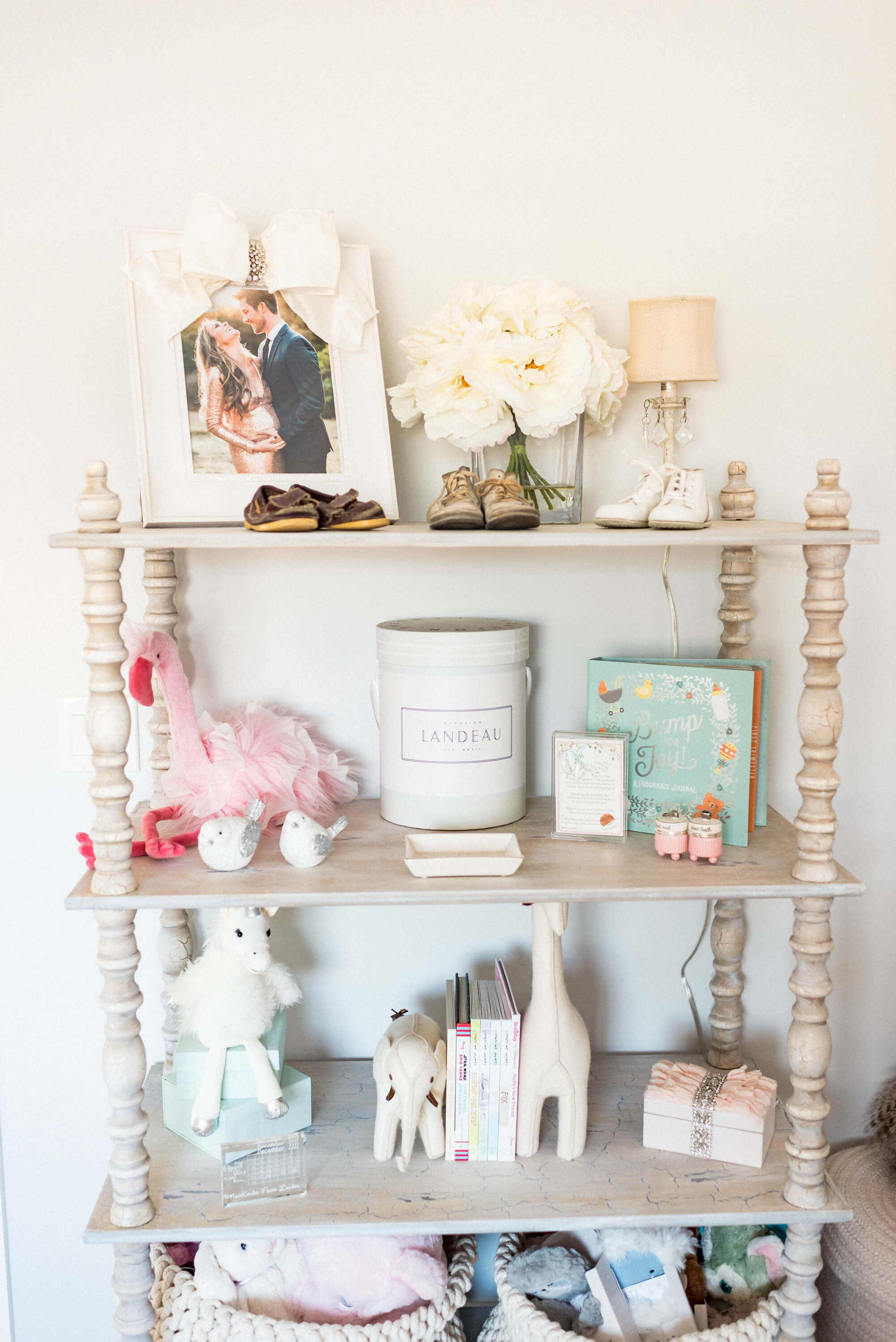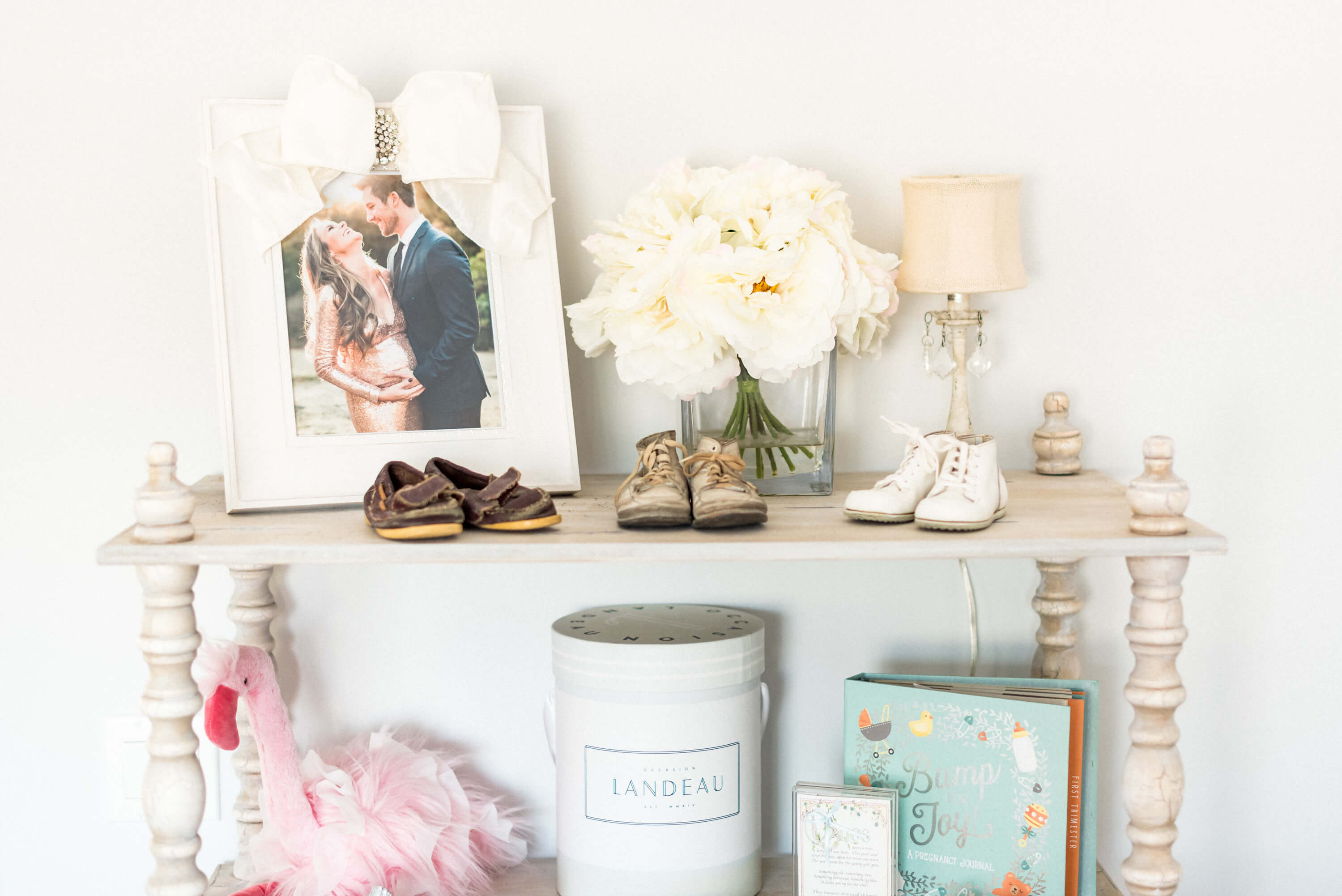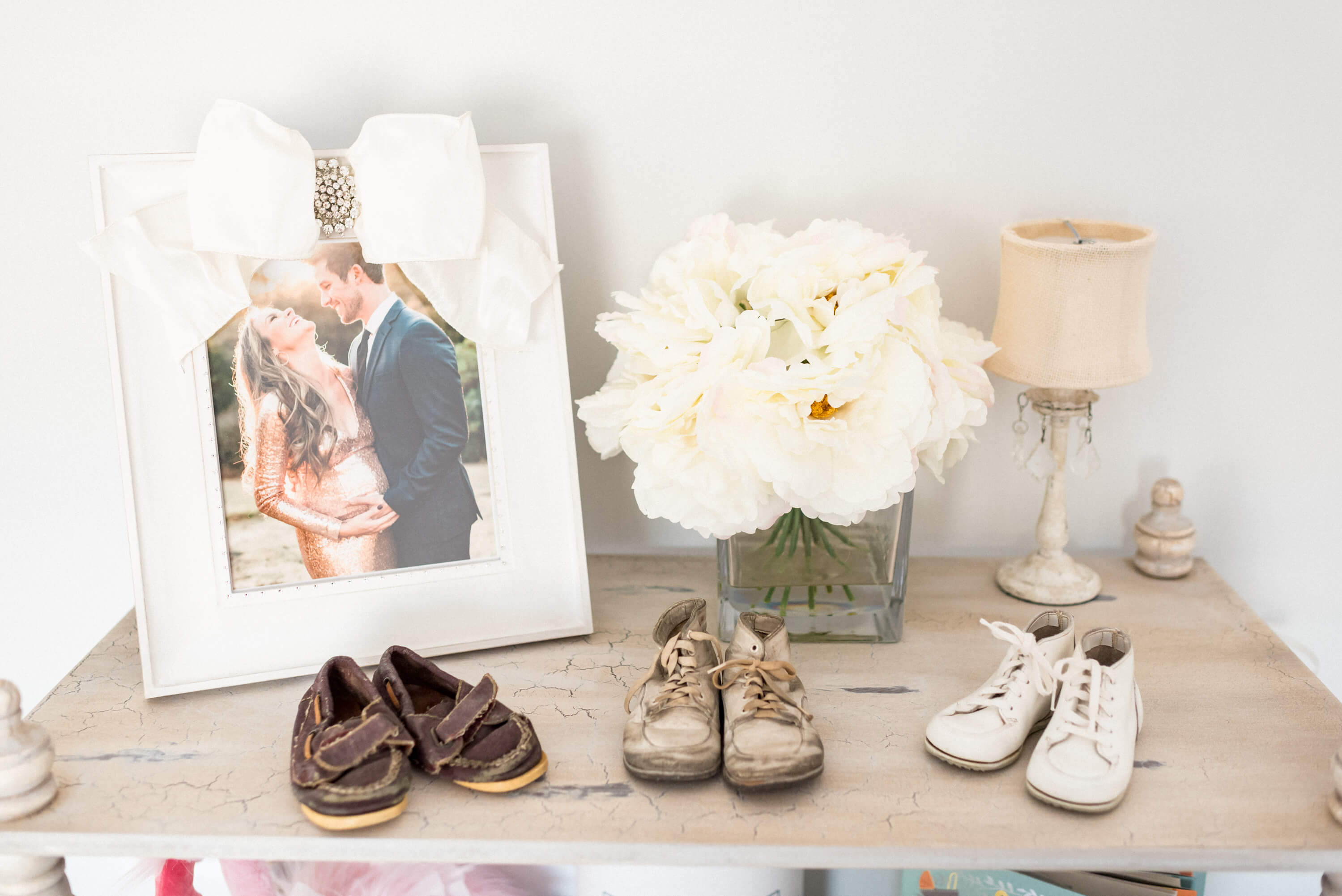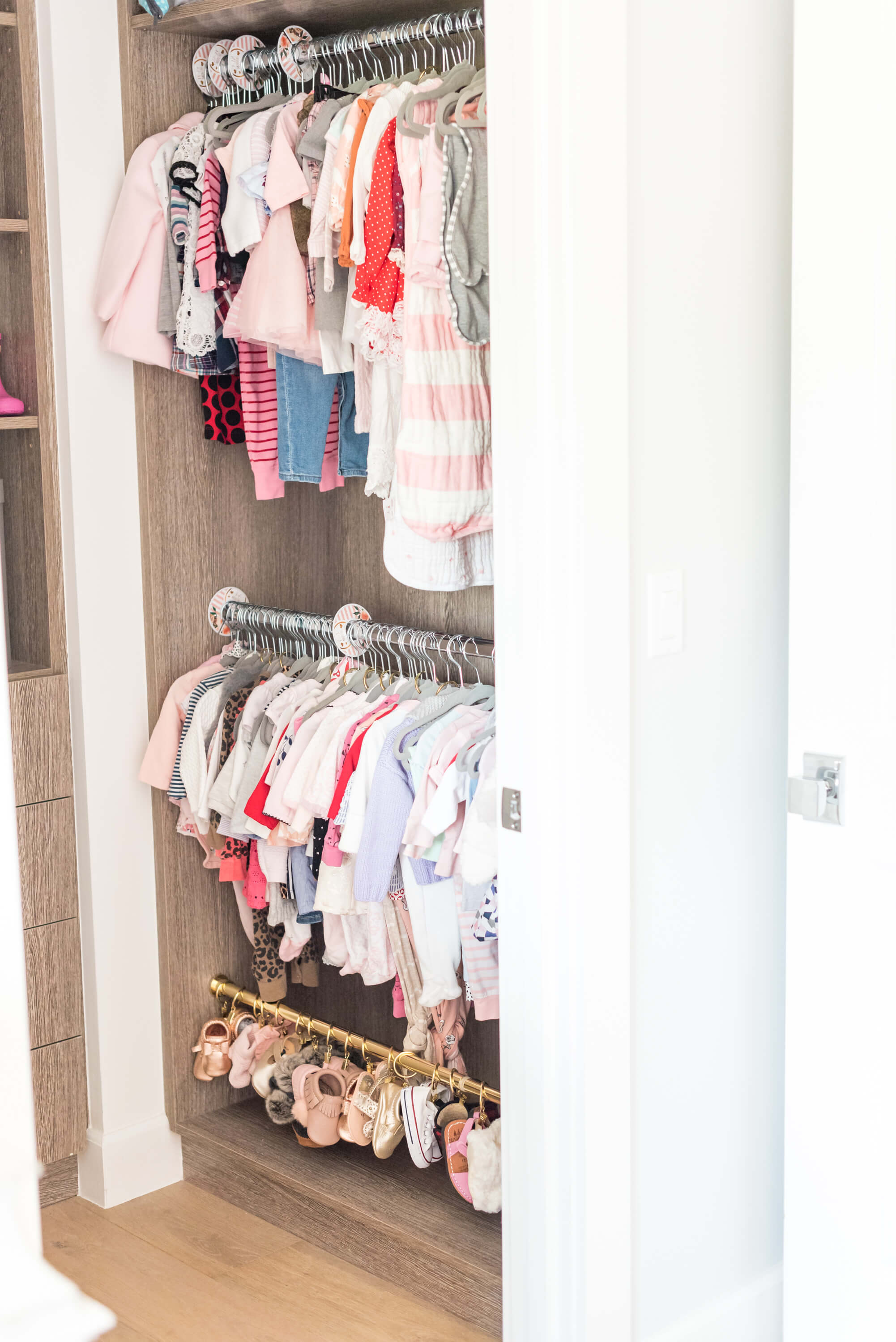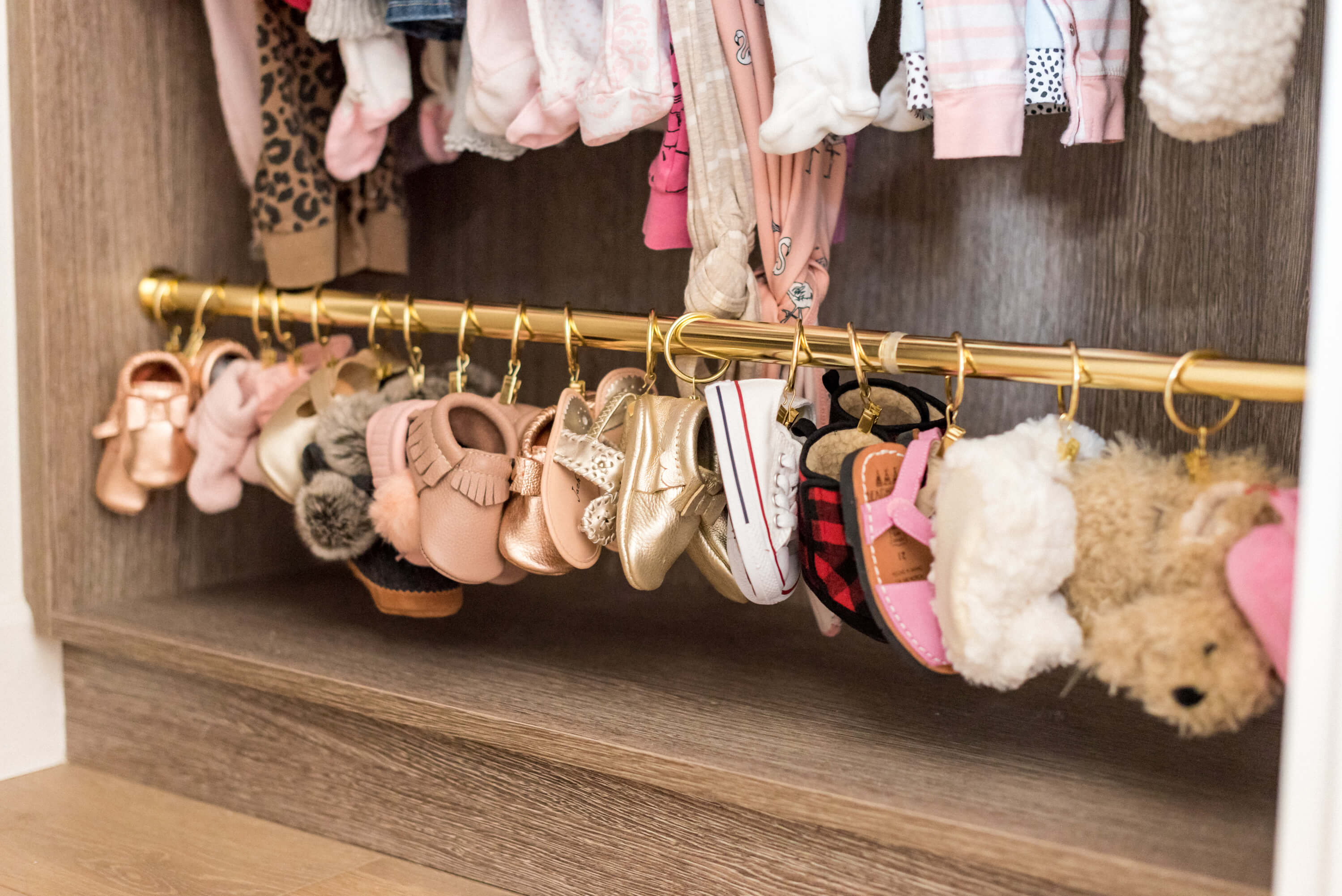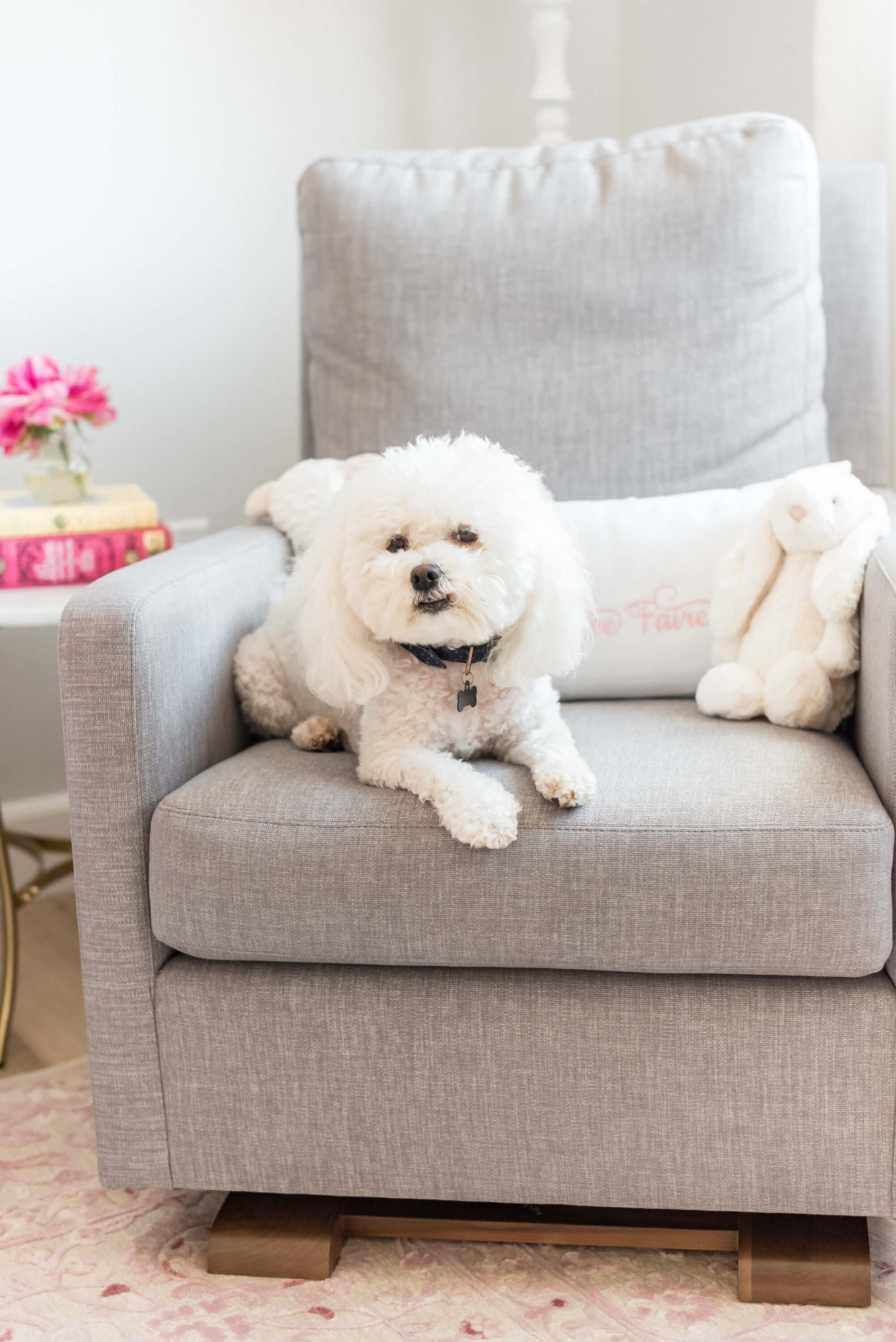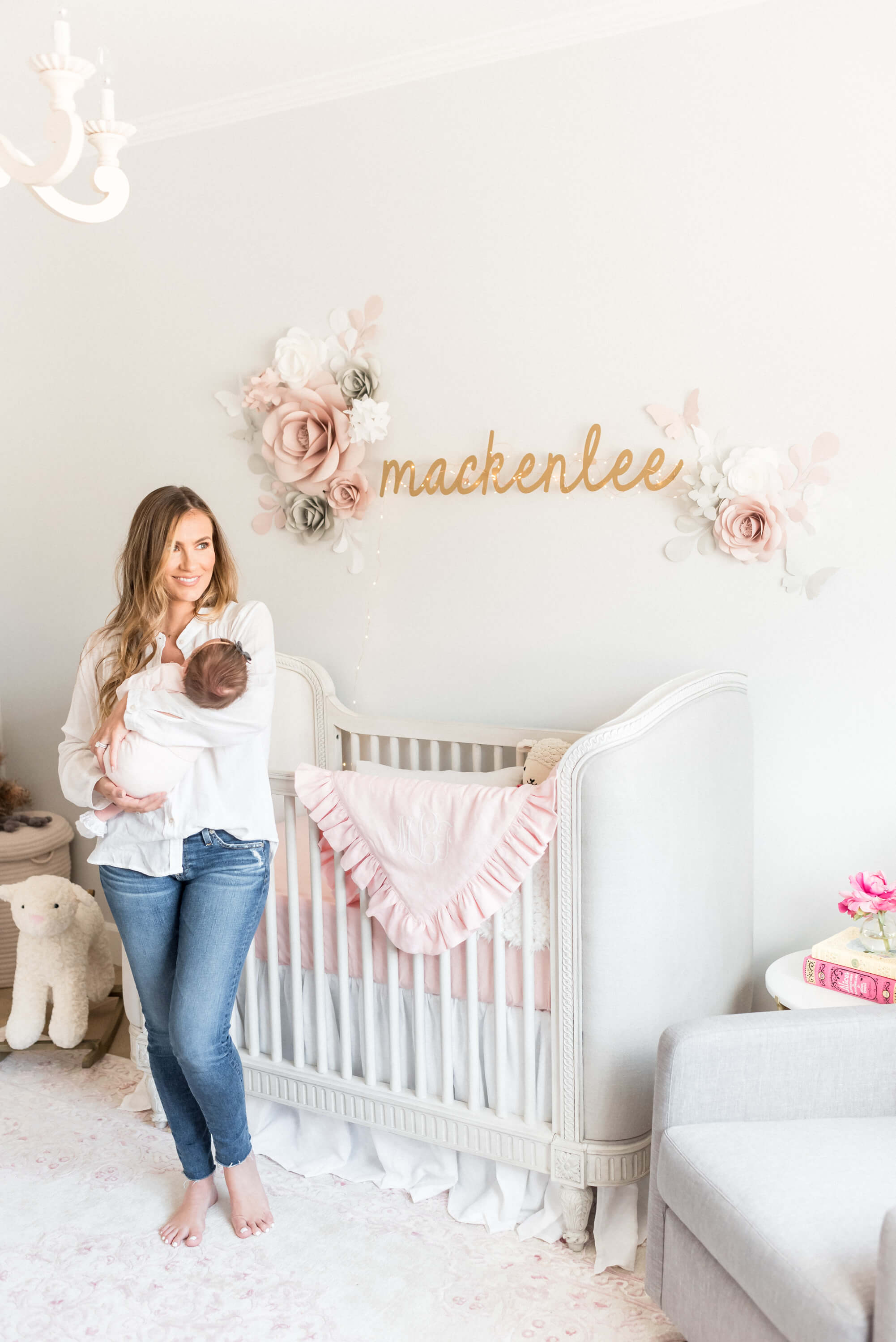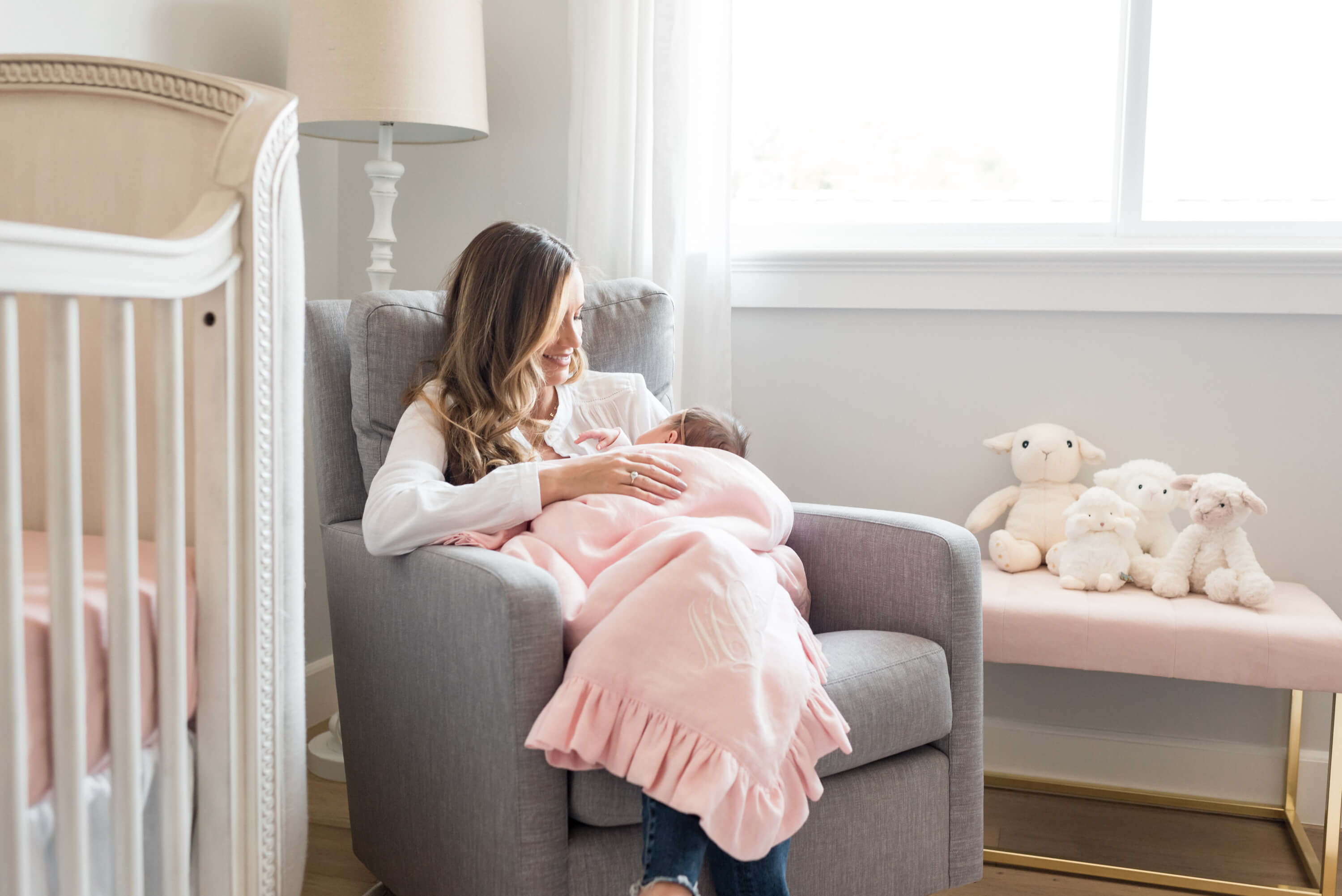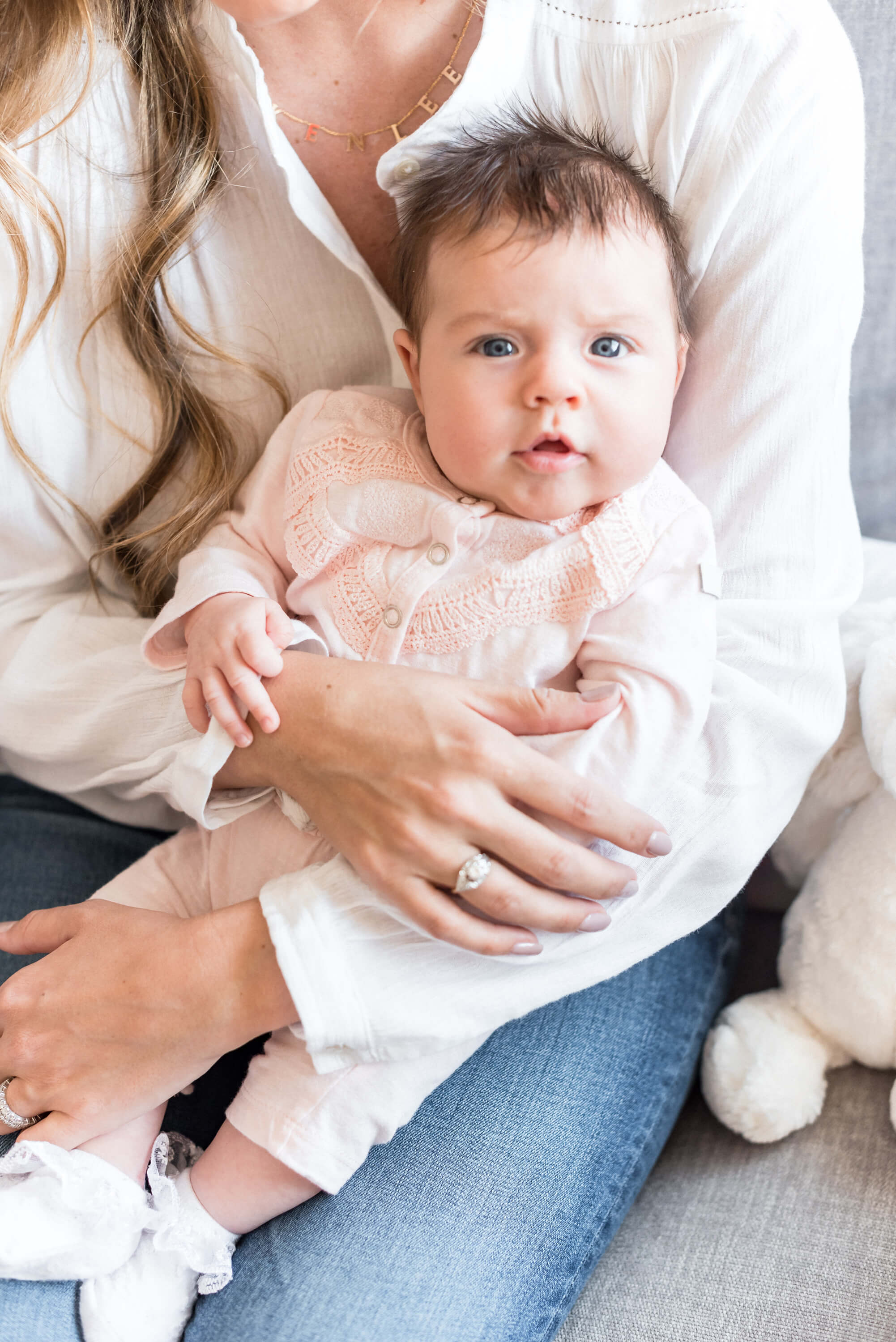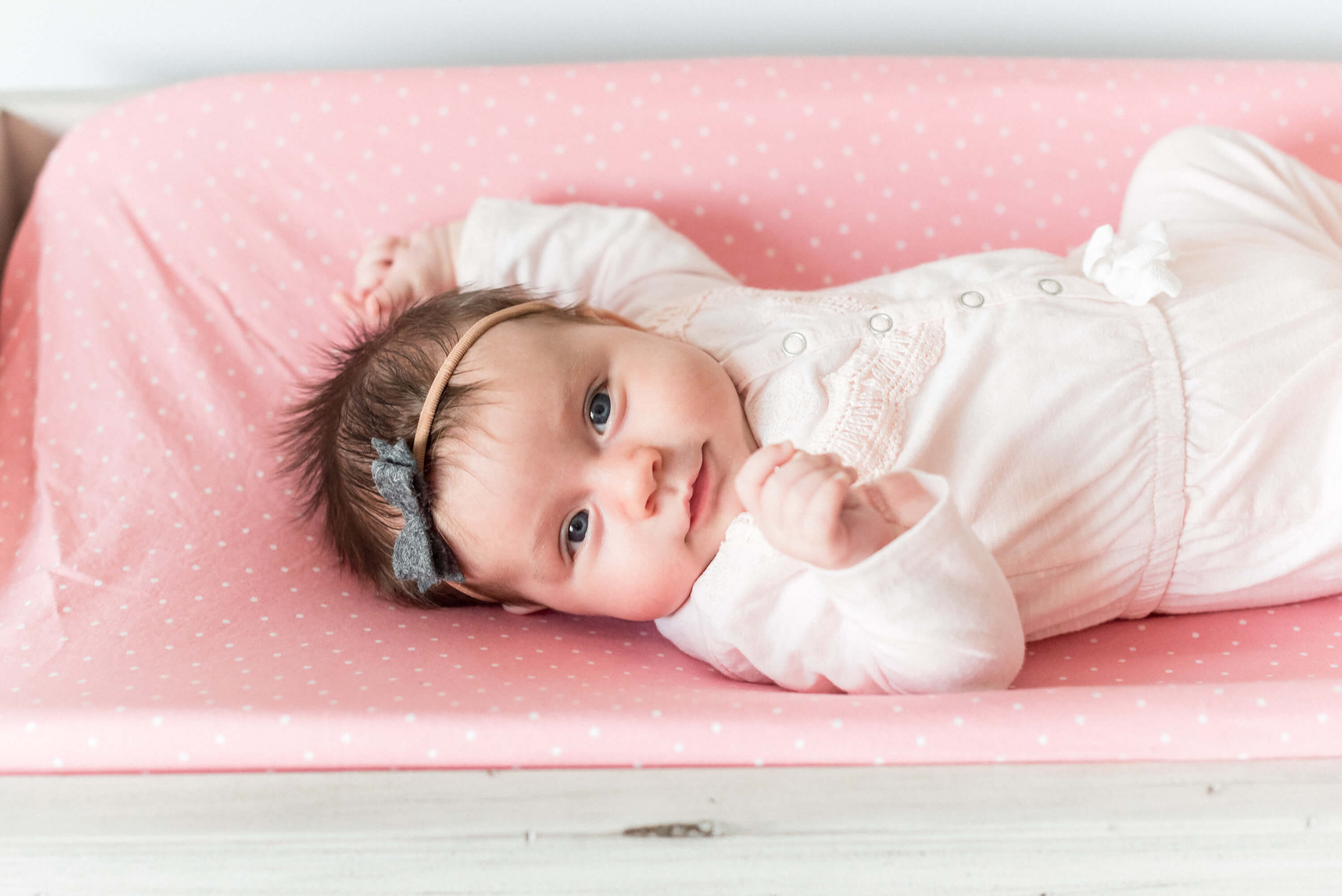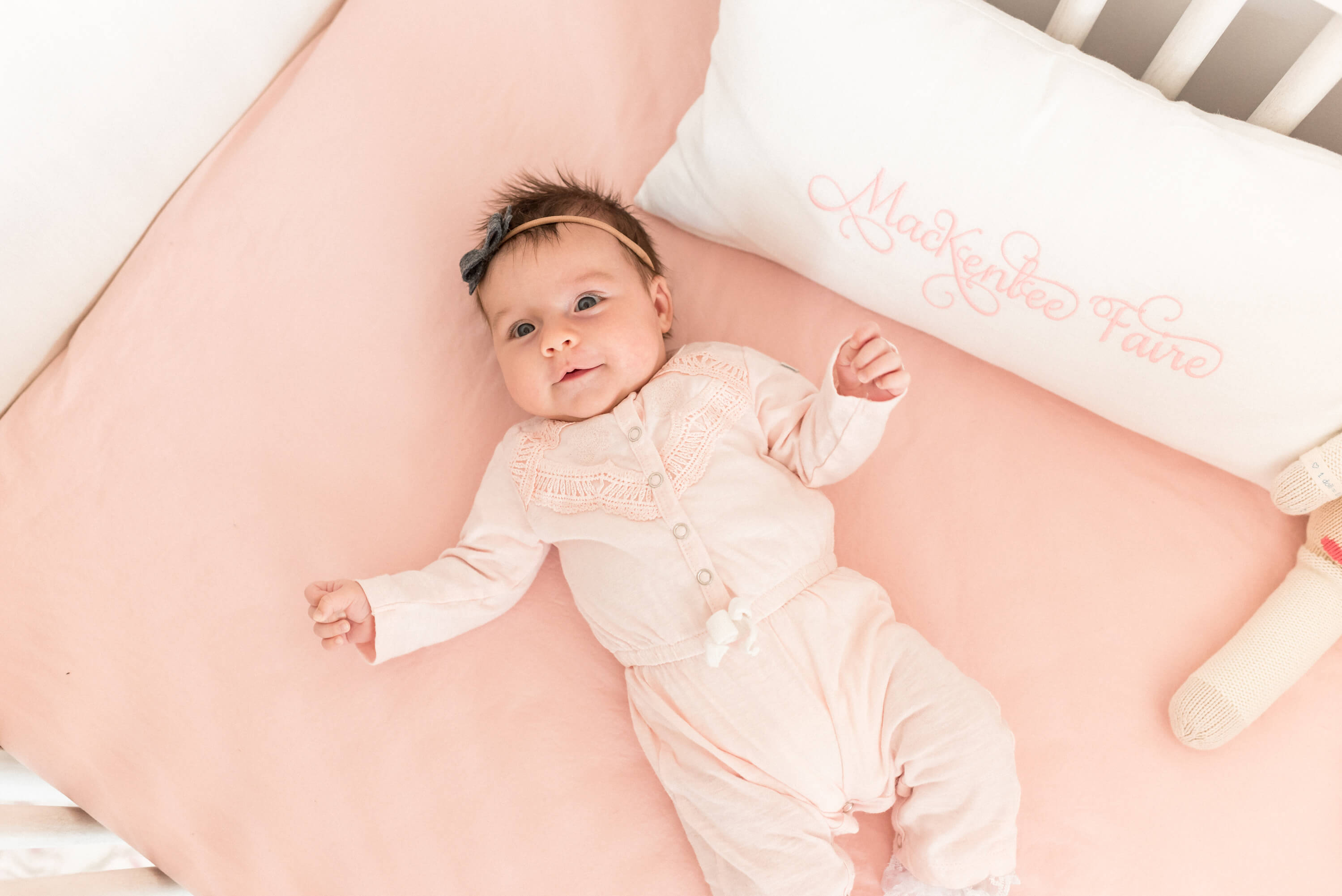 Photography by Kara Coleen.
I'm so excited to finally share MacKenlee's nursery.
You may have already seen a lot of these photos on People Babies in their adorable article yesterday.
Here's a little about her sweet nursery… I took my time finding the perfect pieces to make sure it was exactly what I wanted.
I knew the nursery needed to be a soft pink/blush with a mix of neutrals, so my first purchase was her crib and matching dresser/changing table.
Kenny's crib is convertible and will grow with her into a toddler bed. The changing table topper is removable, so it will be just a dresser once she no longer needs diaper changes.
Next was a glider. We knew we'd spend many, many hours rocking baby girl, so we wanted a comfortable place to sit.
Our glider and rocking ottoman is already well loved. We use it every night as part of her bedtime routine and I use it throughout the day when I nurse MacKenlee.
I teamed up with the incredibly sweet Tori from New Arrivals, Inc. to create the perfect linens.
I had my heart set on a white linen crib skirt that was flowy and laid beautifully on the floor… Tori designed the perfect skirt! She made matching white linen curtains with a pink ribbon detail.
The crib blanket and throw pillow were monogrammed in matching shades and add such a special touch to her room. A big thank you to Tori for all her help in creating this precious space in our home.
Side note: How stinking cool is it that baby girl has a bedding set and paper flower set named after her?!
I went back and forth and back and forth over the walls.
I really wanted wallpaper, but in the end decided that a neutral paint would be best. We chose Dunn Edwards paint in "Laced Veil" and it's perfect.
We've had several friends ask for the name so they can use this paint color in their own homes. It's a beautiful grey paint that isn't too yellow or too blue, which is so hard to find.
As an update, I thought it would be fun to give a video tour of Kenny girl's nursery and bathroom.
our nursery details
Painting: Justin Gaffrey [c/o]
Crib Bedding: New Arrivals, INC. MacKenlee Faire Crib Collection [c/o]
Crib Blanket: New Arrivals, INC. MacKenlee Faire Crib Collection [c/o]
White Linen Crib Skirt: New Arrivals, INC. MacKenlee Faire Crib Collection [c/o]
Curtains: New Arrivals, INC. [c/o]
Crib and Changing Table: Restoration Hardware
Glider: Monte Design [c/o]
Ottoman: Monte Design [c/o]
Chandelier: Restoration Hardware
8 x 10 Rug: Everly Medallion
Floor Lamp: Wayfair (Matt painted)
Side Table: Joss & Main
Etagere (Shelves): Joss & Main (Matt painted)
Wall Flowers: MioGallery [c/o]
Name Wall Mount: Winnie Dot
Fairy Lights: Amazon
Mirror: Anthropologie
Pink Bench: Target (sold out)
Angel Wings: Anthropologie (sold out)
Wall Art: made by sister-in-law
Shelf Lamp: Restoration Hardware
Crib Mattress: Amazon
Gold Closet Rod: Amazon
Gold Curtain Rings: Amazon
Closet Dividers: Amazon
Pink Hamper: Restoration Hardware
Beige Hamper: Overstock
Lamb Rocker: Restoration Hardware
Stuffed Animals: Lucy the Lamb [c/o], Jellycat stuffed animals
Books: Alice in Wonderland (gift from Urban Decay), Anne of Green Gables (gift from a sweet reader), Bump for Joy!
Storage Baskets: Restoration Hardware
Bookends: Restoration Hardware
Jewelry Box: Pottery Barn
Personalized Wall Art: HM Design Loft [c/o]
MacKenlee Necklace: Lola James [c/o] Code: Angela15 for 15% OFF
This blog post was originally posted on March 14, 2018.