I give sneak peeks of my home via SnapChat all the time, but I haven't posted a true home decor blog post before. It's mostly because I feel like my home is never finished. As soon as I get one area or project done, I have another one already in mind to start. I think that's just part of being a homeowner, constantly wanting to change and decorate your home.
My personal decor style is French Country meets Beach (or Seaside) Cottage. I know that technically wouldn't fall under a specific design label, but those two styles are what I gravitate towards every time. I love a room that's light, bright and airy, which is why you'll see neutrals all over my home.
I've personally struggled over home decor because it's definitely not my forte. I want so badly to be this awesome interior designer, but it doesn't come natural to me at all. I know what I like when I see it, but I pretty much need to see everything all put together in one place to know that I like it. I'm a very visual person. That's why I basically live on Pinterest when I'm working on anything for my home. Pinterest helps me by allowing me to search specific paint colors, room types, furniture pieces, etc. and see how others have styled them, so I can gather inspiration.
First up is our formal living room or sitting room. I never know exactly what to call this room, other than my "pretty room". It used to have "The Bachelor" couch (the rounded high back couch you see in the Bachelor mansion) and it felt very dark. Bringing in the off white sofa and rug brightened the room up so much that I didn't even feel like I needed to paint it anymore.
My favorite part of this room is the coffee table that Matt made for me. He's just about the most handy guy I've ever met.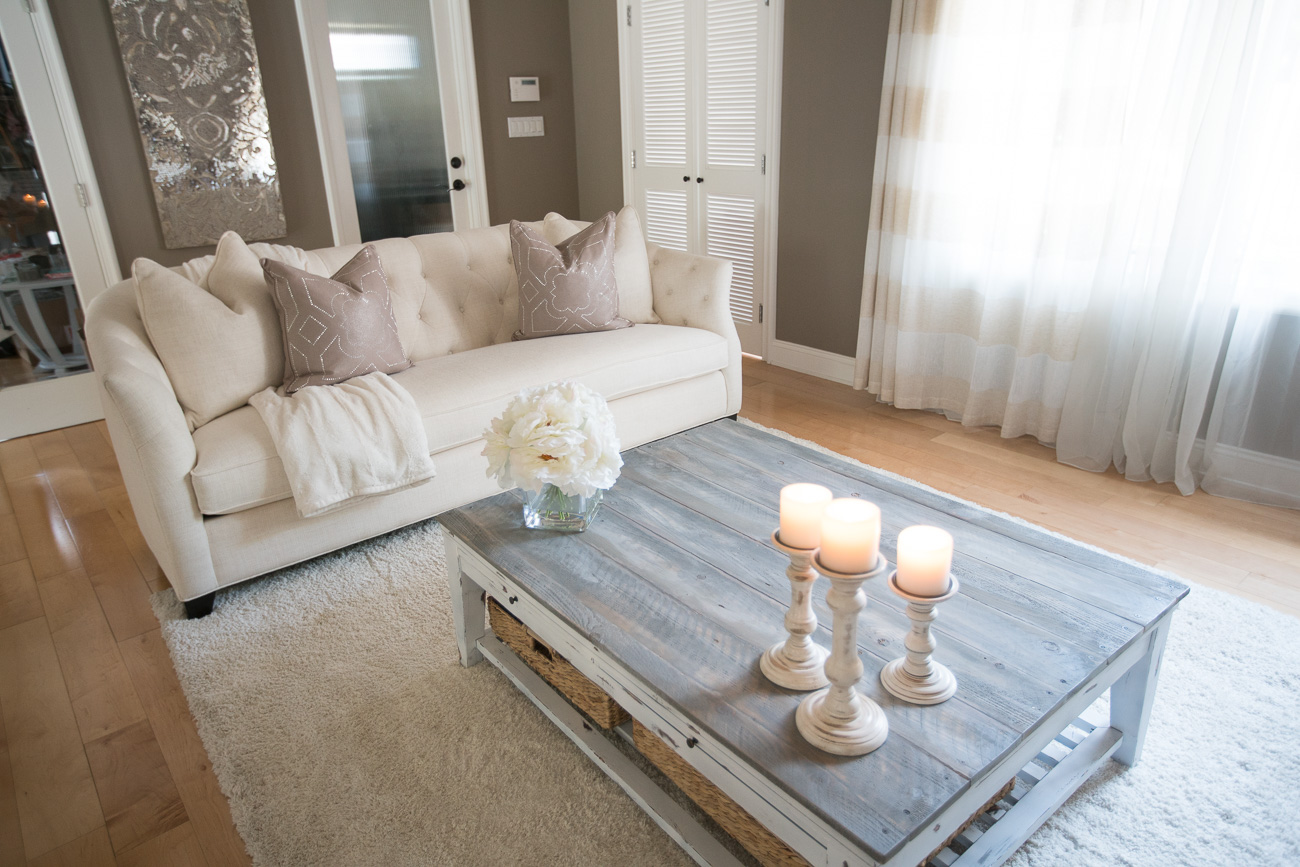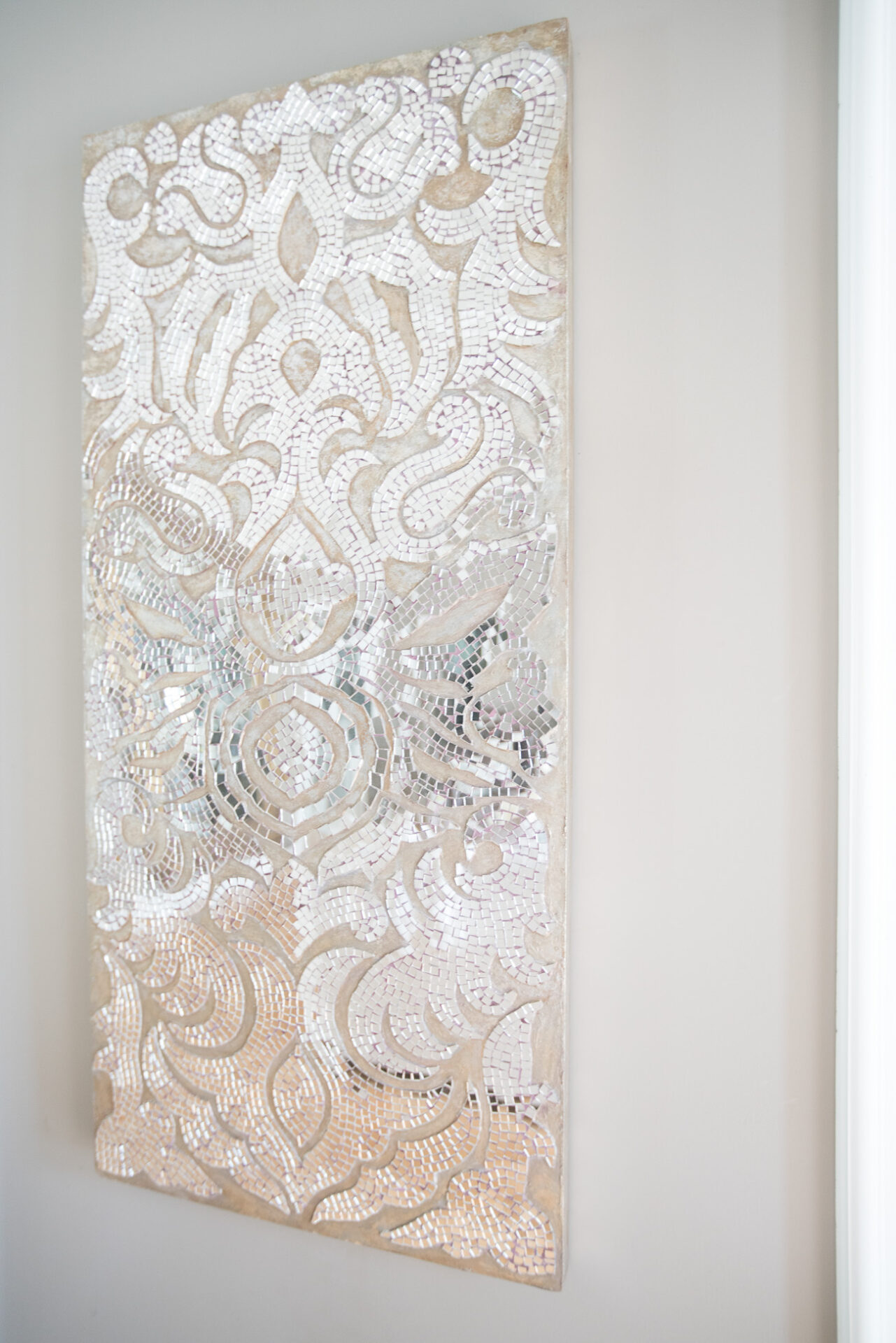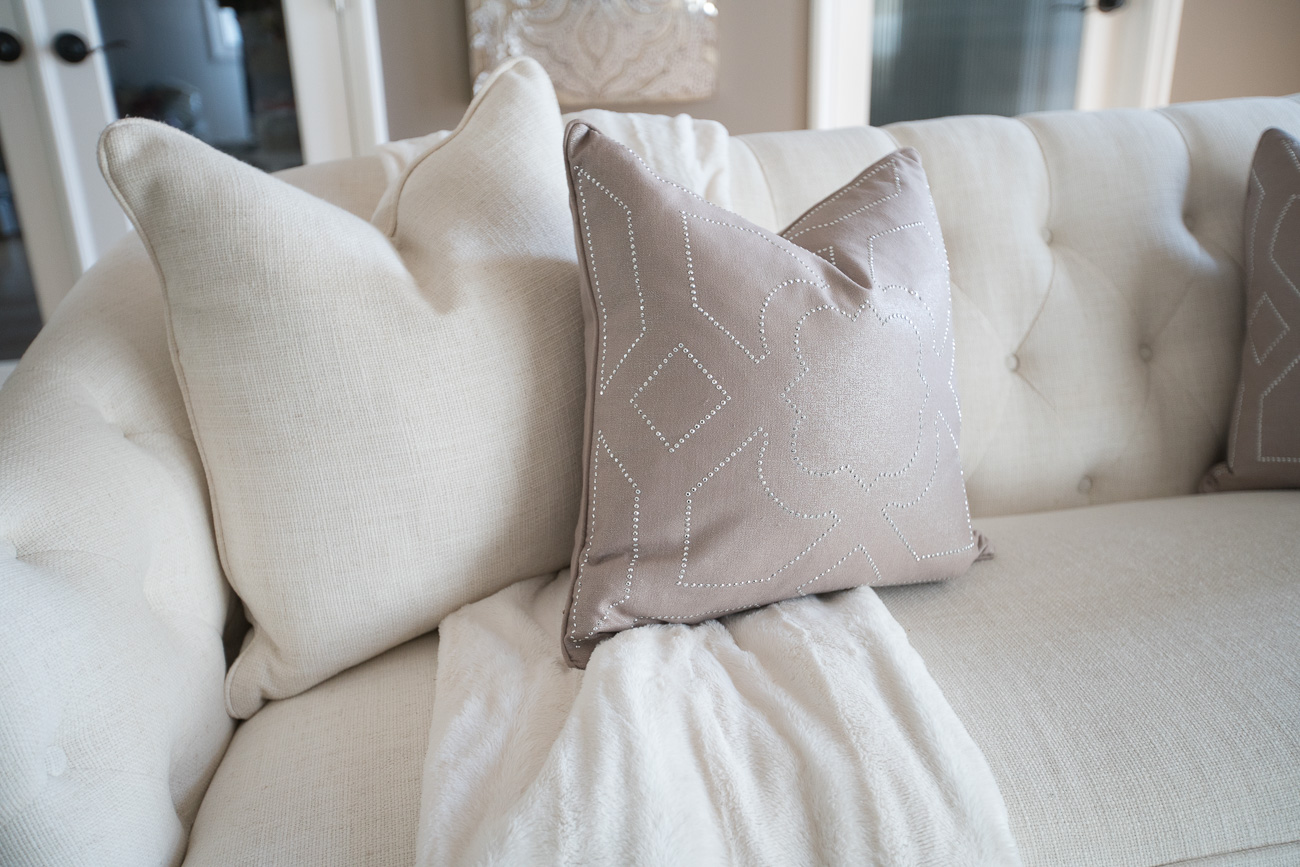 Sofa (sold out; similar linked); super similar sofa // Homegoods throw pillows; similar style throw pillows // Furry Throw Blanket // coffee table (Matt made/Proud wifey moment!) // Homegoods Area Rug; similar shag rug // Striped Curtains (Used 4 panels, 2 on each end of windows) // Mirrored Damask Panel // Homegoods Floral Arrangement; similar floral // White Wood Candle Holders
Shop These Home Pieces:

I've been on the hunt for new counter stools for close to a year and finally settled on this gorgeous design from Pier1. I love the studded detail and the natural fabric color. My walls look super blu-grey in this photo due to the lighting, but they're actually a lovely lavender-grey shade.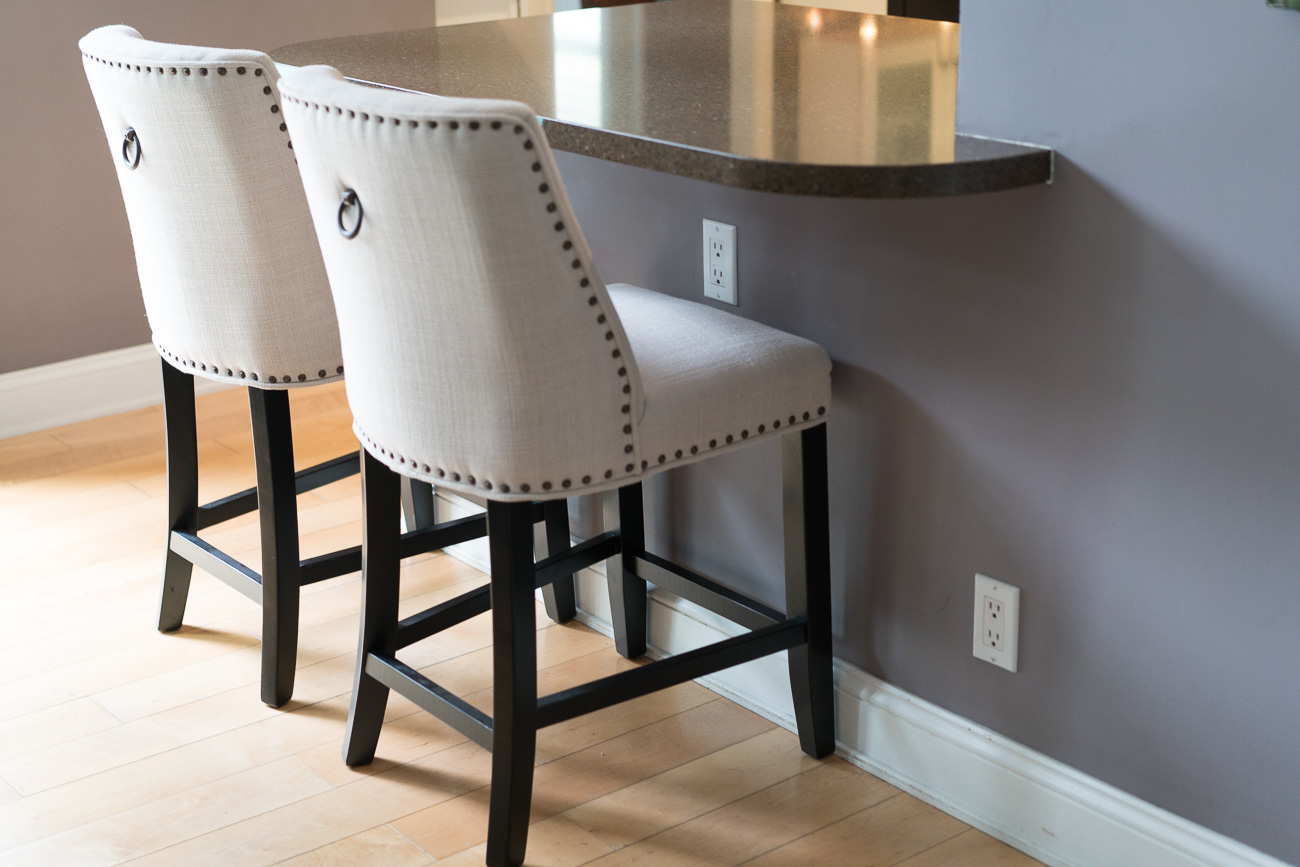 Corrine Counter Stools – Linen
I love quick fixes that don't break the bank to refresh your home as the seasons change. Switching out pillow covers is my favorite way to shift a room quickly from season to season. I added these off-white pillows/covers to our family room to brighten the room up for summertime. Soka loves these faux fur pillow covers so much… I can barely keep her off of them.
Another quick tip that I try to always keep on hand is fresh flowers. There's just something about a vase full of fresh, beautiful flowers that just make a room feel happier.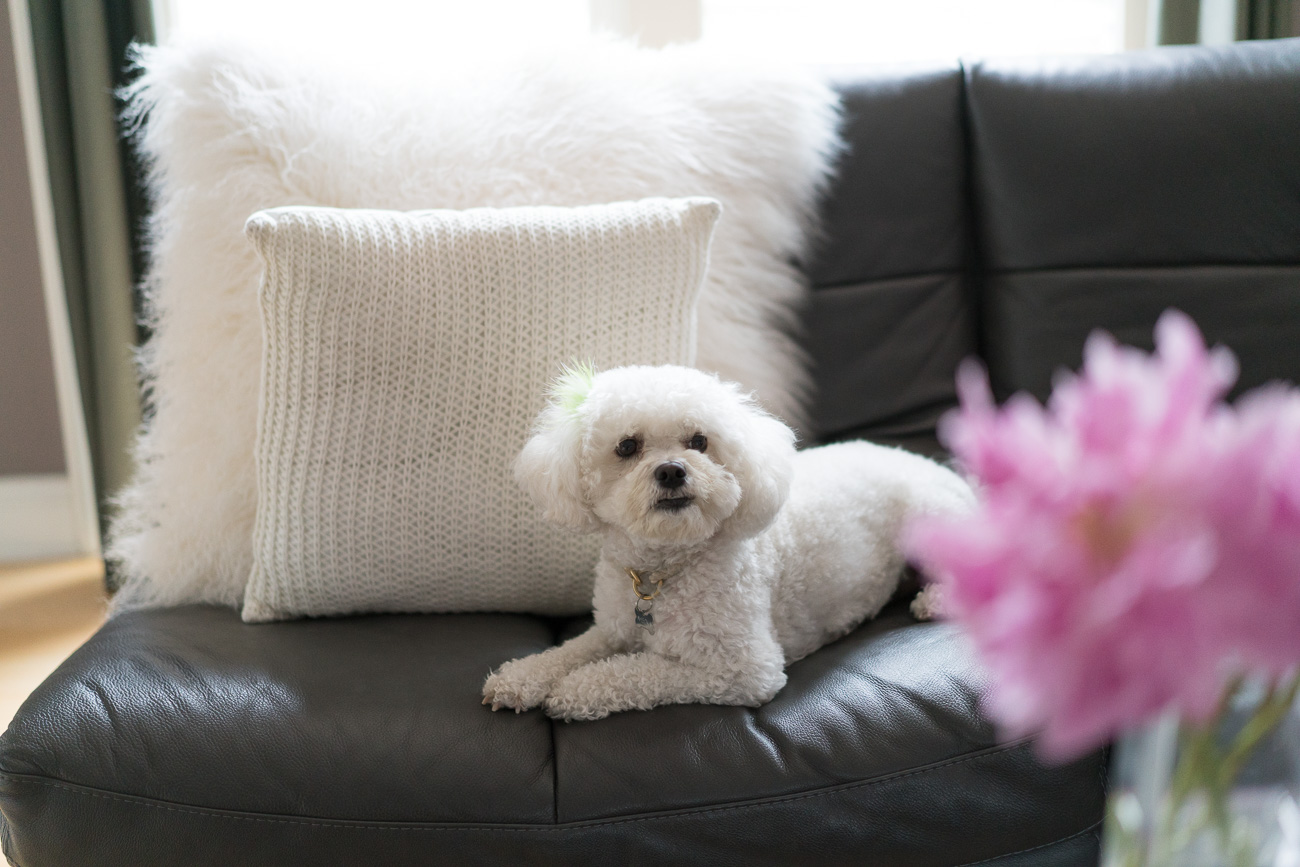 Mongolian Faux Fur Pillow Cover // Knit Throw Pillows
I (obviously) love my blog's name, Hello Gorgeous. Any time I find something that says Hello Gorgeous, or something similar, I have to buy it. It's just sorta my thing. Some people collect tea cups (which I'd like to take up some day!), others collect records, some collect Hummel figurines… I like Gorgeous things.
Our guest room is currently my main focus project wise. I showed on Snapchat last night that we painted the walls and ceiling "Crushed Ice" from Sherwin Williams. Our guest room is currently what houses my closet and all of my clothes. Here's a shot of my jewelry armoire with my wedding reception heels on display.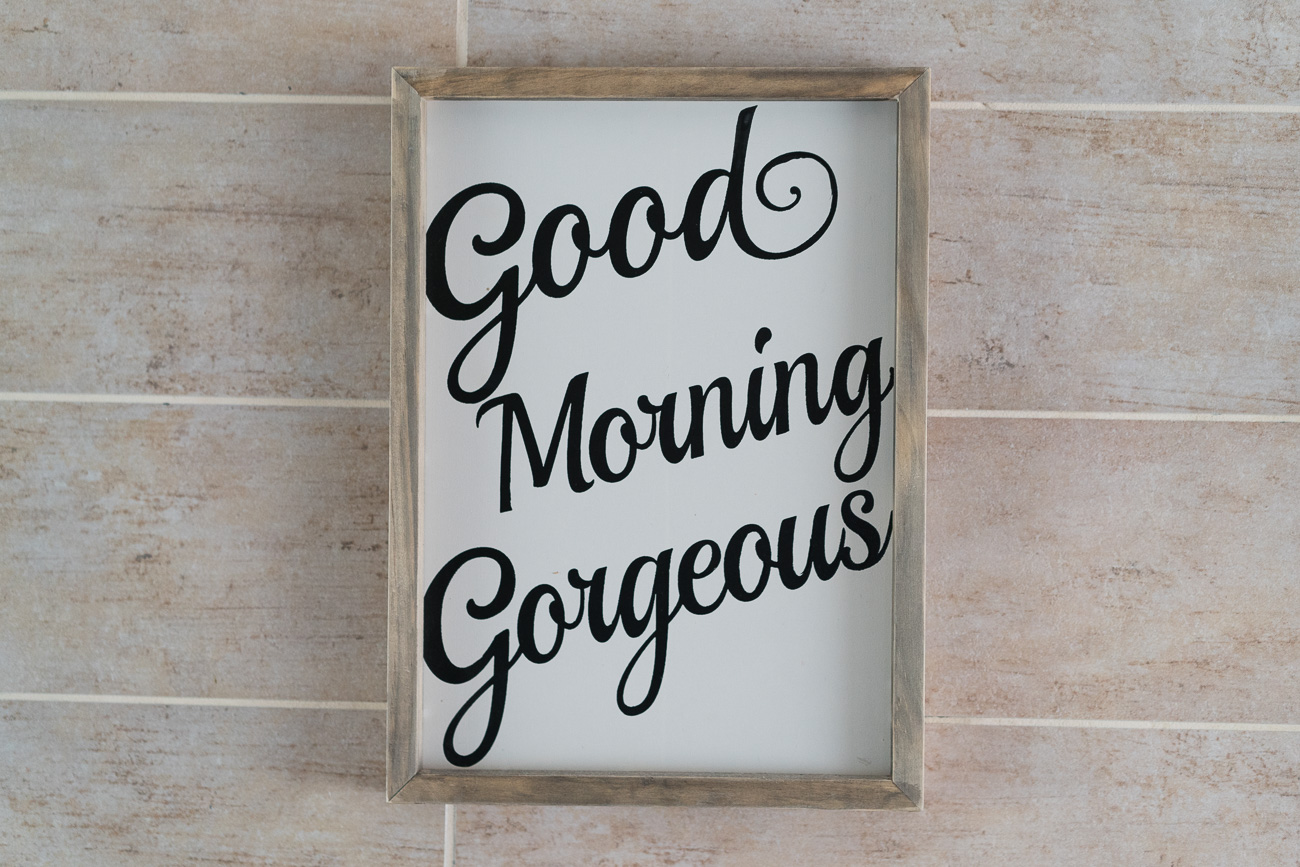 My sweet subscriber, Rebekah, recently sent me this beautiful Hello Gorgeous jewelry dish and I'm just totally obsessed!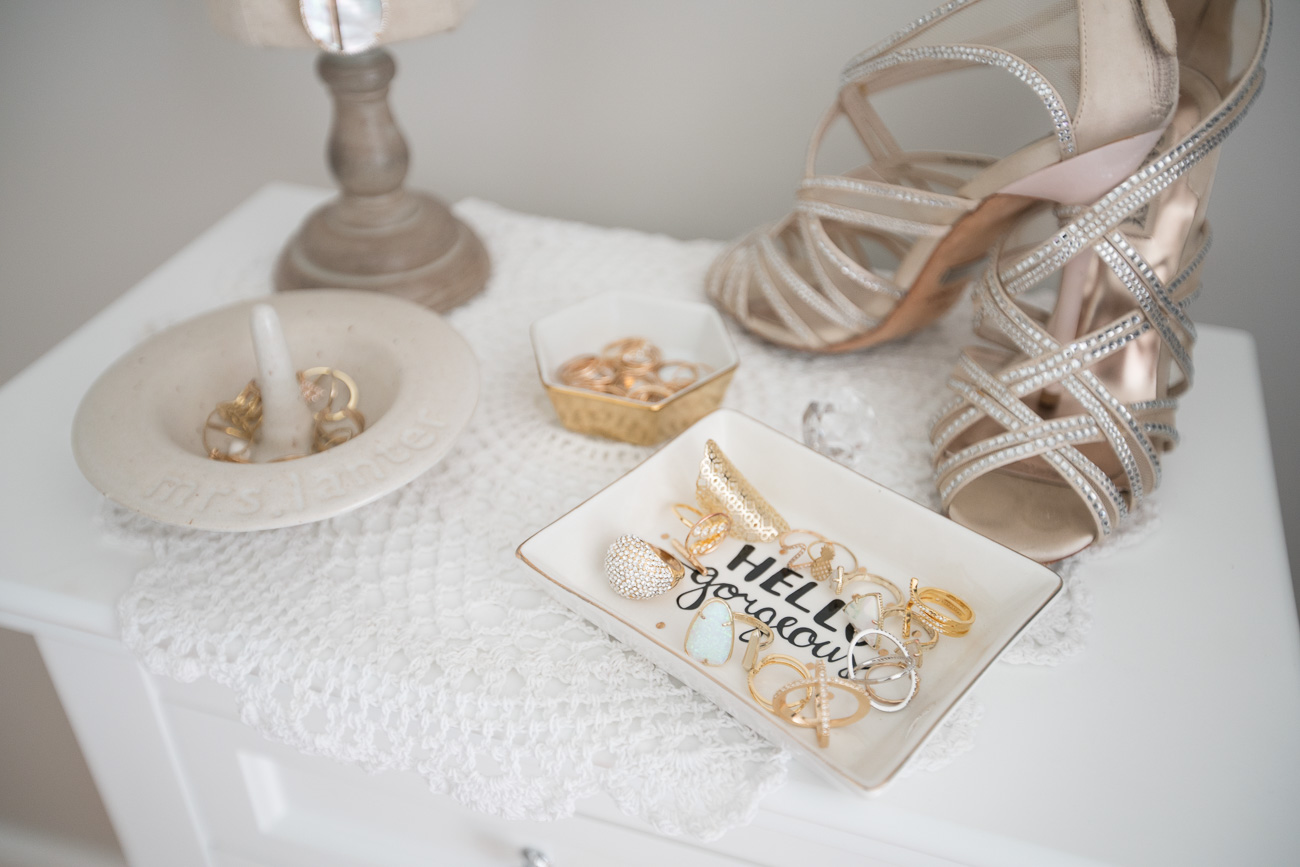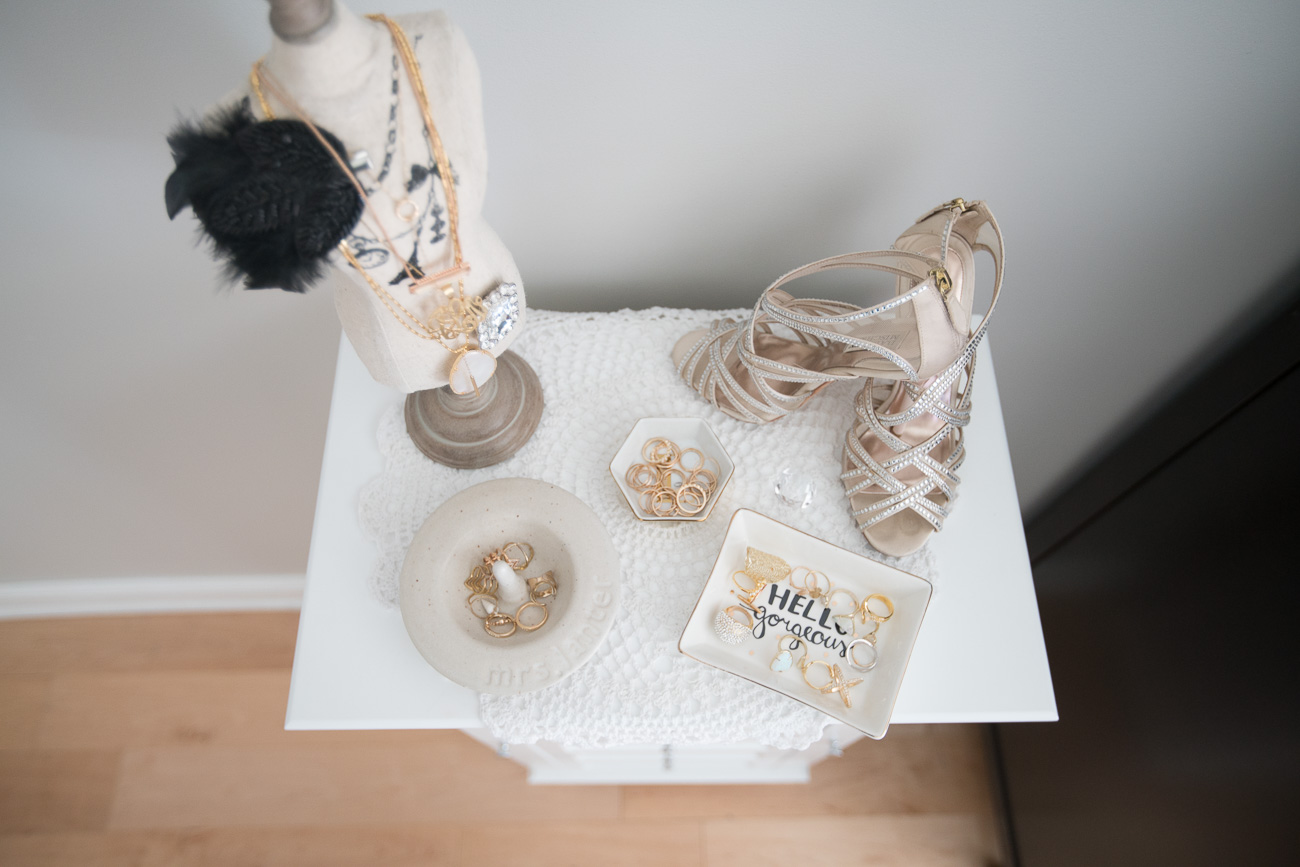 White Jewelry Armoire // Mannequin Necklace Stand // Badgley Mischka Gloria Sandals (sold out) // Hello Gorgeous Jewelry Box (similar)
Shop These Pieces:

For those of you who didn't catch my snaps of the guest room last night, here's a before pic (after we finished painting) so you can see what it looks like currently. Next we'll be painting the furniture and adding some other new pieces.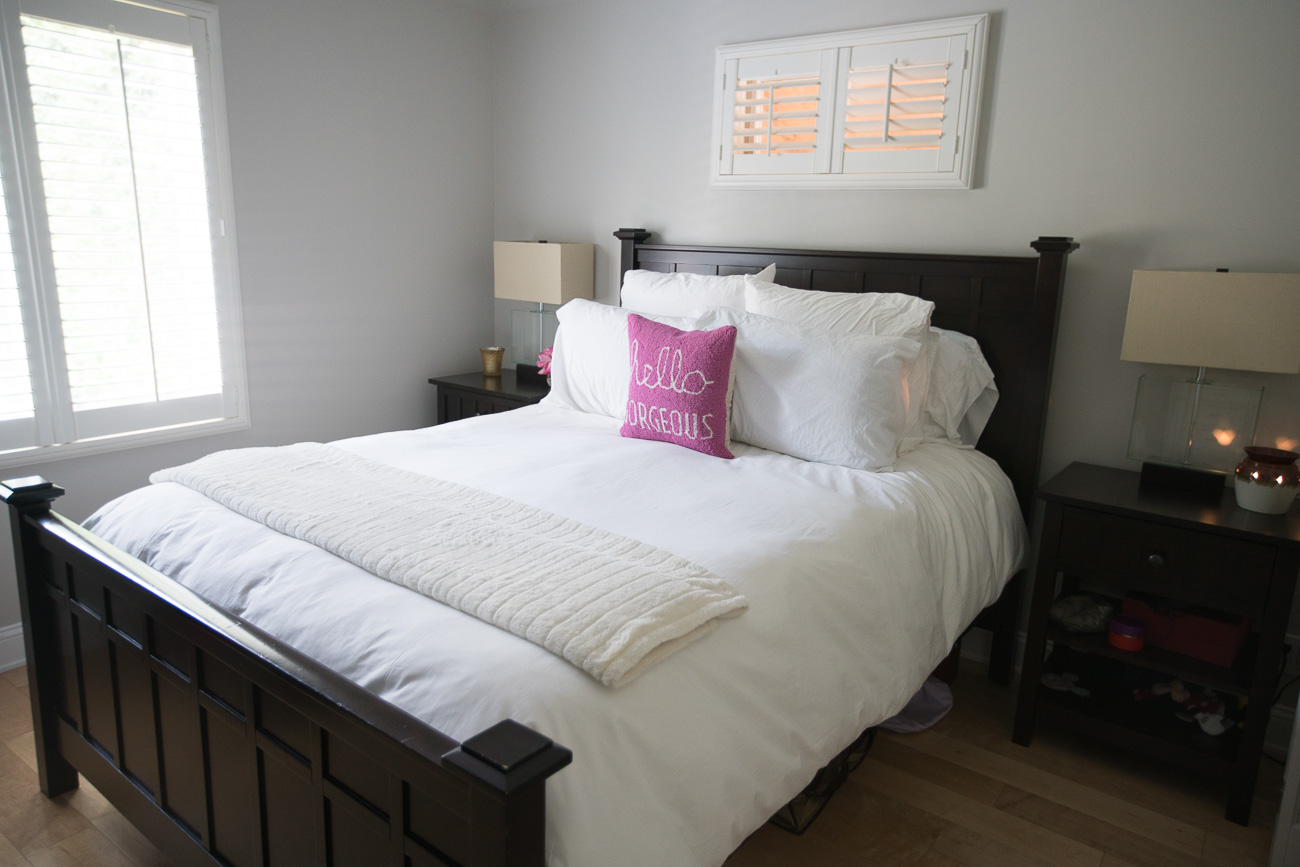 As you can see, the room is super plain right now. I have a full board on Pinterest dedicated to guest bedroom inspiration, so if you see something that you think I'd like, feel free to send it my way! Our bedroom furniture is from Crate & Barrel, bedding is from Ikea and Hello Gorgeous pillow is from my friend's mom's boutique, Vintage Charm.