I feel like owning a home is a never ending project. Am I right? The second I finish one project, I spot about 20 others that I want to tackle. It can be fun, but if you're like me and home decor isn't your forte, then it can also be pretty stressful. Here's a updated look into a couple of my home projects I've been working on. For reference, here is my last home decor blog post so you can see what exactly has changed and what I've been working on.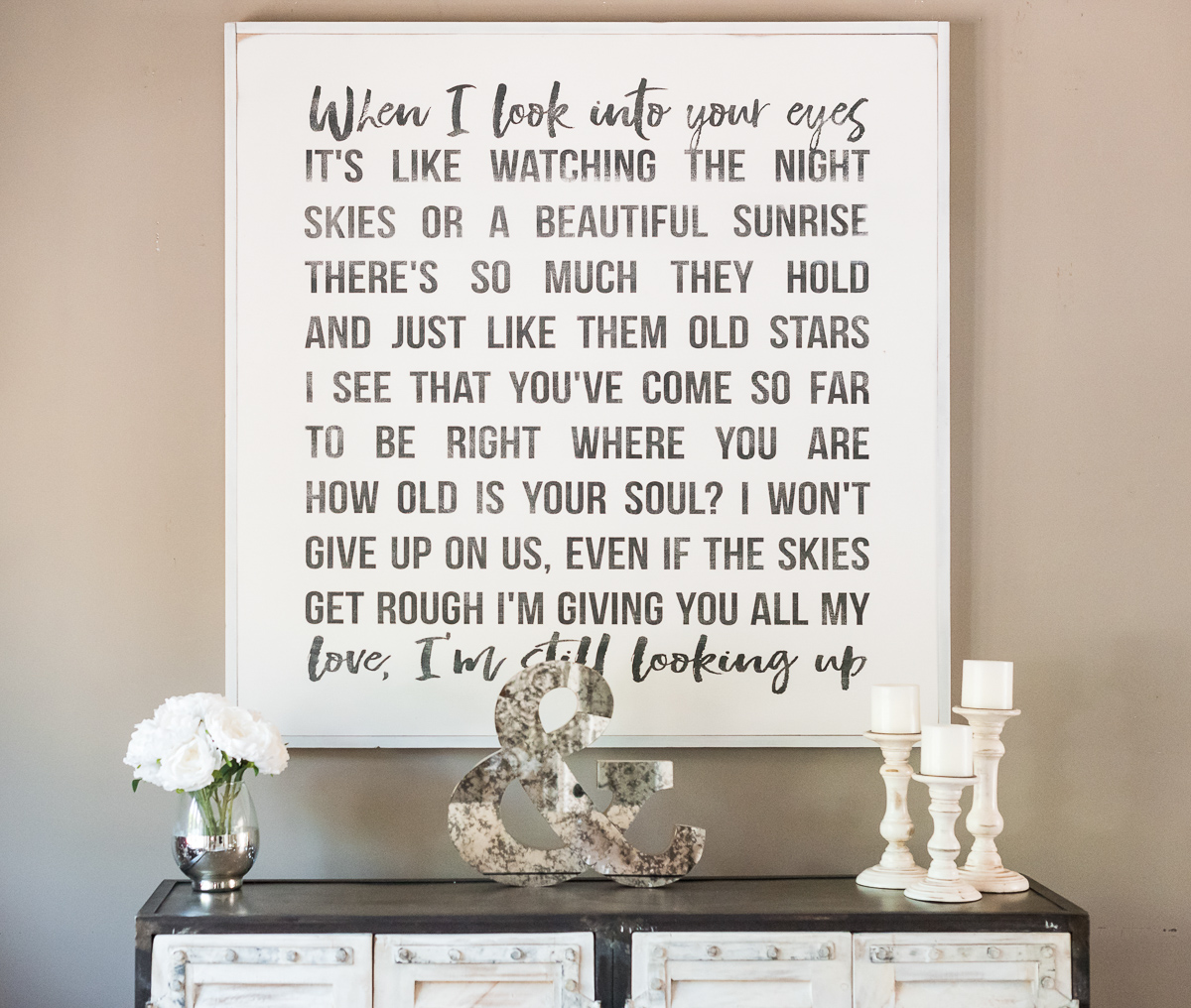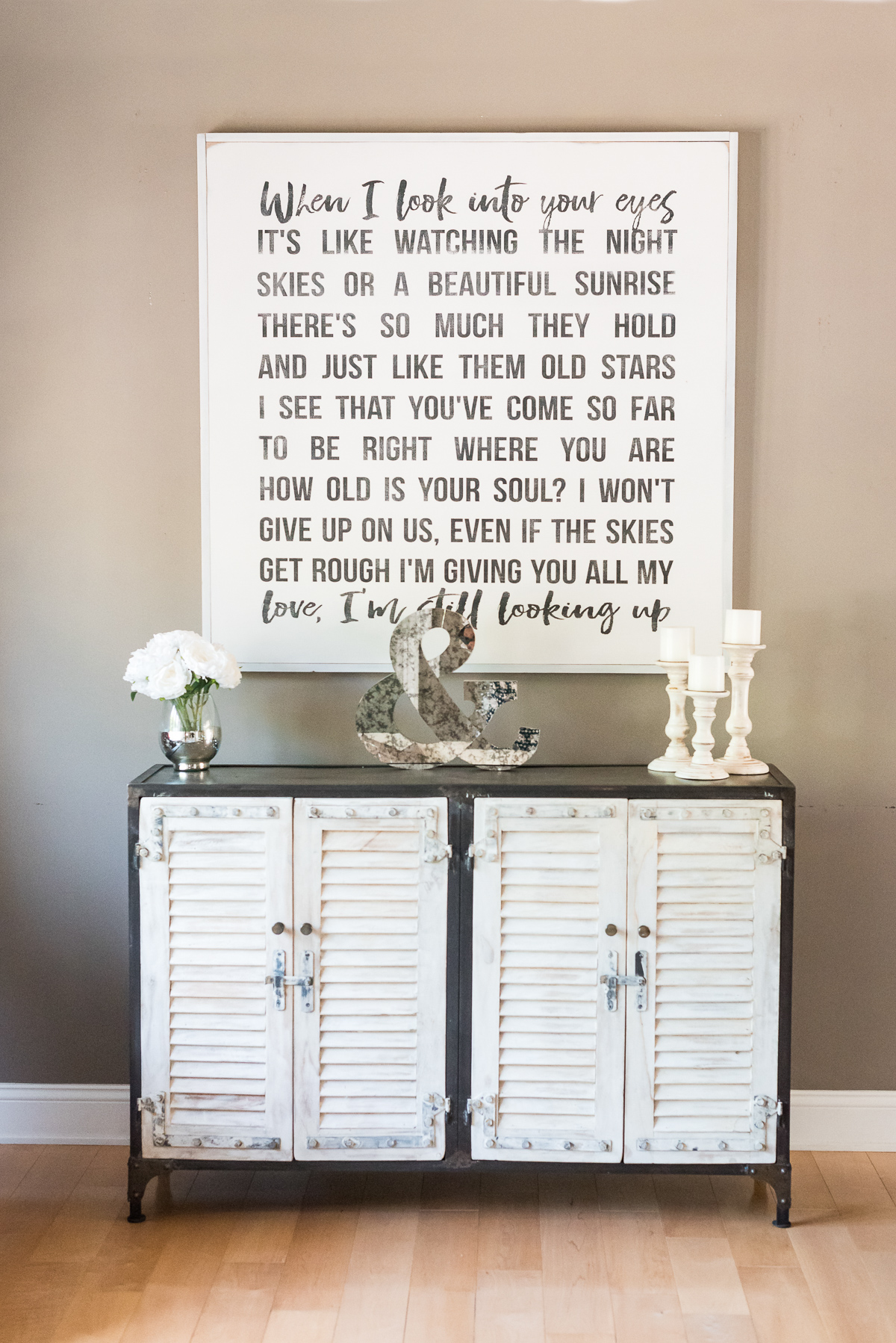 My friend, Megan Runion, came for a visit a couple of months ago and suggested that I check out the etsy shop, House of Belonging, for artwork for my massive wall in my living room. I did and immediately fell in love. I reached out and asked if they would be able to create a sign with our wedding song, "I Won't Give Up" by Jason Mraz. The finished project is absolutely incredible! They created a 4′ x 4′ sign with a distressed white frame and charcoal lettering to pair with Matt's handmade coffee table (see here for photos of our living room and coffee table). I highly recommend House of Belonging for a special touch for your home! Their pieces would make lovely gifts too.
"I Won't Give Up" Sign from House of Belonging c/o // Living Spaces Buffet (purchased approx. 3 years ago) // Mirrored Ampersand (old); love this one // World Market Whitewashed Candle Pillars // Homegoods Floral Arrangement; similar here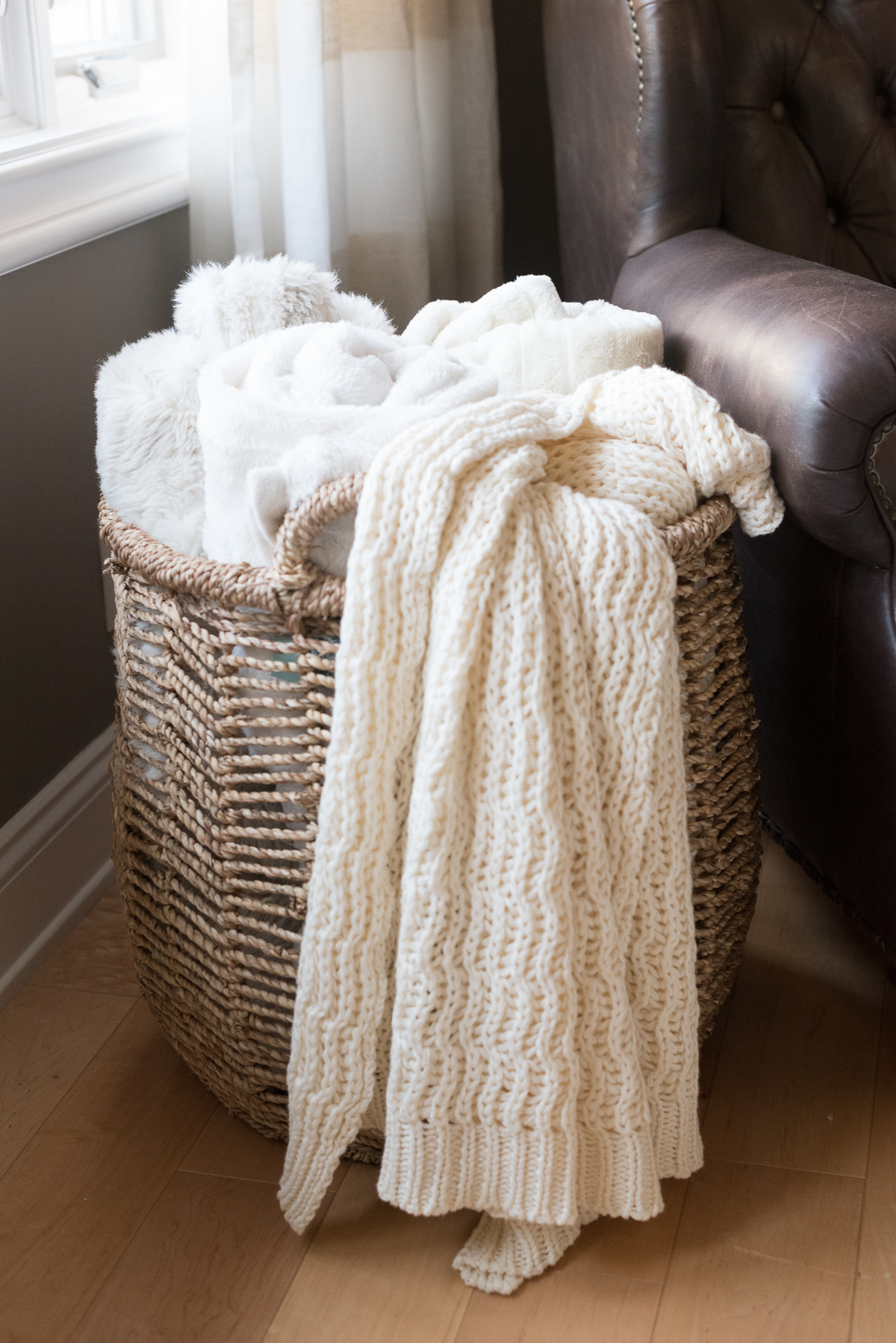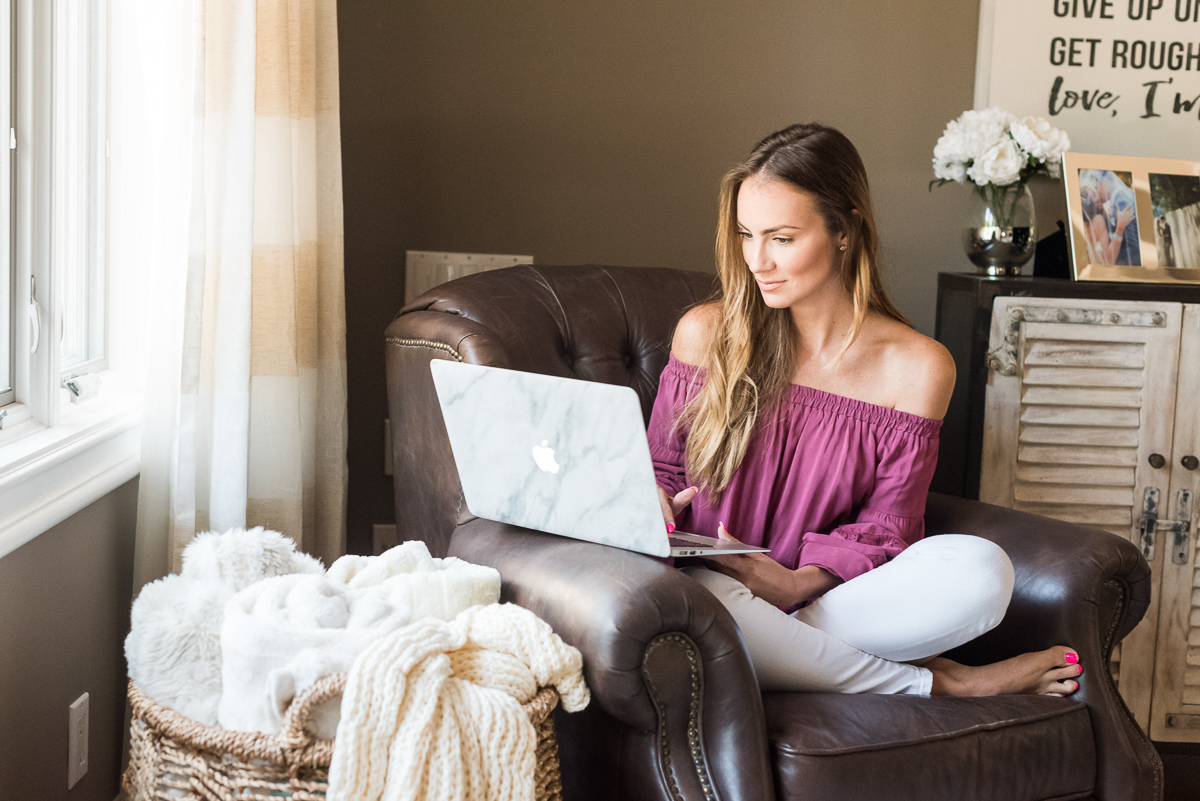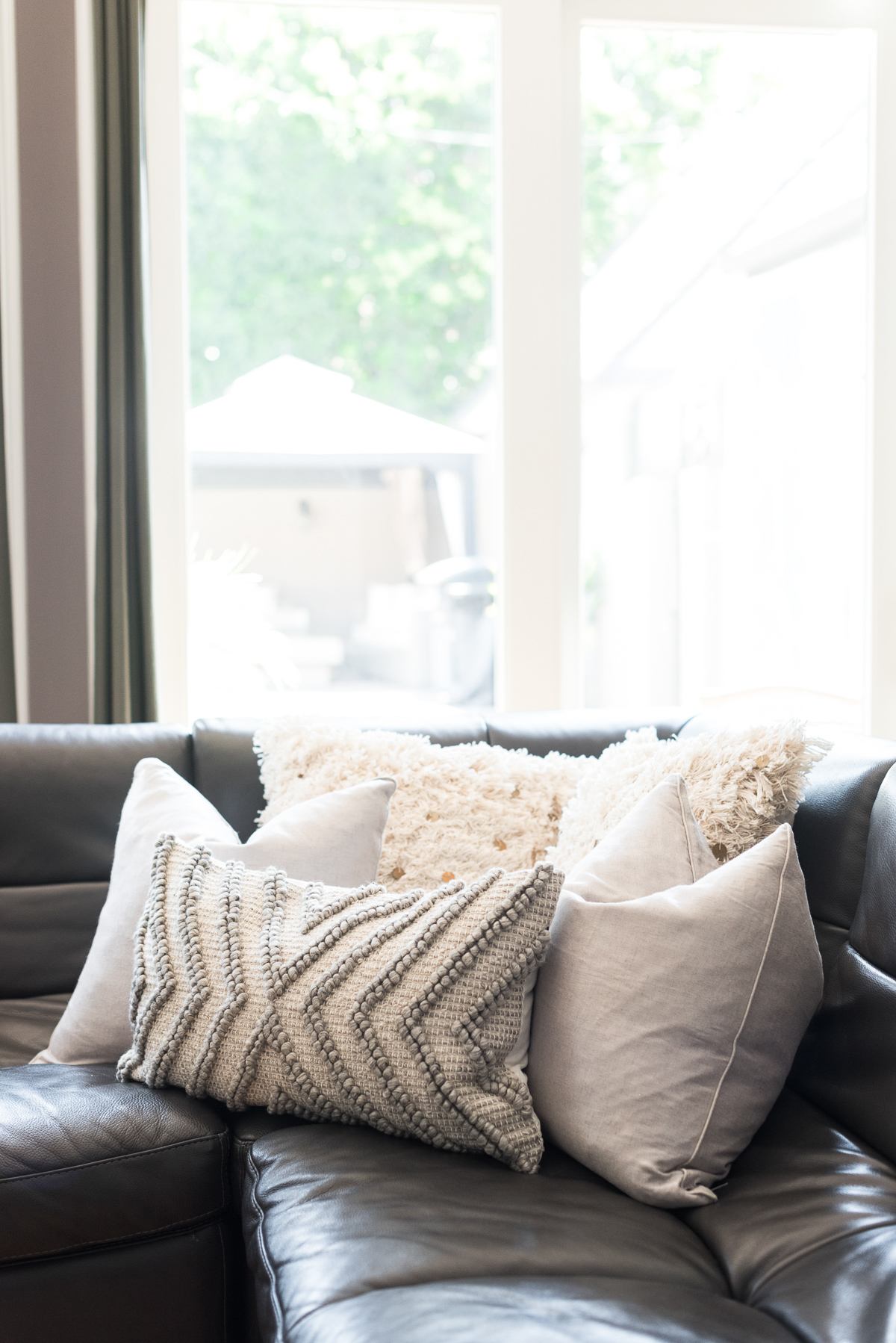 I am such a throw blanket and throw pillow fanatic. Give me a bed or a sofa and I'll try to fill it up completely with blankets and pillows. I started to notice that every single chair, sofa and bed in my house had a throw blanket on it… And I realized I needed to reel it in. I love the idea of having guests over and them being able to get cozy on my sofa with a blanket next to the fire. But my need for throw blankets was overtaking my home, so I took to Pinterest (follow me here!) and found the idea of putting all of my blankets into one basket. It's easy access to comfy blankets but it's also a cozy accent piece to my living room. I picked up the above basket last week at Homegoods and love the little addition to my home!
Homegoods basket; similar basket here // My Favorite White Throw Blanket // Pillows all from Homegoods // similar tan throw pillows // similar Moroccan style throw pillows // similar lumbar decorative throw pillow
Wearing: Off-the-Shoulder Top // Hudson White Skinny Jeans c/o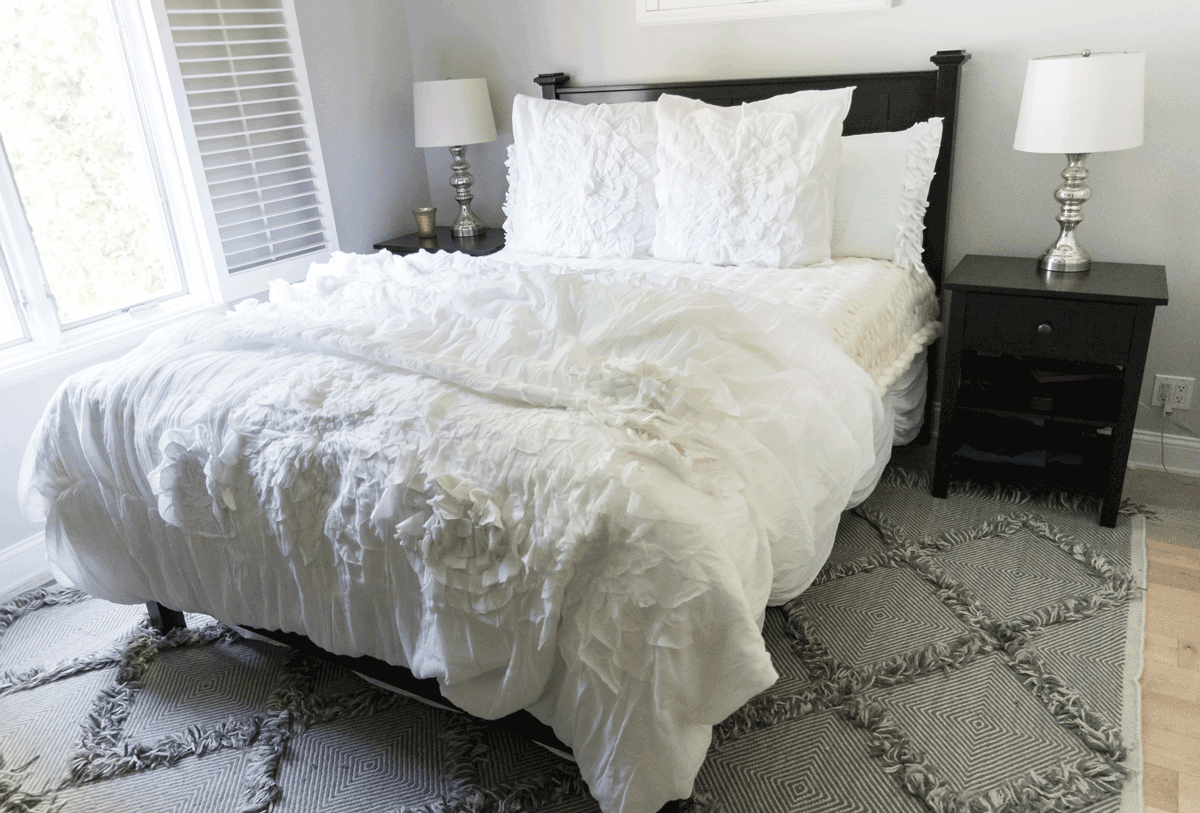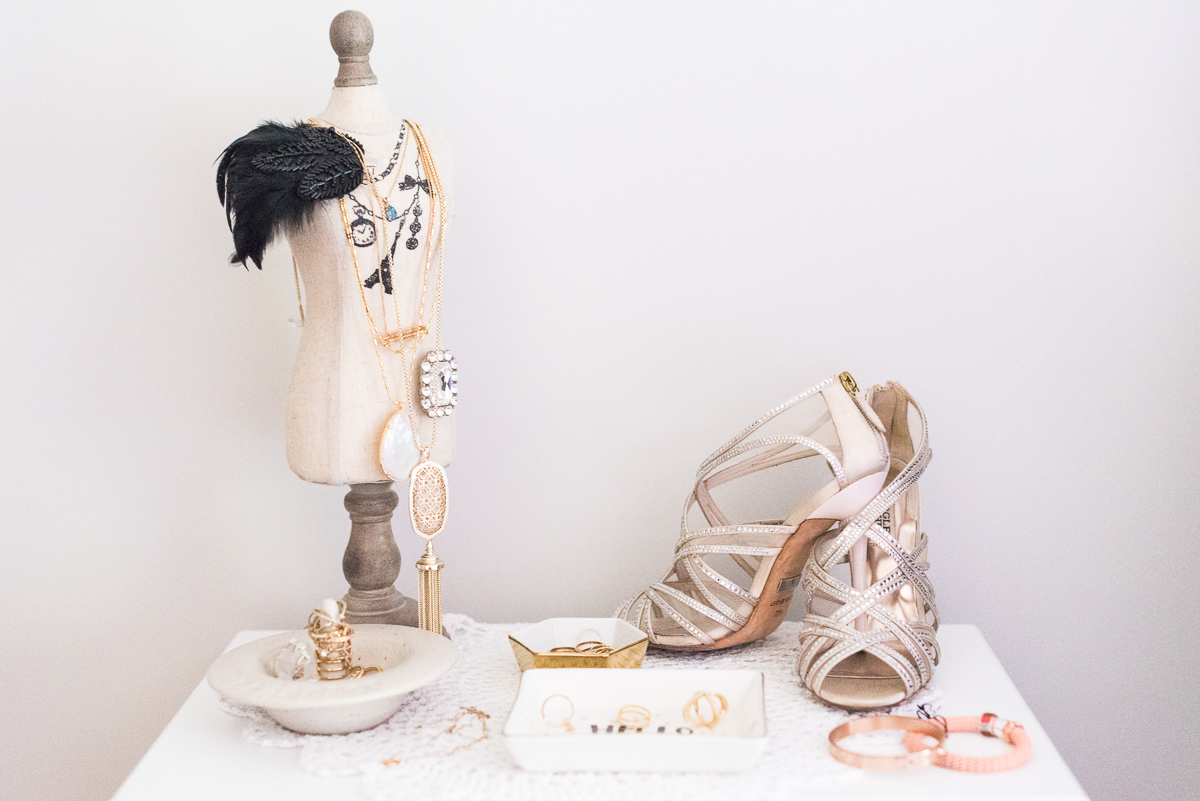 As you know, my guest room is a work in progress. The walls were originally tan with a blue accent wall. Matt painted the walls "Crushed Ice" from Sherwin Williams which I absolutely love. Midday sun makes the walls look white, but in the evening they look a lovely shade of bluish-grey.
For bedding, I chose the most gorgeous throw blanket I've ever laid eyes on from Merrisson Wool (see details in this blog post). I can't say enough how stunning this blanket is in person! Then I added the Georgina Duvet set that I've been eyeing forever from Anthro. This set is on the pricier side, but I did find this set from Nordstrom that's almost 1/2 the price and it's so lovely. I love the flower detail on this bedding set, but the bed skirt is what really did me in.
I also found this frayed rug at Rugs USA, and it's such a cozy addition to the room. The rug I chose is the larger (7'6″ x 9'6″) rectangle size and it fit perfectly into my guest room.
Next up is the furniture! I still haven't decided whether I'm going to paint the current pieces or if I'm going to start from scratch. What do you think would look best? My current furniture set painted white or grey and distressed or new furniture altogether? Let me know in the comments!
Rugs USA Dolcina Embossed Frayed Diamond Trellis Rug c/o // Merrisson Wool Chunky Knit Throw Blanket c/o // Bed Sheet Set (similar) // Georgina Duvet Cover // Georgina Pillow Shams // Georgina Euro Pillow Shams // Georgina Bed Skirt // Bedside Lamps (old); similar here // Crate & Barrel Nightstands
---
Now that we're up in Vancouver, my home projects will have to take a back burner. We are finally in our rental home in Vancouver and now I'm busying myself with getting all moved in and situated. When we move for projects, we rent furnished homes to allow less work, stress and moving for us. The unit we moved into is very different than our home in LA. Although it is fully furnished, I still like to put a few personal touches on the houses we temporarily live in to make it feel like home for Matt. I'll be adding bedding, decorative items (pillows, throws, etc.) and also a home office for me since I work primarily from home.
I've been on the hunt for a desk that won't break the bank, but haven't had much luck. I was hoping to find a great option at Homesense, but nothing quite fit my needs. I wanted to do something other than IKEA, but it's looking like that's probably our best option. If you have any home decor store suggestions for the Vancouver area, please leave them in the comments!
Photography by Kara Coleen.
See my updated Fall decor and tablescape in this post.