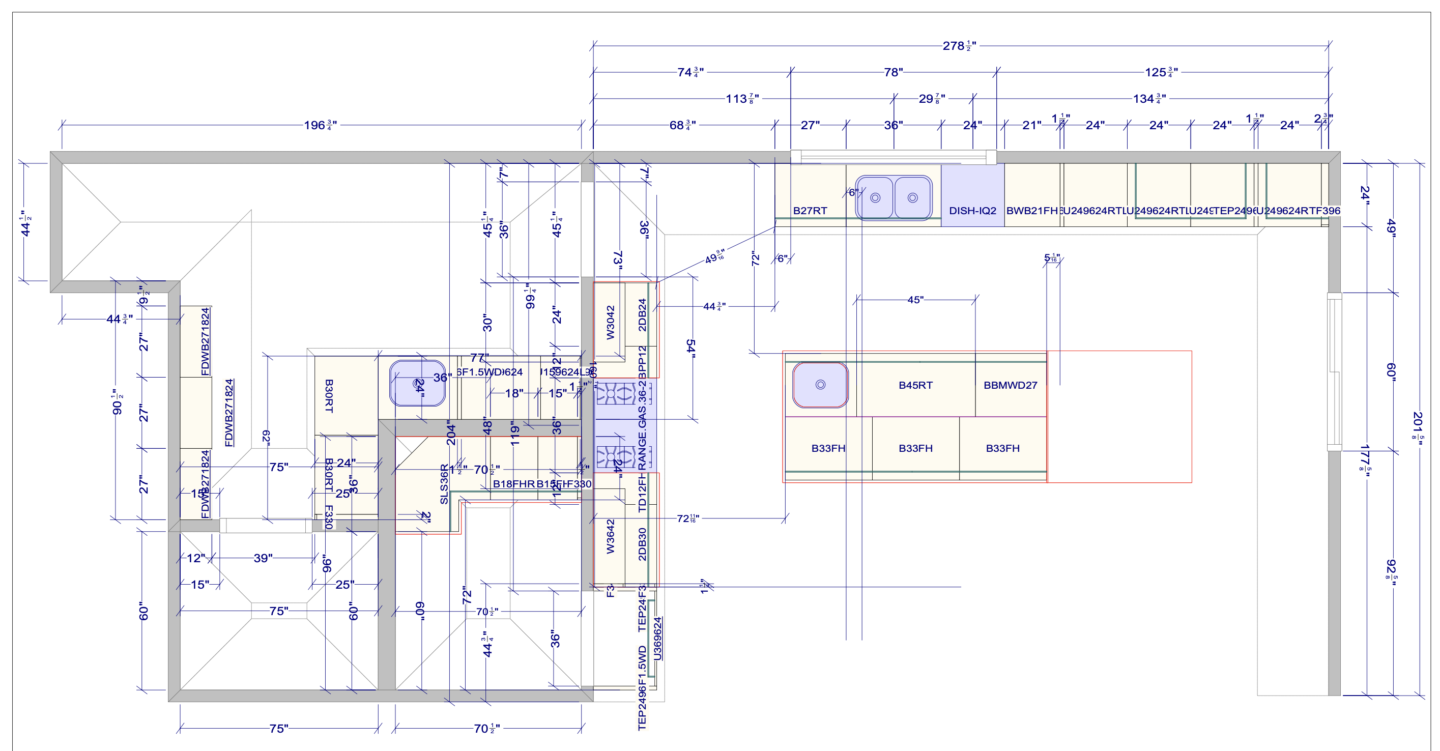 After gutting our Ohio house completely, we were given the opportunity to start from scratch with the layout… Which we absolutely did. Right now, we're focusing down hard on our L-shaped kitchen with an island.
We had just over 2,000 sq. ft. to work with in this property, so opening up the space was essential. When we bought the house at an auction, it was a series of tiny boxes, aka: tiny rooms.
Here's what the kitchen looked like before we ripped it out: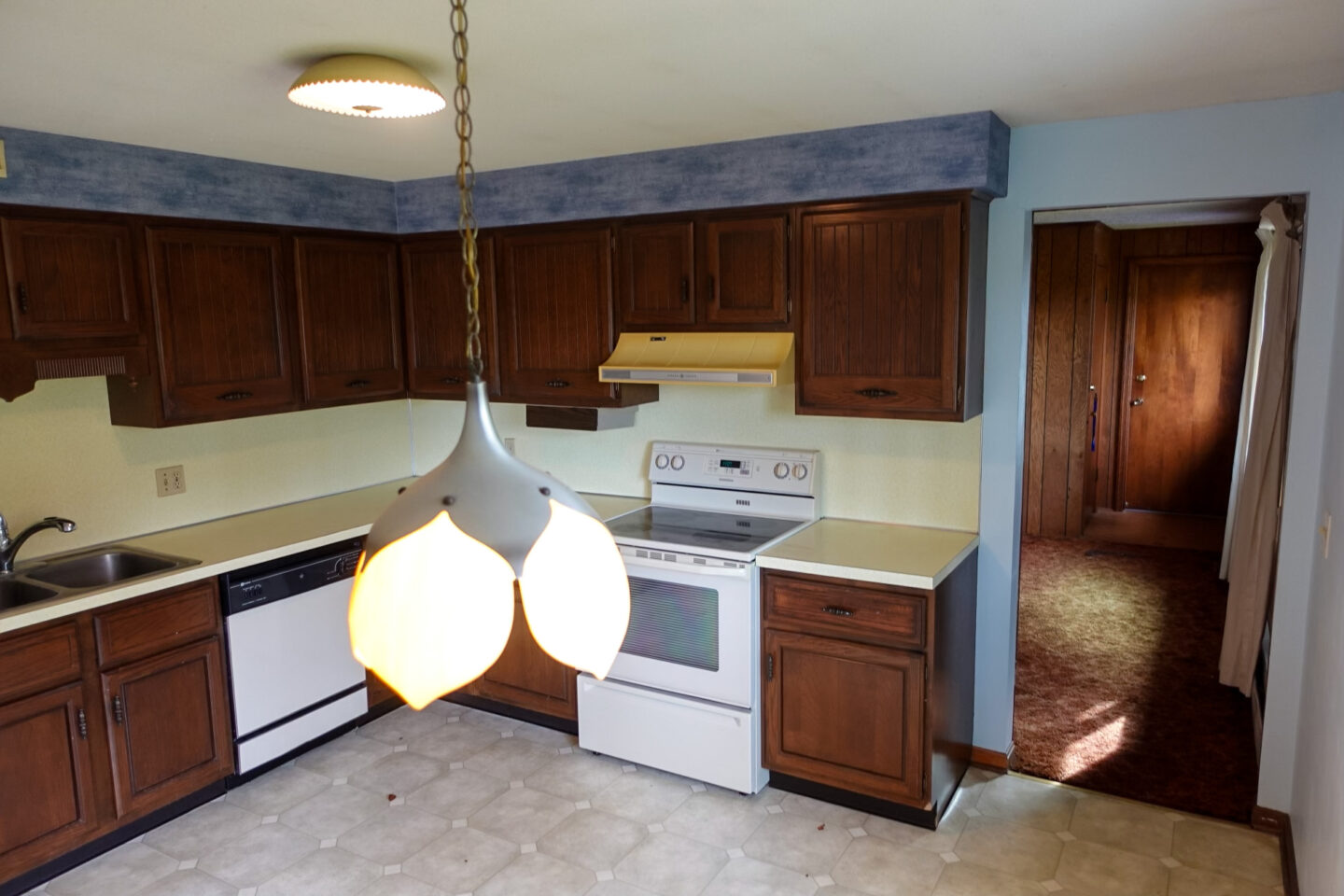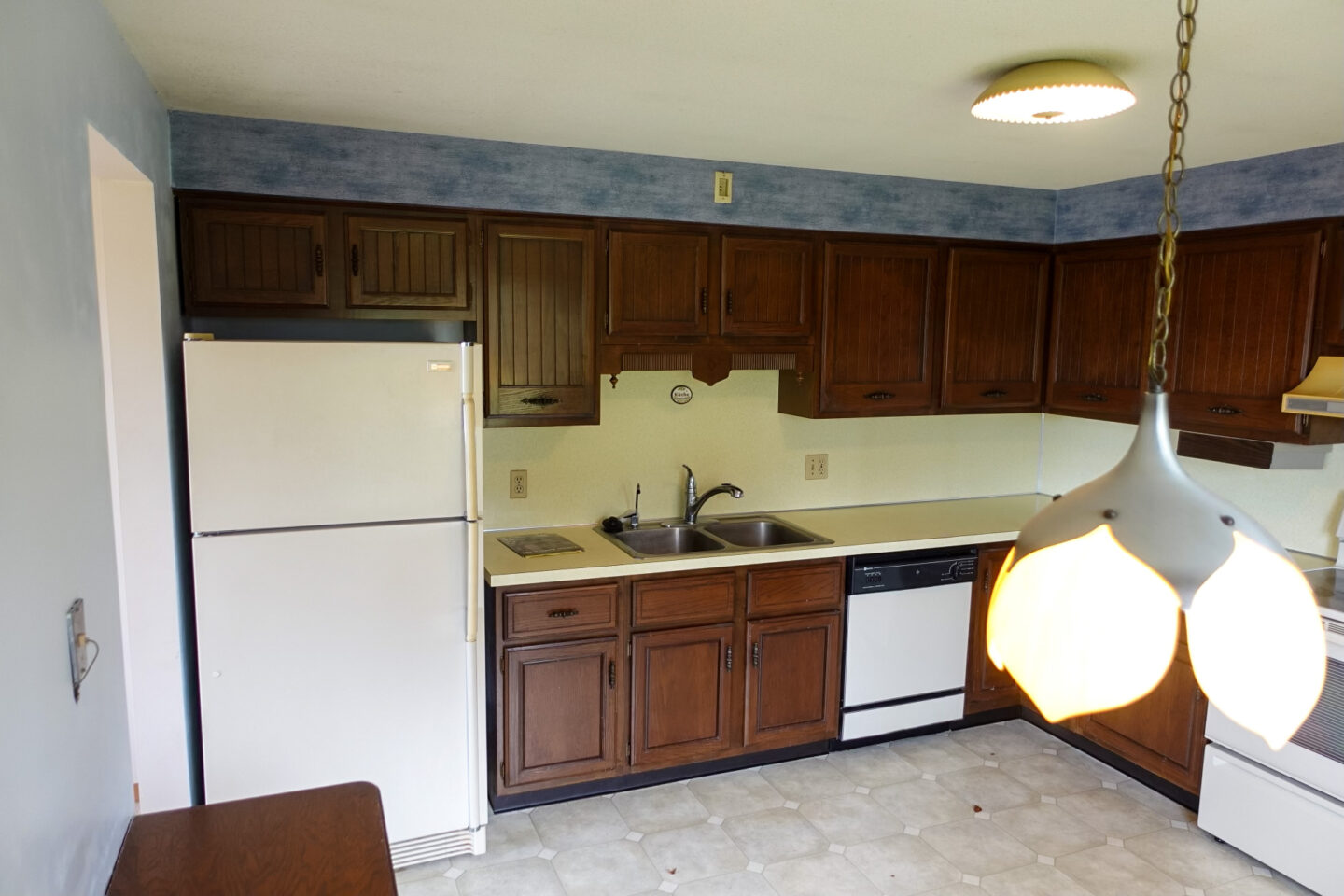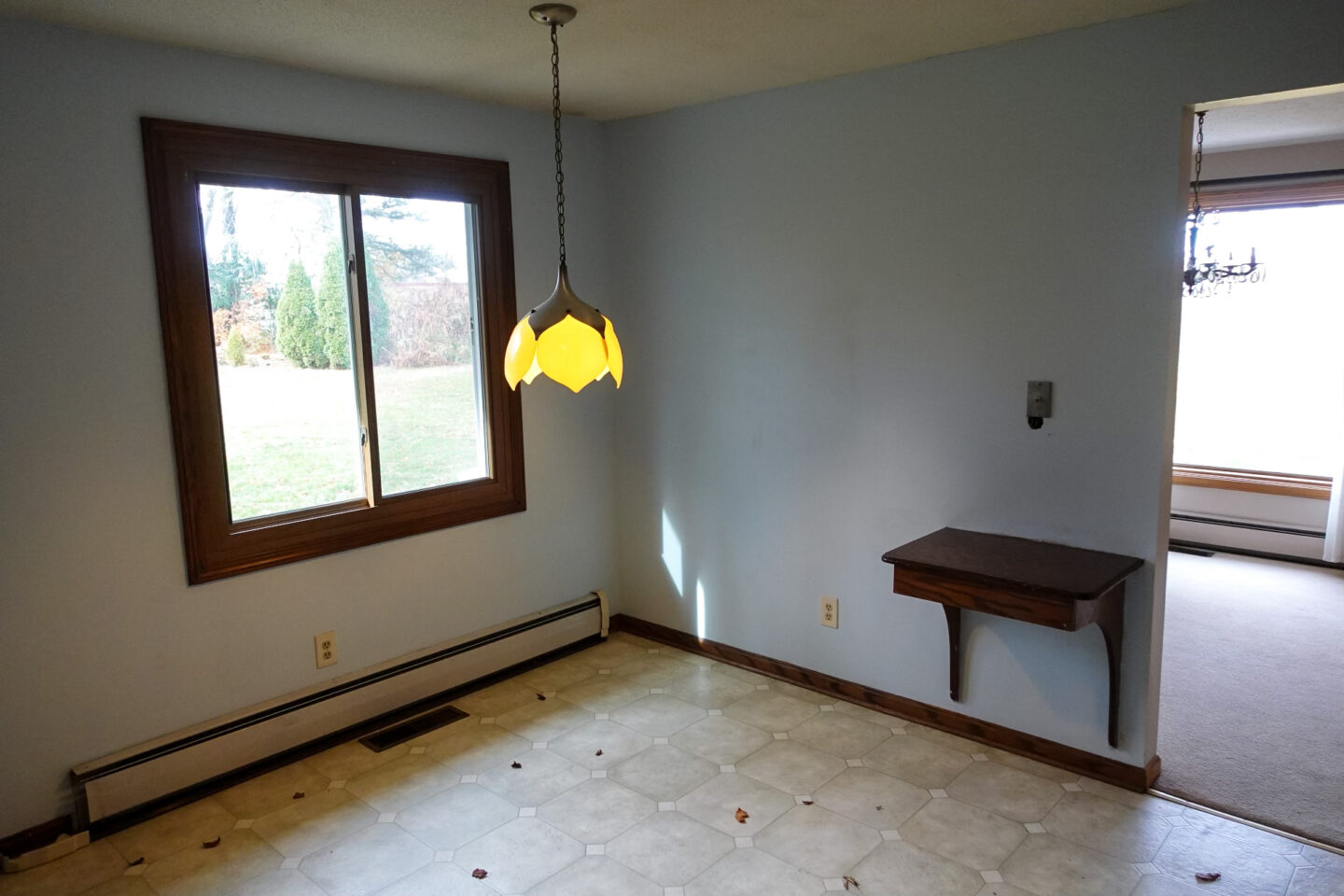 Lovely, right?
I had no clue what that little desk was at first. Many of you will recognize it right away as the phone desk which was apparently popular in 1960s kitchens.
I didn't want my new kitchen boxed off with a separate dining room and living room. I'm always the girl who wants everything open, so open concept kitchen it is.
Here is a look at the teeny tiny dining room before we tore it out: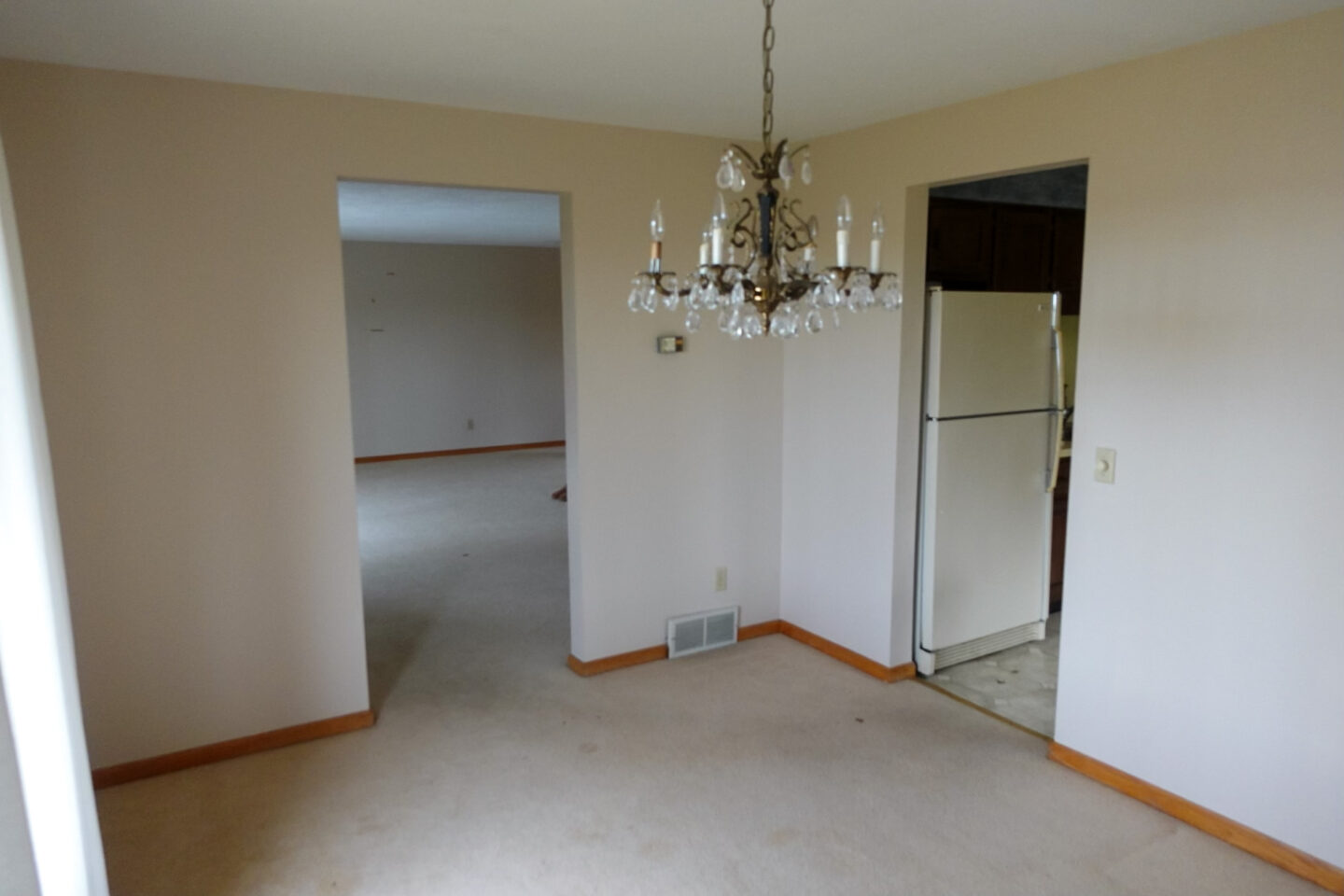 Since we have a smaller space we're working with in this kitchen remodel, open concept kitchen design is an absolute must. Once we took down all of the walls and opened up the ceilings, the space felt so large.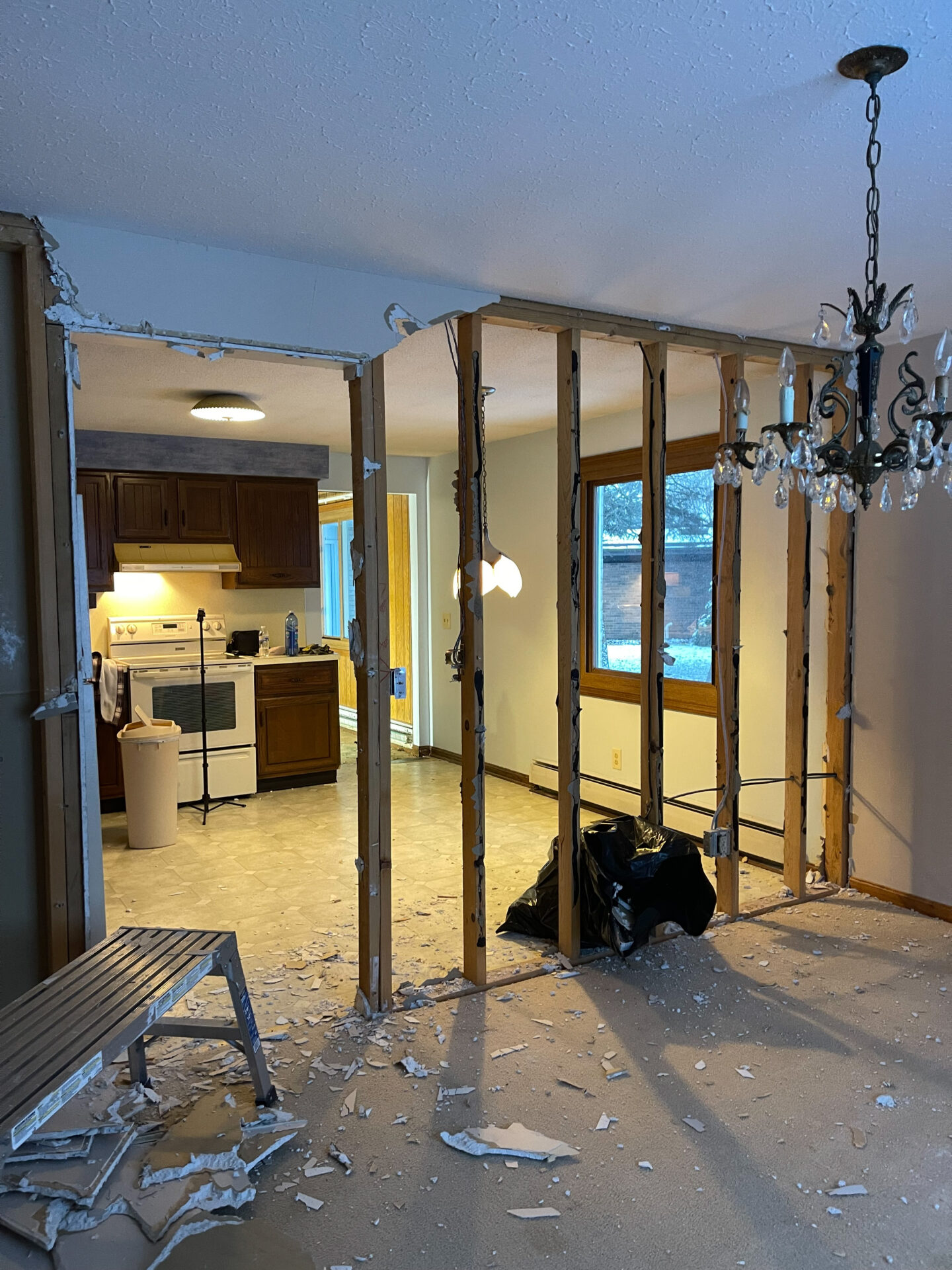 A kitchen island is a necessity for not only this shaped kitchen layout, but also for storage, counter and prep space, and just me in general, lol.
When it comes to the shape of the island, for an L shaped kitchen with an island, your traditional rectangle works the best, which is what we've chosen.
Before we go any further, here's a look at the current plans we have for our kitchen. Our awesome friend, Eric Lowe, from Hartville Hardware, has been kicking butt with this project and has drawn up this layout that we love.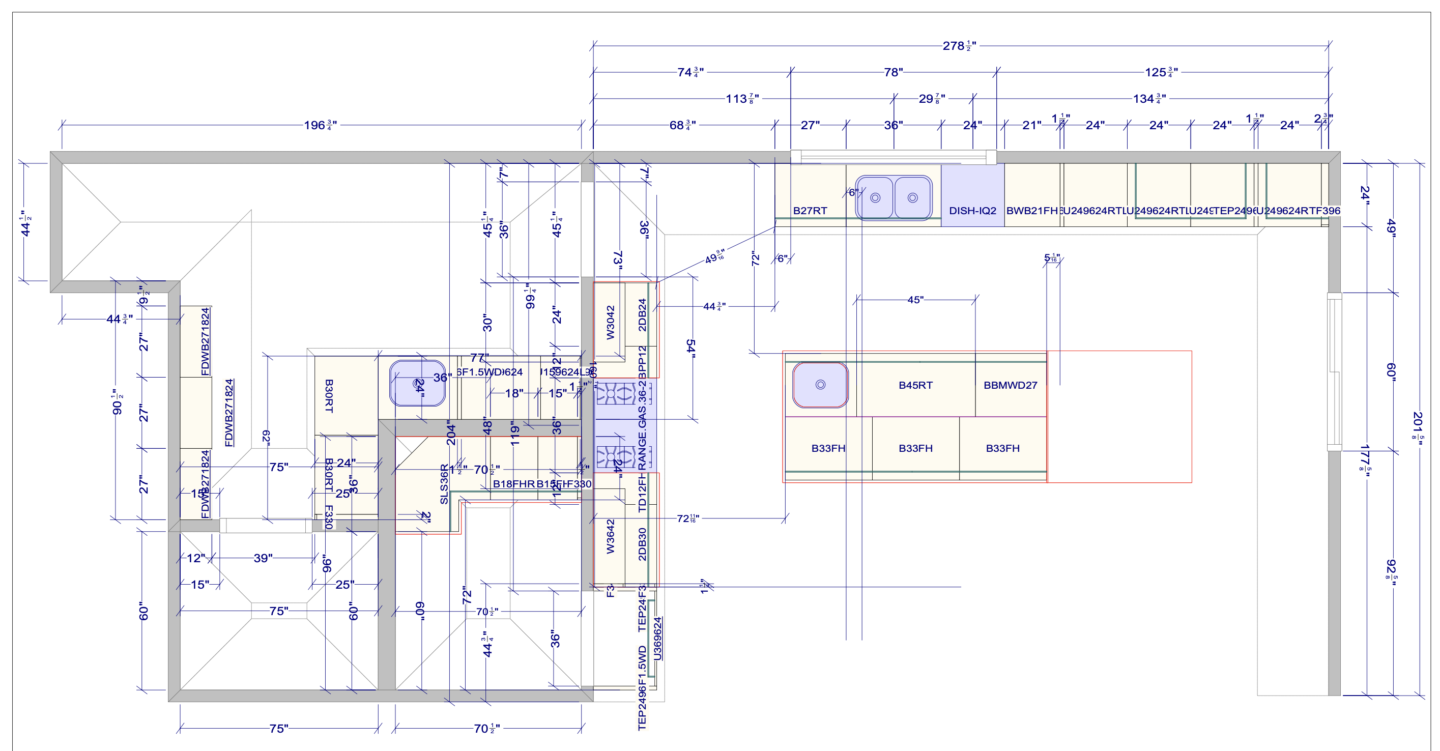 Benefits of an L-shaped kitchen with an island
There are many benefits to choosing an L-shaped kitchen with an island. Here are just a few:
Functionality: An L-shaped kitchen is very efficient, as it provides plenty of counter space and storage. The island can be used for additional prep space, a breakfast bar, or even a place to store appliances.
Style: An L-shaped kitchen with an island is a very stylish option. It can be customized to match any décor, and it can add a touch of luxury to any home.
Flexibility: An L-shaped kitchen with an island is very flexible. It can be easily adapted to different needs, such as a growing family or a busy lifestyle.
Tips for designing an L-shaped kitchen with an island
When designing an L-shaped kitchen with an island, there are a few things to keep in mind:
The size of your kitchen: The size of your kitchen will dictate the size of the L-shaped layout and the island. Make sure to measure your space carefully before starting your design.
The traffic flow: The traffic flow in your kitchen is important, so make sure to plan your layout accordingly. The island should not be in the way of traffic, and it should be easy to access from all sides.
The appliances: Consider the appliances you need in your kitchen and where they will be located. The island can be a great place to place appliances when in use.
The storage: Make sure to include plenty of storage in your kitchen. The island can be a great place for additional storage, such as cabinets or drawers.
The style: Choose a style that matches the rest of your home. There are many different styles of L-shaped kitchens with islands, so you're sure to find one that clicks with you.
We took a trip down to Amish Country today and made some decisions on cabinetry. Shockingly, I'm skipping my typically white cabinet choice and am choosing natural wood cabinets. I want something in the white oak family that will compliment our wood floor choice.
All of our appliances will be panel ready with the exception of the stainless steel microwave and decorative range.
The hood vent, marble countertops vs. quartz countertops will be among the next decisions we make. I also haven't decided whether I will go with an undermount sink for this kitchen yet… Although I do love me a great DeVol kitchen sink at the moment.
We have a ton of gorgeous samples to choose from for out tile backsplash from Ann Sacks. Ann Sacks will also be our tile of choice for our bathroom and laundry room projects as well.
I have so many design ideas thanks to Pinterest, lol. Style-wise, we are leaning towards Scandinavian style with a nod to the 1970 year the house was built with touches of mid century modern.
This is actually my first L shaped kitchen design. I have had U shaped kitchens, a parallel kitchen of sorts (our townhouse) but technically it is an L-shaped kitchen, as well as a G-shaped layout. Kitchen layouts are the first step in any kitchen remodel, so make sure that you choose the shaped kitchen layouts that work best for your lifestyle as well as your space.