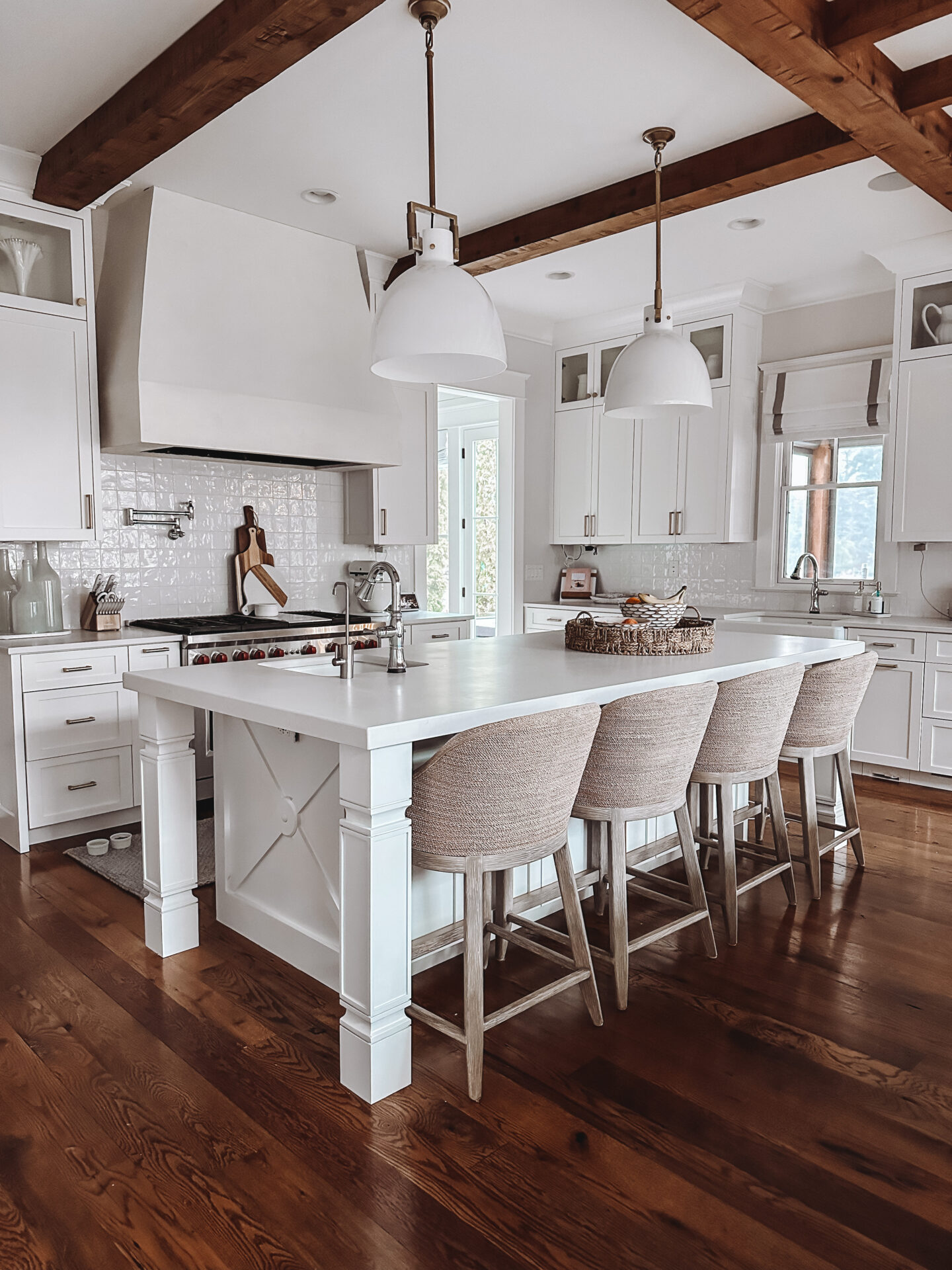 If I had a penny for every time I get asked for my kitchen sources (paint colors, hardware, etc.)… I'd have a lot of pennies. 😂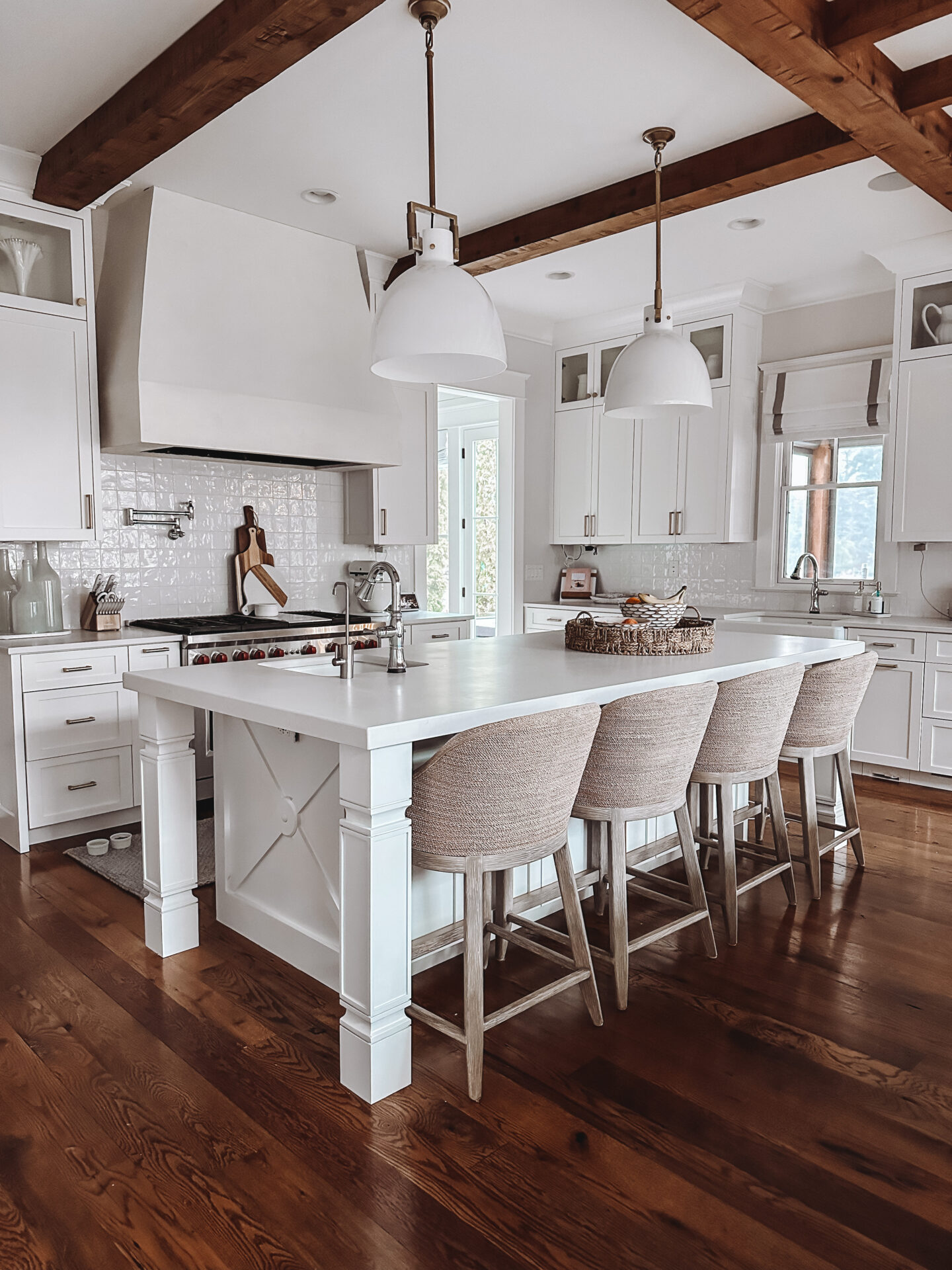 We bought our home in Nashville in 2019 and quickly realized that the kitchen was going to end up being a big project for us.
I love the layout of our main level, but I hated that it felt like we were in a farmhouse showroom.
If you think, for one minute, that I'm being a drama queen, check out this blog post. The kitchen was so very farmhouse from the curvy legs on the island to the chicken wire, yes, CHICKEN WIRE, in the transom.
Coming from Los Angeles, I had seen a lot of modern farmhouse inspired decor, but this house was downright country.
We kicked off our kitchen renovation pretty quickly after moving in. The one thing I had to keep was that gorgeous antique door. The chippy paint brings so much character to the space. Although, I'm pretty sure it has lead paint on there somewhere. 😳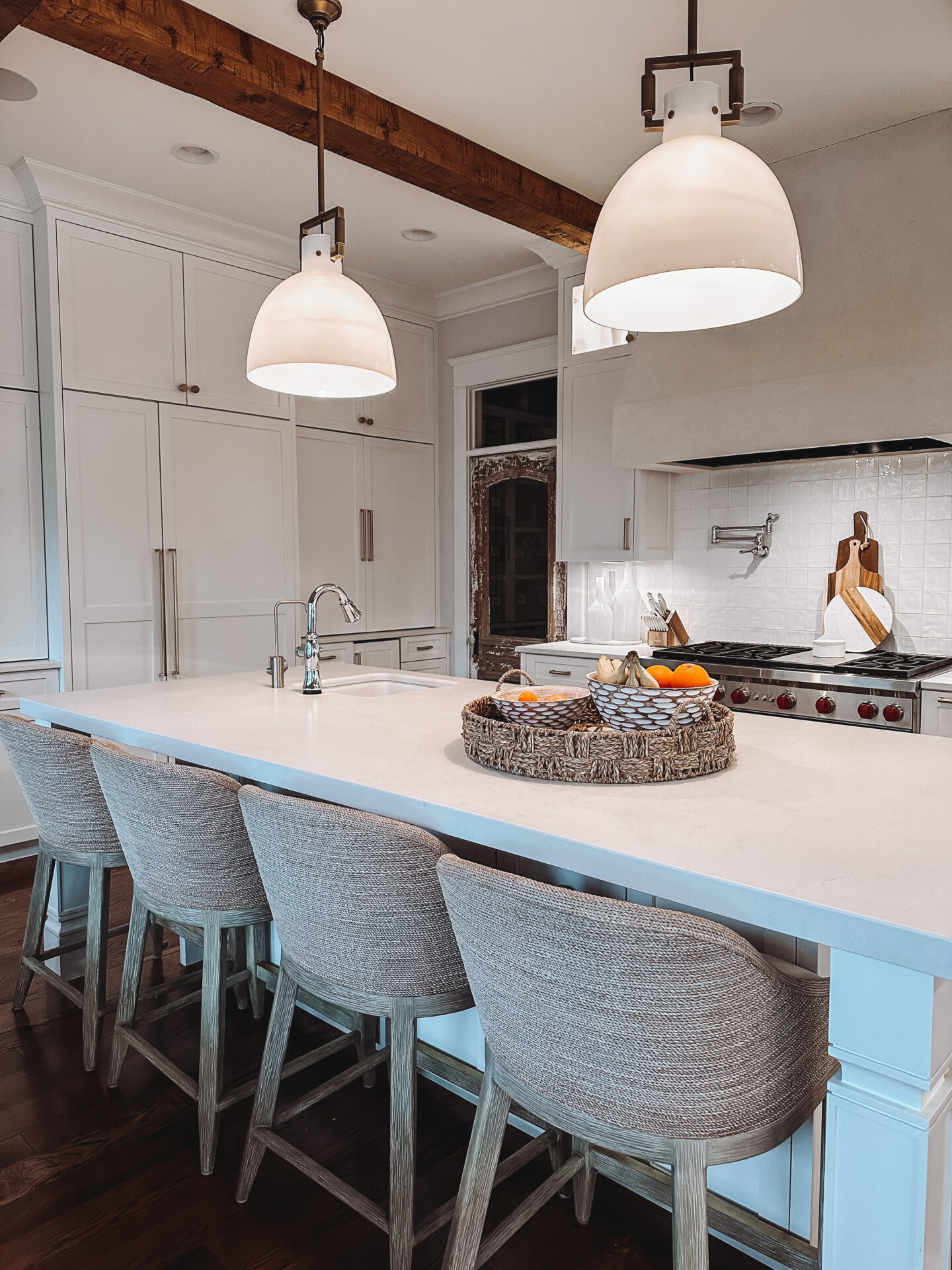 The Demo
We went all in on this kitchen remodel.
We tore out the red brick backsplash and replaced it with a gorgeous hand-cut white square tile. The tile we chose looks super similar to clé tile, but comes with a much more affordable price tag.
We chose a 5″x5″ tile, which you can see on the sample board in this blog post.
To bring a little outside indoors to a very white and bright space, I layered cutting boards on the stovetop against the backsplash.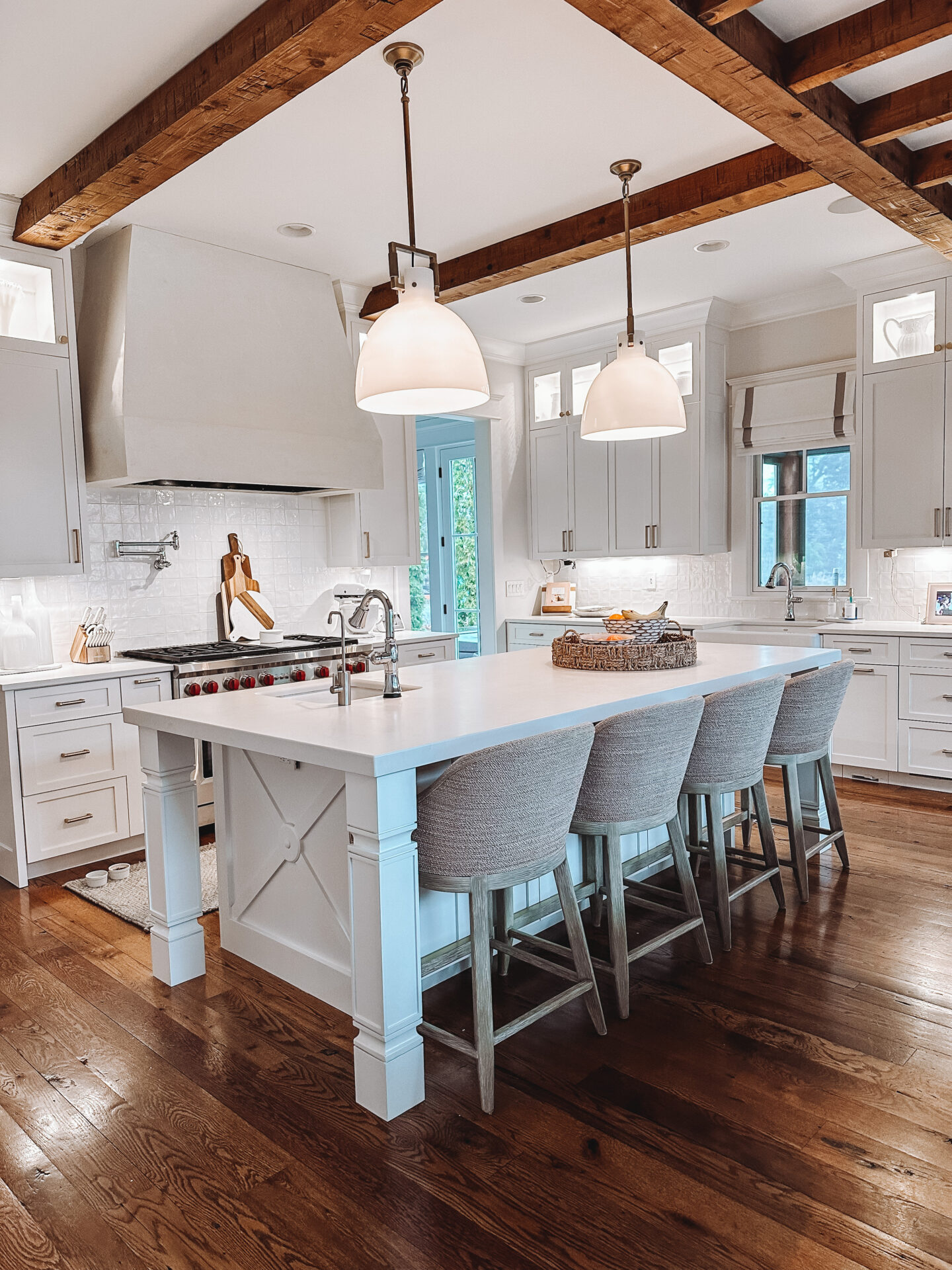 The Design
The hood vent was the biggest change for me. The original hood vent was so traditional with curved edges, gold paint, and decorative corbels. I just craved something fresher and younger.
I love the design we settled on. The plaster beautifully tied in the finish on our fireplace as well. It made the kitchen feel so much more modern.
As for countertops, we chose the Calcutta gold with a honed finish. The white with light grey veining is timeless.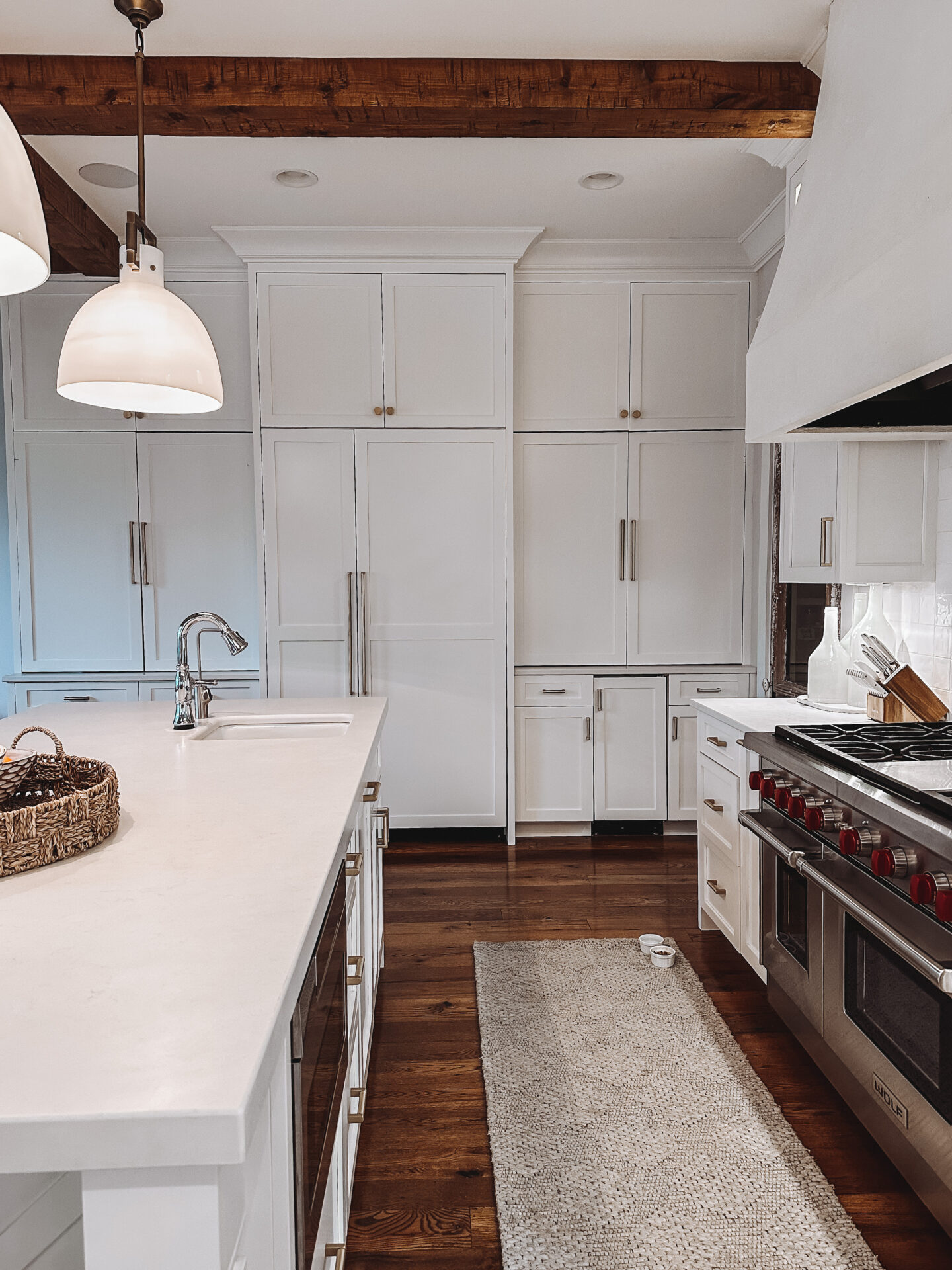 My Kitchen Sources
In hindsight, I wish I had gone with a waterfall design on my kitchen island.
Speaking of the kitchen island, when we moved in, it was painted this awful country turquoise. We quickly changed that to "Functional Gray" and switched out the curvy kitchen table legs for a style with straighter lines.
When remodeling the kitchen, we decided to paint the cabinets and change the color of the kitchen island again. The cabinetry was a creamy white color and the island was gray, so we switched both to match. We chose "Pure White" paint with a satin finish.
As for hardware, the kitchen came with black accessories that were very traditional in style. We went with a brushed gold hardware selection from Restoration Hardware and chose much larger handles to make more of an impact.
The old hardware was nothing special and didn't stand out. Now, the new hardware is much more of a statement.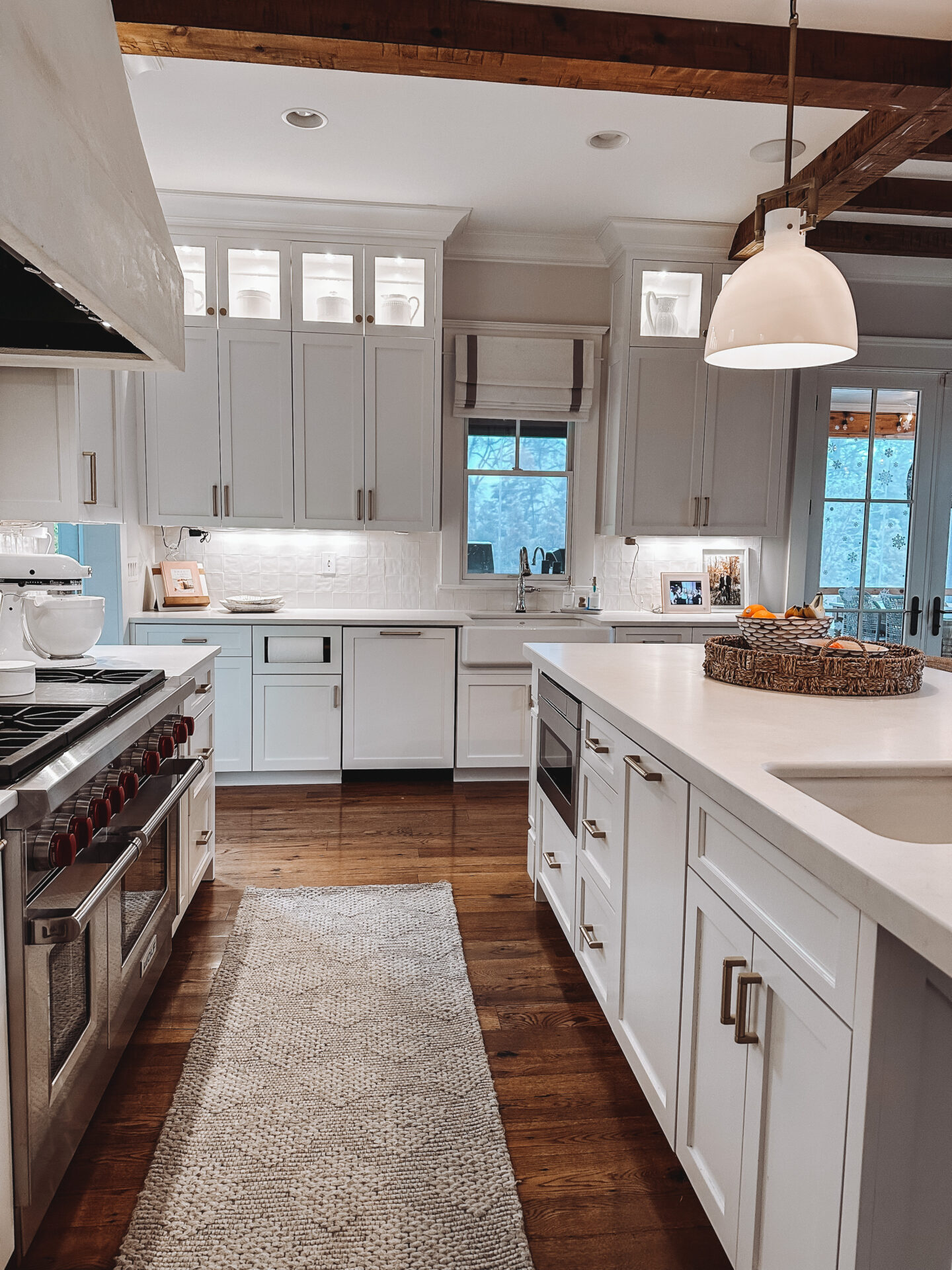 The light fixtures over the island were black lanterns. One of the first things we did to our kitchen was replaced those with Restoration Hardware hanging fixtures. Those fixtures and the new cabinet hardware are now tied together and complement each other beautifully.
Another big change was removing the front panels from the top cabinets and replacing them with seeded glass. Matt hardwired puck lighting in those cabinets as well as in the lower cabinets (above the countertops) with a dimmer, which makes a world of difference lighting-wise.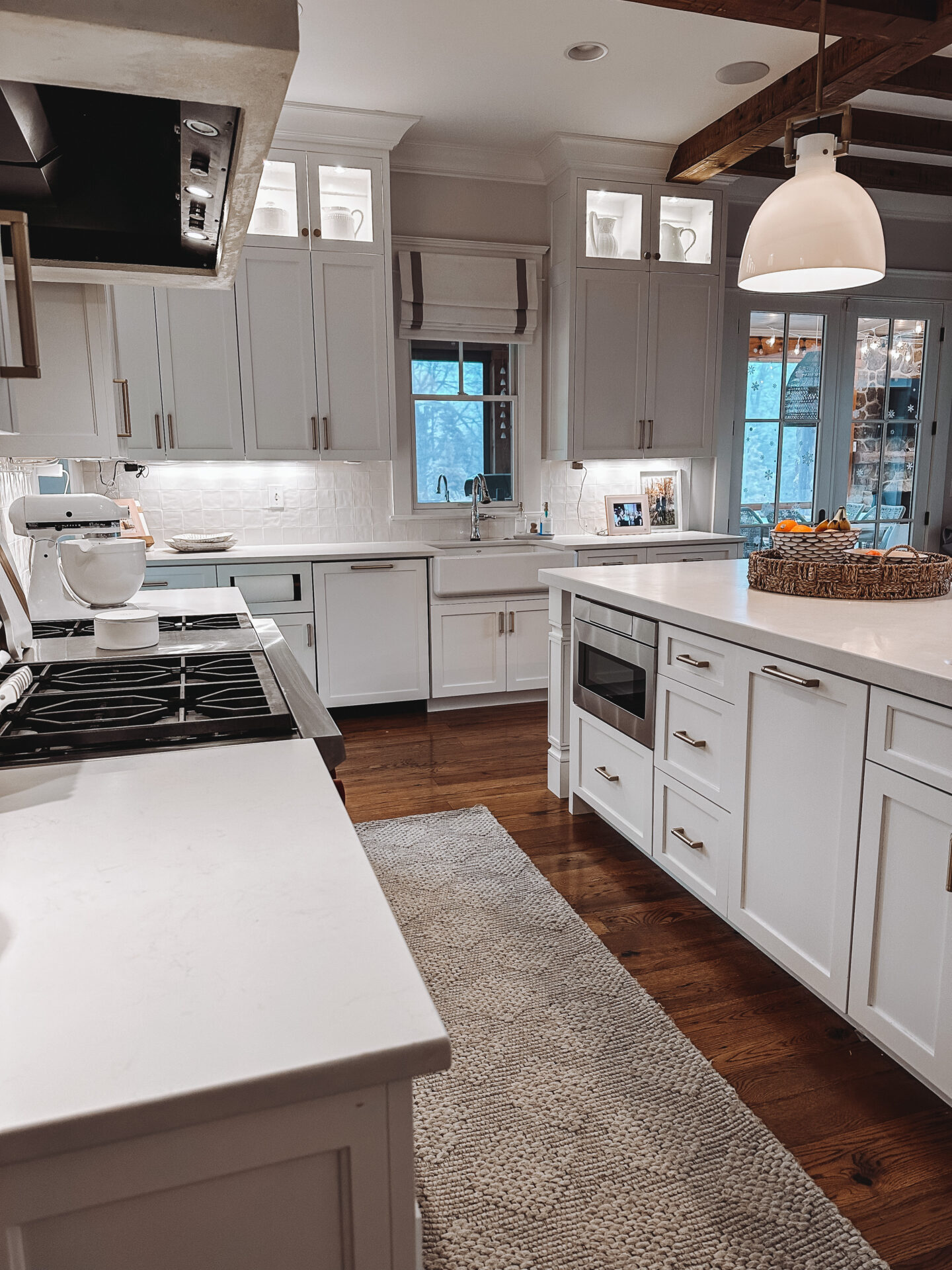 We have a few "extras" in our kitchen that I really love:
– Central vac port under the kitchen sink to sweep dust into with a broom.
– Hidden coffee bar and appliance bar cabinets.
– Two trash cans camouflaged as cabinets.
– Hidden refrigerator and dishwasher with appliance panels.
– Prep sink in the island.
– Microwave drawer in kitchen island.
– Double pull-out spice racks flanking oven.
– Paper towel holder in lower cabinetry.
– Outlets installed under upper cabinets instead of backsplash wall.
What I have left to do:
The biggest kitchen thing left on my to-do list now that we've purchased all of the kitchen and dining room furniture we need… The transom above the pantry door!
We also have some paint touch-ups that still need to happen in a few inconspicuous spots because they still drive me absolutely bonkers.
As for appliances, we have:
Wolf Range
Thermador refrigerator
Sharp under-cabinet microwave
Kitchen Sources FAQ:
What is your cabinet paint color?
"Pure White" with a satin finish
What is your wall paint color?
"Eider White"
Which countertops do you have?
Calcutta gold in a honed finish
Where is your gold hardware from?
We chose the Lambeth Smooth Pulls from Restoration Hardware
Where are your barstools from?
Restoration Hardware