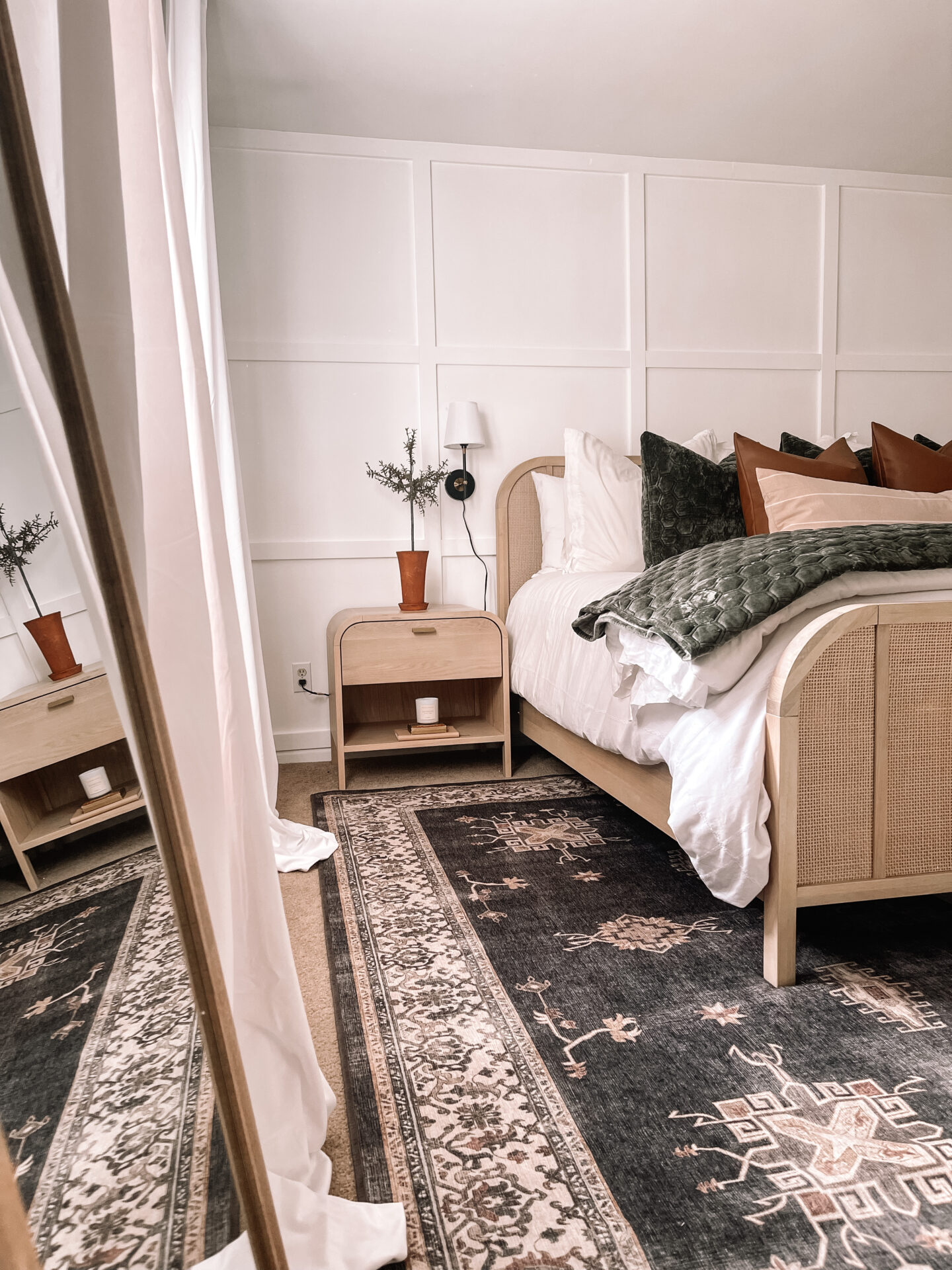 Our Ohio townhouse was due for a bedroom refresh. Not only for our bedroom but also for Kenny's since it was a nursery and now she needs a big girl room. 😭
In case you're new here, here's a look at what we started with. We rent this townhouse in our hometown and would love to buy it, but sadly, the owners will not sell it to us.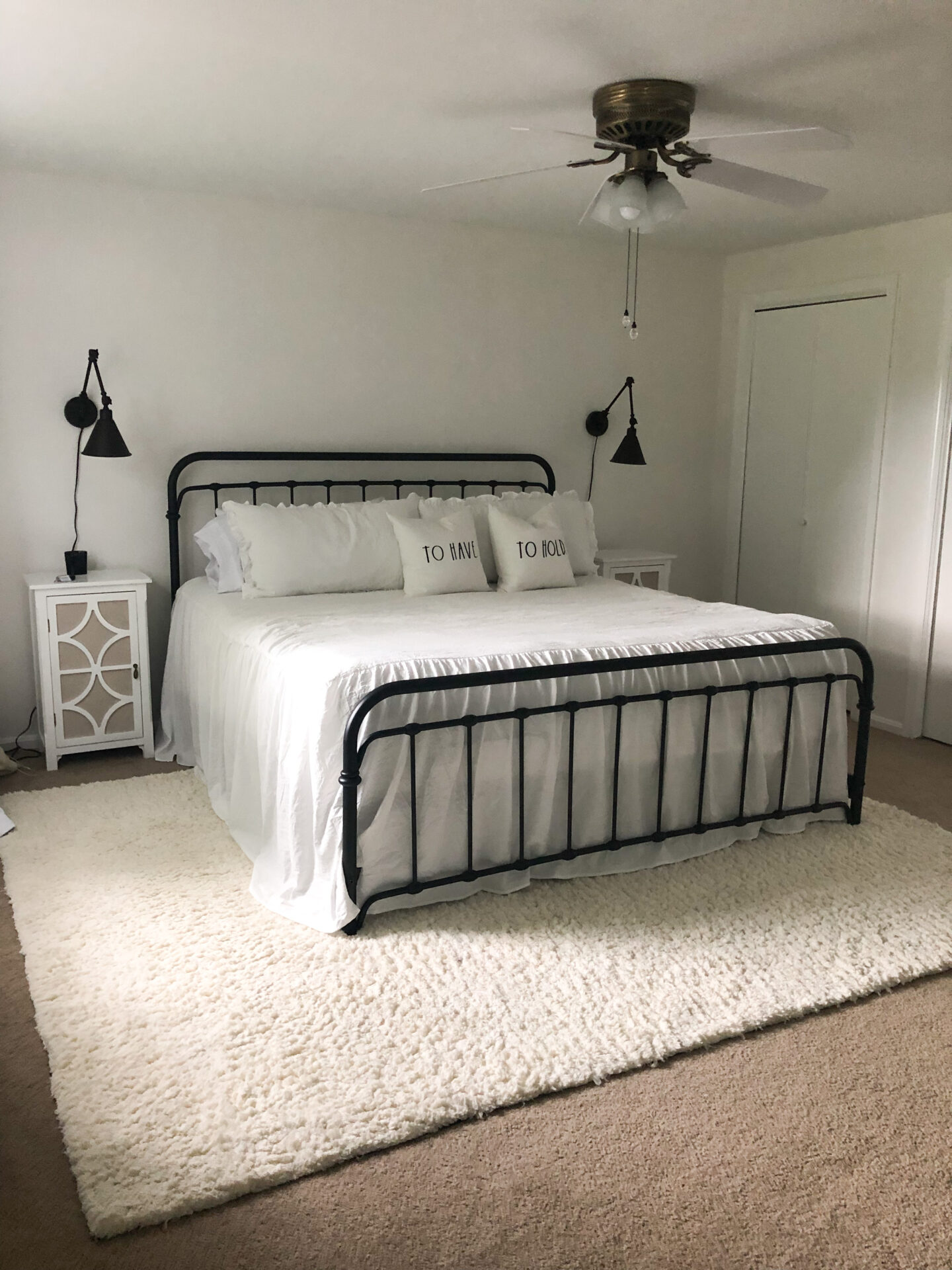 When we first rented our townhouse in 2019, I went with a farmhouse design, which was and still is on trend.
My decor taste is what I call "Coastal Americana". Give me all the whites, bright light, light colored wood possible. You can tell this by looking at our main home in Nashville.
But our townhouse doesn't have the same feel. It's overall a darker home, with less natural light, lower ceilings, and construction from the 1970s. So farmhouse felt like the more natural route to go with this space.
The first big project we did with our bedroom was adding a statement wall. This turned out to be the focal point of the room. Watch the video showing the full process below.
A world of difference, right?
It was time for an update. The first thing I did was start shopping for new furniture.
I went with the Brooke bed and nightstands from Lulu & Georgia. These pieces completely changed the tone of the space.
Lulu & Georgia pieces are such amazing quality. They are sturdy, well-made pieces that you'll feel great having in your home.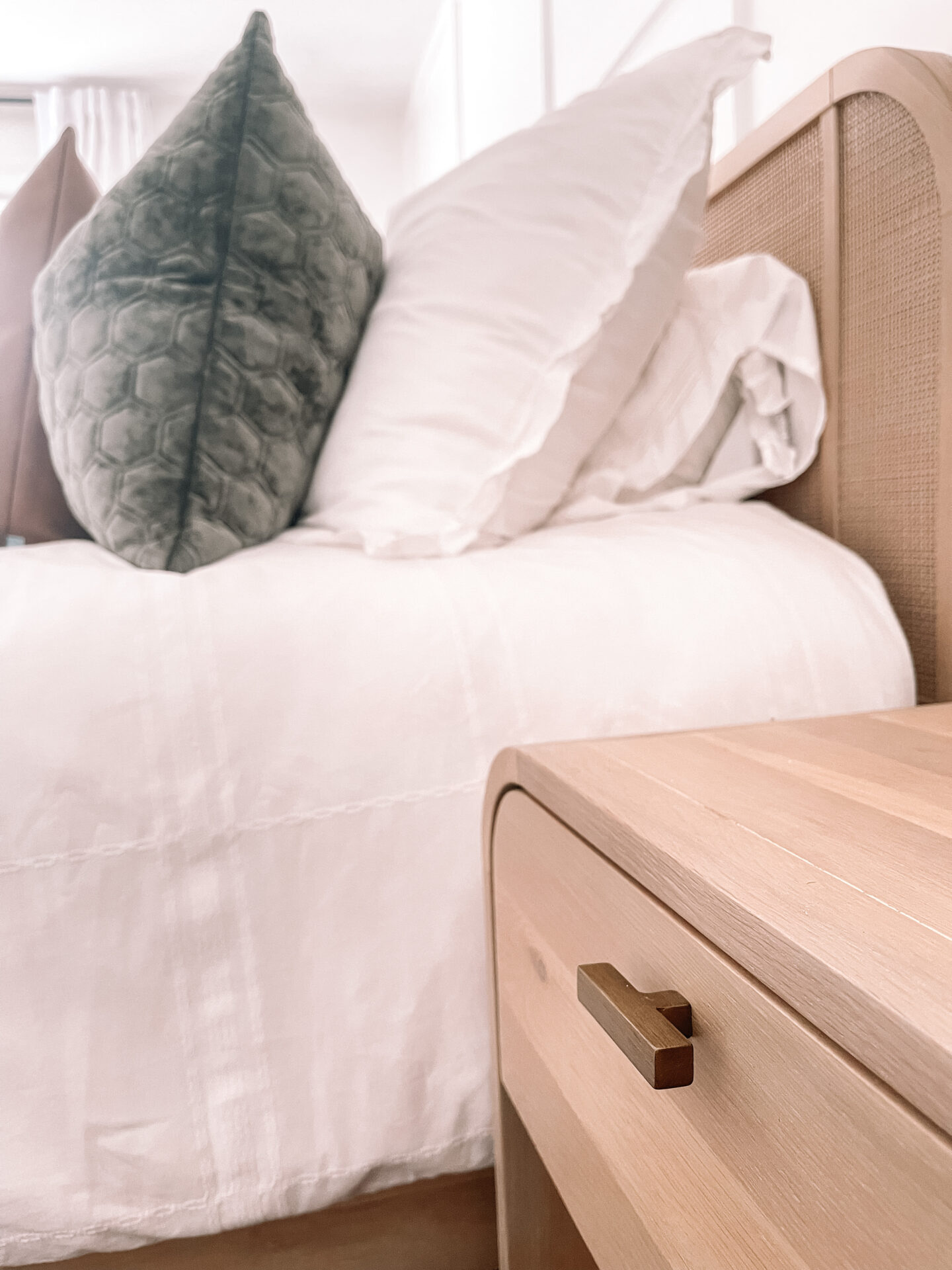 Aren't those details gorgeous? The cane detail on the headboard is very coastal but the style and color is more mid-century modern, so the pieces are a beautiful mix of the two styles.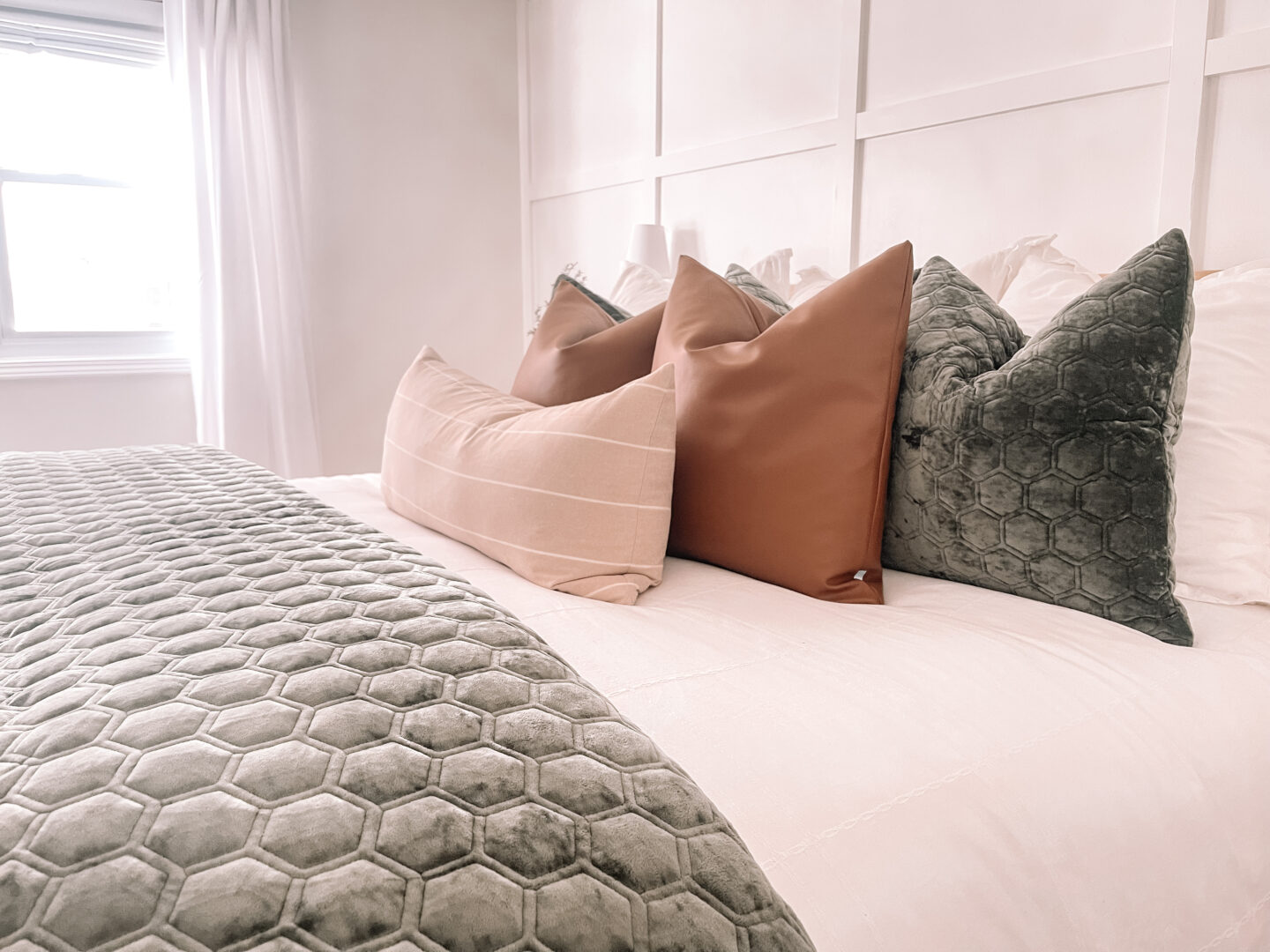 The bedding upgrade changed the look of the room entirely.
My dear friend, Betsy Mikesell, is the creator of Beddy's, the zipper bedding brand, and everything she touches turns to magic. When she told me she was making a duvet and duvet cover, I knew we were all in for a real treat.
Y'all! The Beddy's duvet and duvet cover is complete luxury. And this is coming from a true duvet snob.
The cover unzips in a L-shape, so it's 1000% easier to insert the duvet than any other high end duvet I've ever owned.
But the very best part? It secures inside of the duvet not only at every corner, but halfway between every corner as well. So, you know when you have a duvet that gets lost in the cover and all crumpled up? This Beddy's duvet is designed to never have that happen.
My set is the Charleston Duvet cover and the Boston bundle for accessories.
I'm a changed woman. I've always felt like my bed game was A+ but now it's A++.
Check out Beddy's here and use my coupon code: ANGELAL.
You'll want a Beddy on every bed in your house, they're seriously that life changing!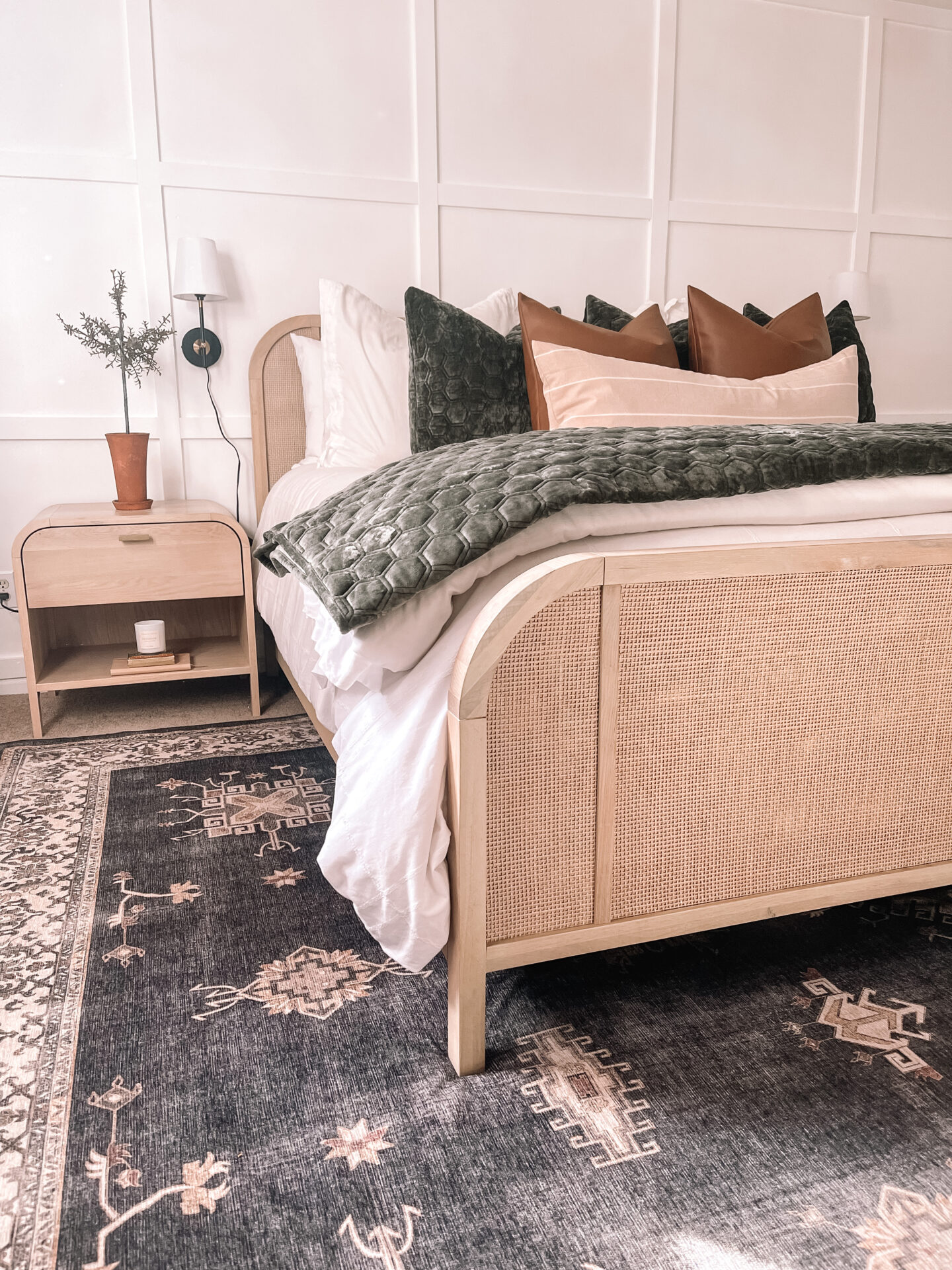 The space in our bedroom is very limited, with nowhere to put a hamper for dirty laundry, so I have a linen cabinet reorganization post coming very soon. If you have limited space for storage, don't miss this blog post because I got pretty creative. 🥰
Back to this project… Let's talk about the window treatment.
I'm always going to style a bedroom window with a Roman shade. It must be in my blood because any window I see automatically looks better with a Roman shade attached.
These shades were much more affordable than our custom-made shades in Nashville.
I used Blinds.com to order the Premium Roman Shades in white. I added the same style shade to our bathroom and large kitchen window as well. You can always find a coupon code, so you'll never have to pay full price.
I also switched out my blackout curtains (which I loved!) because I no longer wanted the silver grommets. I found these stunning room-darkening velvet drapes on Amazon after Mallory Nikolaus posted about them on her Instagram Stories and y'all, these should not be missed. They are incredible quality for the price point.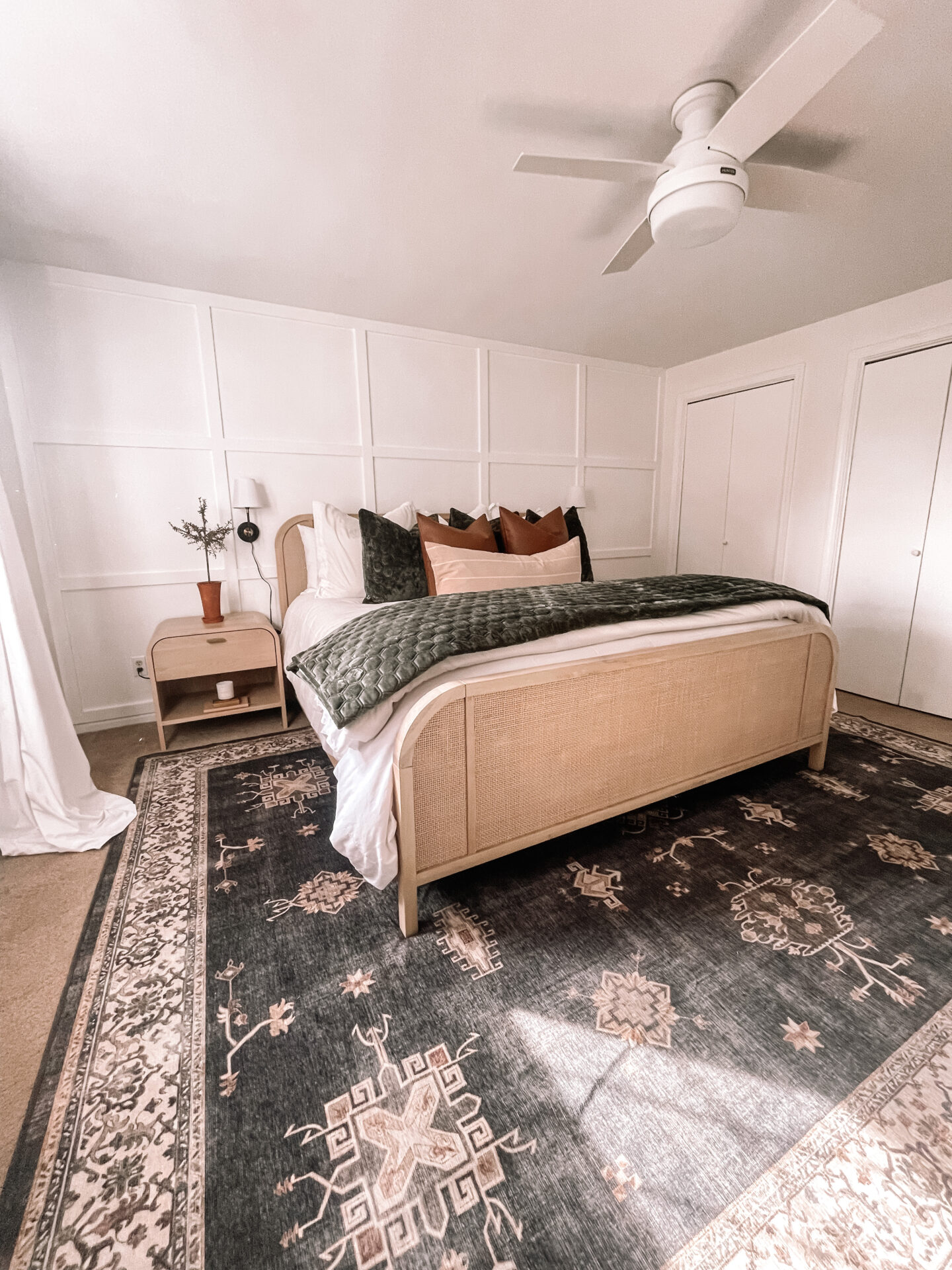 Scroll back up and reference the before photo of our bedroom. See that ceiling fan? Chances are you've had one of those in a house you've lived in at some point.
I'm not sure why it took me three years to switch it out, but it was one of the best home improvement purchases we made. That one small switch really elevated the space.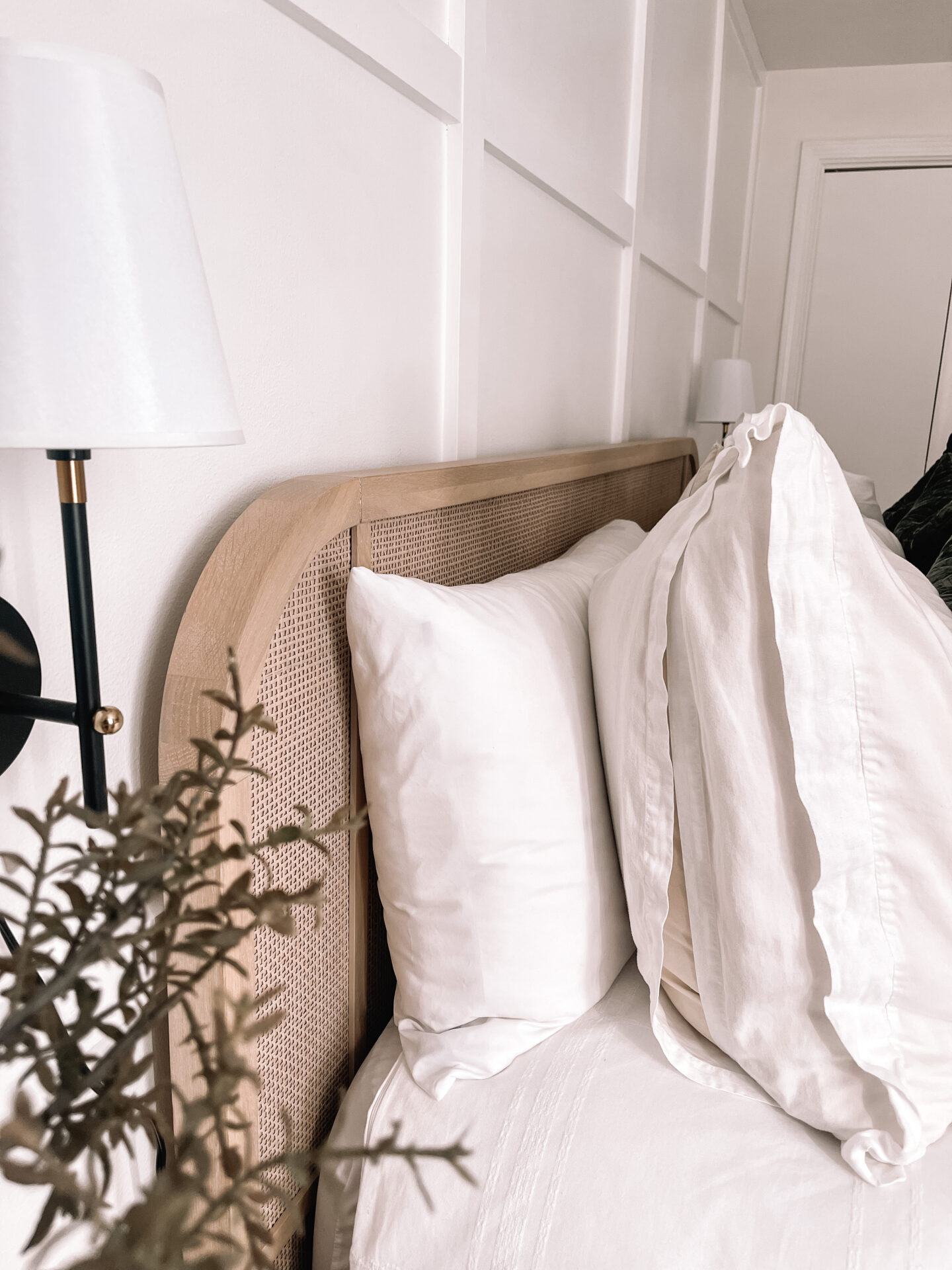 We also switched out the light fixtures flanking the bed. That change to these pretty sconces also made a big impact design-wise. Changing the lights took the space from farmhouse to just fresh. Who doesn't love a bedroom refresh? 🥰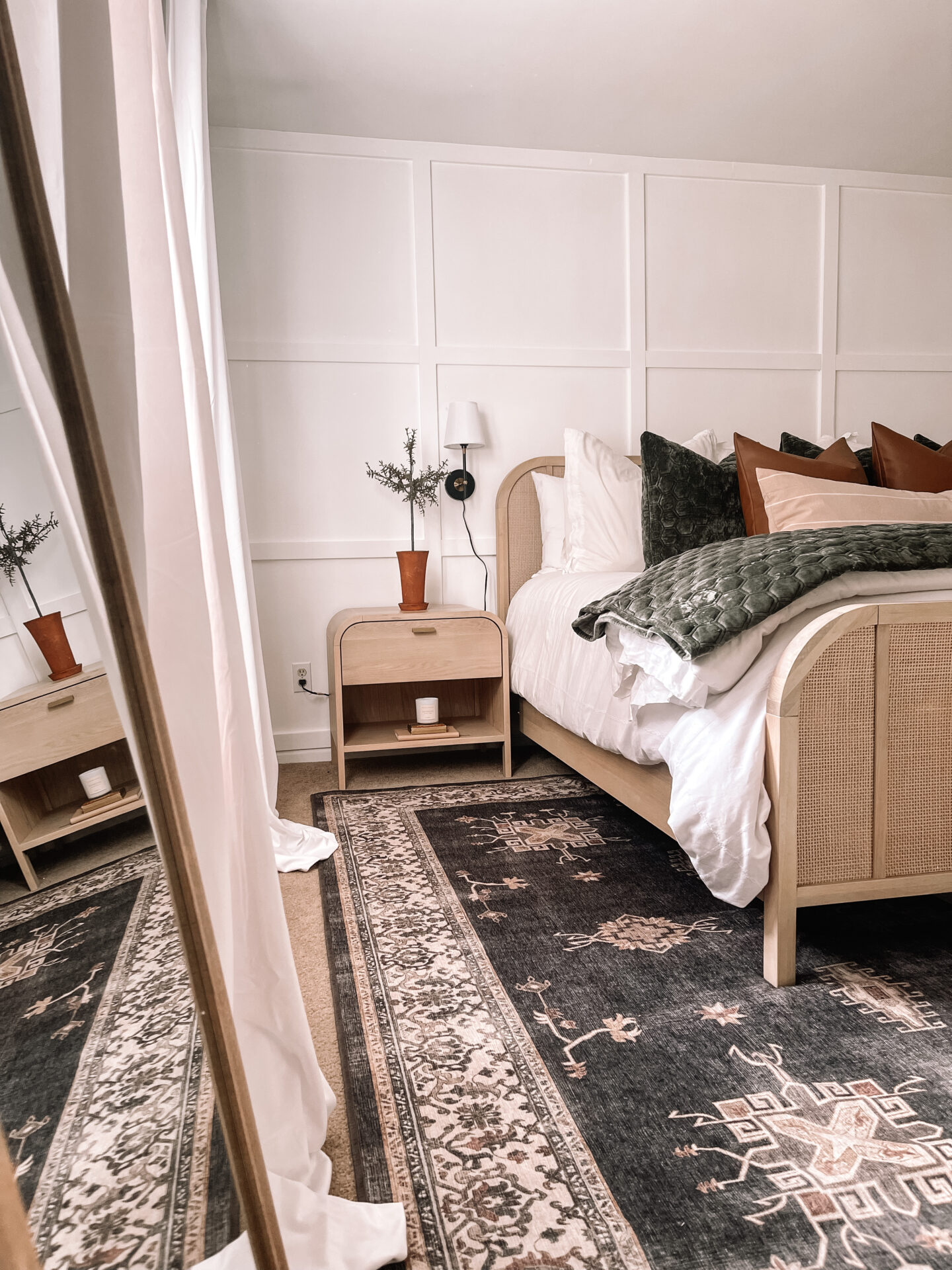 And lastly, we can't forget my stunning new rug from Ruggable. This is the 9×12 Verena Dark Wood Rug and it's this gorgeous dark base color with lighter diamond shapes throughout.
Ruggable is totally rocking my world because their rugs fit into your washing machine! With pets and littles, these rugs are an absolute game changer. Use my code for a discount: ANGELALANTER10.
shop this post