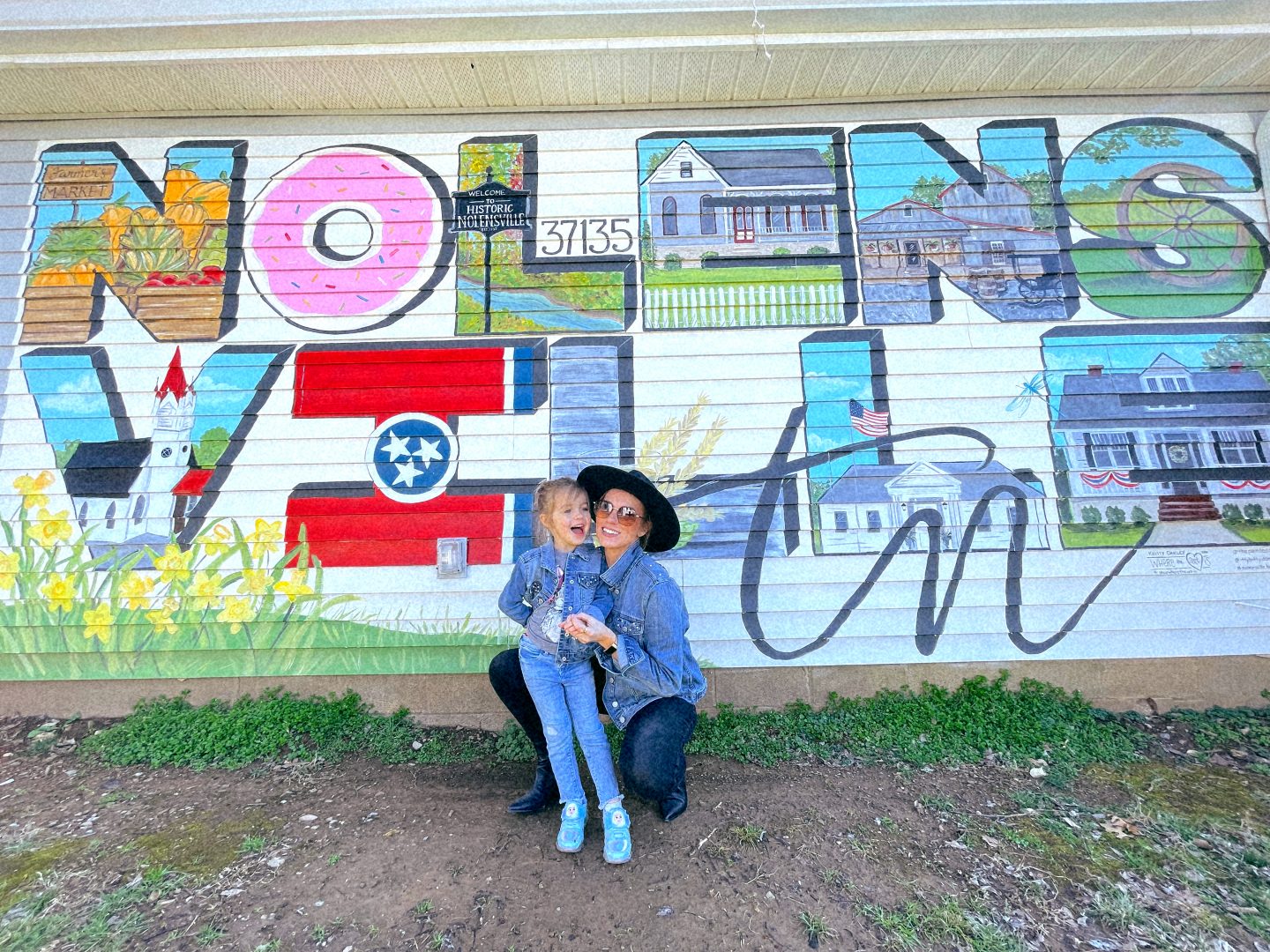 If you have a trip planned to our beautiful city, then chances are you'll want to check out one of our oh-so-famous Nashville murals while you're here.
We have a ton of gorgeous street art pieces to check out and you'll be sure to snag that perfect Instagram-worthy shot of your dreams.
The majority of Nashville murals can be found in the downtown area, but there are a bunch spread out all over Music City.
There are some super well-known murals like #1 on this list, but I'm hoping to introduce a couple of lesser-known street artworks so you can hopefully find a total gem to check out during your Music City stay.
I do feel like I need to set your expectations before diving in here though… There are literally so many amazing pieces of street art around Nashvegas, that I couldn't possibly cover them all.
With that being said, this is a round-up of the murals I have seen in person and have thought quick enough to snap a photo of or in front of. 🙂
The most well known and well-loved street art has to be the "I Believe In Nashville" piece.
Best Nashville Murals
I Believe In Nashville Mural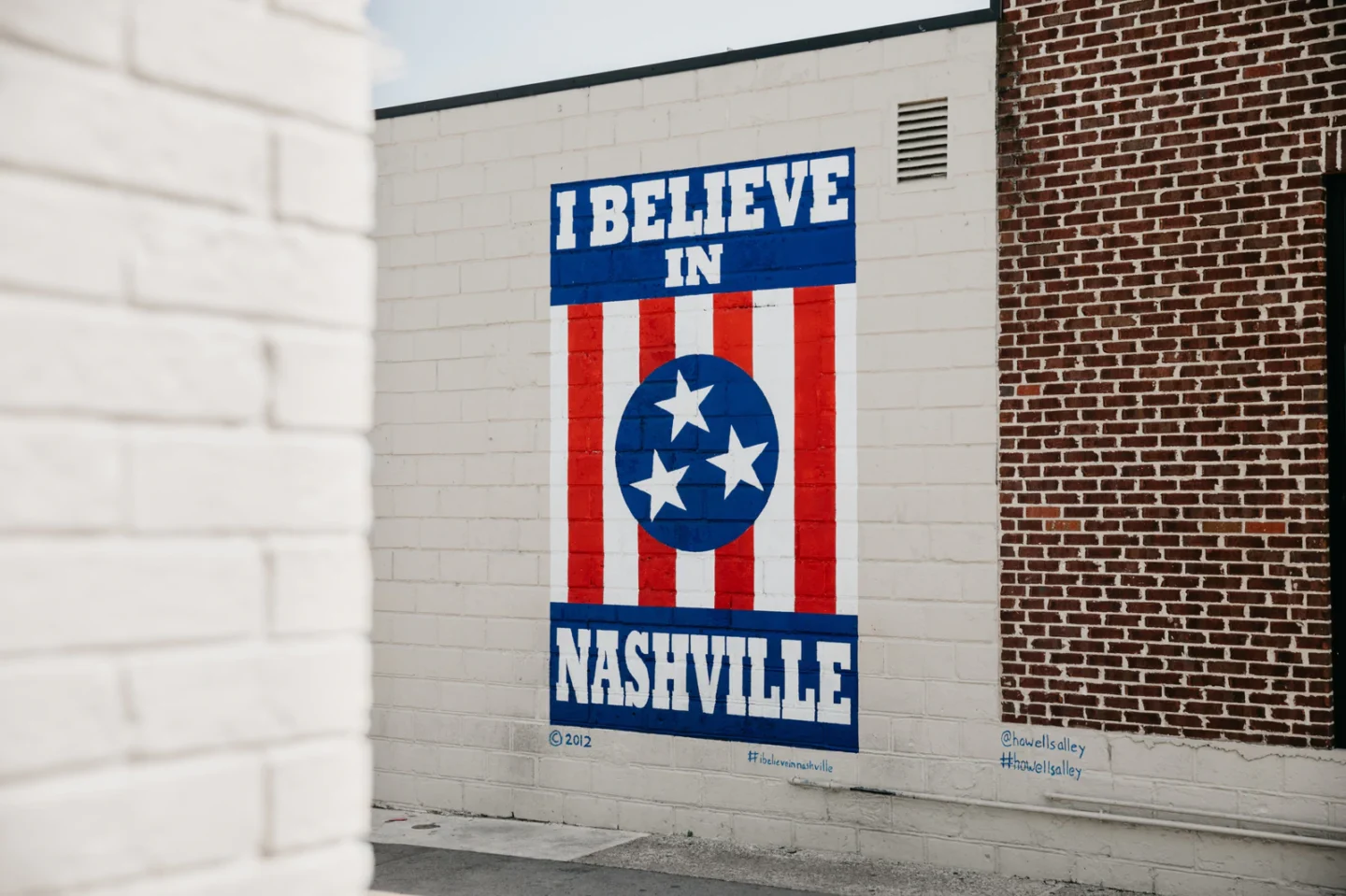 The original painting is a showstopper. It's a must-see for anyone traveling to Nashville for the first time.
I mean, have you even been to Nashville unless you have a photo of this mural in your picture roll?
Location: 2702 12th Ave S, Nashville, TN 37204.
There is also a recreation of this artwork at Marathon Music Works.
Location: 1402 Clinton St, Nashville, TN 37203.
2. This Is My Anthem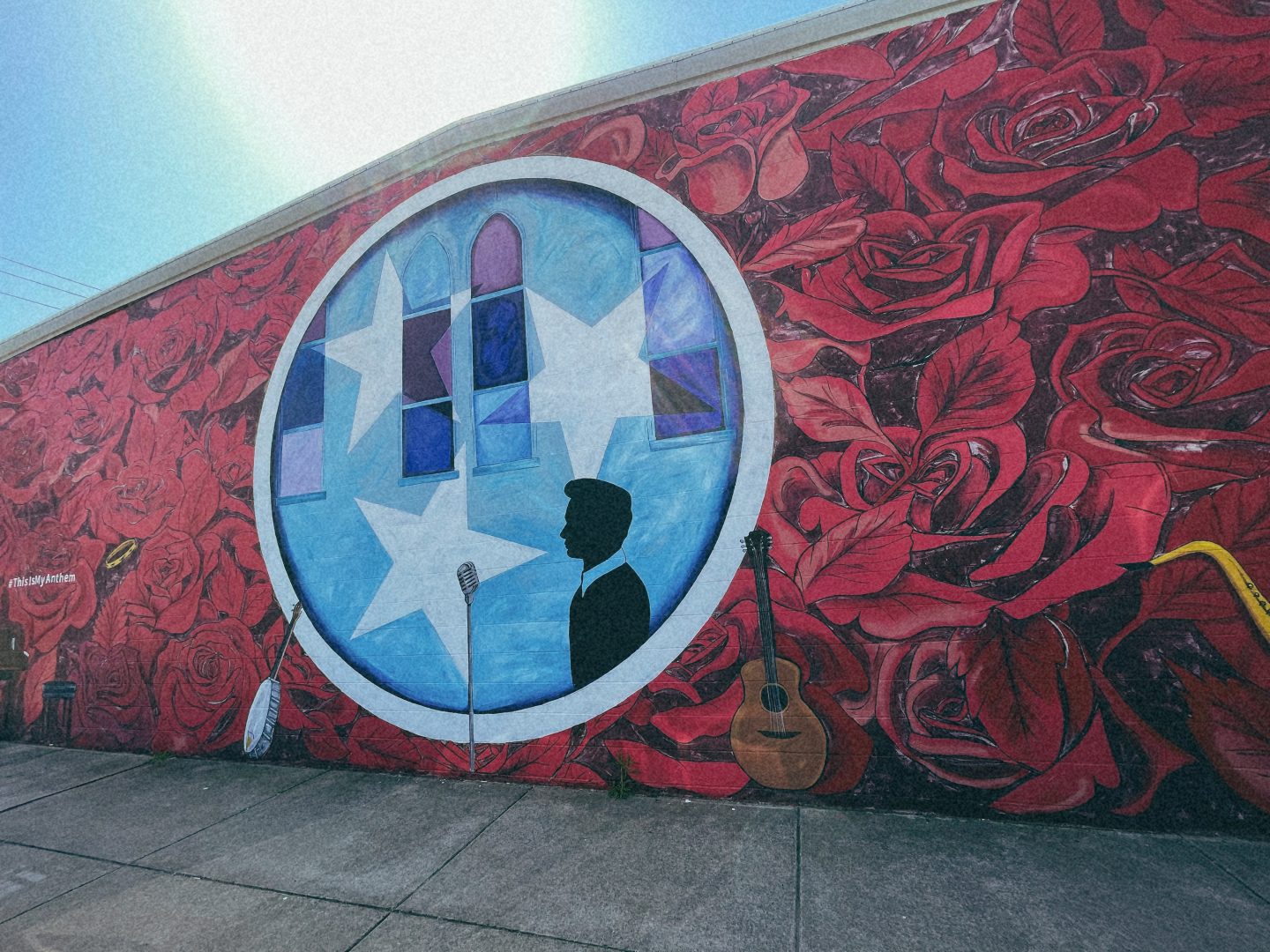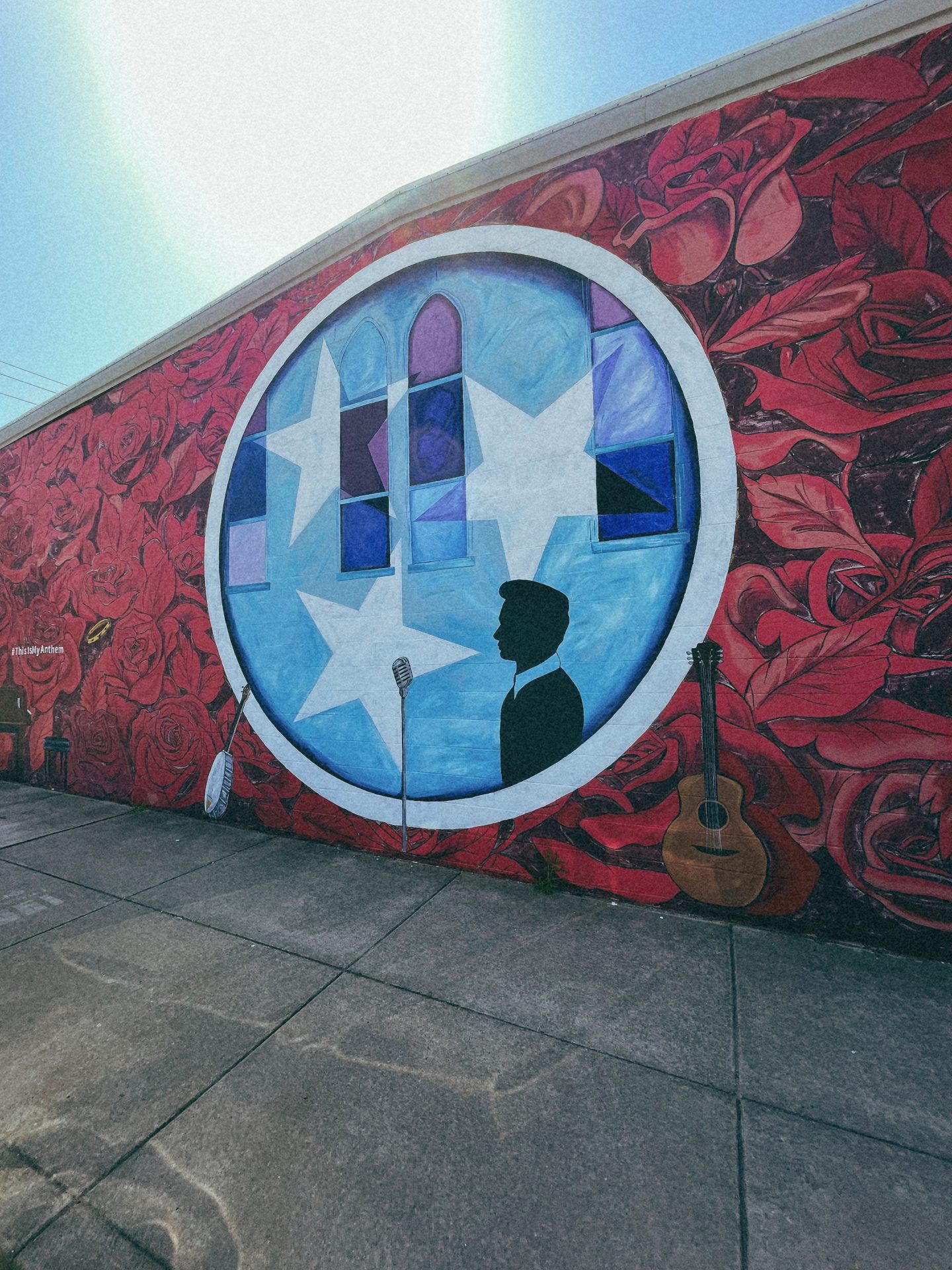 I love this colorful tribute to the man in black, Mr. Johnny Cash, and the Ryman Auditorium.
This Music City mural can be seen at Anthem Entertainment Group.
Location: 462 Humphreys St, Nashville, TN 37203.
3. What Lifts You – Angel Wings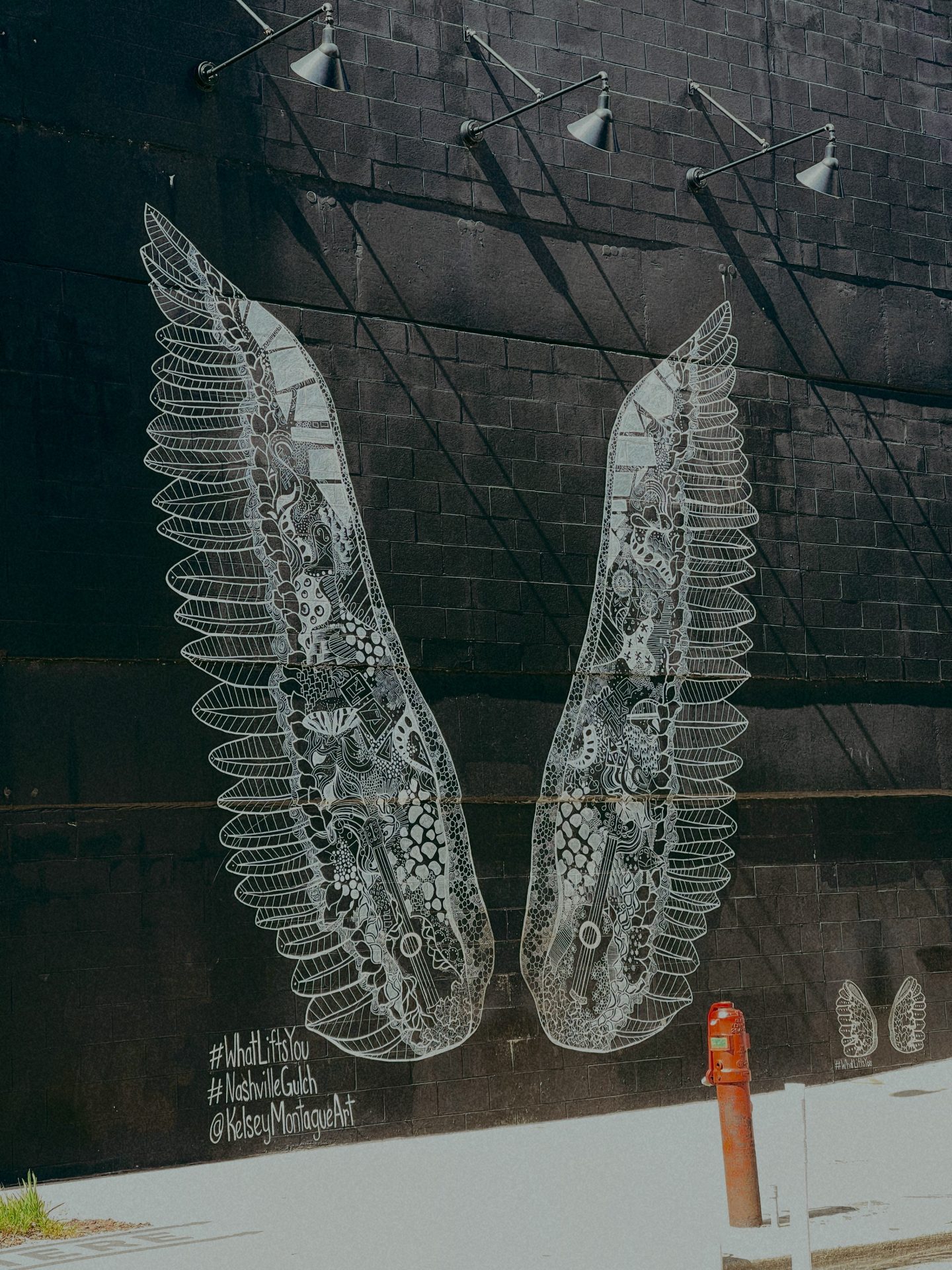 This fun artwork was created by artist Kelsey Mantague. I stumbled across this mural on a recent trip to the Gulch and the line to take photos was insane… It was like the famous pink wall in West Hollywood.
The Gulch is a favorite spot for us in Nashville. I talk about it a lot in my Nashville Travel Guide which you can check out here.
Location: 302 11th Ave S, Nashville, TN 3720
4. Fifth and Broadway Springtime Wall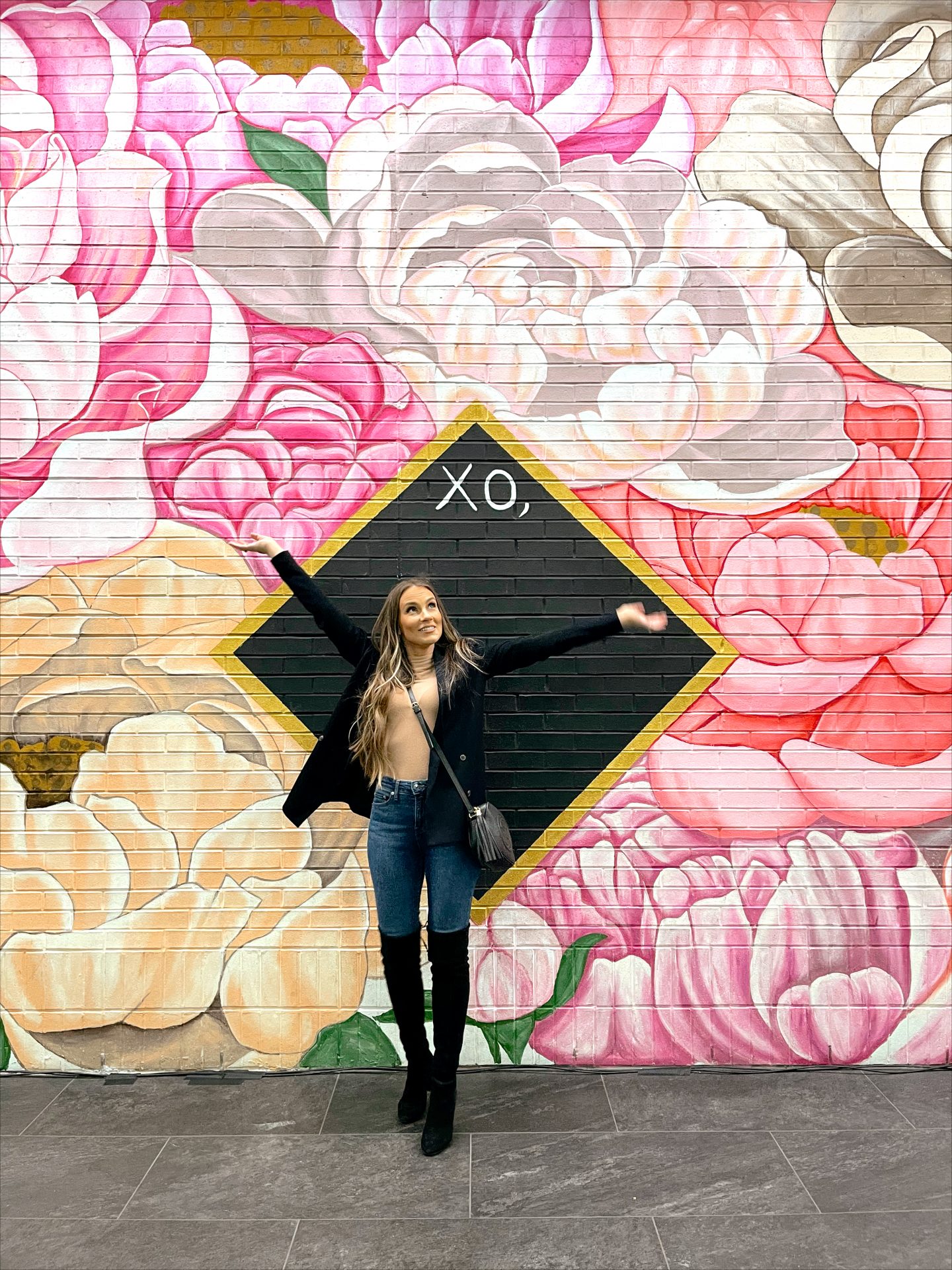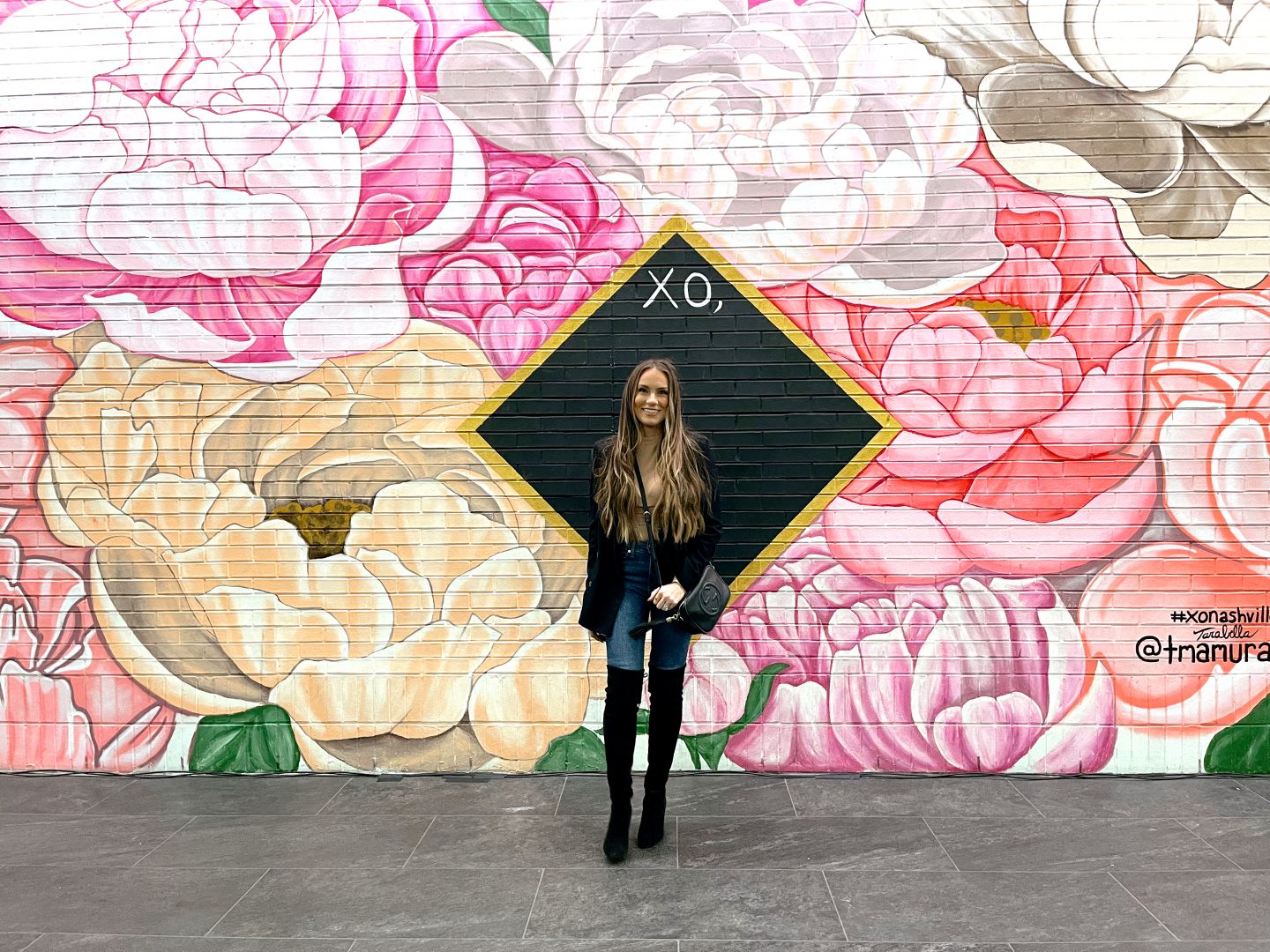 This stunning wall is covered in pastel pink peonies… Which is basically my dream wall since peonies are my all-time faves. I mean, they were my wedding flower.
I feel like this mural is springtime in paint, it's just so gorgeous.
This wall was created by Tarabella Aversa, who also created the Johnny Cash wall in #2.
Fifth and Broadway is one of my favorite places to take our Nashville visitors. The Assembly Food Hall has so many fabulous places to choose from and we have had some seriously good eats there. I could write an entire blog post just about Fifth & Broadway food alone!
Location: Fifth & Broadway 5036 Broadway Pl, Nashville, TN 37203
5. This Girl Can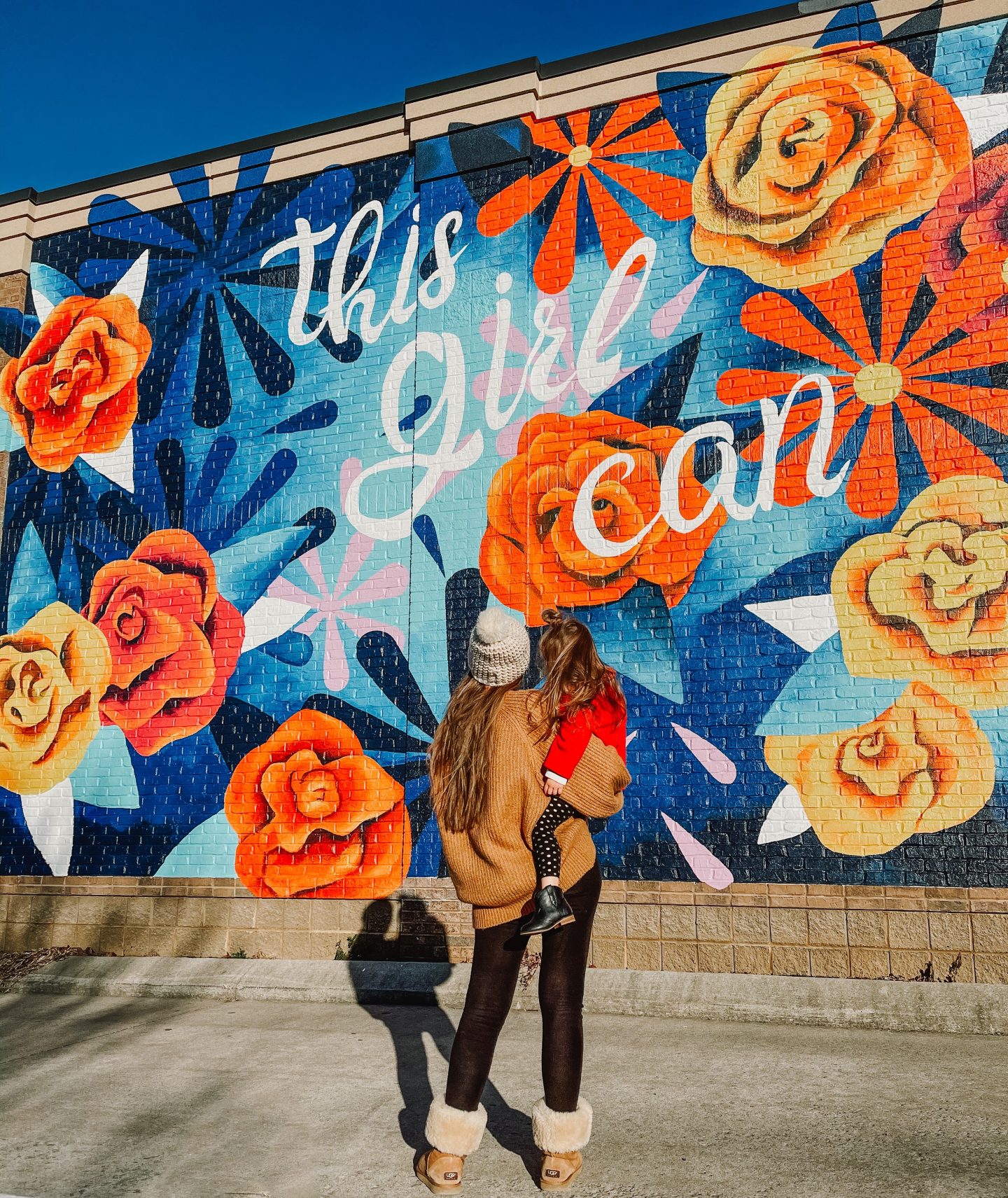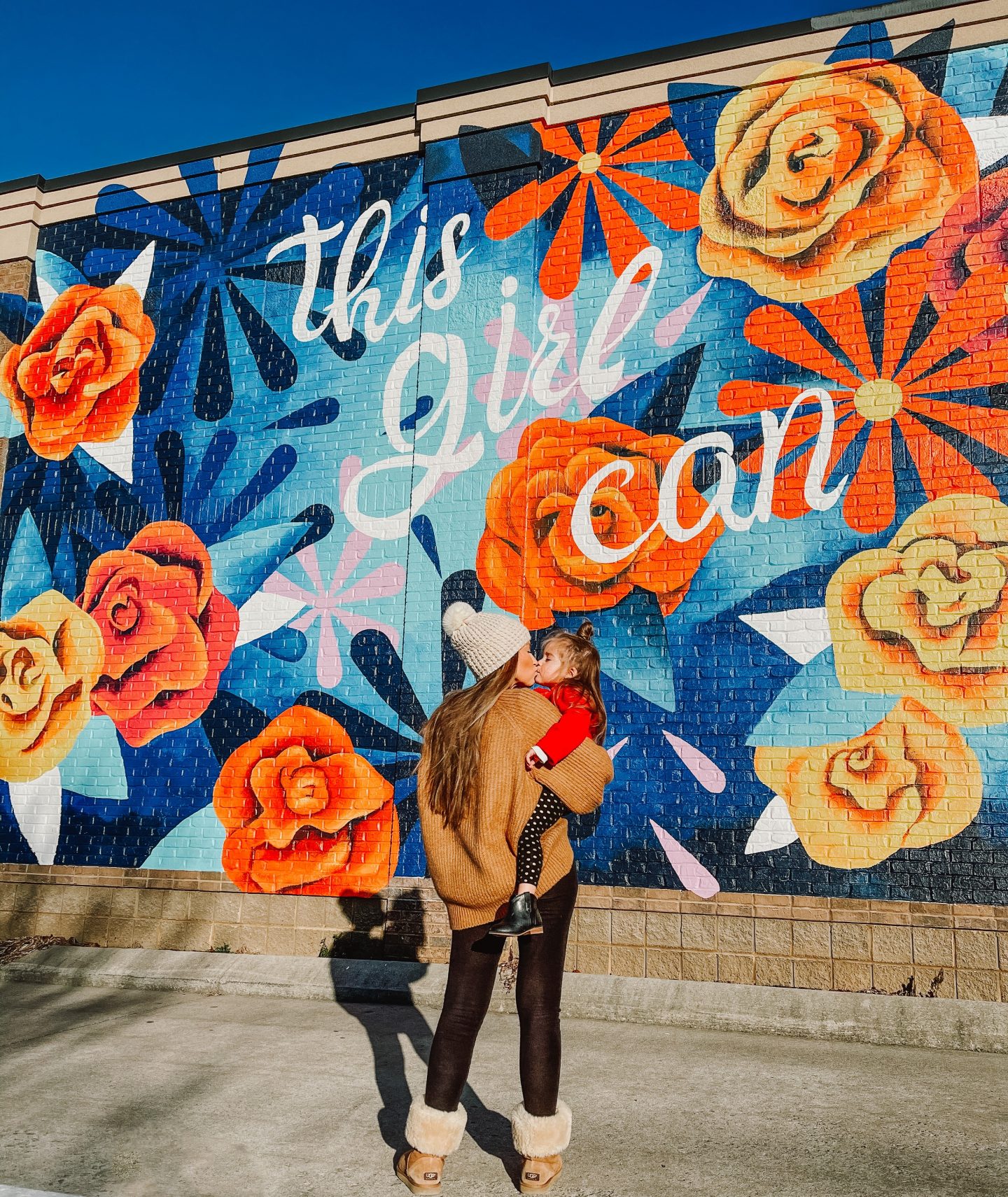 This may be my favorite mural to date, with the exception of the Dolly Parton mural, which I haven't yet taken a pic of!
The colors are so bright and happy, it just makes my heart happy every time I drive past it.
Location: Mama's Java Cafe 305 Sheldon Valley Dr, Nolensville, TN 37135

6. Nolensville Mural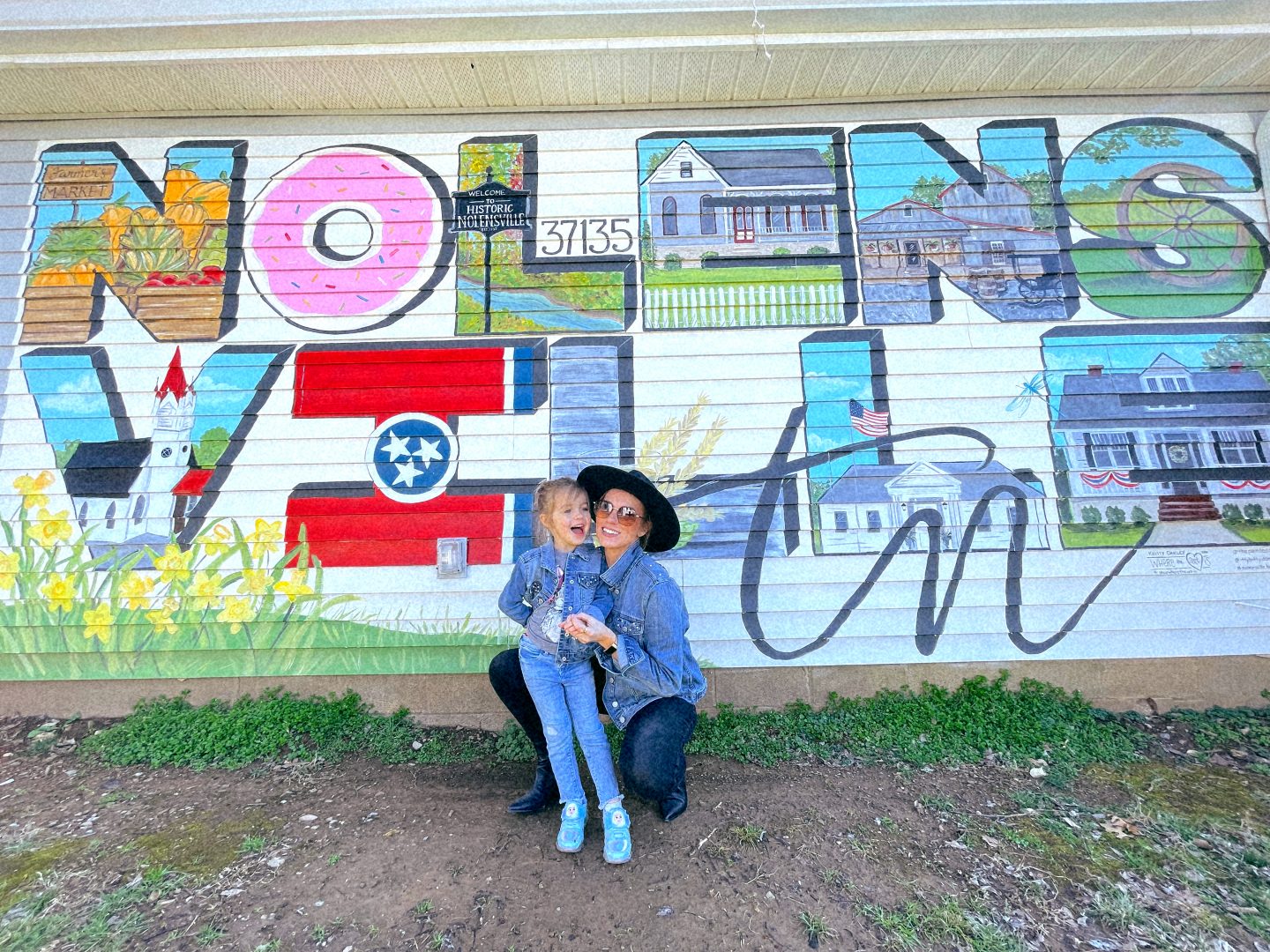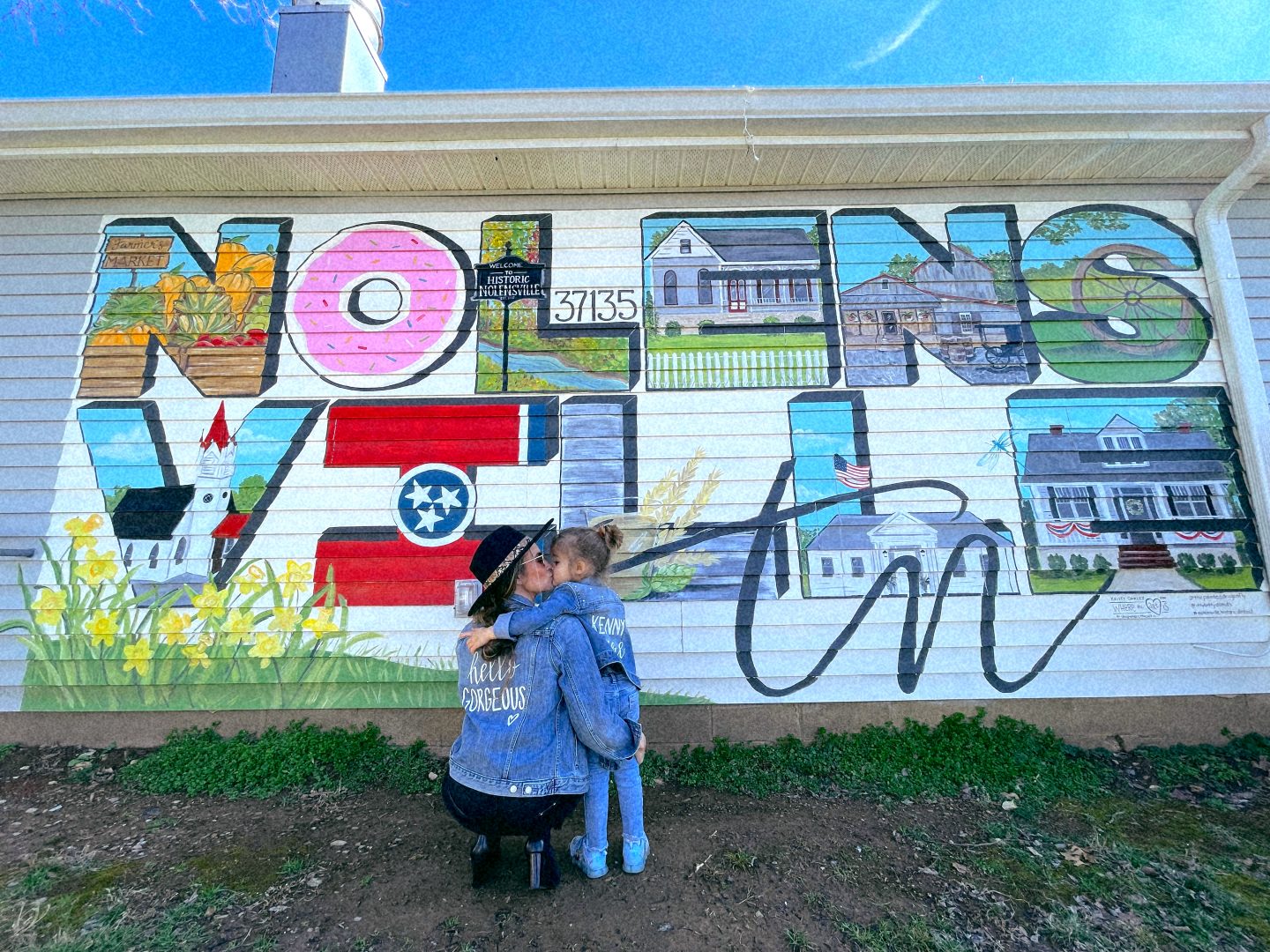 While you're in Nolensville, you might as well stop and see this super cute mural too!
I love that each letter is a painting of it's own, sharing a fun tribute to our beautiful state and this quaint little town.
Oh, and don't forget to stop into our favorite spot of all, The Amish Feed Mill. They make the best breads, buns, cinnamon rolls, fudge pie and sandwiches to order EVER.
Location: Itty Bitty Donuts 7311 B Nolensville Road Nolensville, TN 37135
BIG shout out to Shop Laura Ann for our gorgeous hand-painted denim jackets!
As I get out and explore my city more and more, I'll update this Nashville Murals blog post with my new discoveries.
Should I stay in Nashville or Franklin?
If you're looking for action, stay in Nashville. If you want a slower pace, try Franklin. Read my Nashville Travel Guide here.
Is Nashville a family-friendly vacation spot?
Absolutely! Comment below if you'd like a blog post about what to do as a family here in Music City.
How is the food in Nashville?
Okay, this is a loaded question for me. I lived in the best food city in the world (in my opinion): New Orleans, and nothing compares to it. Nashville has some great spots and we're getting more new places every day, so my answer is yes, but it's going to only get better from here.