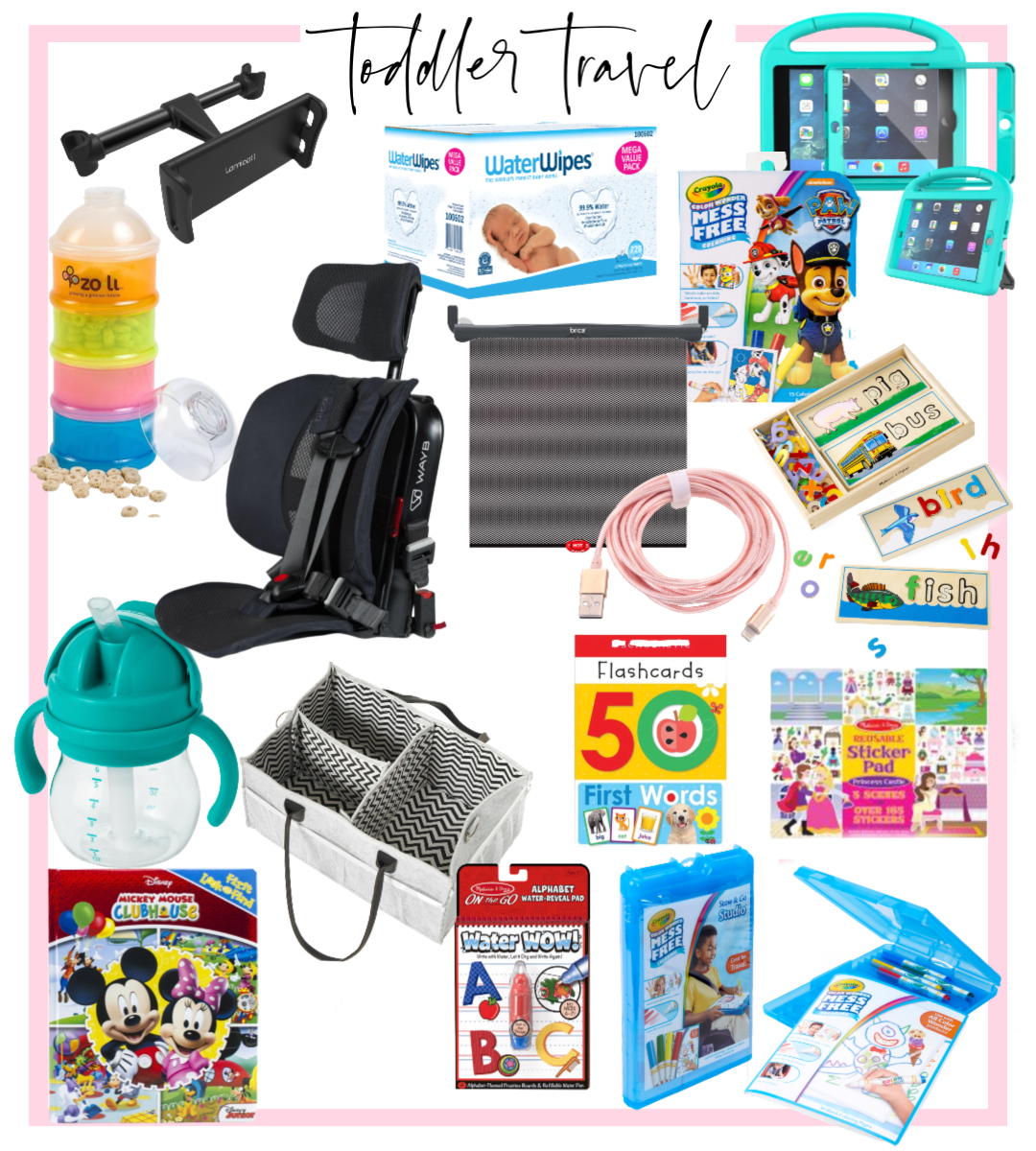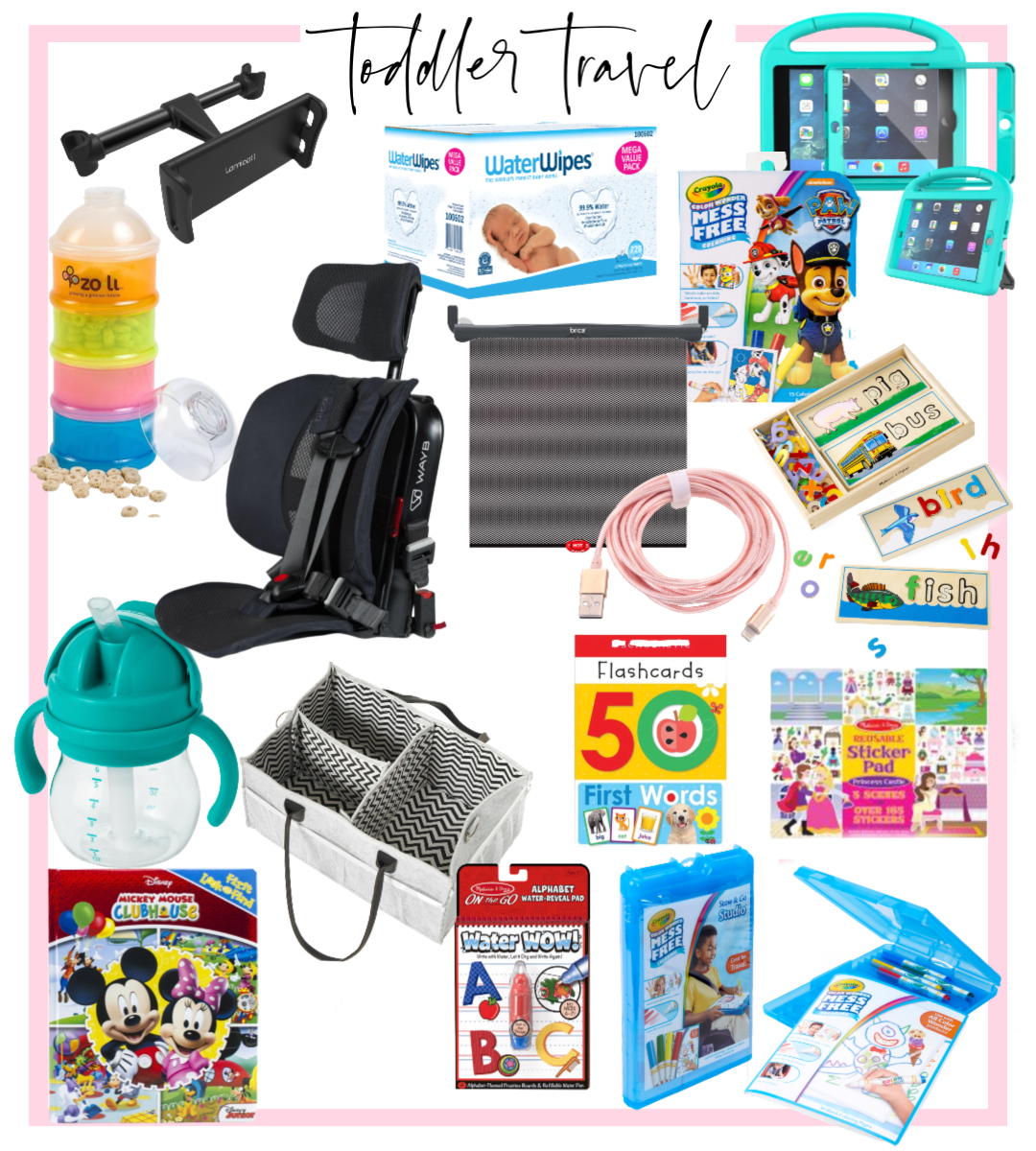 16 Things that make Road Trips with Your Toddler Easy
We've had our share of road trips in Kenny's short two years of life and I feel like we've gotten it down to an art. If you have a road trip planned, then look no further. I've got all your busybody toddler needs covered!
Best Toddler Travel Products
iPad. Keeping Kenny occupied for 8 hours straight stuck in a carseat without an iPad would be pretty much impossible. Here are a couple must-haves…
iPad headrest mount: Mount it to the back of your headrest so the buttons are out of reach. Tiny, impatient fingers tend to press ALL of the buttons, causing disruption in their programming nonstop.
iPad kid's case with screen protector: This is a must-have. Our iPad gets dropped constantly, and this protects it like non other.
Selection of programming: Download their favorite movies and episodes from their favorite shows for free, that can be watched without wifi from Netflix and Disney+. This is also a great opportunity to introduce new movies so you can get a break from watching Frozen over and over and OVER again.
Homer: This app is one of the major reasons Kenny recognized her letters and numbers so early on. It's made a huge difference for her and she actually asks for it by name. I'm so happy that we found a way to make learning fun for her.
Extra long charger cord: So you can charge it while it's mounted.
Snacks. Pack any and every snack you can even imagine your little one munching on. The biggest way Kenny stays busy in the car for long periods is snacking while watching her iPad. Some of her favorite car snacks are pretzels, puffs, toddler cookies, Once Upon a Farm pouches (kept on ice), Uncrustables, vanilla wafers, apples and crackers. These are Kenny's favorite snack holders.
Sippy cup. Do not forget to pack a sippy cup and bottle for the road. Even if your little one has graduated from sippy cups, being srapped into a carseat is not the time to give big cups. Not to mention, pouring things into a sippy cup makes it easier to water it down, lol.
Wipes. You need wipes to be easily accessible so you can wipe down sticky fingers, faces and screens in a flash.
Window shades. My guess is that you probably already have these in your car. If not, then you absolutely should get a set before traveling, Bright sun in Ken's eyes frustrates her so much.
Floorboard Caddy. These are so great to set up under your toddlers dangling feet to keep all the hundreds of toddler things organized.
Mess-Free Coloring. These books are fabulous because they allow your kids to be creative while only coloring on the pages with the clear ink. Kenny also loves her Water Wow pads.
Car Puzzles. We have a basket of puzzles reserved for the car and they are great for teaching letters while keeping kids busy.
Flashcards. This is a fun and interactive way to help with letter, color and object recognition.
Reusable Sticker Pads. These are another version of Colorforms and they can be so much fun! We have the one that has farm animals and dinosaurs and Kenny loves it!
Look and Find Books. Kenny loves searching for items in books and calling them out. These books are a great way to pass time.
A comfortable car seat. This is essential. We recently received the WAYB Pico car seat and I'm so excited to test it out. It easily folds and is only 8 lbs, which makes it fab for air travel too!
Shop This Post