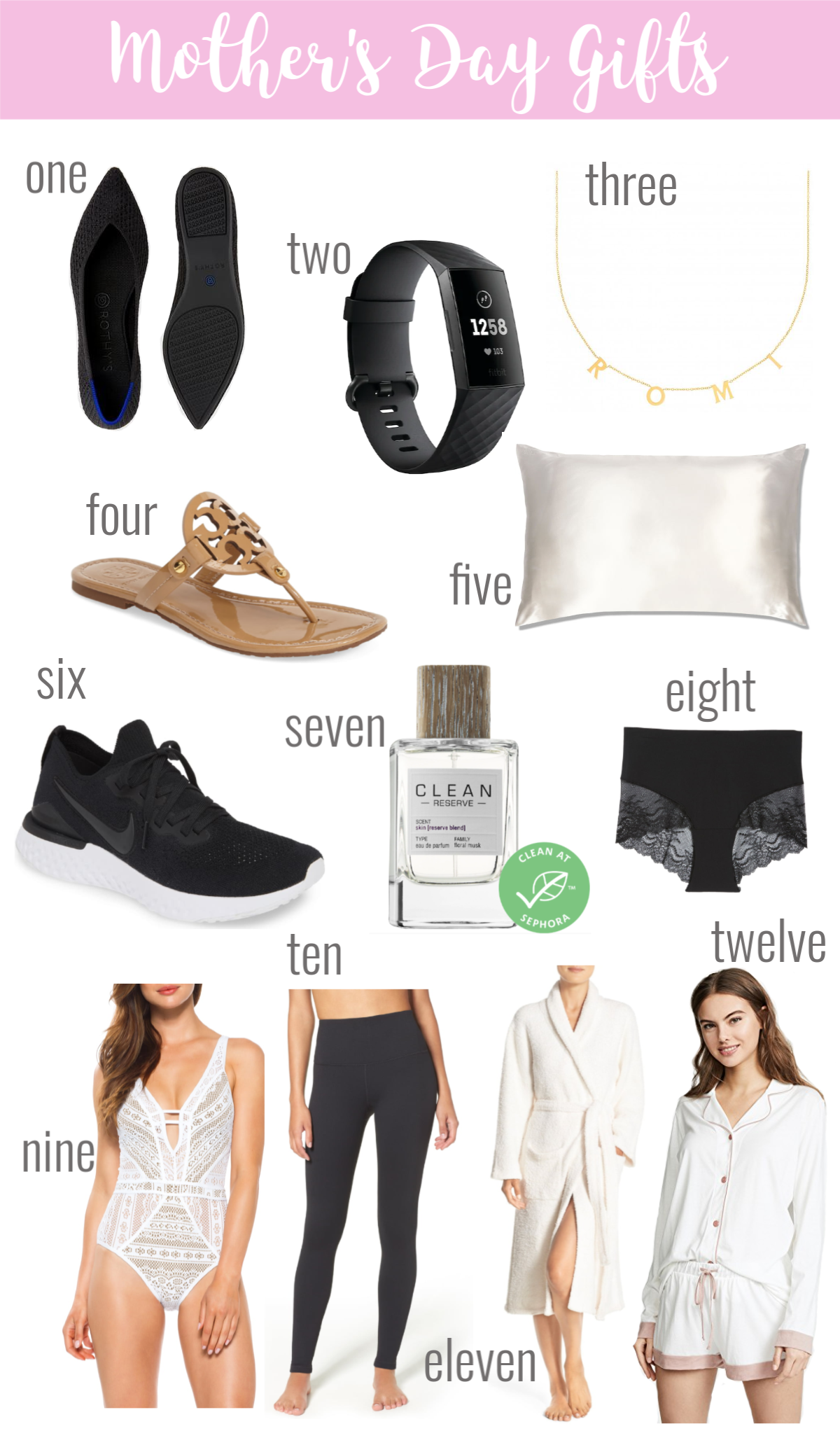 Happy Mother's Day! I know a bunch of you are running out shopping this weekend and need last minute ideas, so these are some of my very favorite items that I think the mamas in your life just might love too. Several of these items are available with free one day or same day shipping on Amazon. Most others are available to shop in-store at your local Nordstrom, Sephora, etc. All of these gift ideas would be appreciated by the mamas in your life!
You can 't go wrong with flowers, but I prefer giving a gift that lasts longer than one week. Consider a gift card to her favorite store, or a beauty service like a massage or manicure.
one: Rothy's flats. I know have three pairs of these shoes and I'm OBSESSED. Their lightweight and machine-washable, both wins in this girl's book!
two: Fitbit Charge 3. I recently swapped out my Apple watch for a Fitbit and never looked back. I especially love the sleep tracking option… I never realized how little deep sleep I got! You can grab one with FREE one day shipping on Prime. You can also pick up in tons of different stores like Best Buy.
three: Lola James necklace. My MacKenlee necklace is one of my most asked questions on Instagram. Such a great gift for any mama!
four: Tory Burch Miller sandals. Can't go wrong with these classic sandals with summer and beach vacations right around the corner. You can pick these up at your local Nordstrom.
five: Slip silk pillowcase. What girl wouldn't love a silk pillowcase? You can pick one of these u0p at your local Sephora or Nordstrom.
six: Nike sneakers. I can always use a new pair of workout kicks! You can grab sneakers at your favorite local stores or free same day shipping on Amazon.
seven: Clean perfume. I picked this up during the Sephora Spring Sale and fell in love. It smells so fresh and so clean, clean. Grab a bottle at Sephora.
eight: Spanx undies. Love this figure-flattering, yet feminine unmentionables. You can grab these at Nordstrom.
nine: Becca swimsuit. I've had this suit for years and still love the way it looks on… Both pre-baby and post-baby. It's complimentary in all the right places. You can grab one at Nordie's.
ten: Zella leggings. My favorite workout leggings, hands down. Also can be picked up at Nordstrom!
eleven: Barefoot Dreams robe. So soft and yummy. Pick yours up at Nordstrom.
twelve: Cosabella PJs. The most deliciously soft pajamas.
Mother's Day Faves