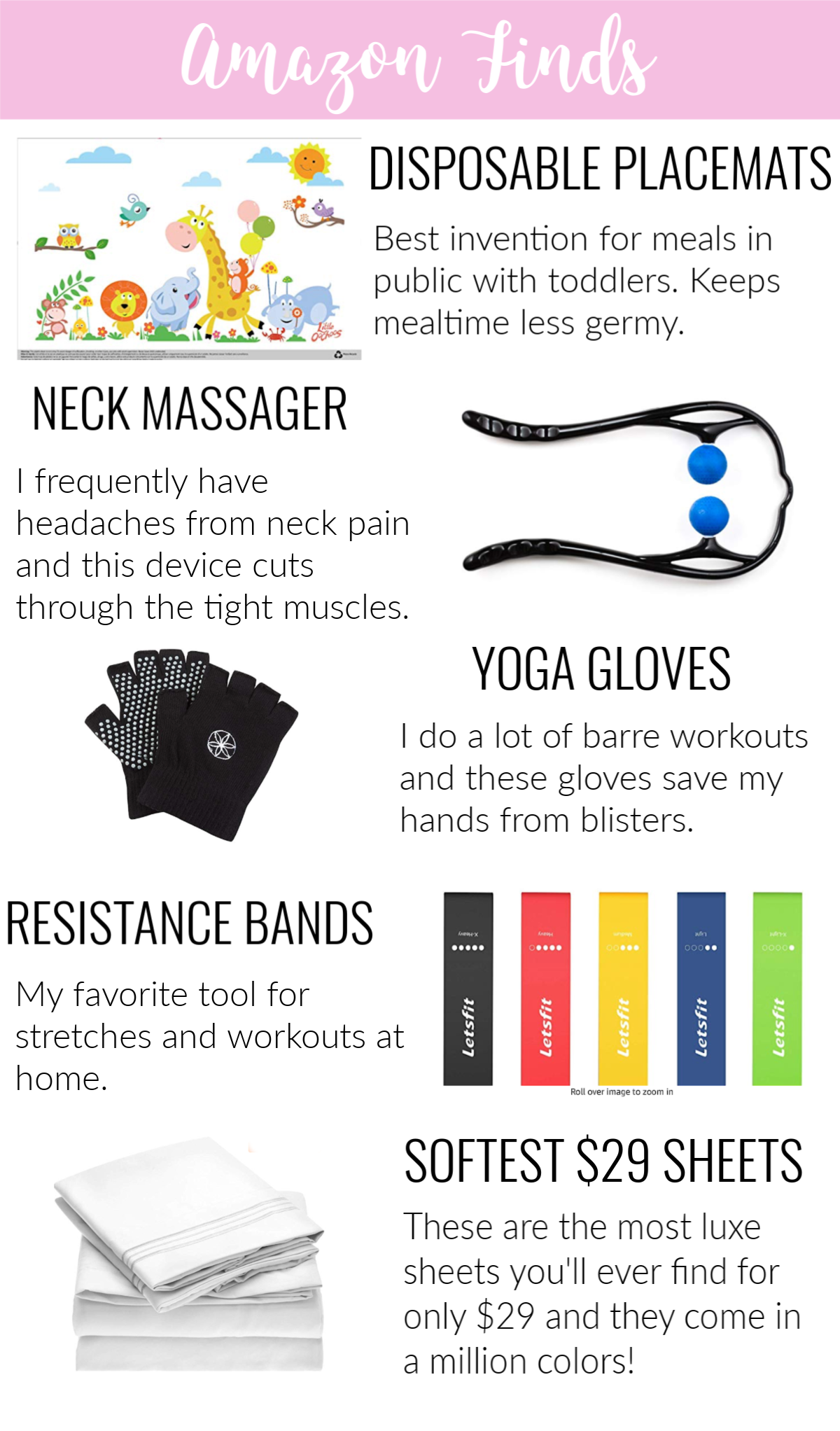 Amazon is a no-fail for me. I can always find what I'm looking for in a few quick clicks. Y'all seem to love these Amazon posts as much as I love to post them, so I decided to round up five of my most recent finds for you to check out.
Disposable Placemats: When we take Kenny out to eat, I'm that mama wiping evvvvverything down with antibacterial wipes. I know those precious little fingers will be touching every square inch of surface that she can reach. These disposable placemats help to keep meal time a little less germy, Praise Jesus!
Neck Massager: I've been working with a trainer for about 6 weeks now and my biggest hurdle by far has been my neck. I carry all of my tension in my neck, which results in frequent headaches. This massager targets specific points in my neck that immediately triggers headaches, which makes me know where my headaches are definitely coming from. When I regularly use this, my neck is so much happier.
Yoga Gloves: I practice a lot of yoga, but that's not what I use these gloves for. I use them for my barre workouts to prevent blisters from forming on my hands and help with my grip.
Resistance Bands: These bands come in handy for so many things. I use them for stretching and for exercises. Want to up your squat game? Try these for squat-walks! Resistance bands are so cheap but do so many things for your body.
$29 Sheet Set: When I saw that these sheets had over 50,000 reviews on Amazon, I thought, "Why not?" The reviews don't lie! These sheets are so soft and surprisingly luxe for the price point. My hubby loves them so much he wants to buy a set for every bed in the house.
What has been your best Amazon find lately? Let me know in the comments!