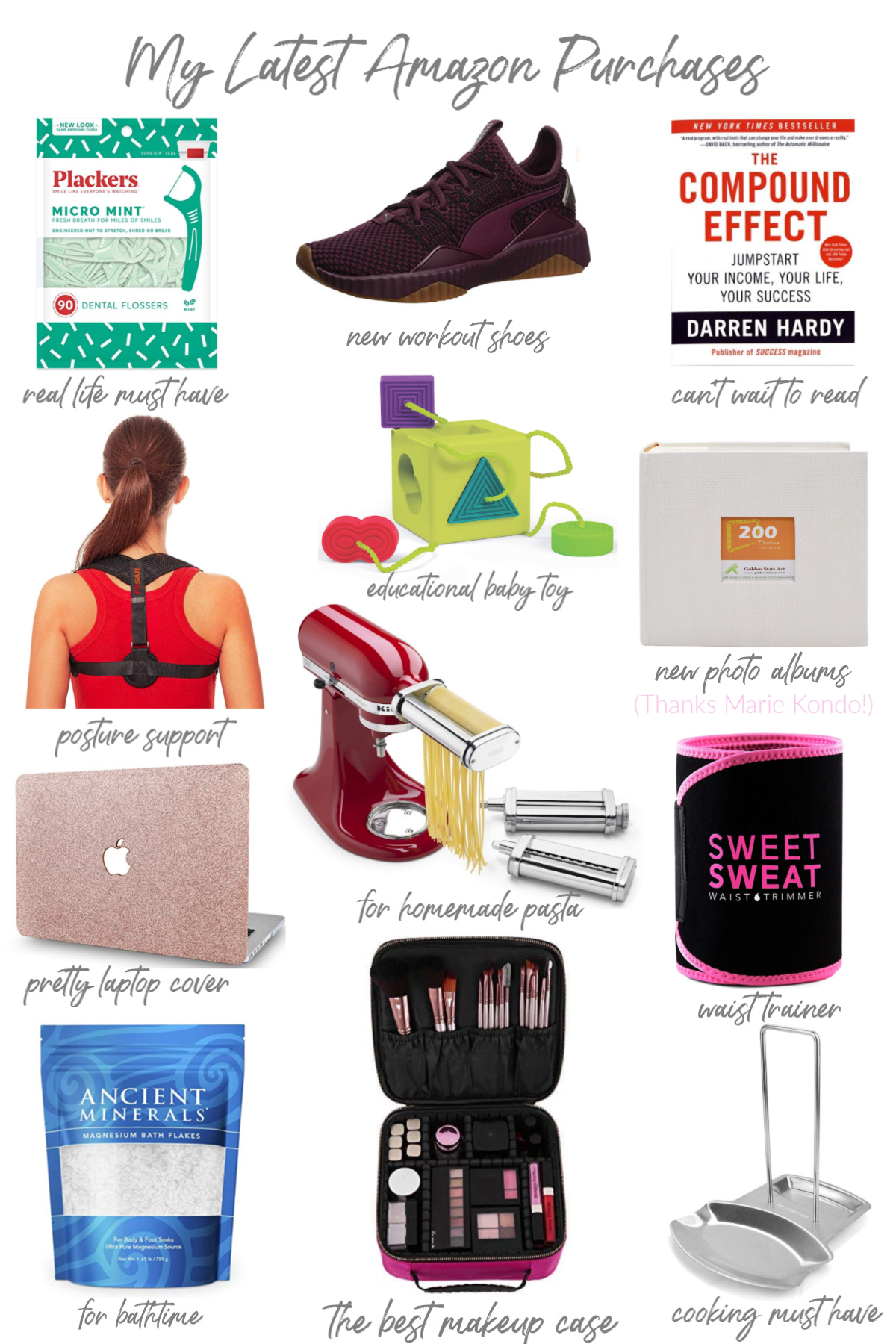 My most recent Amazon favorites video on YouTube was so well received, that I figured I should do Amazon updates more often. I shop on Prime all the time. Too much, if you ask my husband… But he's just as guilty as I am, lol.
I've discovered some killer items lately on Amazon that I know y'all are going to love.
Real Life Must Have: Dental Flossers. I hate flossing. I can manage to floss daily if I have these handy-dandy little flossers. Old fashioned floss? Forget it. So we stay stocked up on flossers to ensure I get the job done.
New Workout Shoes. I have weird ankle bones. No really, I do. I can't workout in just any old pair of sneakers. If they come up too high or hit too low, I'm left with blisters for days. These Puma sneakers so far are passing the test. The best part for me was how many colors they come in.
The Compound Effect. I love a good book. My goal in 2019 is to read (more like listen to on Audible!) three books a month. At least one non-fiction, one fiction and the third can be either genre. This book has been on my list for business reads and I can't wait to dive in.
Posture Support. I get regular massages and chiropractic care. I wish I could say that I did it for relaxation, but I actually receive the treatments because I suffer from constant neck and back pain. I get more knots than anyone I know. My masseuse suggested trying posture support to see if it helps. I have loved the support when working at the computer, because it's a constant reminder to sit straight with my shoulders back. Hopefully I'll notice a difference in my neck and back pain as well.
Baby Toy. I bought this toy for Kenny's first birthday. It doesn't capture her attention for long yet, but I can tell it's one that she'll play with for quite a while. I love that it's more of an old-fashioned interactive learning toy.
Photo Albums. Well, thanks Marie Kondo, for convincing me to A) only keep the photos that bring me joy and B) display my photos neatly in albums. It did feel good to have my photos in albums instead of photo boxes.
Laptop Cover. Because who doesn't want a sparkly rose gold laptop?
Pasta Attachment. Kenny LOVES pasta and I love to cook, so I tried my hand at homemade pasta. I made it by hand and it took hours. Kenny loved the pasta so much, that I immediately bought this Kitchenaid attachment and it cut my prep time down to nothing. It's so easy to use!
Waist Trainer. Once I get healthy, I plan on using my new waist trainer while exercising to help break a sweat by increasing the temperature around your core. This one is so cool because you use a coconut oil gel on your skin to help maximize the results.
Bath Flakes. My favorite way to wind down and get ready for some good sleep is to take a hot bath. Magnesium flakes or epsom salts help to make bath time more relaxing.
Makeup Case. This makeup case is incredible. I love it because you can move the dividers around to make the spaces larger or smaller depending on the products that you're packing. It's now my favorite way to travel with makeup.
Spoon and Lid Rest. This was a Christmas gift from Matt that I love. So very handy!
Shop The Post