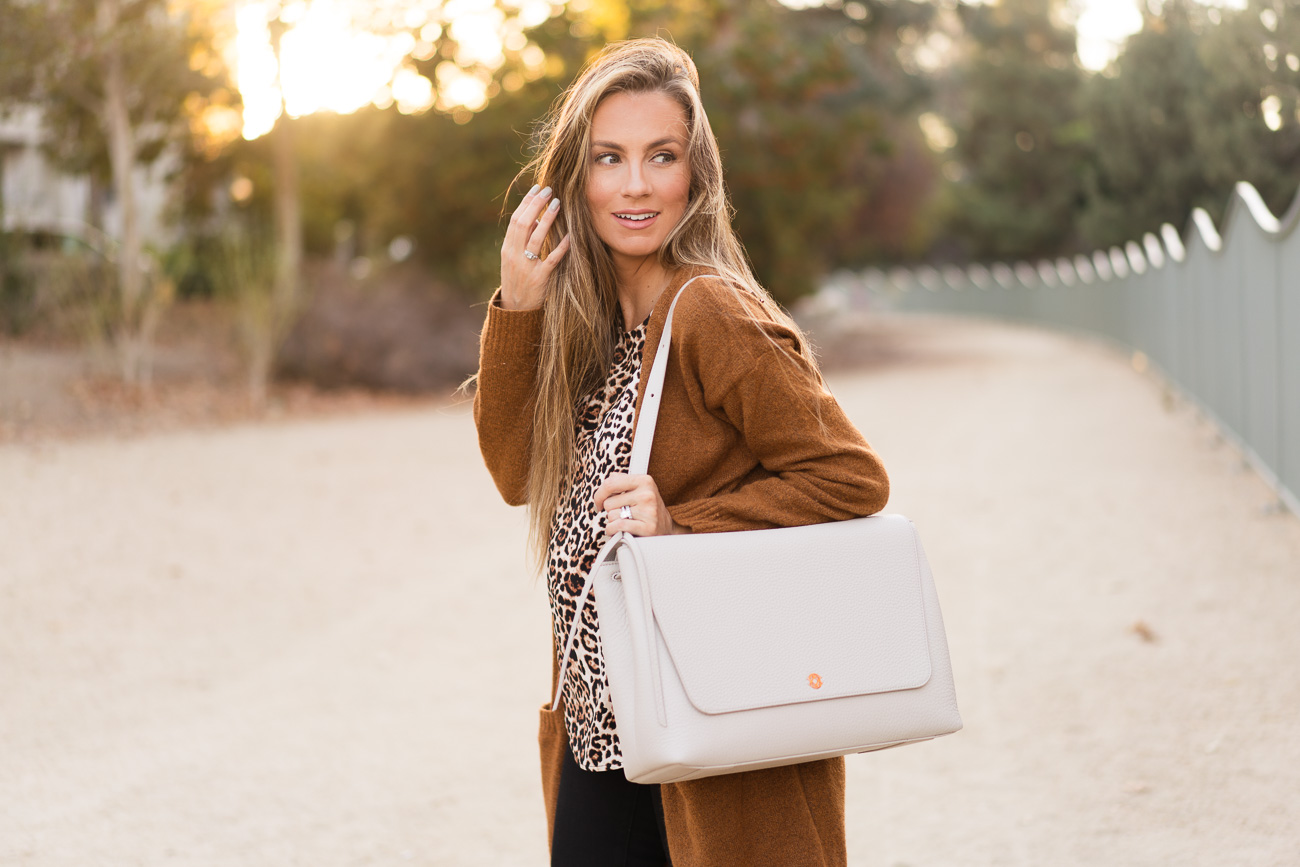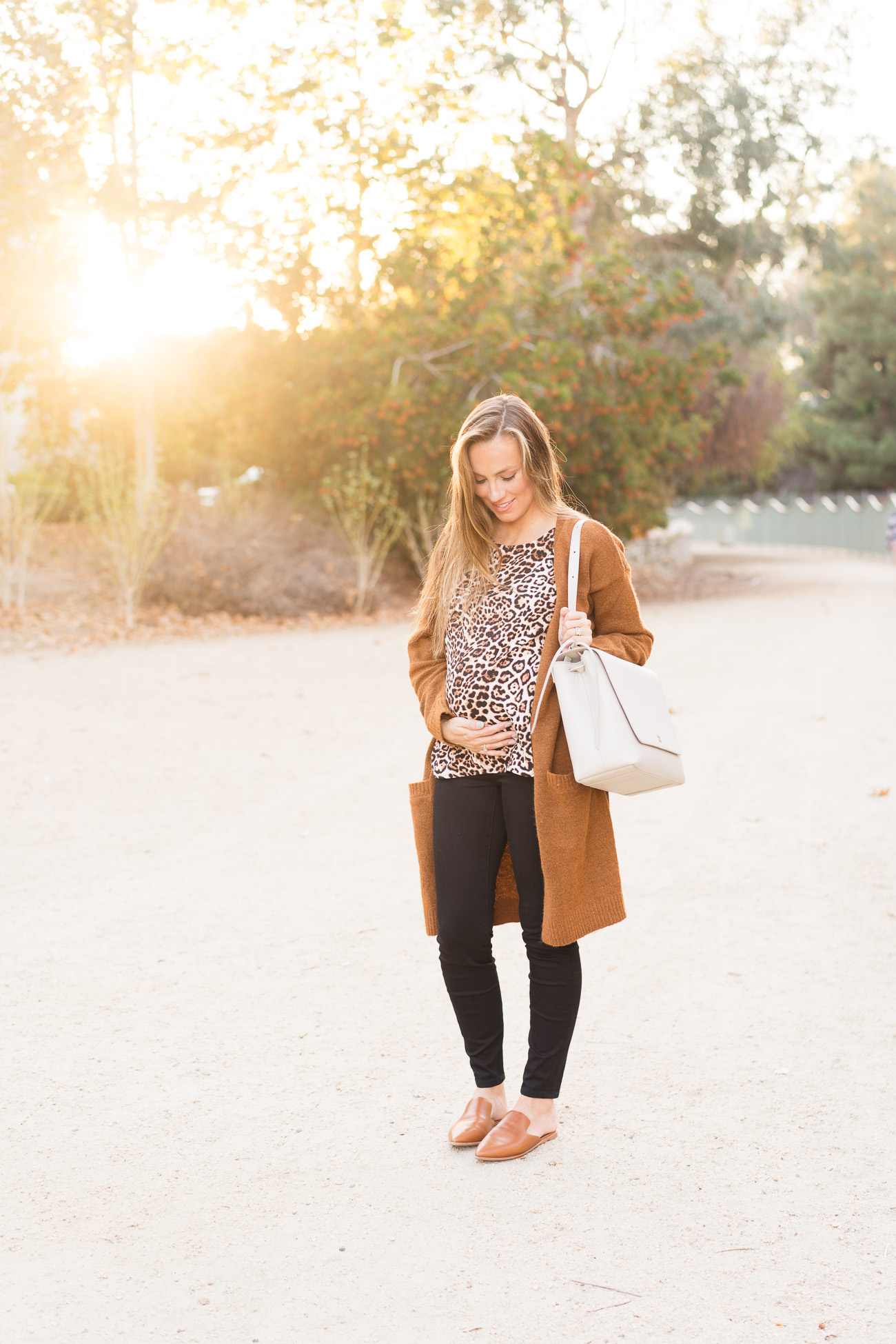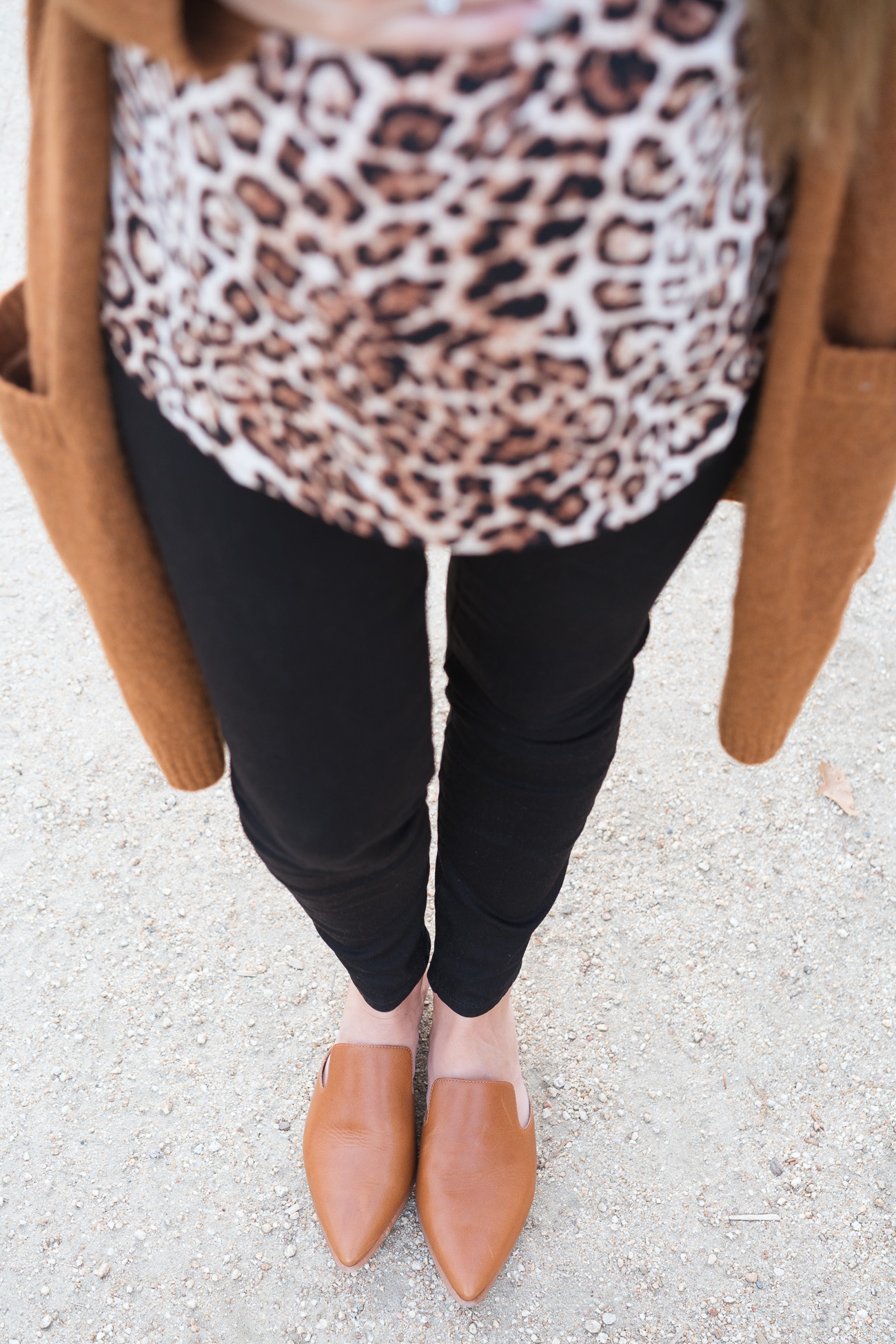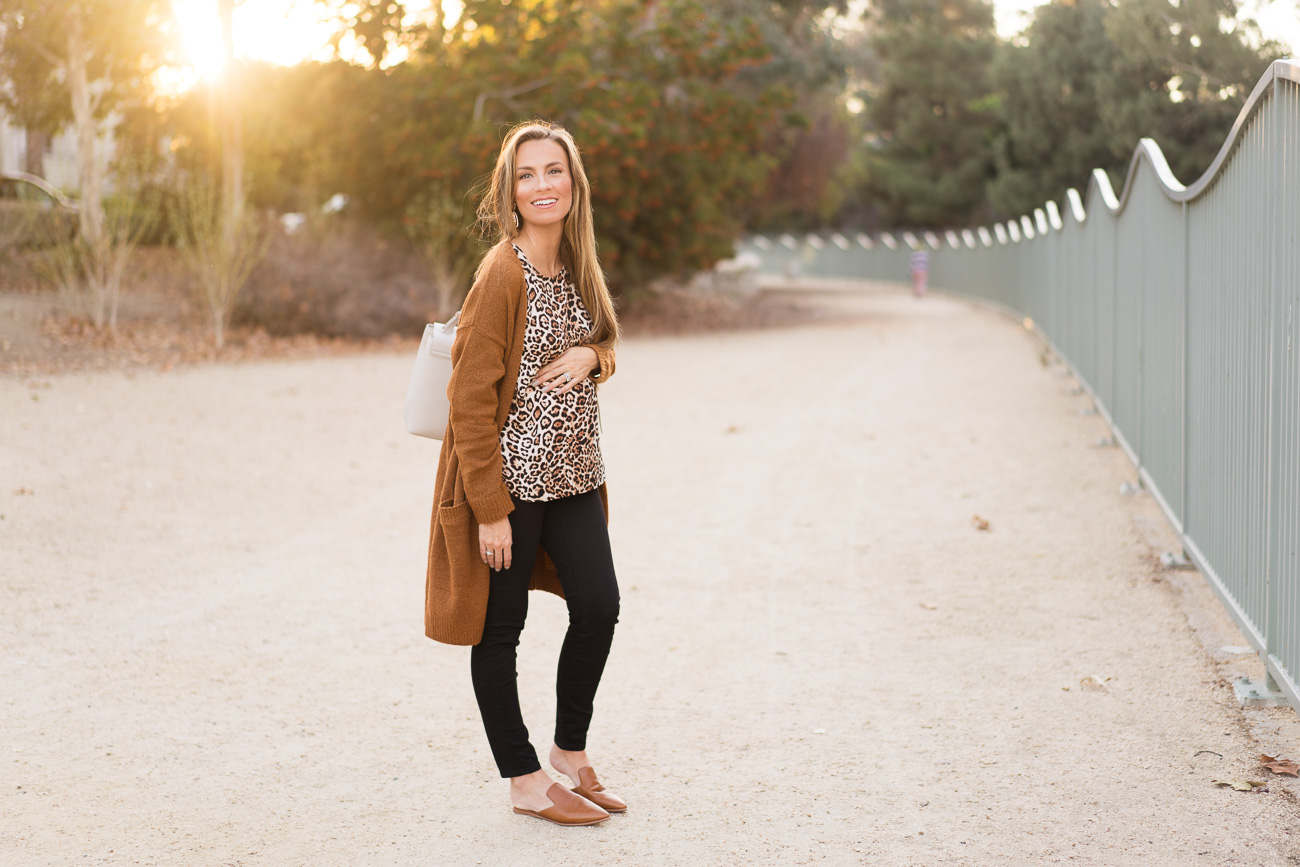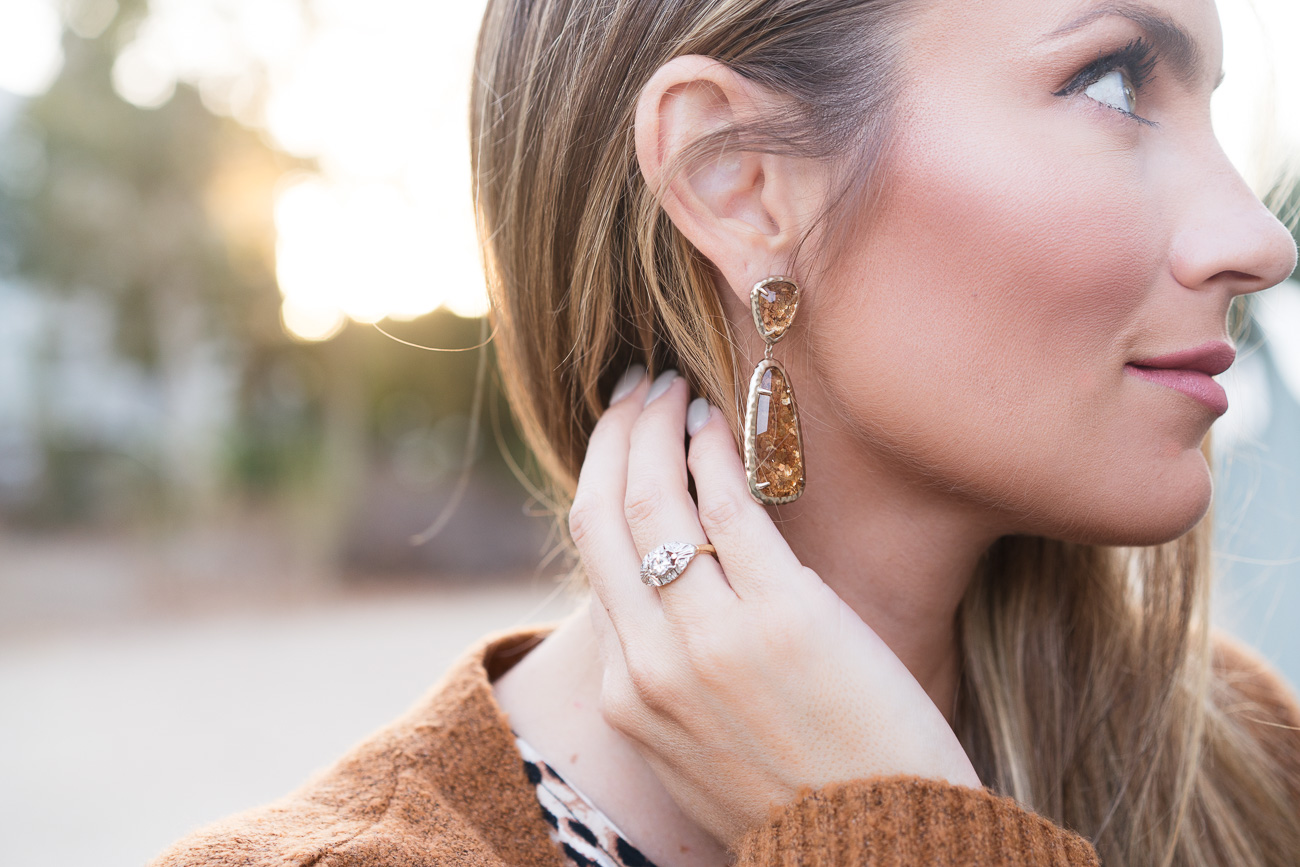 Leopard Sleeveless Top: Forever 21 [$12!] || Cardigan: Forever 21 [$15 and SO comfy!]; similar
Maternity Jeans: Madewell [c/o] || Handbag: Dagne Dover Simone Satchel in "Bone" [c/o]
Shoes: Madewell Gemma Mules [c/o] || Earrings: Kendra Scott Daria Earrings [c/o]

---
Today's post is a hodge podge/hybrid of an outfit post, life update post and podcast review. Basically, you're getting a three-for-one today, lol. We've got a whole lotta catching up to do with Hello Bump. I didn't realize that I haven't posted on the blog since Episode 12, probably because I have so much going on in my life lately. Feel free to skip ahead and scroll to the bottom of this post for the podcast episode guide.
Here's a quick update of all that's been going on in my life…
We traveled home to Ohio for our first baby shower, then to Georgia and Tennessee. Now there's no more travel until Miss Lanter gets here!
My kitchen counter stools and master bedroom sofa finally arrived. It feels so good to have big pieces in place because it's starting to make our house really come together.
Speaking of kitchen stools, I'm now on my third set of stools and we finally got it right this time lol! I can't wait to do a full reveal for you guys to see.
I finally got our closet completely organized, finished the switch to all velvet hangers and the nursery closet entirely cleaned out. Now, I'm just waiting for two shelves to be installed in the closet before I do a full reveal for the blog.
I packed away all of my non-maternity clothes that I can't wear until I'm back to my normal size. This made such a difference in closet space for me. I also took that time to purge my closet and donate a bunch of clothes.
I've been an organizing fool lately. I showed all the acrylic organizing trays I purchased from Homegoods a month or so ago on Insta-Stories and I'm still working on converting all of our drawers over to this system. I'm finally done with the bathroom drawers, and I found a new solution for the under sink space in the nursery that I'm super excited to share with y'all. I also showed my kitchen sink organization on Insta-stories this weekend and it made such a difference.
Our baby crib and dresser/changing table have arrived and we think we found the prefect rug! It feels so good to be making all of these big nursery decisions. We're working with someone to create the perfect nursery for Little Miss and I can't wait to see how it turns out. Let me know in the comments below if you'd like to see an inspo post for the nursery here on the blog.
I reorganized my pantry and labeled my containers. Let me know if you guys want a pantry post in the comments below also. I'm ordering new labels for my baskets, so those need to arrive before I share the finished product.
In case you missed it, I posted a pregnancy announcement video on YouTube as well as a first trimester must-haves video.
All in all, I've been spending as much of my time as possible getting the house in shape before the holidays. I really want the nursery to be completely done before Christmas. We also broke out the Christmas decorations for the front room, so I'm working on getting the mantel fully decorated. I'm also running around today to get everything I need for my Thanksgiving tablescape. My current centerpiece is lacking life, so I'm heading to the craft store to pick up some greenery. I'm looking for the perfect buffet for our dining room and I feel like I've exhausted all my options. If you have a furniture store suggestion that I probably don't know about, please let me know in the comments. I'm not 100% in love with anything I've found so far.
---
Hello Bump Podcast Episodes:
Episode 13: Week 18. Pop Goes the Belly:
Bonus Episode: Sazan and Stevie Hendrix Interview:
Episode 14: Week 19. Breastfeeding in Public:
Episode 15: Week 20. We Got Robbed:
Episode 16: Week 21. We Got a New Car!:
Episode 17: Week 22. Kinfolk to Dolly:
Episode 18: Week 23. Lady of the Night:
Bonus Episode: Jason Kennedy & Lauren Scruggs-Kennedy Interview:
Episode 19: Week 24. Cramps & Cravings.
Episode 20: Week 25. Toilet Naps.