My last post I chatted about starting the process of decorating our new home in LA and y'all seemed to love the idea of me sharing the process. With that feedback, my newest series was born: Hello Home. We were so inspired by the beautiful homes and interiors in 30A that we want to pull from those interiors as inspiration for our home. I like to describe our style as "Coastal Americana." I love light, bright and airy spaces filled with beautiful neutral pieces. I want our home to look bright and clean while feeling cozy and inviting.

I figured why not kick off this series with the decision currently plaguing me: kitchen counter stools. Seems like a not very big decision, I'm sure. To us, it's a big decision though. I'm currently writing this blog post from my kitchen counter. Our kitchen is the hot spot of our home. We eat our meals at the bar, (obviously) work there and sometimes watch tv from there. I want to choose quality counter stools that will endure the heavy use we put them through. But I also want them to be comfortable for long sit sessions while also looking beautiful.
If you remember this post, we had the Corrine Linen Counter Stools from Pier 1. These natural colored stools are incredibly comfortable and were definitely a great purchase for our old house. We brought them to the new house, and they look very out of place. Our kitchen is primarily white with grey, so the dark legs and bronze hardware stick out like a sore thumb. Not to mention, we only had two of these counter stools, and our new island calls for three.
I've been married to the idea of the Restoration Hardware Round Cane Back French Stools forever. After spending tons of time scouring Pinterest and Houzz for inspiration, I'm now prepared to go another direction. I wanted to share some of my favorite counter stools with you in case you too were in the market for some new furniture.
Before we hop into the current counter stool selection, I wanted to debunk a Restoration Hardware misconception. Most people hear RH and think, "It's sooo expensive." You are right in certain situations, like rugs. However, my beloved round counter stools in the basic combo (Burnt Oak/ Sand Belgian Linen) are $243 each (Member pricing, which is a must do!). If you look at the lookalikes I found online, they're both higher priced at Wayfair and World Market. Both of these retailers are found to be "cost effective" to most shoppers, yet their prices for RH inspired pieces tend to run even higher! The quality of RH cannot be beat, I know that from experience.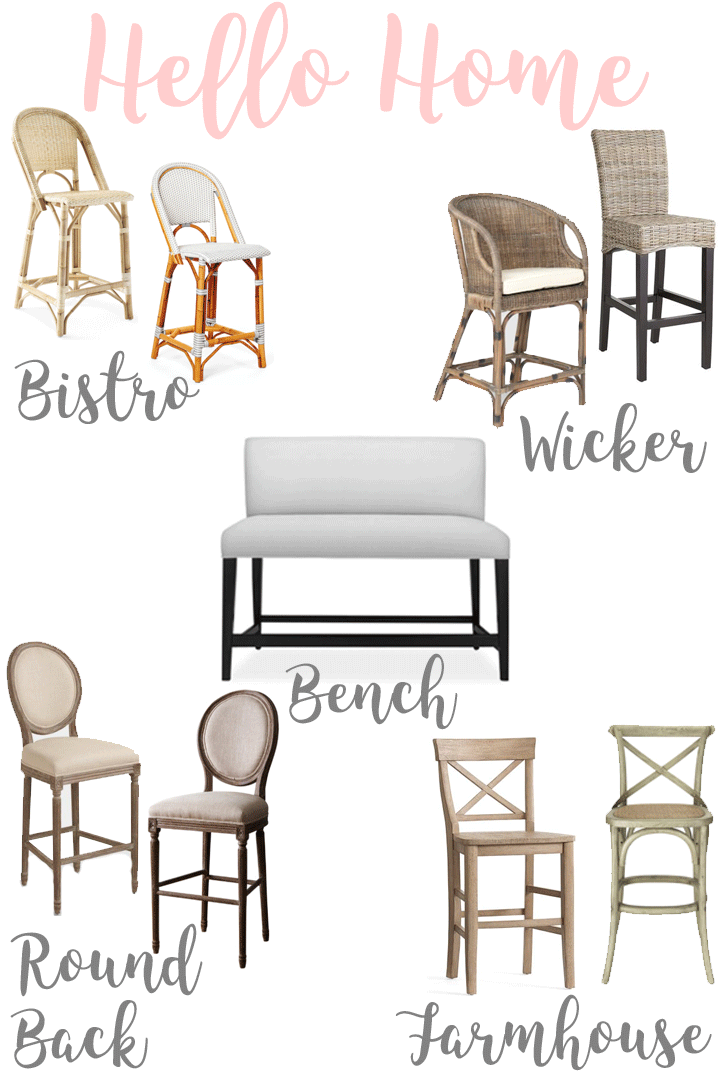 As you can see, I've been looking at multiple different styles of counter stools. I like each of them for a different reason and each would look great.
Bistro: I fell in love with bistro chairs when we visited Paris. Every time I see a bistro chair, I smile and remember Paris. I purchased bistro chairs for our outdoor dining area, but wasn't sure if I wanted to also incorporate them indoors.
Wicker: These chairs fit perfectly into the "Coastal Americana" feel. Unfortunately, they don't tend to be comfortable. That can easily be remedied with cushions, but I'm not sure if I want cushions tied onto my counter stools.
Bench: I first saw a bench counter stool in a home decor store on 30A and thought it was such an awesome piece. The problem is that your bound to sit close to your bar mate whether you want to or not.
Round Back: This style was where my design heart was all along. I think round back upholstered chairs are so beautiful. I do worry that they're too formal of a design in a more casual, laid back space.
Farmhouse: These chairs are a classic design and now even come with a padded seat. I'm not sure if they're too basic or if they're just the right look.
I think I made a decision on which stools to buy! Feel free to leave a comment with your favorite style or guess on which one I chose!
Shop These Kitchen Stools: