I haven't posted a weekly round-up "Saturday Six" style post in too long. I love these types of posts because they're just a fun hodge podge of the things I've been loving lately or what's been going on in my life. I'm picking back up with a special Sunday edition.
As you all know, we have moved up to Vancouver for Matt's new show, "Timeless" to film. We were only in Vancouver for less than one week before flying down to San Diego for Comic Con. I traveled up to LA and have been here for the past week. Matt came home to LA yesterday and all feels right in my world to have him home. He's here for press events over the next several days. I'll be staying here in LA for some work I have scheduled and then I'll head up to Vancouver next week to be with him.
I feel like I'm so all over the place right now with part of my belongings already up in Canada and everything else down here at home. Being in this weird limbo is downright stressful. I appreciate all of your comments on my recent post with suggestions on how to relax. Your suggestions were so needed!
#1: I wanted to have a good, home cooked meal for Matt last night since we were on the road for the past month and he's been alone in Vancouver the past week. For dinner, I made my favorite pot roast recipe and it never disappoints. If you love crockpot recipes as much as I do, this one is a keeper. The roast is so tender after slow cooking it all day and the flavor explodes in your mouth with every.single.bite. I love pairing this dish with fresh baked bread. Click here for the full recipe. It's super easy, so anyone can make it!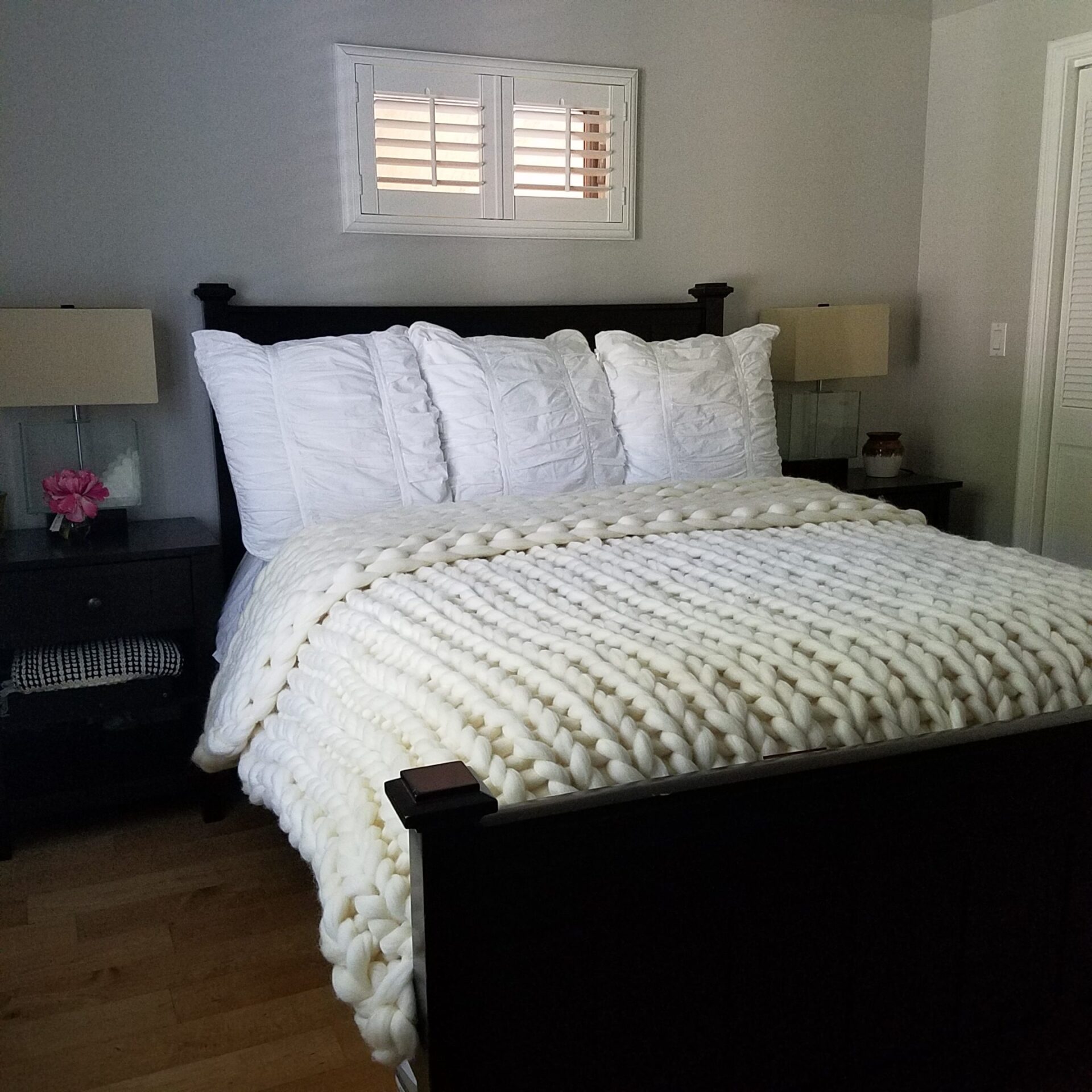 #2: If you remember my "Glimpse Inside Our Home" post, then you know that my guest bedroom is my current home project I'm working on. I found Merrisson on Etsy and immediately fell in love with their gorgeous knit blankets. I haven't changed out my furniture yet, but I wanted to share this stunning blanket with you. This blanket is so amazing for the upcoming fall and winter season. It's incredibly warm and the quality is outstanding. Everyone who sees this blanket in person goes crazy over it, it's that gorgeous. I HIGHLY suggest these blankets. Check out their Etsy Shop here. I asked for a Queen size in "Off-White" just for reference.
#3: I picked up this lace high neck bra from Urban Outfitters the other day and I love it. It's currently on sale for $20 and comes in 5 different colors. I bought a size Small in black. I know what you're thinking, what the heck do I wear that with?! Well, you can wear it alone as a super cute crop top (see this photo as an example). Also, you could wear it under a super low cut top (example here) or under a wrap top (example here). It would also be adorable under a sheer or see-through mock neck or turtleneck shirt.
#4: I've been an Oreo freak my whole life. When I bought a package of double stuffed Oreos in Vancouver, I never thought twice about what I was getting. They are totally different in Canada. I've had multiple Canadian followers snap me and say I'm wrong. I'm not wrong. Matt & I can both attest that the cream is different. It's very different. And I'm not happy about it.
#5: I'm a big fan of Barefoot Dreams products. My bathrobe and travel shawl are both Barefoot Dreams and they're softer than any other brand that I've ever encountered. I ordered this cozy throw in cream from the Nordstrom Anniversary sale and it's incredible. This is the perfect throw to wrap up on the couch with while you binge watch Netflix. My dog is obsessed with it. It's totally different than my Merrisson blanket (#2) in that it's not a blanket you have out on display. This throw is purely for comfort's sake.
#6: I'm currently at the end of Season 6 of Gilmore Girls and I don't want it to end! But, I happened to catch an episode of "Born This Way" on tv a week or two ago, and now I'm obsessed. This show is not your typical junk reality show that you feel guilty about watching… Or get embarrassed to admit that you watch. It's positive, it's real and it's heartwarming. It takes you into the daily lives of 7 young adults with Down Syndrome who live in LA. Matt And I are about 5 episodes into Season 1. So far, Rachel is my favorite cast member. She's got the sweetest heart I've ever seen.
So that's my Sunday 6 for this week. I hope to start this series back up because it's just a fun post for me to do. Leave a comment with things that you've been loving lately. I've just about finished my current book and am looking for a new summer read. If you have any book suggestions, please leave the title and author info in the comments below. xo