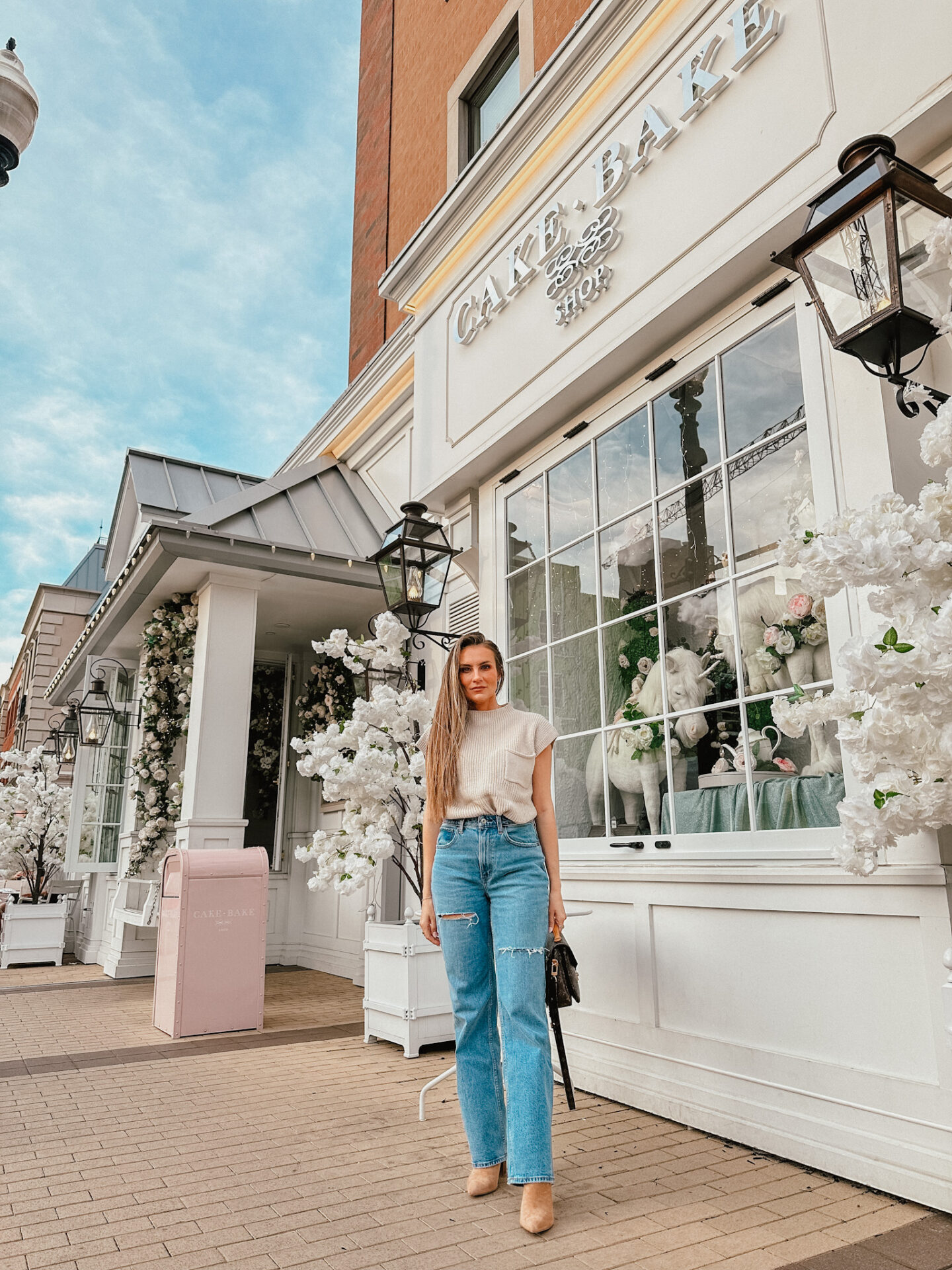 Travel Guide: Weekend in Indianapolis
We took our first trip to Indianapolis this weekend for the Indiana Comic Con. We didn't plan out our Indianapolis weekend itinerary beforehand… Which was so nice to just go with the flow.
Indianapolis is special to the Lanter family because Matt's grandpa, and Kenny's namesake, was a survivor of the USS Indianapolis in WWII. We were especially excited to get to see the USS Indianapolis Monument as well as the World War Museum on this trip.
Before we left, I asked all of you for advice on my Instagram Stories… Basically just feedback about what we needed to see, do, or eat while in town.
I got a ton of great suggestions, but the top three I saw were:
– St. Elmo's Steakhouse
– The Cake Bake Shop
– Broad Ripple neighborhood
We drove to Indiana from Ohio on Thursday night, which took about 4.5 hours. The drive was super easy and even enjoyable.
We stayed at the JW Marriott in downtown Indianapolis which was just across the street from the convention center, where the Comic Con was being held.
A quick review on the JW Marriott, since I'm a self-professed hotel snob. Here are the PROS and CONS:
– They do not offer turn-down service, which a ton of people don't care about, I know, but I do, lol.
– No spa. Major bummer in my book.
– They do have robes in the rooms. Win.
– The rooms are very clean, updated, and have everything you may need.
– The room service food was good. They included complimentary bottles of water, which is unusual since hotels love to charge for every single thing that they can.
– The mattress was overly firm, not in a good way.
– The walls were thick; you couldn't hear your neighbors, which was fabulous.
– The view from our room was so cool. We saw everything in the downtown area, even the state capitol building.
Overall, it was a really good stay.
Here's a look at our Indianapolis weekend getaway and our weekend itinerary.
Day One
We got in after dinnertime on Thursday evening. Because we had been on the road for a bit, we opted to dine at the hotel. As opposed to room service, I wanted to experience one of the on-site restaurants, so we chose OP Italian Indy.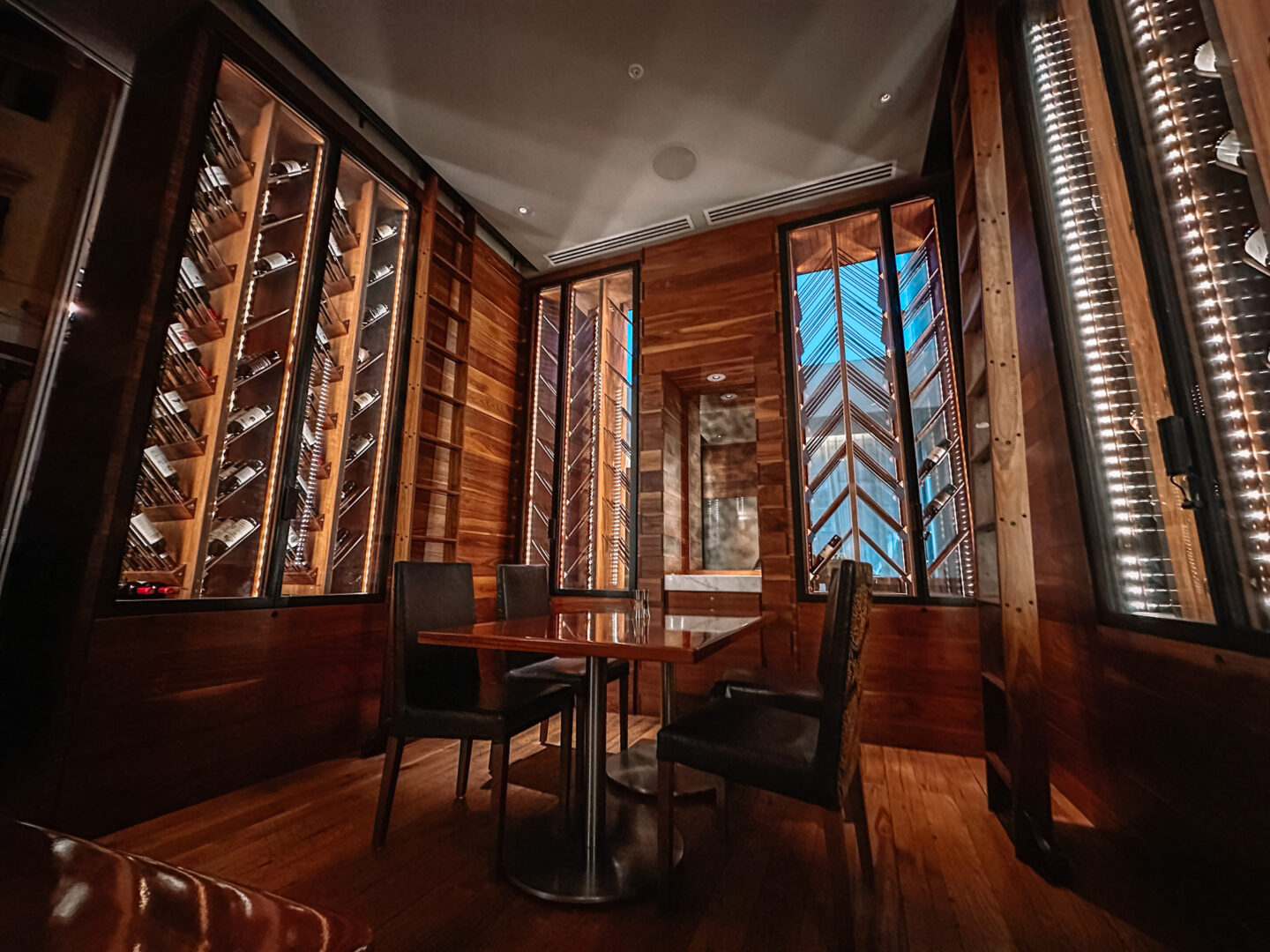 We were blown away by the food, it was that good.
We started with the burrata appetizer, which was so incredibly fresh. I basically wanted to lick the plate clean.
Then we ordered a pepperoni pizza and short rib gnocchi to split. Both were insanely good.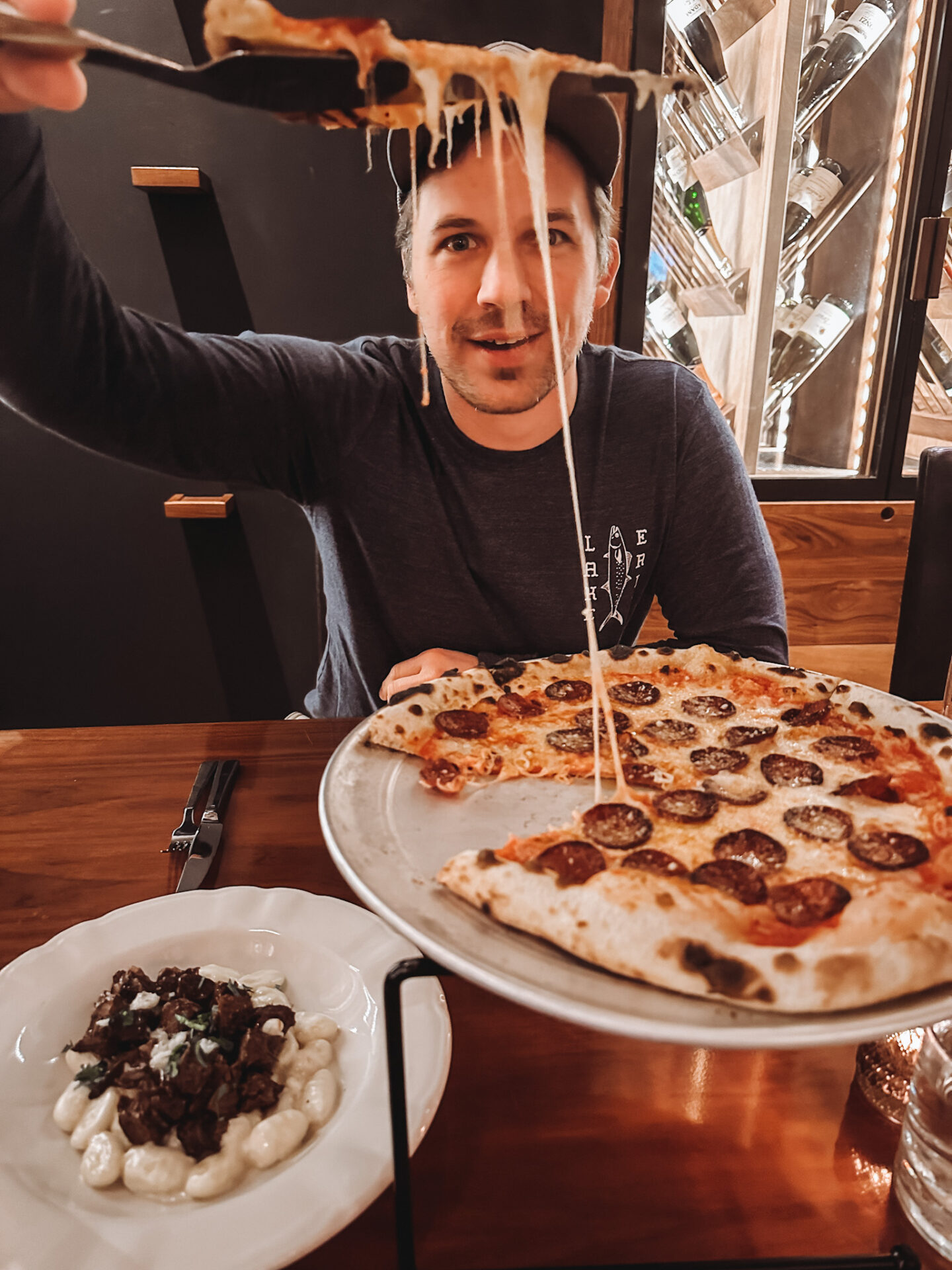 In addition to the fabulous food, the service was top-notch.
After dinner, we needed to walk off all those carbs. We took a stroll down to Monument Circle and were totally blown away by the size and scale of it.
The monument felt as big and as grand as something you would see in Italy or Washington DC.
They even had a projection showing on the buildings about the Indy 500 history, which was so amazing to see in person.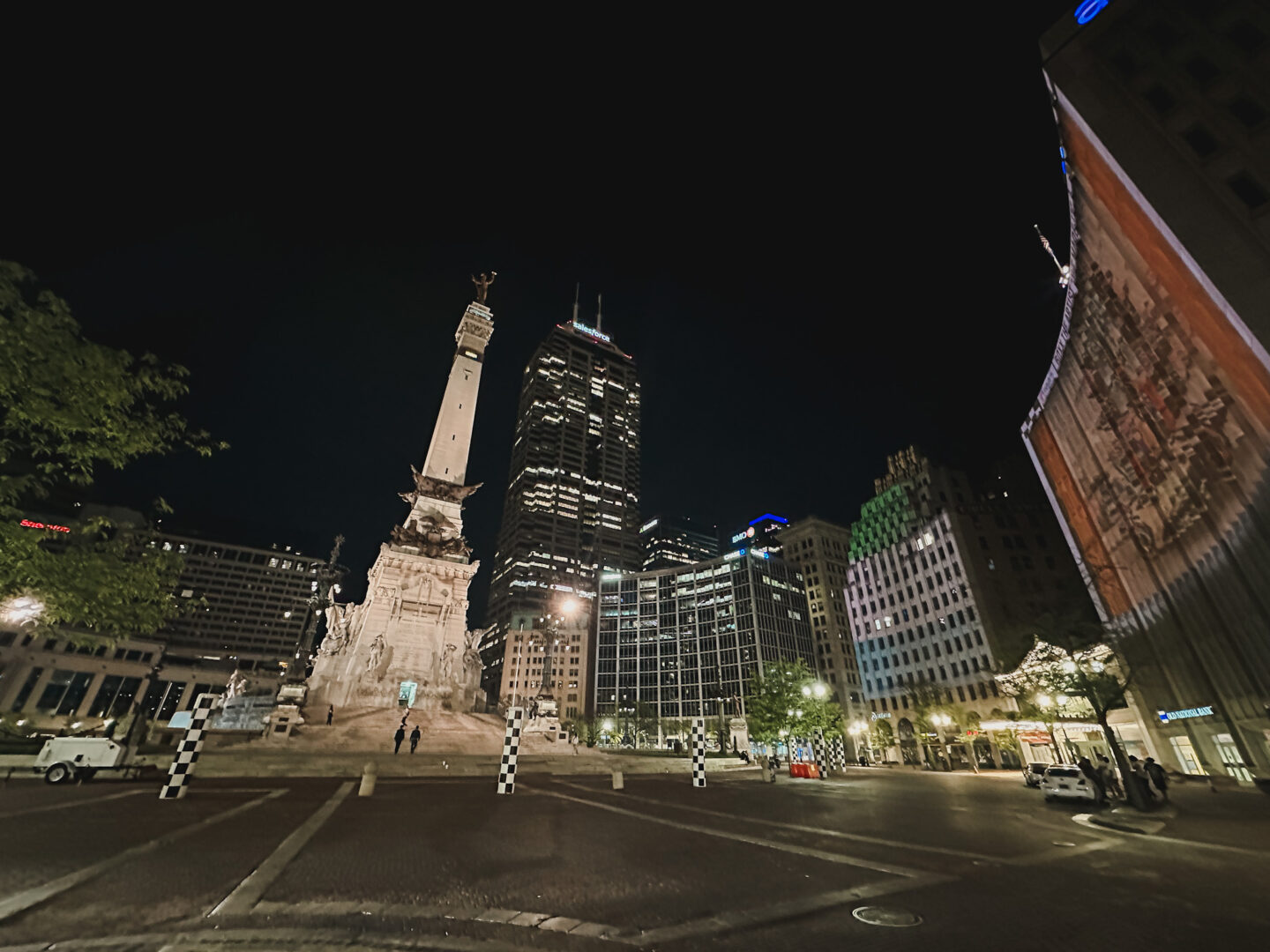 Day Two
Friday was Matt's late start day at Comic Con, so we had a few hours to explore together.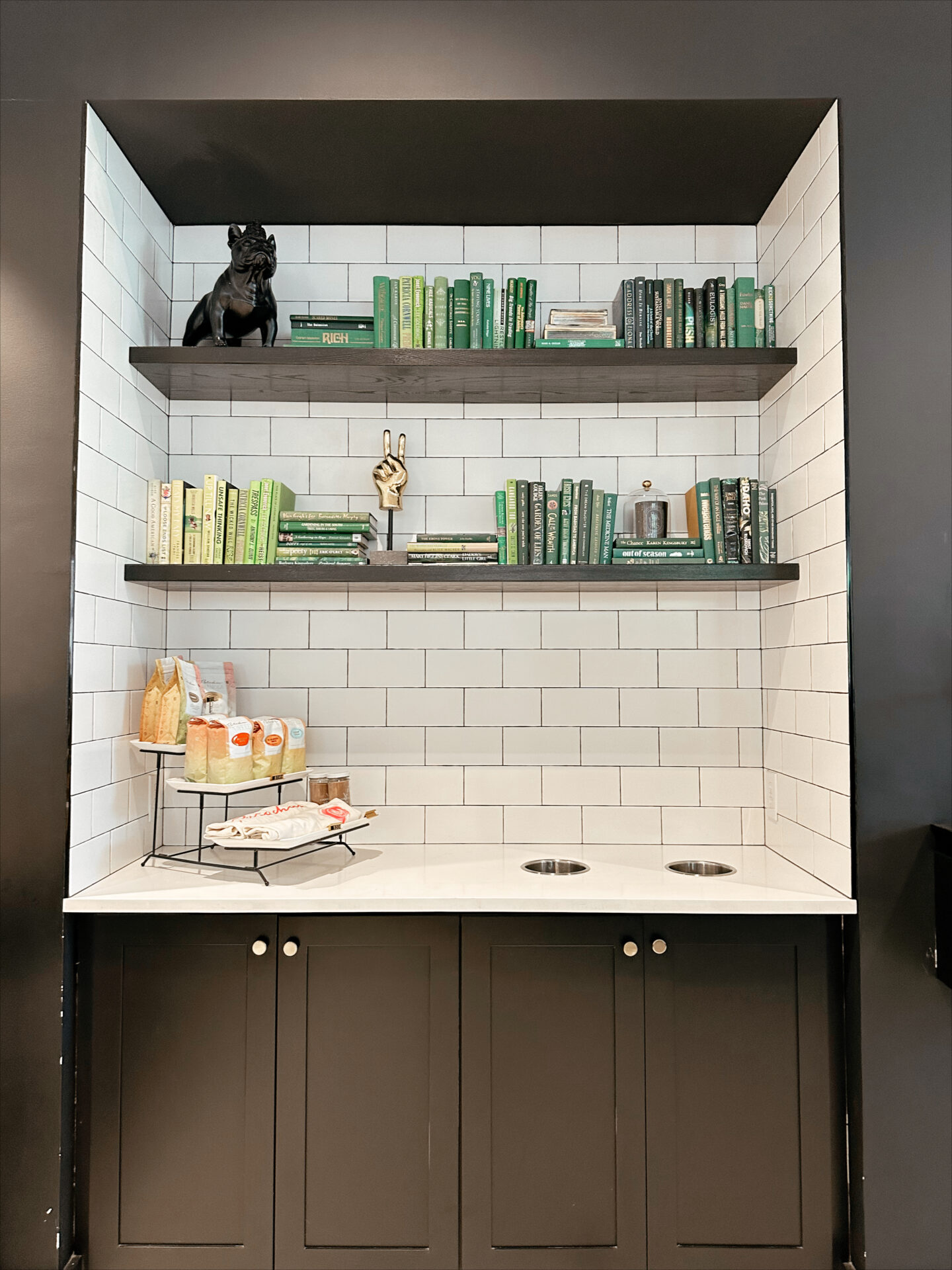 We stopped in for breakfast at Patachou, since it came highly recommended to me by my followers.
I ordered the sourdough cinnamon toast with a side of bacon. It was good, but nothing special. It was exactly what we make at home, but we call it Magic Toast.
The restaurant was really cute, with a local European feel. Matt ordered the Croissant French Toast, which he said was fabulous. I am a bit sad that we chose Patachou over Coat Check Coffee, because it looks like it's straight out of a 1940's movie.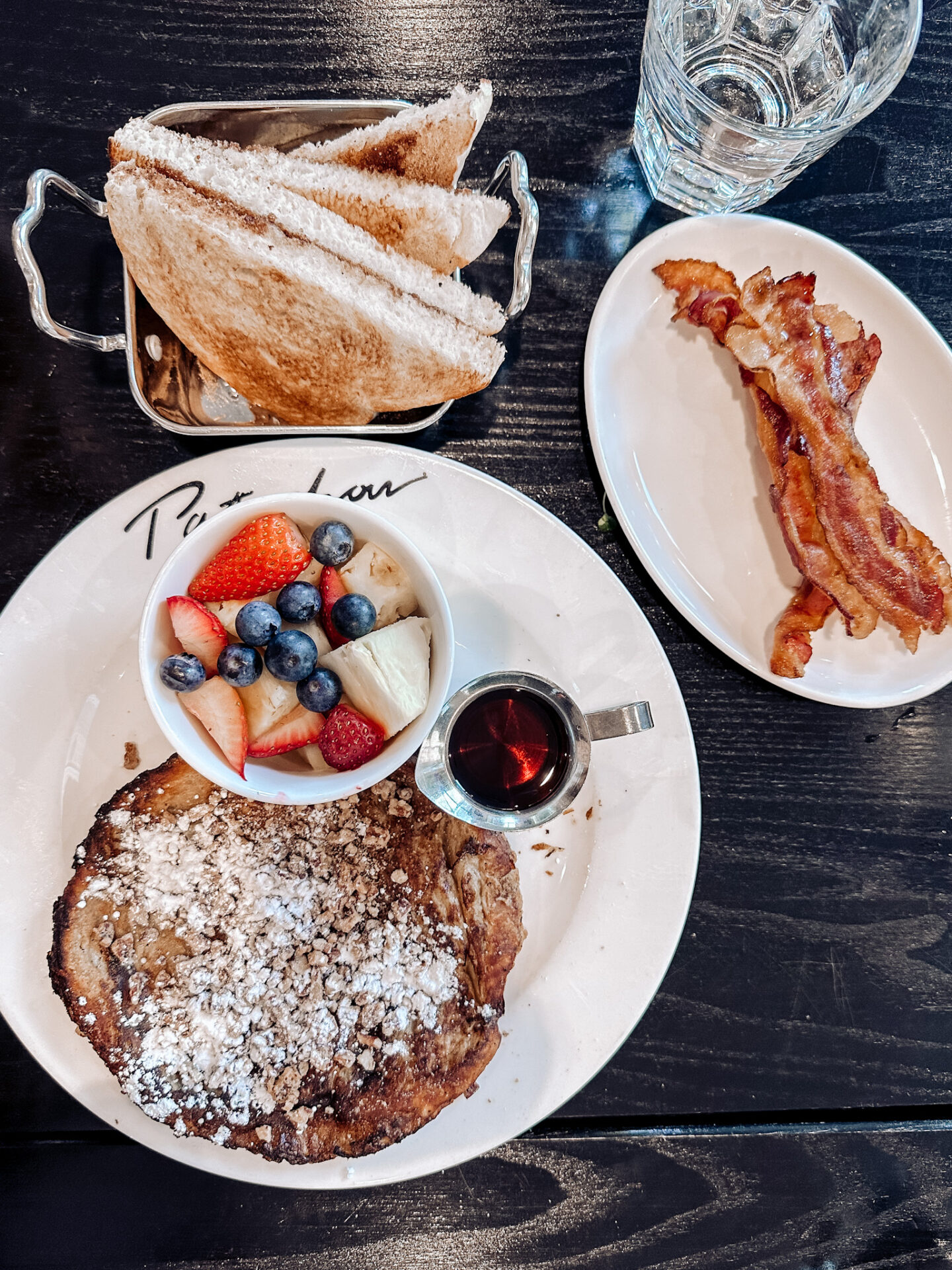 After breakfast, we walked to the Indiana War Memorial Museum, right in the heart of downtown Indy.
I was absolutely blown away by the grandness of this Indiana state museum. It was so large and beautiful, I found myself overwhelmed in moments.

When you walk into the lobby, there's immediately a replica of the radio room from the USS Indianapolis. Inside that room, you'll see a photo of Matt's grandpa and his step-grandma, which you can see below. I mean, how awesome is that?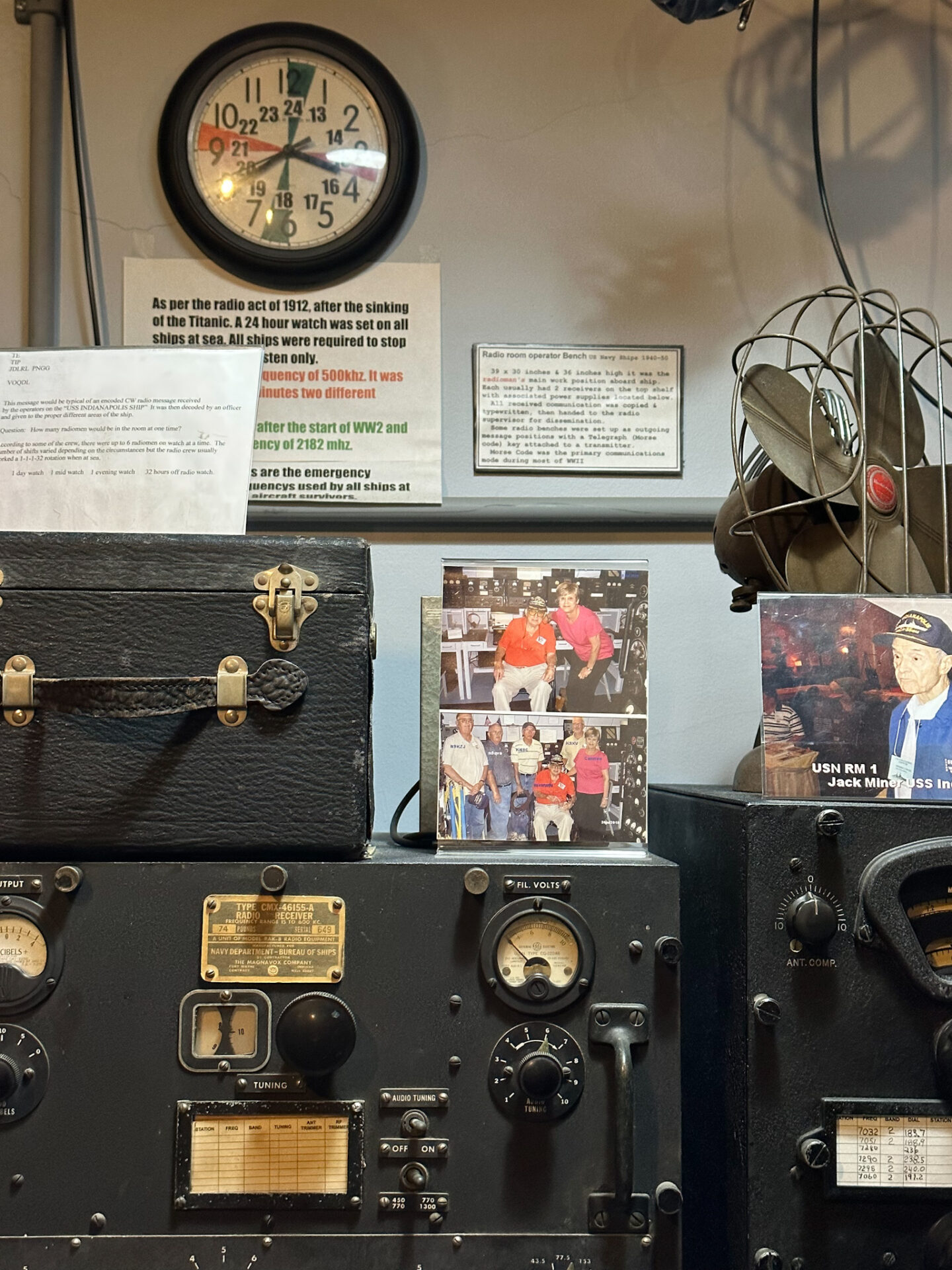 The museum was full of so many artifacts from past wars, but we were most interested in all of the information about the ship. It's family legacy for us, and Matt got to star in the film USS Indianapolis: Men of Courage back in 2015, which felt like such a wonderful way to honor his grandfather, Kenley Lanter.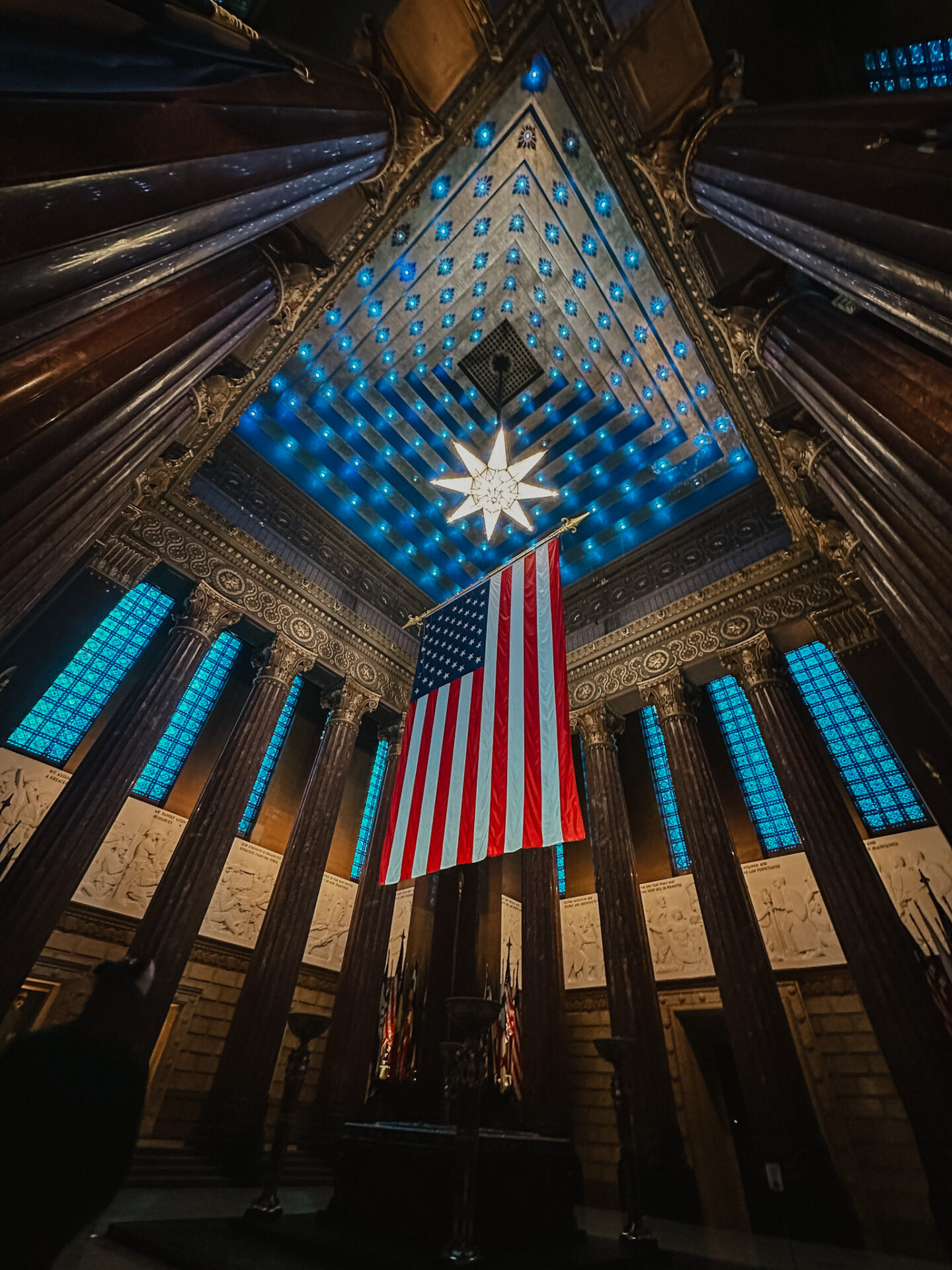 Day one of the Comic Con started that afternoon, so I went for a bit, then ventured out to explore the city on my own.
I headed out to look for a gift for our Kenny girl, which wasn't as easy as I expected. The downtown Indy area has tons of fabulous restaurants, but not a ton of shopping.
I headed up to the Mass Ave area to do a little shopping and stumbled across a couple of adorable boutiques.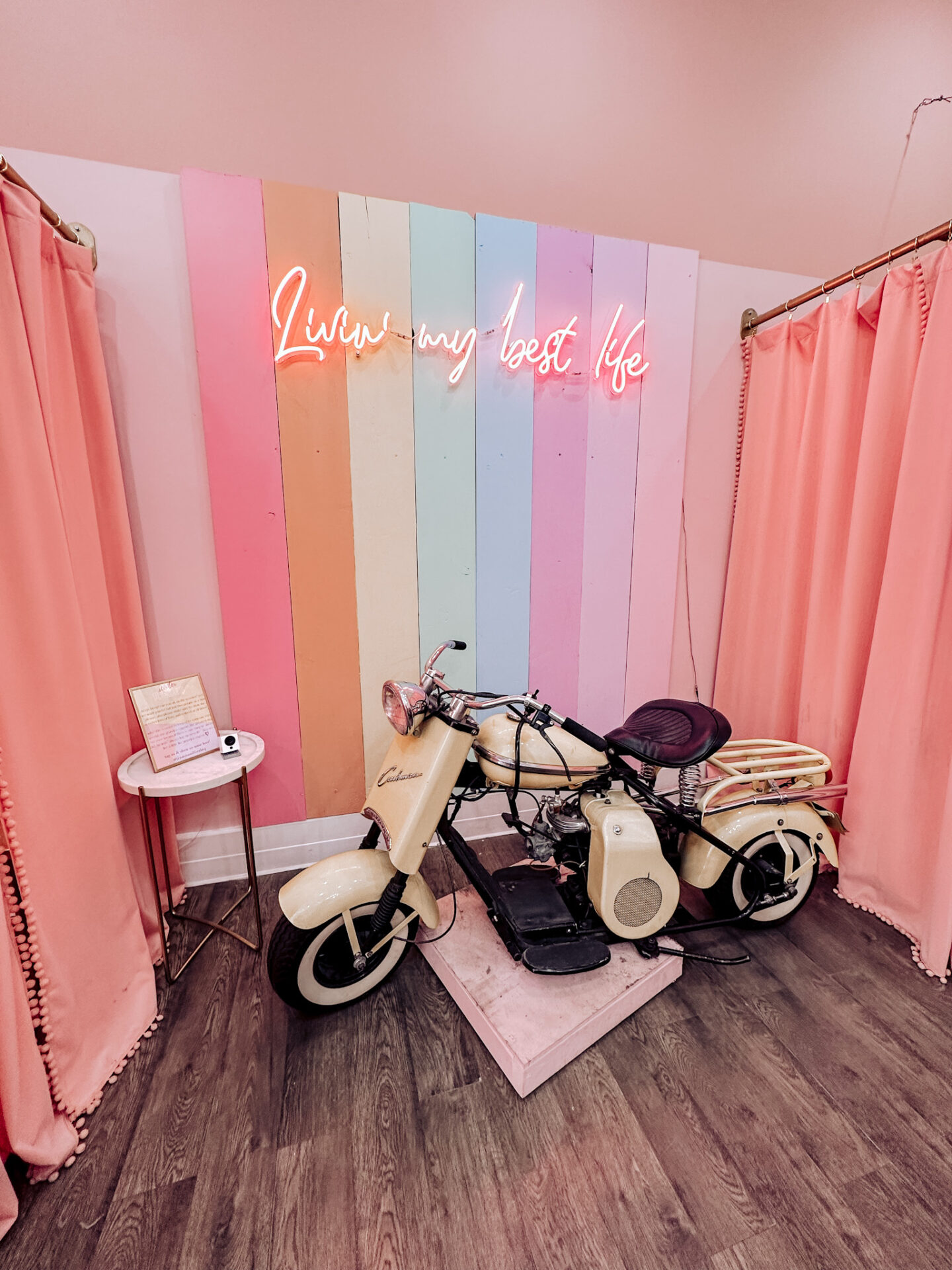 When traveling, I always prefer to shop local boutiques over big chain stores. I have access to all of the big stores I want at home and online… So, I'm looking for the fun local finds.
It was impossible for me to pass up the Flying Cupcake, and it turned out to be totally worth the stop (and the calories). I snagged a half dozen delicious cupcakes.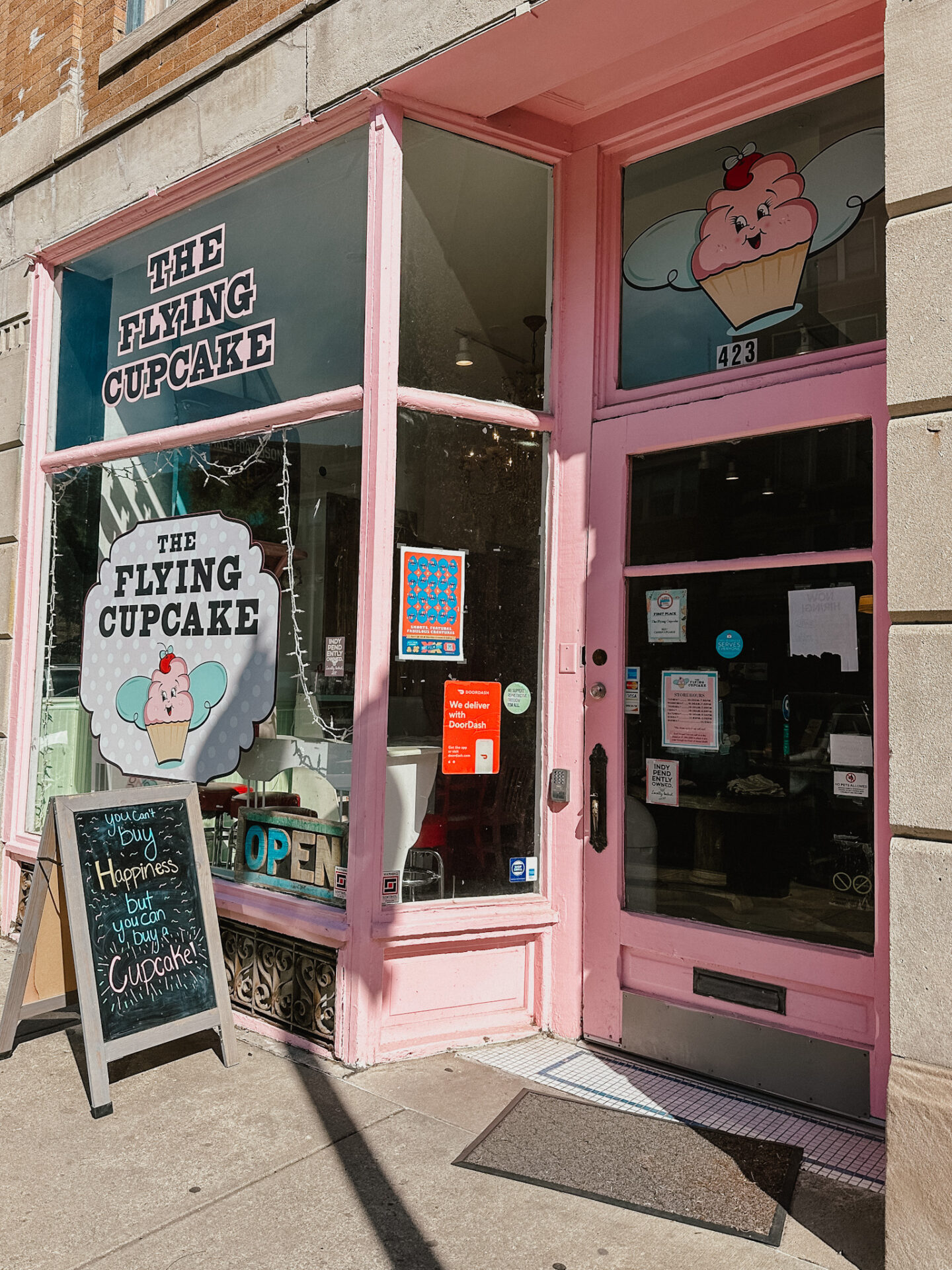 Which flavor cupcake would you have chosen?
Because I didn't find what I was looking for, I headed to Circle Centre Mall, which was very sleepy. My estimation would be approx. 3/5 of the storefronts are out of business.
It makes me so sad to see local shopping malls declining like they are. I still love a good trip to my local shopping mall.
That evening, Matt and I dined at the famous St. Elmo Steakhouse.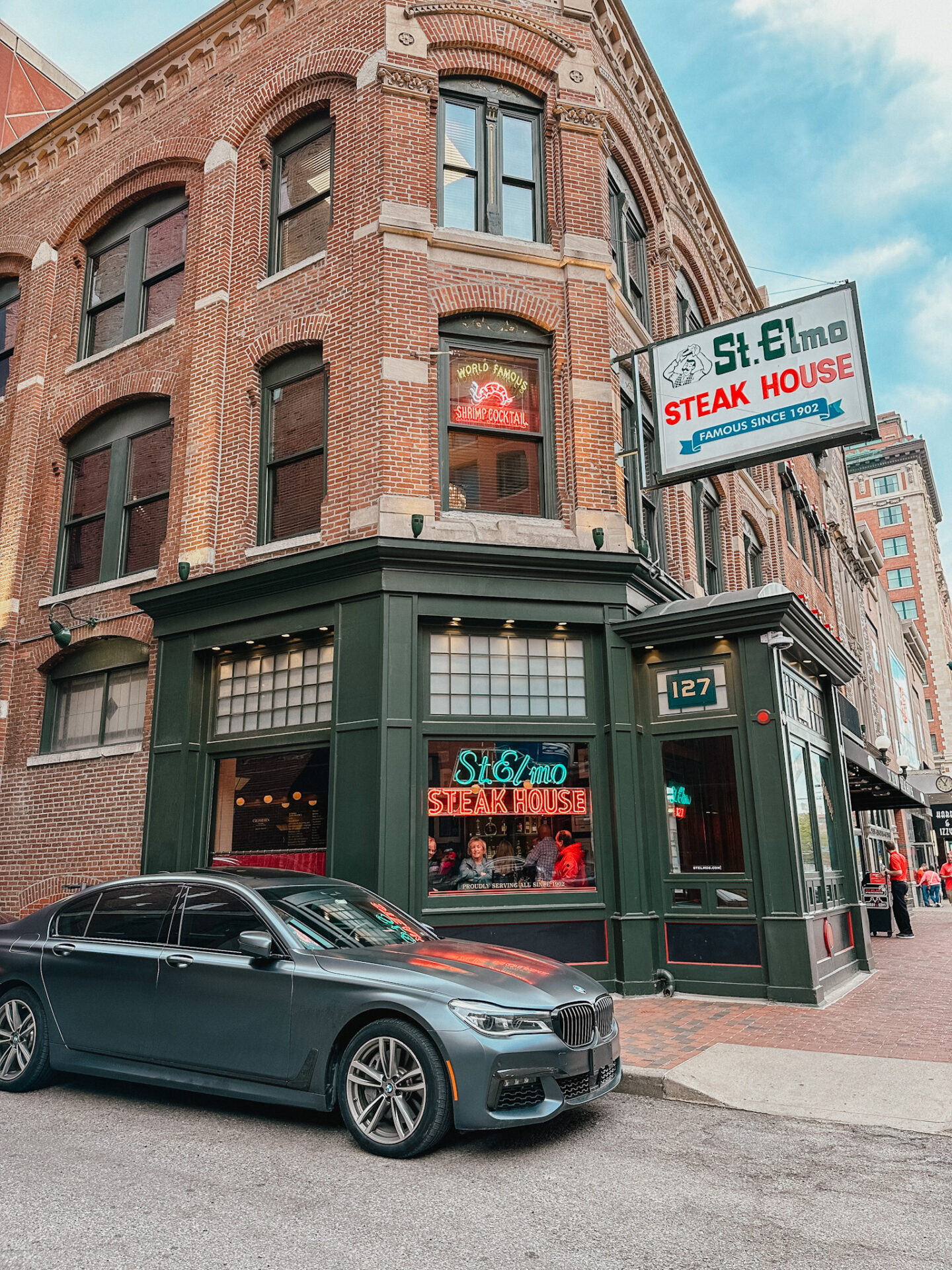 I was beyond excited to go there, being that it is the oldest operating restaurant in the city. Y'all know my love for history.
We arrived early (WHO AM I?!) and went upstairs to the speakeasy to kill some time until our table was ready. The bar area felt like the very best step back in time.
St. Elmo Steak House has an old-school, traditional feel to it, which we loved. Matt started with the shrimp cocktail since that's what they're famous for. I honestly thought he was going to pass out from the spice level, LOL.
We both ordered the filet mignon, mashed potatoes, and soup. I chose the navy bean soup, which tasted just like my Mawmaw's, and Matt went with the lobster bisque, which he loved.
Here's the thing… I'm so happy we went to St. Elmo Steak House, but be forewarned, it's pricey and I feel like I may prefer the steak at Ruth's Chris. Sorry, Indy folks!
Day Three
Saturdays are always Matt's longest days of signing at Cons.
We started our morning with room service, then headed to the convention center for a Clone Wars panel with his co-stars.
After lunch, I took off to explore some spots recommended by my followers.
First, I headed to the Broad Ripple area, which was so cute. There was a ton of construction sadly, so I don't think I got the full experience I normally would have.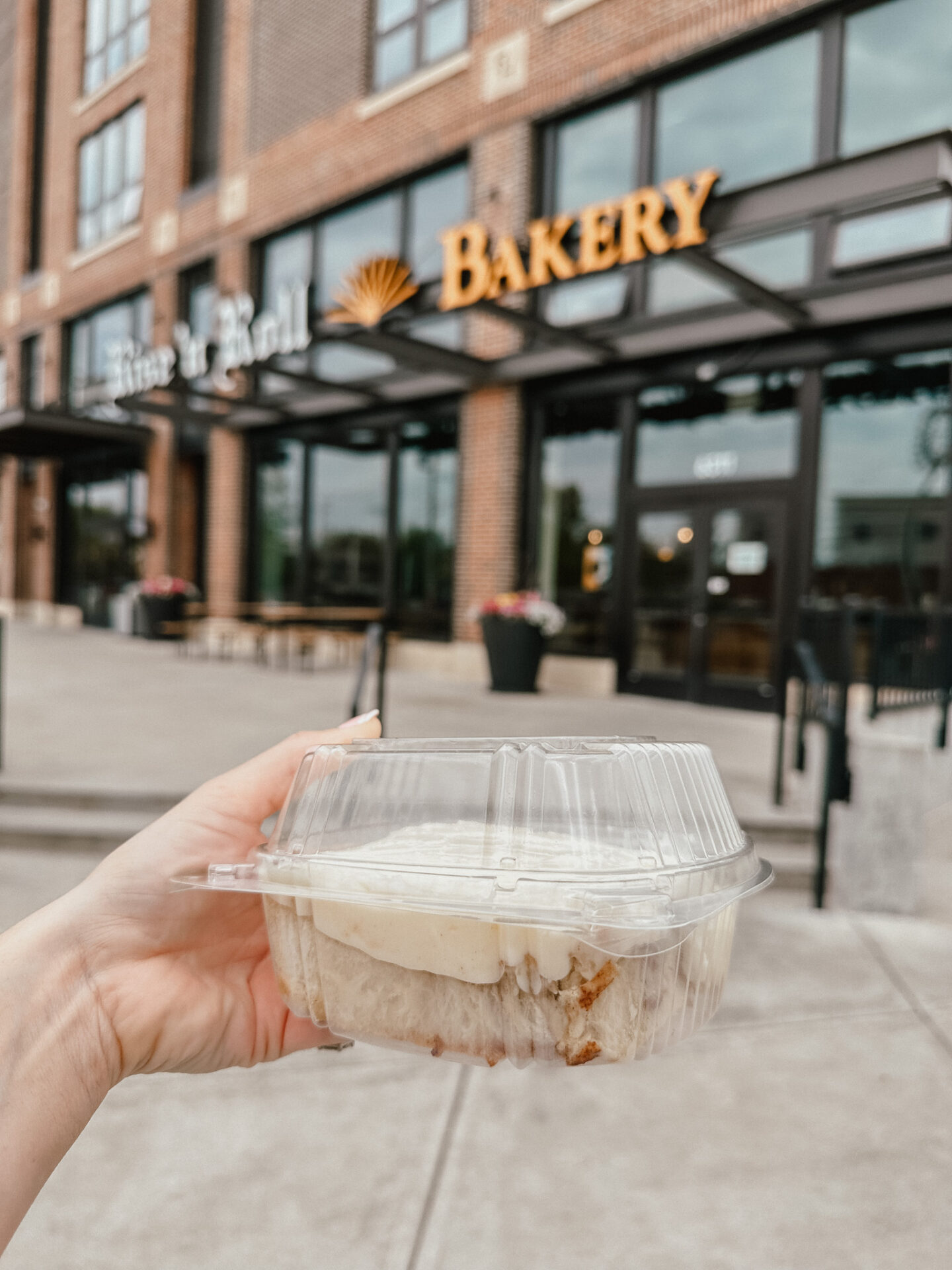 I popped into Rise n' Roll for a heavenly cinnamon roll topped with cream cheese. OH MY WORD, so good!
There were several cute boutiques I visited, but I snagged a cute pair of jeans from Lark & Lily.
After I walked around a bit, I decided to head towards The Fashion Mall at Keystone, because it came so highly recommended to me.
Once I got there, I checked out the directory and realized that there was nothing there that I don't already have access to in either Nashville or Ohio, which was disappointing.
I decided instead to head towards Carmel, which was a great choice.
I did a bit of shopping at Clay Terrace, because I needed to pop into Soma… I somehow was running out of my favorite undies, lol.
The Clay Terrace area reminded me a lot of some of my favorite outdoor shopping areas I miss from LA.
We had dinner reservations that evening at The Cake Bake Shop, thanks to Ashley Eckstein. We mistakenly went to the Broad Ripple location first, then realized that our reserved table was actually at the Carmel City Center location.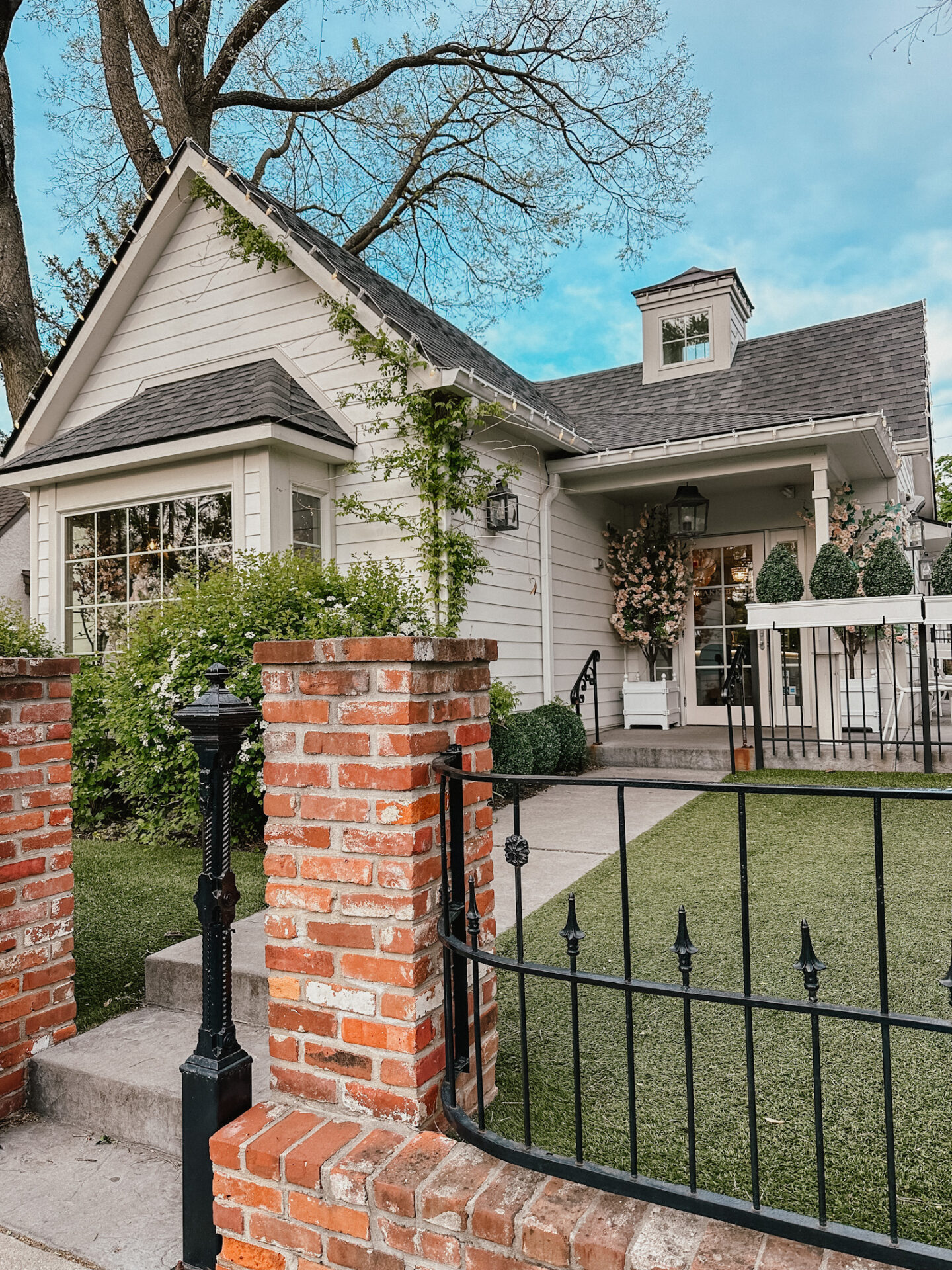 I'm actually glad about the mix up because I had the opportunity to see both locations first hand and take photos.
When I tell you that The Cake Bake Shop is the most dreamy place I've ever been, I'm not exaggerating. It felt like all of my girly dreams were all wrapped up in one restaurant and I was so overwhelmed with the beauty, I didn't know where to look.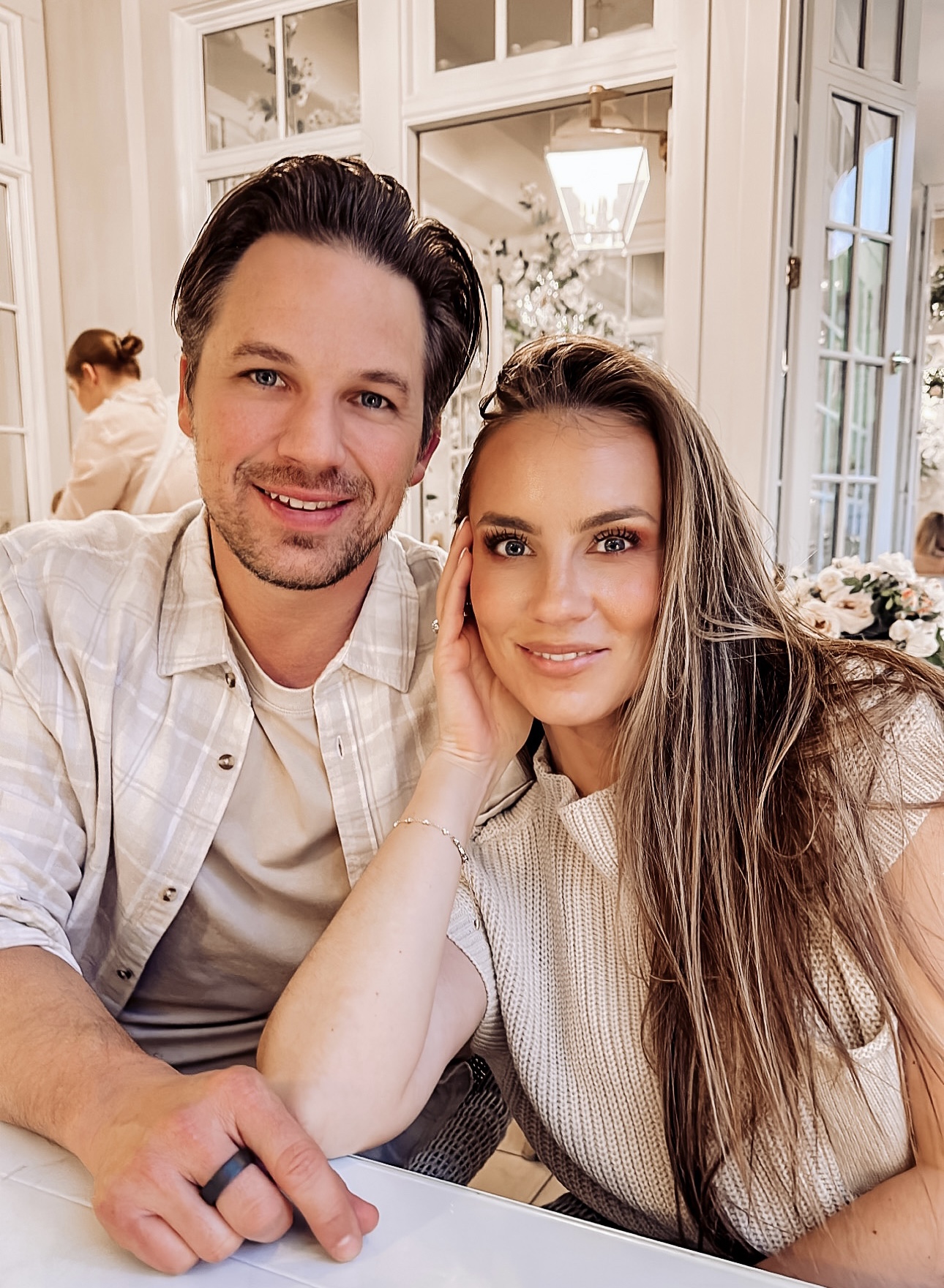 Not only did Ashley get us reservations, but she introduced us to the owner of The Cake Bake Shop, Gwendolyn Rogers. Gwen was the most beautiful hostess both inside and out. We were so thrilled to have met her.
Let's talk food… We started with the burrata appetizer, which was UNREAL. Everything was so fresh, from the crostini to the burrata to the pesto. It was seriously perfection.
For our entrees, I ordered the chicken velvet soupe with the French ham and brie sandwich. I dipped my sandwich into my soup and the flavor combination was unbelievable.
Matt ordered the chicken piccata and his dad ordered the salmon, both were blown away with their meals.
For dessert, we went overboard. BUT, we wanted to capture some of the Cake Bake magic to bring back to Ohio with us.
We ordered the chocolate chip cookie dough cake, lemon bar, apple crumb pie, chocolate peanut butter mousse pie, and chocolate chip cookies.
When I tell you that these desserts were out of this world, I'm not exaggerating.
I consider myself a bit of a dessert expert, lol, and these were absolutely divine.
Day Four
Our final day in Indy was kicked off again with room service.
I opted to stay in the room since it was a rainy morning to catch up on some work.
After Matt wrapped the weekend up at the Comic Con, we headed with his dad over to the USS Indianapolis War Memorial over on the Canal Walk.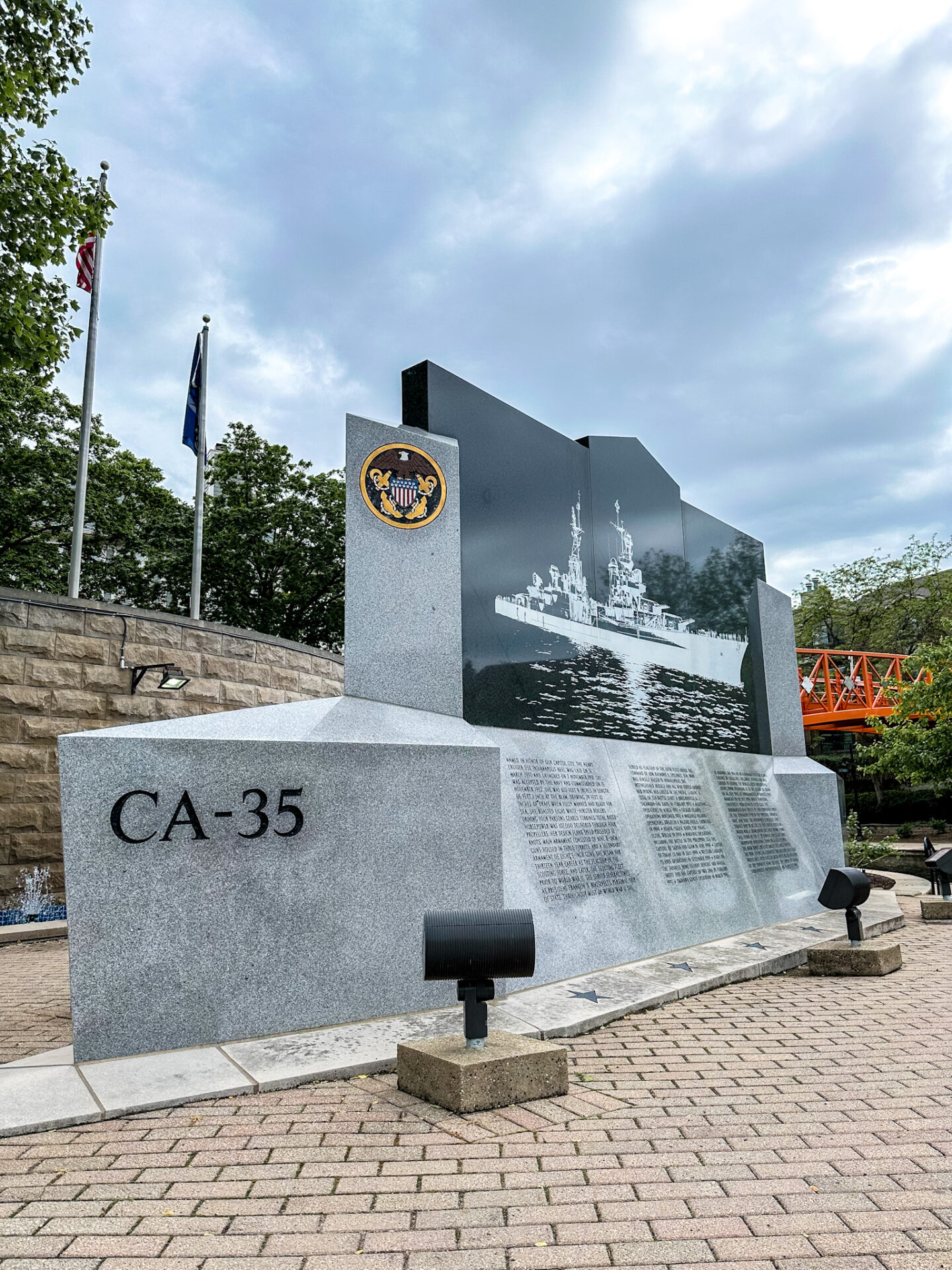 It was so cool to see his grandpa's name listed on the memorial, there to forever remember his legacy.
The Canal Walk felt so much like Vancouver. It was so beautifully manicured and lively. Everyone there was enjoying the beautiful Sunday afternoon at the state park.
Overall, we were so impressed with Indianapolis. The downtown area was so clean. There was so much to do and see on our weekend trip.
A couple of things I would do if we had the chance to visit again:
– Indianapolis Motor Speedway Museum
– Fountain Square (designed by Kurt Vonnegut)
– Take Matt to see Broad Ripple
– Indianapolis City Market
– Bottleworks
– Indy Walking Tour
– A bike ride on the Indianapolis Cultural Trail
Overall, it was a fabulous weekend spent exploring a new city and state that neither of us had ever been to before.
We used to travel everywhere together before baby, now Matt does most of his travel without us. It was so nice to have a weekend together to remember why we love travel.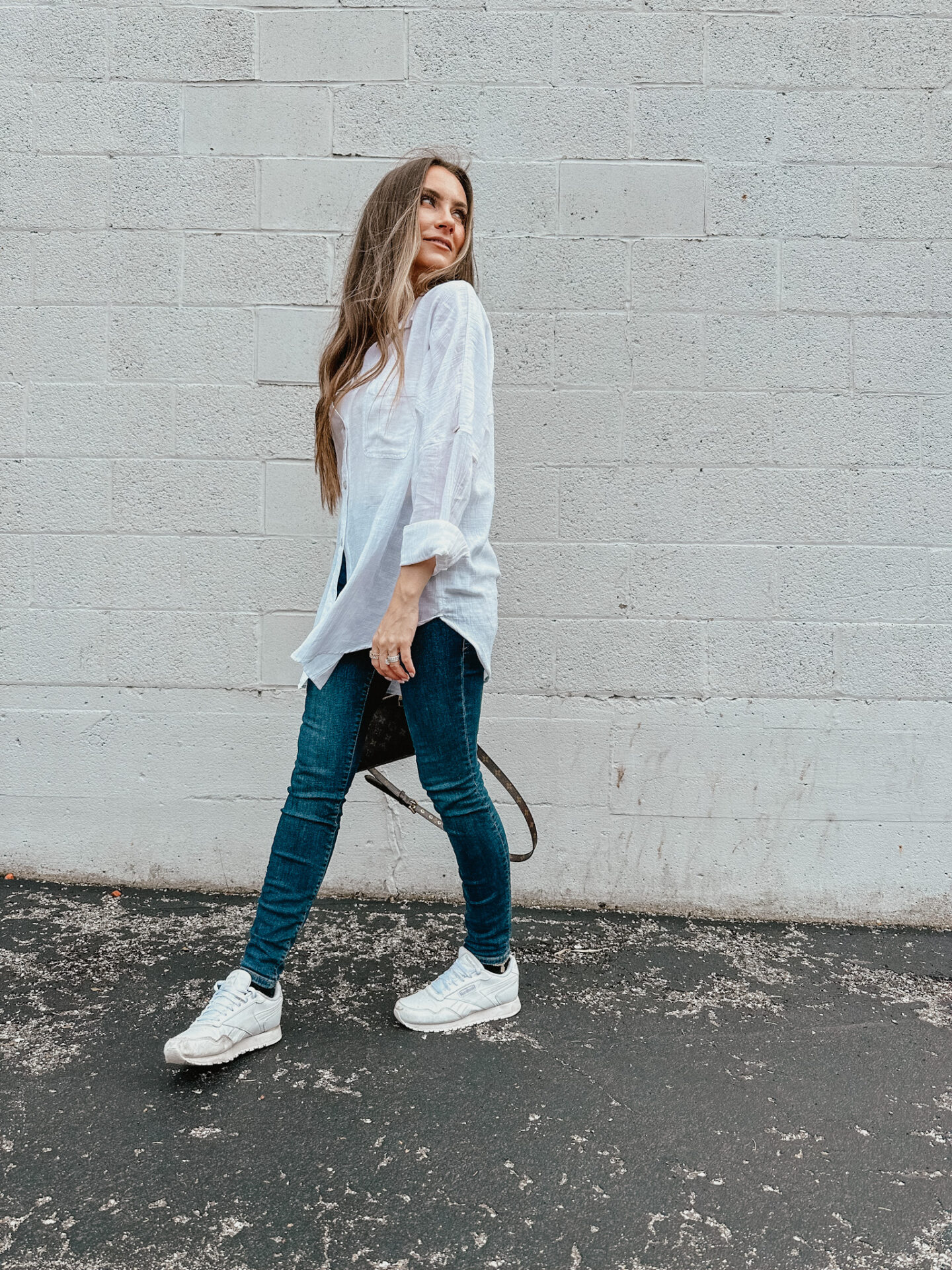 Did we miss anything in Indy? Comment below and let me know!
Wearing my favorite blazer from Amazon in this blog post.

More blog posts to enjoy: