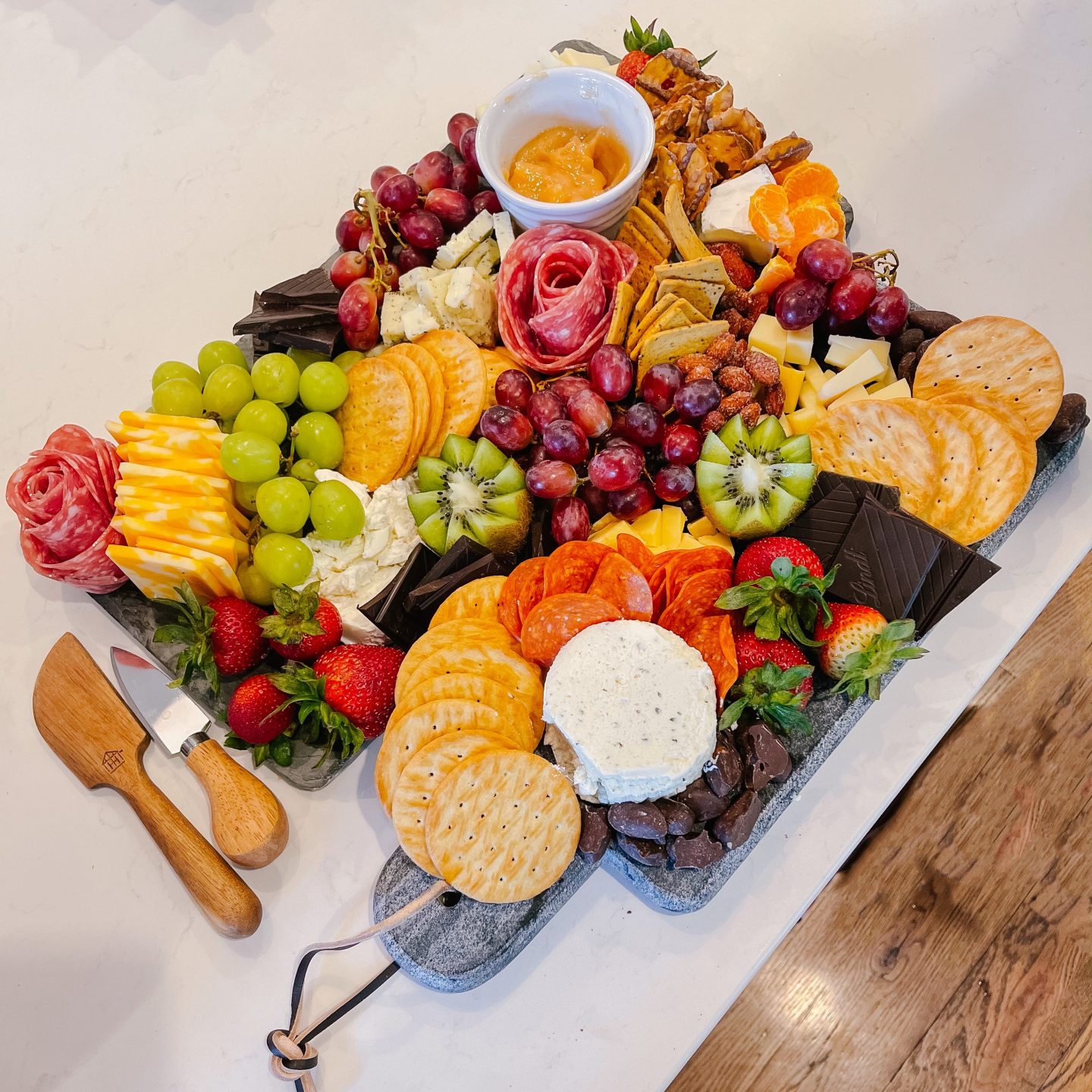 No matter what time of year, a cheese board is always a hit at parties. Here's how I create my Christmas charcuterie board.
This is fun all year round, even if it's Christmas in July. 🥰
I don't know about you, but cheese is my favorite food group.
Don't even try arguing with me that cheese isn't it's own food group, because in my book, it totally is. 😂
I love hosting. Hosting has been something that I enjoy doing ever since we got married.
And y'all already know how much I love cooking.
Every great meal starts with a great appetizer. Enter: The Charcuterie Board.
I know, I know… Cheese boards are everywhere.
And they should be. They're art meets food in the most beautiful and delicious way possible.
I've found that most people are intimidated by intricate charcuterie boards, so I'm breaking down the anatomy of a great cheese board and showing you how I make them myself.

The Board.
It all starts with a great base. Personally, I love either slate board or a Kraft paper table runner for the larger displays.
Here are some great options at various price points to help you get started making your own DIY charcuterie board.


The Cheese.
This is where the fun begins.
I was taught that a great cheese board starts with three types of cheese: one stinky, one soft and one aged/hard.
Texture creates variety.
Personally, I follow this rule BUT I add in Boursin cheese to every board I make. Boursin is my non-negotiable.
What makes the cheese fun is presentation.
The soft cheese I serve either whole or crumbled, depending on the consistency. We love to use goat cheese, burrata or brie.
The stinky and aged I get creative with. You can cut in different shapes and display in some many different ways. We love various types of cheddar, Havarti, Gouda, Pepper Jack, Manchego, Gruyere and Asiago, to name a few.

The Sweet.
Sweet on a charcuterie board is essential. The way the sweetness pairs with the various cheeses is so interesting on your tongue.
Sweet can be added in many different ways. Here are some of my faves…
Fruit: Strawberries, dried apricots, tangerines, kiwi, grapes, berries, raisins and apples.
Honey
Dark Chocolate
Jams or Spreads
Honey Roasted Nuts
The Savory.
The savory is equally as important as the sweet.
When you get the perfect combination of cheese, sweet and savory in a bite, it's absolute heaven.
Here are my favorite ways to add savory…
Crackers (Water Crackers are my favorite)
Pretzels (chocolate dipped are fun!)
Meats (the saltier the better)
Nuts
Olives
Veggies (carrots, celery and pickles work great)
Hummus
Sliced Bread
DIY Christmas Charcuterie Board: The Details.
The details add to any grazing board.
I love to pop in springs of herbs fresh from my garden. Rosemary is especially pretty and fragrant.
Add in some flowers to really sass up a spread.
Create roses, zig zags, rolls or any other fun creation with the meats to make a board really stand out. Add nuts in the center of your meat presentations for a little flare.
Serving utensils are essential and can be snagged for under $10. Below are some of my favorite accessories to make my DIY charcuterie board.