I love a good in-depth skincare routine, but sadly not every morning allows for step after step after step of product application.
Just a head's up- all products are linked at the bottom of this blog post. 🙂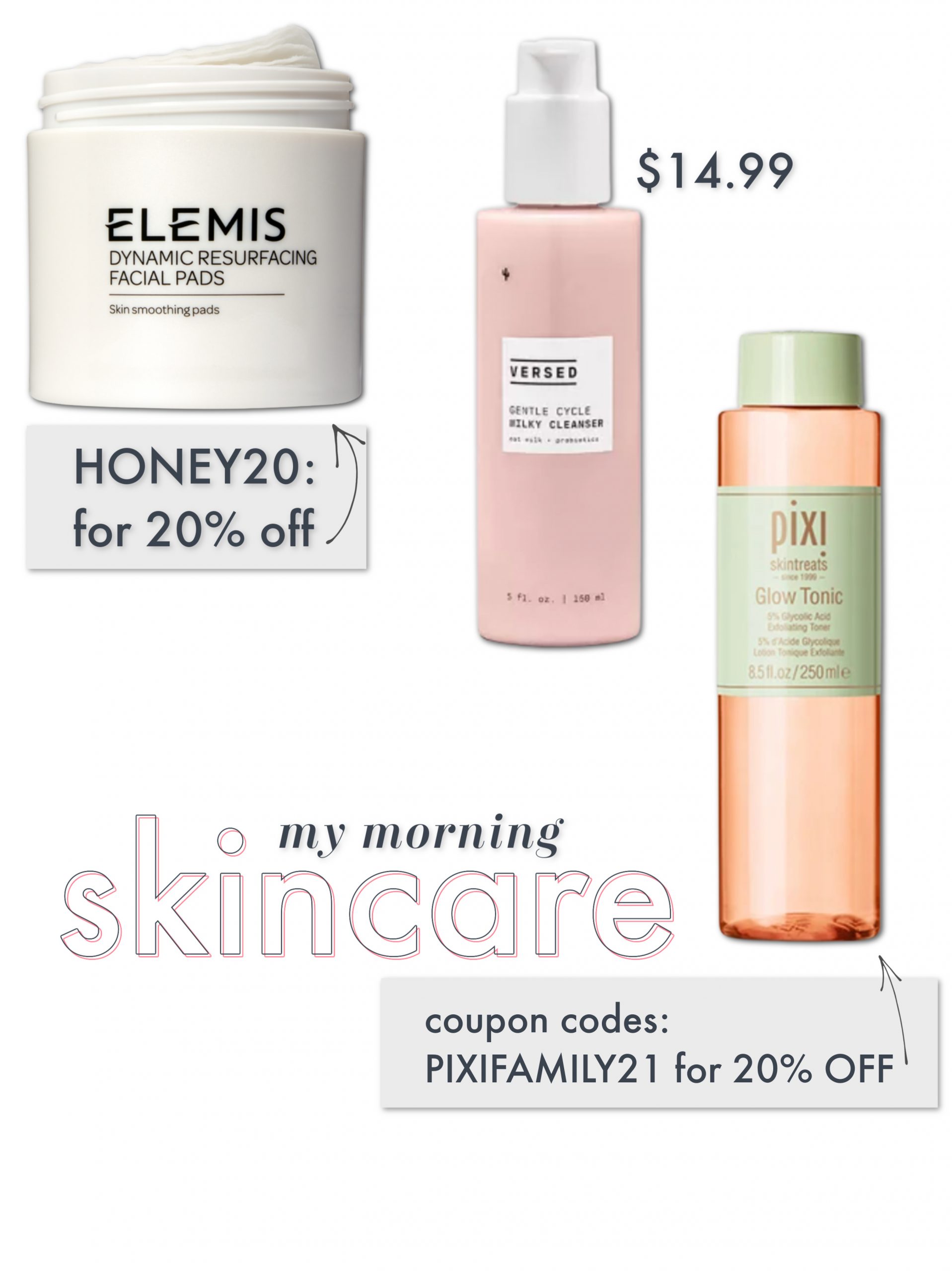 Let's kick off the morning routine with cleanser.
I personally prefer a gentle, hydrating cleanser in the am because I'm not removing makeup, I'm just simply washing the night away.
Lately I have really been loving the Versed Skincare Gentle Cycle Milky Cleanser. This cleanser is super gentle and leaves my skin feeling clean but not stripped of all natural oils.
I love that it's under $15, so budget friendly for most everyone.
After cleansing, I tone. I use the Elemis Dynamic Resurfacing Pads daily. Most often, I use them in the evening and the Pixi Glow Tonic in the morning, but it really just depends on what my skin is needing that day.
Last night I wore heavy makeup, so I use the Elemis pads both last night and this morning. Since I'm not wearing makeup today, I'll use the Elemis pads this evening and the Pixi Glow Tonic (on a cotton round pad) in the morning.
I love both formulas for different reasons. Personally, I feel that the Elemis pads do an amazing jobs of removing any excess makeup, product, dirt and oil that my cleanser might have missed. These pads leave my face looking and feeling clean but still hydrated.
As for the Pixi Glow Tonic, I've been an avid user of this miracle toner for years now. It's a holy grail product in my book and I can't recommend it highly enough.
Pixi is fabulous, especially for the price point. I love that it wipes away surfacey dirt, of course, but it leave behind the most gorgeous glow I have yet to find elsewhere. This tonic truly lives up to its name.
Both the Elemis pads and Pixi Tonic are on sale, so run to grab one of each. You won't be sorry.
As for serum, SPF, self tanner and moisturizer, leave a comment below if you would like me to post my current faves next.
In case you missed it, check out this blog post all about my favorite under eye gels. I use the Amazon gels pretty much every day (I just took a set off!).