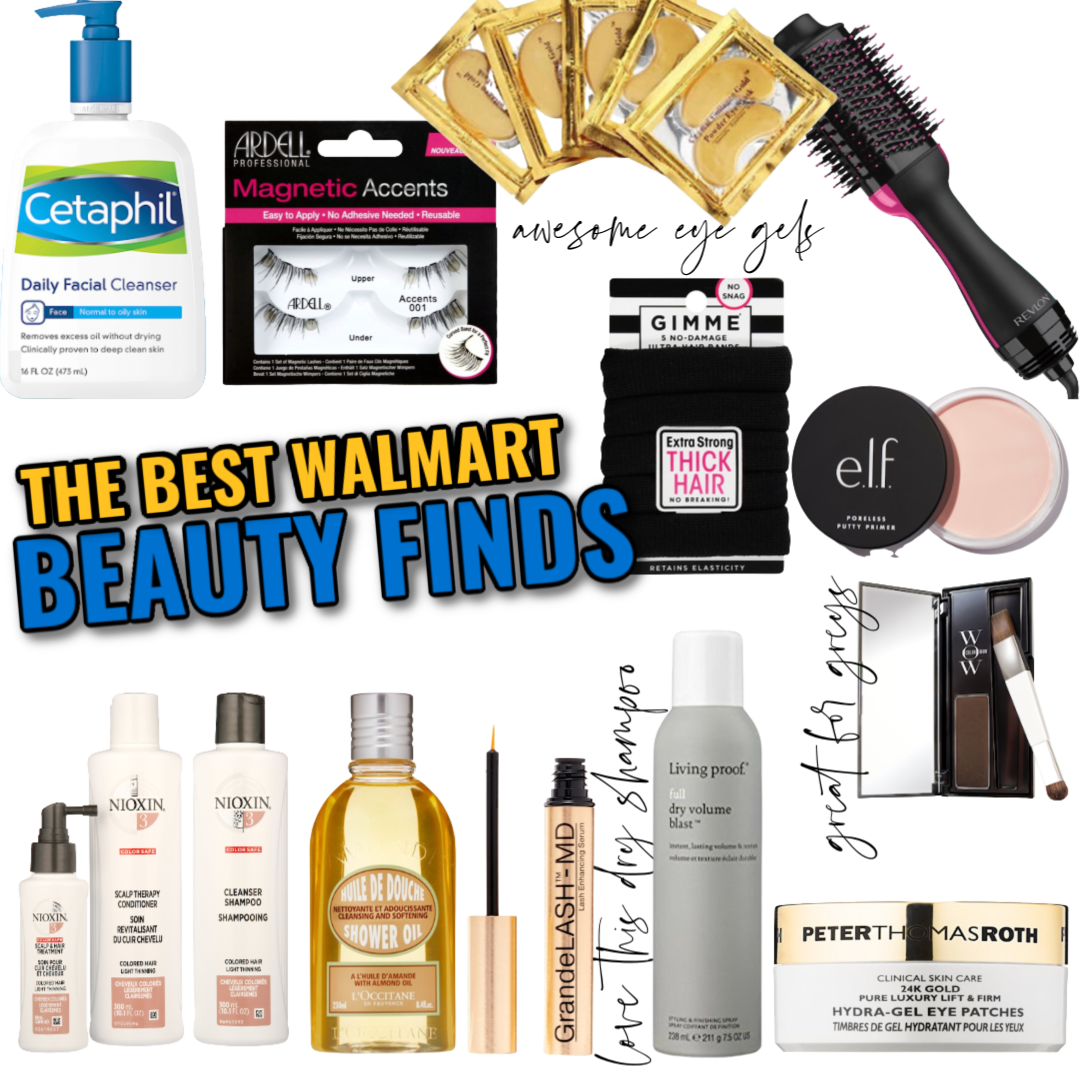 Walmart Beauty Products I Can't Live Without | Makeup Monday
Y'all loved my Target Beauty Faves post so much. Naturally, I had to round up some of my faves to buy at Walmart.
Cetaphil Face Wash: I love how gentle this cleanser is, especially when I'm recovering from a chemical peel.
Ardell Magnetic Lashes: It's no secret how much I love my magnetic lashes. I've found that unless I find a great sale, Walmart usually has the best price at $9.99. See how I apply my magnetic lashes in this video.
Collagen Eye Gel Pads: Eye gel pads are a part of my normal daily skincare routine. I've been using these gels for several years and they do a great job of brightening up my dark under eye circles.
Revlon Hair Dryer Brush: This hair dryer brush is a fab way to get a salon-quality blow out at home. Since being back in Ohio, I started using it on Kenny girl and she freaks out a tiny bit less than she does with my regular dryer and brush routine. Personally, I think this is worth it's weight in gold.
Gimme Hair Ties: These elastics are the best hair secret you didn't know you needed. No more knots. No more creases. I seriously can't go back to normal hair ties.
e.l.f. Poreless Putty: This is my new go-to primer. It's so, SO good and very easy on your wallet. See me use it in this makeup tutorial.
Color Wow Root Coverup: Another one of my fave hair secrets. This powder product is basically eyeshadow for your roots. It works great to cover up grays, but I actually love it to fill in around my hairline and make my hair look fuller.
Nioxin: See why I love Nioxin so much in this blog post.
L'Occitane Body Wash: Not only does this smell amazing but it leaves my skin feeling so nourished and hydrated that I don't even need to apply lotion after.
Grandelash Serum: I talk about how much I love this lash growth serum so much. Read all about it in this blog post.
Living Proof Dry Shampoo: This product allows me to extend my dirty hair for an extra 1-2 days. I apply this to my roots, then flip my head over and blast my roots for about 30-60 seconds with my hair dryer to help it dry and absorb oils in my hair. Then, voila! My hair is refreshed and ready to style.
PTR Eye Gels: Hi, my name is Angela and I am obsessed with eye gels. These are my boujee eye gels and I LOVE them. So hydrating, so refreshing and my eyes are just happy when I use them.
shop this post