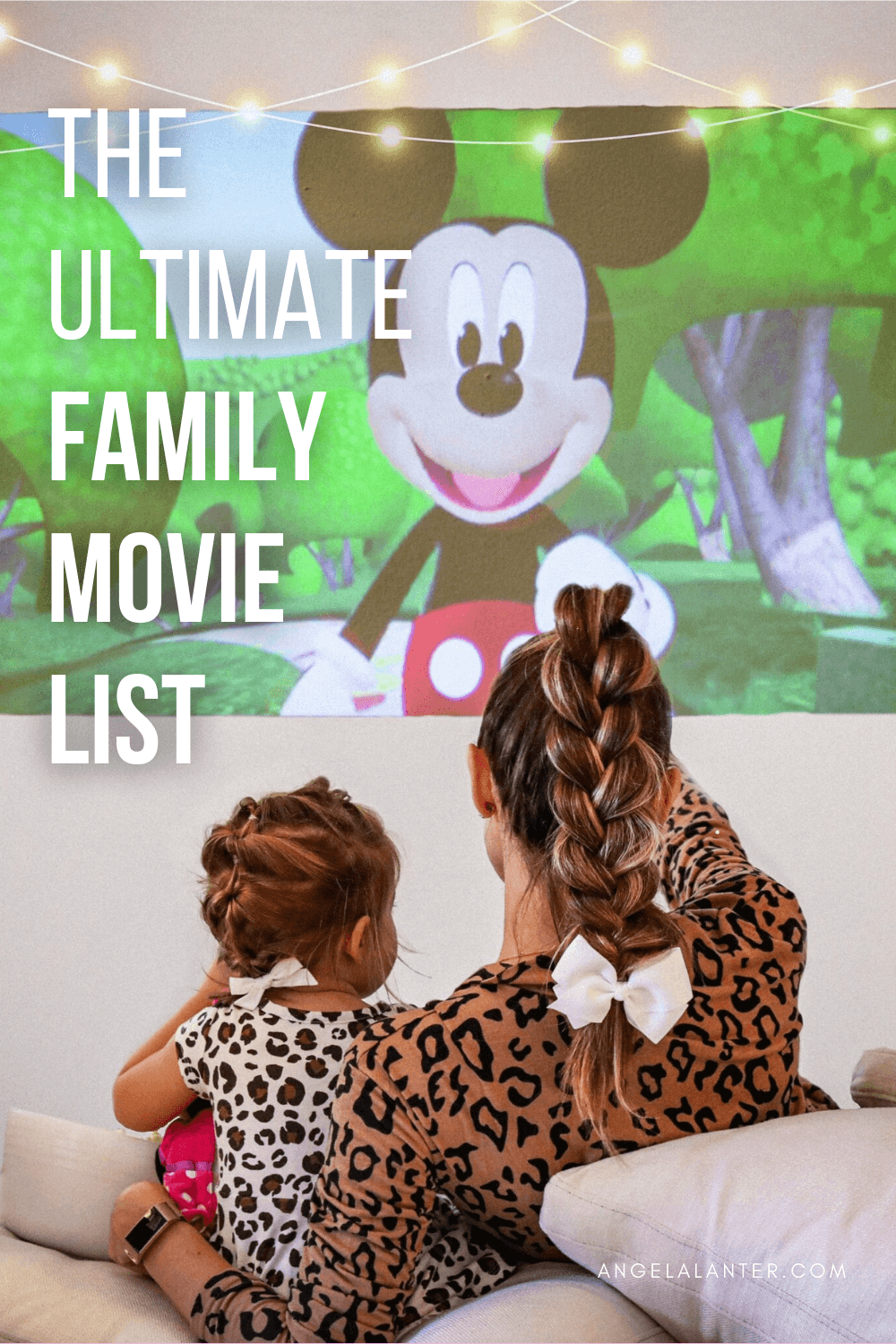 TV consumption is at an all-time high lately for most families with us all staying at home currently. So why not compile the greatest list of movies to watch with family?!
What better time to compile a list of awesome family friendly movies from days past and present?
Y'all. I couldn't do this list on my own.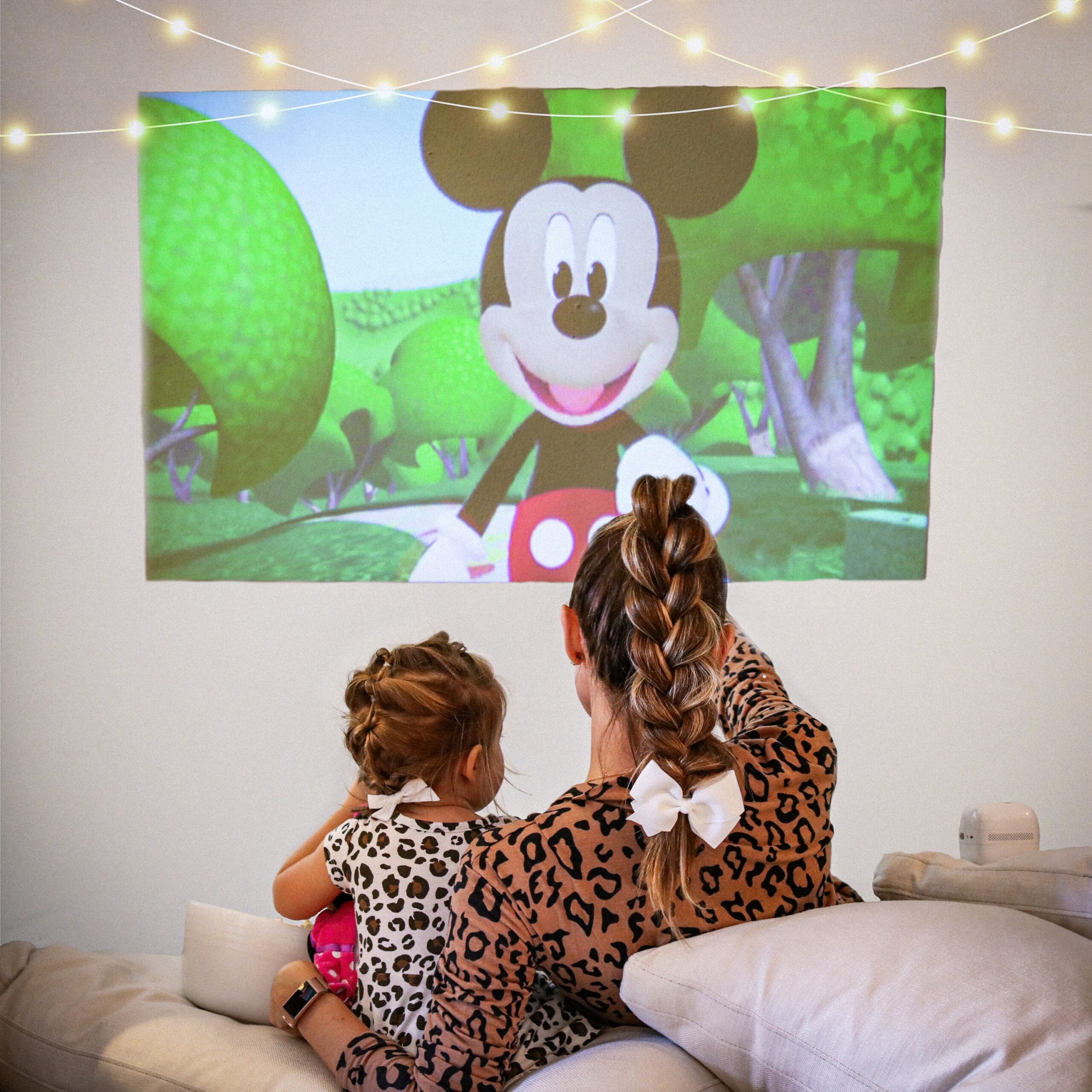 So, I reached out to my girlfriends who all have 2 or more kiddos.
Some of these movies are Matt & I's personal favorites as well! #nostalgia
While we're stuck at home, we might as well watch some good movies and introduce our Kenny girl to some classics.
I rounded up a ton of different titles that will hopefully give your family ideas for your next movie night.
Be sure to bookmark this post so you can come back the next time you need some ideas.
If you have a blow up screen and movie projector, these would be fabulous for an outdoor family movie night.
movie night favorites

96 family friendly movies
List #1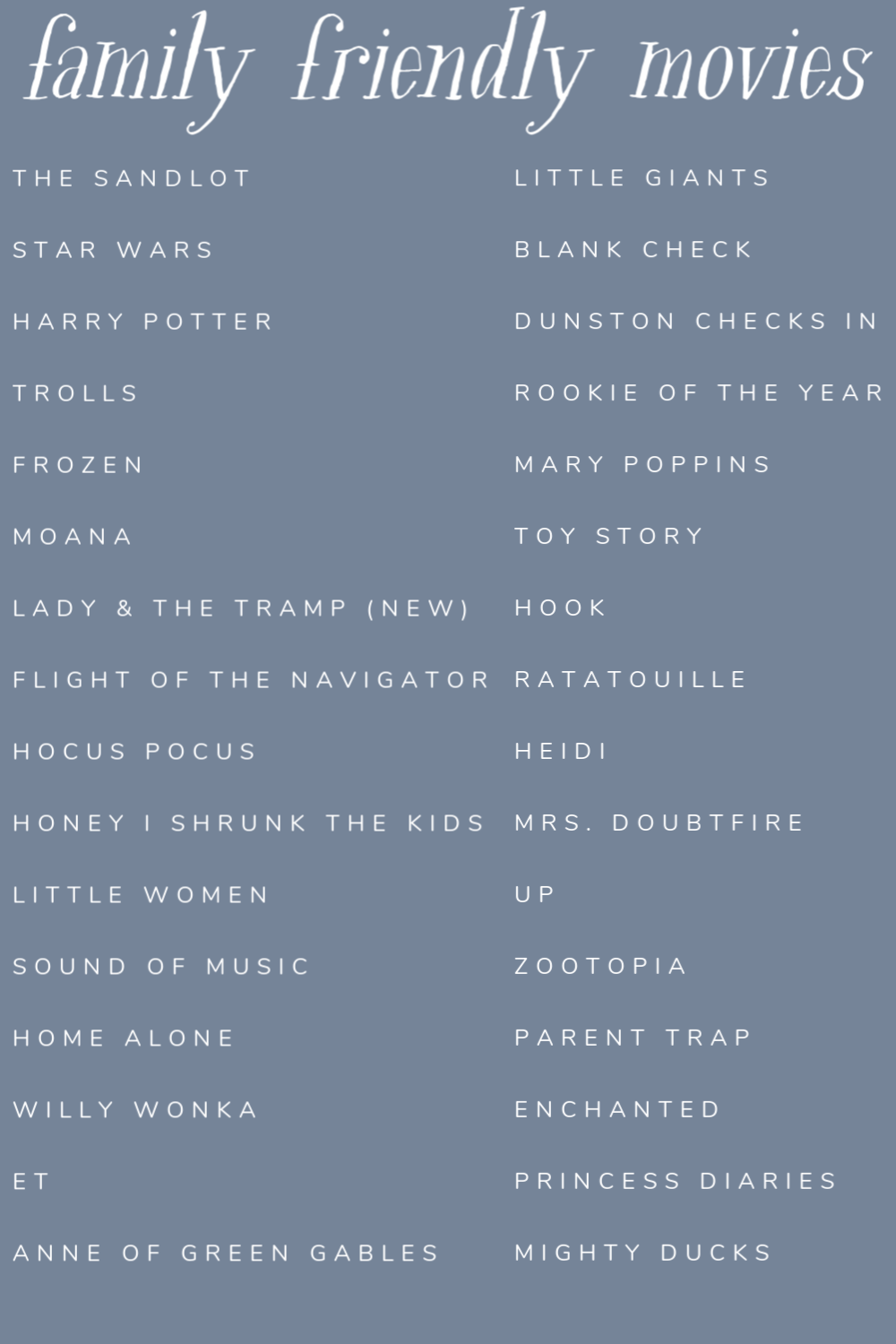 The Sandlot- such a classic
Little Giants- only football movie I like, lol
Star Wars- this is a no-brainer in my house
Blank Check- every kid's dream
Harry Potter- who doesn't love HP?
Dunston Checks In- monkey meets Home Alone
Trolls- one of Kenny's favorites
Rookie of the Year- every boy's dream
Frozen- because don't you want to sing, "Let It Go" for days?
Mary Poppins- so wholesome and fun
Moana- another fave of Kenny's
Toy Story- Matt's favorite
Lady & The Tramp (old or new)- I haven't seen the new one yet
Hook- so, so good!
Flight of the Navigator- I've never seen this one!
Ratatouille- one of my favorite Disney movies
Hocus Pocus- our first Fall movie every season
Heidi- Shirley Temple Christmas favorite for us!
Honey I Shrunk the Kids- every 90's kids has seen this one
Mrs. Doubtfire- just a fun one for the whole family
Little Women- the 90's version is best
Up- so heartwarming
Sound of Music- a family favorite in our house
Zootopia- Kenny loves the music so much
Home Alone- (I'm partial to #1 or #2) how could you not watch these every Christmas?
Parent Trap- (Lindsey Lohan version is my fave)
Willy Wonka- (original please!)
Enchanted- Kenny watches this over and over again
E.T.- I forgot how sad this is
Princess Diaries- just watched part 1 yesterday
Anne of Green Gables- 90's version is the best
Might Ducks- D2 is great too
List #2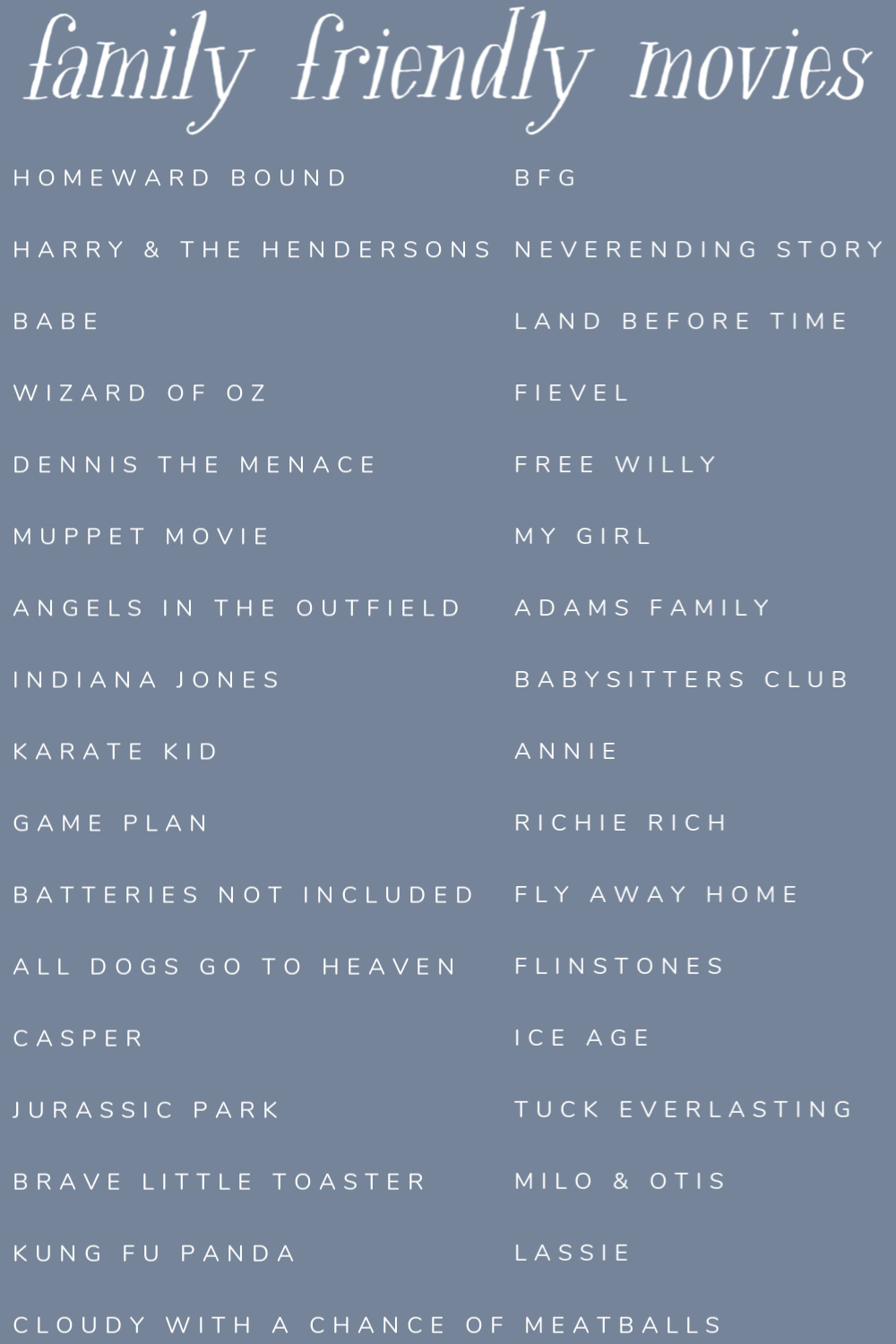 Homeward Bound- so cute
B.F.G.- a little too scary right now for Kenny girl
Harry & the Hendersons- I used to watch this over and over again growing up
Neverending Story- I didn't realize how bad the graphics were until I watched as an adult, lol.
Babe- so cute
Land Before Time- the original is the best
Wizard of Oz- too scary for Ken right now
Fievel- I loved this one when I was little
Dennis the Menace- so funny!
Free Willy- I'm not sure my heart could handle this, lol.
Muppet Movie- I'm the biggest Muppets fan
My Girl- so sad, but so good
Angels in the Outfield- another one of Matt's faves
Adams Family- October must watch
Indiana Jones- adventure at it's finest
Babysitters Club- loved this one as a kid
Karate Kid- my dad made me watch way too many times
Annie- the original is a classic
Game Plan- I laughed and laughed at this one
Richie Rich- another kid's dream movie
Batteries Not Included- one of my 80's faves
Fly Away Home- so cute
All Dogs Go To Heaven- I watched this one on repeat
Flinstones- I loved the live action movie
Casper- another live action I loved
Ice Age- so funny
Jurassic Park- a little too scary for me even now lol
Tuck Everlasting- Rory Gilmore and so underrated!
Brave Little Toaster- I loved this one and have had a heck of a time finding anyone streaming the original!
Mile & Otis- I remember loving this one
Kung Fu Panda- so funny
Lassie- a classic
Cloudy with a Chance of Meatballs- Matt loved this one
List #3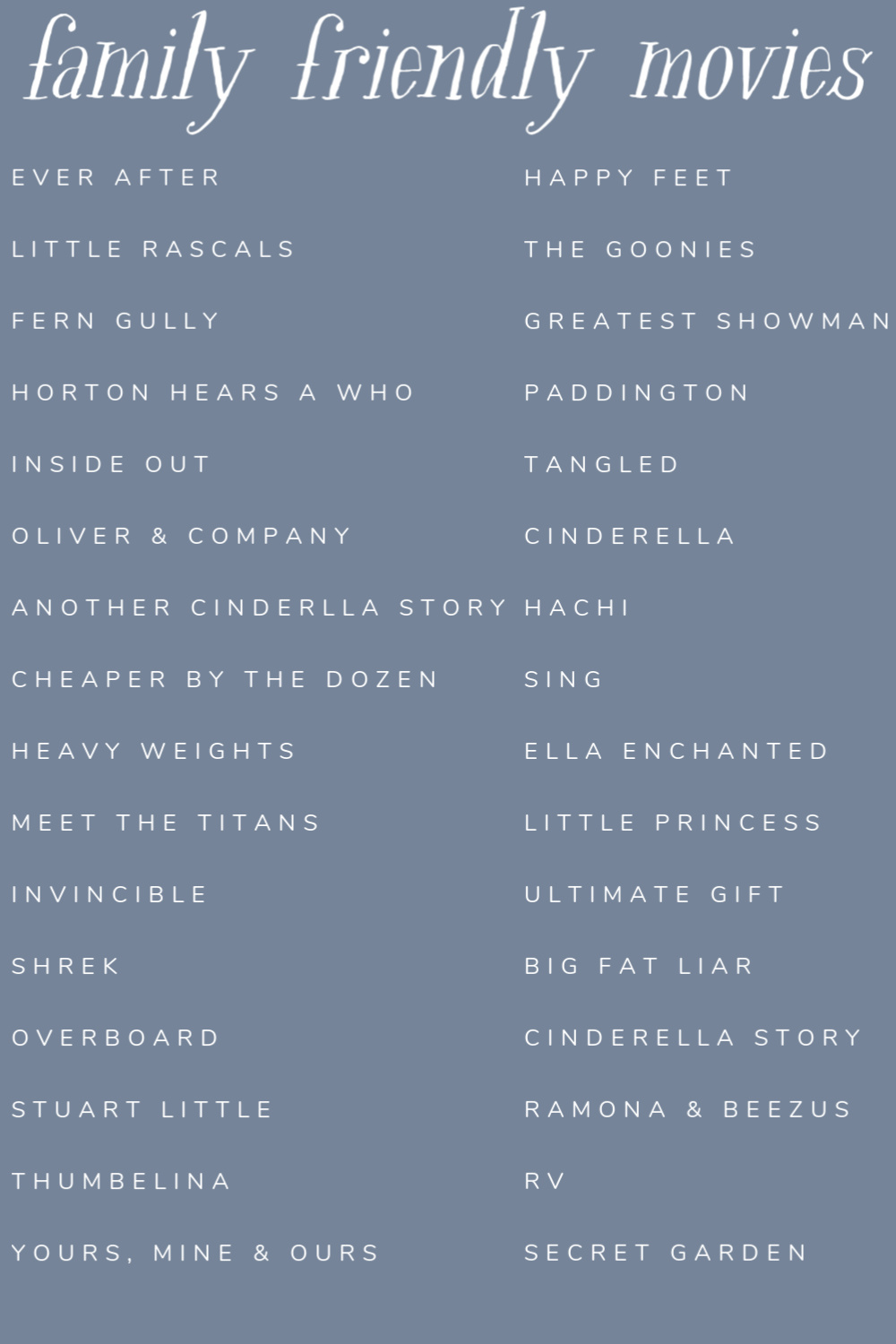 Ever After- the best Cinderella version in my opinion
Happy Feet- very cute, plus we love penguins
Little Rascals- one of Kenny's faves
The Goonies- a little scary but cute
Fern Gully- I loved this 90's classic
Greatest Showman- the best music!
Horton Hears a Who- so cute and funny
Paddington- Kenny surprisingly loved this one when she was really little
Inside Out- a great lesson on emotions
Tangled- one I love to watch too
Oliver & Company- my favorite Disney movie as a kid
Cinderella- so many versions and all so cute
Another Cinderella Story- I loved this one
Hachi- so heartwarming, especially if you're a dog lover
Cheaper by the Dozen- made me laugh so hard!
Sing- very cute and great songs
Heavy Weights- 90's summer movie
Ella Enchanted- So cute!
Meet the Titans- for my football lovers
Little Princess- I love the 90's version even more than the Shirley Temple version
Invincible- I've never seen this one
Ultimate Gift- sad but great story
Shrek- I laugh every time this is on
Big Fat Liar- I remember really loving this one
Overboard- Goldie Hawn is a fave in our house
Cinderella Story- my favorite Cinderella movie after Ever After
Stuart Little- loved these books growing up
Romana & Beezus- I've never seen this one but loved the books
Thumbelina- cute 90's animated movie
RV- very funny!
Yours, Mine & Ours- super similar to Cheaper By The Dozen
Secret Garden- loved this 90's movie
---

How fun is this list?!
So many of these are fond favorites from my own or Matt's childhood.
Actually, this list makes me feel so nostalgic.
Quite a few of these movies have recently been remade. But if they're on this list, chances are that I'm referring to the original version and not the remake, like Anne of Green Gables.
Also, every single Shirley Temple movie ever made should be on this list because her movies are just the cutest. And oh so clean to boot.
They don't make kid or family centered movies now like they did back in the 80's and 90's, that's for darn sure.

Do you need even more movie ideas?
Here's my list of cozy movies to watch during the Fall.
My favorite romantic movie list.
My top 10 favorite classic Christmas movie list.
Comment below with your favorite family movies. We love finding new movies to watch with family and share with our sweet girl.

shop these movies