Exercise routines look a little different now that we're homebound. For me, a scheduled class is required to exercise or else I let everything else in my day take priority.
Since my pilates classes are no longer an option, I'm finding ways to bring pilates class into my home. Ideally, I'd have a designated workout space, but we don't. So, I'm using products that can easily stored away and don't have to left out all the time (like a treadmill).
Today, Matt and I worked out in the fresh air and it was wonderful. Spring has arrived in Nashville and today the weather is perfect. When I exercise on the concrete, I use a thicker mat like this one, to make it softer on my bones.
I've received a ton of requests to share my exercise routine and I will at some point, but for now, these are the products that make working out at home possible for me.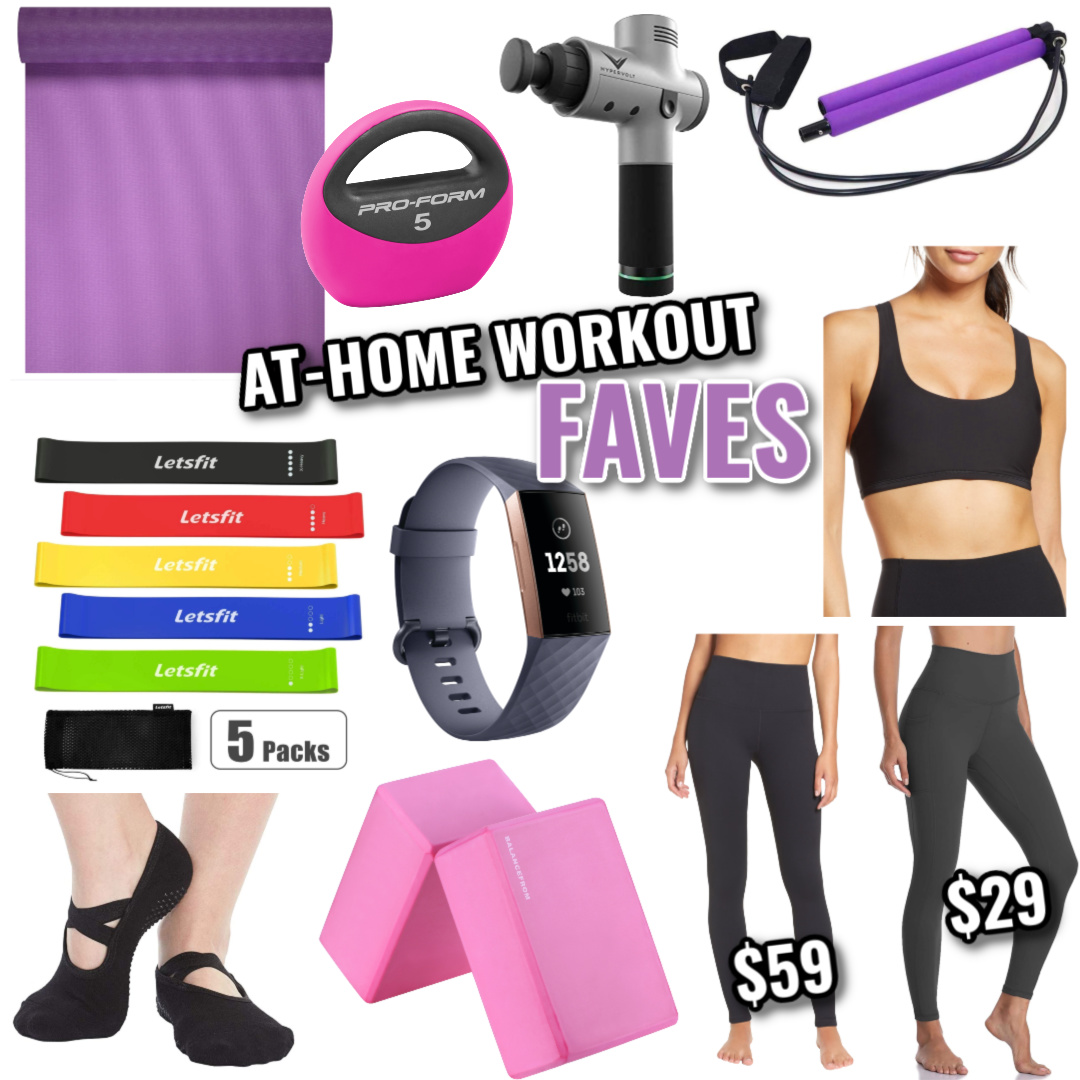 The majority of exercise I do at home is using my own body weight. If I do use weights, they're only 5-10 lb. hand weights. Here's a quick rundown of my must-haves…
Yoga mat- I'm not sold out to any one brand of mat. I think they all serve the same basic function, except for those really cheap ones made out of the grippy material. Those are terrible!
Kettle bell- I don't use my kettle bell as often as I do my hand weights, but having only one weight in great for storage purposes.
Hypervolt- Matt and I both are very prone to neck, back and shoulder pain. This thing is beyond intense, but it really works out any kinks.
Pilates stick- I just bought one and it may be my new favorite way to exercise at home. I've always wanted my own reformer, but have never had the space. This is a great substitute for the reformer, allowing me to many of the same exercises.
Resistance bands- my trainer in LA had me use these almost every session and they're great. They weigh practically nothing and yet you can use them to stretch basically any muscle in your body. I love using these for duck walks and to work my arms.
Fitbit- more info on why I love my Fitbit over my Apple watch in this post.
Spanx sports bra- I wear a ton of different sports bras. My favorite brands are Spanx, Fabletics and Outdoor Voices for their support and cute colors.
Pilates sock- if you only buy one thing, buy these socks. I wear them every day and swear by them. Whether exercising or wearing around the house, there's no other sock that can compare.
Yoga blocks- regardless of what level you are in your yoga practice, I think a yoga block is incredibly useful.
Workout leggings- these two are my favorite leggings for exercise. The $29 is just as nice, but a different material, as the $59 pair. Be sure to buy what you're most comfortable in. I firmly believe that a cute new workout outfit can we motivation enough to get your butt into gear to start working out.
All items are linked for you to shop below. What is your favorite way to workout? Are you a yoga and pilates girl like me?
shop this post