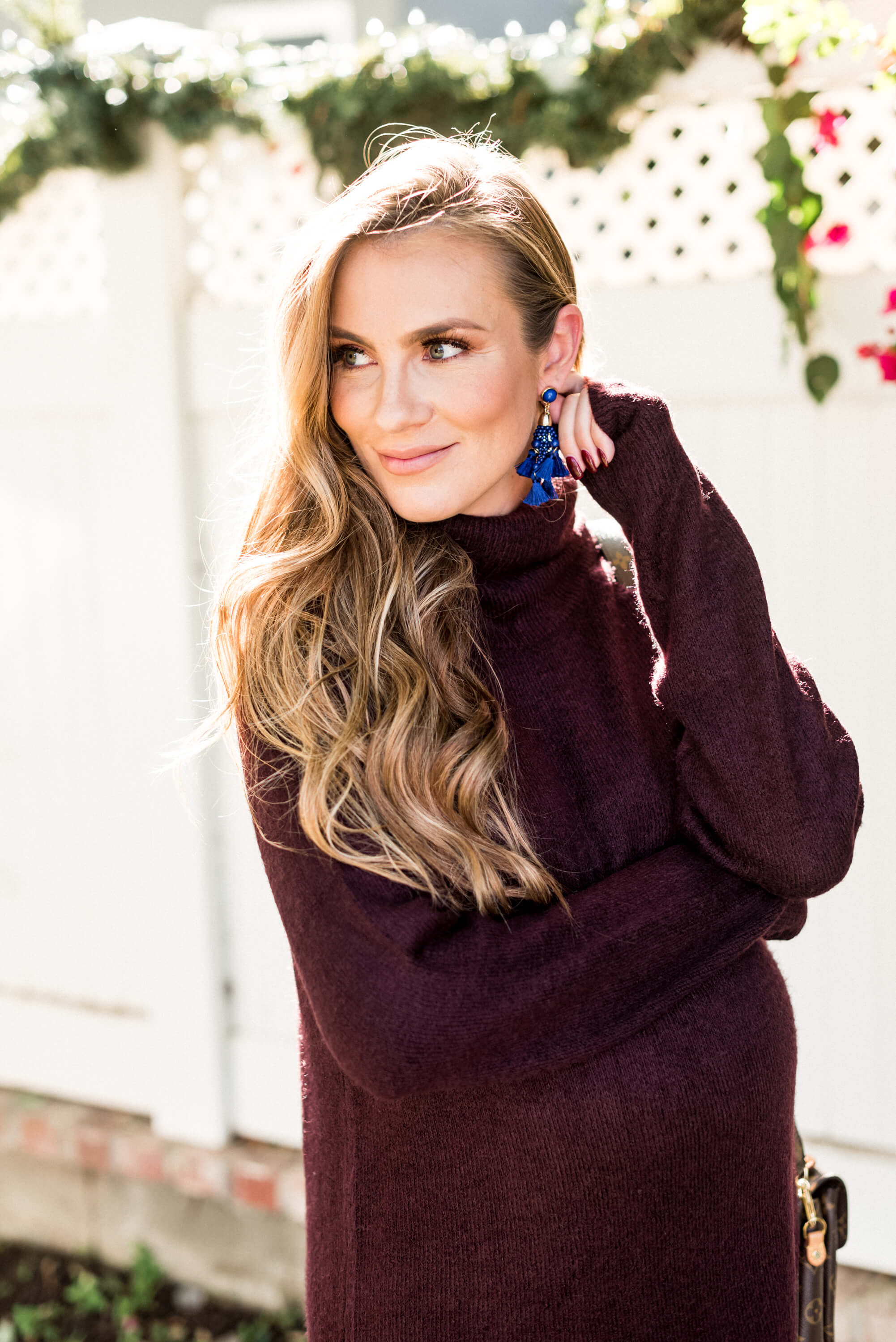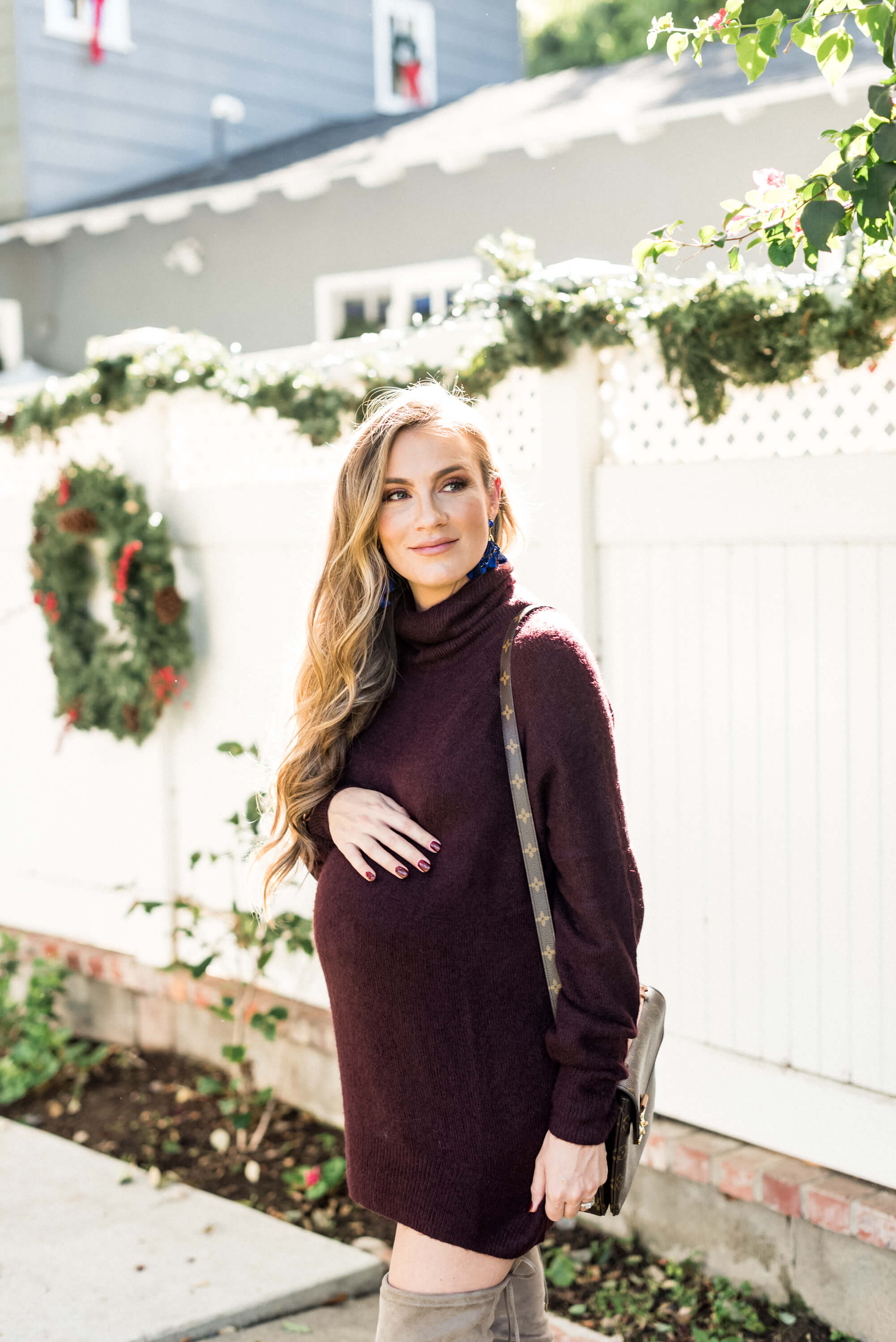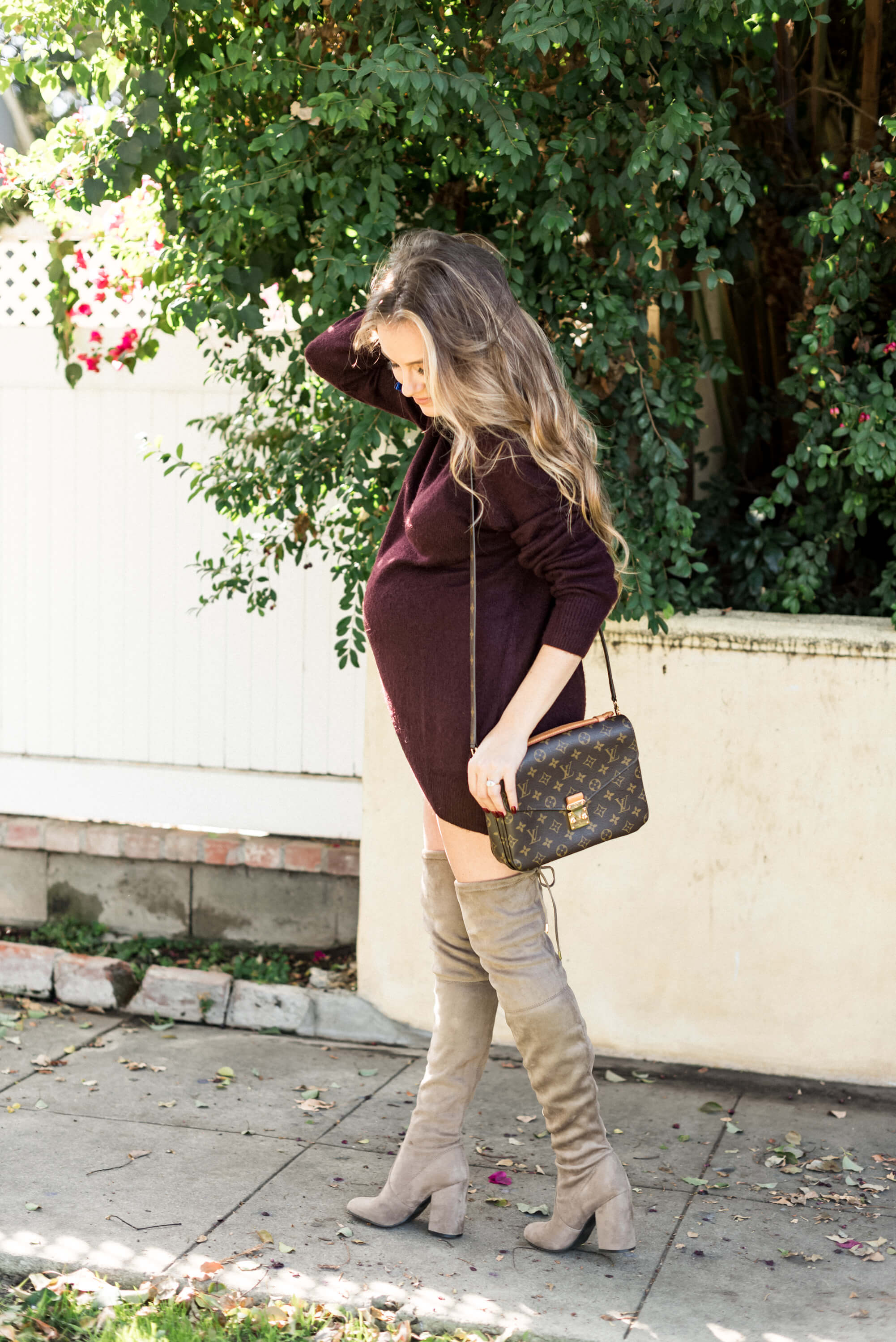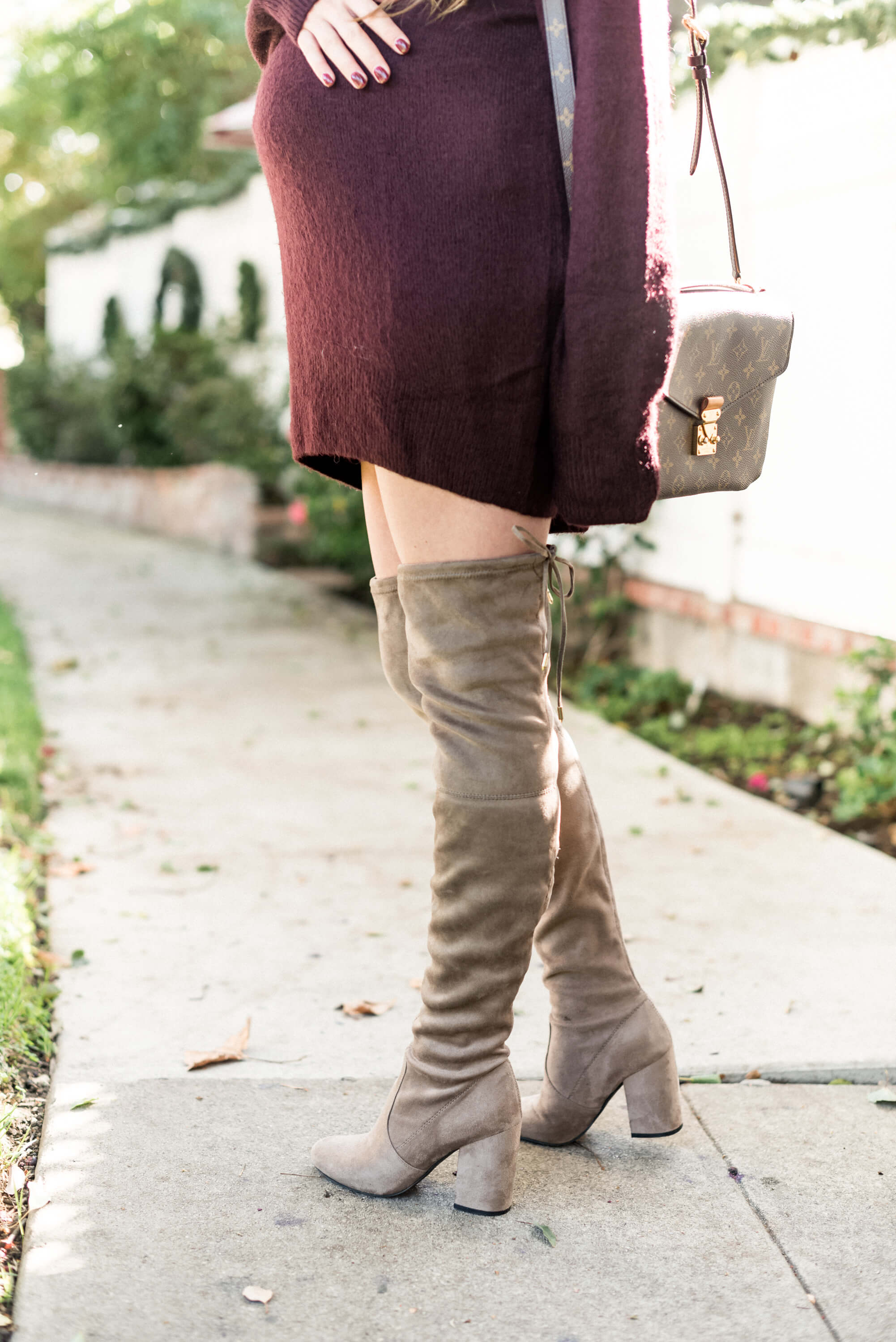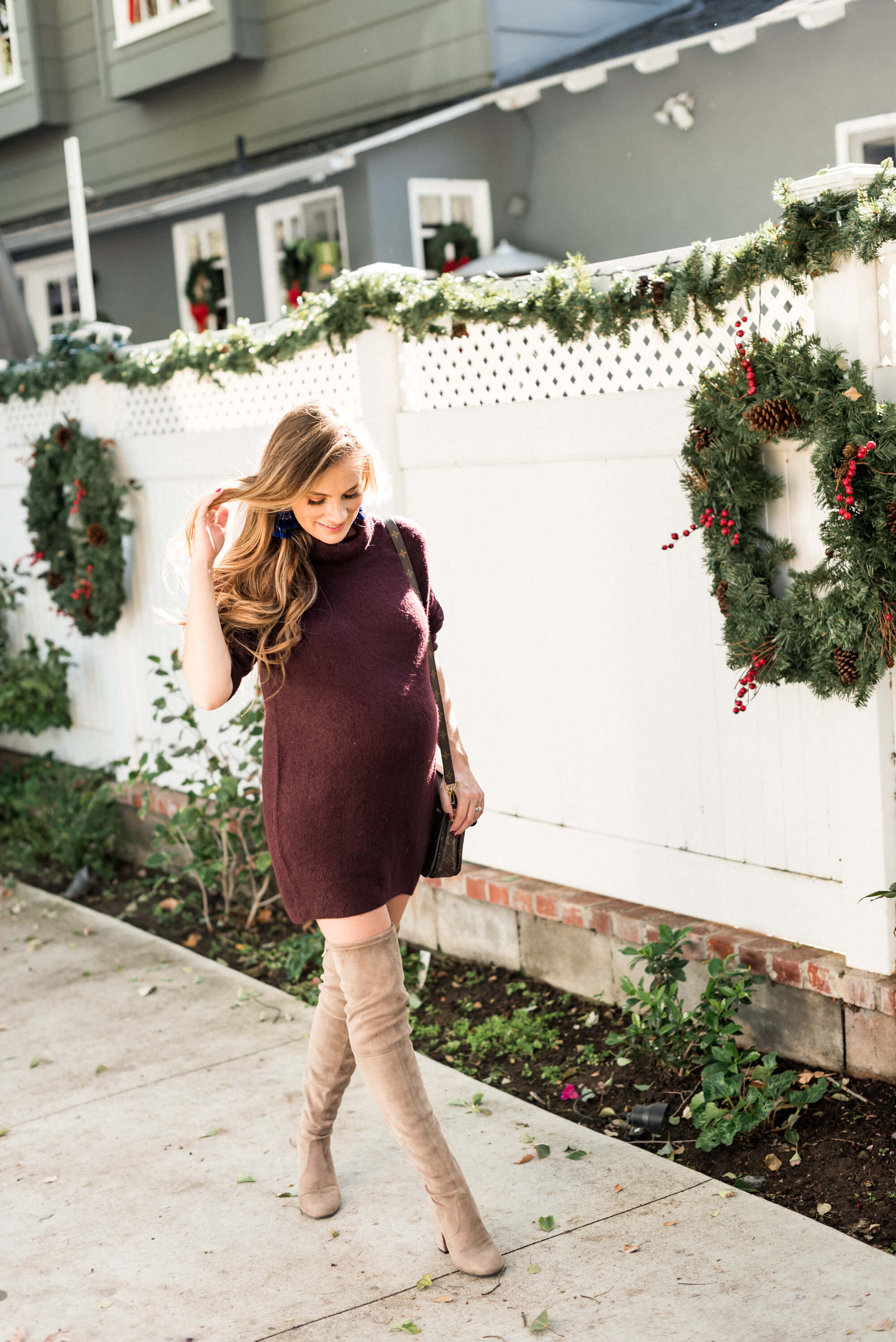 Sweater: H&M | Earrings: Baublebar [c/o] | Boots: Steve Madden | Handbag: Louis Vuitton
Welcome back to Girl Talk Tuesday! It's so exciting to get back into the swing of things and post our first GTT for 2018.
Now that my little one is here, I look back on my pregnancy and see all sorts of things I wish I would've done. You know what they say though, hindsight is 20/20. The cool thing is that I have this amazing online community of Gorgeous Girls that I can share my experiences (good and bad!) and what I've learned along the way.
Before we hop into my tips on your first trimester of pregnancy, just a head's up that I still have quite a few photos to share from my pregnancy that I had planned to post during my last two weeks… But, as you know, little miss decided to make an early appearance, so I'll be sharing them with you now. 🙂
Things To Do In Your First Trimester:
Take pictures. Man, I wish I'd done the photo every week thing. It's so fun to watch your belly grow in a sequence of photos while wearing the same outfit standing in the same spot week after week. That's a major pregnancy regret for me!
Download pregnancy apps. Matt and I loved following along with the pregnancy apps and our online communities due the same month as us. It was so cool to experience all these life and body changes along with others at the same time. Our favorite apps were: The Bump, Babycenter and Ovia.
Start taking prenatal vitamins. I started taking prenatals a year prior to conceiving in case we happened to get pregnant… So glad I did!
Go over your current medications and supplements with your OB. Make sure nothing that you're taking could be dangerous for baby.
Announce in a fun way. I'm not sure what was more fun, telling our family and friends that we were pregnant or announcing it was a girl. Both are moments we'll never forget.
Know that not all pregnancies are not created equal. I thought that because my mom never felt sick during her pregnancy with me, that I wouldn't be sick. WRONG. Just because a friend or family member experienced a specific pregnancy symptom doesn't mean that you will too.
Take care of yourself. My first trimester was rough. I had nausea all day every day. The best piece of advice I have is to relax and rest up. Don't expect too much from yourself while your body is creating a miracle.
Hydrate. I'm a serious water drinker pregnant or not, but my water intake was intense during pregnancy. Hydration is key, especially if you're losing fluids from morning sickness.
Start saving. Prepping your finances early on will make the big purchases in the third trimester a lot less painful. Babies need a lot of stuff, people.
Soak up time with your man. Once this baby comes, it won't be just the two of you for a long time. Take these next nine months to enjoy as much alone time as possible.
Start shopping for maternity clothes. Chances are you won't need maternity clothes until you're well into your second trimester. Use your first trimester to shop ahead for some maternity bargain pieces.
Leave a comment below with your musts for the first trimester of pregnancy!
Photography by Kara Coleen.