Happy Veteran's Day! Due to it being election week, I decided to take a beat from posting since I had a gut feeling that the internet would basically explode. And explode it has. Honestly, I'd be lying if I said that I didn't want to just quit the internet altogether the past few days. But I'm here to spread a little love and light your way. So I'm back with anything other than politics. We're talking coats, ladies!
Just a friendly PSA (in case you missed this post on Facebook) that whether you're elated, indifferent or distressed by the results of this election… None of those emotions make it okay for you to act rude, nasty or insensitive towards others. Keep it classy, y'all. I'm so tired of seeing all the labels, name-calling and shouting on social media. Again, let's be the change on social media. Let's love on our neighbors regardless of the words exchanged and feelings hurt. We're gonna turn the other cheek, because that's what Jesus said to do.
I also want to take a moment to thank those who serve our country and the spouses and children of our beloved vets. WIthout your service, we wouldn't be the great country we are!
Now, on to the coats! Every year for as long as I can remember, my mom would take me coat shopping during the Fall for a coat that would weather the rough Ohio Winters. Now that I'm on the left coast, coats don't play as big of a roll in my wardrobe as they once did. This Winter in Vancouver will be colder than LA, but milder than Ohio. With that being said, I wanted to round up some really awesome coats for you to check out this season.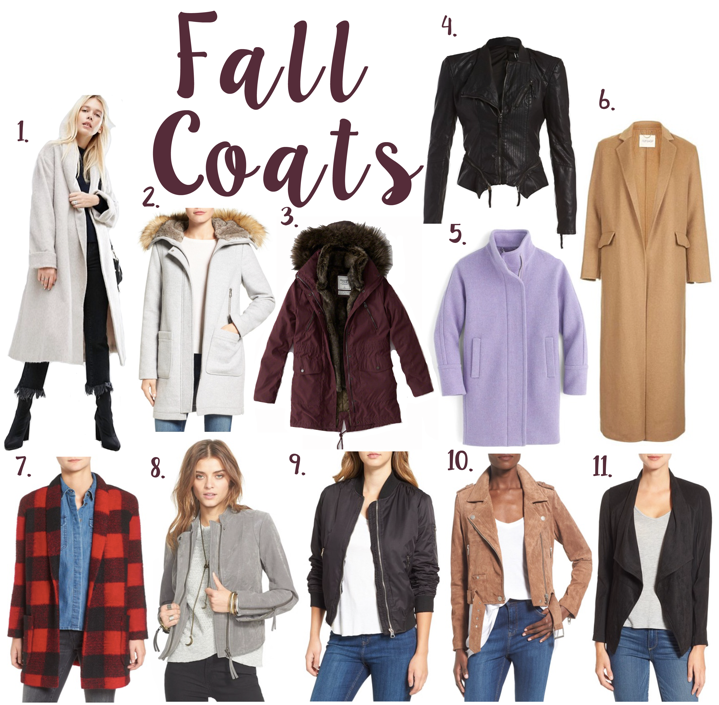 1. Coat with Belt // 2. Wool Blend Duffle Coat with Faux Fur Trim Hood // 3. Faux Fus Lined Parka (ON SALE! 4 different colors!) // 4. Faux Leather Jacket (UNDER $100) // 5. Stadium Cloth Cocoon Coat // 6. Butted Seam Duster Coat // 7. Holton Plaid Shawl Collar Coat // 8. Faux Leather Jacket (Available in 6 different colors!) // 9. Bomber Jacket // 10. Morning Suede Moto Jacket (Available in 7 different colors!) // 11. Faux Suede Drape Front Jacket
This round-up has something for everyone. The biggest trend by far that I've been seeing this season is bomber jackets. I think they're super cute, super trendy, but I don't love them on myself. If you want to try the bomber jacket trend, but don't want to be too trendy, then this classic black bomber is perfect for you.
Shop These Coats: