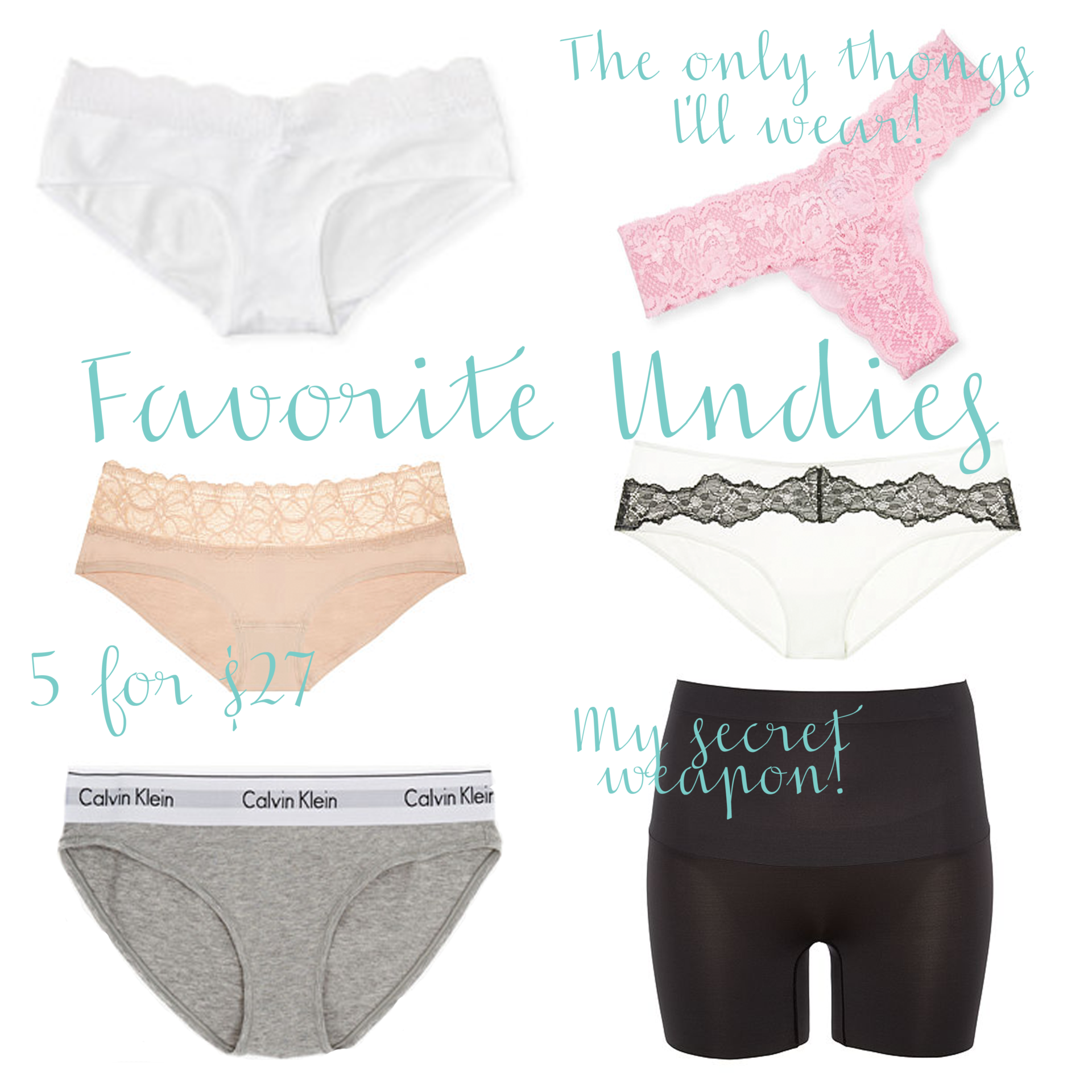 We're getting personal today, ladies. Not that this will come as a surprise since I blog about everything from birth control to feeling lonely… But I'm not sure you can get much more personal than talking about undergarments, lol! To be fair, I've never been one to shy away from telling you exactly how I feel about something, just ask Matt.
Since I posted my favorite bras and bralettes in this blog post, I've received a ton of requests to also post about my fave undies. Undies are a harder wardrobe piece to tackle since every woman prefers something different. With bras, most women want the same results: great support, coverage and some level of cleavage. Underwear is a whole different monster. I have girlfriends who will only ever wear thongs, some will only wear granny panties and others who prefer to wear no undies at all. It's all in personal preference. For me, comfort is key. A wedgie is probably even more annoying than that terrible sock slip feeling when wearing boots, and that seriously makes me want to punch myself in the face.
First, let's tackle terminology. I grew up only ever saying "panties". I like that word, I think it's cutesy and feminine. While I was in high school, I worked at American Eagle (who carries some awesome panties, by the way). My AE manager jumped on me once for saying the word, "panties," because she absolutely hated the word. She would only ever let us use the word, "undies." So I started using that word from then on. Do you have a personal preference? I do feel like "undies" is too universal to be used to describe some of the sexy, lacy pairs out there…
I said it's all about comfort for me and I wasn't kidding. I like a pair of undies that stay in place. This pair from Victoria's Secret is my most worn pair that I own. I have at least 20 pairs of them because they're my favorite for every day. You can snag 5 pairs for $27.50, which is a decent price in my opinion. They hold up well during washing and come in so many different colors and prints.
I'm not a thong girl. Thongs just give me baboon butt (c'mon, you know exactly what I'm talking about…) and are generally uncomfortable for me. I usually refer to thongs or g-strings as "fanny floss." If I have to wear a thong for a certain outfit, then this is my go-to pair. Honestly, they're so comfortable that I don't even notice that I'm wearing a thong. If you're leery of fanny floss or baboon butt, then give these a try. One piece of advice, when washing these, let them air dry while lying flat. The dryer only balls them up and destroys the structure.
"Nothing comes between me and my Calvins." If you're an 80's baby or older, you're probably familiar with this slogan. I've never been a Calvins girl, but I've been seeing Calvin Klein intimates every time I walk into Urban Outfitters or the lingerie department of Nordstrom. Initially, the price tag made me chuckle (hello $20 per SINGLE PAIR and these are your everyday briefs, not special lacy thongs!) then put them back on the rack. When I decided to write a blog post all about underwear, I felt like I needed to pick up a pair of the famous CK classic bikinis… Ya know, for research. Y'all, there's a reason why they're been around for so many years. They're so comfortable and leave no VPL (visible panty line). The pricetag is steep, I know, but I'm so infatuated that I'm going back to Nordie's to pick up another several pairs, they're that good!
Okay, so I know that Spanx aren't technically undies, well some are, but they definitely deserve an honorable mention. When I was in corporate America, and wore business wear every day, I wore pantyhose all winter long (and really other seasons too). My pantyhose served two purposes: extra layer to keep my legs warmer and just to smooth everything out. By smoothing out, I mean I like to wear control-top pantyhose to suck everything in, give a smoother, nicer shape and ensure that panty lines are hidden. VPL is a major pet peeve of mine. I hate being able to see a panty line on myself. Enter Spanx. Spanx is like wearing the control-top pantyhose I love so much, but with even more control to really shape you nicely and hide any unwanted panty lines. I'm not sold out to the Spanx brand, I actually really love the Victoria's Secret version, which was about half the price, but sadly, they stopped carrying shapewear and hosiery (insert crying emoji here).
If you're not into the idea of pantyhose or shorts, then check out these control top briefs. I've worn these exact high-waist undies from Commando on a red carpet (as well as so many of your favorite female celebs, who I would bet anything on, wear these too!) to help give a slimmer waist. They're surprisingly comfy and really get the job done.
Just to clarify, I'm still a major fan of pantyhose. I know, I know… Most women hate wearing them. Not me. I think they shape you up and tan your gams, so basically, they're a girl's best friend! I totally get it from my mom and both of my grandmas. Honestly, I think the women in the 50's and 60's were on to something with their love for pantyhose. I totally think pantyhose is a secret weapon to make your legs look fab. I love my pantyhose with a back seam paired with a pencil skirt for a sexier look. I would suggest hand washing and air drying your pantyhose, shapewear shorts and briefs to make them last longer.
Alright, now it's time to hear from my Gorgeous Girls. What is your absolute favorite pair/brand/designer of undies and/or shapewear? How do you feel about wearing pantyhose or Spanx? Leave a comment below, I want to hear from you!