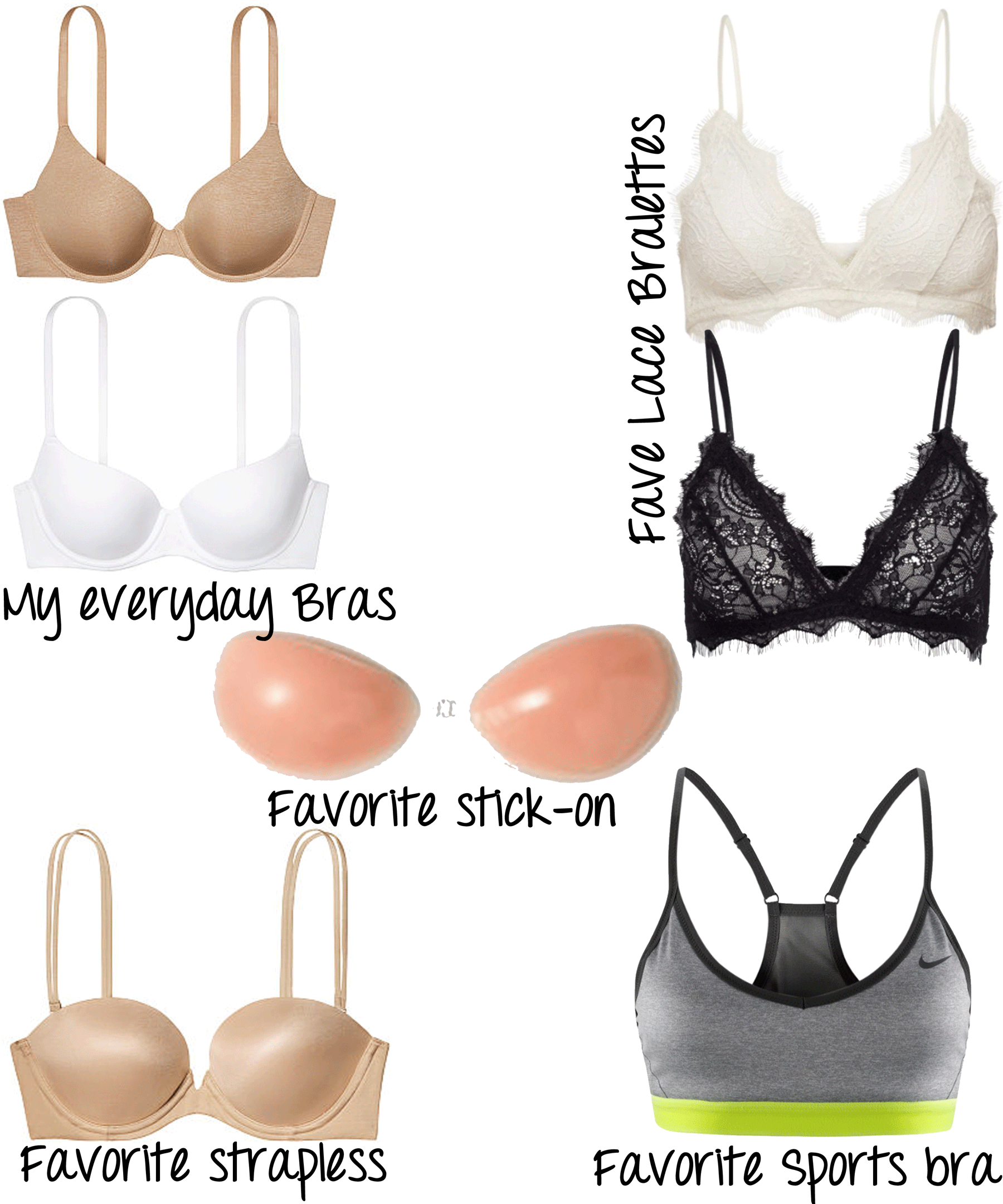 My "Reasons to Love Having Small Breasts" blog post was easily one of my most popular posts. If you missed that post, read it here. Many of you requested that I put together a list of my favorite bras and bralettes for you to check out, so that's what today's post is all about. Let's get started!
Everyday Bras:
An everyday bra would be one that has normal straps (not strapless or convertible) and can be worn with regular tops and tee shirts. I typically always shop for these at Victoria's Secret because I know exactly what size I wear and which styles I love. I have worn this bra for years and really love it because it's so comfortable. It has begun to stretch out from wear, but I'd have to guess it's about two years old, so that's pretty normal. I picked up this bra earlier this spring and love the fit and comfort even more. It doesn't have any gapping issues, which is very important to me.
Size Info: I wear a 34B or 32C in these bras.
Shop These Bras:

Favorite Bralettes:
I recently starting really wearing bralettes and I haven't looked back. I prefer this lace bralette from Anine Bing because the eyelash lace is so pretty and feminine plus it peaks out a bit when you wear a low cut top. SAVE: Here's an almost identical eyelash lace bralette at a lower price point that comes in multiple colors.
I also love bralettes with detailed backs for open back tops.
Sizing Info: I wear an XS in my lace bralettes.
Shop These Bralettes:

Favorite Strapless & Stick-Ons:
My favorite strapless/convertible bra is from Victoria's Secret, but this one from Nordstrom looks like an exact dupe. I prefer nude for strapless bras because it's so close to your skin tone that you can't see it underneath, whereas white can stand out under a white top.
As for backless options, stick-on bras are the best. I typically pick mine up at Target for $25 in this style. I just purchased these nipple petals for tops that are low cut, since the stick-on bras attach in the center.
Shop Strapless & Stick-Ons:

Shop Favorite Sports Bras: