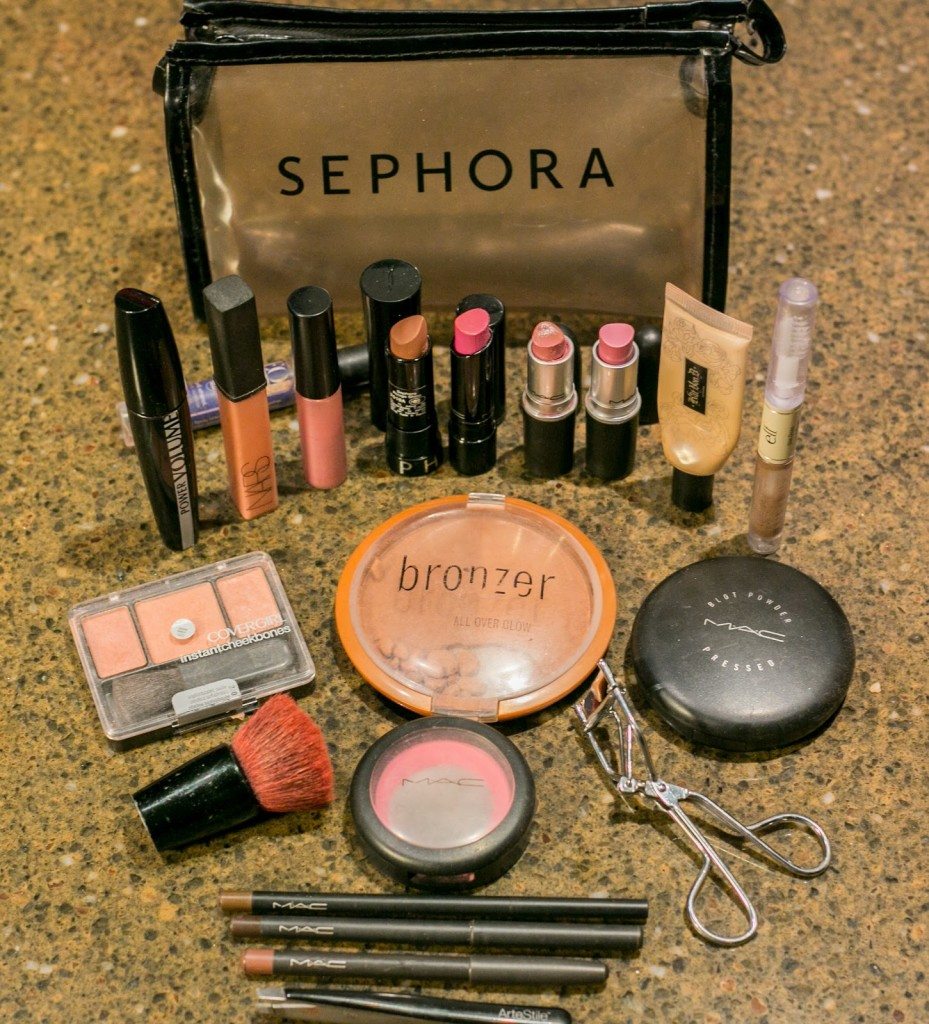 I've had several requests to see what's inside my makeup bag.. So I'm giving you a firsthand look at what's inside! My makeup collection is a little on the ginormous side.. Here's what's inside my every day makeup bag.
I obviously got the bag itself from Sephora and it's quite old. I need to replace it but it's the perfect size for what I like to carry with me.
So let's start at the front and work our way back.. Tweezers. One of the most important pieces in your toolkit.. I mean makeup bag. This is one thing that I simply can't scrimp on, and neither should you. I mean let's be real. There's nothing worse than a bushy brow or peach fuzzy upper lip. Get those strays, ladies!
Next. Ahhh my ultimate go-to favorite lipliner, MAC Stripdown. Completely necessary for the perfect nude lip. It's just the right liner tone whether you're using a pink, nude or brown lipstick. Below are all of my lipsticks and glosses I use with it.
MAC Lingering Eyebrow Pencil is perfect for a quick fix when I'm in a rush. But be careful… only use click at a time because it's so thin it breaks off incredibly easy!
MAC Brownborder Technakohl Eyeliner is perfect for a brown smoky eye. I love to use this with golds, creams and tans.
As you can see, I love my blush. MAC Pink Swoon is a gorgeous color for summertime. In winter I like to mix it with my bronzer to give those perfect pink hued cheeks, without being overly pinky.
Now on to my (pathetic) brush…. It was originally a MAC bronzer brush that broke in half. I love it so much that I can't part ways with it even though it's half gone lol! It's the perfect density for bronzer and blending.
I prefer the cheapy eyelash curlers from Target. They cost about $1.99 per pair and they're the best in my opinion. I've tried super expensive curlers and even heated curlers…Nothing gets the job done better than these.
A solid highlighter can add the perfect touch to any look. A little down the bridge of your nose, on your cupid's bow, on your brow bones and on the inside corner of your eyes. A friend told me about Covergirl Instant Cheekbones contouring blush and it does amazing things. All three shades over a light coat of blush is really gorgeous. You can pick this up at any drugstore.
I'm super picky when it comes to bronzer. I've tried most brands out there without much luck. I can't stand when a bronzer has too much shimmer.. Who wants to look like a disco queen?! My face just isn't complete without at least a little bronzer. Right now I'm loving the Milani big bronzer compact in "Fake Tan". It has a tiny bit of shimmer, but not enough to notice. I typically pick this up at Walgreens.
MAC Blot Powder is fantastic for soaking up oily spots but I use it specifically as a translucent powder to set my under eye concealer. I prefer to use NYC loose translucent powder to set my concealer (not pictured here), but the MAC pressed powder works magic when you're in a pinch.
My ultimate mascara is L'oreal Power Volume Collagen in Black. I've been a L'oreal Voluminous in "Blackest Black" girl for years.. but honestly this one takes the cake. It plumps. It lengthens. It seperates. It doesn't clump. It doesn't flake. It's magical. I also get this from Target.
Nars "Turkish Delight".. The most perfect piece of the nude lip mystery. This gloss turns any color lip into a sultry, creamy nude masterpiece. If you haven't tried it yet, be warned. It will change your life.
MAC "Viva Glam VI" is a beautiful pinky gloss that is gorgeous alone or over other colors. It's tackier than what I typically like, but this color is so beautiful that I don't mind it.
Sephora "Rouge Shine" is a beautiful nude color. I don't ever like to wear it alone, but under Turkish Delight or MAC Viva Glam, it's really pretty.
MAC Sheen Supreme Lipstick in "Behave Yourself" is another one I don't like to wear alone. It's a little too pearly on it's own for me, but it's great over any pink or nude lipstick.
MAC Lipstick in "Angel" is a cult classic and it's easy to understand why.. It goes with everything. It's my go to light pink.
MAC Lipstick in "Snob" is amazing for a bold, solid pink. It's great for layering with other colors or by itself. It's not an every day color, but more for a night out on the town.
Kat Von D Tattoo Concealer from Sephora is fantastic. I use it under my eyes and for blemishes. It provides really great coverage.
I use clear mascara to keep my brows in place. Any brand will do but Elf is only $1.00 at Target and it works just as good as any.
And of course you need a hand sanitizer before you start touching your face!
So there you have it, that's what's in my makeup bag. I also plan to post about my makeup organization and show my entire collection at some point. Hope this gave you lovely's some good tips!