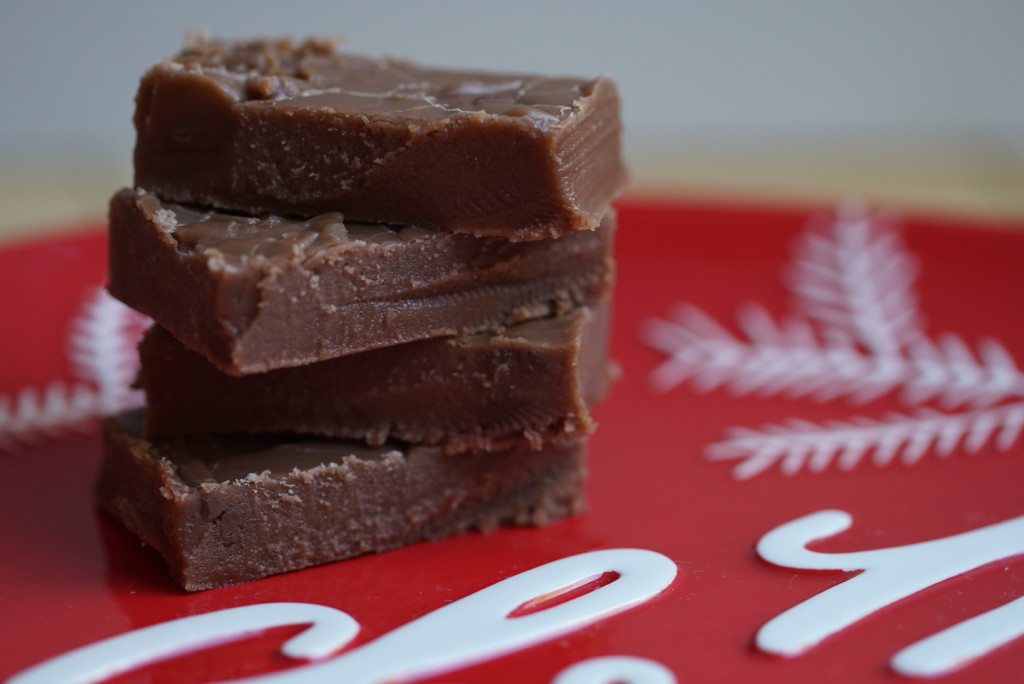 If you're looking for the most decadent, most delicious fudge recipe in the world, then look no further. This milk chocolate fudge recipe is the best fudge recipe on earth. Pinky swear.
My Mawmaw's milk chocolate fudge recipe will not disappoint.
This milk chocolate fudge recipe has been in my family (on my mom's side) for several generations at the very least.
It is a Christmastime staple for family gatherings. Our family friends even request their own tin of this delectable milk chocolate fudge to enjoy.
I'll have to do some digging to find out where exactly this recipe came from. I'm not sure if it was my great-grandmother's or if my Mawmaw learned it from a friend.
Once you try this fudge, no other will do.
Love this milk chocolate fudge recipe? Check out these recipes too!
Mom's Better Than Dairy Queen Ice Cream Cake
I won't touch anything with marshmallow fluff because the consistency is just all wrong for me. I don't like the fluffiness. I want dense, rich chocolate.
If you are looking for an easy fudge recipe, this one is not it. This milk chocolate fudge recipe is time consuming. You absolutely will need some serious patience.
This milk chocolate fudge recipe requires your undivided attention from beginning to end. Oh, but the outcome? It's so very worth it.
The one good thing I can say about this recipe is that there is no candy thermometer required like so many other milk chocolate fudge recipes. When the sugar is fully melted and no longer granulated, it's done.
This fudge really does make a great gift for anyone in your life who has a sweet tooth. In fact, I usually put a tin of it in the mail for a couple of our family members, they love it so much.
I plan on making several batches this season for friends and family.
You can make this any flavor you want with whichever chips you use: peanut butter, maple, white chocolate, add nuts, etc.
Recipe originally posted on Dec 26, 2015.
shop this post



Mawmaw's Fudge
This recipe can be made to be either chocolate or peanut butter, and both are simply divine.
Instructions
Melt butter in a medium sized sauce pan over medium flame.

Once melted, add can of evaporated milk and slowly pour in sugar, cup by cup. Stir to combine.

Continue stirring over medium flame, being careful to scrape the bottom, so the mixture doesn't scorch.

Stir until the mixture starts to boil, then turn heat to low and set timer for 12 minutes.

Stir non-stop until 12 minutes is up, be sure to constantly scrape the bottom of pot to prevent scorching.

When time is up, remove from heat and add in vanilla. Be careful, vanilla will cause the mixture to bubble and pop.

Continue stirring and add in chocolate or peanut butter chips.

Beat mixture by hand until it starts to get tougher to stir, as the candy begins to set up. Once the consistency is right (hard to stir), pour into a greased pan and allow to cool.

Once fully cool, slice and enjoy!
Love this milk chocolate fudge recipe? Check out these recipes too!
Mom's Better Than Dairy Queen Ice Cream Cake
How long does this fudge need to cook?
Once it comes to a rapid boil, drop the heat and stir constantly for exactly 12 minutes.
Can you make this fudge peanut butter, white chocolate, butterscotch, etc?
Absolutely! Just switch out the chocolate chips for whatever flavor your little heart desires.
Do you need a candy thermometer to make this fudge?
Nope. I've never used one before.