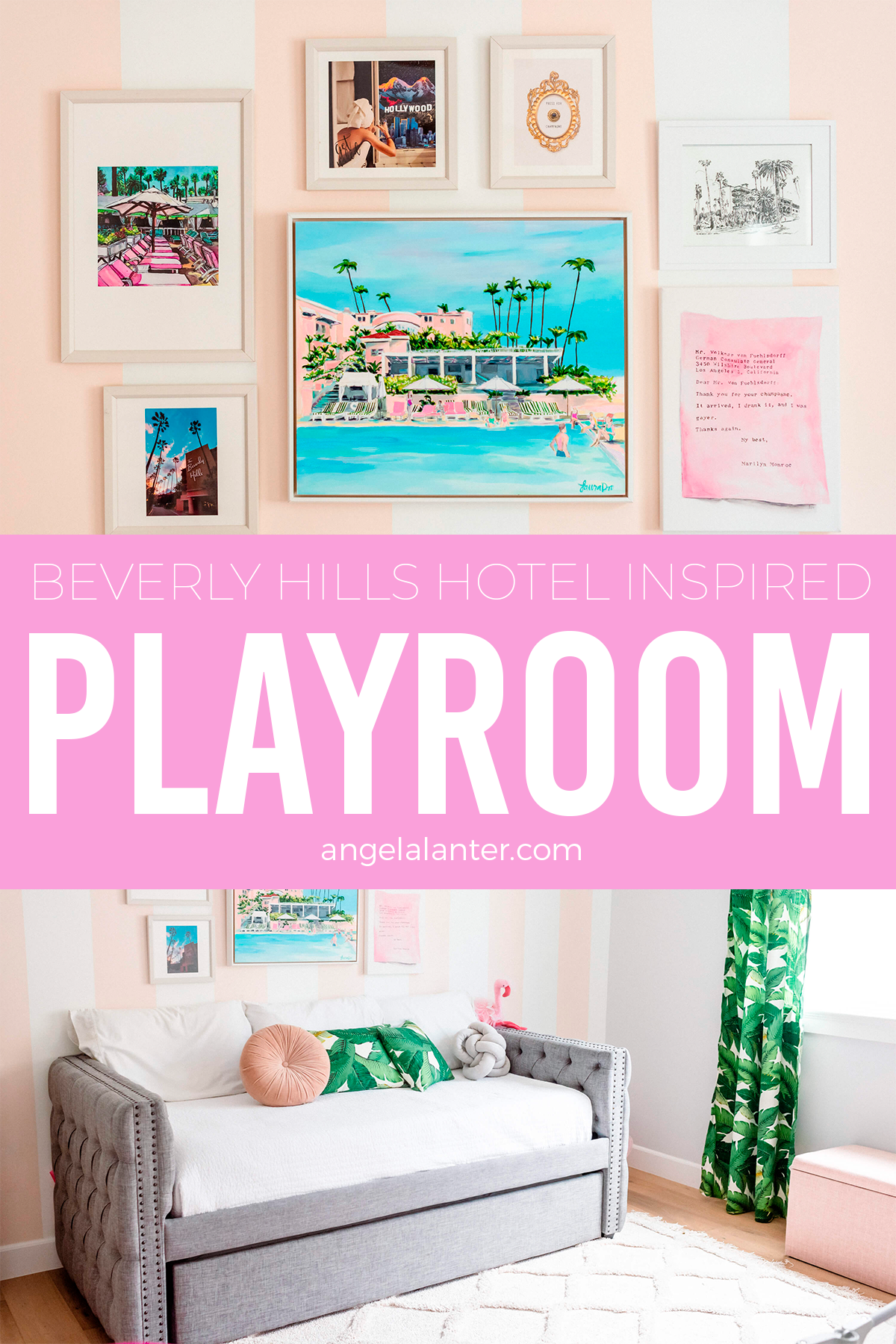 This post has been a long time coming. I first started working on decorating the playroom when Kenny girl got close to being mobile. I knew that once she was on the move, we needed a totally baby-safe space for her to play in all day. A dedicated play room, but also that room needed to be functional for when we had house guests.
Some parents are totally cool with having their kids play space in the family room. I am not one of those parents. Honestly, I am too organized and too clean for that to fly on a long term basis. I grew up with a basement, but in LA, basements aren't the norm. Finished basements are a lifesaver for parents who want a play space that's out of sight (and out of mind!).
We have one guest bedroom on the main level that is located next to the family room, so it was the perfect spot for a play room. I knew I wanted the room to be light, bright and airy, just like the rest of our house, but I wasn't sure what colors or theme I wanted until the super sweet Laura Dro contacted me. She wanted to paint something special for MacKenlee and asked if I had any ideas. Immediately I thought of The Beverly Hills Hotel. I originally wanted her nursery to be inspired by the BH Hotel, but we decided to go a different direction. Miss Laura took my idea and ran with it. She painted the most gorgeous vintage inspired piece, which you can see below.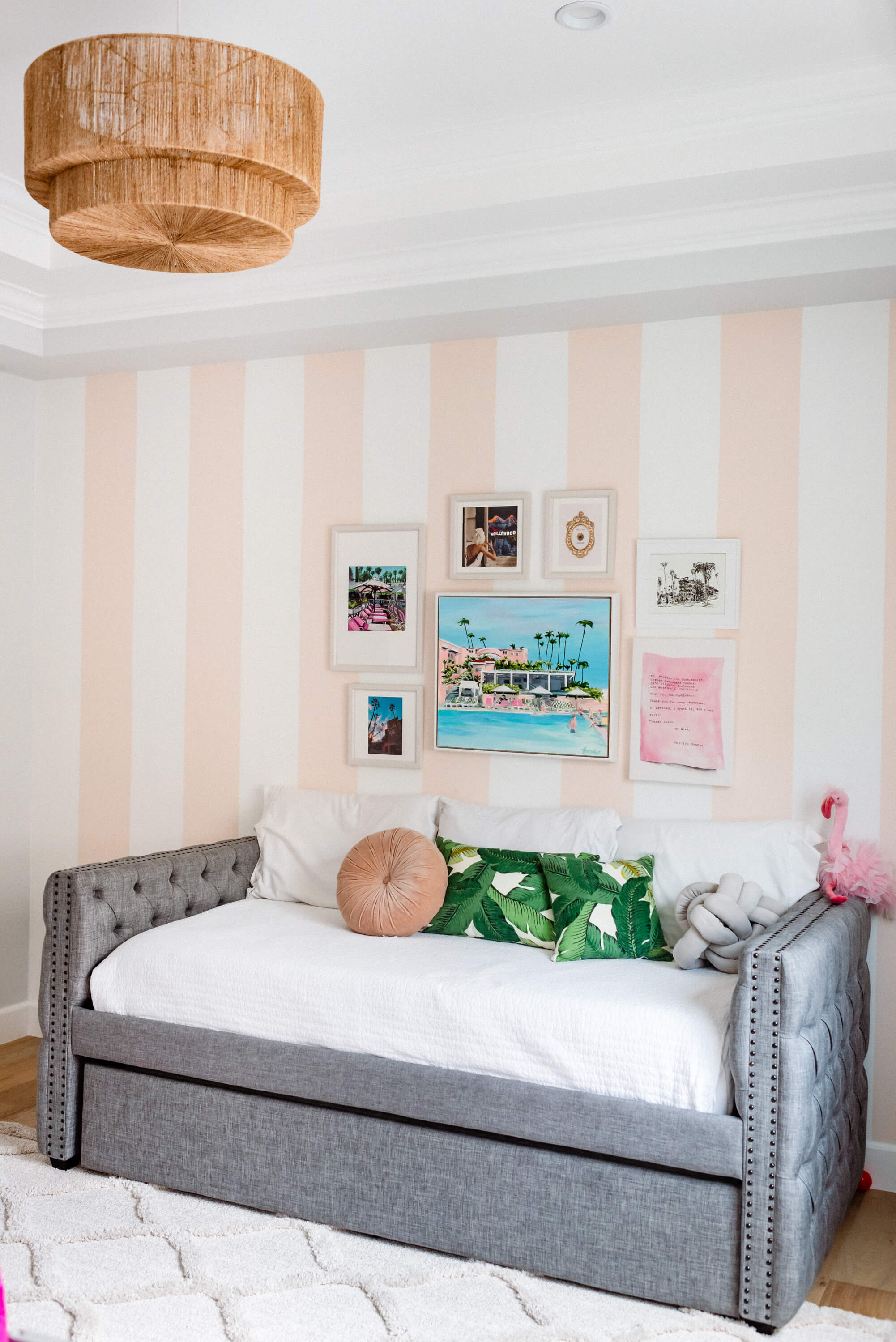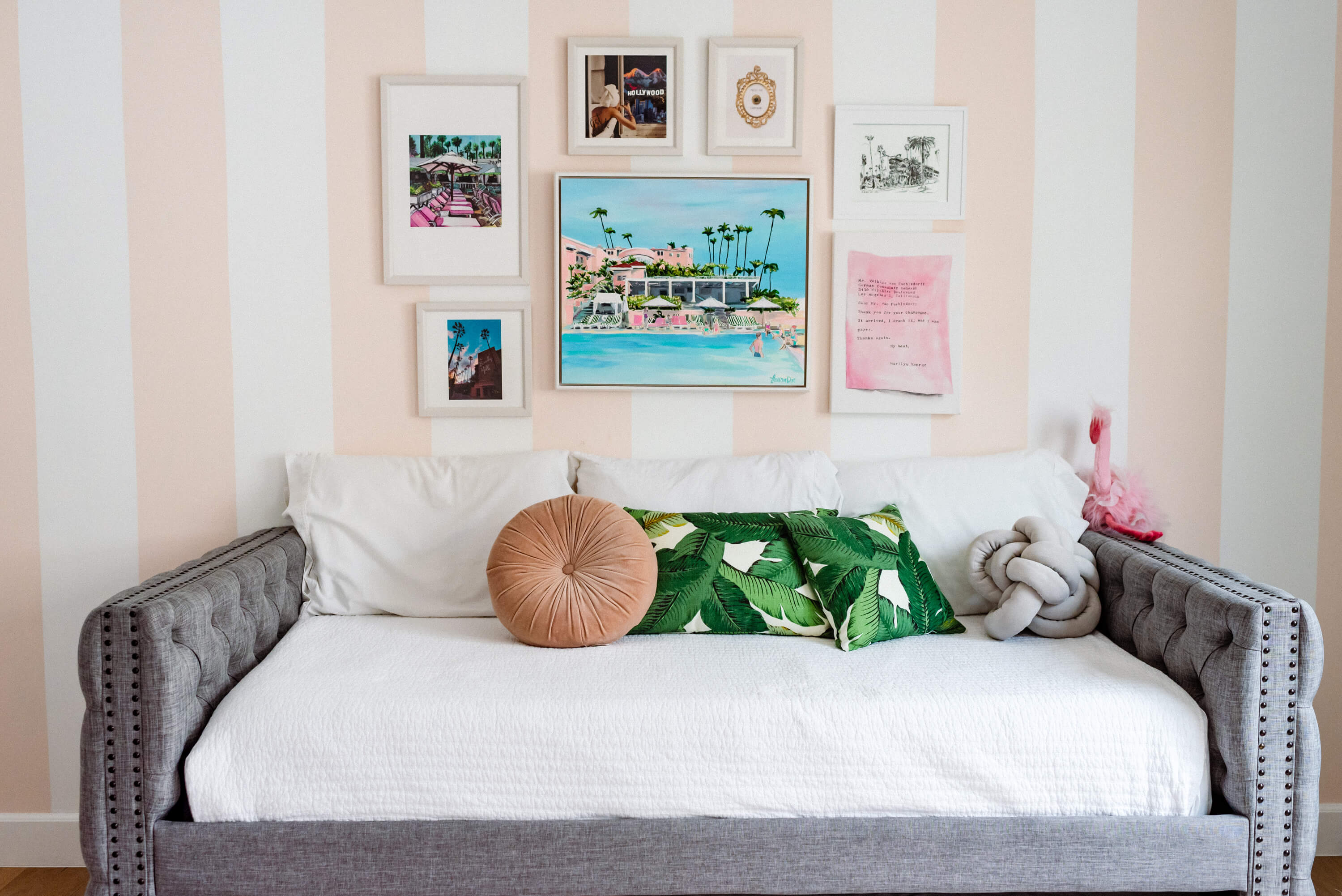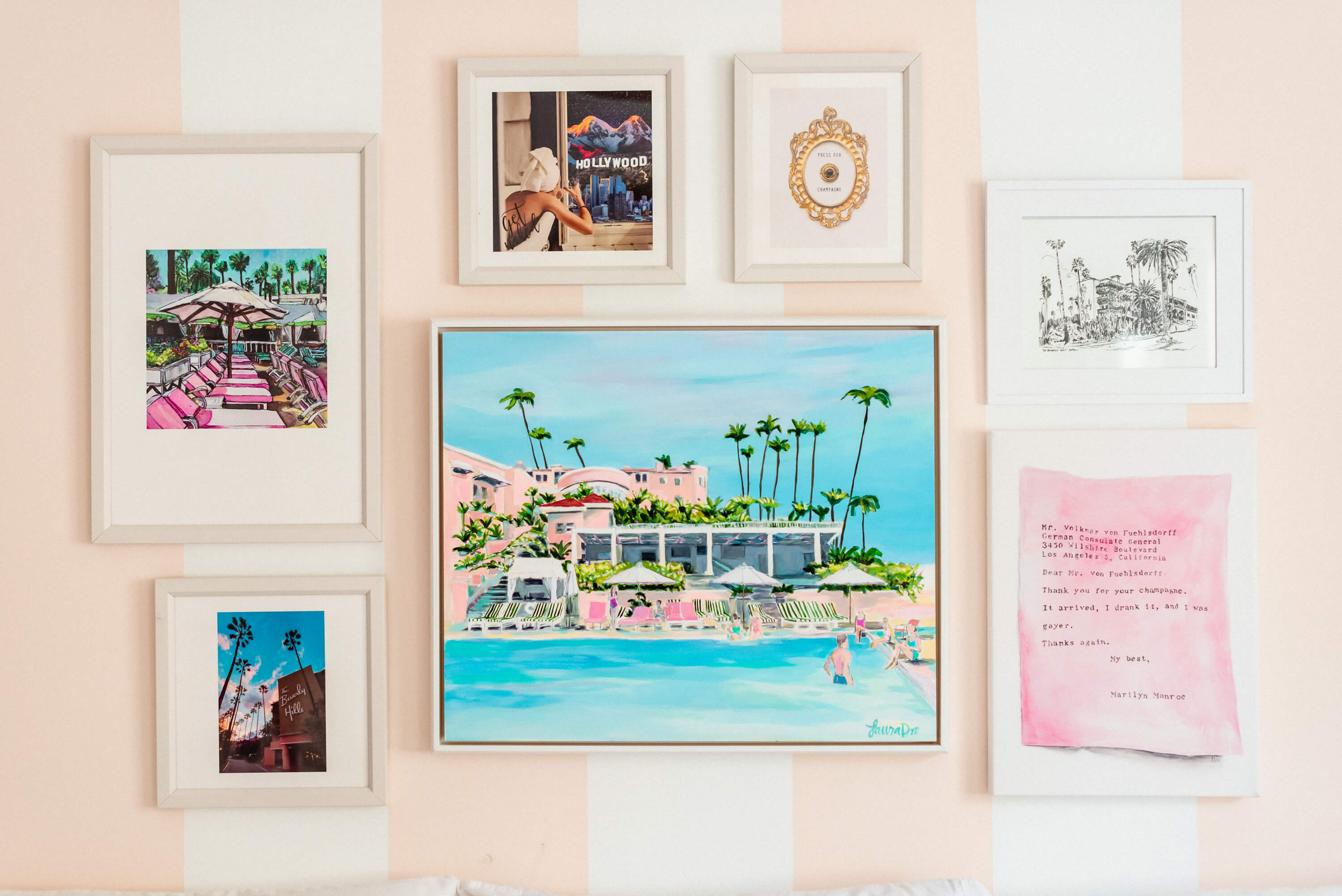 Once her painting arrived, I knew I wanted the room to be designed around it. I already had our grey trundle daybed, so we moved it into the playroom to provide seating and sleep space for guests. The trundle bed has been such a great piece. It resembles a sofa but the bottom pulls out to create a second twin bed. This daybed takes two Twin XL mattresses.
I was then at a loss on what to do with the room. So I bought a design package from Decorist and was assigned the sweetest interior designer, Sophia Araya of Inshala Design. I uploaded a photo of my BH Hotel painting from Laura Dro and Sophia worked closely with me to help create the perfect play space.
I love the design Sophia came up with. In her original design, she had a plant on the right side of the daybed, which I originally had… Until MacKenlee would no longer leave it alone. That fiddle leaf fig tree has since been moved to our bedroom. Eventually, we plan to install sconces to flank the gallery wall, just for added light in the room.
If you recall, I chronicled the stripe painting on my Instagram Stories. It took several tries to get the paint colors right. The first pass looked like a carnival with baby blue and baby pink stripes, lol. But after a couple more tried, the stripes turned out perfect. Very Beverly Hills Hotel Chic.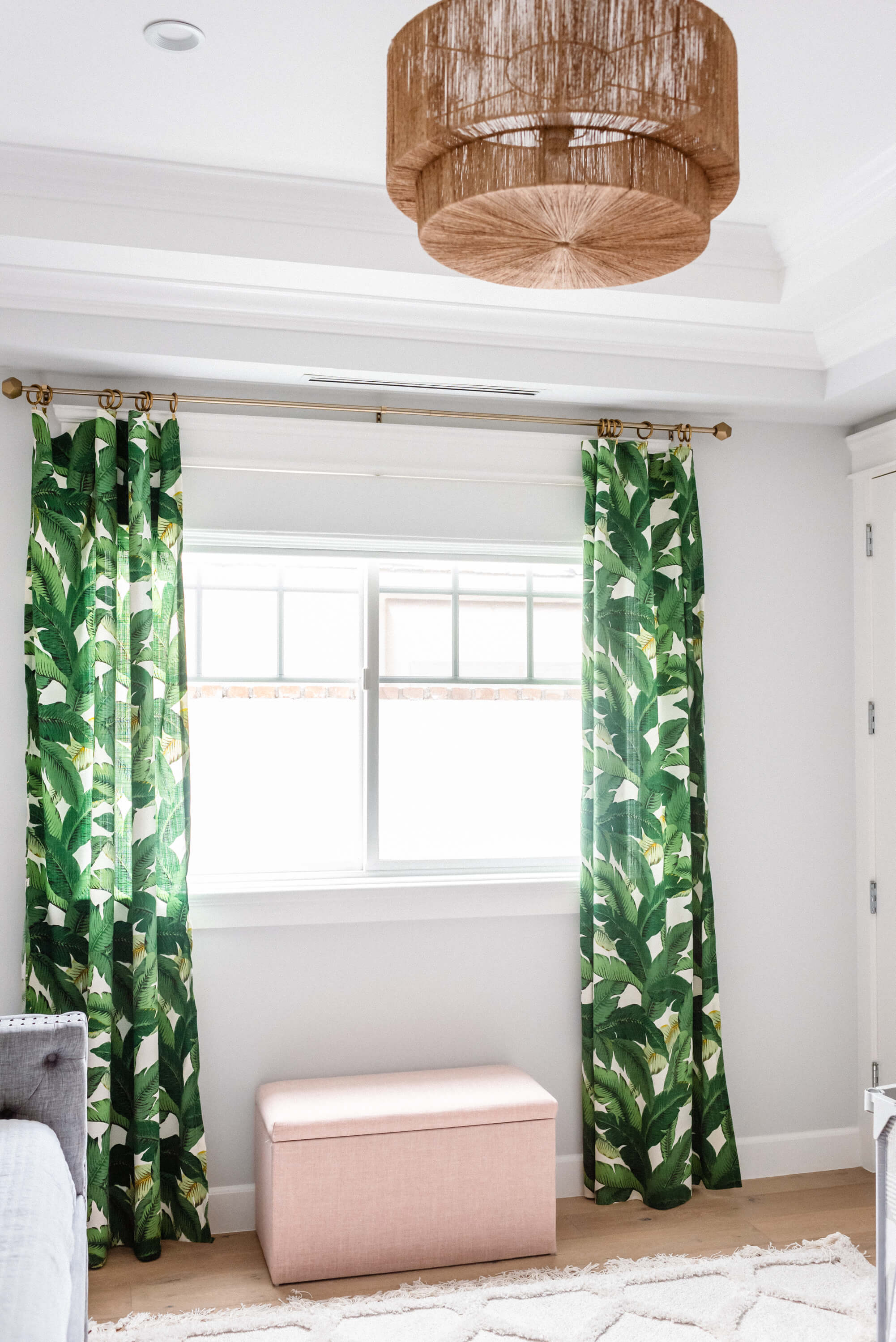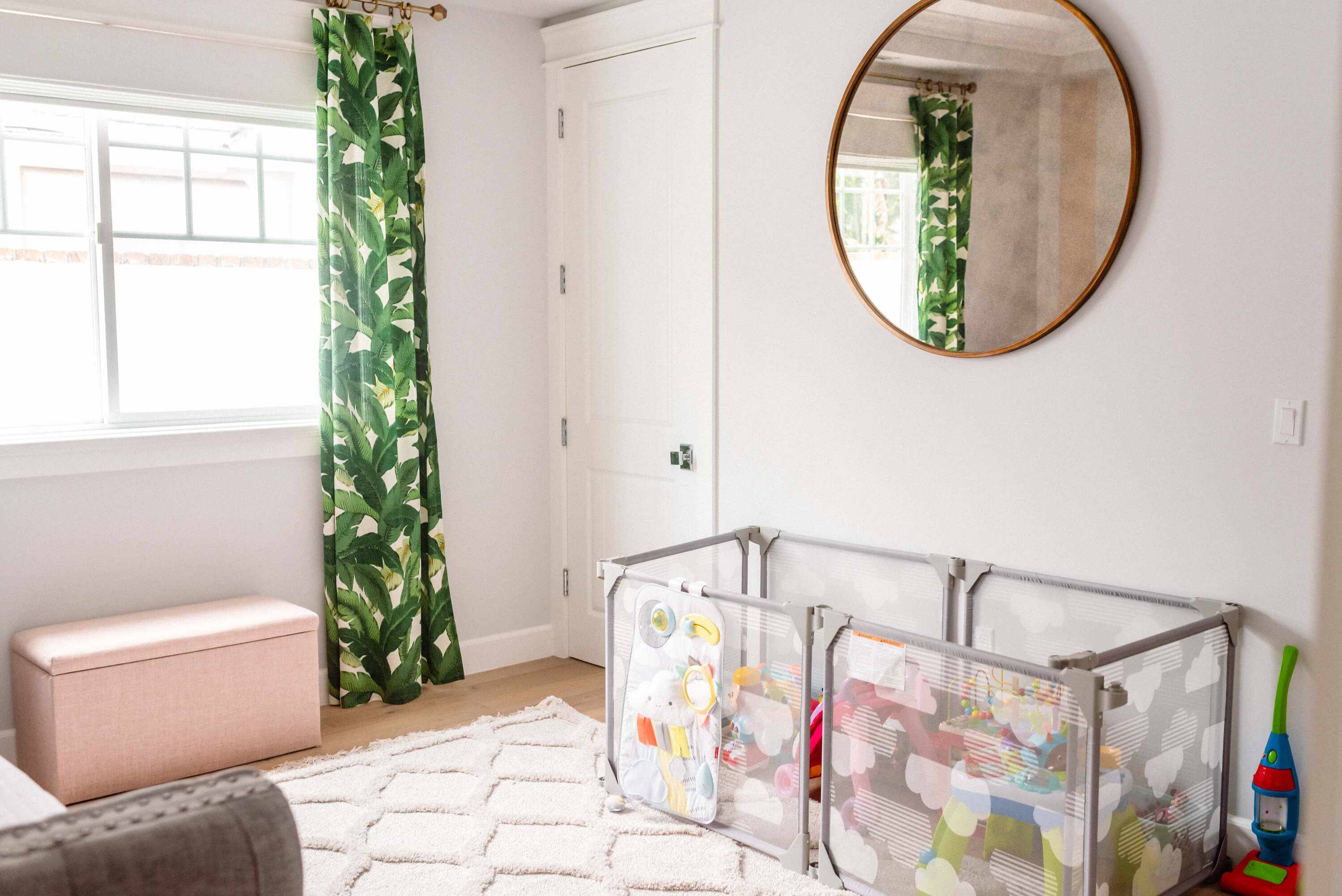 We chose to keep the other three walls simple with a flat white. We brought in the famous banana leaf print into the design by incorporating the fun print into the curtain panels, throw pillows and even the towels in the ensuite. Our drapes and throw pillows are from Lulu & Georgia, but sadly are sold out now. I did find similar (if not identical) drapes here (ours are 96″) and pillows here. We layered the drapes over our custom white roman shade and used gold hardware to mount the drapery.
The light fixture was so standard in this room, so we choose to go with something that felt a little more on "theme." This coastal, jute piece fits in well with the rest of our home.
Our wood floors are beautiful, but not soft enough for a play space. Our rug is now sold out, but here is a very similar rug without the tassels. If I had to do it over again, I would buy this rug instead. Our braided tassels look a hot mess after a little use, but the rug itself is wonderful.
Our Skiphop expandable playard has been well loved and very well used. It's so much more functional that your typical playpen, giving the option to change shapes according to your space.
One last piece that I'd like to touch on is our toy box. I love that it's prettier and softer than your typical toy box, and it fits the space so nicely.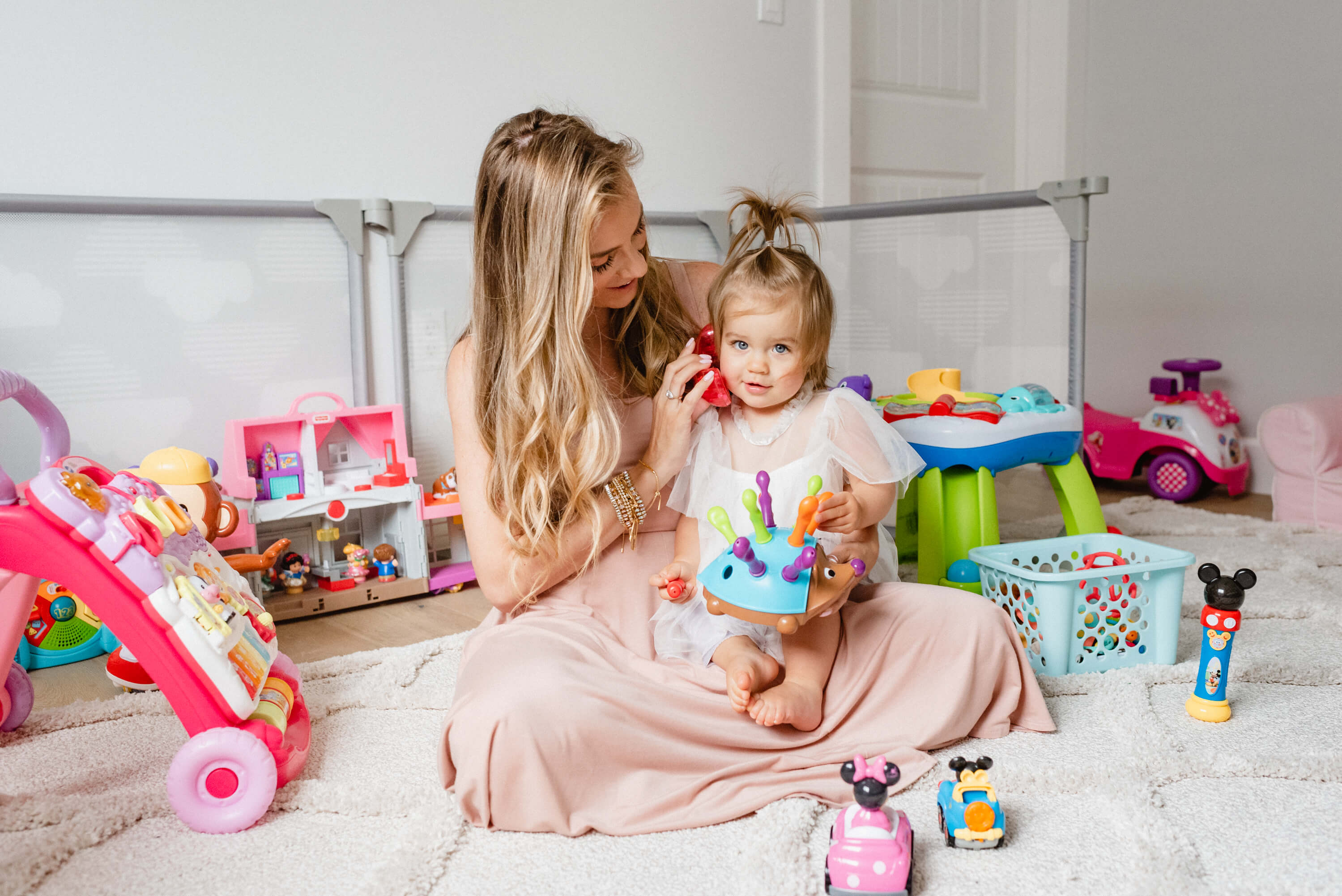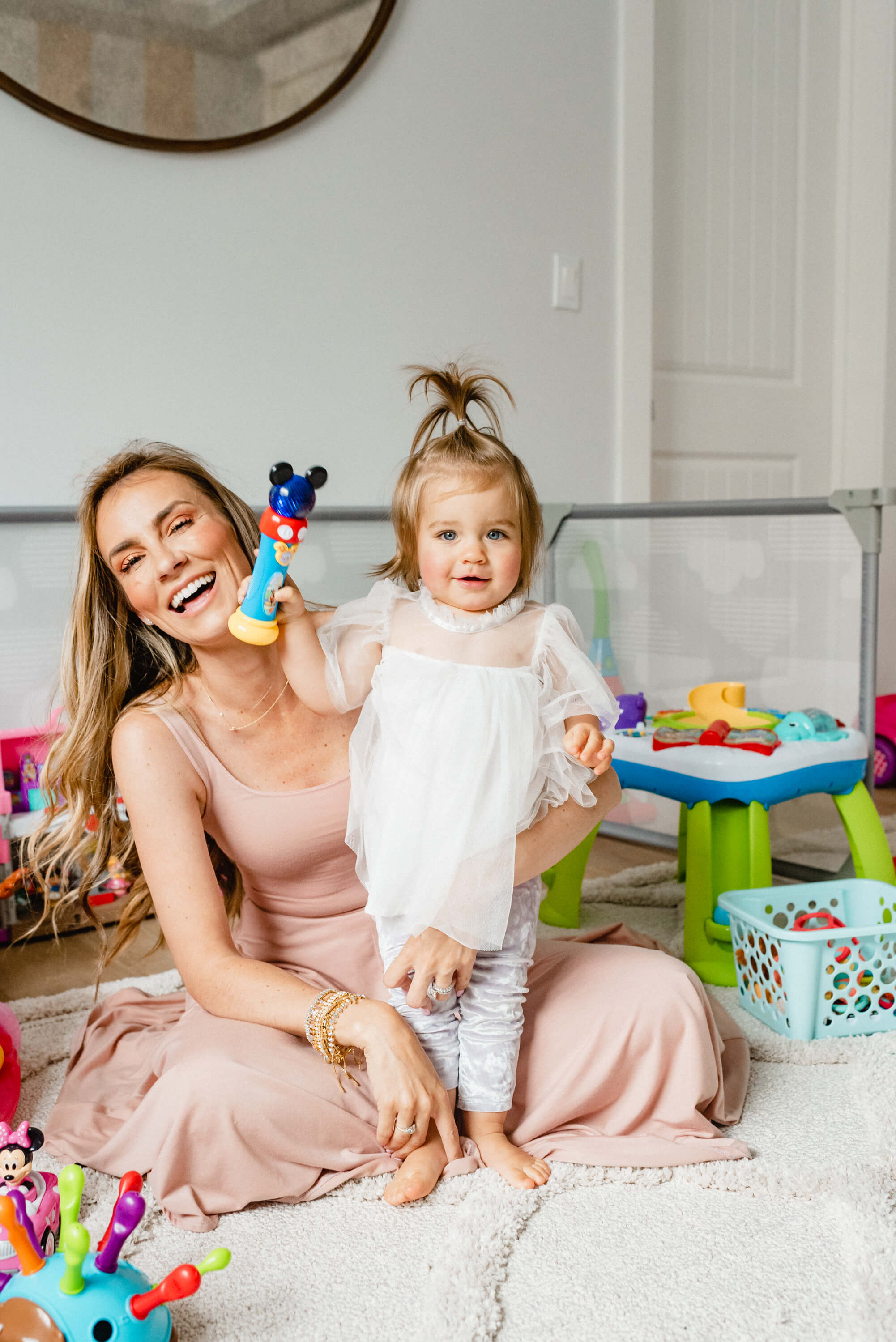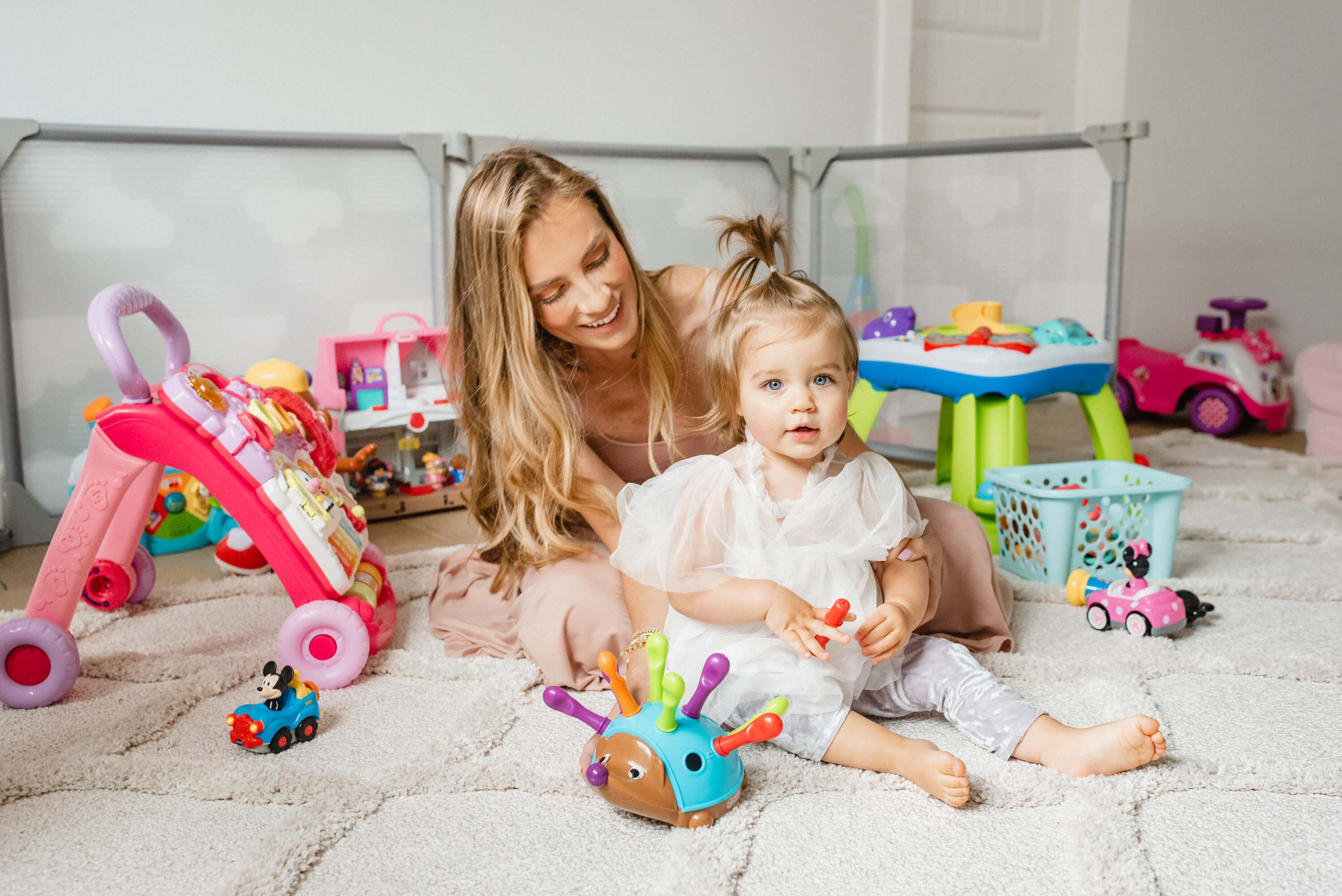 Kenny girl loves her play room. It's become a gathering place, tv room, family room and even snack time room for the whole family. It is now a room that we all love being in and playing in together.
Let me know, do you have a dedicated play space in your home? If so, how did you decorate it?
Photography by Kara Coleen.
Shop Our Playroom