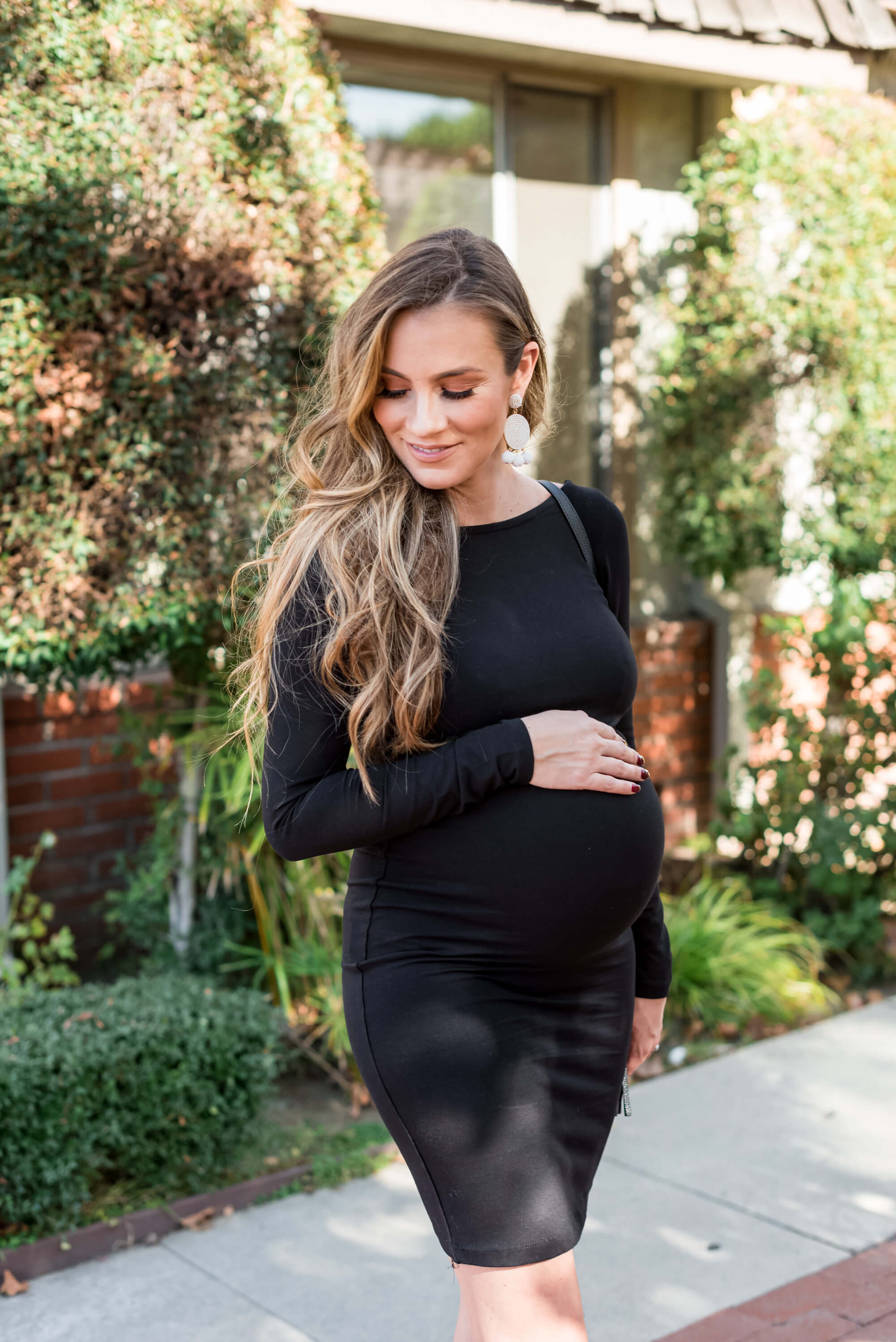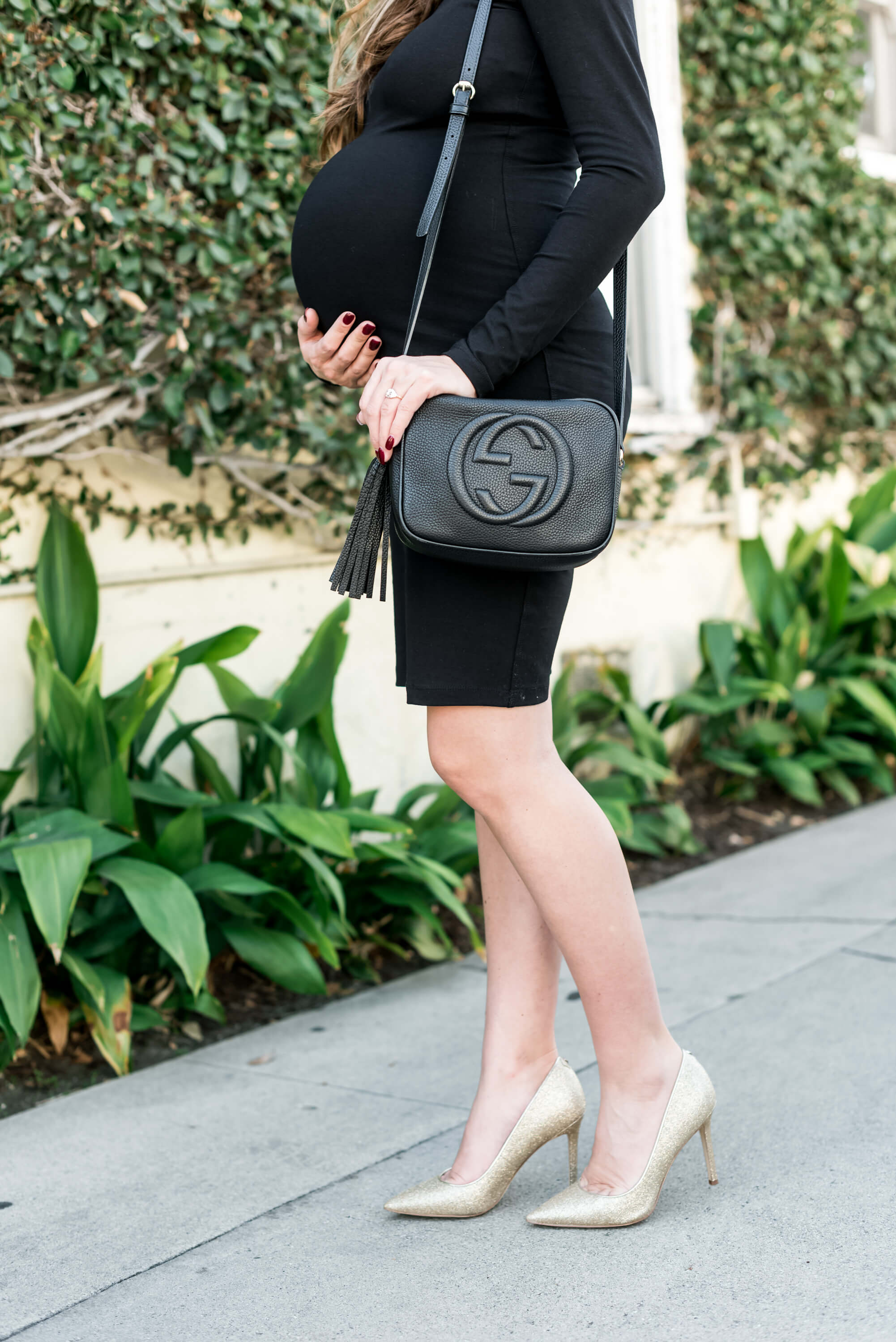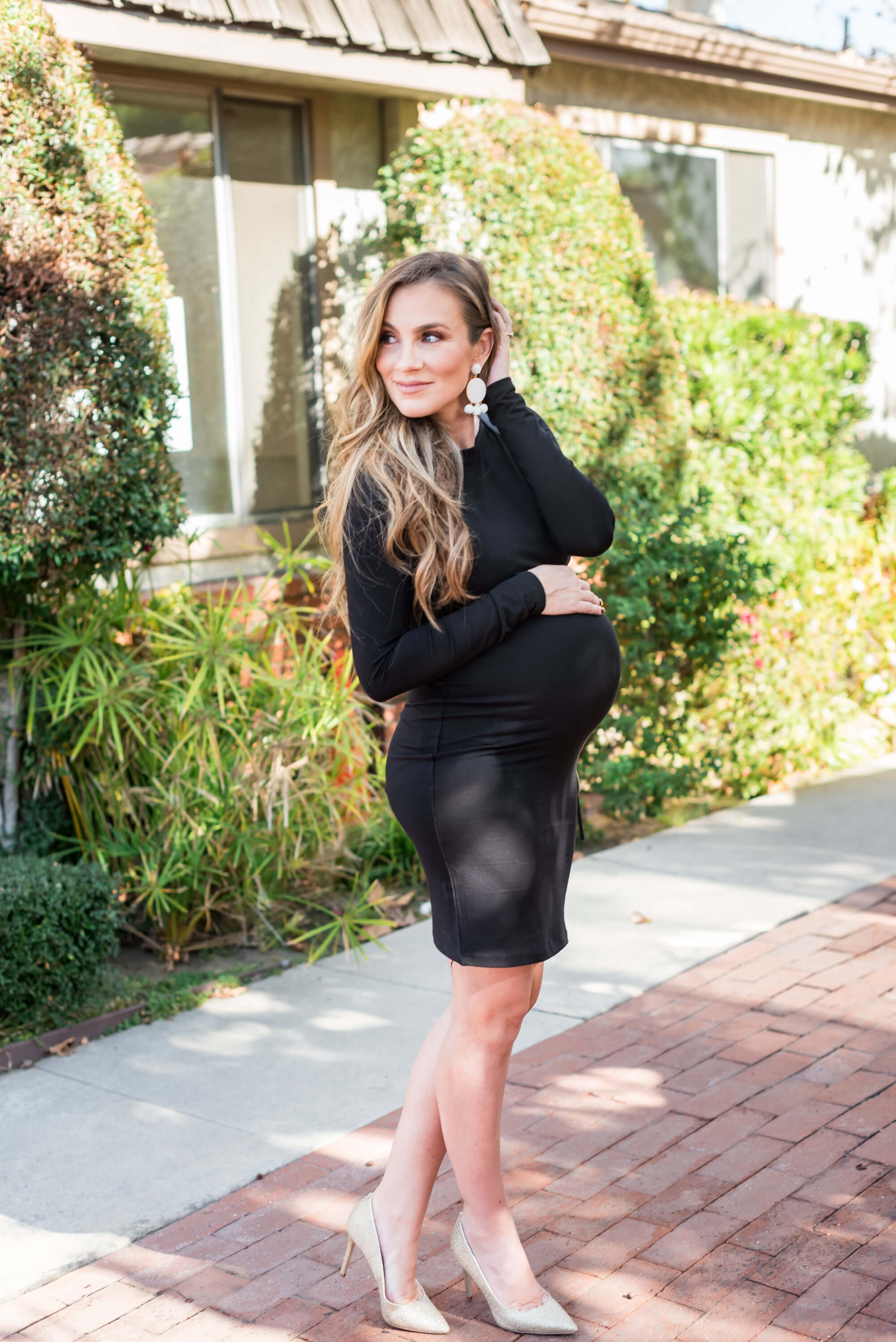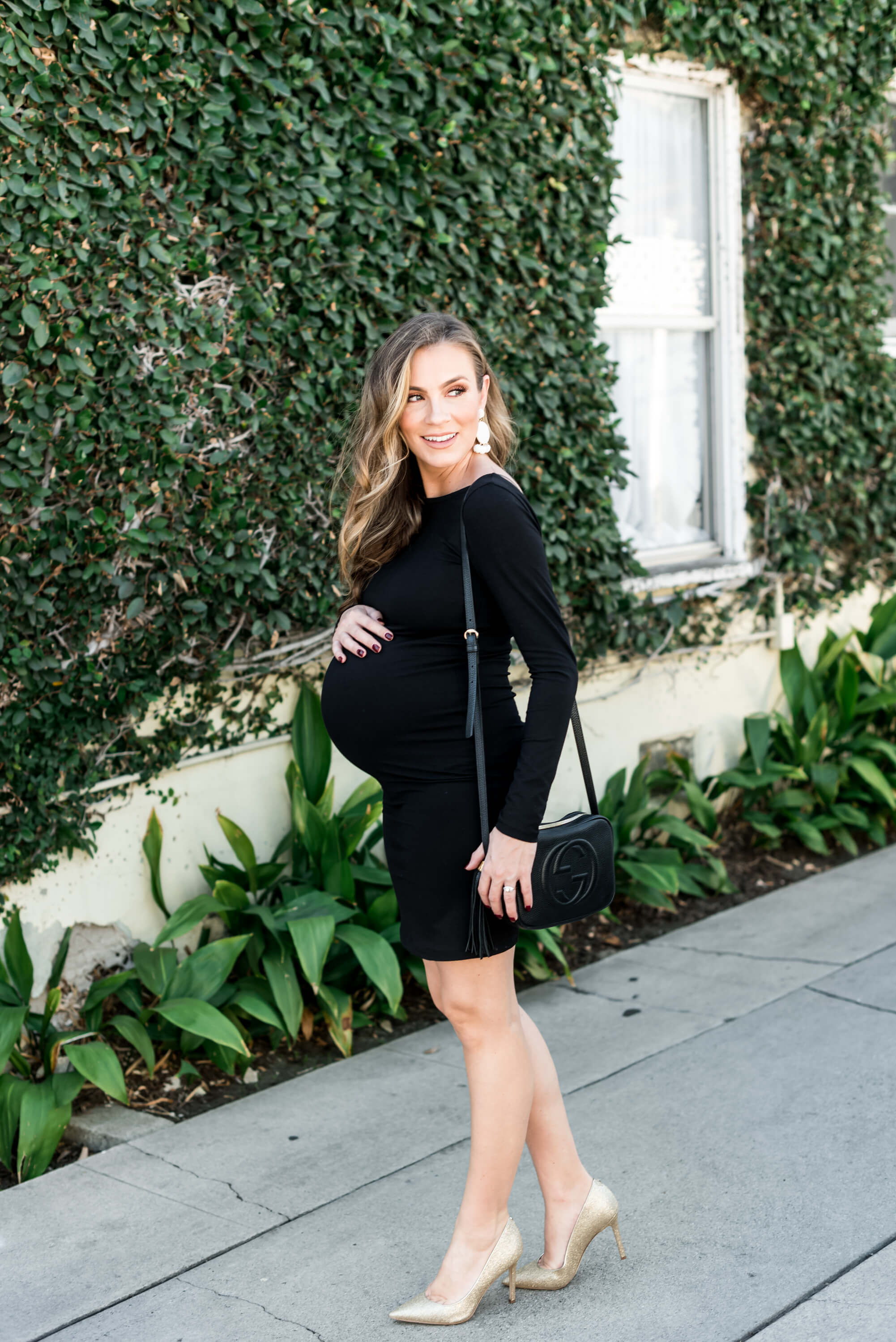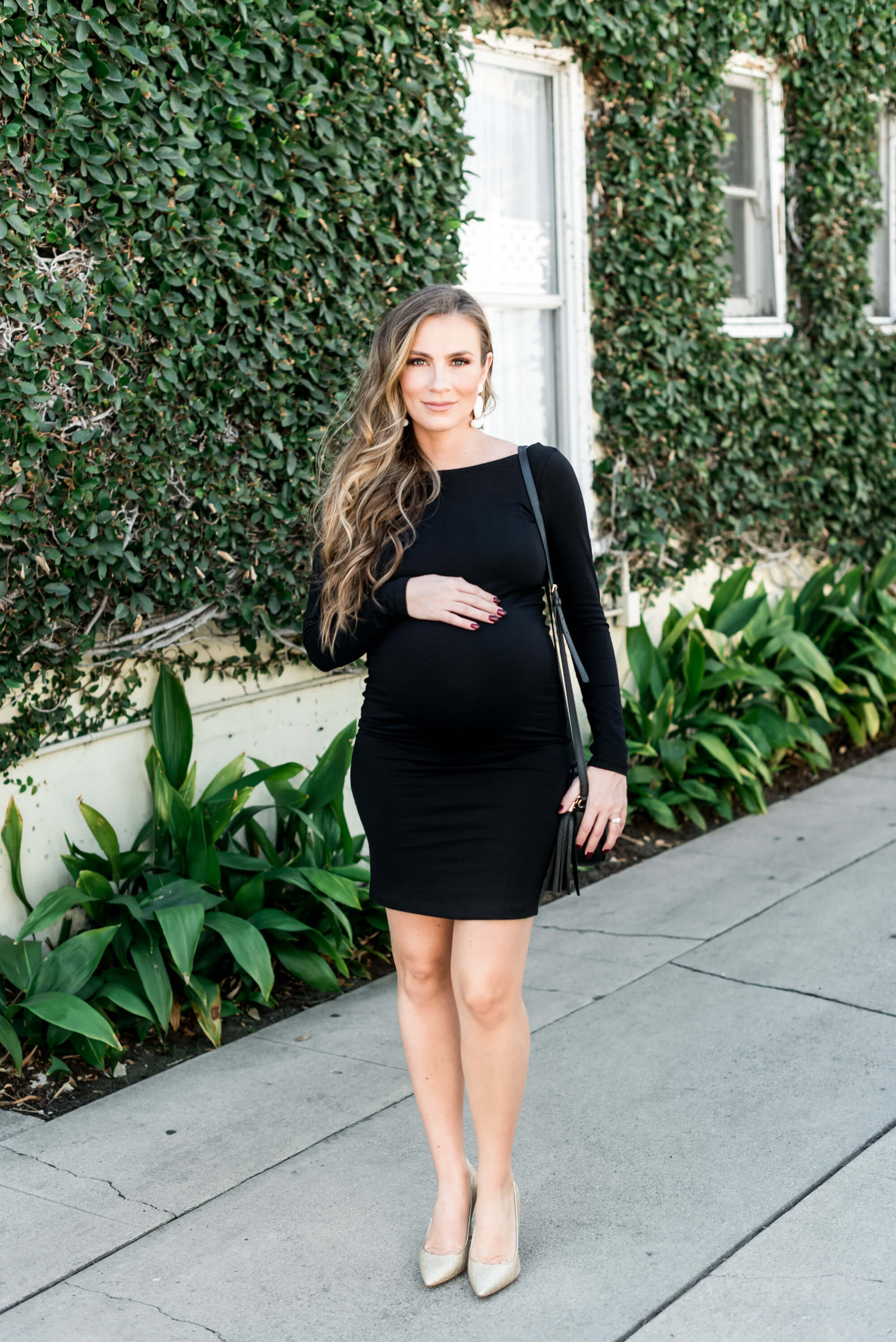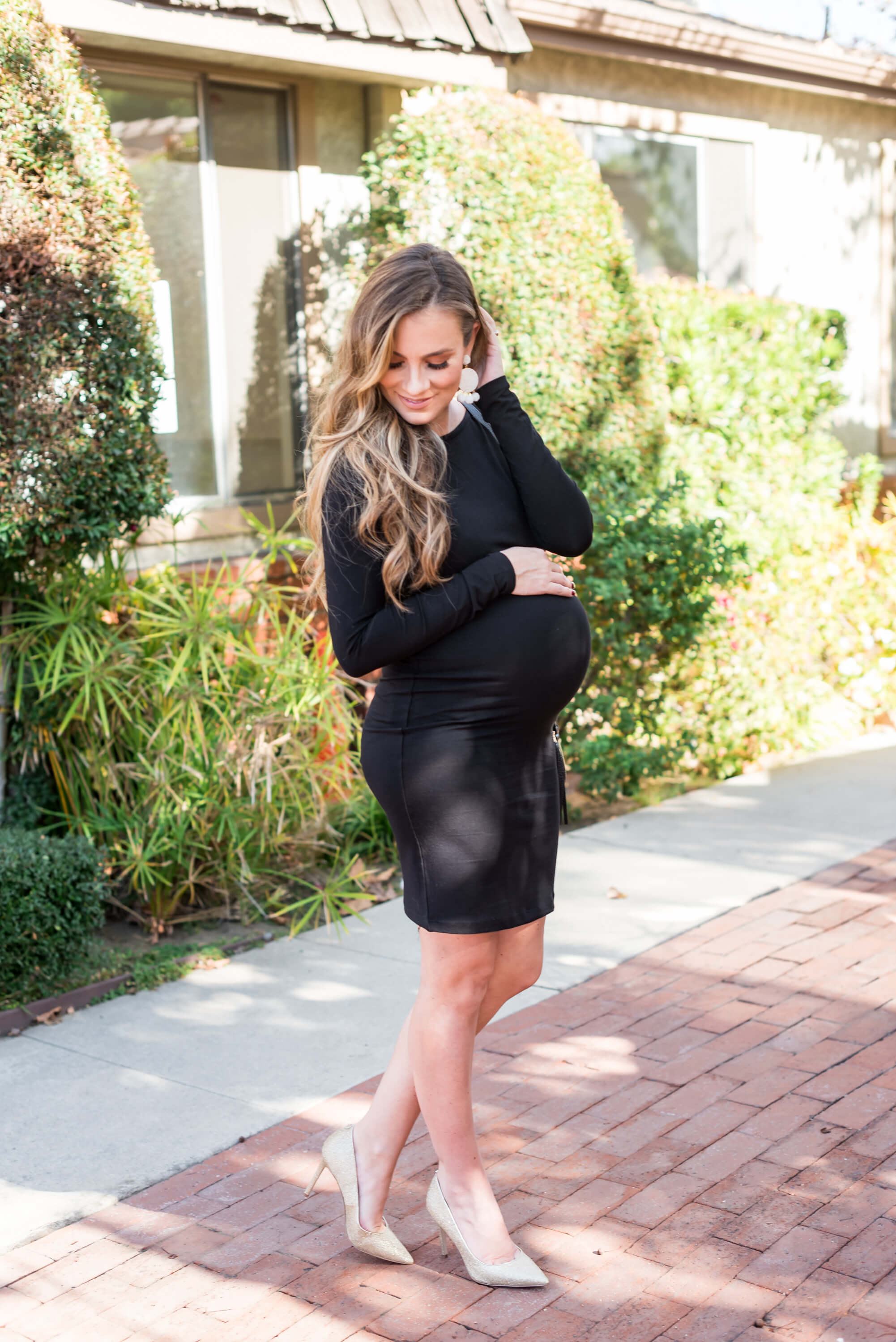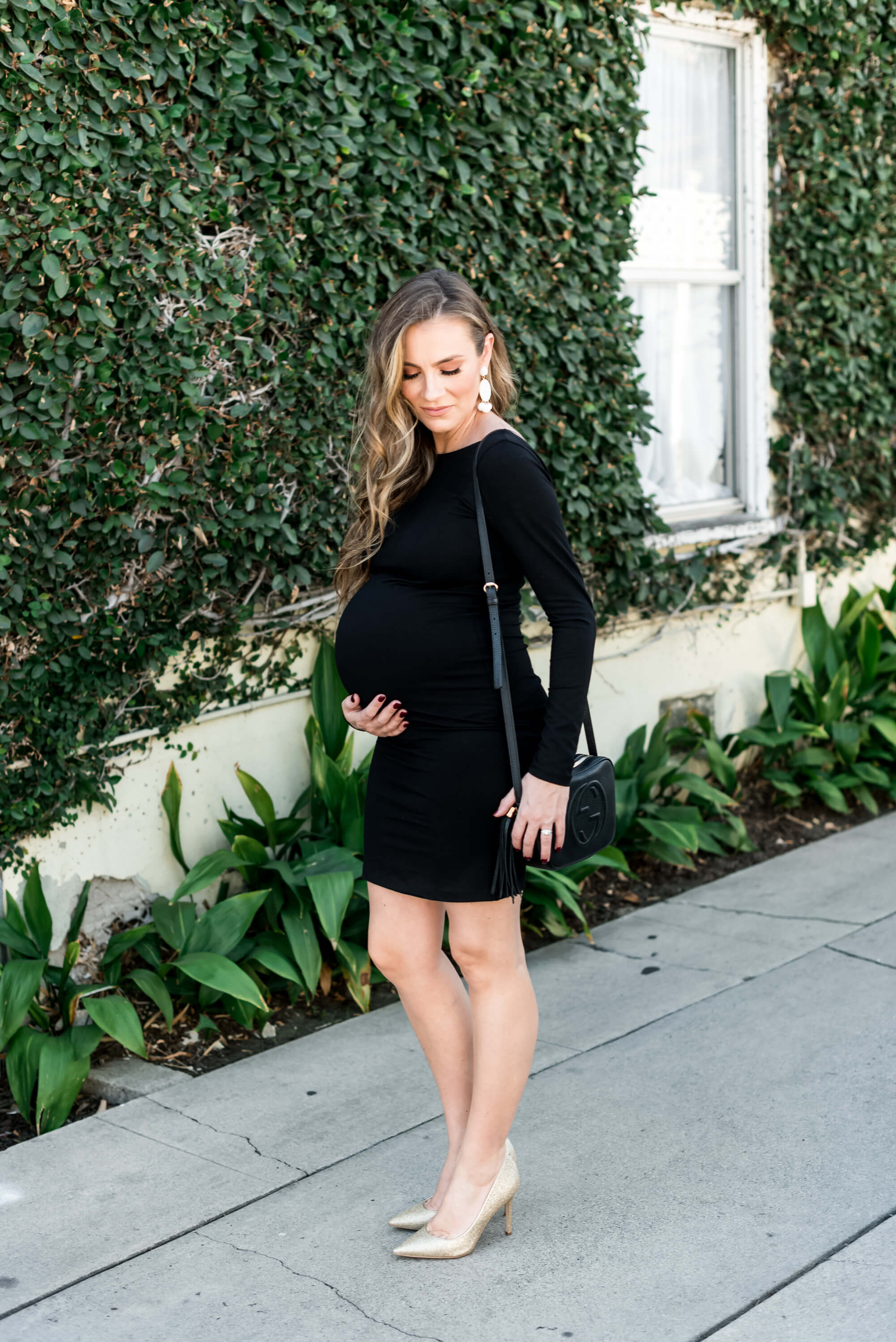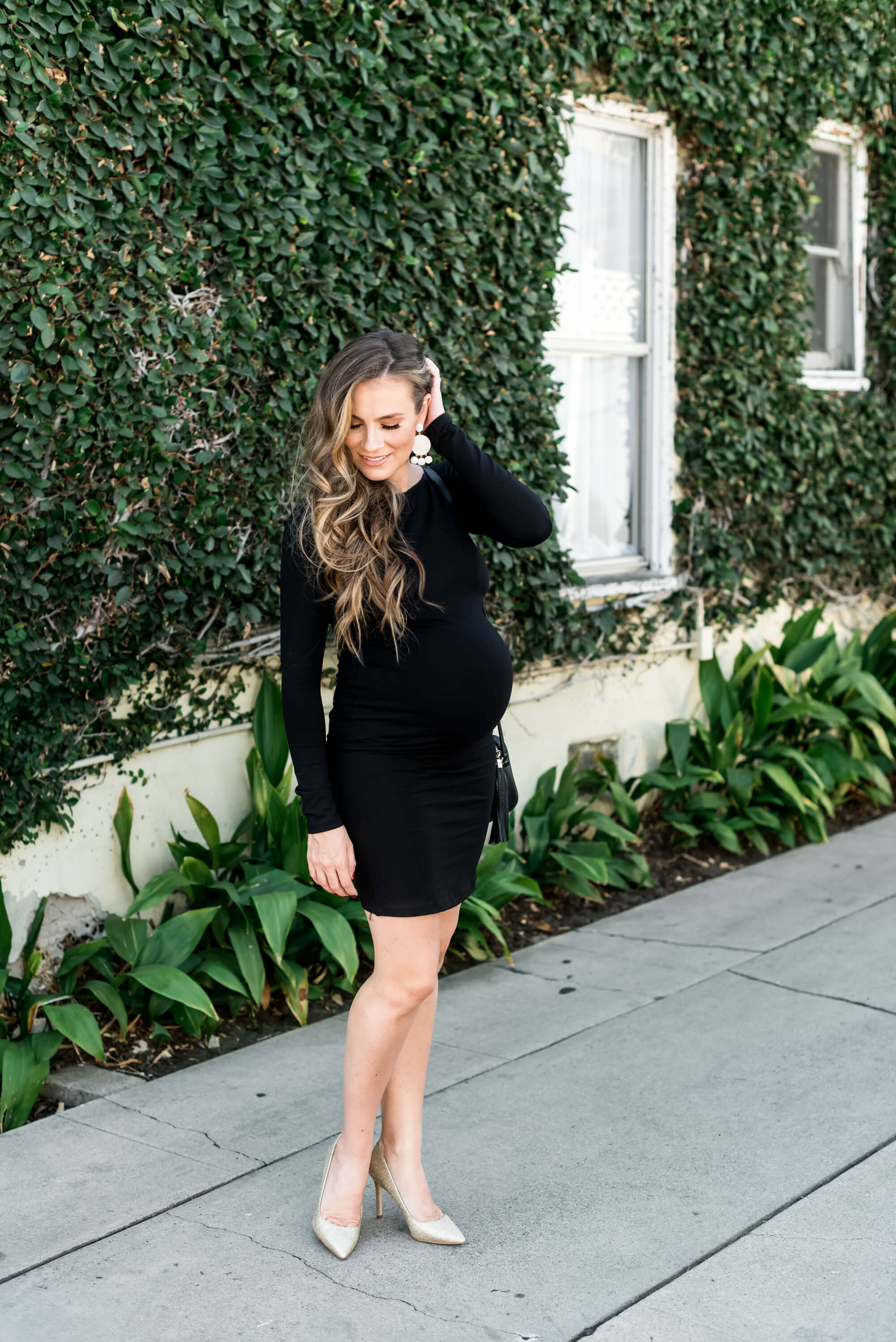 Dress: Matron Saint [c/o] | Heels: Sam Edelman [c/o] | Earrings: Baublebar [c/o] | Handbag: Gucci
I shot these photos for a New Years Eve look, but never got around to posting them because little lady made her big debut before NYE even rolled around! If you're looking for a date night look, this fitted black dress, statement earrings and sparkly shoe combo is a winner, pregnant or not.
As I look back through my pregnancy photos, it's incredible to see what my body went through. God created us women to be walking miracles and I'm so proud to be a woman.
If you listen to our podcast, Hello Baby, we chat a lot about life with baby, but I wanted to dedicate today's blog post to me, after baby. I want to highlight my body changes and how I've been feeling. So, as usual, I'm keeping it real for y'all… You know how I roll, lol! A lot of what my body has gone through after baby has been a surprise to me. After going through this process with several girlfriends at the same time, I realized that each mama had her own series of symptoms she experienced. We women truly are unique in every aspect of life. So if you're expecting your first little one, just know that you may or may not experience all of these body changes below.
---
13 Postpartum Body Changes – My Three Month Update
Hair loss: I haven't noticed the dreaded three month hair loss yet… I have been taking as many precautions as possible to prevent it including vitamins, hair products and even washing my hair less often than normal.
Eyelash Loss: This came as a surprise to me. My lashes look pretty darn pathetic, which is why I started getting lash extensions recently. It's not recommended to use lash growth serums while pregnant or nursing, so extensions it is!
Weight Loss: I gained a total of 34 lbs. during my pregnancy and now have about 8 lbs. left to lose. I've heard that you hold onto 5-10 lbs. while breastfeeding and those final pounds come off once you stop nursing. Chime in below with your postpartum weight loss experiences.
Skin: My skin looks the best that it's looked since I was on birth control. I've had virtually no pimples and only a single blackhead here or there. The one thing I have developed postpartum was a nifty form of dermatitis, which has pretty much cleared up with some nursing-friendly topical treatments prescribed by my dermatologist.
Moles: I'm one moley girl and pregnancy only added to that problem for me. Some of the moles I already had stretched and stayed that way but the worst part was all of the new moles I developed. The new moles are primarily skin tags which (thankfully) are easy to have removed.
Nails: Probably a result of the post-natal vitamins and surging hormones, but my nails are growing much faster than usual.
Night Sweats: No one, not a single woman in my life, prepared me for the night sweats that occurred immediately after birth. It took weeks before the sweats finally stopped, but they helped remove a lot of the water I was retaining throughout my pregnancy.
Digestive: The pregnancy gas disappeared after birth, but along came a new problem to fear: constipation. I was given medication as soon as I was able to have fluids in the hospital to prevent constipation and I'm so thankful I obeyed those instructions. I've found that most foods containing fiber are the foods that cause gas in babies, so constipation continues to be a concern even three months in. I combat that by continuing to take Natural Calm at bedtime.
Vagina: Being the naive first-timer that I am, I assumed that I wouldn't have the postpartum bleeding since I had a c-section… Wrong! You have a 6 week-long period whether you deliver vaginally or via cesarean. So, yes, you do need a boatload of maxi pads (no tampons allowed) and the handy-dandy squirt bottle for each and every bathroom trip you make.
Boobs: We have an entire podcast episode dedicated to my breastfeeding journey coming soon, that's how much I have to talk about on this topic. I've experience bleeding nipples, engorgement, cluster feedings and so much more. My boobs now dictate my day… When they're too full, they hurt really bad and either I need to nurse or pump. Breastfeeding is hard. It's one of the most rewarding things I've done, but it's hard. Still, I love doing it. I love knowing that I'm able to provide my baby with everything that her little body needs.
Sleep: Ah what I'd give for a full night of uninterrupted sleep. MacKenlee is sleeping like a champ, it's me that's the problem. I have to pump late at night or my full breasts wake me up. Then I wake up multiple times throughout the night to check on baby girl and make sure she's ok. I keep hoping that one day soon I'll be able to sleep peacefully.
Pain: Unfortunately, I have nerve damage from the spinal block that I still haven't recovered from. I now suffer from low back numbness and right leg pain daily. This is highly unusual, so of course it would happen to me, lol. I'm getting regular deep tissue massages and chiropractor care in hopes of a full recovery.
Emotions: I could (and maybe should) write a book about the emotional roller coaster you take a ride on after birth. I stupidly thought I was above the postpartum blues… Wrong again, Ang. I cried for no reason the day I came home from the hospital. Scratch that, I sobbed for no reason. I sat on my swing with a two week old baby while my husband slept after working all night long and cried from loneliness. I teared up every time I remembered that I no longer had my sweet baby in my belly. I looked at my newborn baby and felt so out of my mind with worry that I didn't have any idea what I was doing… In hindsight, all of the crazy emotions I encountered these past three months were way less dramatic than I felt the were at the time I was living them. Everything is heightened when your hormones are raging. I felt like my emotions finally leveled off at about the 6 week mark, and I started to emotionally resemble myself again.
Leave your postpartum symptoms and stories below so I know I'm not alone in all of this!
Photography by Kara Coleen.