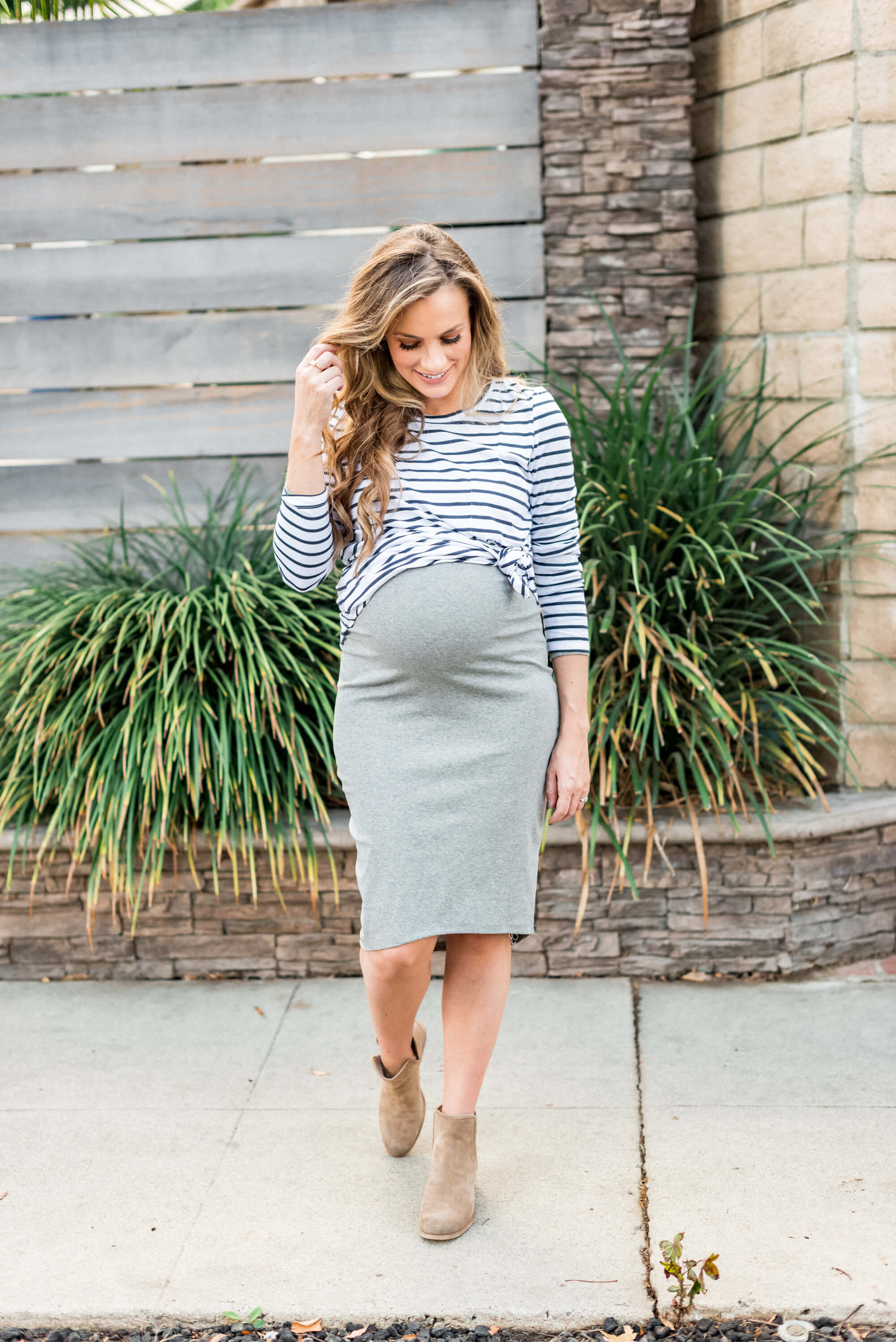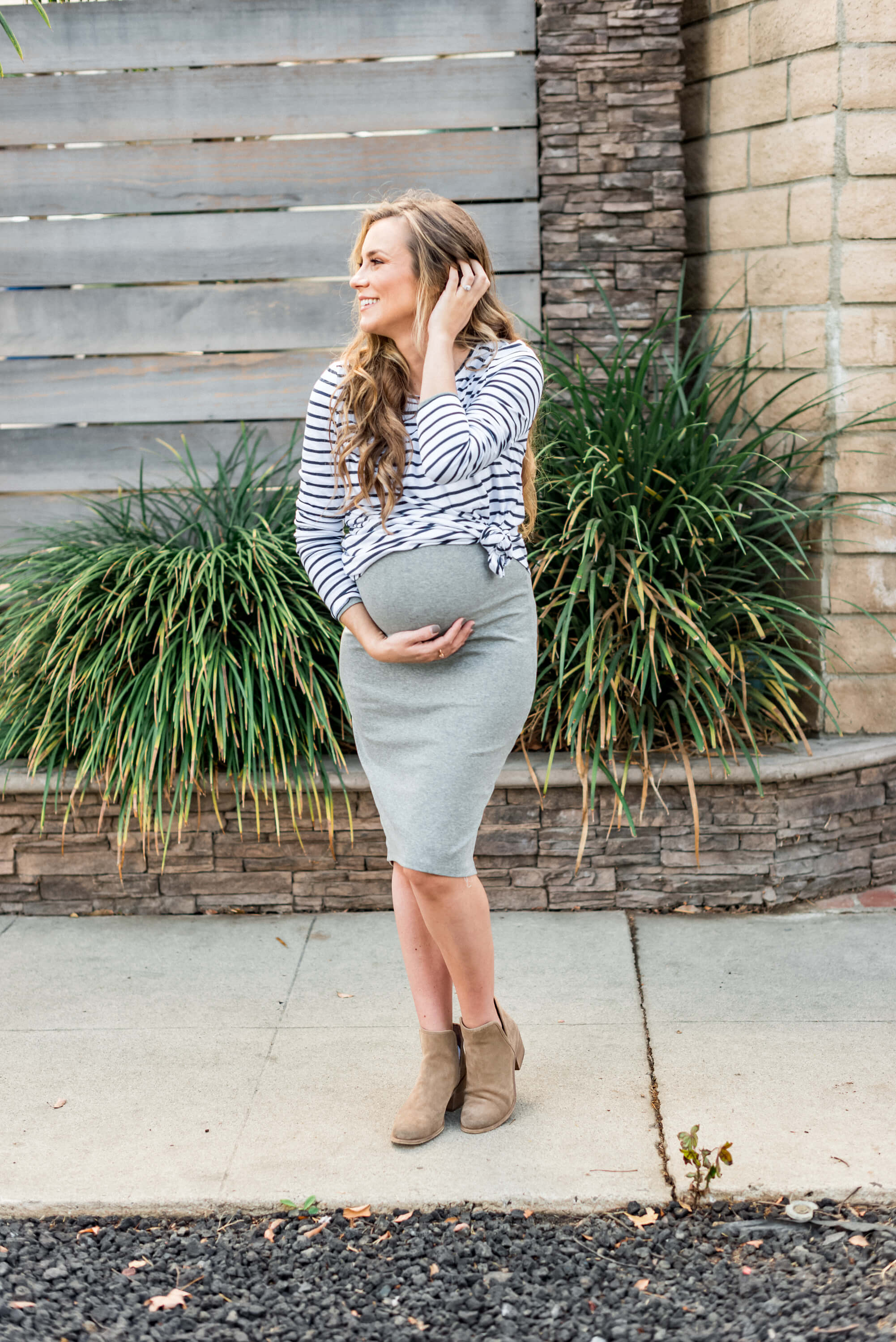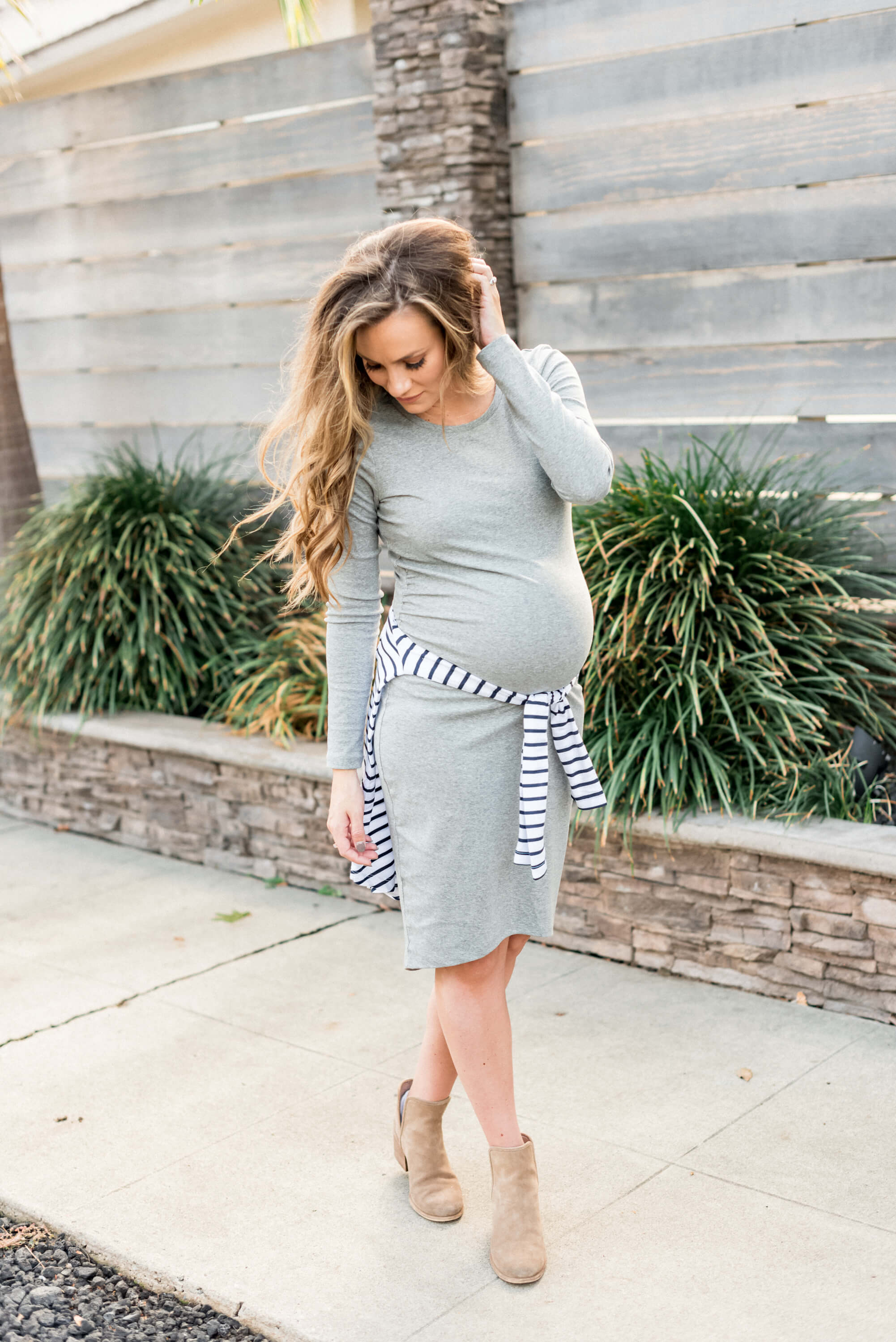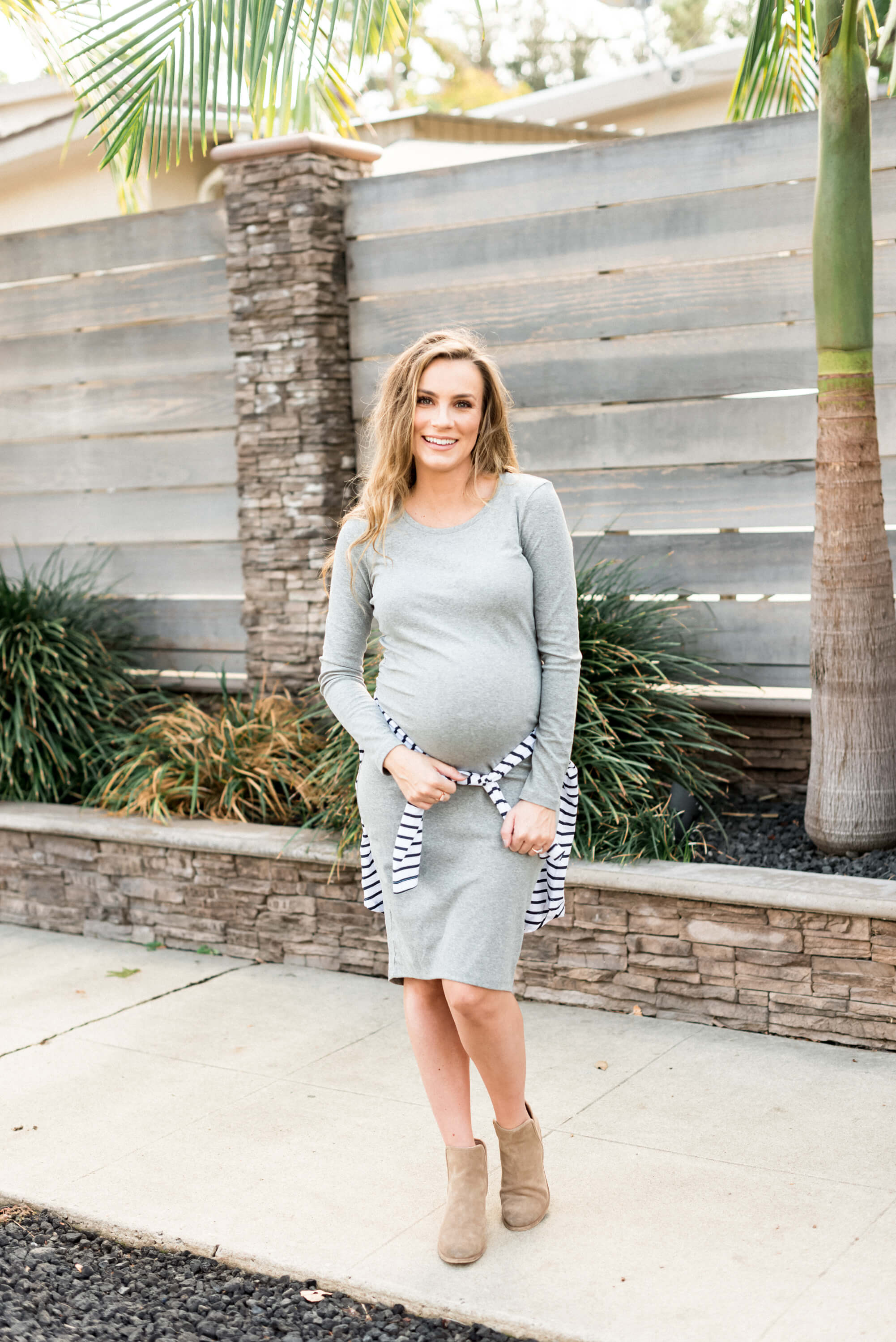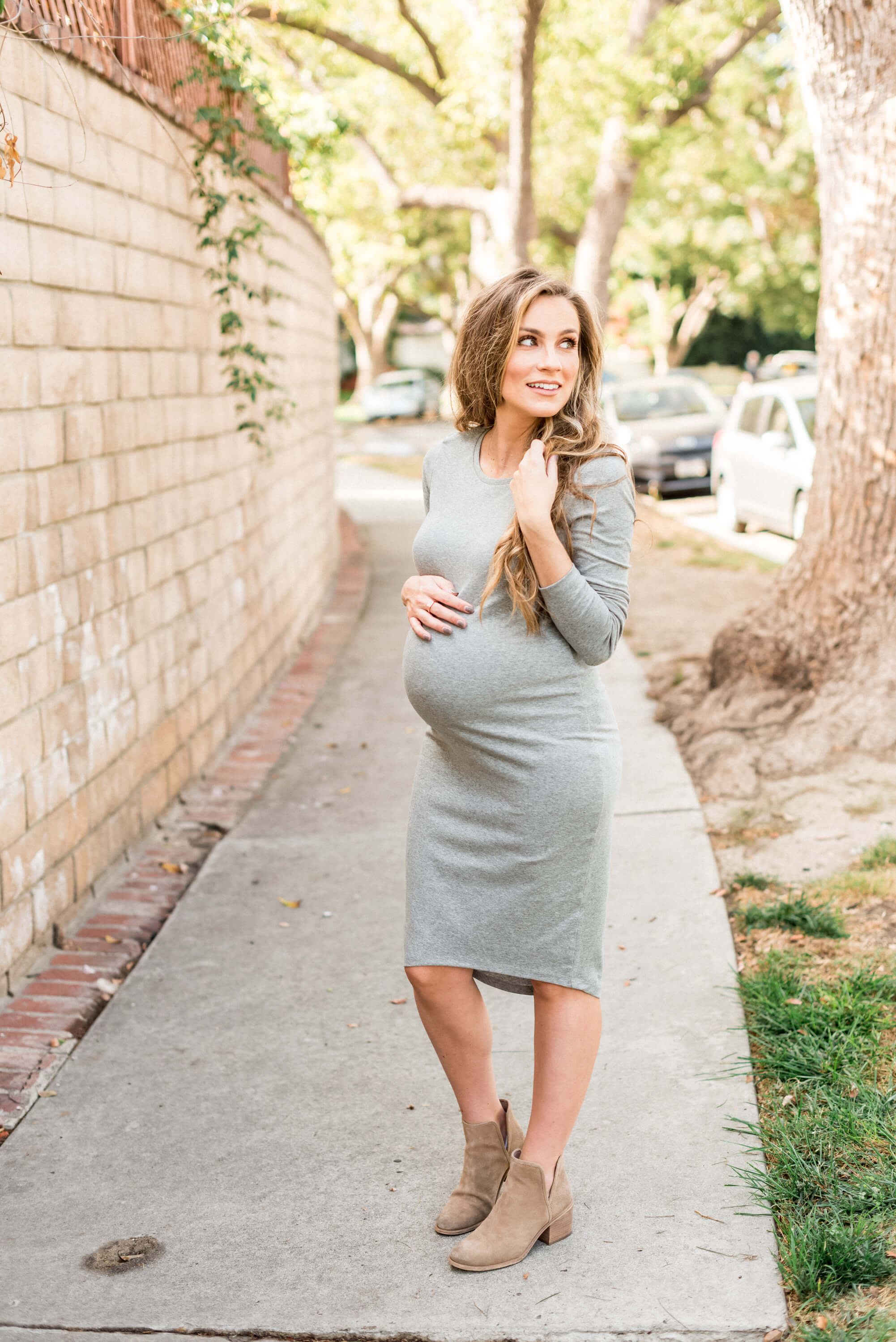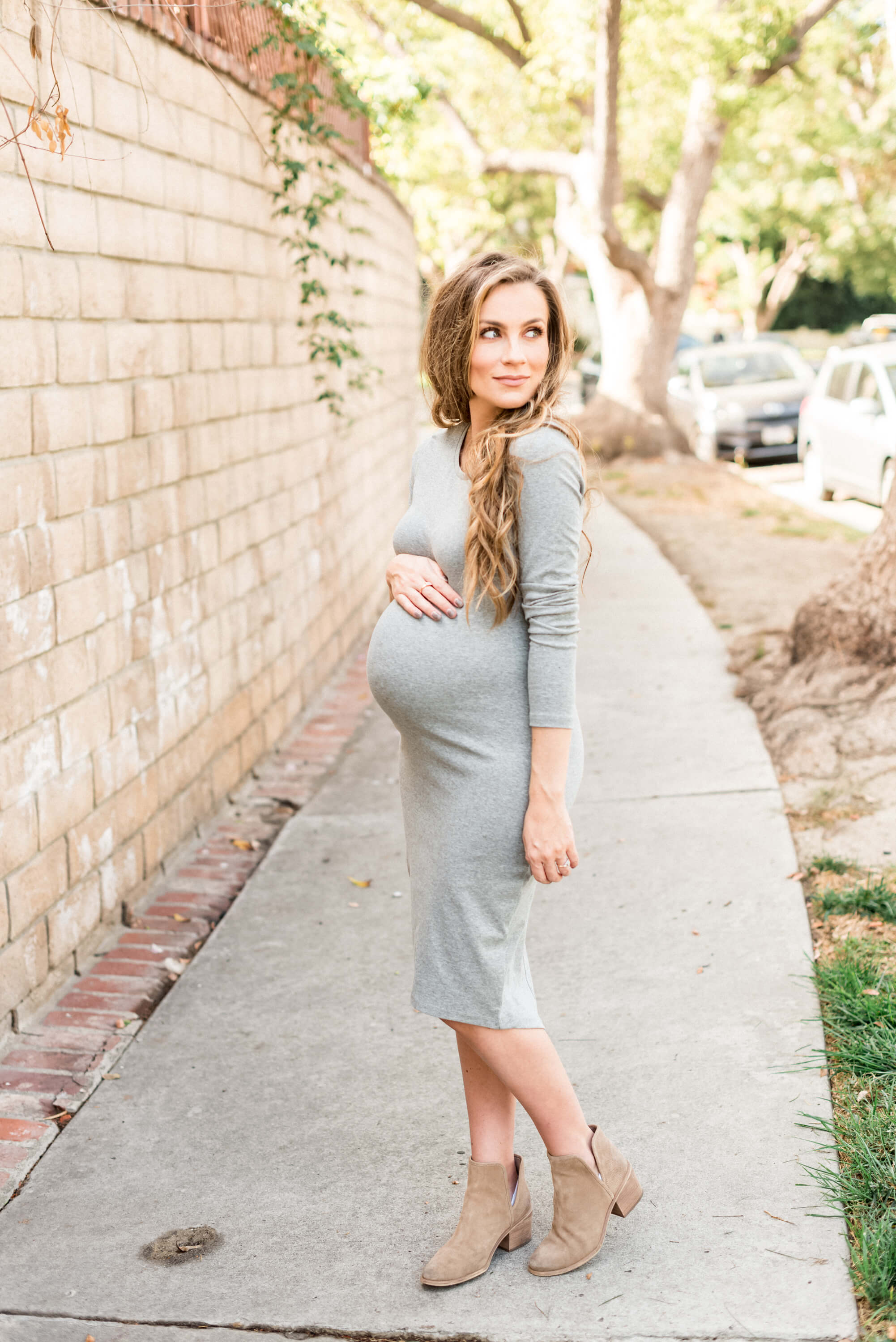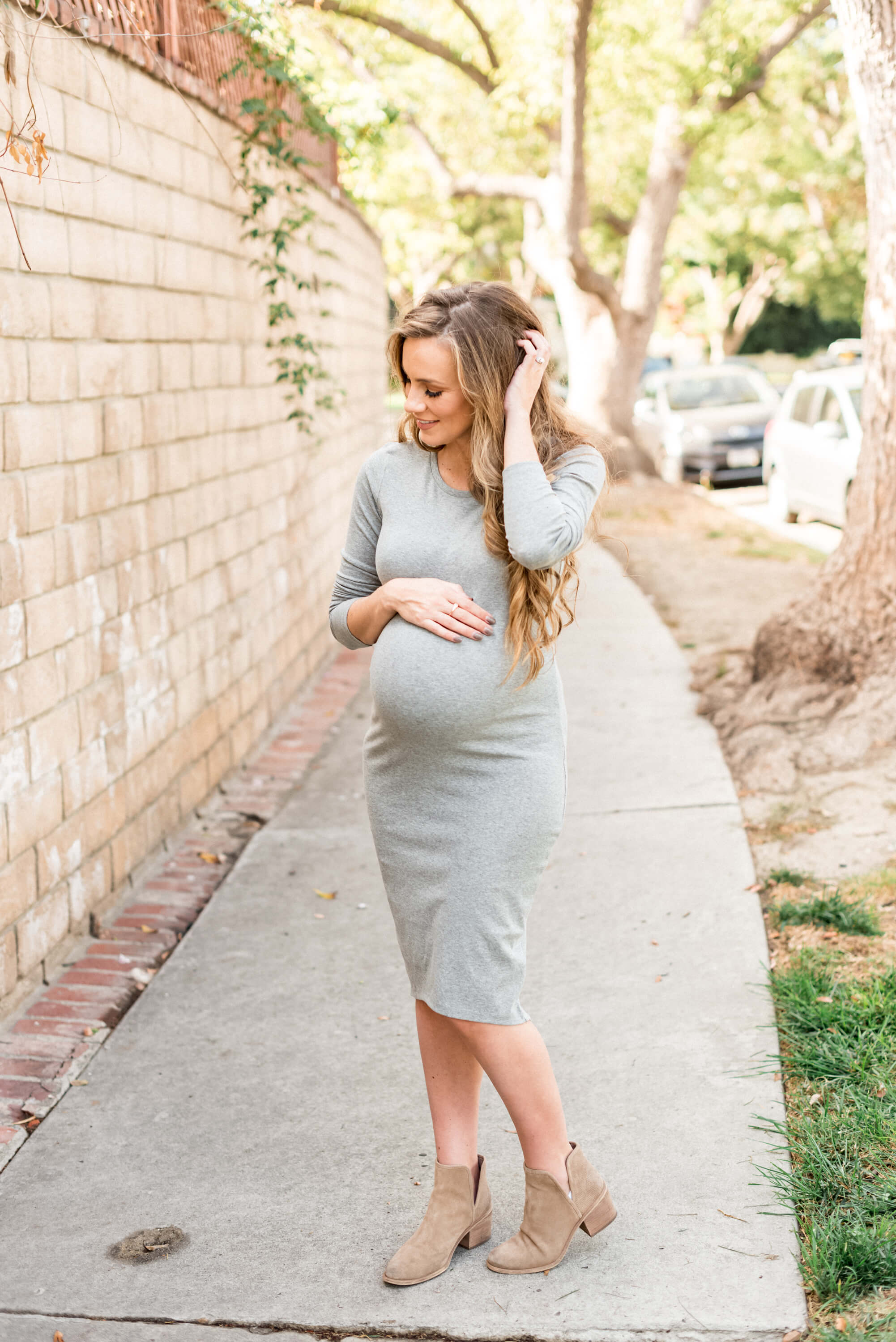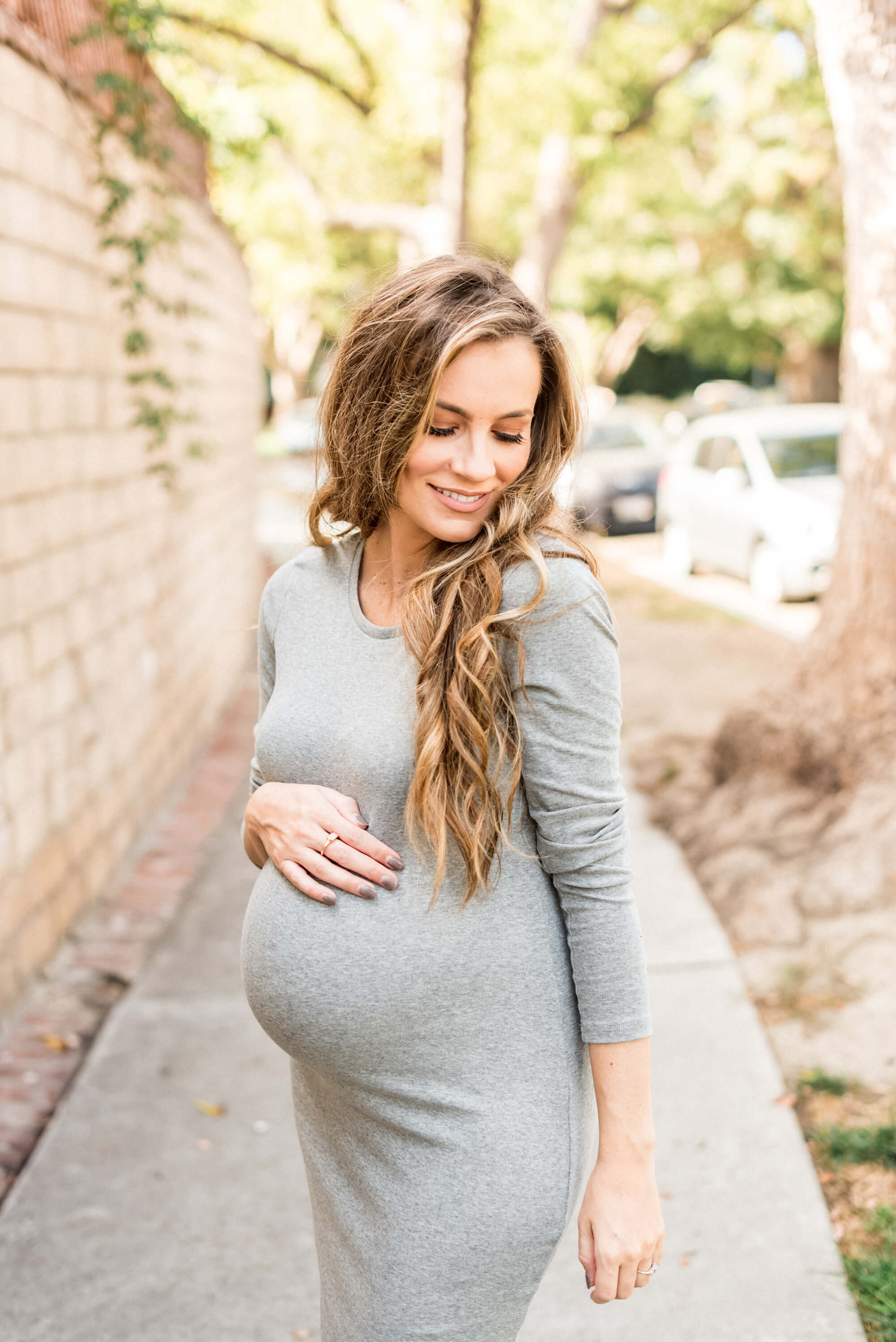 One of my favorite parts of pregnancy so far has been styling this baby bump. I've had so much fun mixing maternity with non-maternity pieces to create outfits that are super stylish while still being comfy. Honestly, the key ingredient to maternity fashion is comfort.
Gone are the days when women only wore tent-like mumus trying to hide their expanding midsection. Women nowadays show off their bumps with pride, which is exactly how it should be in my opinion. After nearly 8.5 months of styling this ever-changing body of mine, I wanted to write a post with my best tips and tricks for dressing your bump.
How to Dress While Pregnant:
Buy basic pieces. Steer clear of the trendy pieces that are recognizable. Instead, purchase basic tops, dresses and bottoms that can be worn over and over again throughout your pregnancy. This blog post is a perfect example of a basic dress. These pieces will also come in handy postpartum as your body adjusts to being a new mom and losing the baby weight.
Invest in at least one pair of great jeans. When I say great jeans, I mean jeans that A) make your butt look great and B) are actually comfortable. My favorite maternity jeans have been from Paige, Ingrid & Isabel and Madewell.
Learn to layer like a pro. Layers can be so chic in Fall and Winter, and pregnancy doesn't change that. Just because you have an growing belly doesn't mean you can't wear your favorite layering staples. Pull out those cardigans, puffer vests, blazers and jackets that you love and just wear them open over a basic solid or striped top.
Size up. Some of my favorite looks during pregnancy have been from my go-to non-maternity brands (such as my baby shower dress) and I just simply sized up for the perfect fit.
Shop online. I hate dressing rooms. I'm much more likely to keep a piece and love it if I first try it on in the comfort of my own closet than in the horrible lighting of most fitting rooms. So many online retailers allow us to turn our home closest into our own fitting rooms with free shipping and returns, so be sure to take advantage. Hey, there's no strings attached!
Make sure you're comfortable. Like I said above, comfort is key during pregnancy. If you try something on and you're not comfortable in it, I can almost guarantee you that you won't get your money out of it during pregnancy.
Buy a Bellaband. I'm no longer wearing most of my non-maternity jeans, but with the help of my Bellaband, I was able to wear them much longer than I thought possible.
Go for the dresses. I'm promising you, dresses are your best friend while pregnant. It's amazing not having a waistline irritating you all day long!
Get maternity undies. I don't care what anyone says, maternity undies (and bras) are a must in my book. The day I switched over to my maternity panties it was like I became a whole new, happier person. Read more about my favorite undies in this blog post. I'll recap my second trimester soon and chat more about bras in that post.
I hope this helps to take the pressure off and makes you realize that buying an entirely new wardrobe for your pregnancy isn't necessary. But one thing I want to remind my fellow mama-to-be's out there… Embrace this season of life. Our bodies are growing a little miracle, so every symptom and change we experience is worth it (I know, I know… I'm preaching to the choir right now as I sit here with sciatica, lol!) But seriously, don't be ashamed of your belly, love on it, show it off proudly and be excited to dress it. It's only 9 months that we get the opportunity to do these fun things. 🙂
Photography by Kara Coleen.
Thank you to Bae the Label for sponsoring this post.
What I'm Wearing:
Dress: Bae the Label Grey Maternity Dress || Top: Bae the Label Striped Tee || Boots: Hinge Barris Block Heel Booties