I'm so excited to share this post with y'all! My pink and white fall baby shower turned out absolutely adorable. Here's a comprehensive look at all of the fall baby shower ideas that my family used.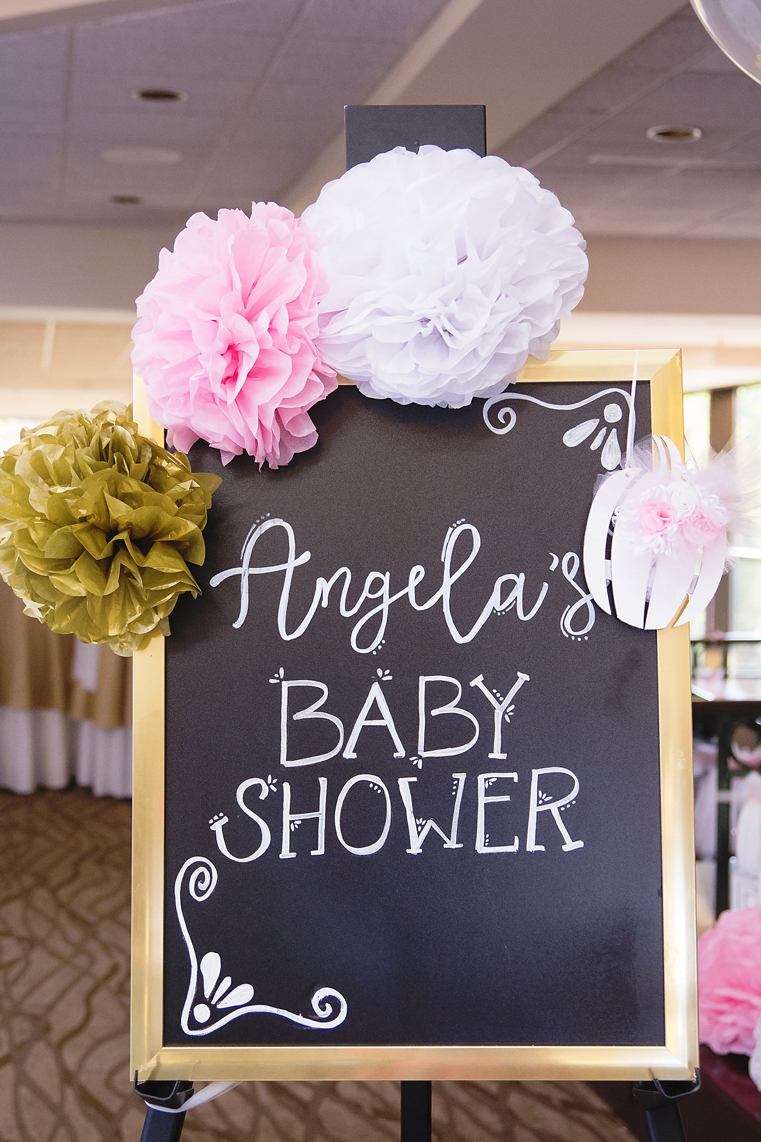 In case you missed it, earlier this month I shared what I wore to my Ohio baby shower in this post.
The baby shower was hosted at the Sheraton Hotel in Cuyahoga Falls, in the ballroom overlooking the river.
I'm sharing the shower and all the fun details with you in today's post. This week on Hello Bump Podcast, Matt and I chatted about our trip home to Ohio and the shower… But now, I get to actually show you how everything turned out.
First up, and let's be honest, most importantly, is desserts.
The desserts and dessert table were adorable. I love how coordinated they were with the colors and theme.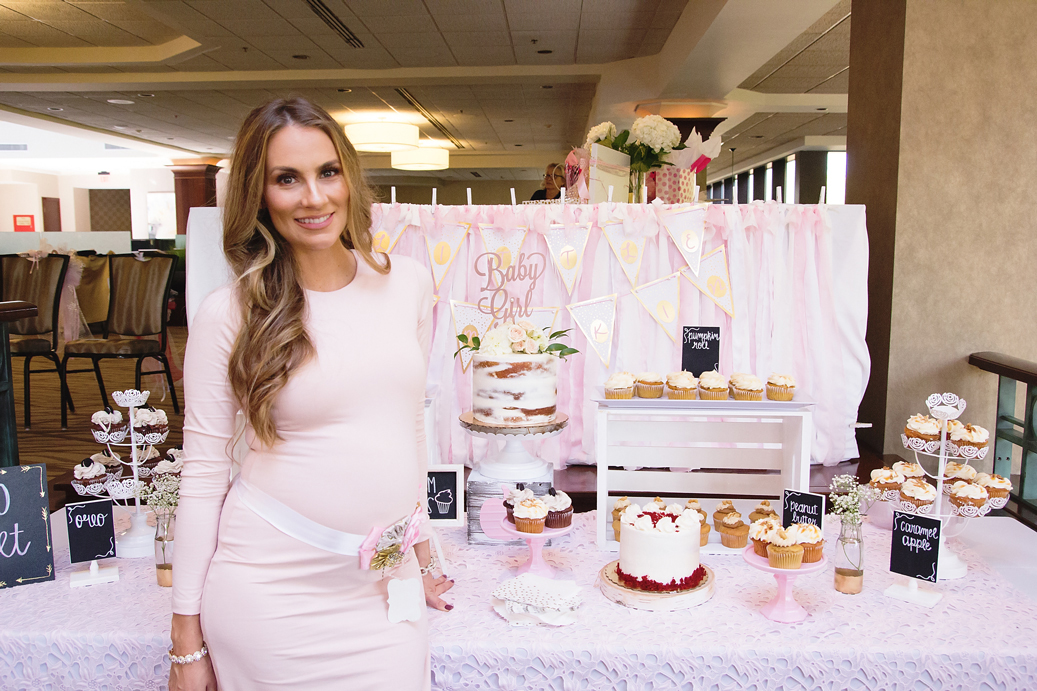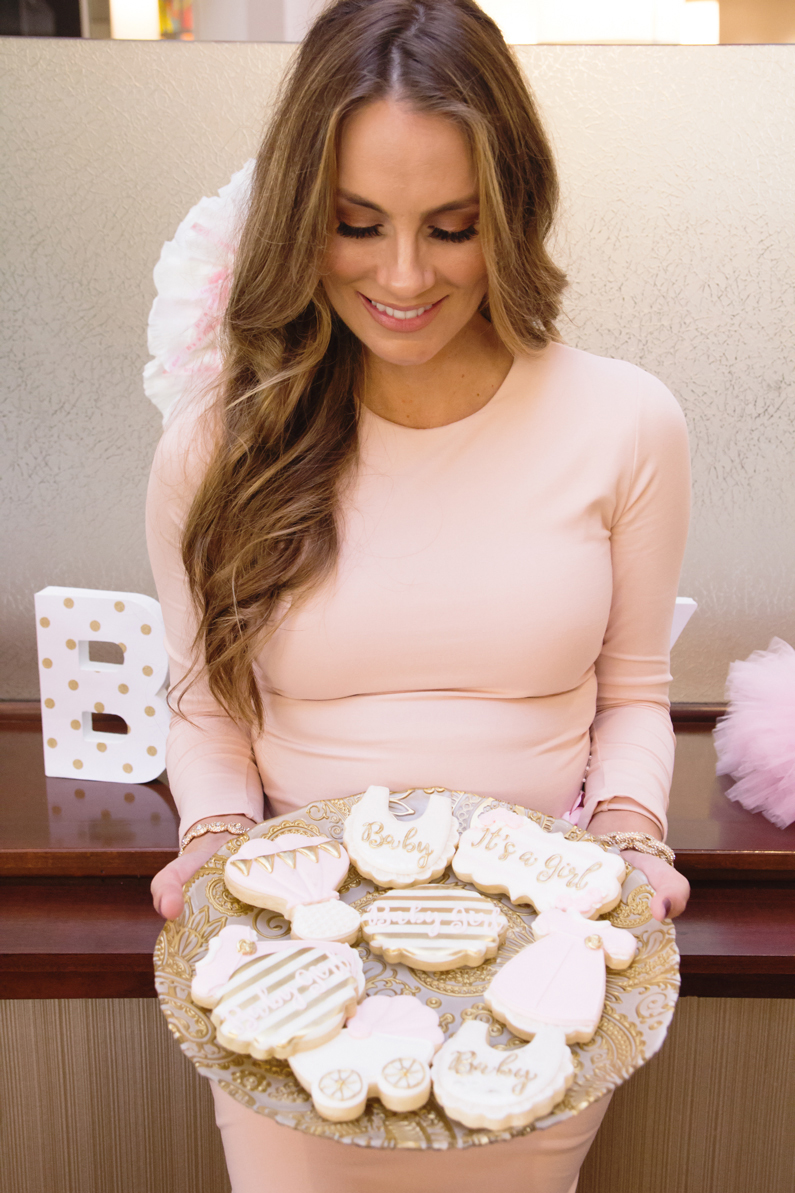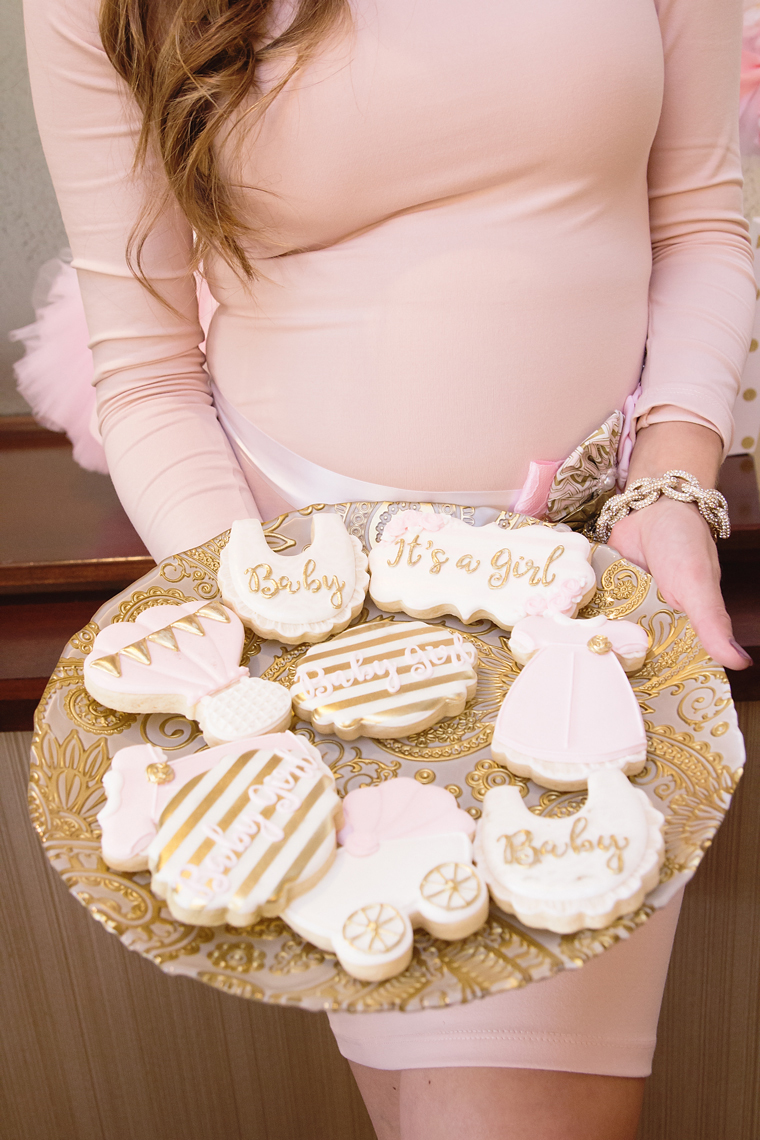 Gold and Pink Shower Cookies: Sugared Hearts Bakery [c/o]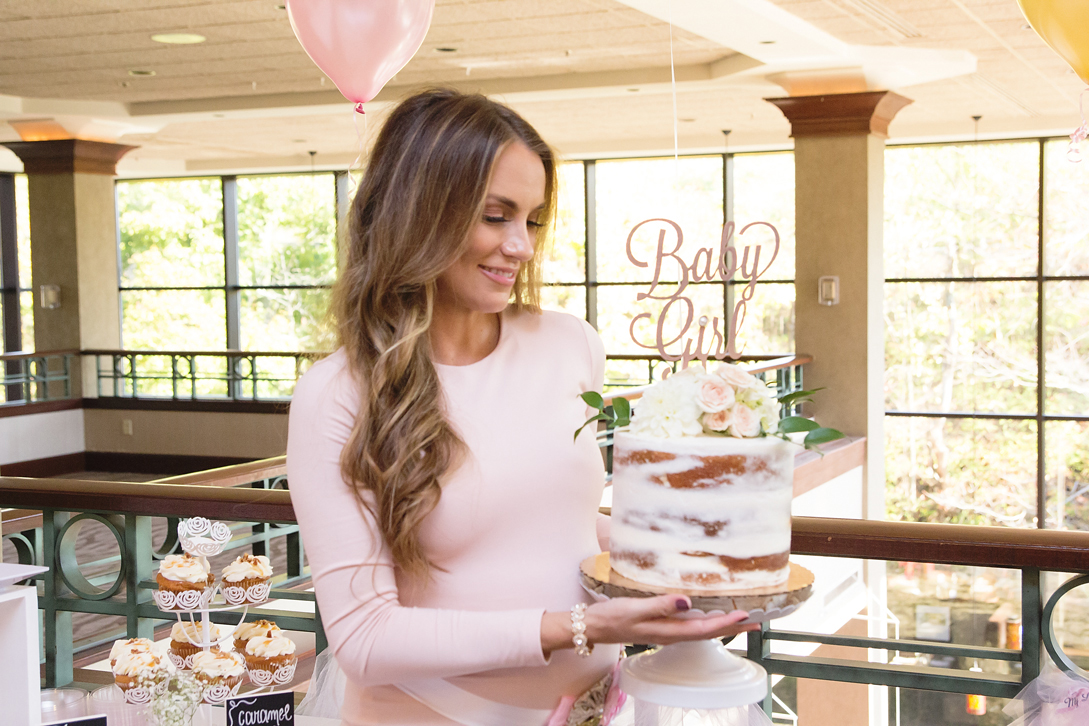 Naked Cake: Cake Wasted [c/o]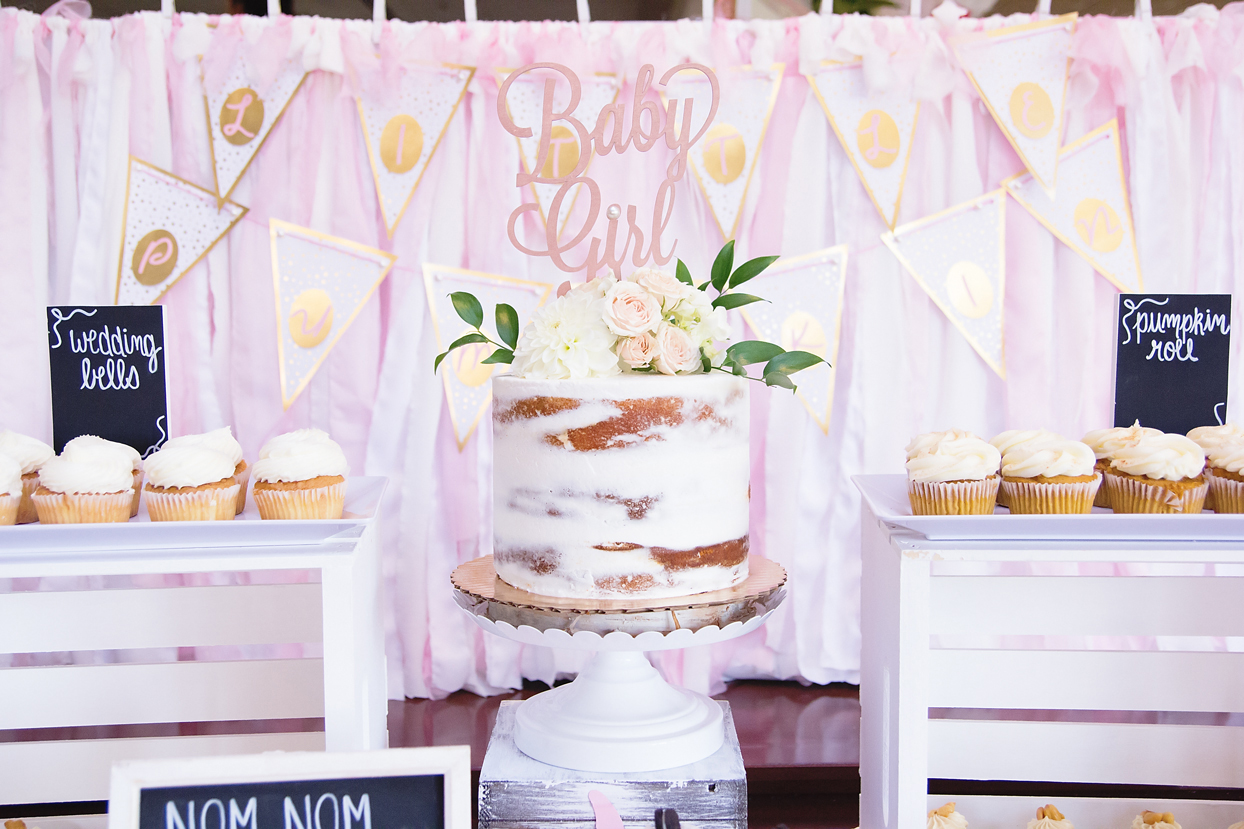 Baby Girl Cake Topper: PS Weddings & Events [c/o]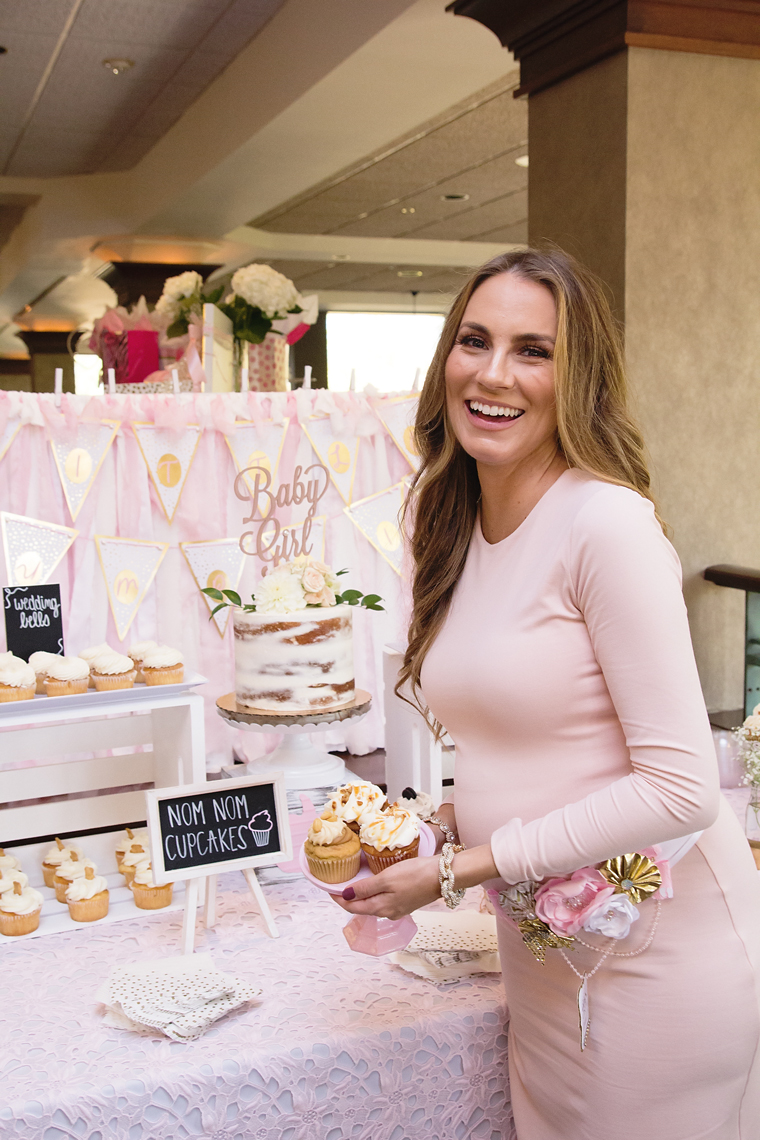 Cupcakes: Nom Nom Cupcake Factory [c/o]
Belly Sash: Bridal Bling N Bowtique [c/o]
My mom and cousin Mindy made these darling white and pink wreaths that you see above. If you look closely, the details are so personal to me and my baby girl. Such a special touch!
SO many cute fall baby shower ideas were used. The pink and white theme was chosen because that's the color of baby girl's nursery.
The wreath on the far left has a rocking horse and the wreath on the far right has a tiny white dress.
Don't miss the white pumpkins with pink tutus ad rose gold pumpkins along the ledge as well.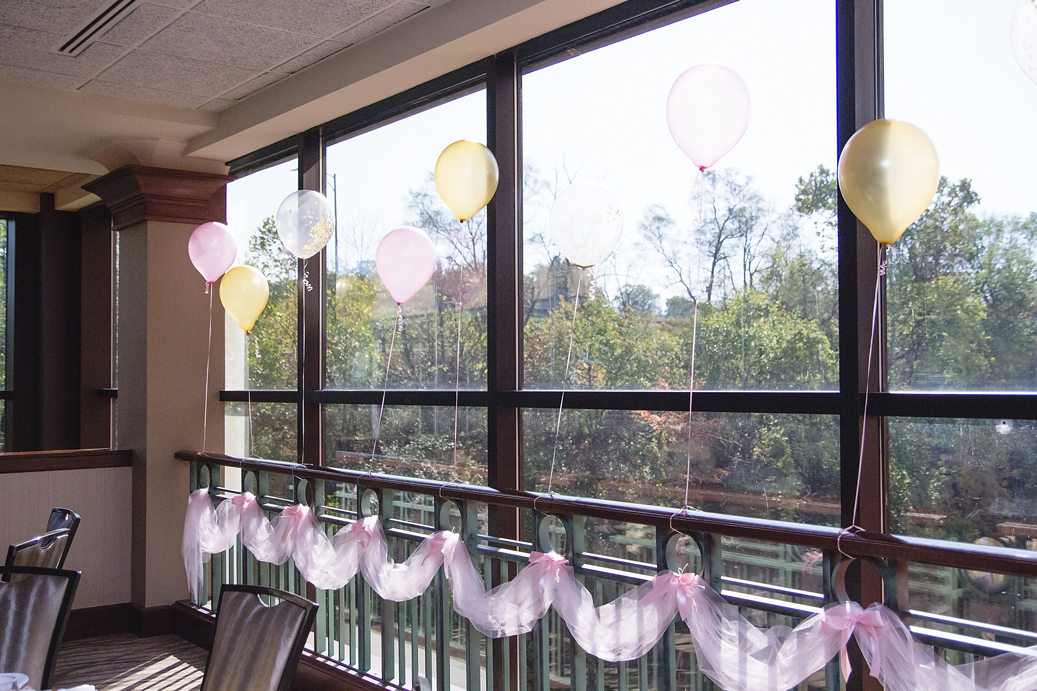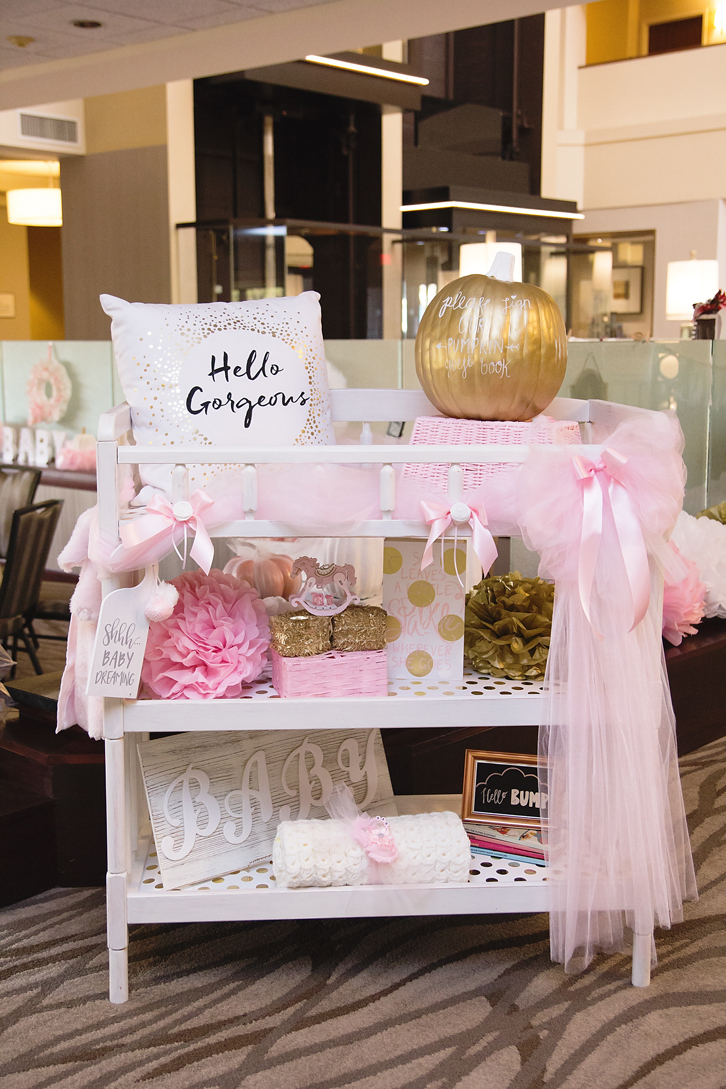 My mom and cousin repurposed this changing table as the welcome sign at the entrance of the shower. I love that they found a Hello Gorgeous pillow.
The gold pumpkin on the top shelf was our guestbook. Guests signed in with a white marker, which was so cute and such a personal touch.
The pom poms on the middle shelf were all over the shower and so cute. The tissue paper pom poms were from Paper White Designs.
On the bottom shelf, the white blanket was mine as a baby and was knitted by my mom's best friend's (my Mama Jean) grandmother.
Don't you love the Hello Bump sign?! Under the sign is a stack of my favorite books as a little girl.
I'm loving all of these fall baby shower ideas.🤍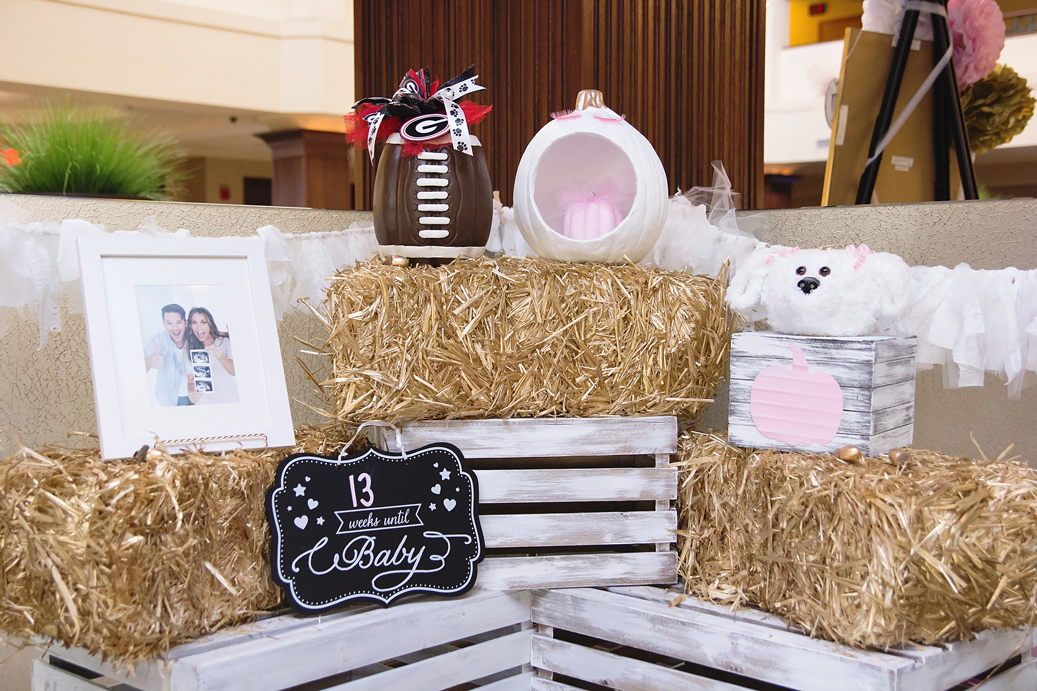 How cute is this little corner! One of my favorite fall baby shower ideas. 🥰
My mom and cousin Mindy made these pumpkins: UGA for daddy, the glam pumpkin (hello pink lashes!) with a baby pink pumpkin in the belly for me and even a puppy Soka pumpkin too.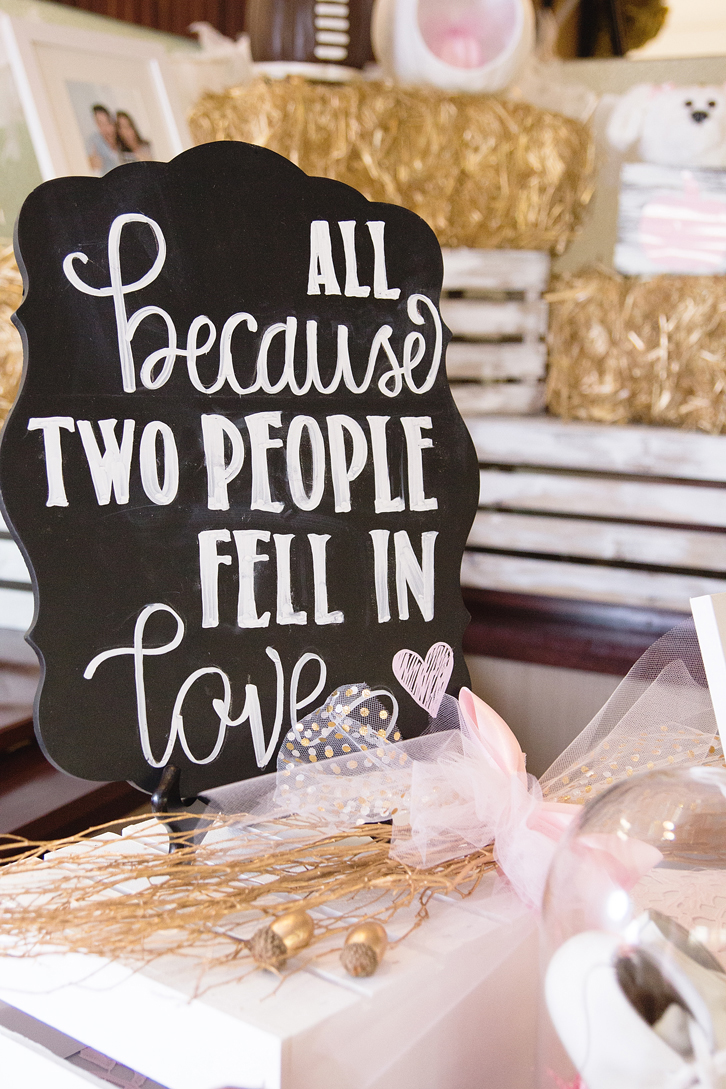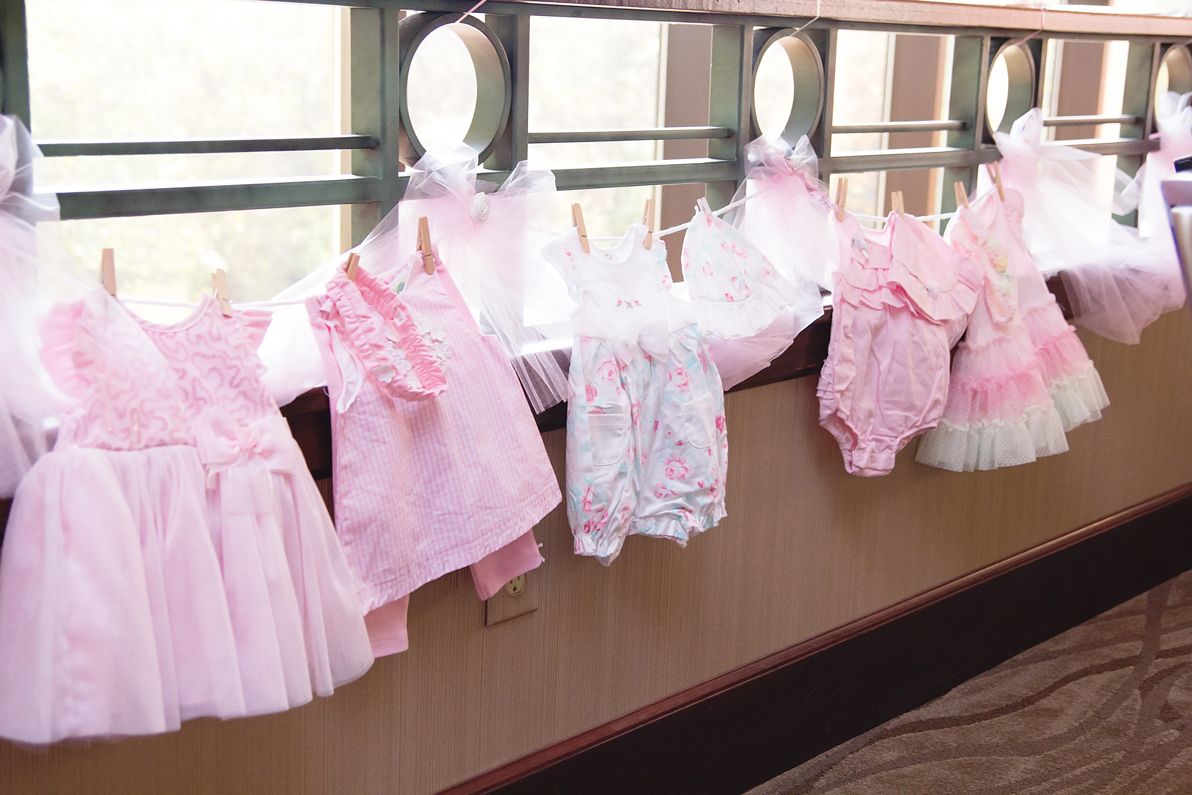 Along the other wall was a clothesline of baby girl clothes from one of my favorite brands, Little Me. I love that these were dual purpose, both decor and clothes for our little one.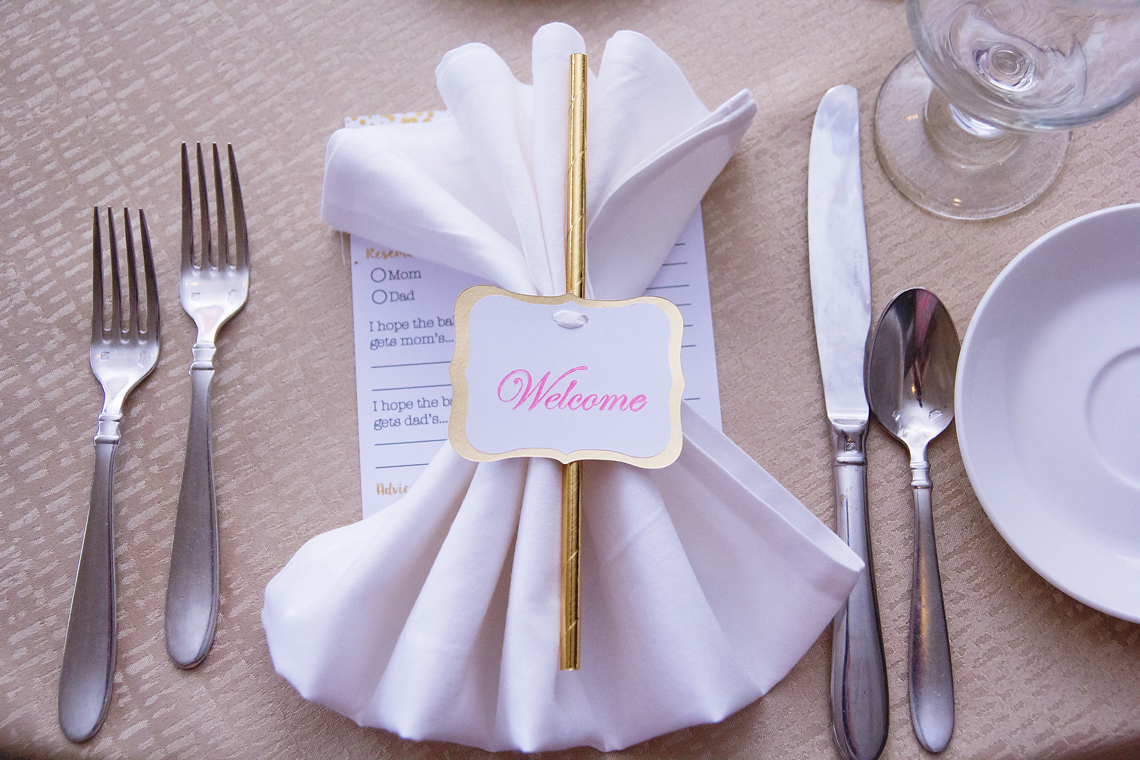 My Aunt Patty made these cute Welcome napkin holders paired with gold straws for each place setting.
So many special little details were added everywhere you looked.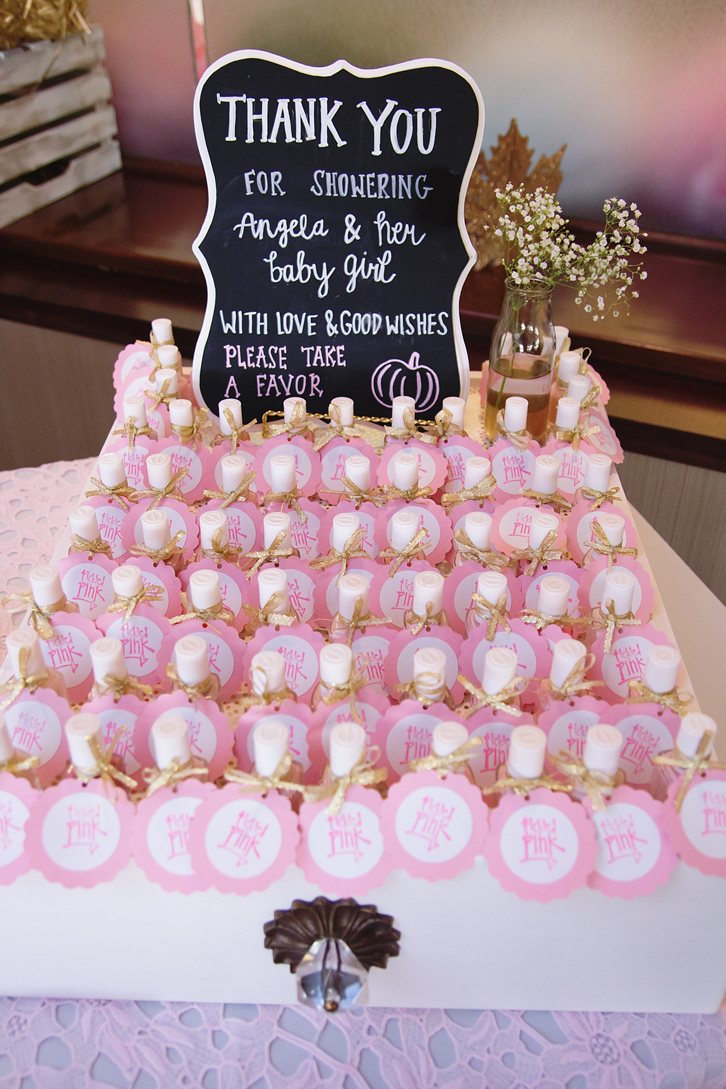 Last but not least, the favors.
Essie nail polish is hands down my favorite polish brand, so of course I'm going to pass down my pink polish love to my little girl. Loved the personal touch of the Essie pink polishes with the "Tickled Pink" tags made also by my Aunt Patty.
Aren't all the details and special touches so perfect?
The shower couldn't have been more perfect.
I loved the pink, white and gold, "our little pumpkin" theme, it was perfect for our pink and white baby fall shower. Everything was so pretty and feminine and special.
The amount of thought and time that everyone put into the shower was evident in all of the pretty little details.
A huge thank you to my mom, cousin Mindy, Aunt Gina, mother-in-law, cousin Jen and more who all pitched in to make this day of celebration so beautiful and full of love.
I hope that you enjoyed this peek into our special day celebrating our sweet baby girl's soon-to-come arrival.
Comment below with your favorite fall baby shower ideas.❤️