Everywhere you look, there are signs that Fall is on it's way. People are posting Fall themed photos online, there are sweaters in every store and there are pumpkins for sale outside the grocery stores. It still feels like summertime here in Southern California, but the first official Fall day is only 7 short days away. Can you believe it?! Time to start thinking about decorating our homes for the season!
I've already put together a small but cute pumpkin display in my new dining room. I took to Twitter last week and asked where to find small white pumpkins and y'all are the best. Many stores later, I finally found a bag of the cutest fabric covered white pumpkins at TJ Maxx and I'm thrilled. Did you know that you can shop at TJ Maxx online now? I literally just now found out and I'm so excited! Check out their adorable Fall decor here. I'm loving this pumpkin wreath… Annnnnd adding to my shopping cart now!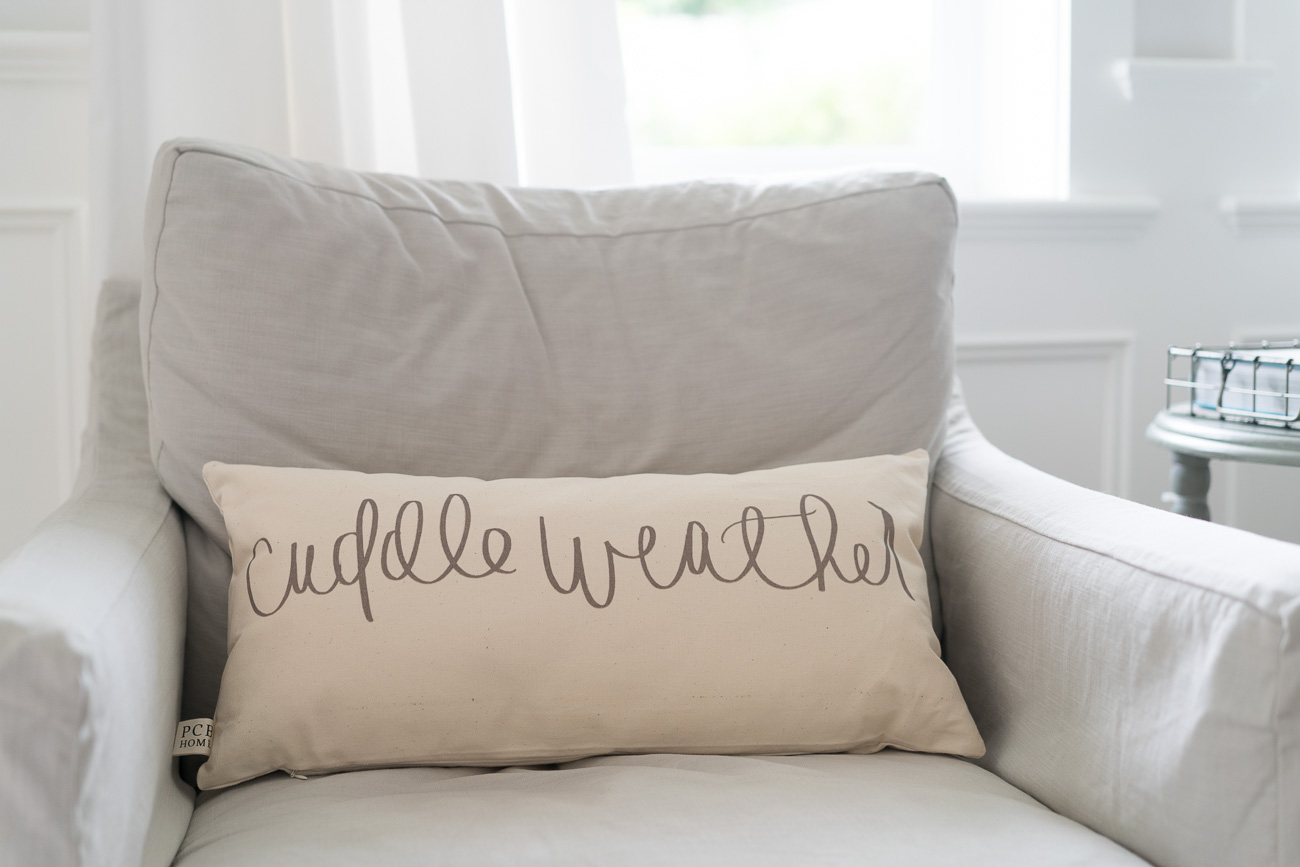 I wanted to share a corner in our family room. We special ordered these slipcovered swivel gliders after we fell in love with them at our rental home in 30A back in April. When these chairs arrived, they made the room feel so cozy. I found a similar chair from Pottery Barn here. I added this adorable lumbar pillow for Fall this week.
Leave a comment below if you'd like me to do a Fall tablescape blog post soon. I haven't decided whether I'm doing placemats yet for the table, but I'm on the hunt for the perfect Fall plates. There's a chance I may use my wedding China… We'll see!
Also, if you'd like a fun Fall DIY, check out this older post of a pumpkin painting step-by-step.

Fall Home Decor Under $100:
Rustic Pumpkin Candle // 2. Family Box Sign // 3. Check Throw Pillow // 4. Boxwood Wreath // 5. Jute Storage Basket // 6. Decorative Lantern // 7. Cuddle Weather Throw Pillow // 8. Monogram Throw Blanket // 9. Magnolia Leaf Wreath // 10. Pumpkin Pillow // 11. Rib Knit Throw Blanket