I've always been a summer girl. I blame it on Ohio and the 9 months spent under snow every year. When summertime finally peaks it's lovely head, it's the most glorious feeling in the world. As much as I love my bikinis, short shorts and sandals, there's just something about dressing for fall that does my soul good.
I think my love for fall fashion began when I started working at American Eagle in high school. The comfy sweaters and cozy socks all screamed my name as I would straighten the shelves. I wanted one of every single color. Some things just never change.
Since fall is now upon us (the first official day is 9/22!) I thought it'd be fun to round up my 10 favorite fall outfits that I've created in years past. Several of these outfits are my most popular looks I've ever posted, which tells me that my Gorgeous Girls love fall fashion as much as I do.
First up, let's talk about my love of blanket scarves. I don't see these cozy accessories going out of style any time soon. They're my favorite accessory because they're so oversized and oh so cozy. If you're new to blanket scarves check out this blog post and this video tutorial on different ways to wear them.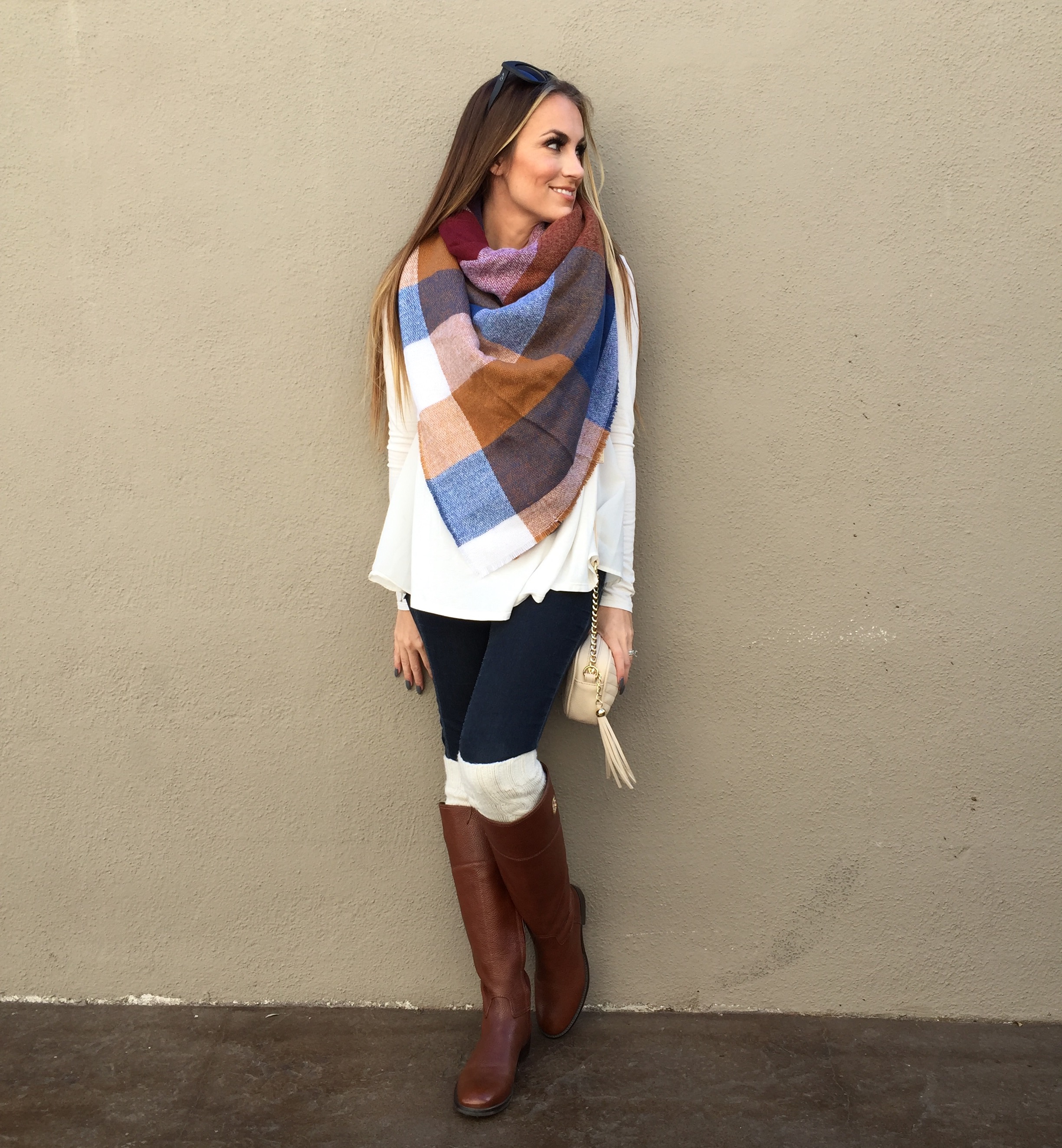 ASOS Blanket Scarf ($30!) // White top (similar; $25) // Black Leggings // Over-the-Knee Socks (similar) // Tory Burch Riding Boots
This fabulous scarf is back in stock this year and it's no wonder… It's seriously amazing! This is the best $30 you'll ever spend plus there's FREE shipping and returns!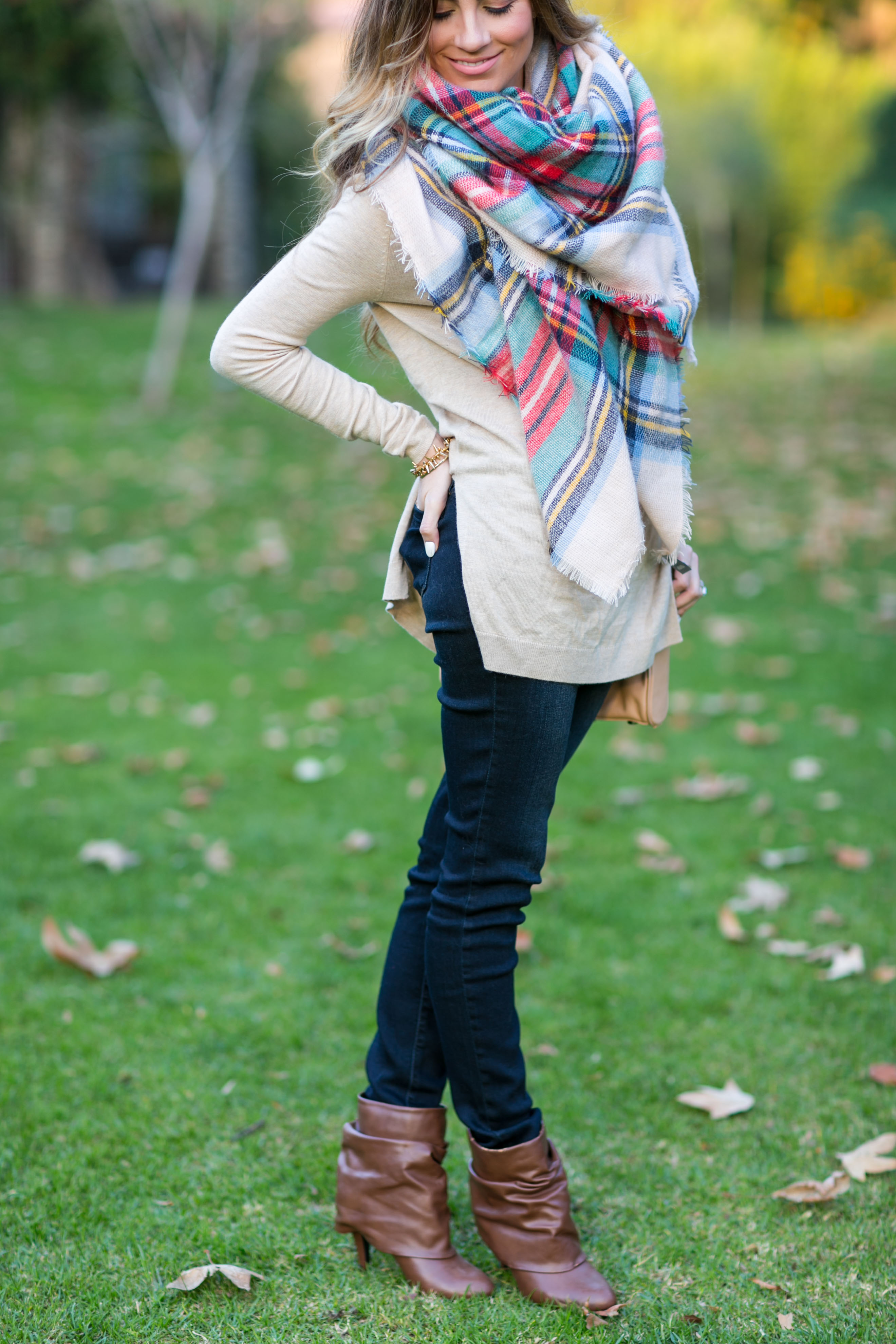 Plaid Blanket Scarf; Oblong version here ($35) // Similar Side Split Sweater // Skinny Jeans // Similar Booties
This print is definitely the most popular for blanket scarves. I originally bought mine two years ago from American Eagle, but they no longer carry it. Luckily, you can find this identical print currently at several other retailers.
Next is this adorable ruffle hem sweater I bought from Forever 21 for around $20. It sold out pretty much immediately (of course) but I've seen so many similar tops since then.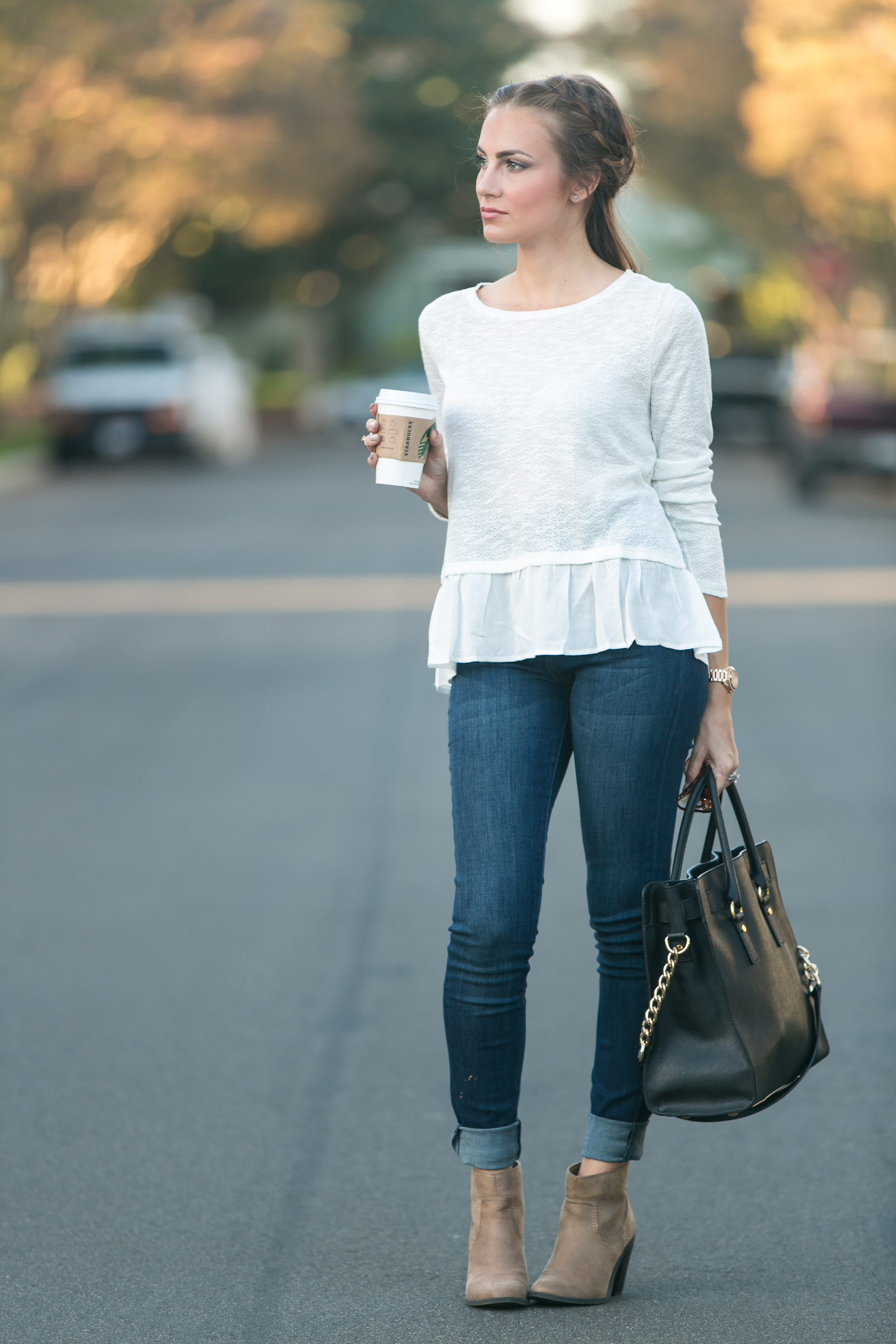 Similar Ruffle Hem Top // Skinny Jeans (similar; folded/cuffed) // Tan Booties (almost identical) // Michael Kors Handbag
I've always loved over-the-knee boots. This casual look with the boots as the hero piece is just so me.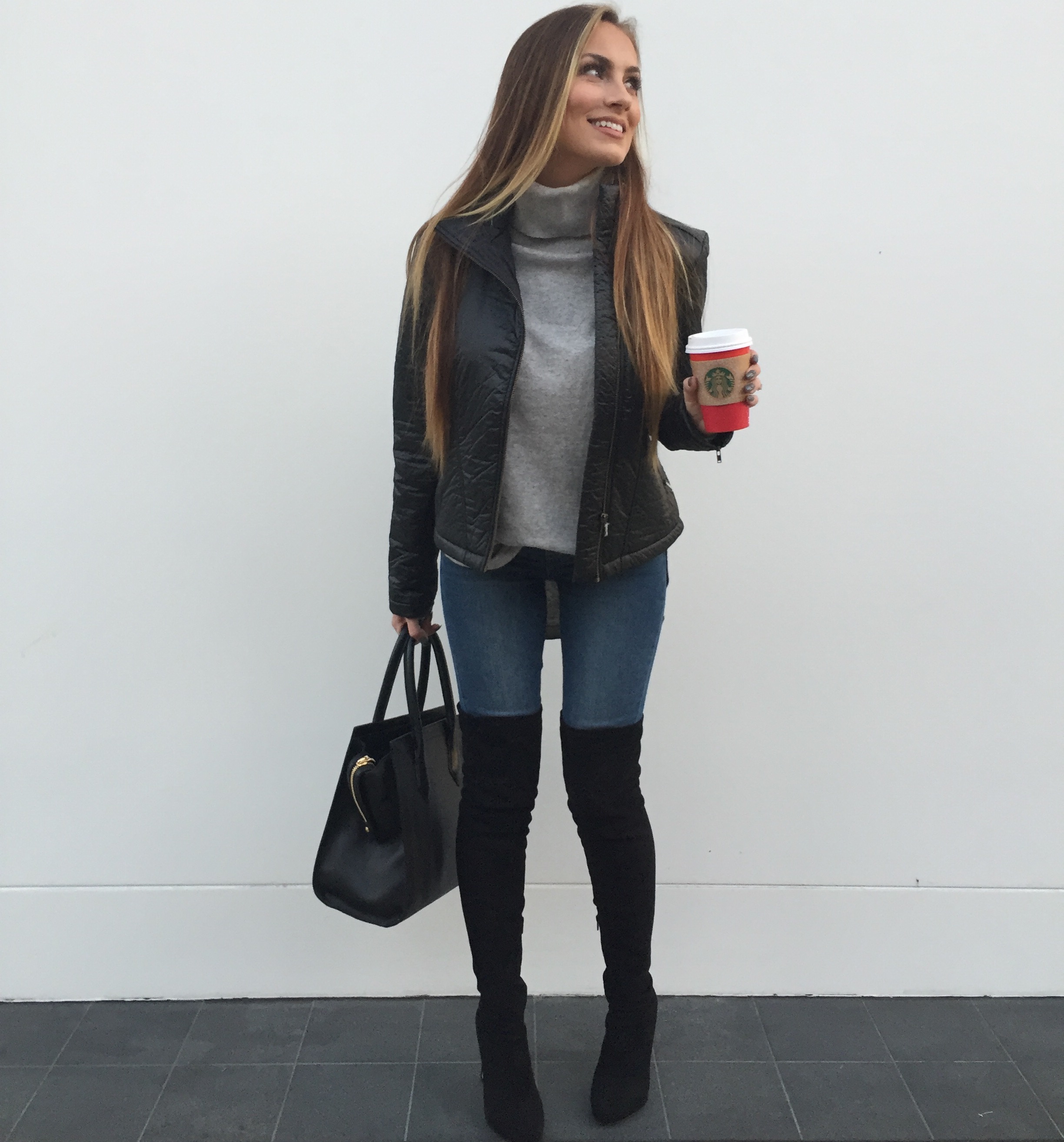 Grey Turtleneck Sweater (almost identical) // Levi's High Rise Jeans // Carbon 38 Jacket // Over-the-Knee Boots (ON SALE 40% OFF!)
Another popular look is this oh-so-cute plaid flannel and cardigan combo. Such a great look for any fall occasion!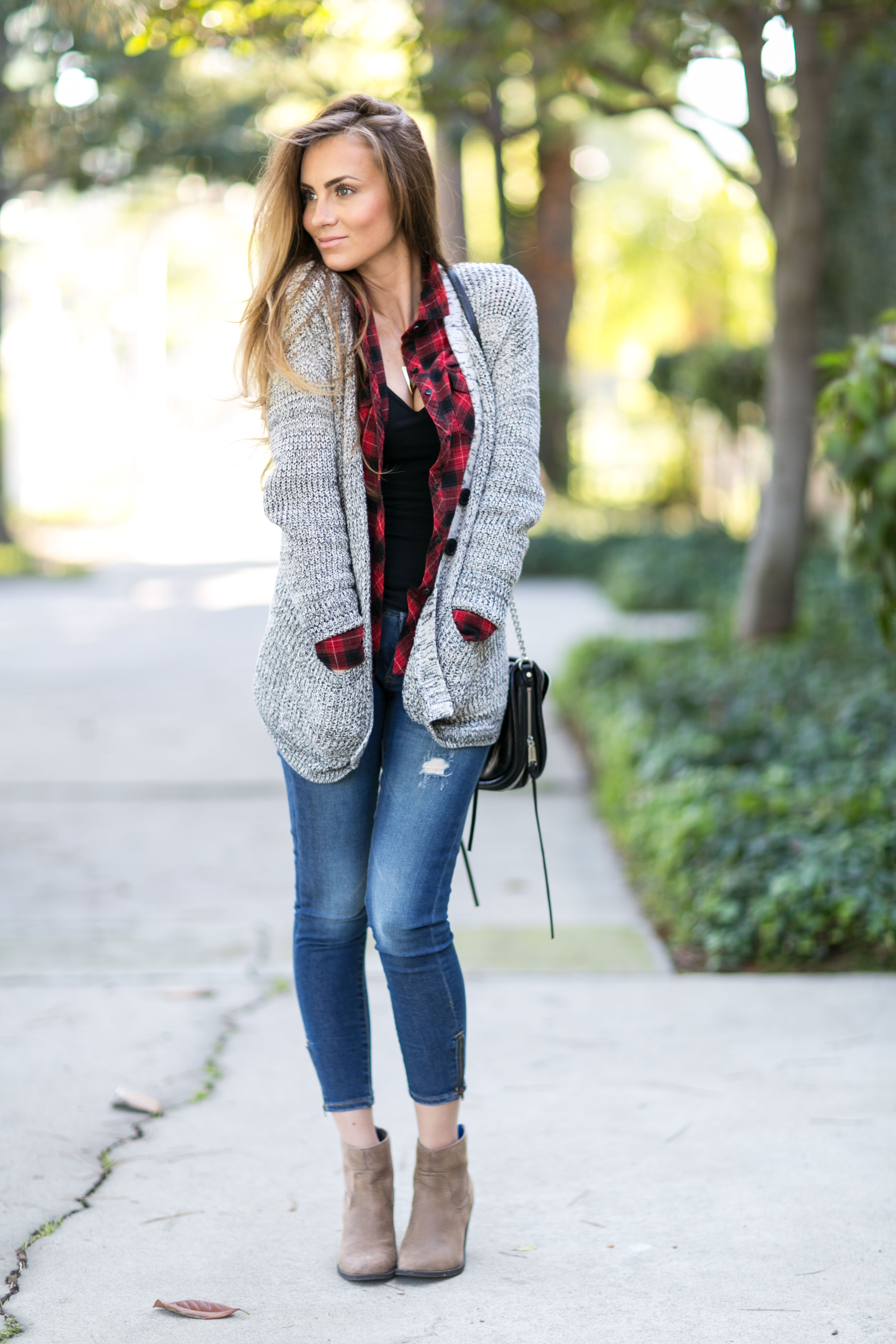 Similar Red Plaid Shirt // Similar Grey Cardigan Sweater // Similar Cropped Skinny Jeans // Similar Tan Booties
This outfit is another popular one. I bought this darling ruffled top from Urban Outfitters, but it's no longer in stock. Not to fear! Sincerely Jules recently came out with an identical top!
Ruffled Top (identical!) // Destroyed Ankle Jeans (in "Sitka") // Design Darling Tassel Earrings
This classic fall look is taken up a notch by the fun fishtail top knot I'm wearing. Check out this tutorial to see how to get this hairstyle for yourself! PS- I just noticed my emerald green nails in this photo… What was I thinking?! Gross!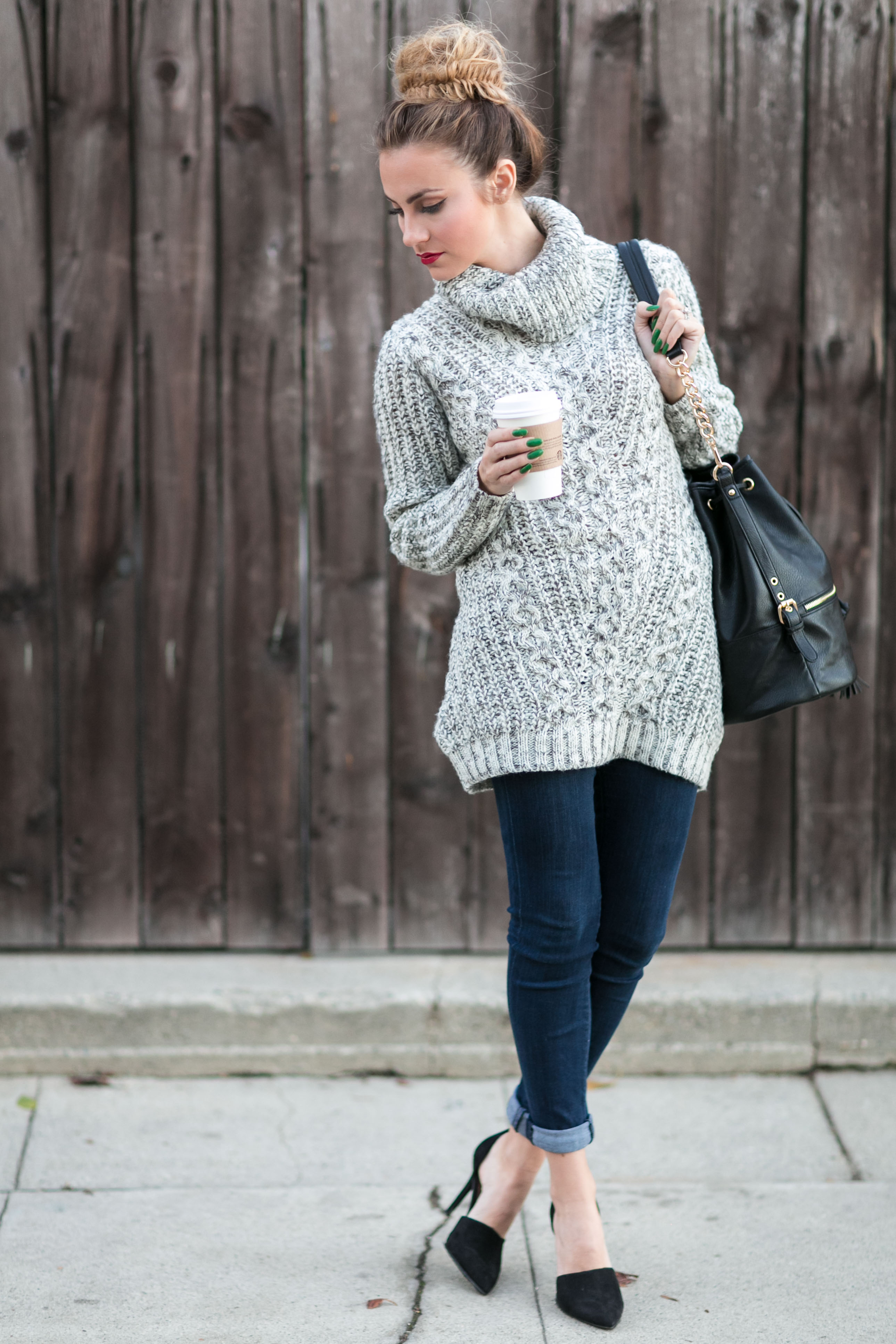 Similar Turtleneck Sweater // Skinny Jeans // Similar Black Heels
A classic fall look that pairs well with heels, booties or boots is a sweater dress.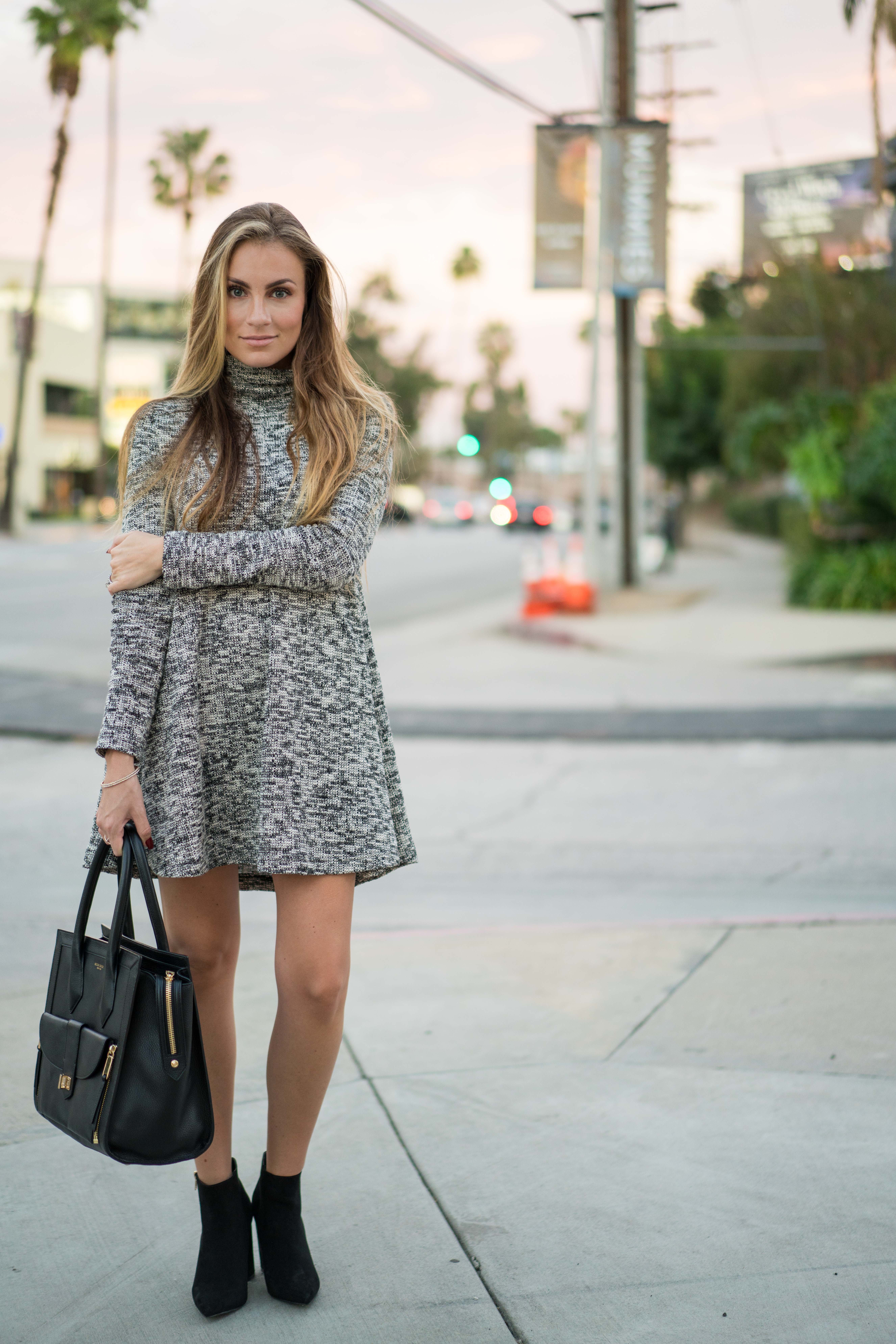 Similar Sweater Dress // Similar Black Booties
White sweaters are one of my favorite pieces to style for fall and winter. This look is casual but great for a day spent shopping.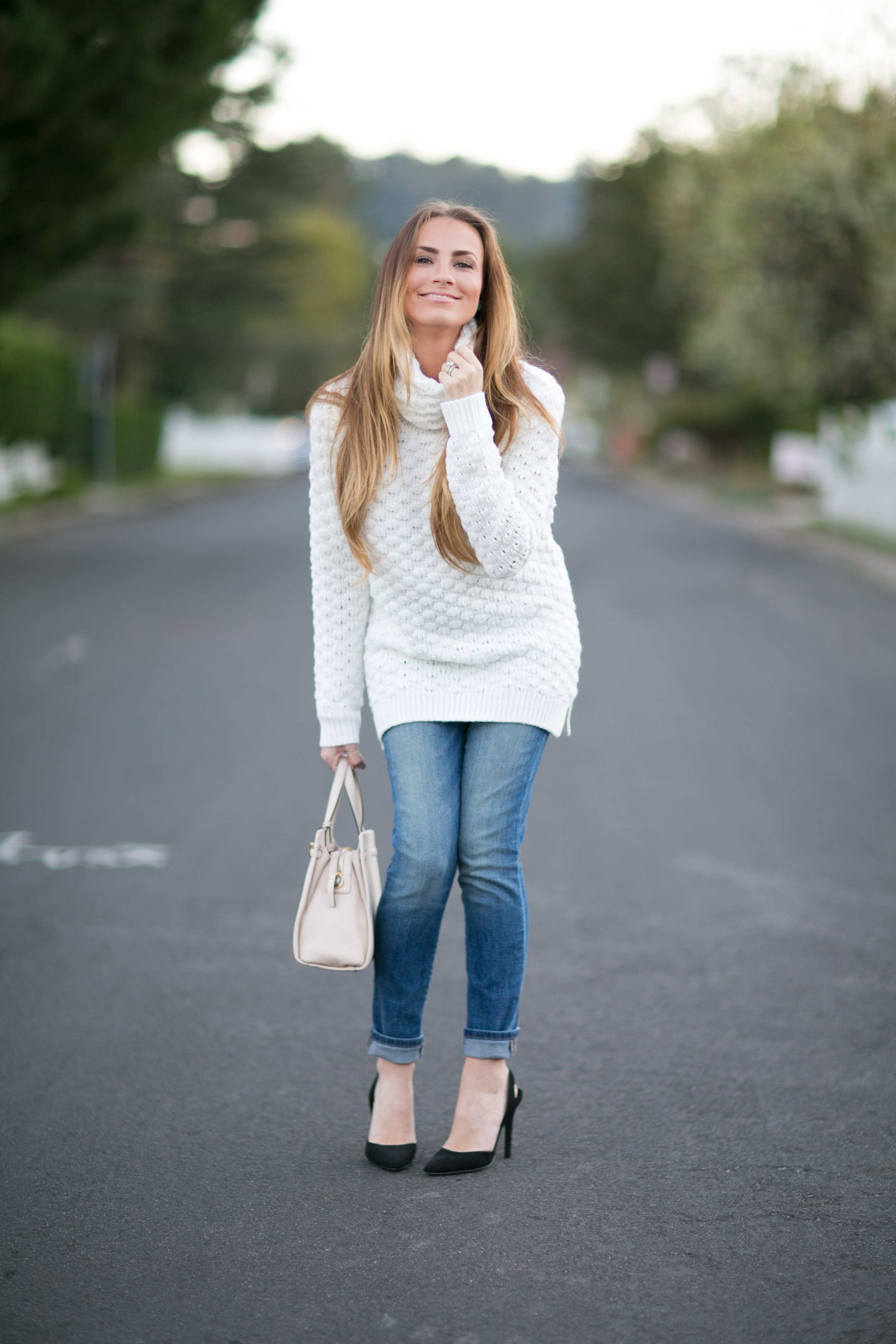 Love This Off-White Sweater // Similar Skinny Jeans
And the final look is yet another turtleneck sweater outfit. I love chunky sweaters so much for fall, they're just so cozy. Another darling hairstyle for fall that's quick and easy is this half-up top knot. Watch this tutorial on how to get this super cute look.
Similar Grey Turtleneck Sweater (even cuter than the one I'm wearing!) // Black Ripped Jeans