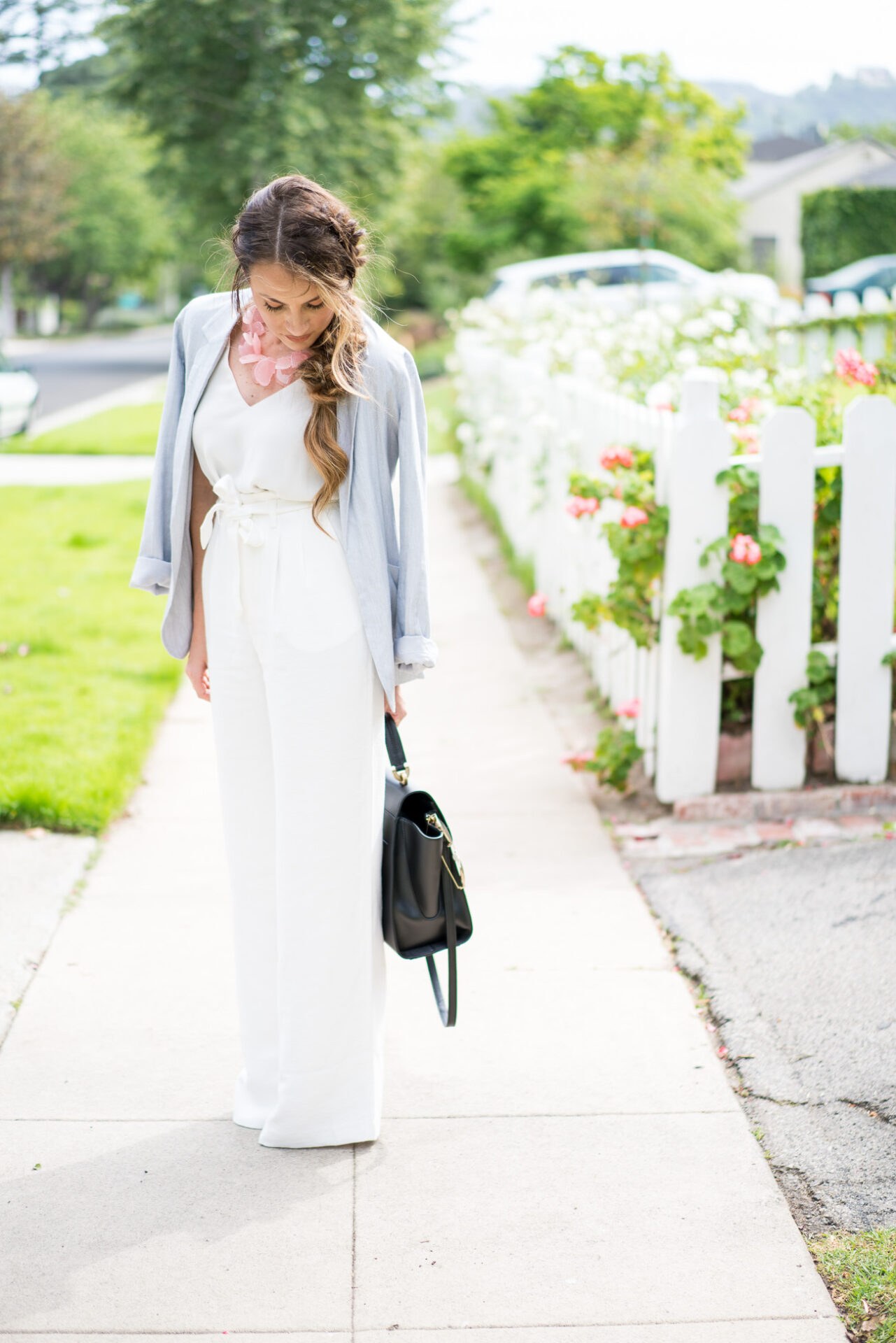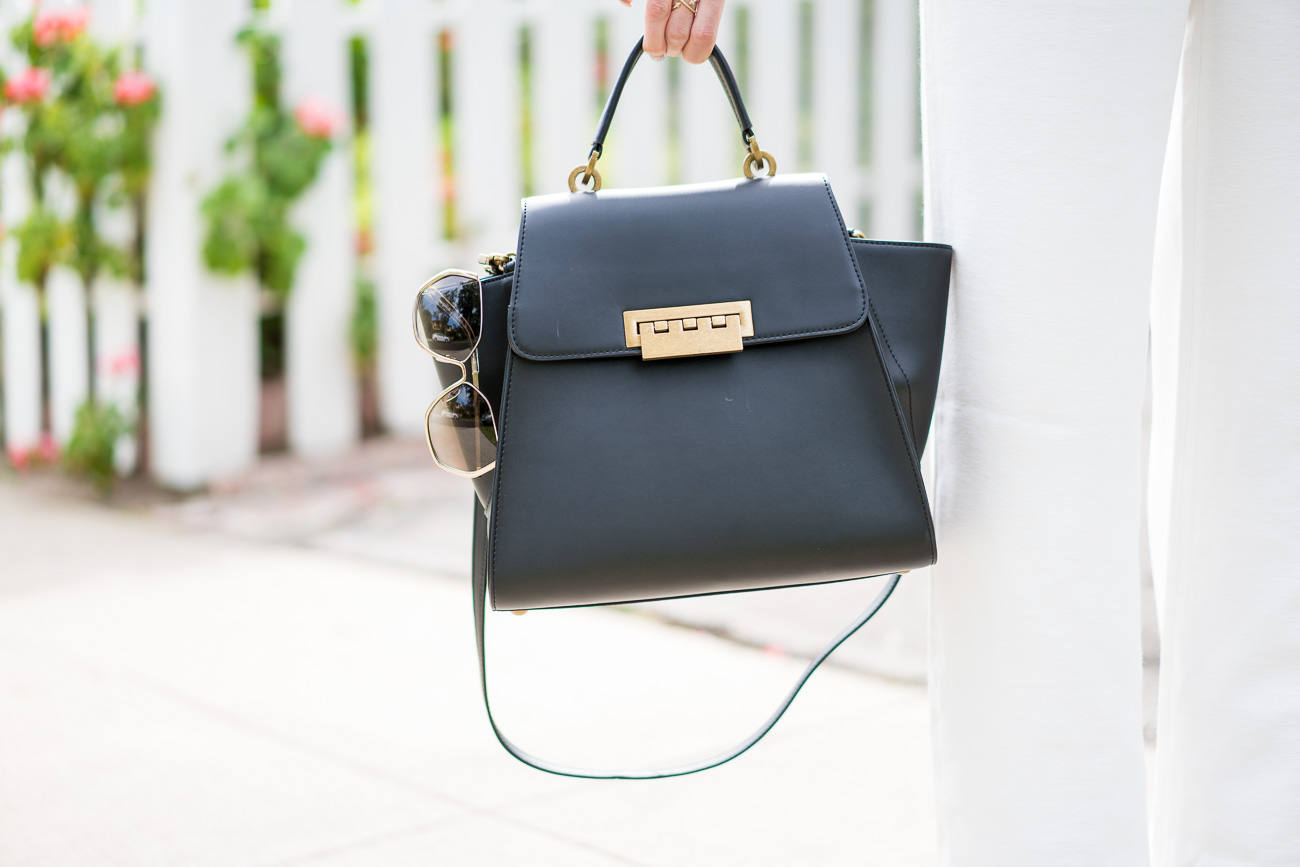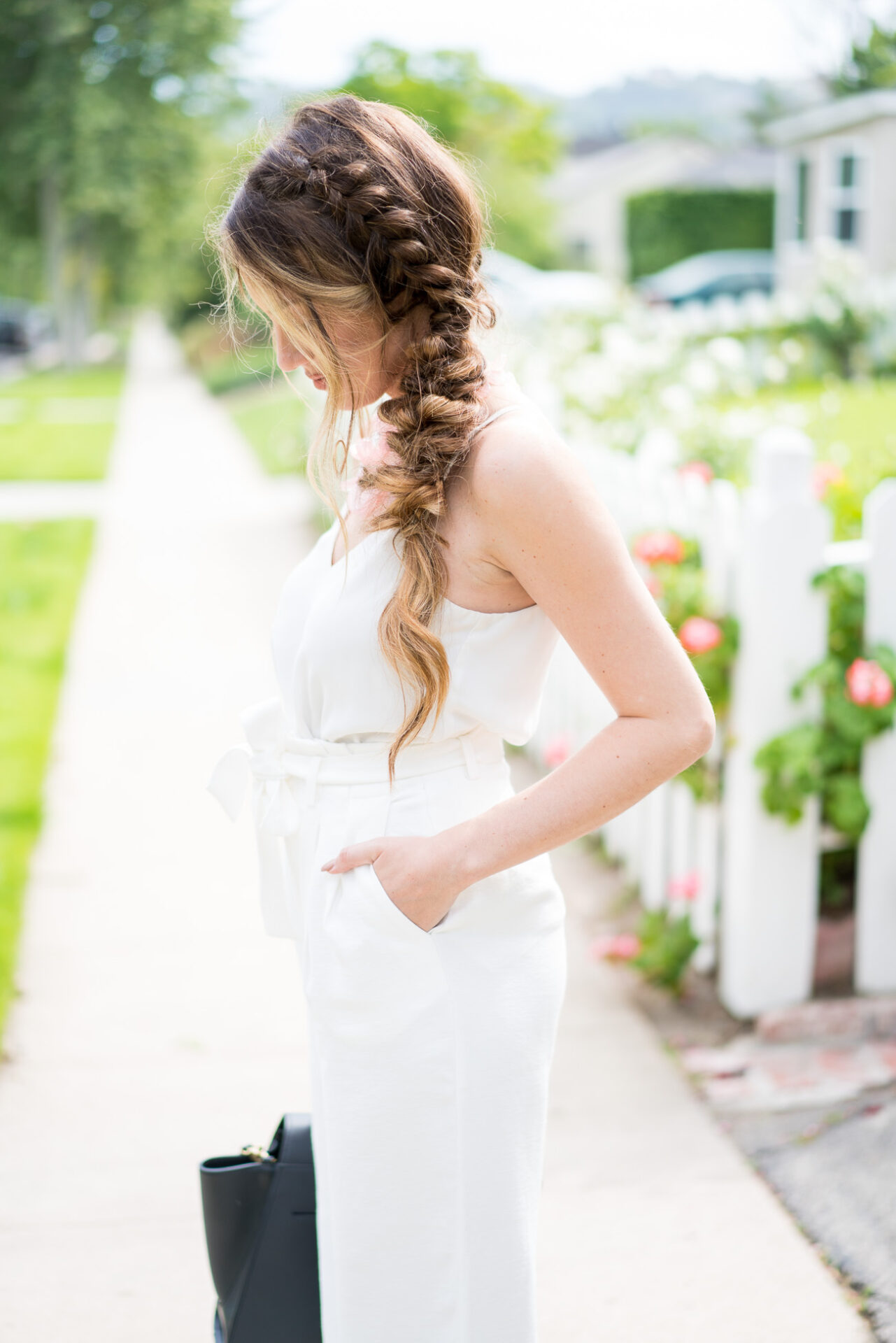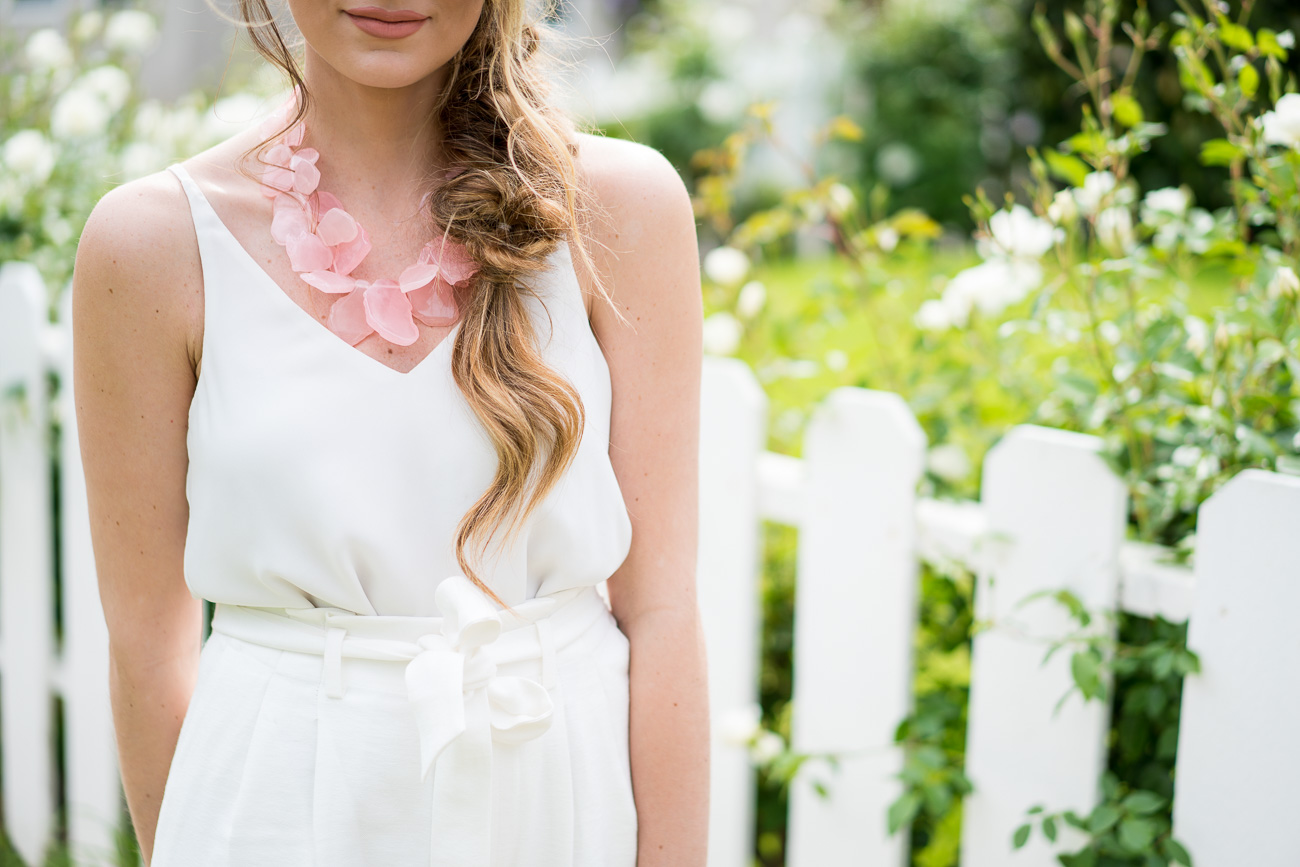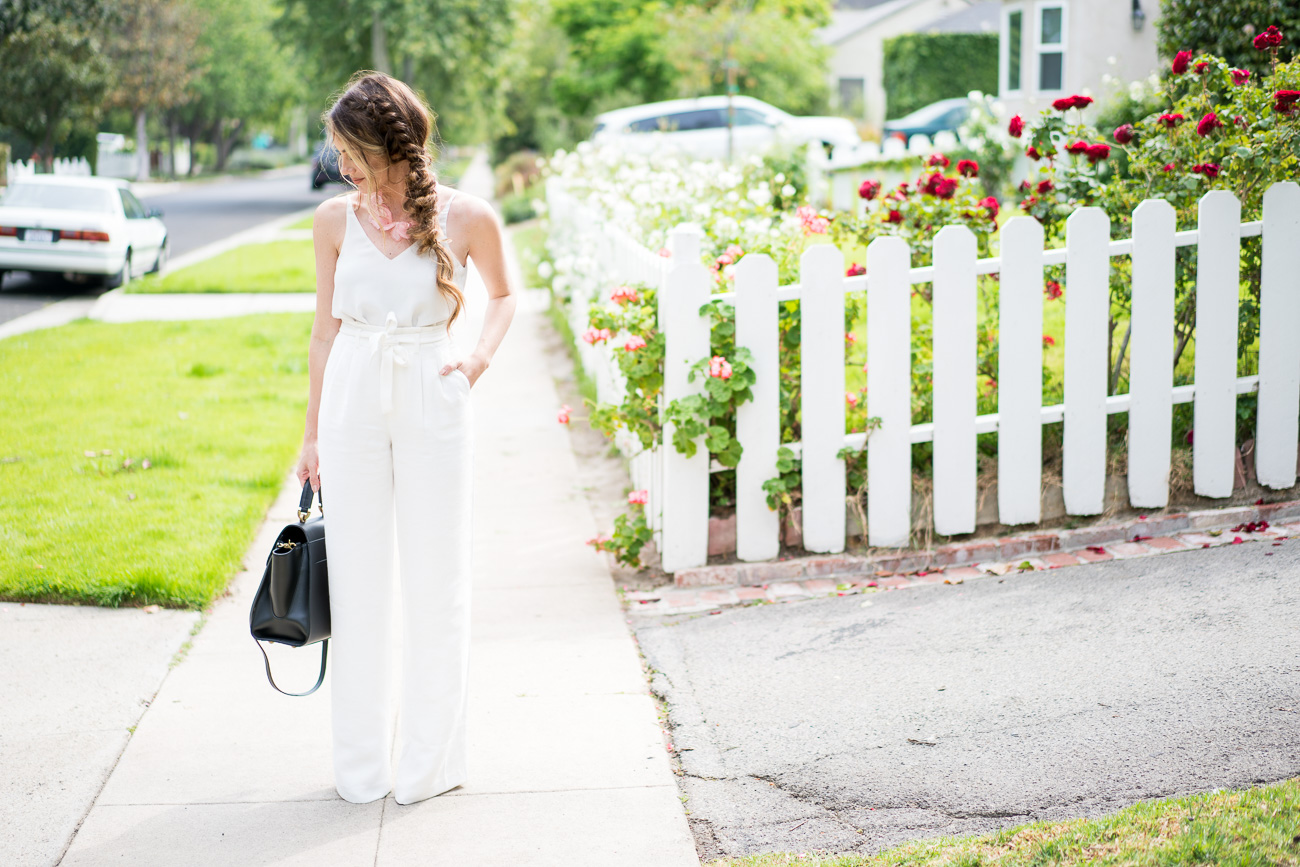 7 Wedding Planning Do's & Dont's
This wedding planning post is way overdue. We shot this look on Easter Sunday and somehow never got around to posting it. I created this hairstyle that morning and think it may be my favorite look I've done yet! It's such a romantic style. And this outfit is straight out of one of my monochromatic dreams. I love all white for spring. It's such a classic, clean look. These pants are fabulous because both the fit and the quality are so great.
Speaking of all white… I saw a bunch of my girlfriends tonight and we got to talking about wedding planning. More specifically, we talked about the things we wish we had known before wedding planning (my girlfriend, Emily, is currently in the planning process) and I realized that I should share the lessons I personally learned with my blog readers. So here are 7 tips I have for my bride readers… And these 7 tips should be read by anyone planning a wedding, so please share with your friends and family!
Don't skimp on photography. If that means you have to cut into your budget in other areas to get the photographer you want, then do it. You'll never be sorry that you have stunning wedding photos. You will cherish your wedding photos for the rest of your life!
Do splurge on videography. This one is my #1 piece of advice. The one thing I insisted on was having a stellar wedding video and ours did not disappoint. Honestly, our wedding video is like a dream. You see (in your video) so many things that you didn't get to experience because you're being pulled in a million different directions. I've yet to meet a bride who regrets spending part of her budget on a videographer. I have, however, met a bride (or 10) that skipped the videographer and now totally regret it. You'll never get back your wedding day, so be sure to take all the necessary steps to ensure you're capturing every single important moment.
Don't sweat the small stuff. I realized while chatting tonight that I can't remember exactly what color napkins or tablecloths I had. At the time, I lost sleep over these details. Our wedding was magical and breathtakingly beautiful (I'm not taking away from that at all) but the point is that the small details don't make the entire day. So, yes, the details and the decor are incredibly important, but don't allow it to wreck your nerves or your relationship. Make a decision and move on.
Do tell people to butt out. This one is important, especially if you're a people pleaser. But, here's the deal… It's your wedding. What you and your fiance want is all that matters. Learn to be lovingly firm when others try to pressure you with their opinions. It's your and your future husband's day, so stick to your guns and learn to say no when you need to.
Don't skip the honeymoon. I know that after paying out the wazoo for your wedding, that not everyone can also swing a tropical honeymoon. I get that. At the very least, take off to the next town over, if that's all you can afford. But get away. Just you and your husband. You need this time. You need it to unwind from the stress of wedding planning. You need it to bond, to have some solid one-on-one "us" time. It's essential and it's so important.
Do a test run on your makeup and hair before the big day. I did a trial and hated my makeup (I never let anyone else do my makeup) and it was the best thing I could have ever done because I was able to tell my MUA exactly what I didn't like and what I wanted for my wedding day. Don't trust that you can just go to someone for the very first time ever and get it right on your wedding day. Take the time and spend the money (you won't be sorry) to have a trial run a couple weeks beforehand.
Don't make plans the day after your wedding. We had a celebration brunch the morning after our wedding and it was absolutely lovely. My family stepped in and handled everything: the food, the clean-up, literally everything (they're the best!). The bad part? We were totally exhausted. Our wedding week was the most stressful week of our lives (duh) and to get up early the morning after and come home to host a huge celebration was just too much. We have wonderful memories and don't regret it at all, but I wouldn't recommend it. My advice is to stay in bed, enjoy your new hubby and forget that the world even exists that whole next day.
---
TopShop V-Neck Cami (similar) // Chelsea28 High Rise Wide Leg Pants // Aritzia Blazer // Charles David Pact Pump // Baublebar Seaglass Bib Necklace // Zac Posen Eartha Handbag // BP. Crossover Ring // Chloe Sunglasses
Sizing Info: Wearing cami in US size 4, pants in size 0 and heels in US size 7.
Shop This 7 Wedding Planning Do's & Dont's Look: