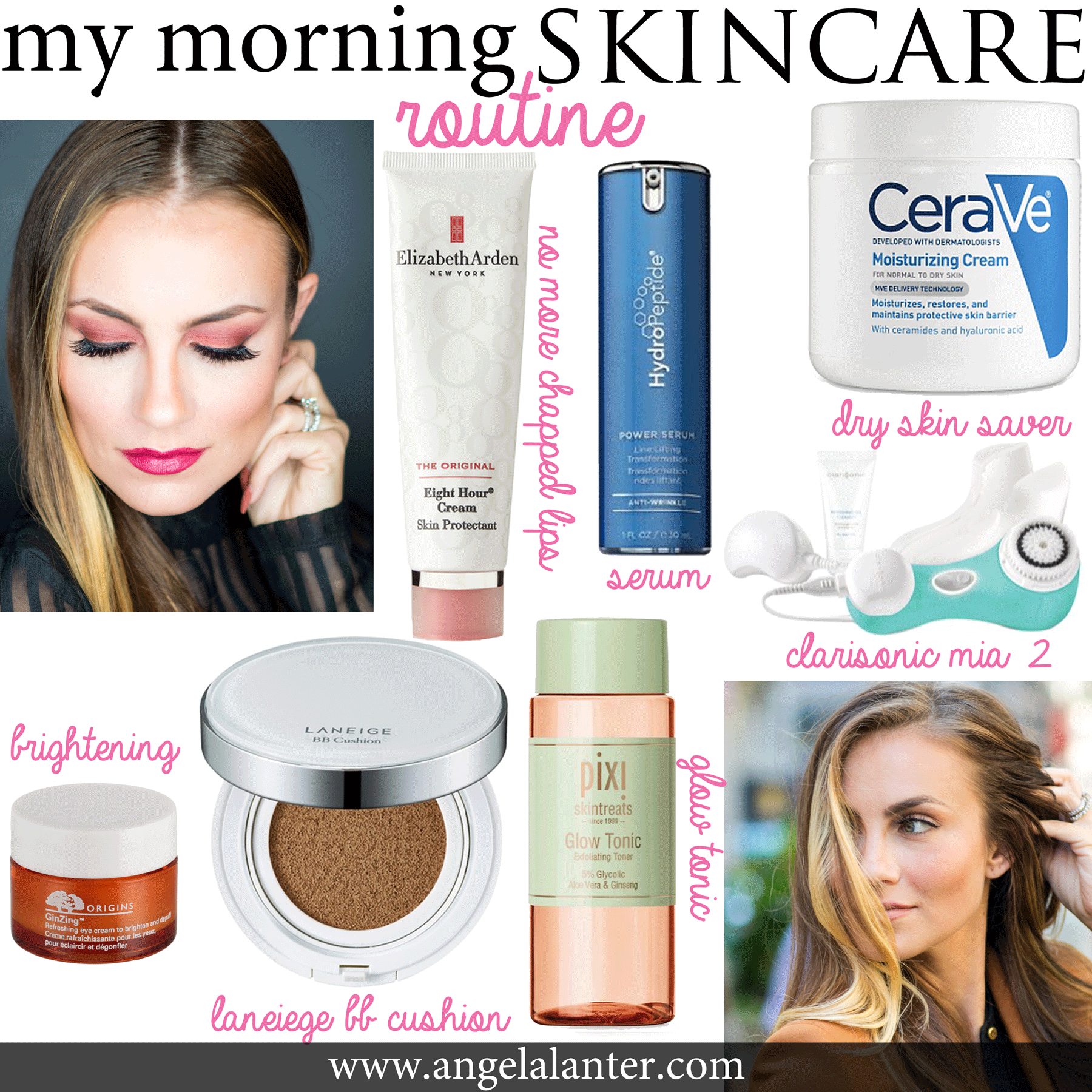 One of my most requested YouTube videos is my skincare routine. Since I haven't had a chance to film it yet, I decided to put together this quick collage of the skincare products I'm currently using on an every day basis.
In the winter months, I tend to get super dry, especially because I'm currently using Atralin gel. I've learned from my amazing esthetician to cut the gel with moisturizer to prevent extreme drying. I only use it every third night, but I'm supposed to work up to applying every night however I never get quite get there lol. My dermatologist sent me home with samples of Cerave Moisturzing Cream and I got totally hooked. It's extremely thick, but incredibly hydrating. Cerave is great for spot treating if you have dry issues in specific areas, such as around your nose.
When it comes to cleansing, I use mild cleansers such as Cetaphil. Since the cleanser is so mild, I make sure to remove my makeup with a makeup removing wipe and cleansing oil at night before washing with cleanser. However, in the morning, I use my same cleanser and my Clarisonic Mia 2 at least three times a week. If you don't already own a Clarisonic, this is an investment I highly recommend. This brush removes six times more makeup than washing my hand.
After cleansing, I reach for my Glow Tonic. This toner is super mild, alcohol-free and leaves your skin glowy and fresh. I apply each morning with a cotton pad. I then reach for my Hydropeptide Serum. I love the tingling sensation this anti-aging serum gives my skin, I feel like my face is super clean and fresh when I apply it!
I talk about my dark under eye circles (old sea hag bags) basically every single day of my life. They will be the death of me. I can beat my face with more makeup than ever and I still will see my dark purple circles. I know it's almost completely in my own head, but such is life. I've tried more eye creams than you have probably ever even seen in your life. I'm always in search of that one miracle cream to make me look refreshed and wide awake. I discovered Origins GinZing Eye Cream a couple of months ago and I'm all in. It's not the miracle cream I dreamed up in my mind, but it really does leave your eye area looking brighter and feeling smoother than before. I would have to say this is the best product for dark circles that I have found to date, and that's saying a lot.
I talk about Laneige BB Cushions in basically every tutorial I film, and that's because I use this product literally every day of my life. That is not an exaggeration. This BB cushion is a primer, moisturizer, skin tint and 50 SPF all in one. It leaves your skin looking the most polished it could possibly look by using only one product. I can leave my house wearing only this one product and feel totally confident about my skin/face.
I've been riding the struggle train hardcore lately when it comes to dry lips. I've tried it all: Rosebud Salve, EOS, Vaseline, Burt's Beeswax, Chapstick… The list goes on and on. I recently read or saw something about the Elizabeth Arden Eight Hour Cream so I ordered it from Amazon with truly high expectations. Let me just say, it did not disappoint. I use it on my chapped lips, nose, infected earlobes (basically every earring I wear lately gives me crazy infections!) and it fixes it all! The only downside? I hate the smell. It's not pleasant, sorta plastic-like. Because it works though, I get over the smell.
I have incredibly resilient skin. I don't get irritated easily and I definitely don't fall under the sensitive category. If that freaks you out, because I'm recommending these products and you are polar opposite, then rest assured… I have a story for you. My best friend, Megan, who is currently pregnant and has just about the most sensitive skin known to mankind called me a few weeks ago requesting a skin-tervention… She was having major issues and nothing was helping. I recommended this regimen to her: Cetaphil cleanser, Glow Tonic and Laneige BB Cushioin (for daytime use) and my normal night time routine, which I will blog about soon! Her skin is responding beautifully and she is completely obsessed with the BB cushion. I truly believe in all of these products, and highly recommend you give them a try!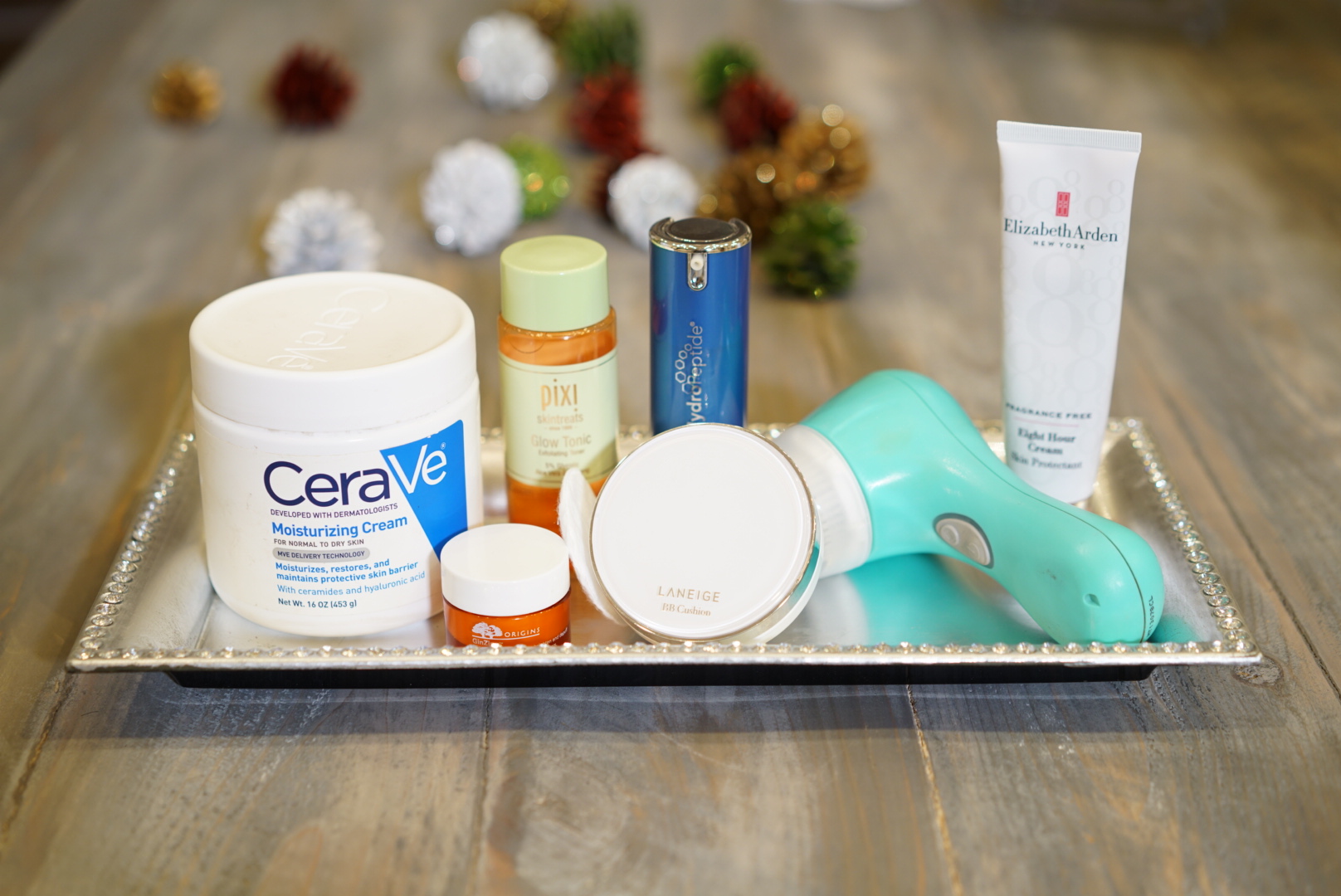 Shop My Daily Skincare Faves: