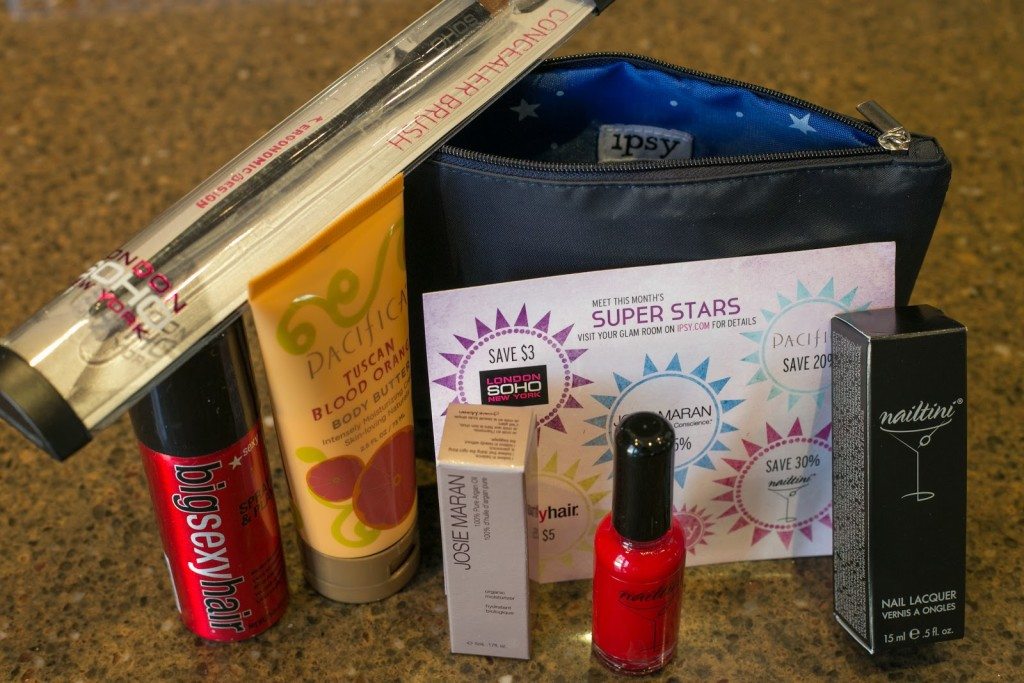 When Birchbox got to be pretty popular last year, I hopped on the bandwagon. But after about 8 months of receiving monthly Birchboxes, I cancelled my subscription. The last several boxes were downright disappointing (I got a Luna bar in my Birchbox! Come on people!) Only a few short days or so after canceling, I discovered Ipsy thanks to my beautiful cousin, Jenny! And let me tell you, Ipsy has not disappointed. It's like Christmas morning every time I open my mailbox and there's a new Ipsy bag!
Today I received my most recent Ipsy bag and below is a photo to show all the goodies I received. This month's bag came packed full with a mini makeup bag (you get a new one each month!), a concealer brush, Big Sexy Hair volumizing hairspray, Tuscan Blood Orange body butter, Josie Maran Argan Oil & Nailtini nail polish in Bloody Mary. I used to use Big Sexy Hair products all the time, so I already know that I love this line. Everything else is a first for me, which makes getting my Ipsy bag so exciting.. I'm being introduced to new products and new brands each month! If you're not signed up, I really suggest that you give it a try for a few months!
I also wanted to give you a little peak of my winter fashion.. LA style! I don't love cold weather.. Actually I hate cold weather. But I do love my nights snuggled up in a blanket by the fire watching movies. Oh and I really love hot chocolate! So how to keep it cute while keeping warm? Here's my best attempt at keeping fashionably warm 🙂
Today I'm wearing my Zara coat, infinity scarf from Kaitlyn and Naughty Monkey foldover boots. Gold rings are from Brandy Melville and TopShop. Keep warm, lovelys!