9 Updates That Refreshed My Bedroom For Spring
I had a completely different post planned for today, but have received so many questions about my bedroom decor that I decided to put all the info in one place.
Here is my bedroom about a month ago…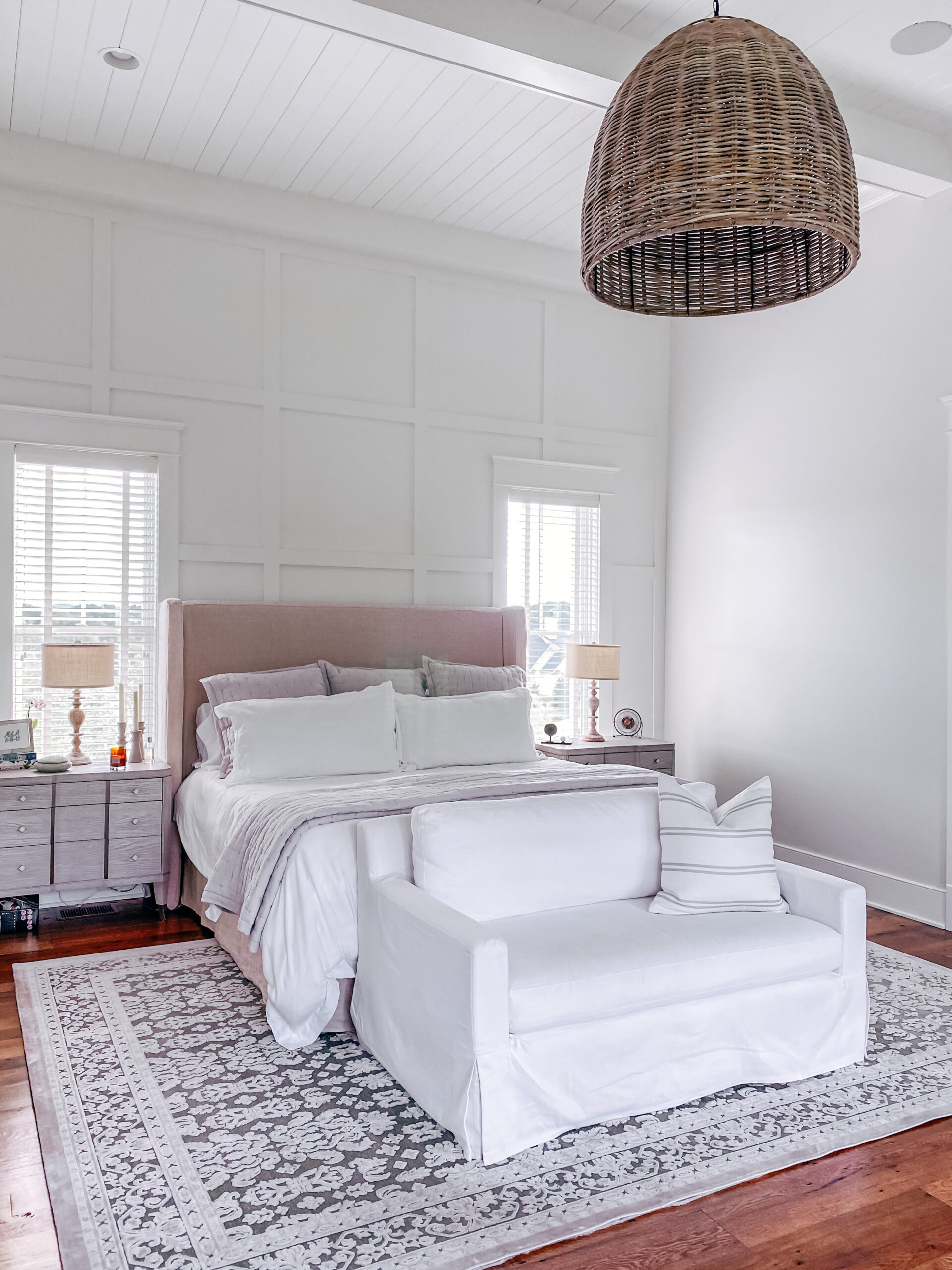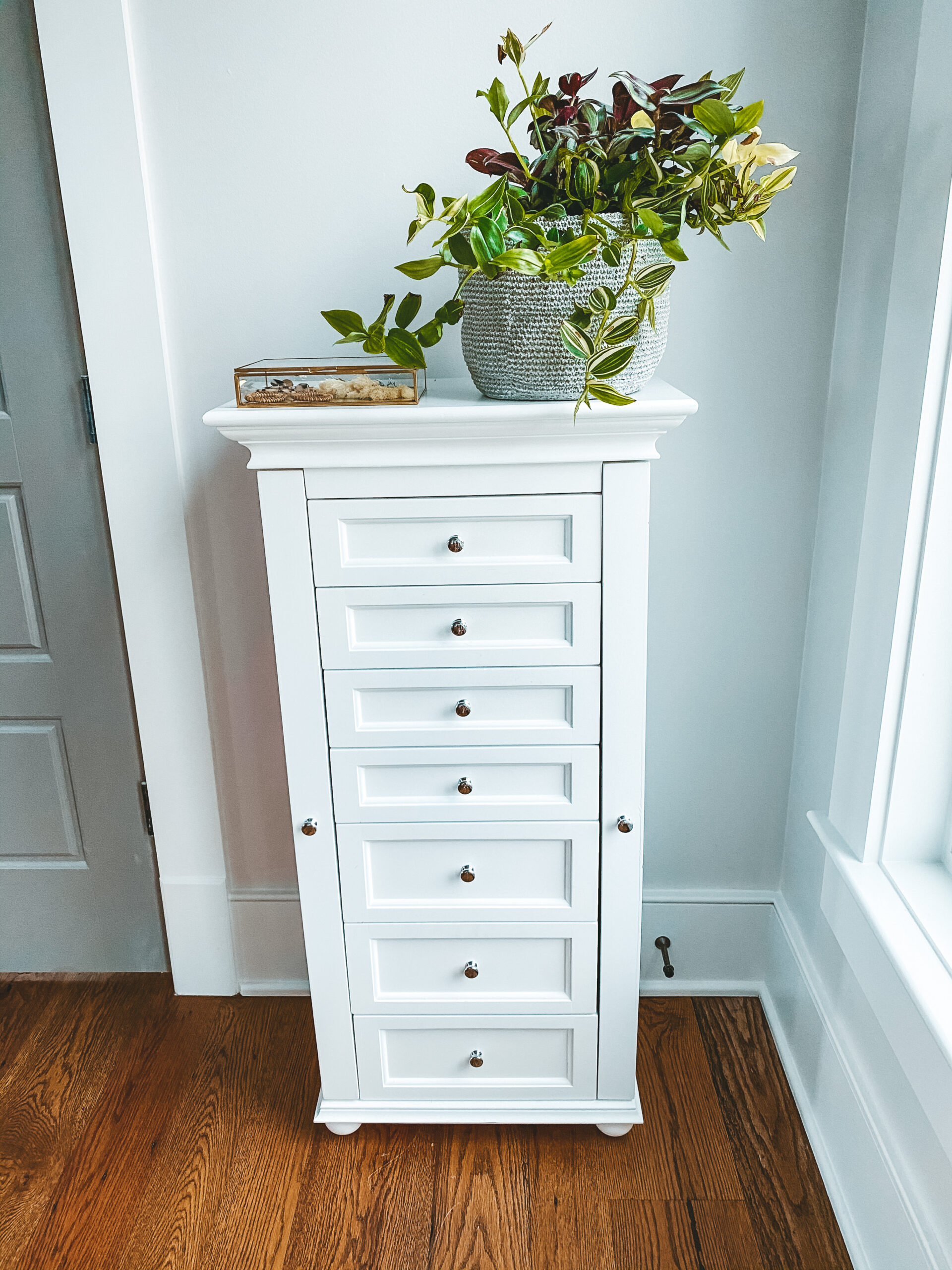 We made some updates and here is our current bedroom situation.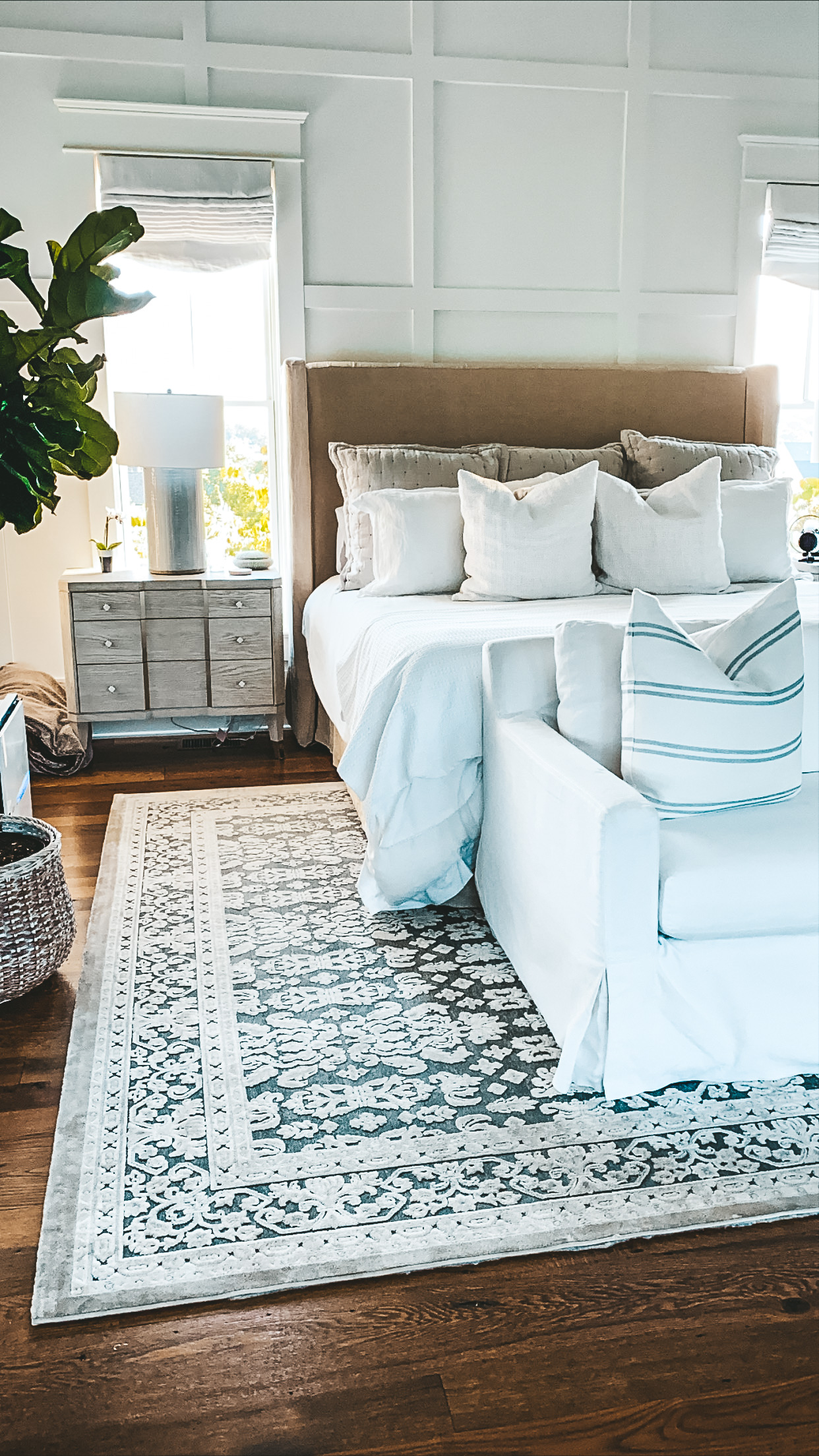 what we've changed
Window treatments. Window treatments are so important. I've never been a fan of blinds, so I couldn't wait to get them down in our room. We replaced them with custom relaxed roman shades. Window treatments are one of the most expensive investments in home decor, but if done right, an investment that will last for years to come.
Fireplace. As you already know, we're planning to rip out the all across from our bed and install a fireplace. This is such a major project, so it's going to be quite a while until the bedroom is actually finished.
Nightstands. Matt and I shopped for nightstands for months. I think nightstands are the hardest piece of furniture to choose. We moved our RH nightstands from LA (seen in this blog post) to the guest room. We finally landed on these nightstands thanks to help from our designers.
Greenery. I picked up my beautiful new fiddle leaf fig at Home Depot last week and she's such a wonderful addition to our room. I'm currently accepting name suggestions for my new beauty.😜 Blanche Devereaux, however, has been relocated from my jewelry armoire to Matt's bedside table. Blanche is a pretty little Wandering Jew, which I HIGHLY recommend for any virgin plant ladies out there. I have her potted in this pretty little pot.
Lighting. We have a stunning basket pendant light that's HUGE. We bought it locally and it was such a earthy addition to the room. I linked two similar basket light fixtures below. Our lamps are from PB and I'm OBSESSED. I love the concrete base.
Rug. We brought our rug from our master bedroom in LA. We have a 9×12 area rug under our bed, turned sideways. I receive more DM's about this rug lately than anything else in our home.
Walls. In order to brighten up the room, we painted the walls "Eider White" from Sherwin Williams and the trim is "Ultra Bright White" also from SW.
Bed. Our bed is the Charleston King Bed by Four Seasons Furniture. This was a custom order in the oatmeal fabric, but we've recently ordered a new slipcover in a lighter shade. Our headboard is 66″ tall. We have a Tempurpedic Cloud Supreme mattress, which I lalalove. We have it paired with the Tempurpedic adjustable base. Personally, I feel like the base is a waste for us. We rarely ever adjust it and never use the massage feature. The massage feature is just a light rumble that shakes the mattress.
Bedding. We are changing the shams on our Euro pillows this week. The end of our bed has a new coverlet and matching throw pillows to add some texture. Here is a budget-friendly version of our bed, but the headboard is about 20″ shorter. I stand firm on my obsession with the Amazon microfiber sheets. They're so reasonably priced and softer than all of my bougie sheets prior. We now use them on every bed we own. I'm getting ready to switch duvets, so once I try this new one out, I'll let you know how I like it.
shop my bedroom

DIY Gallery Wall | How To Style A Photo Ledge Shelf
At our last house in LA, one of my most complimented areas was the upstairs landing because of this gallery wall I styled.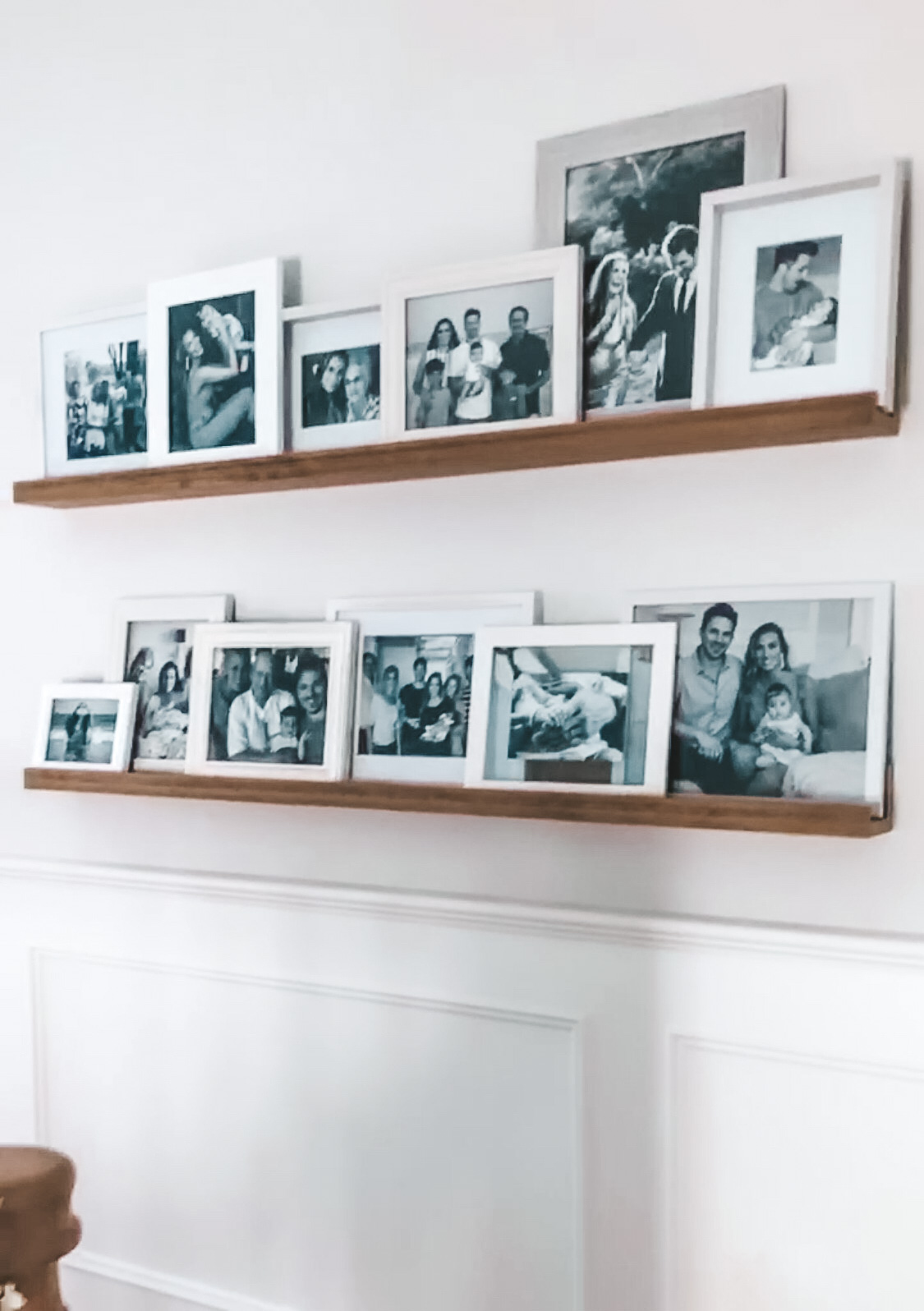 I also styled a small gallery wall at our townhouse in Ohio…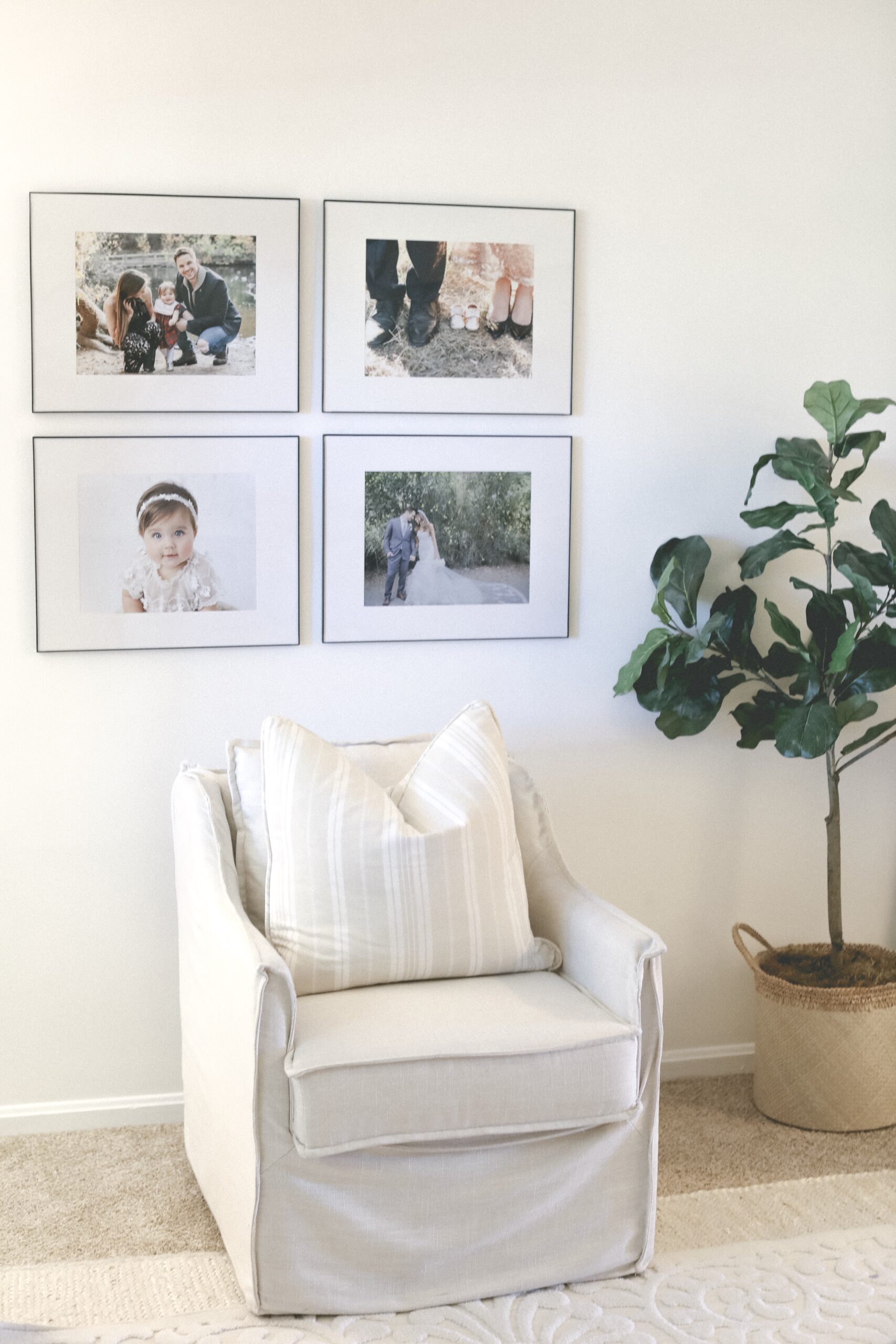 We brought our photo ledges with us to Nashville, but the wall we were hanging them on was much too large for them. So we bought another set of matching photo ledges and doubled the length. We have these photo ledges from Pottery Barn in "Seadrift" in the 5′ length. They are on sale this weekend for up to 25% off with promo code: SAVEMORE. These ledges are pricey but the quality is fantastic.
I found these driftwood gray ledges from Target for a fraction of the price if you're on a budget. I don't know how the quality is, but that price is fab.
These ledges in white from Walmart are rated well and cost only $80 for a set of two.
As for photo frames, I purchased the majority of my frames in LA from Homegoods. Since I needed an array of sizes, I decided to DIY some thrifted frames and shared the process with you in today's video.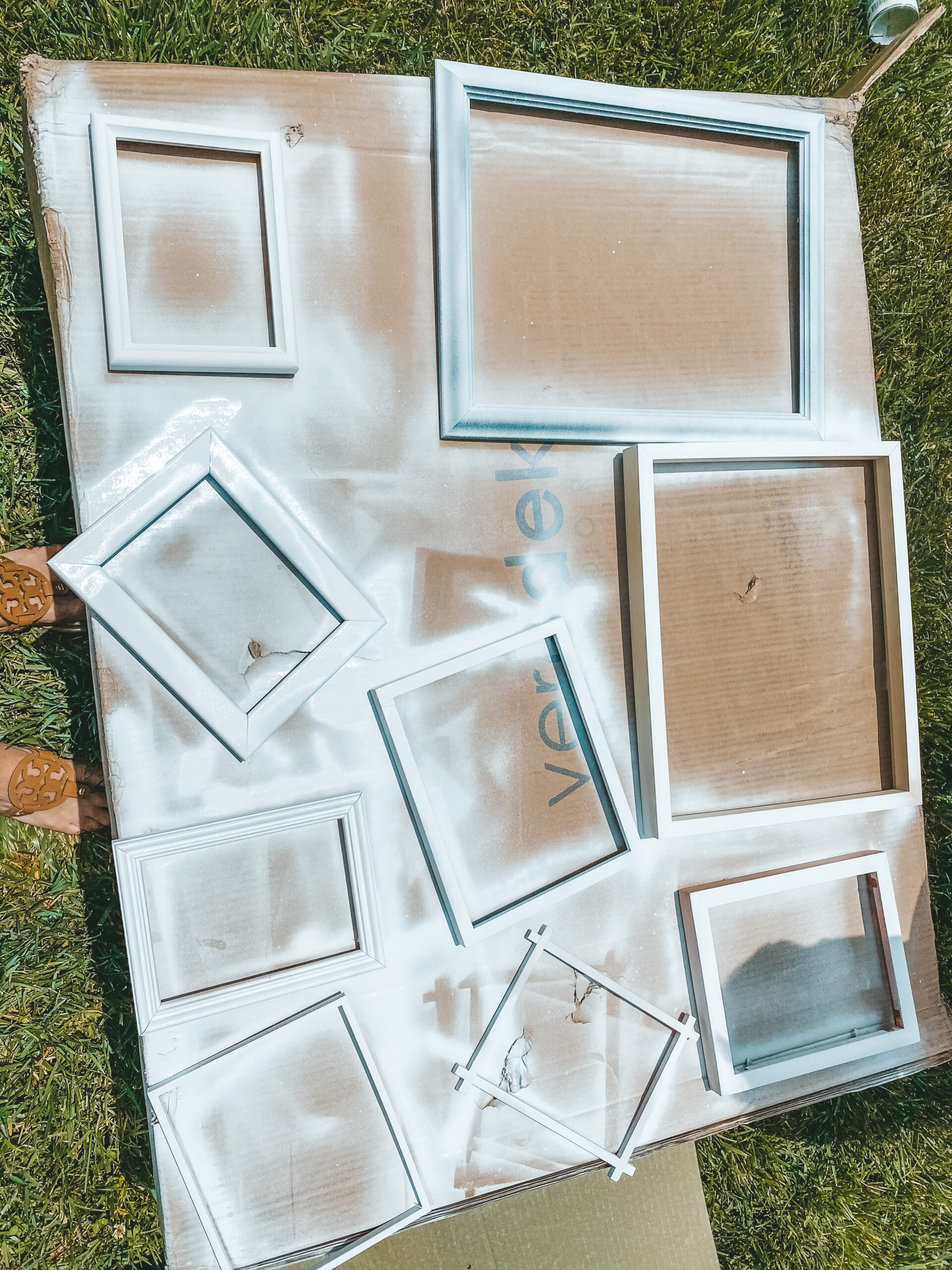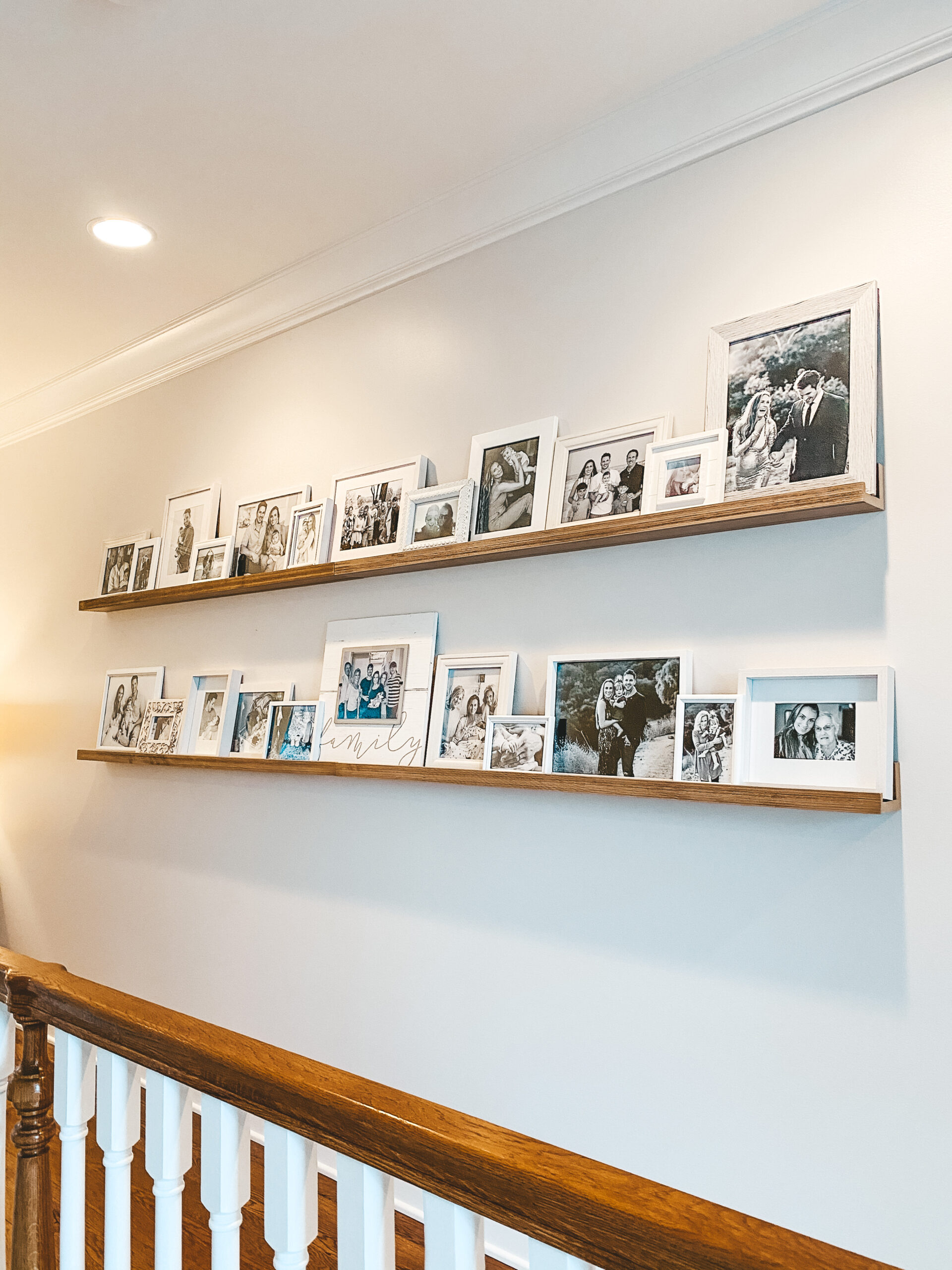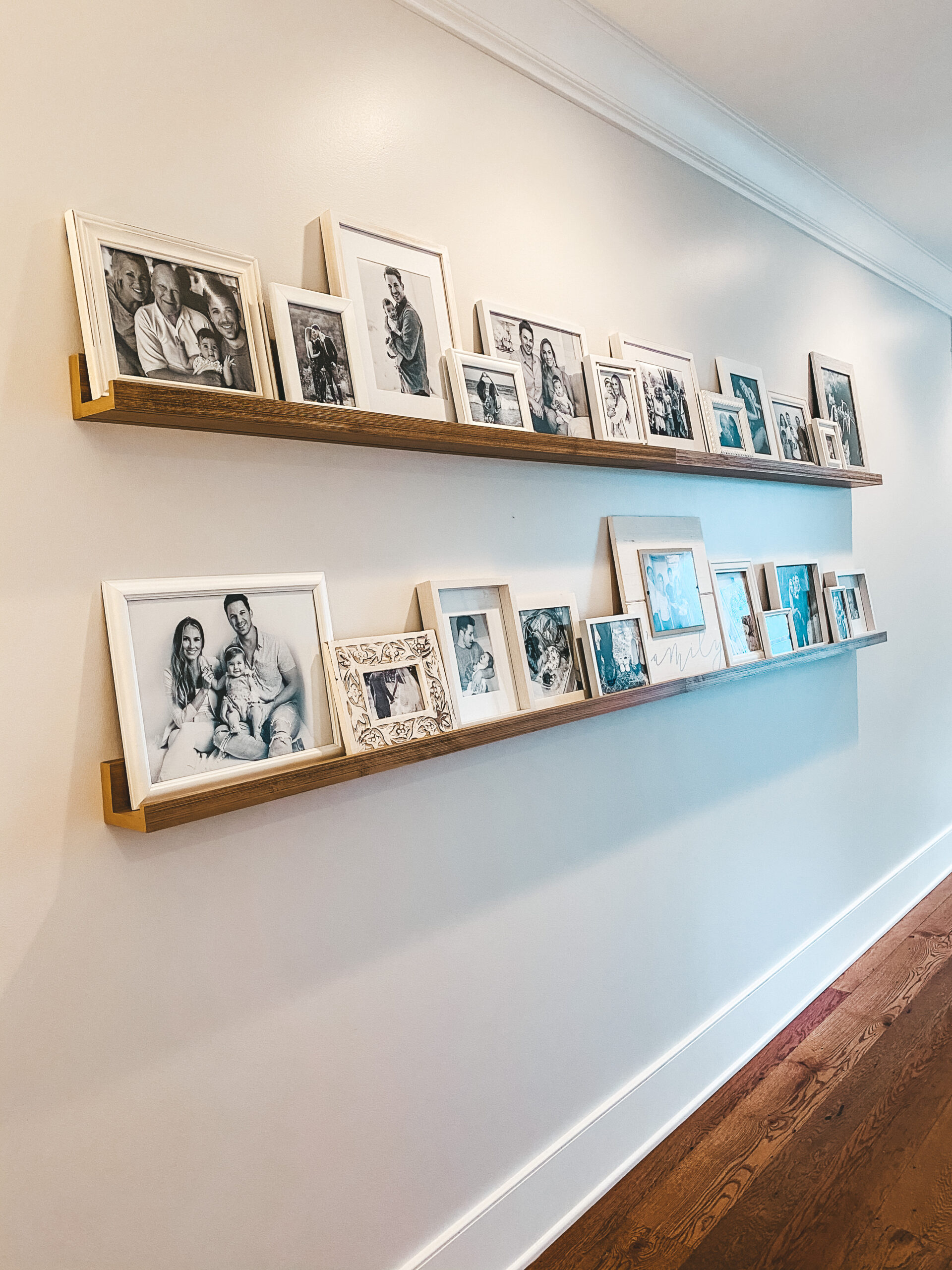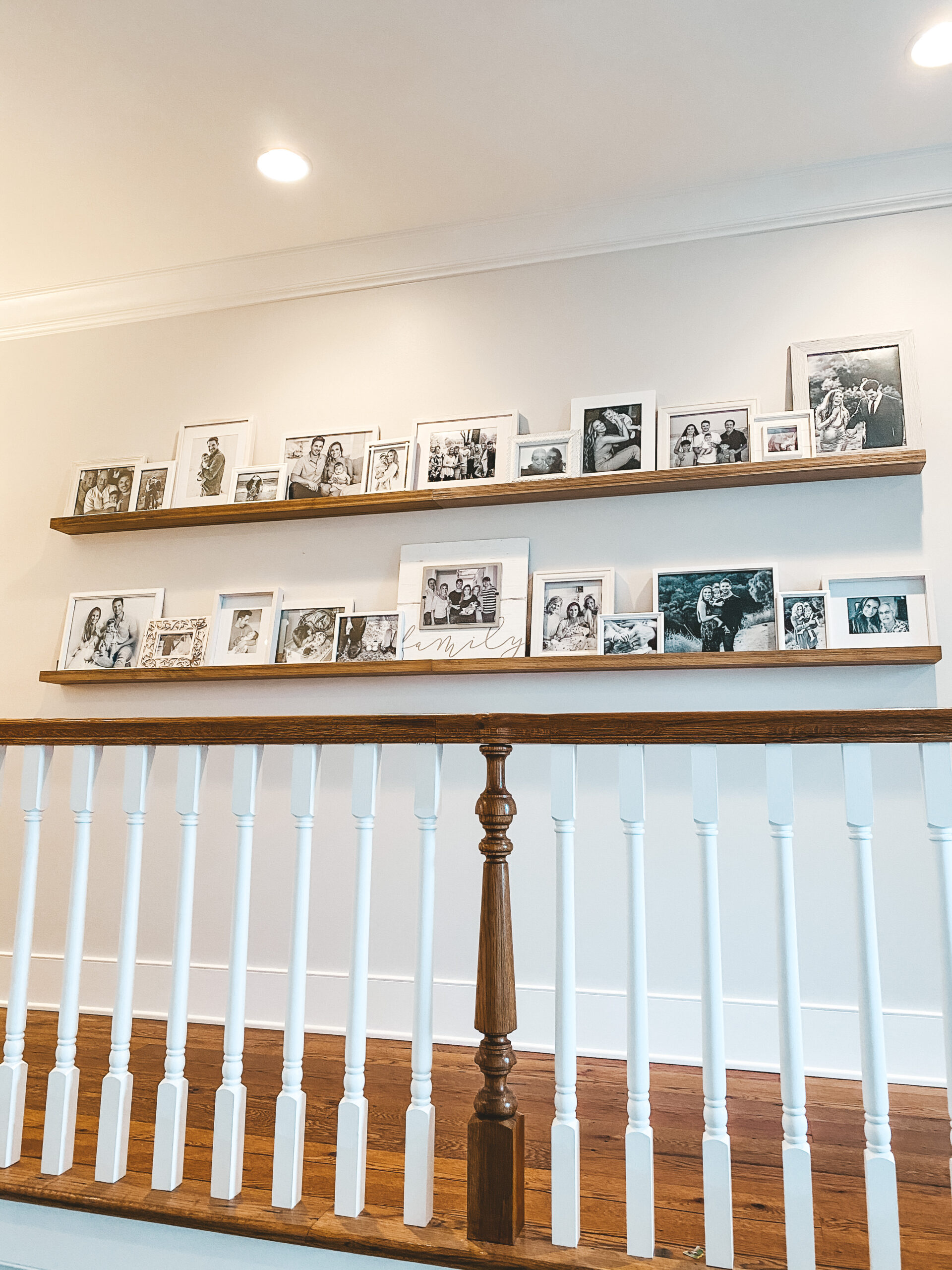 Watch the video below to find out where I've found the best place to print your photos CHEAP and get a gorgeous luster finish. I'm also showing how I styled my shelves.
shop this post

Our Nashville Kitchen Remodel- Countertops
When we first bought our Nashville house, this is what the kitchen looked like…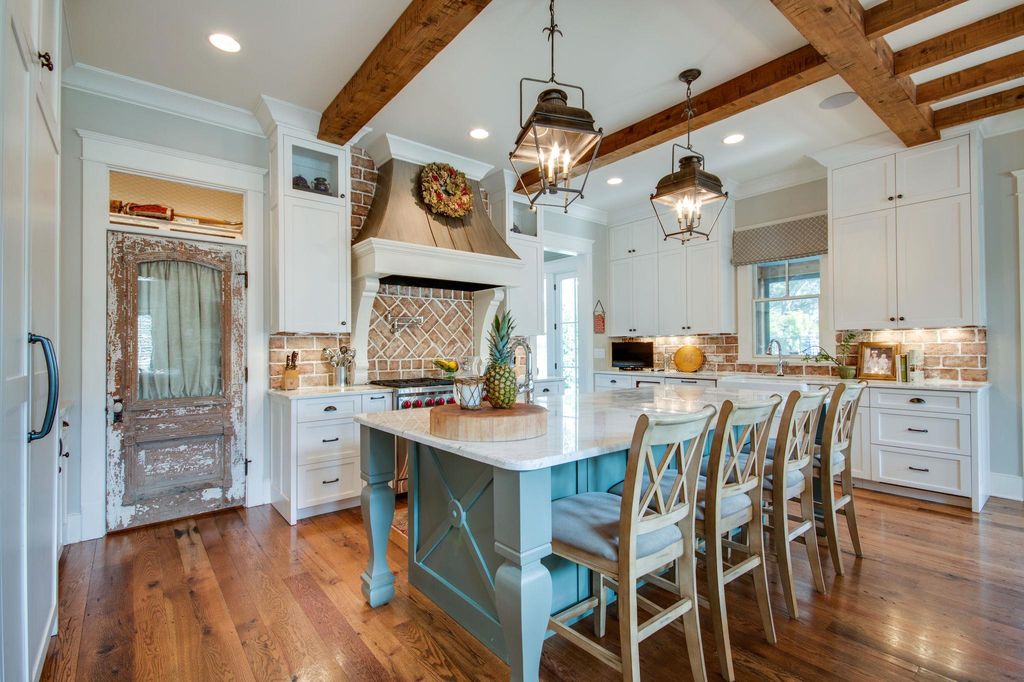 It is a beautiful kitchen.  It's just very themed.  It's very farmhouse.
If you've been here for awhile, you know that's not my style.  I describe my style as "Coastal Americana" and I just came up with that label for myself one day once I realized which pieces I gravitate towards.
One of the first things we did was take down the chicken wire (yes, I said chicken wire) over the pantry door.  Also, the window treatments on the pantry door and kitchen window.  We also switched out the super traditional, curvy legs on the island and painted the whole thing grey.
We added new lights above the island and new counter stools.  We also painted the hood vent white.  With all of these changes…  It just still wasn't getting it for me.  It just still didn't feel like my kitchen.
So Matt painted the brick backsplash white, with a faux Dutch schmear technique.  Nope.  Didn't like it.
So, major changes had to be made.
countertops
When we bought the house, we knew we were going to need to replace the countertop on the island, at the very least.  It has three large cracks running through it.  That replacement was negotiated into our purchase price of the home.
I've never loved the countertops because of the traditional brown veins.  One area (to the left of the stove) has so much brown, that there is actually green running through it.  You don't even want to know what I think it looks like…  I'll spare you.
So, the time has come to choose a new countertop.  And we're replacing them all.
We first narrowed it down to three choices…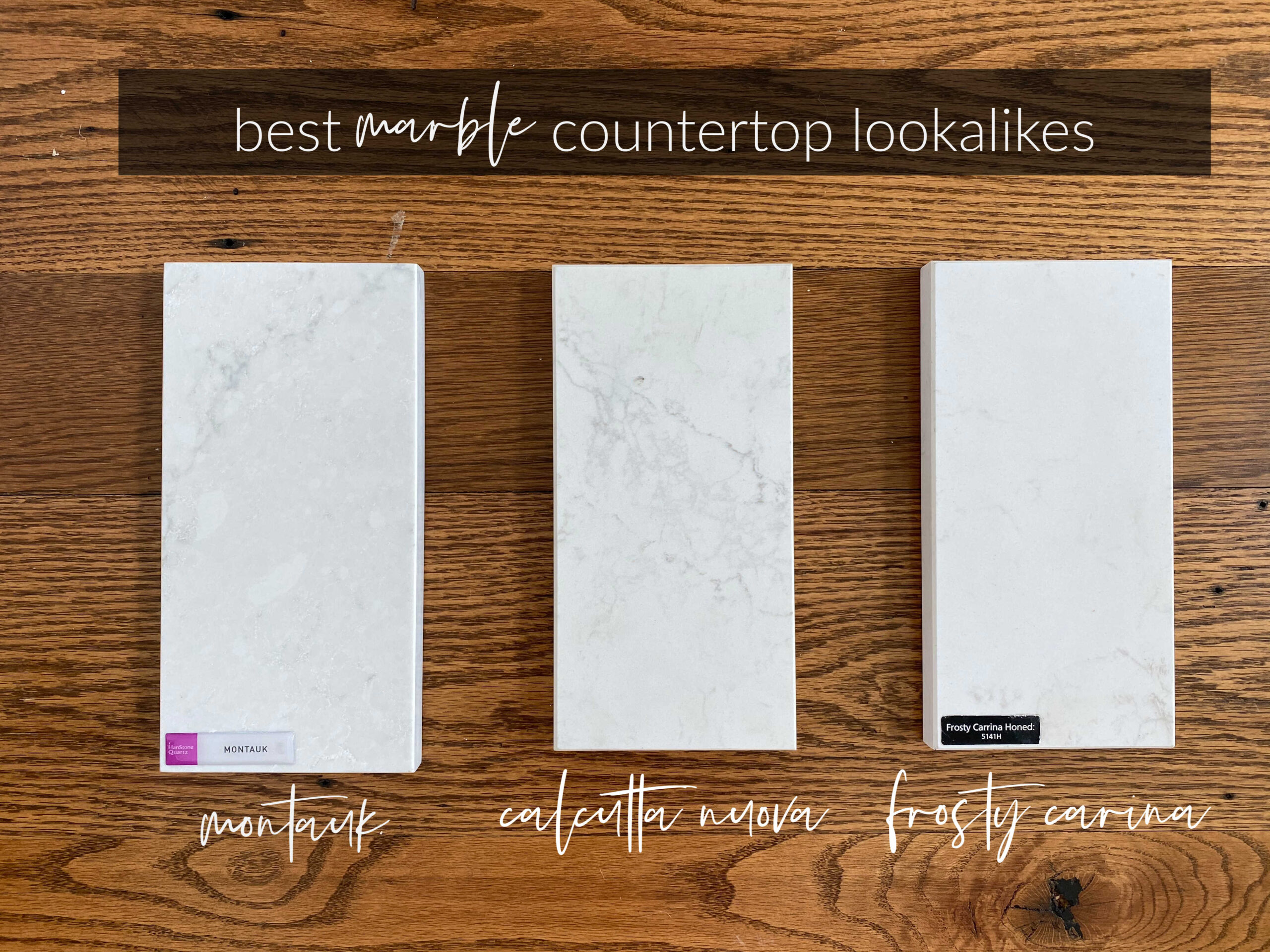 With a toddler in the house, marble was not a viable option.  But I love love love the look of marble.  So, caesarstone it is!
When I first laid eyes on Montauk, I fell in love.  Montauk is a polished quartz and it's positively lovely.
But Matt had his heart set on a honed finish.  For those of you new to the world of countertops, honed is the opposite of polished.  It's basically a matte, smooth finish.
We narrowed it down to Calcutta Nuova and Frosty Carina.  We lived with the samples in our kitchen for days.  Checking the colors at all different times of day under all different lights.  After days of studying the samples, we decided on Frosty Carina.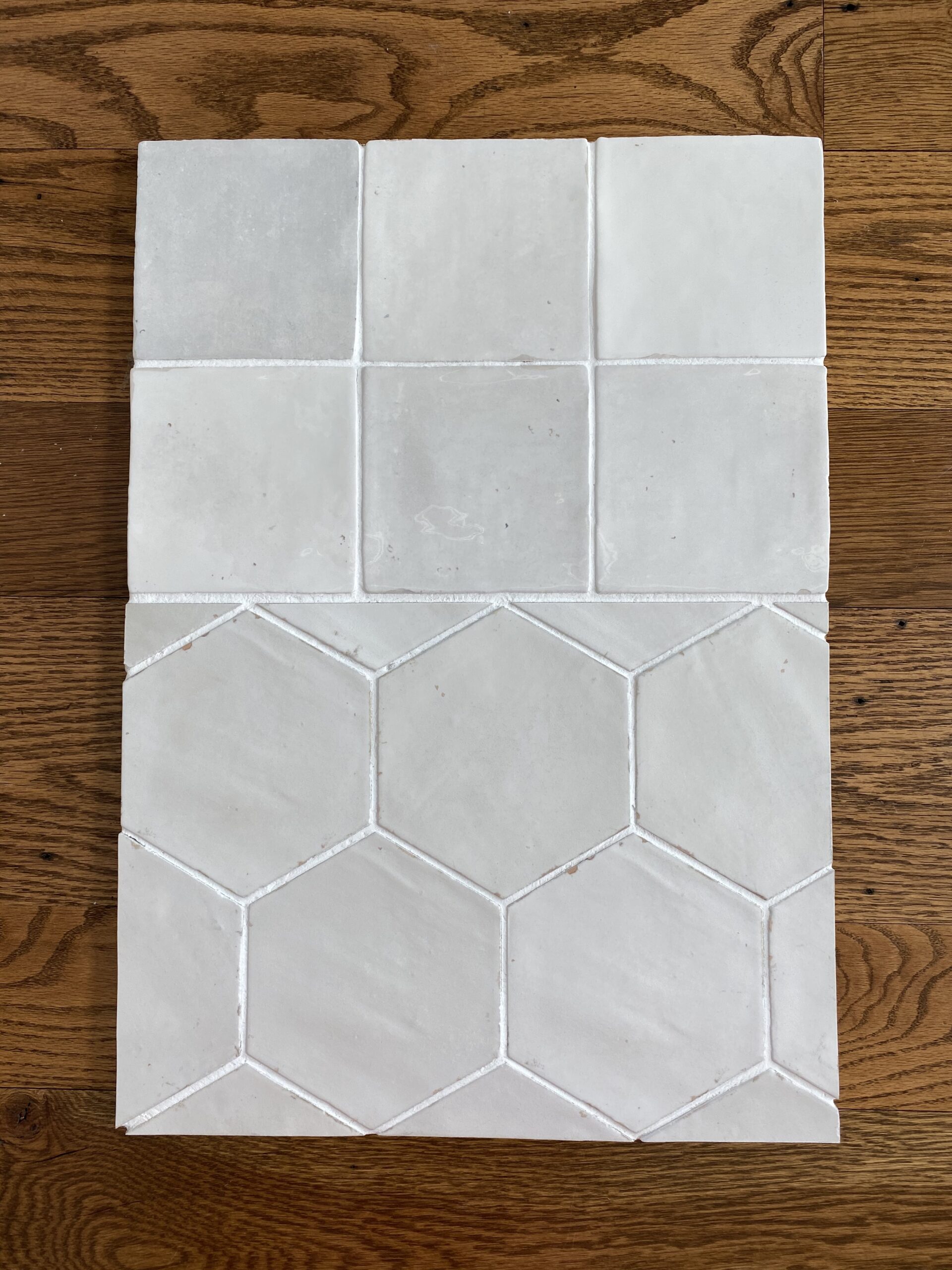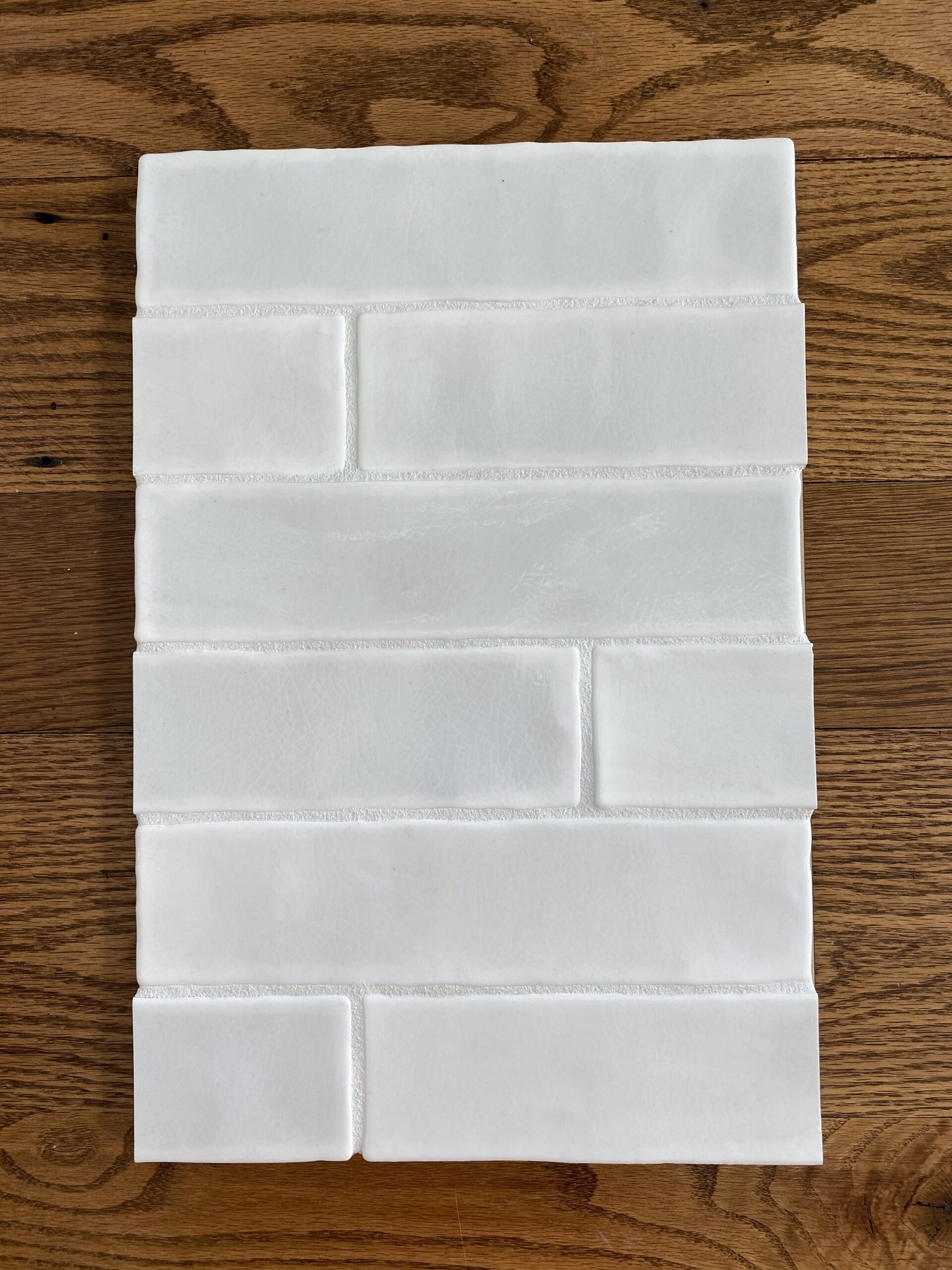 Next up is backsplash.  I want to lighten the kitchen overall.  Because the kitchen only has one window and it's looking out on the covered porch, the natural light is minimal.  In order to work with what we've got, we're choosing all products that will brighten the space.
I'm leaning towards a 5×5″ square tile as opposed to subway tile.  We had subway in our last house and I feel like everyone is doing it, so I want to choose something less popular.  We're looking at the above samples, but I'm really loving the square- not only for the shape but also the color variation.  We have another brand we're interested in, that we'll hopefully get a sample from tomorrow.  The subway tile above is Phoenix Ceramic in "Bianco" and the sample board with the square tiles is Speartek Porcelain in "Seasons Pearl".
Next up, looking for a different style hood vent.  Ours is very traditional, so looking for something with cleaner lines and just a tad more modern.
Comment below and let me know if you think I should go with square tiles on the backsplash or if you prefer something else.