Hello Home: Light Fixtures
If you're on Instagram, go check my Insta-stories because this morning our family room rug arrived.  This is exciting for us because the rug adds a level of coziness to the room.  Our house is (very) slowly starting to come together.  This past week our dining room table, family room coffee table and guest bedroom #2 bed arrived.  We're now waiting on our counter stools, which will take 2-4 weeks (insert freaked out face emoji here).  Throughout this process, I've realized two things: A) decorating your house is freaking expensive and B) furniture takes forever to arrive.
Our house was just about perfect when we moved in, but one thing I knew I had to change was the light fixtures.  Not all the light fixtures have to go; only the kitchen, dining room and master bedroom need switched out.  Our builder chose all very polished silver fixtures which is definitely not in line with my vision.  He also wired the master bathroom for a light fixture, but then failed to install one.
Here's a round-up of the light fixtures that have caught my eye.  I also included the light fixture we bought and Matt installed in our kitchen this weekend.
Quick shout out to the men in our lives who are handy.  My hubby can do just about anything and I'm so thankful that he's willing to roll up his sleeves and make my visions come to life!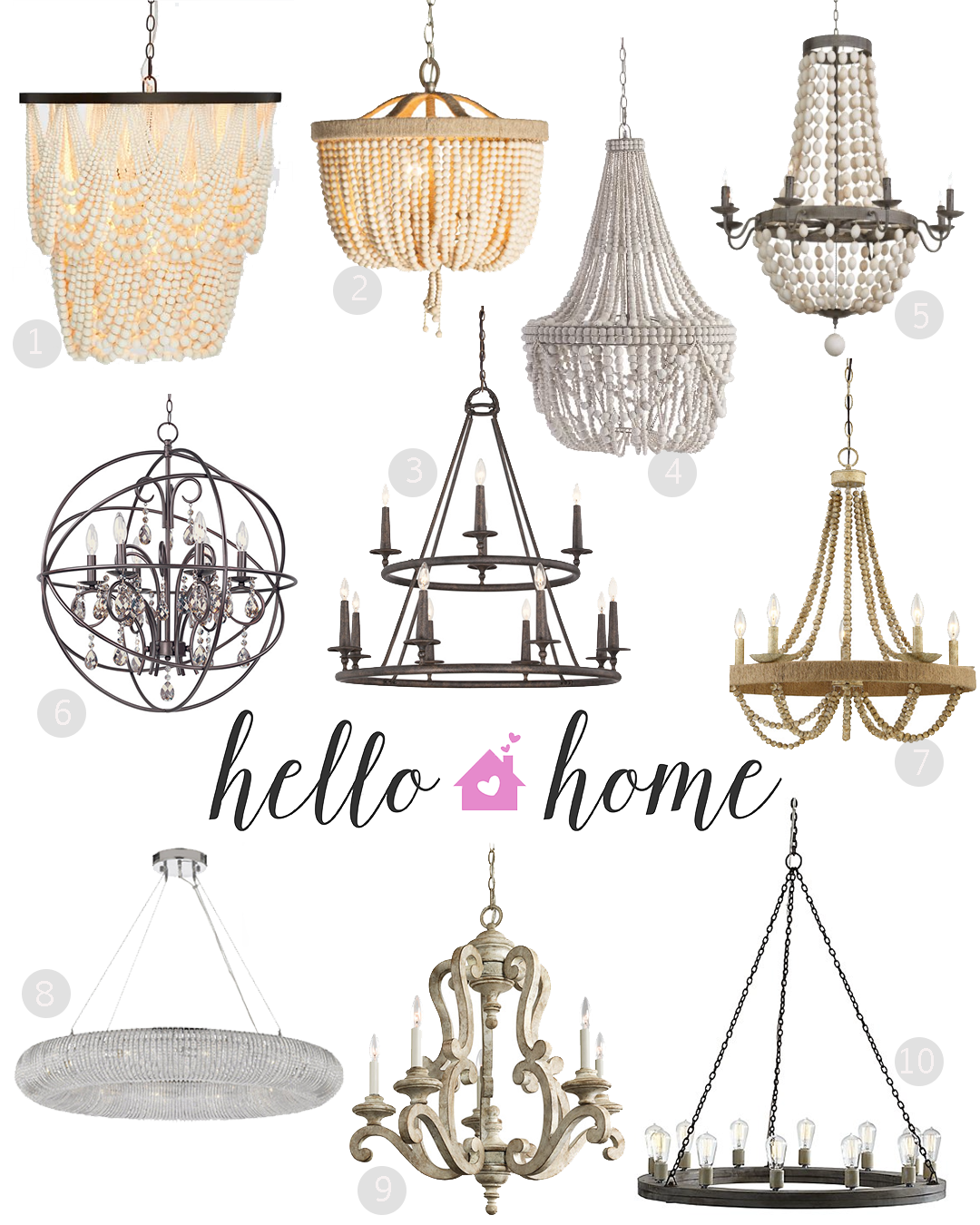 Amelia Indoor/Outdoor Wood Chandelier (ON SALE!)  //  2. 3 Light Foyer Pendant (under $300)  //  3. Maude 12-Light Chandelier  //  4. Francesca Beaded Chandelier  //  5. Tyler Beaded Chandelier  //  6. Galanis 6-Light Chandelier (two color options)  //  7. Lantieri 5-Light Chandelier ($250 price point)  //  8. Halo 18-Light Chandelier  //  9. Knudtson 5-Light Chandelier  //  10. Geoffrey Round Wood Chandelier
I love all of these fixtures for different reasons.  Options #6 and #8 are both dupes for the Restoration Hardware fixtures that leave you breathless as you walk into their showroom.
I'm trying to choose between a traditional crystal chandelier or a wood beaded chandelier for the master bathroom, to be hung over the bathtub.  I'm not sure which way I'm leaning right now…  Which means I need to scour Pinterest and Houzz more, lol.
As for our kitchen, here's a photo of the new fixture in place.  We originally found it on Crate & Barrel, but with our account/coupon codes, we were able to buy the exact same fixture on Wayfair and saved several hundred dollars.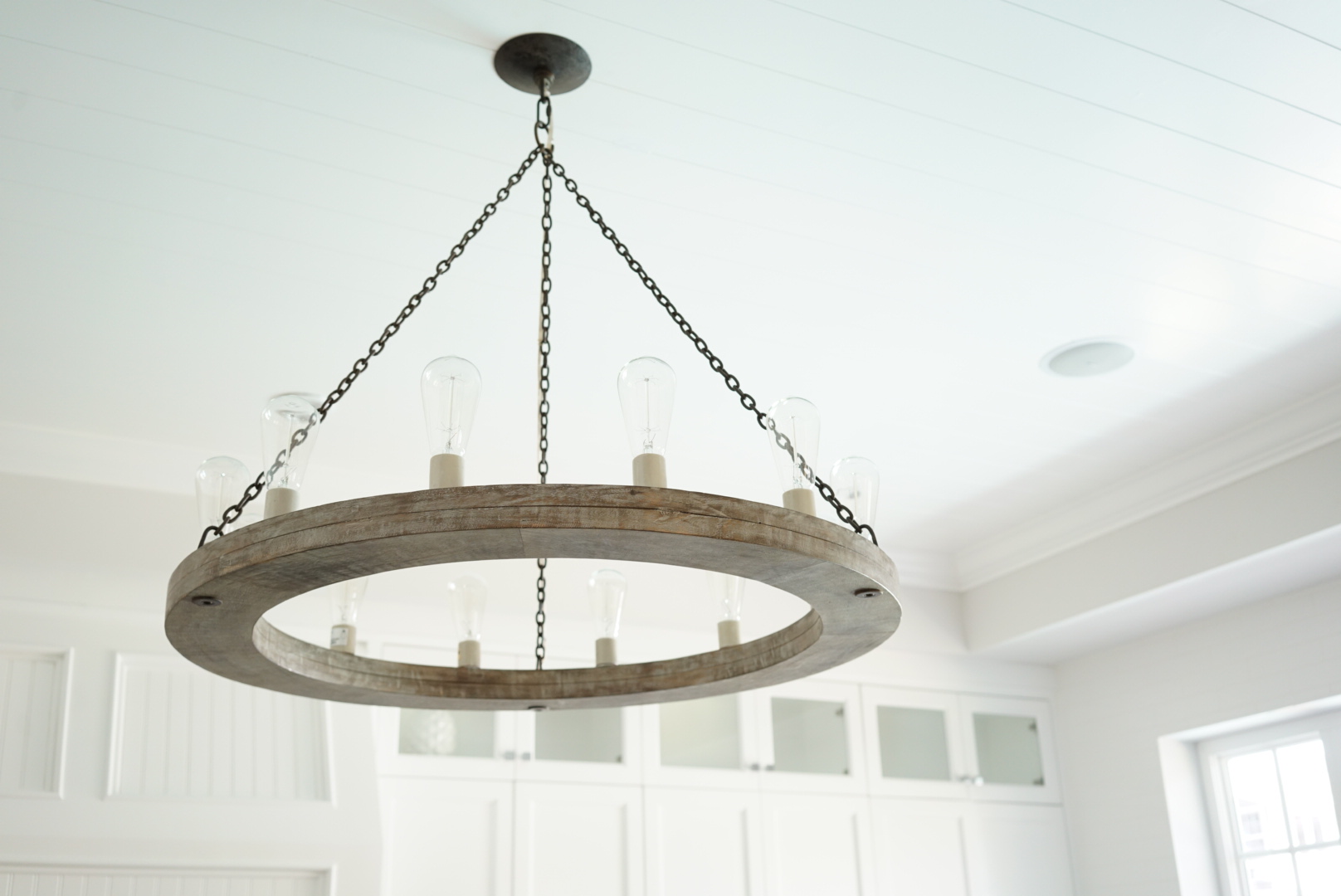 What do you think?  I LOVE it!  Leave a comment below and let me know your picks from the above collage for which rooms if you like any of them!
Shop These Light Fixtures:

Saturday Six – April Recap
It's been a hot minute since I've done a Saturday Six!  I love these posts because it's just a fun way for me to quickly share six things with y'all.  These are some of the things I've been loving in April. ?
1. Let's kick things off with my latest YouTube video.  Yesterday I posted a video all about Hunter Boots.  I wear my rain boots all the time, so I thought it would be fun to create a video about my experience with them.  Leave a comment on YouTube if you have Hunters and let me know what you think about them!
[arve url="https://www.youtube.com/embed/PbemQhFSid8″ mode="normal" align="center" title="Hunter Boot Collection and Full Review 2017 " description="Hunter Boot Collection and Full Review 2017 " upload_date="April 28, 2017″ /]
2. Royal Highnies PJs.  I fell in love with these insanely soft PJs while vacationing recently in 30A.  The Royal Highnies team was kind enough to send me a care package which I gave a sneak peek of on Instagram Stories yesterday.  I ran a full test on these jammies by sleeping in them last night and I'm not exaggerating when I tell you they are the softest I have ever felt!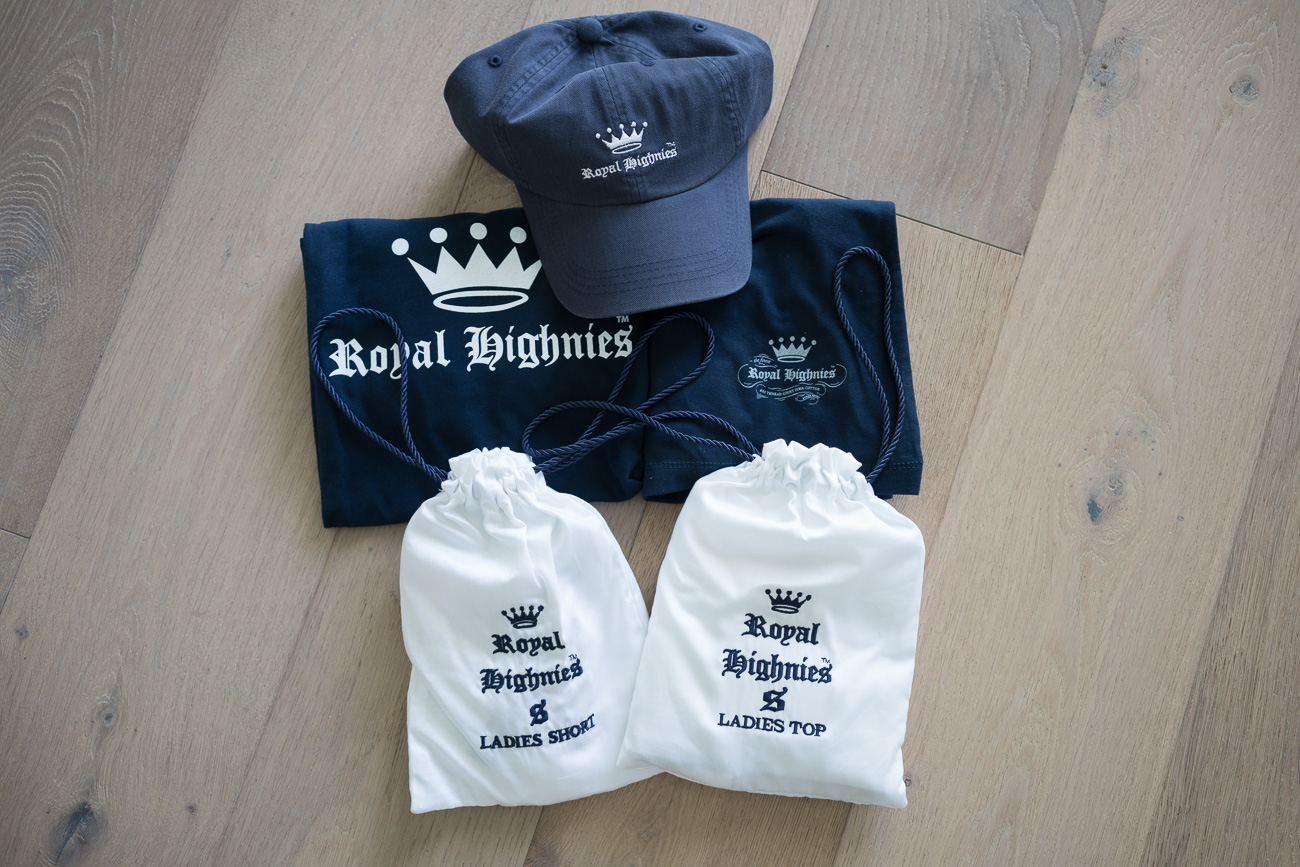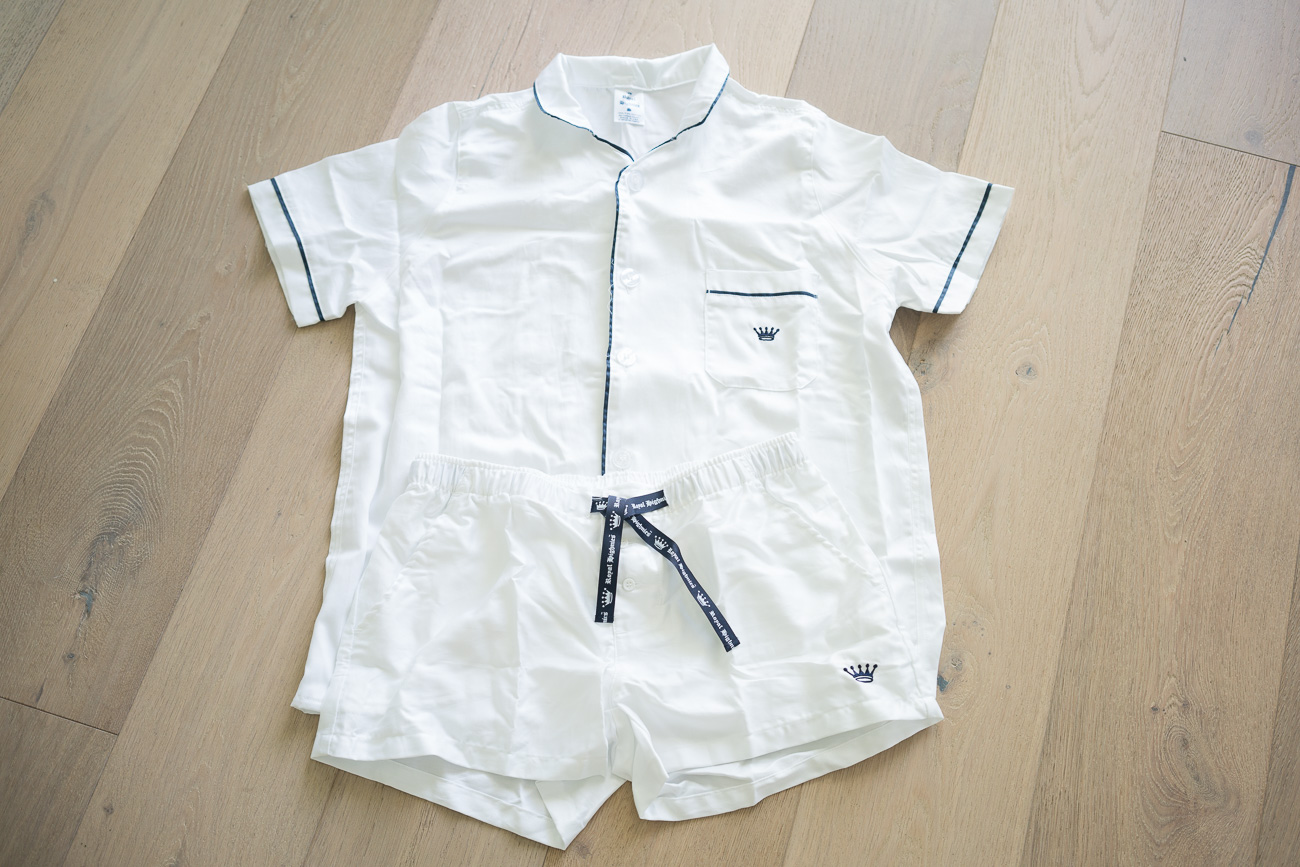 3. Bistro Chairs.  I've had my eye on bistro chairs ever since we visited Paris.  I snagged a pair of these chairs for $175, which was an awesome price.  The quality is amazing and they're going to be so adorable on our patio!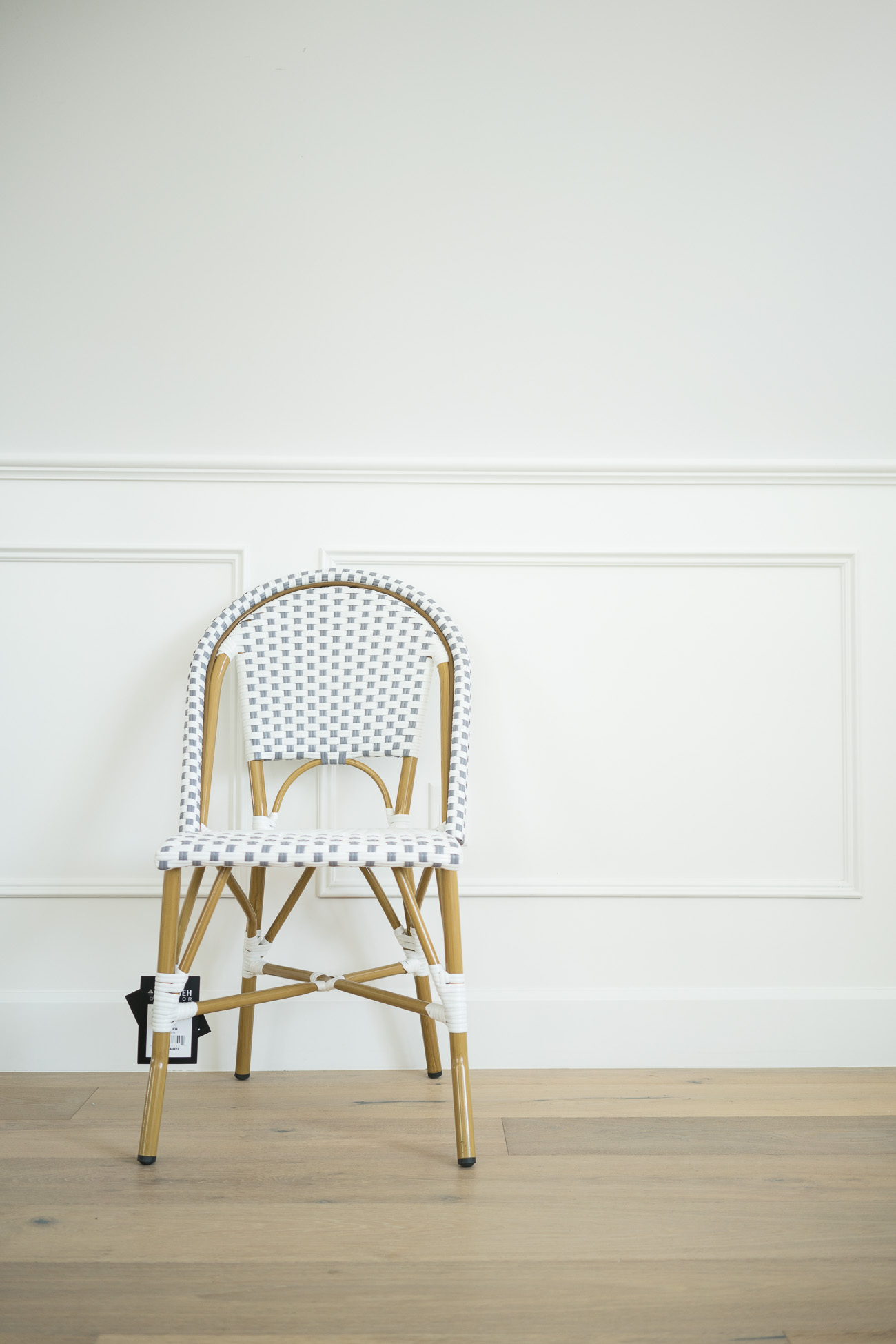 4. Biore Self Heating Mask.  Another post from my Instagram Stories is this mask.  It's a one minute self-heating mask that feels so nice on your skin.  You can purchase a box with 4 masks for only $7.50 here.
5. Homegoods Lanterns.  I've been a Homegoods fiend for a while now.  I love that you can walk in and discover something new for your home that you didn't know that you couldn't live without.  The downside?  It's almost always impossible to find a matching pair of anything.  I did score these amazing distressed wood lanterns this week for $25 each.  I can't wait to see them on our new patio table!  In case you love them as much as I do, I found them on Wayfair for you to shop as well!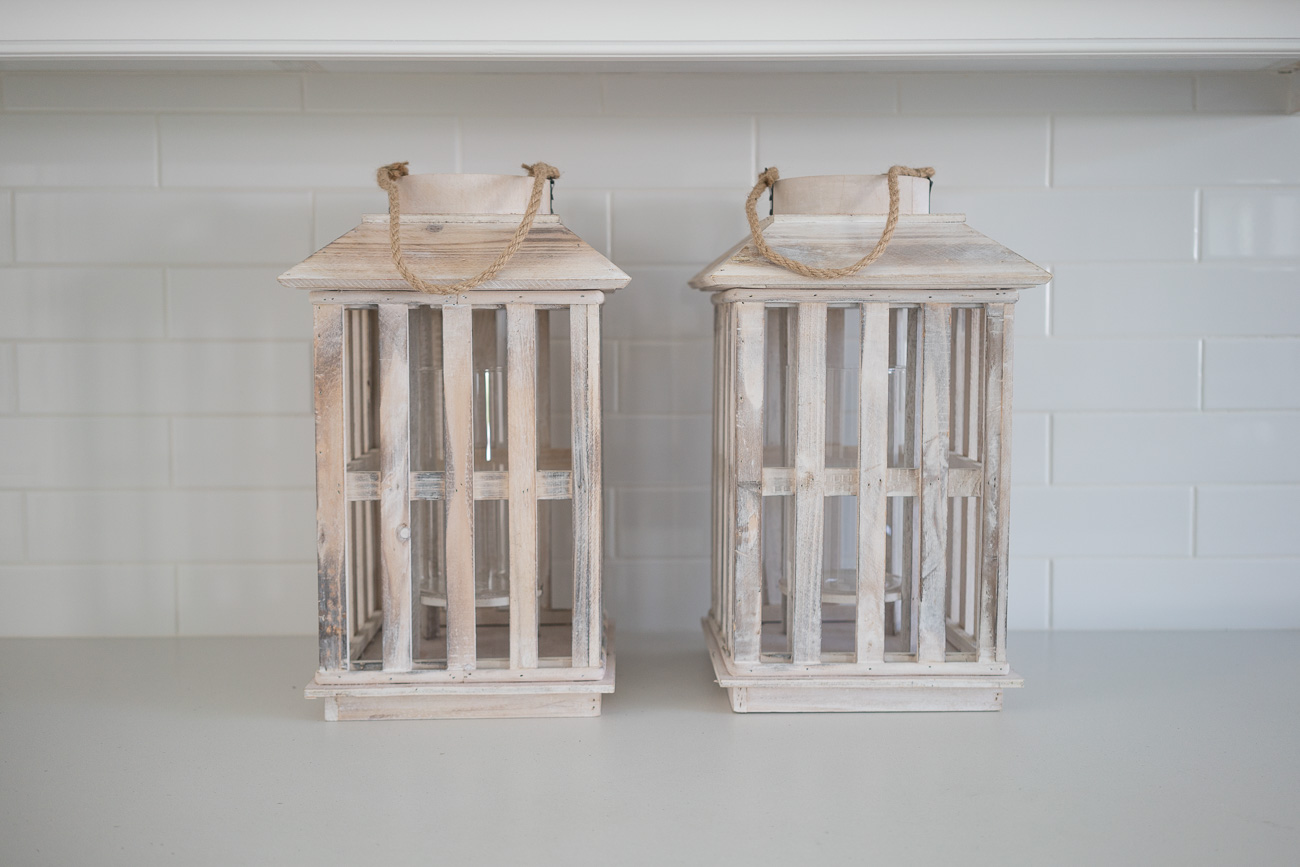 6. Chrome Nails.  After man years of acrylics, I decided to take a break from them this week.  My nails were pretty long because I only had an overlay at this point, so I decided to go with a gel manicure.  I chose this rose gold chrome gel polish and I'm totally obsessed.  I don't know the name or brand, but I can tell you that my nail tech used a bright coral gel polish then applied a fine, loose glitter on top for the chrome affect.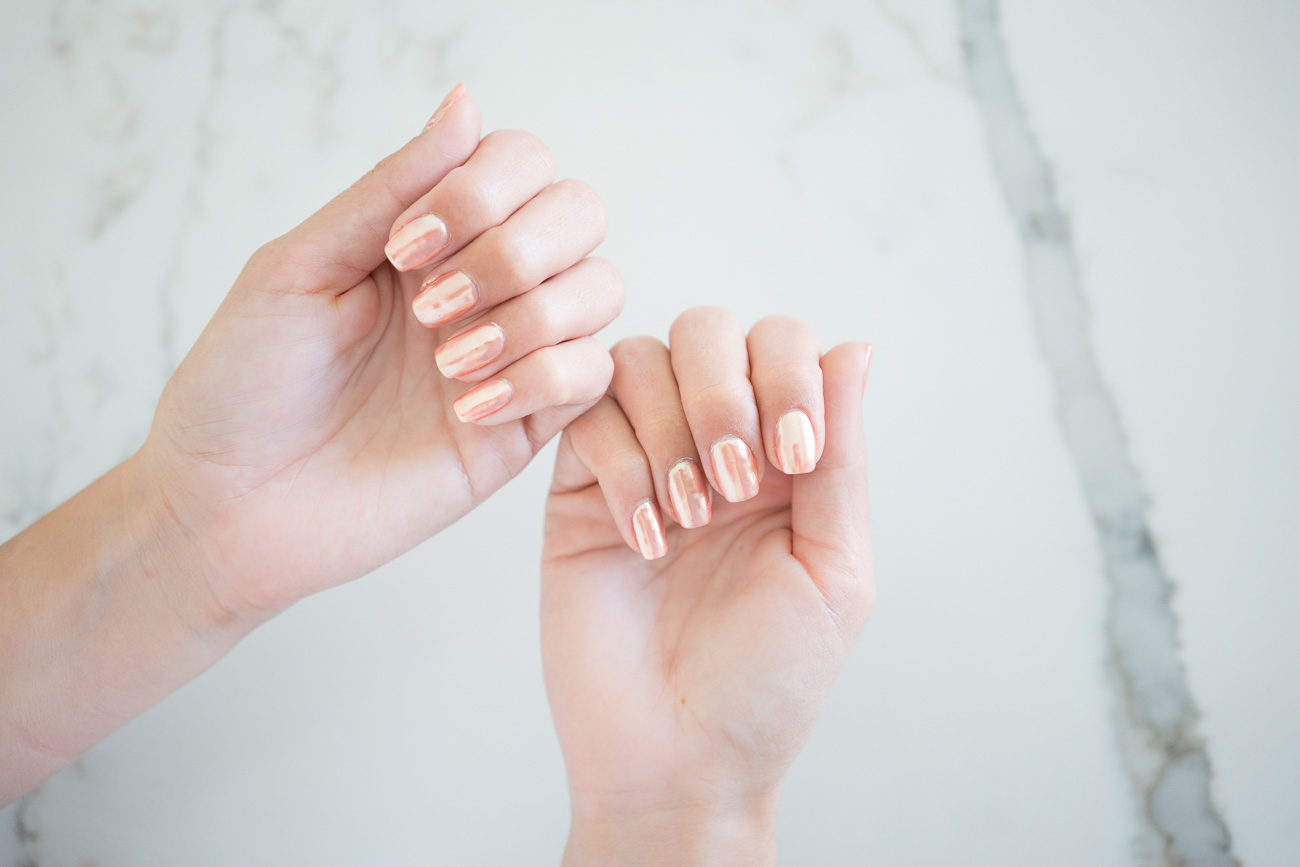 Do you have any new discoveries this past April that you're dying to share?  Let me know in the comments below!
Shop My April Faves:

Hello Home: Kitchen Counter Stools
My last post I chatted about starting the process of decorating our new home in LA and y'all seemed to love the idea of me sharing the process.  With that feedback, my newest series was born: Hello Home.  We were so inspired by the beautiful homes and interiors in 30A that we want to pull from those interiors as inspiration for our home.  I like to describe our style as "Coastal Americana."  I love light, bright and airy spaces filled with beautiful neutral pieces.  I want our home to look bright and clean while feeling cozy and inviting.

I figured why not kick off this series with the decision currently plaguing me: kitchen counter stools.  Seems like a not very big decision, I'm sure.  To us, it's a big decision though.  I'm currently writing this blog post from my kitchen counter.  Our kitchen is the hot spot of our home.  We eat our meals at the bar, (obviously) work there and sometimes watch tv from there.  I want to choose quality counter stools that will endure the heavy use we put them through. But I also want them to be comfortable for long sit sessions while also looking beautiful.
If you remember this post, we had the Corrine Linen Counter Stools from Pier 1.  These natural colored stools are incredibly comfortable and were definitely a great purchase for our old house.  We brought them to the new house, and they look very out of place.  Our kitchen is primarily white with grey, so the dark legs and bronze hardware stick out like a sore thumb.  Not to mention, we only had two of these counter stools, and our new island calls for three.
I've been married to the idea of the Restoration Hardware Round Cane Back French Stools forever.  After spending tons of time scouring Pinterest and Houzz for inspiration, I'm now prepared to go another direction.  I wanted to share some of my favorite counter stools with you in case you too were in the market for some new furniture.
Before we hop into the current counter stool selection, I wanted to debunk a Restoration Hardware misconception.  Most people hear RH and think, "It's sooo expensive."  You are right in certain situations, like rugs.  However, my beloved round counter stools in the basic combo (Burnt Oak/ Sand Belgian Linen) are $243 each (Member pricing, which is a must do!).  If you look at the lookalikes I found online, they're both higher priced at Wayfair and World Market.  Both of these retailers are found to be "cost effective" to most shoppers, yet their prices for RH inspired pieces tend to run even higher!  The quality of RH cannot be beat, I know that from experience.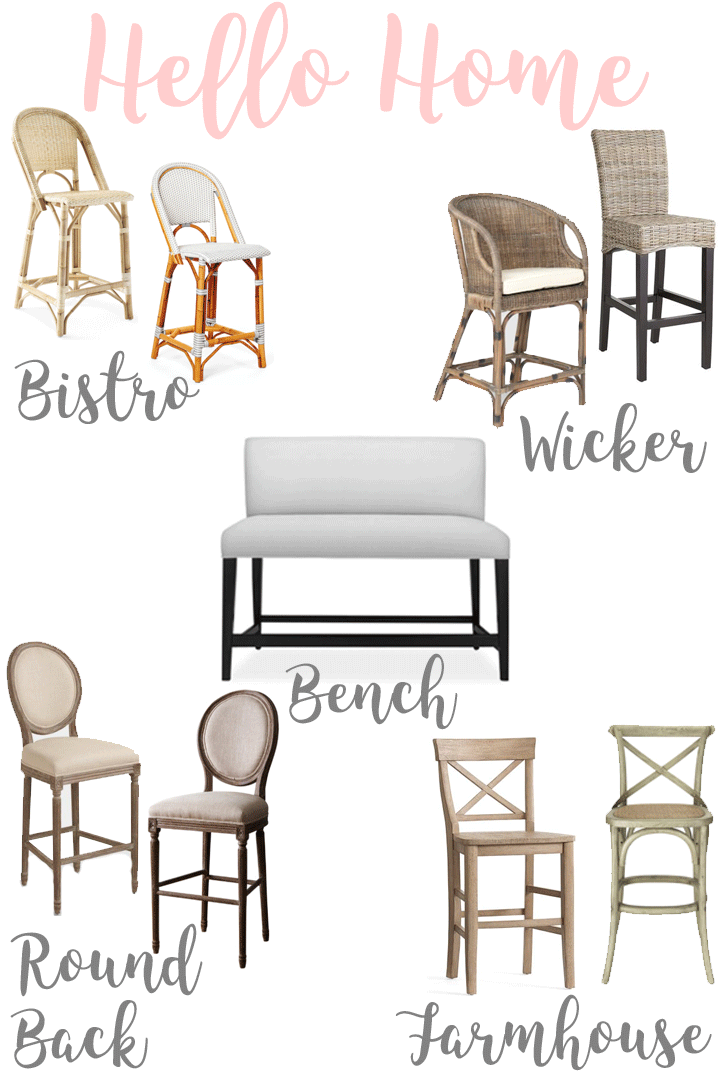 As you can see, I've been looking at multiple different styles of counter stools.  I like each of them for a different reason and each would look great.
Bistro:  I fell in love with bistro chairs when we visited Paris.  Every time I see a bistro chair, I smile and remember Paris.  I purchased bistro chairs for our outdoor dining area, but wasn't sure if I wanted to also incorporate them indoors.
Wicker:  These chairs fit perfectly into the "Coastal Americana" feel.  Unfortunately, they don't tend to be comfortable.  That can easily be remedied with cushions, but I'm not sure if I want cushions tied onto my counter stools.
Bench:  I first saw a bench counter stool in a home decor store on 30A and thought it was such an awesome piece.  The problem is that your bound to sit close to your bar mate whether you want to or not.
Round Back:  This style was where my design heart was all along.  I think round back upholstered chairs are so beautiful.  I do worry that they're too formal of a design in a more casual, laid back space.
Farmhouse:  These chairs are a classic design and now even come with a padded seat.  I'm not sure if they're too basic or if they're just the right look.
I think I made a decision on which stools to buy!  Feel free to leave a comment with your favorite style or guess on which one I chose!
Shop These Kitchen Stools: