Studio Bathroom Reveal with In The Moment from BEHR®
This post was written in partnership with BEHR® and PopSugar.
When we moved into our new home earlier this year, we knew we wanted to decorate with our favorite vacation spot, 30A, in mind.  We didn't want to go full-on beach house, but we did want the beachy color palette while keeping comfort in mind.  We like to call our home decor style, "Coastal Americana."  I coined that term after visiting 30A back in April and it's stuck with us as we continue to decorate our home.
The color palette in our house is very neutral, but I wanted to add a splash of color to my beauty room and the attached ensuite.  We kept the walls in my studio neutral to allow for more flexibility with filming, but I had free range with the bathroom.  Here's a photo of what my studio bathroom looked like before: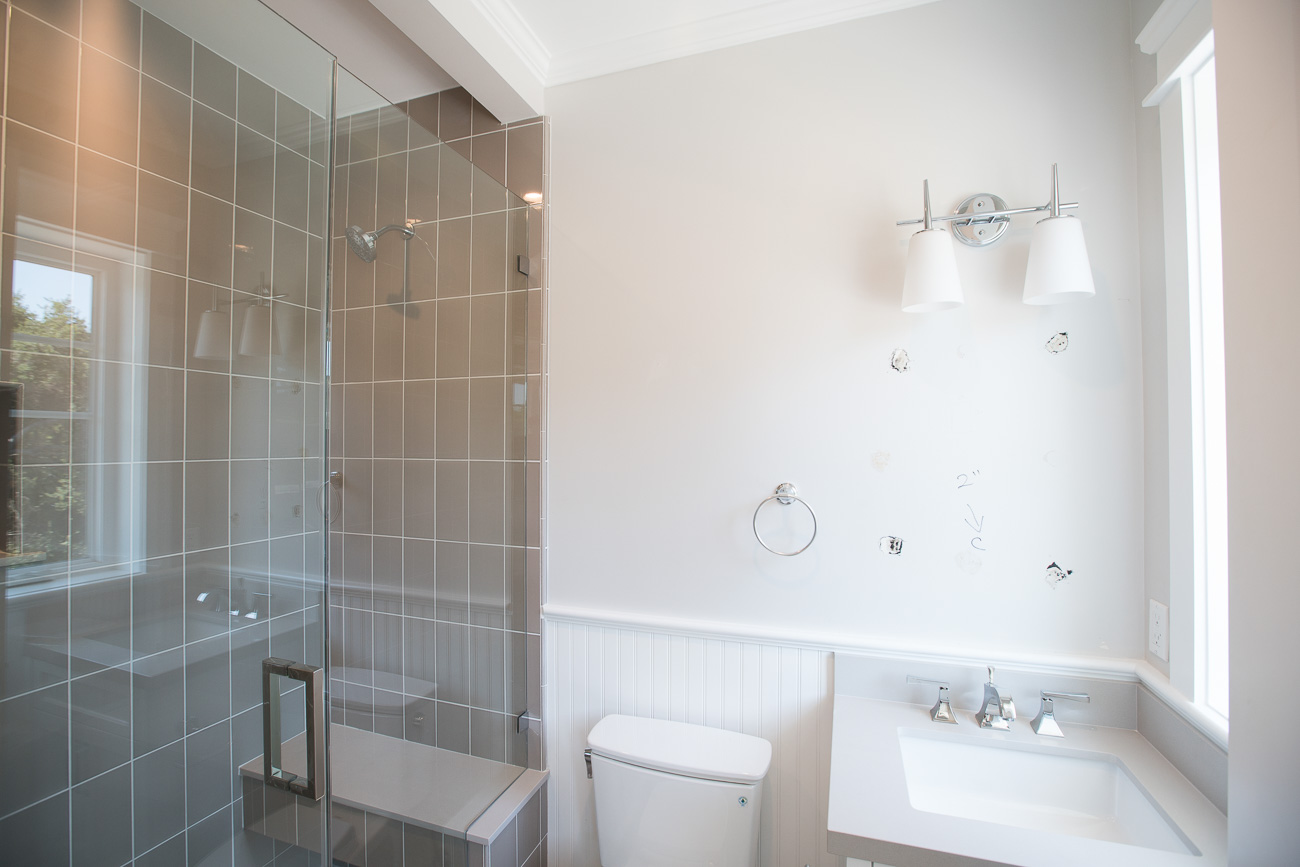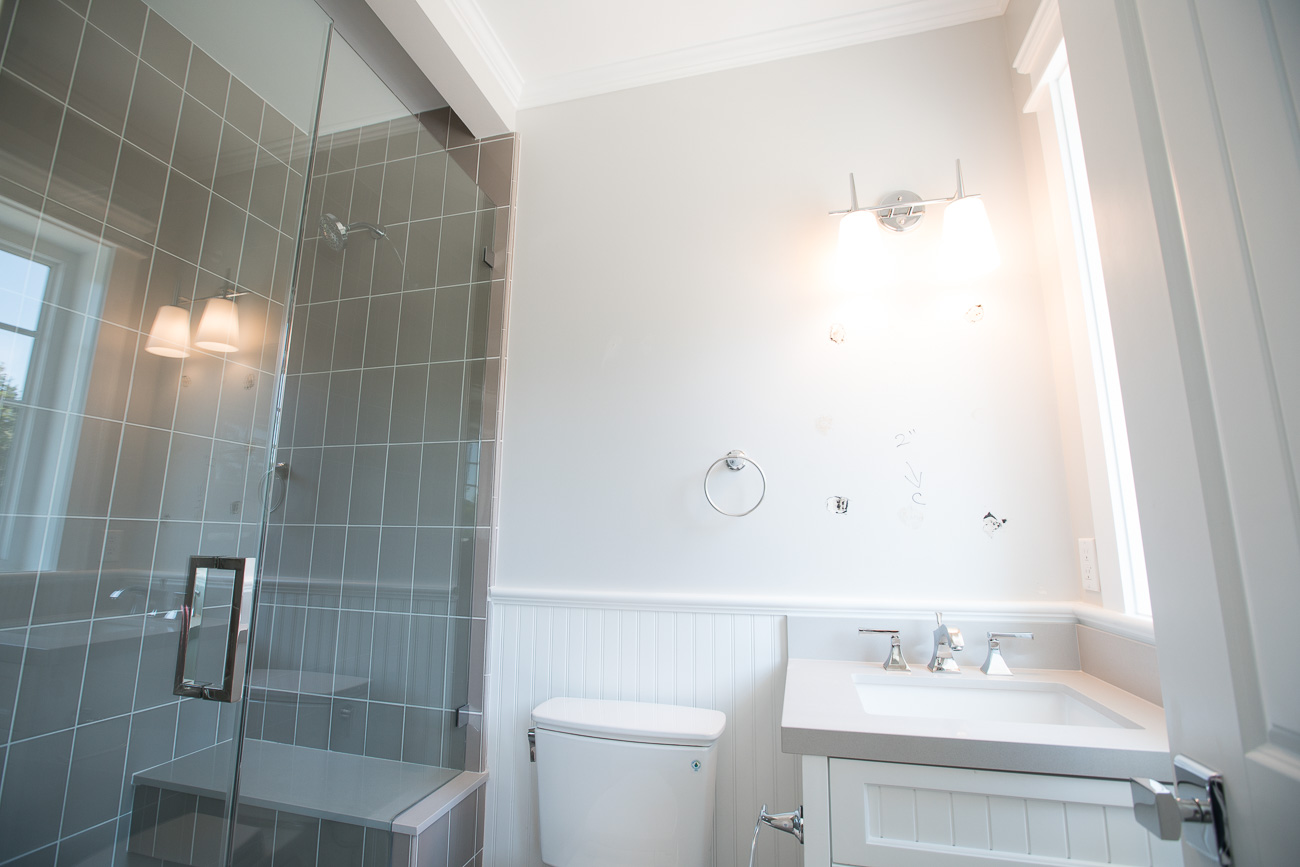 I love the neutral tile paired with the white vanity and trim.  But I wanted to work in a color that fit perfectly in line with my "Coastal Americana" style.  After reviewing the BEHR® 2018 color trends, I chose the paint color In The Moment T18-15 because it felt like the perfect color choice to bring a coastal feel into my space.  Coincidentally, In The Moment has been chosen as the 2018 Color of the Year and with good reason…  It's a gorgeous spruce blue shade with a green undertone that fits in line perfectly with our coastal design vision.  The contrast of this paint color with our white vanity is so beautiful!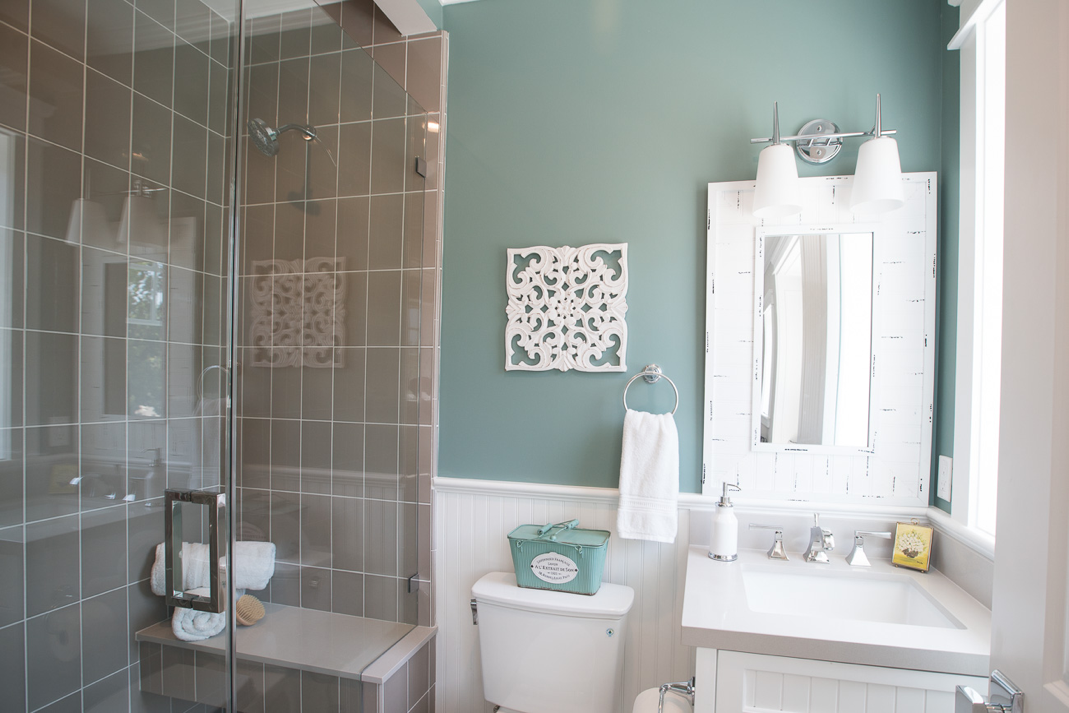 BEHR PREMIUM PLUS ULTRA® Interior Paint & Primer in One is available to purchase at Home Depot or you can even order this color online in sample size or by the gallon.  How convenient is that?    My husband painted our bathroom in one afternoon and commented several times on the quality of paint.  Keep in mind, Matt used to paint professionally back in college, so he knows his paint.  He loved the BEHR® formula, the ease of application and the finish.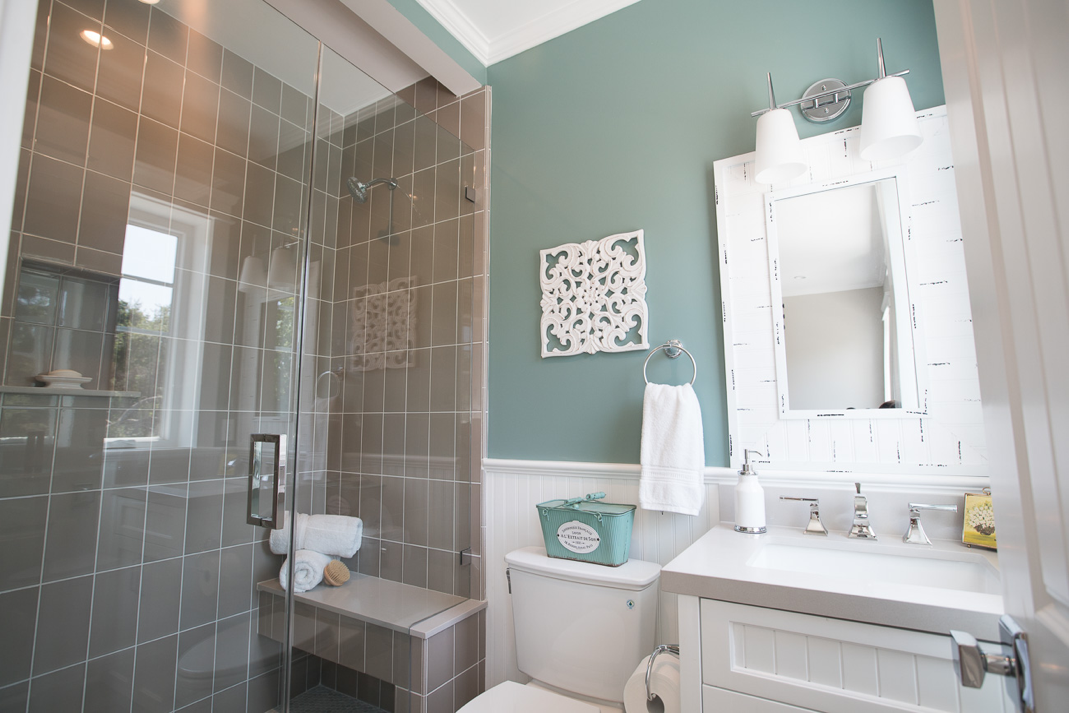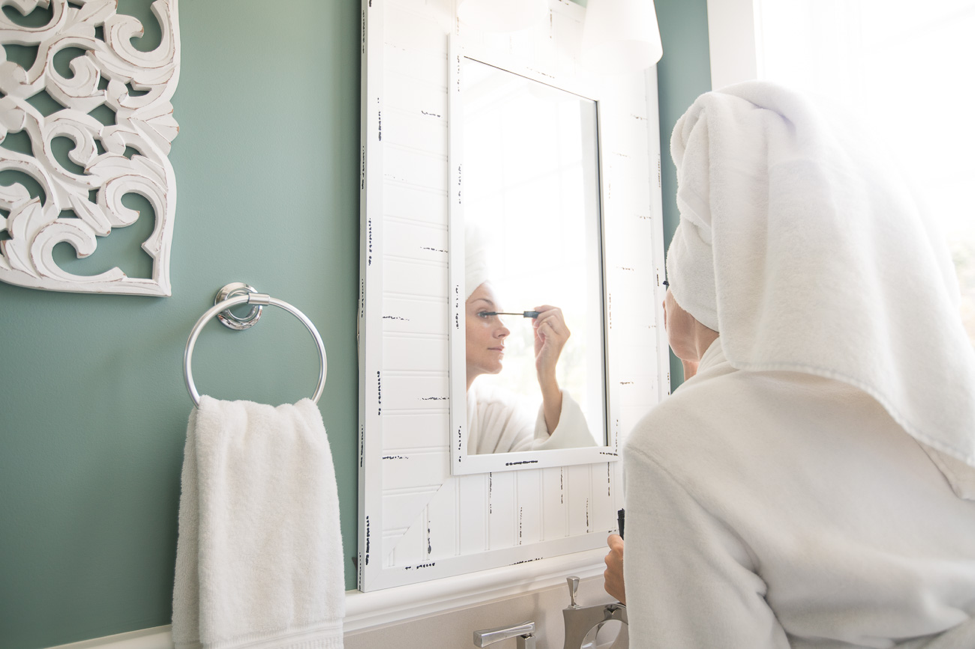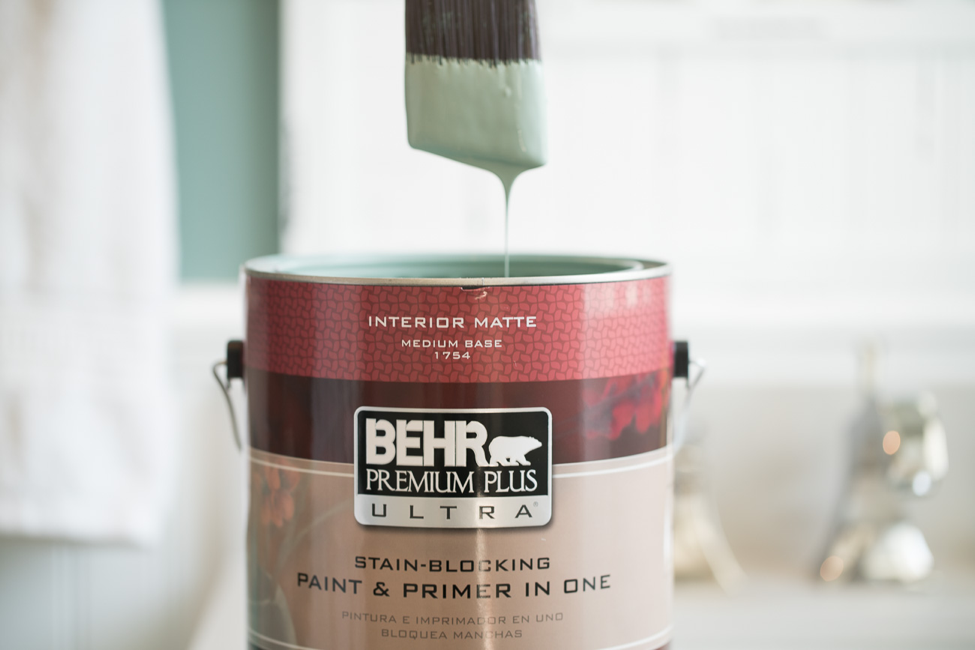 I'm giving away a $100 gift card to Home Depot to one lucky reader.  In order to enter, simply submit your entry here with your contact info and which color you'd be interested in trying.  Be sure to fill out the form completely with your accurate contact info, so the winner may be notified promptly.  Good luck, Gorgeous Fam!
NO PURCHASE NECESSARY. A PURCHASE WILL NOT INCREASE YOUR CHANCES OF WINNING. OPEN TO LEGAL RESIDENTS OF THE 50 UNITED STATES. All entrants must be the age of majority in their respective state as of the date of entry and over 18 years of age. BEHR® Color Trends Sweepstakes – Angela Lanter ("the Sweepstakes") opens at 12:01 a.m. PST September 14, 2017 and closes at 11:59 p.m. PST on November 4, 2017. Void where prohibited by law. Participation constitutes entrant's full unconditional agreement and acceptance of the Official Rules, Terms of Service, Privacy Policy. Sweepstakes is sponsored by POPSUGAR Inc. (owner and operator of popsugar.com) having an address of 111 Sutter Street, 16th Floor, San Francisco, CA 94104. One grand prize valued at $100.
Hello Home: Beauty Room/Office Reveal
After we moved into our new home earlier this year, my office became a black hole for all the things.  I use this room as not just my office, but also as my beauty room and my studio.  I tend to dump everything in there.  It became so overwhelming that neither Matt or I wanted to even walk into the room.
Then I got pregnant.  Once morning sickness hit, I didn't care what my house looked like or what work I even got done.  I lost all motivation to work, organize or even open boxes.
We both got so overwhelmed and I knew I needed help.  I decided to bring in Jennifer from Organization Fabulous to help whip my office (aka my life) into shape.  I couldn't be more thrilled with the end result!
Here's a video tour of my new studio:
For storage, we chose the Pax Wardrobe system from IKEA.  We choose the Pax over the Elfa system from The Container Store for several reasons: I could easily design the Pax myself online, we could pick it up in store same day and it was hundreds of dollars less expensive than the Elfa.
As with any piece of IKEA furniture, it was a nightmare to assemble.  I'm so blessed with a handy husband.  I'm happy to report, Matt is now back on speaking terms with me, lol.  If you listen to Hello Bump Podcast, you probably remember the several days he spent putting this bad boy together.
If you watched my beauty room tour from our old house, then you'll remember that I primarily used the Alex drawers from IKEA.  I kept those and repurposed them, except for the two tall cabinets.  One is in my studio and Matt is using it for camera equipment currently.  We're deciding whether to keep or donate the second tall cabinet.  I'm using the two short Alex drawers for storage under my desk and the short, wide Alex drawers for organization of dupes.
We bought my desk from an office furniture store here in LA, but this desk is similar.  We chose the desk I have because of it's depth, which makes for great light mounting when shooting videos.
I love my office chair because it's so comfortable.  I bought my chair at Homegoods, but it's available for purchase on Wayfair.  My rug is also from Homegoods.
As for my pillows, the lipstick pillow was a gift from my sweet friend Julie Solomon.  My Hello Gorgeous pillow was also a gift (LOVE).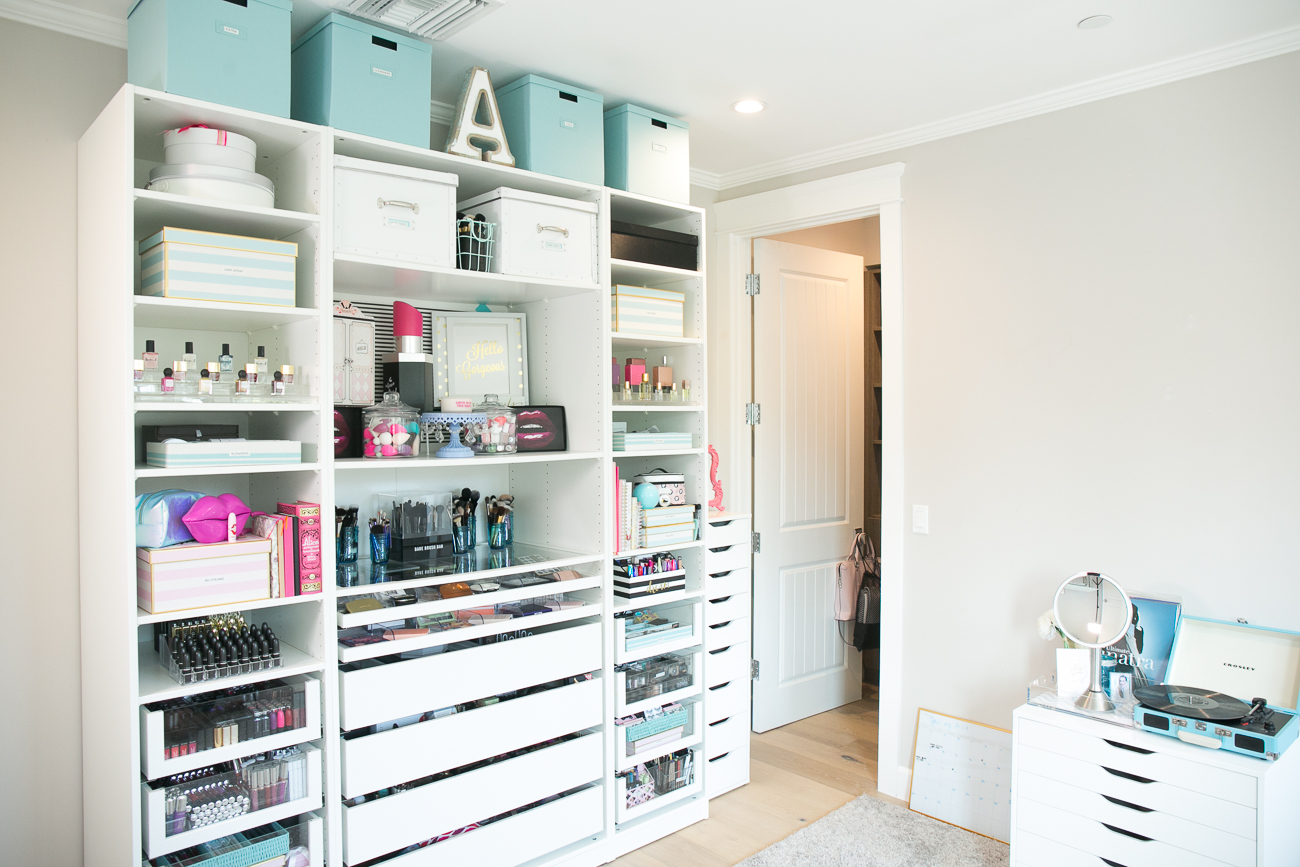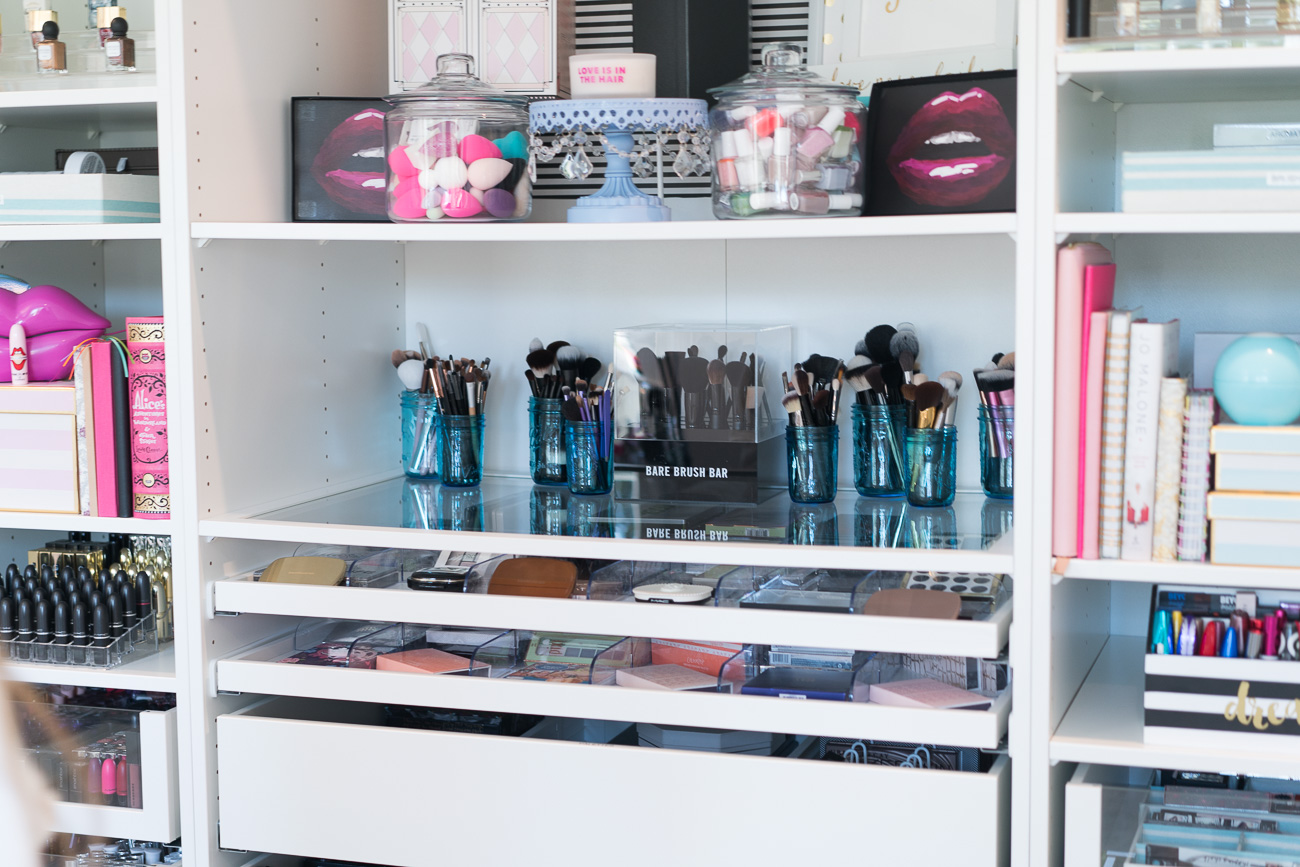 Now, on to the organization.  Jennifer used various acrylic trays to neatly organize and store my products in each drawer.  She purchased them from The Container Store and Homegoods.  I love these trays so much that I bought out every single one I could find at my local Marshall's.  I'm using the trays to organize my bathroom drawers and nightstands.  They make a HUGE difference.  Leave a comment below if you'd like me to do a detailed bathroom organization post.
There are a ton of great acrylic organizers available on Amazon.  Another project I'm planning is installing nail polish racks.  This way, I'm able to neatly organize and display all of my gorgeous Essie nail polishes that are currently stored in boxes.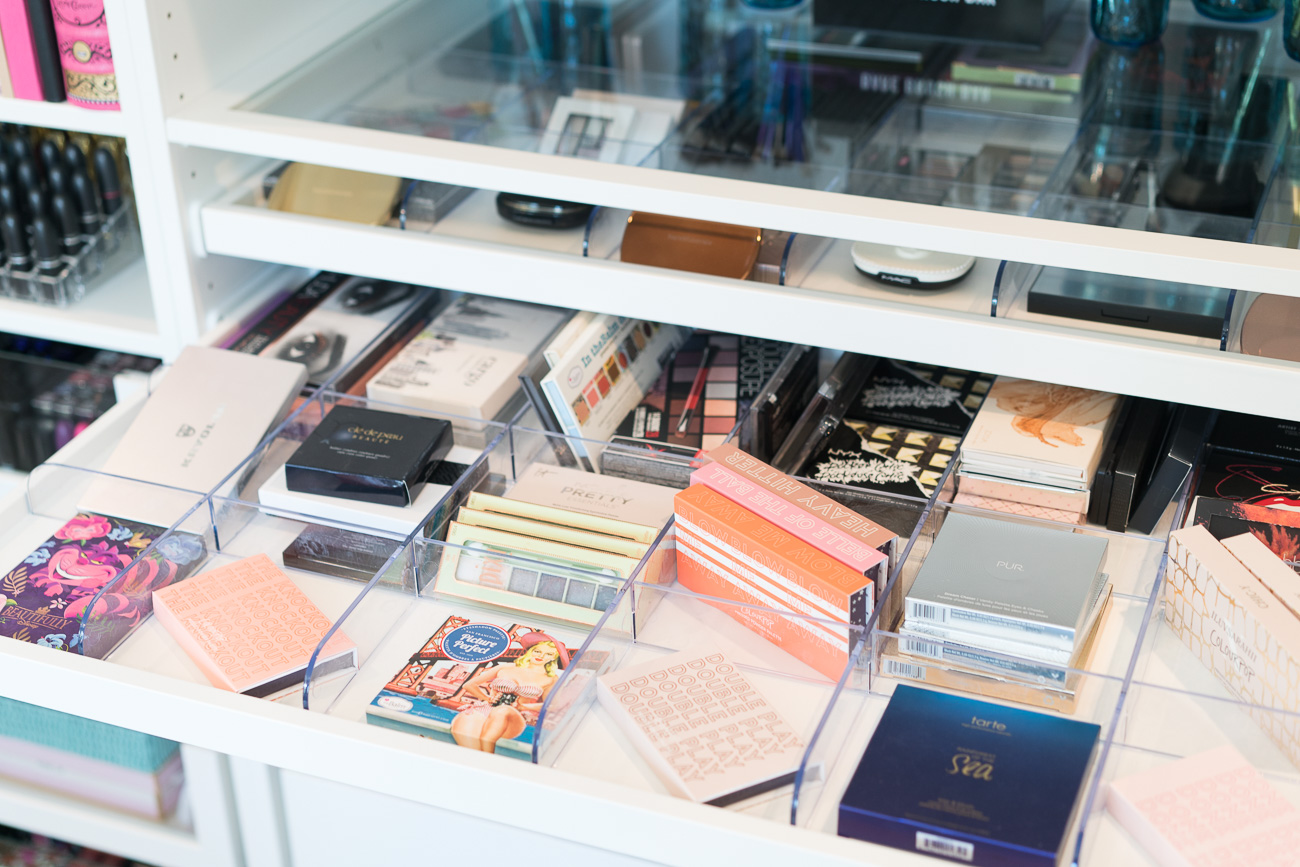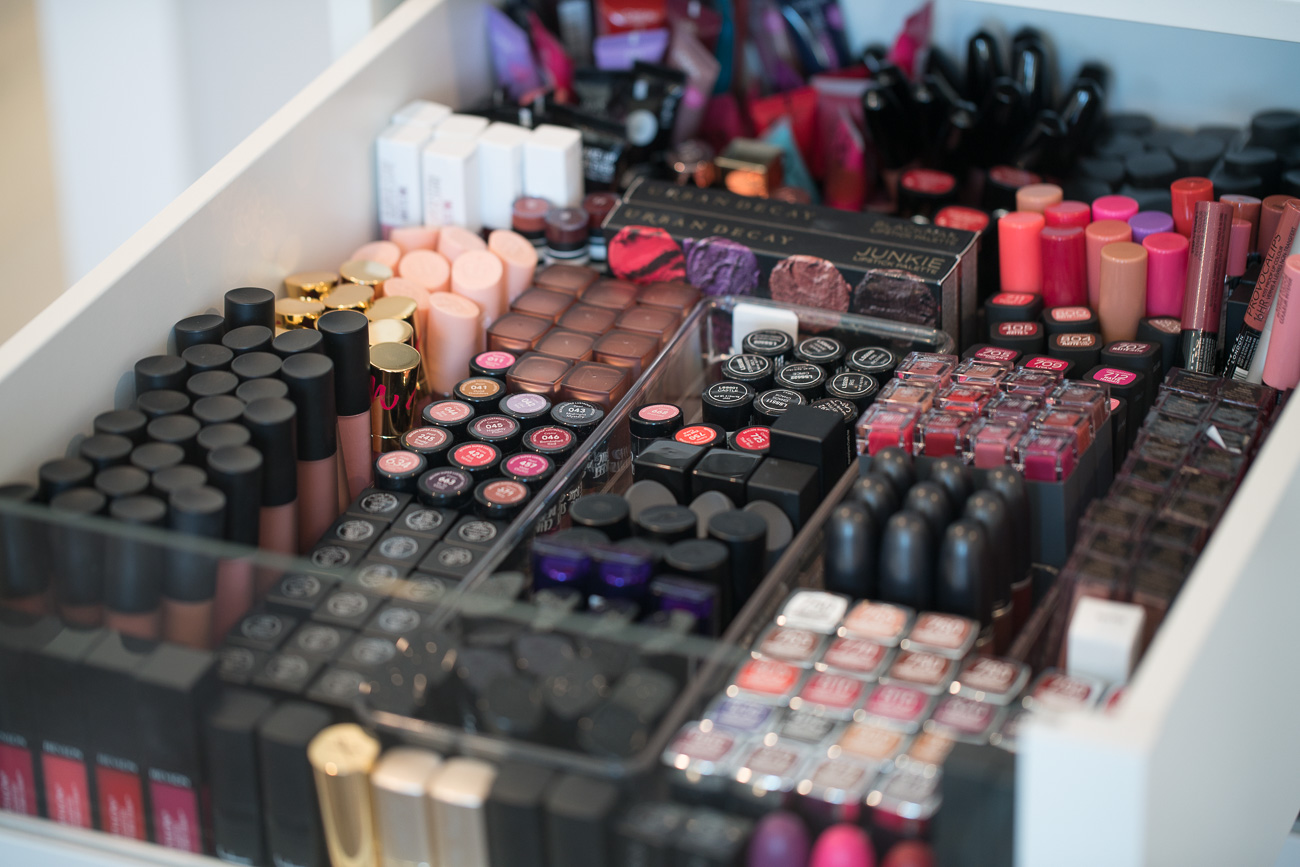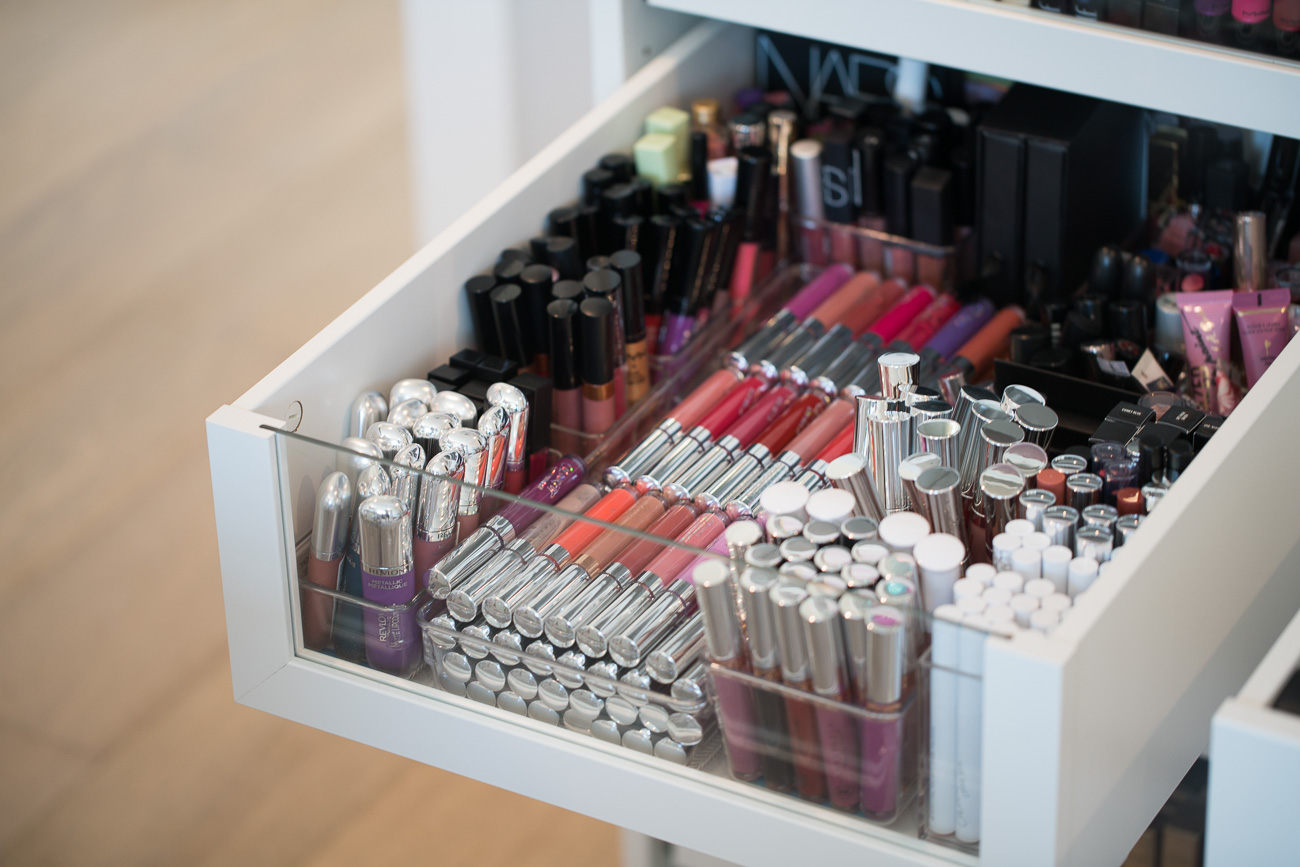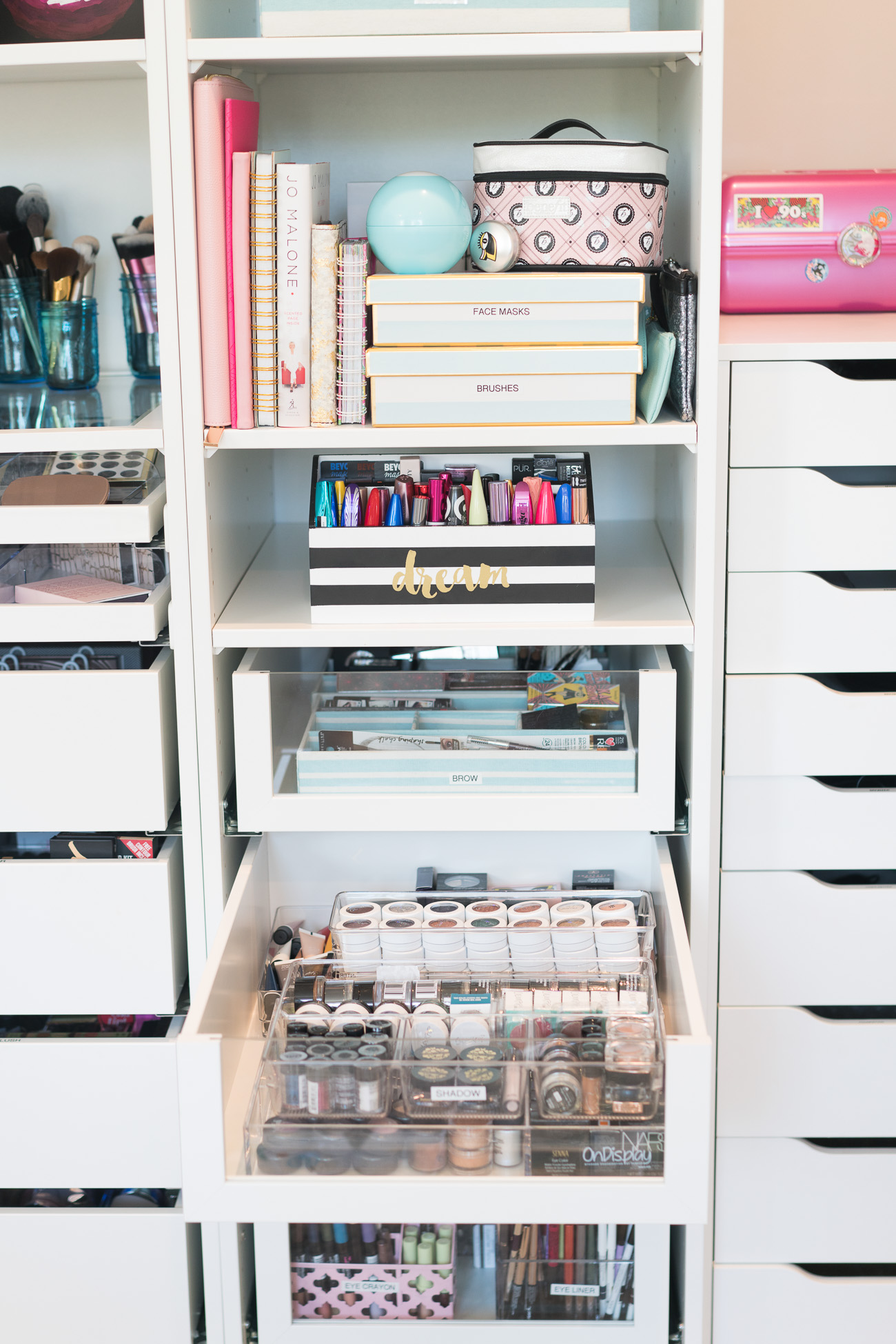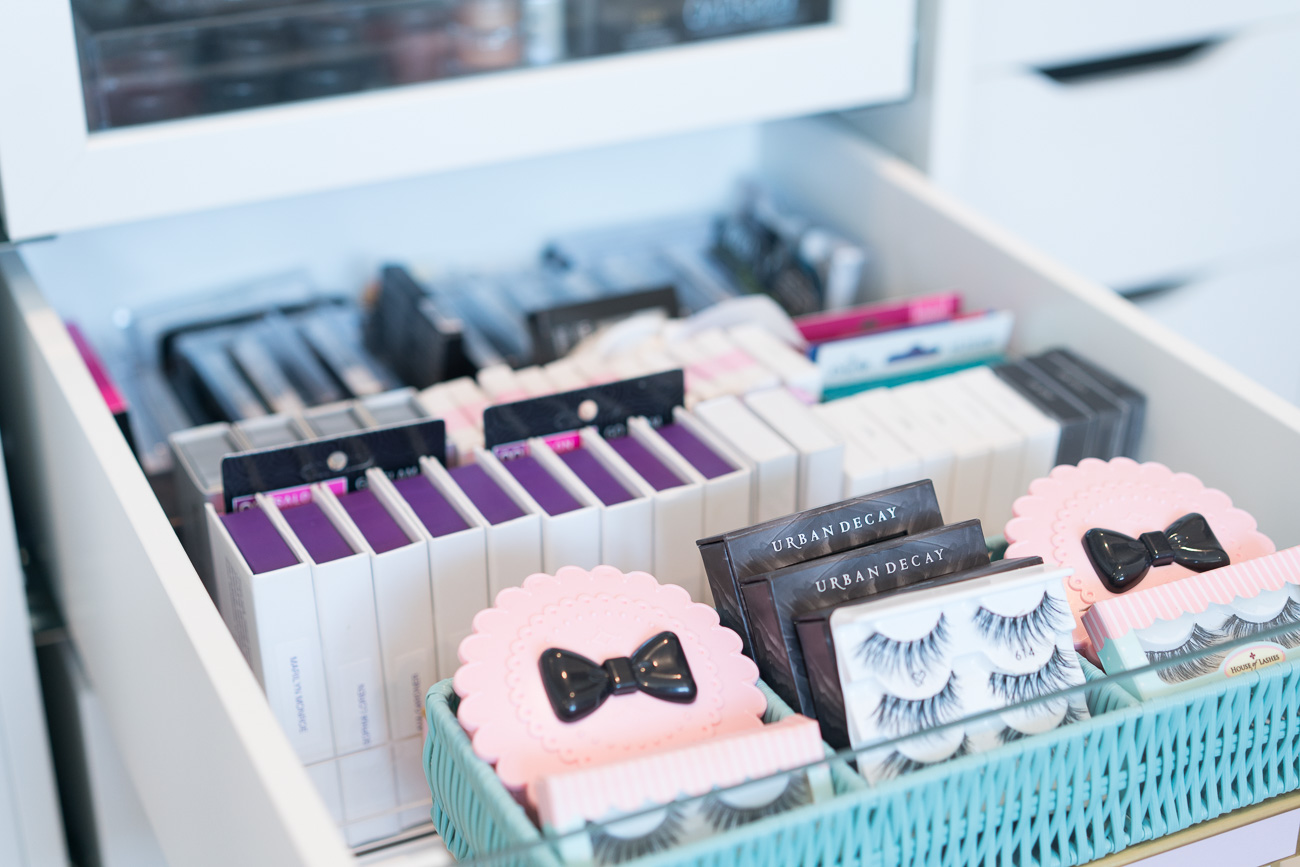 Jennifer labeled all the drawers and trays so it's easy for me to know exactly where to find and store everything.  I use my label maker all the time.  It comes in handy more times than I ever realized I'd need it.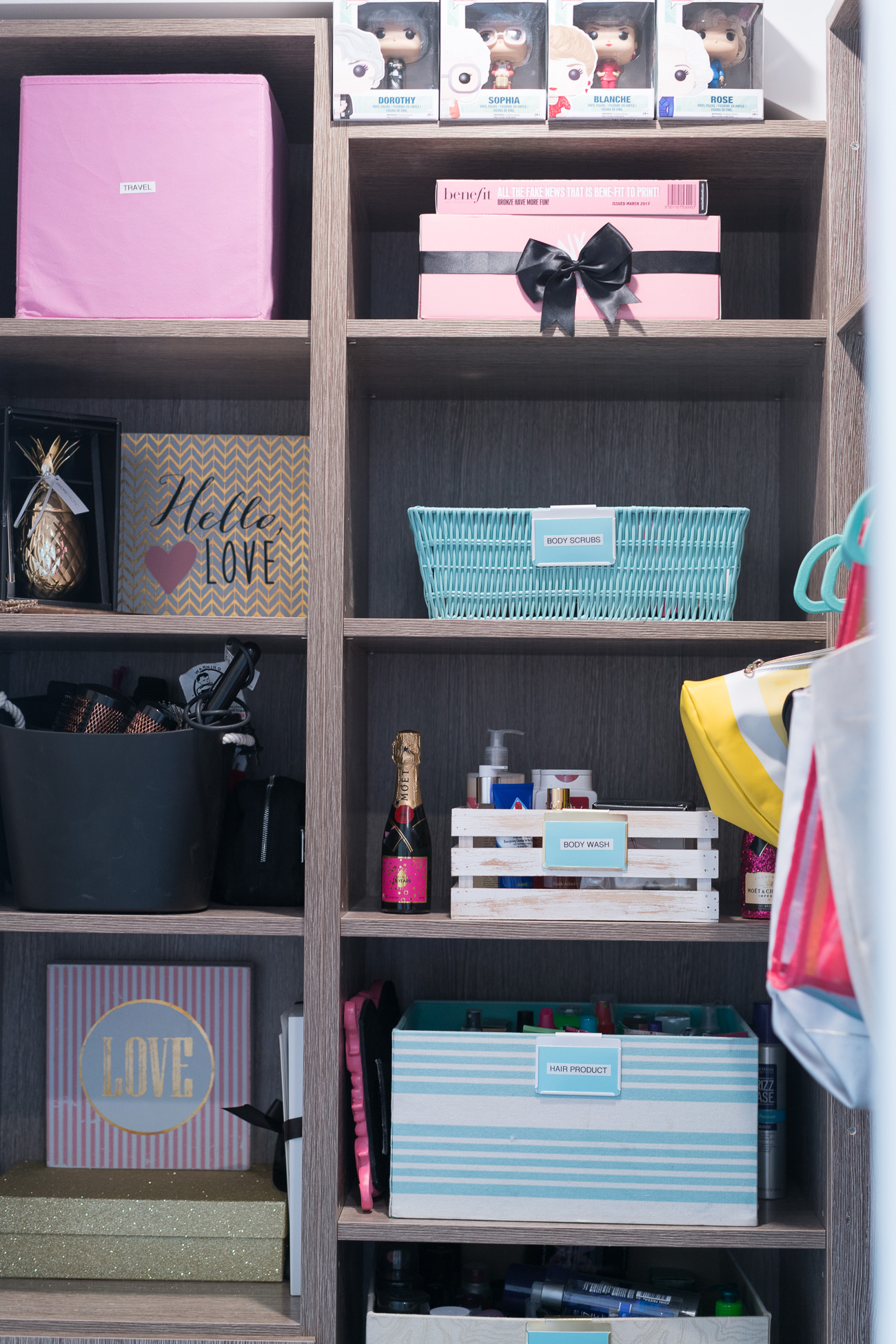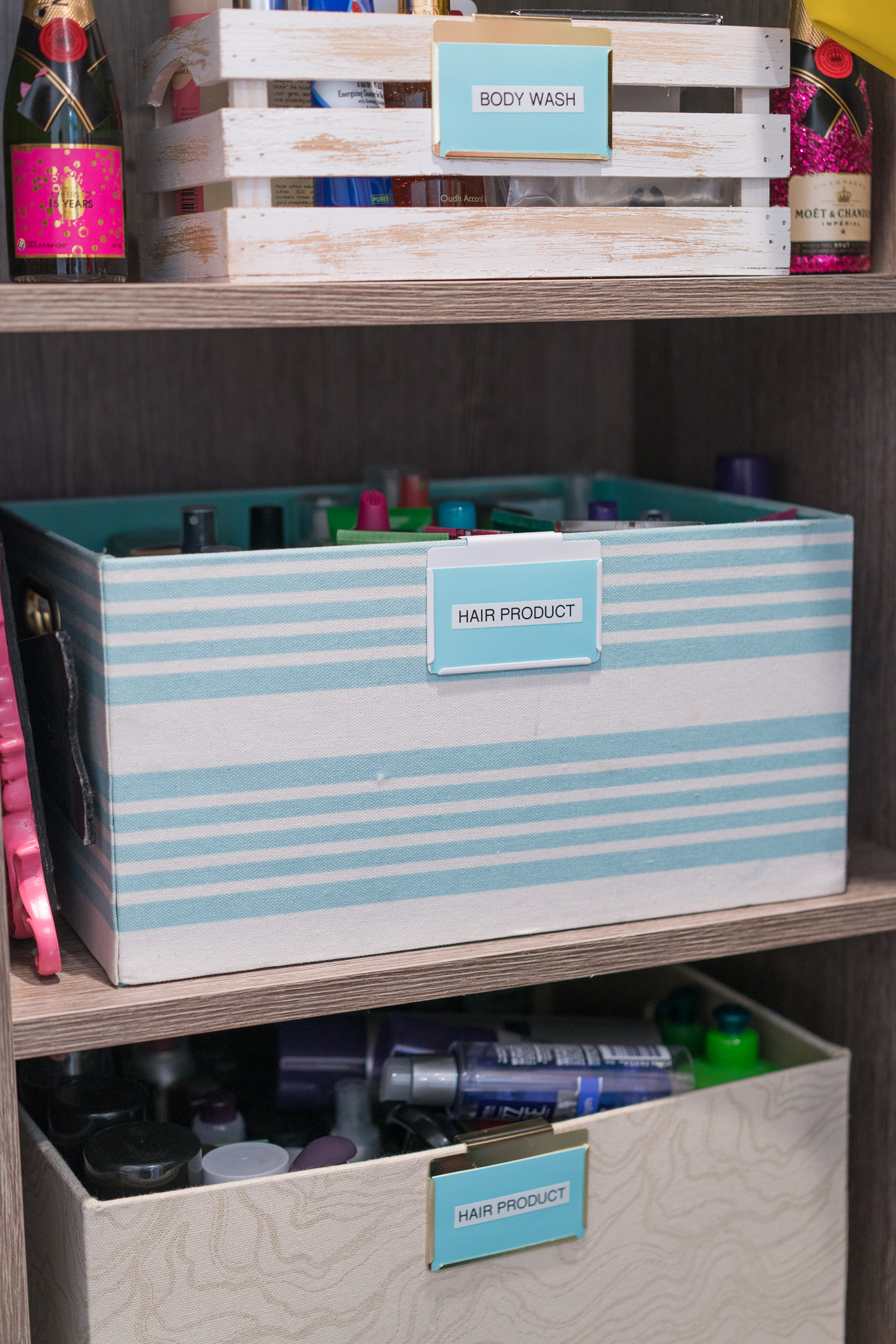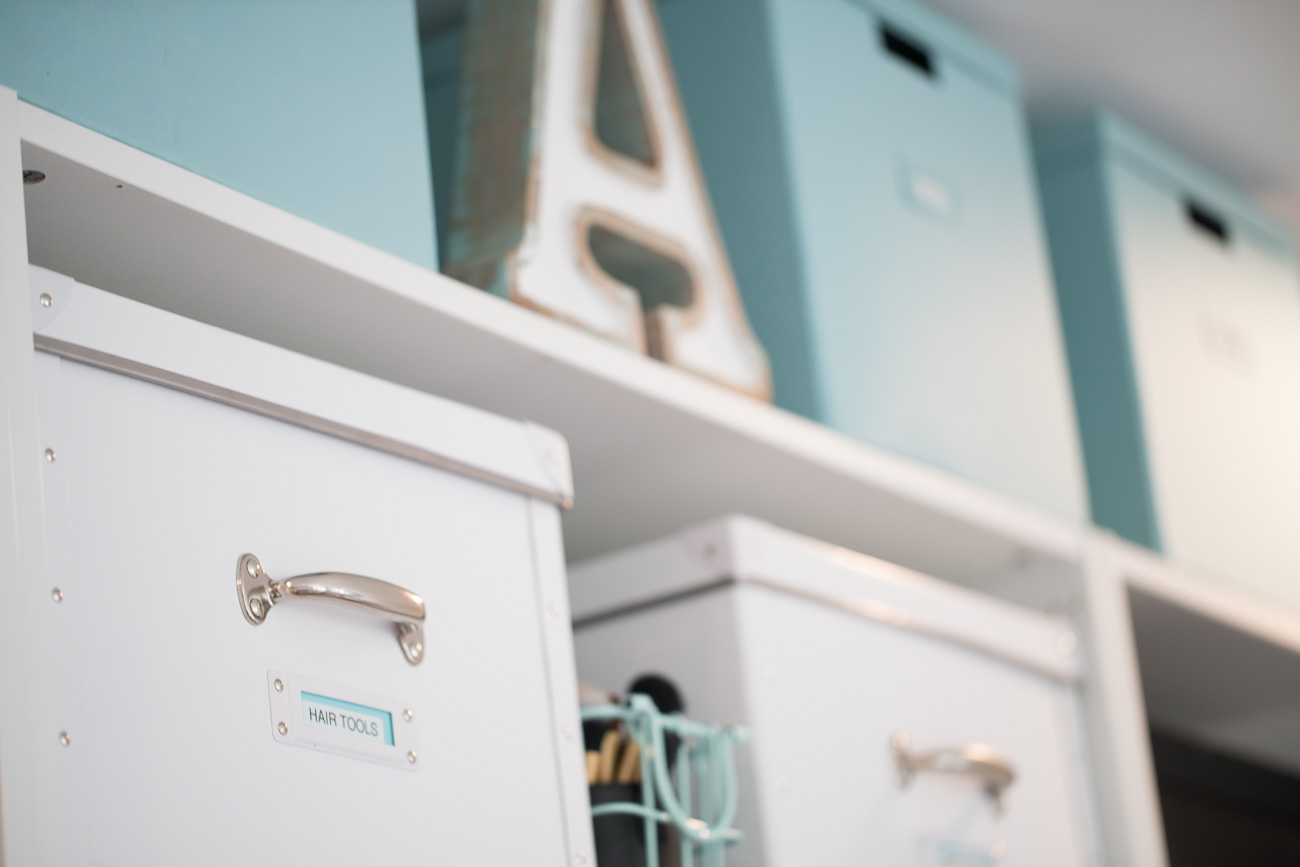 I use this console table from Wisteria to store my everyday makeup, makeup brushes and mirrors.  This handy little table also doubles as a podcast stand for when we're recording Hello Bump.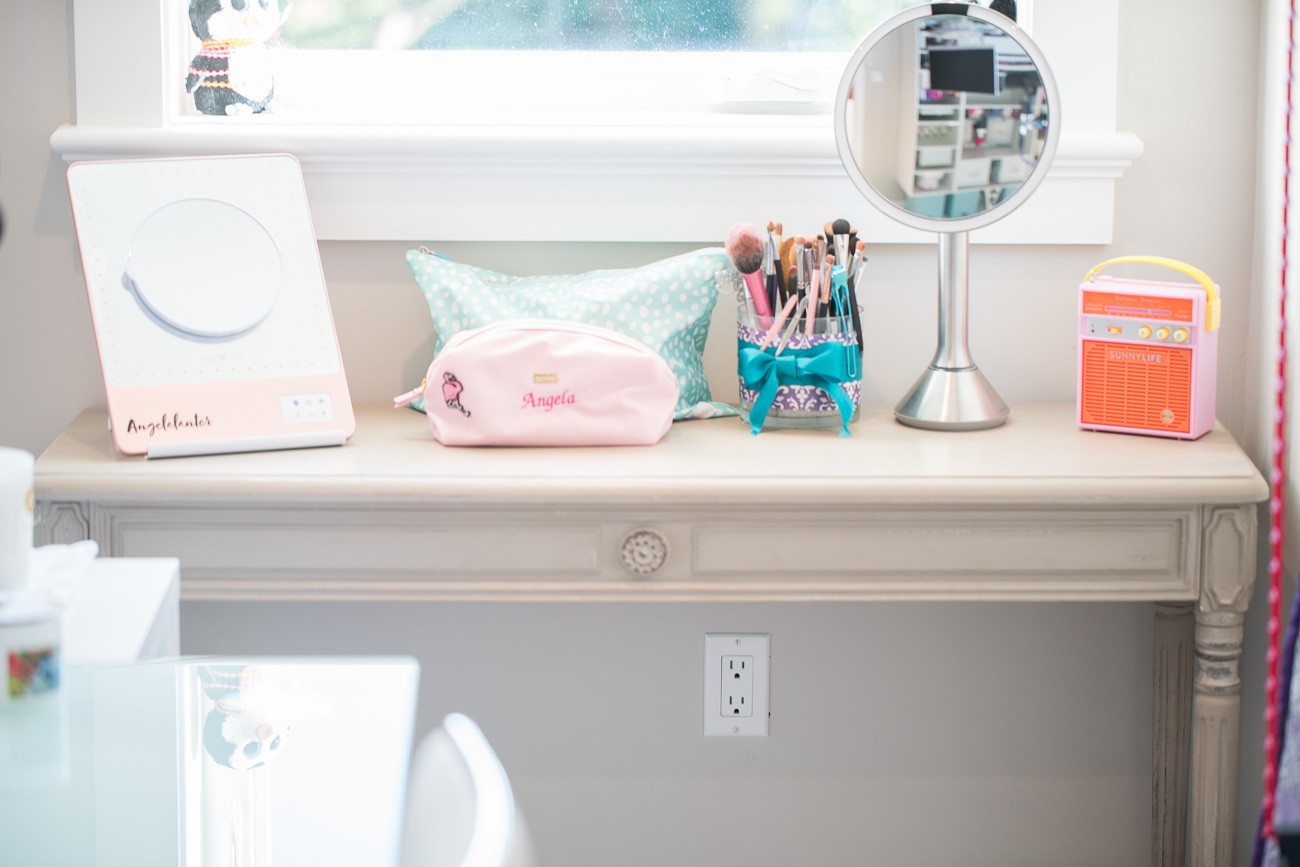 And finally, here are some detailed shots from around the room.  My beauty room is basically my candy store, so Jennifer used glass jars to store and display colorful makeup sponges and nail polishes.  She also used blue mason jars to display my makeup brushes while also making them easily accessible for use.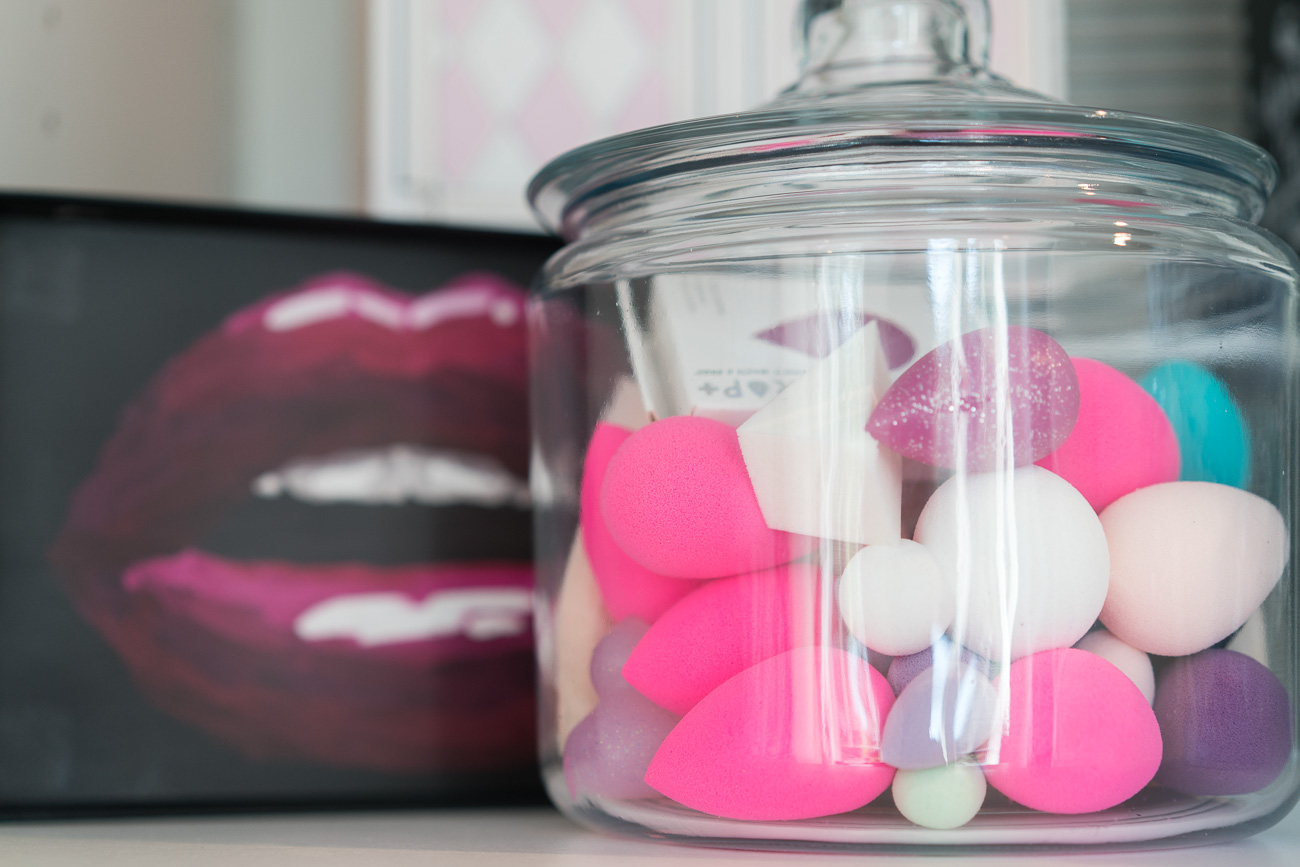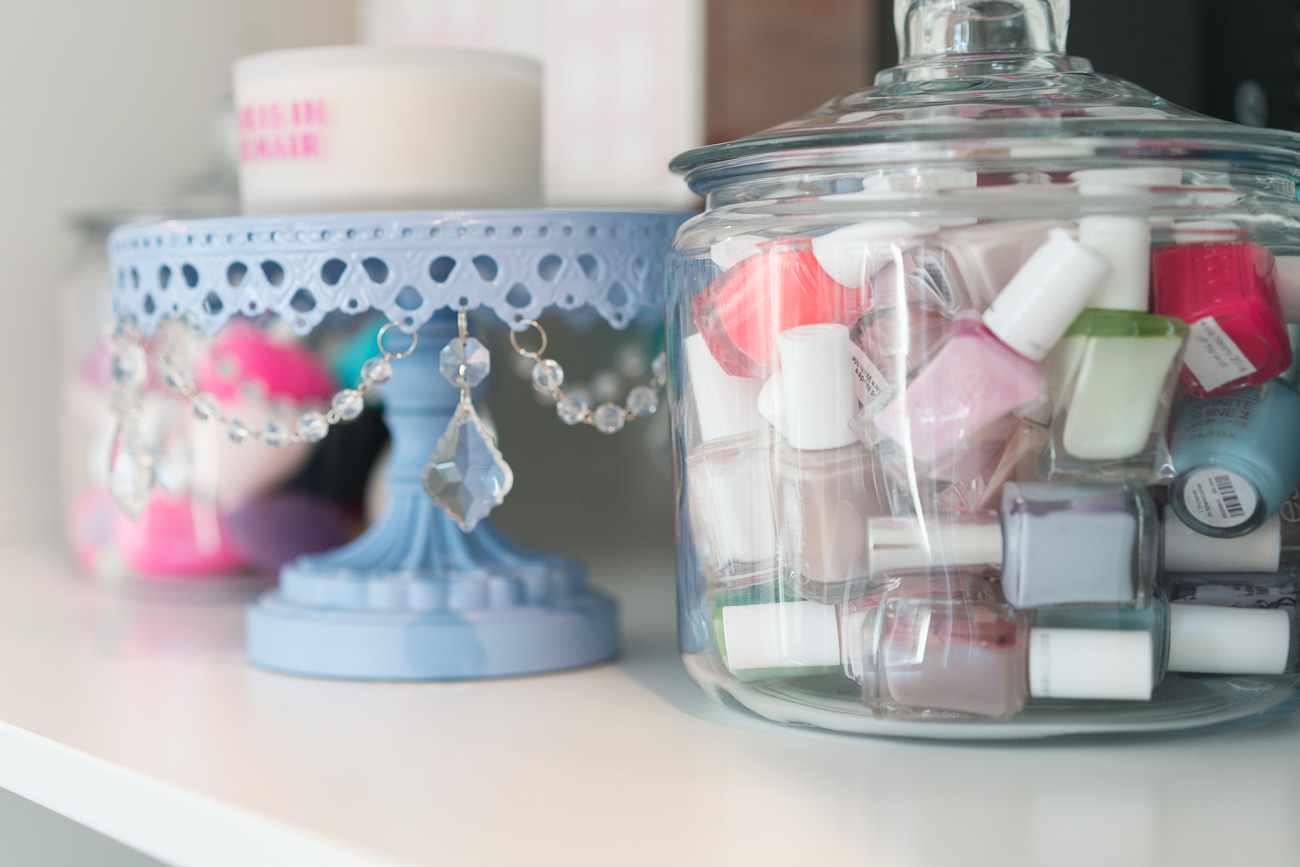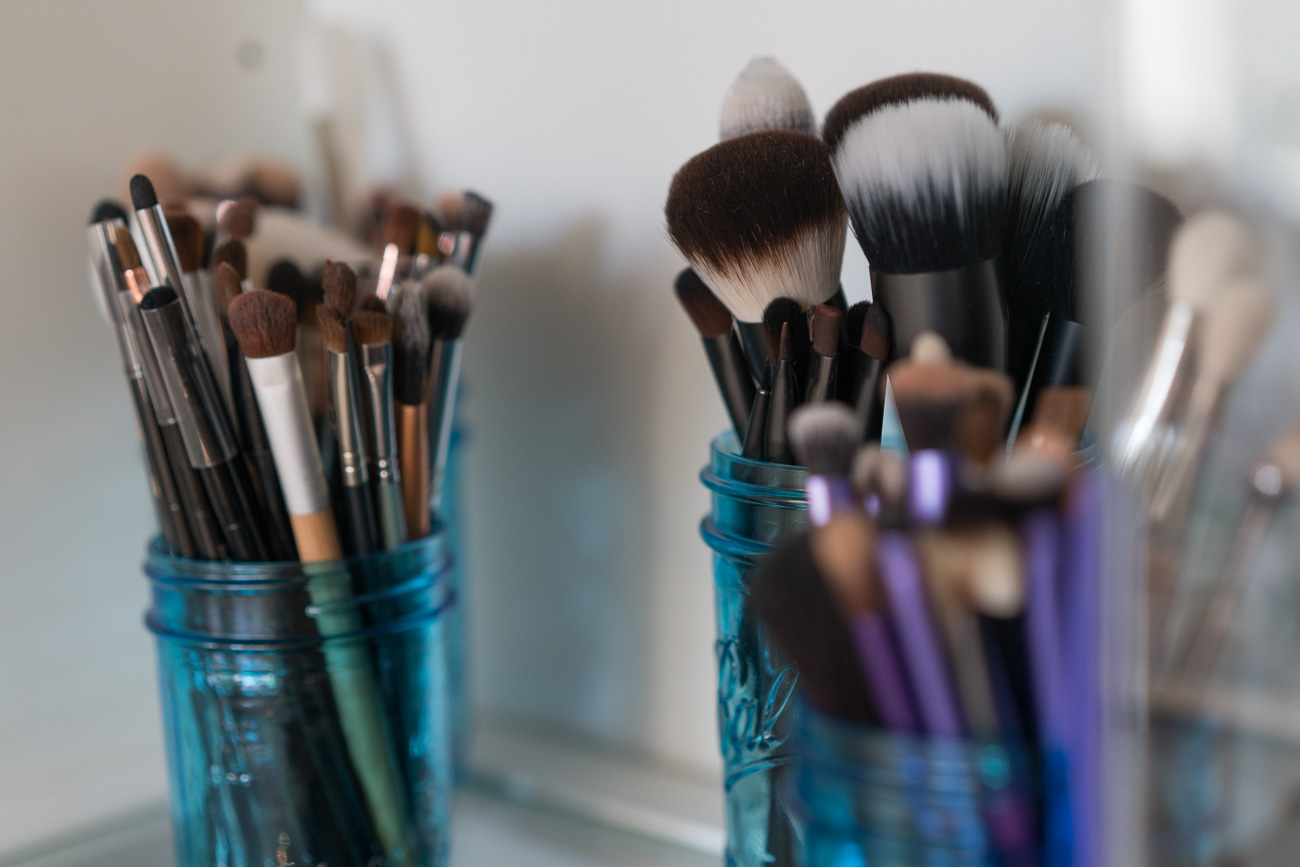 Please leave any questions or requests for content you'd like to see in the comments below.  Let me know which room you want to see me reveal on my blog or YouTube next!


Hello Home: Fall Decor Inspiration
Everywhere you look, there are signs that Fall is on it's way.  People are posting Fall themed photos online, there are sweaters in every store and there are pumpkins for sale outside the grocery stores.  It still feels like summertime here in Southern California, but the first official Fall day is only 7 short days away.  Can you believe it?!  Time to start thinking about decorating our homes for the season!
I've already put together a small but cute pumpkin display in my new dining room.  I took to Twitter last week and asked where to find small white pumpkins and y'all are the best.  Many stores later, I finally found a bag of the cutest fabric covered white pumpkins at TJ Maxx and I'm thrilled.  Did you know that you can shop at TJ Maxx online now?  I literally just now found out and I'm so excited!  Check out their adorable Fall decor here.  I'm loving this pumpkin wreath…  Annnnnd adding to my shopping cart now!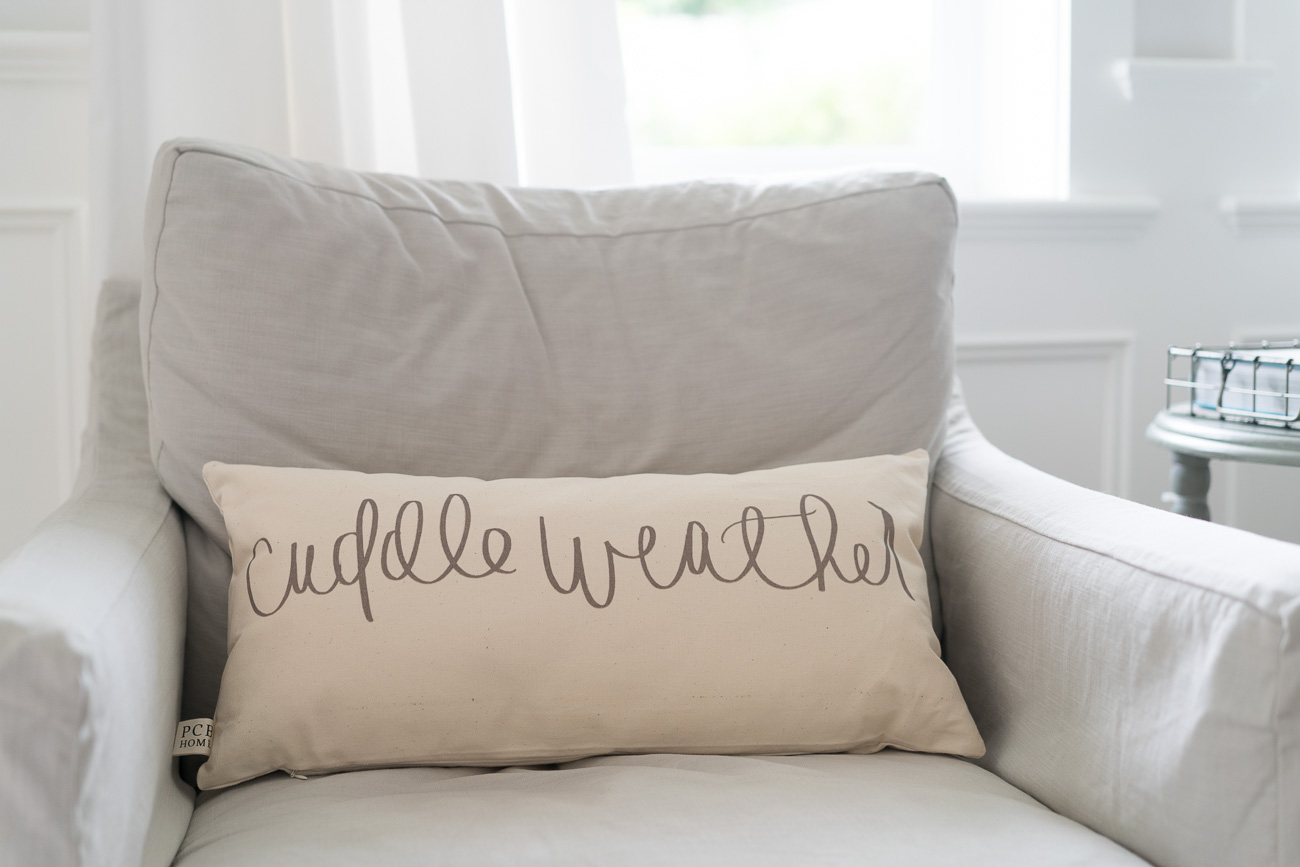 I wanted to share a corner in our family room.  We special ordered these slipcovered swivel gliders after we fell in love with them at our rental home in 30A back in April.  When these chairs arrived, they made the room feel so cozy.  I found a similar chair from Pottery Barn here.  I added this adorable lumbar pillow for Fall this week.
Leave a comment below if you'd like me to do a Fall tablescape blog post soon.  I haven't decided whether I'm doing placemats yet for the table, but I'm on the hunt for the perfect Fall plates.  There's a chance I may use my wedding China…  We'll see!
Also, if you'd like a fun Fall DIY, check out this older post of a pumpkin painting step-by-step.

Fall Home Decor Under $100:
Rustic Pumpkin Candle  //  2. Family Box Sign  //  3. Check Throw Pillow  //  4. Boxwood Wreath  //  5. Jute Storage Basket  //  6. Decorative Lantern  //  7. Cuddle Weather Throw Pillow  //  8. Monogram Throw Blanket  //  9. Magnolia Leaf Wreath  // 10. Pumpkin Pillow  //  11. Rib Knit Throw Blanket