Top 10 Nursery Do's and Don'ts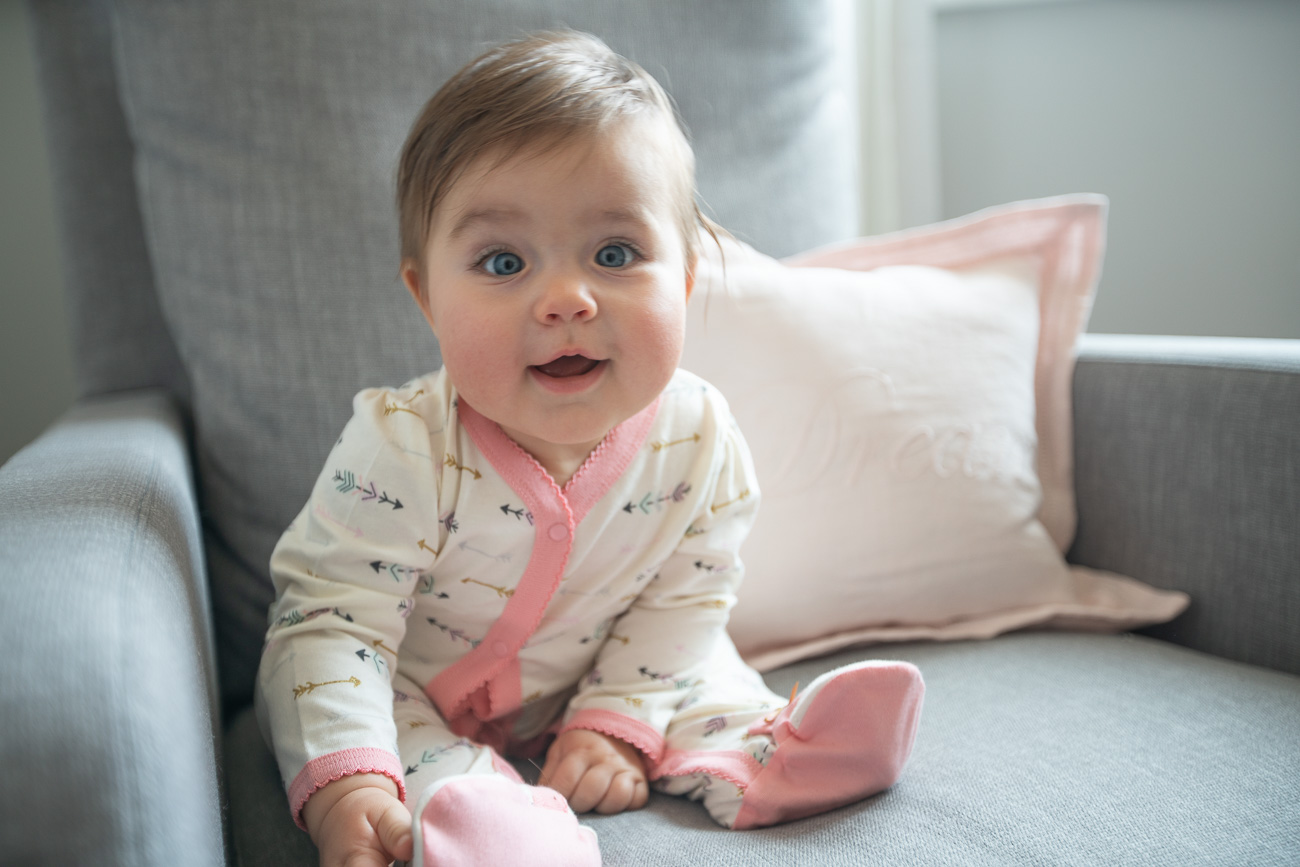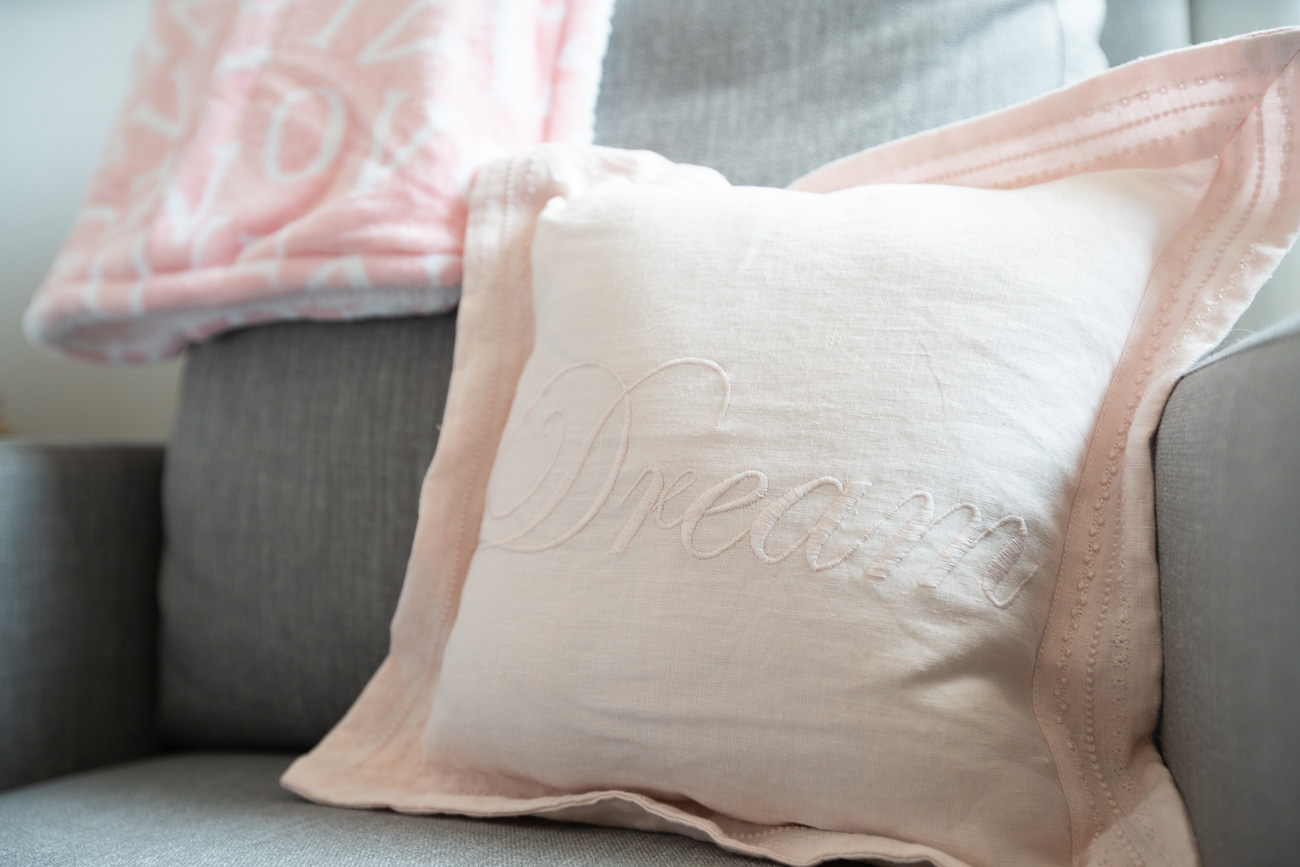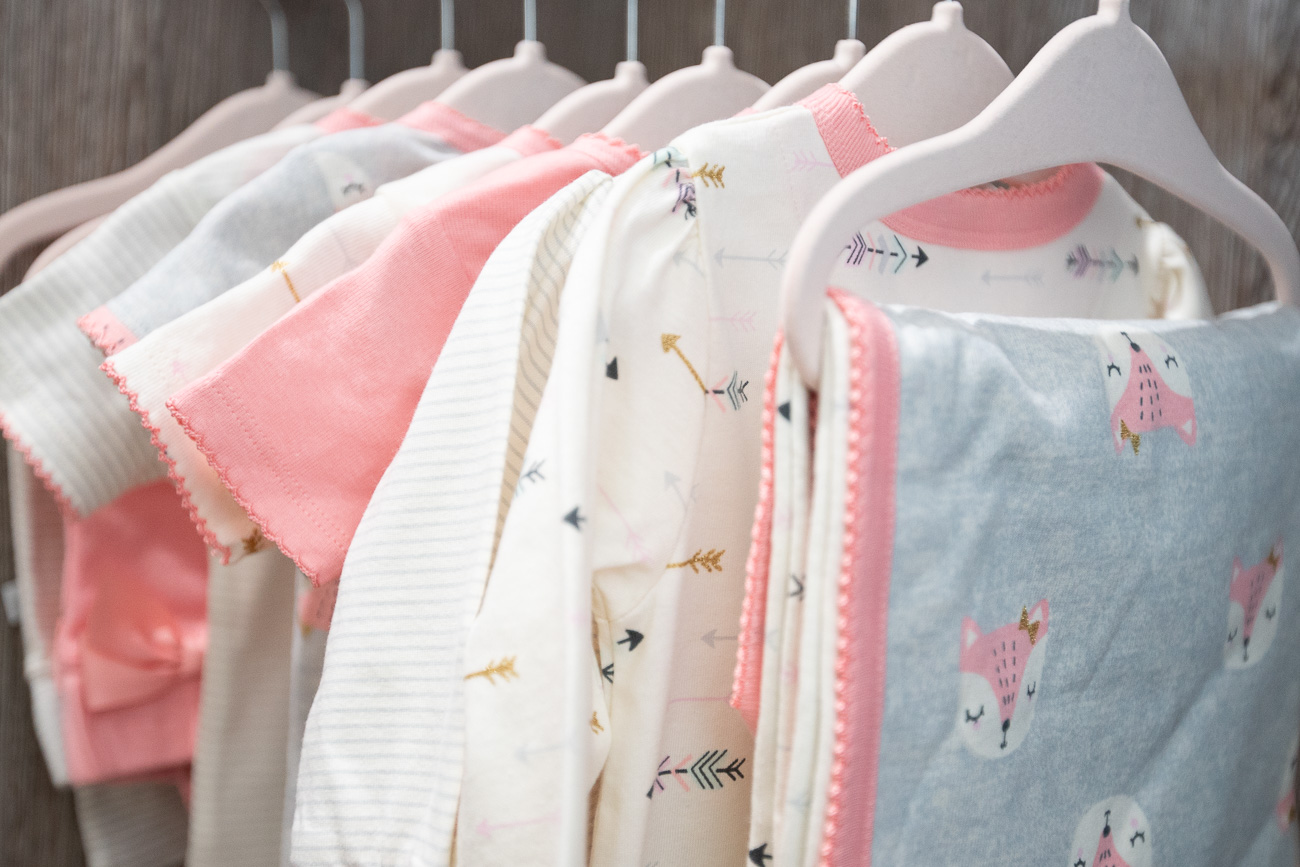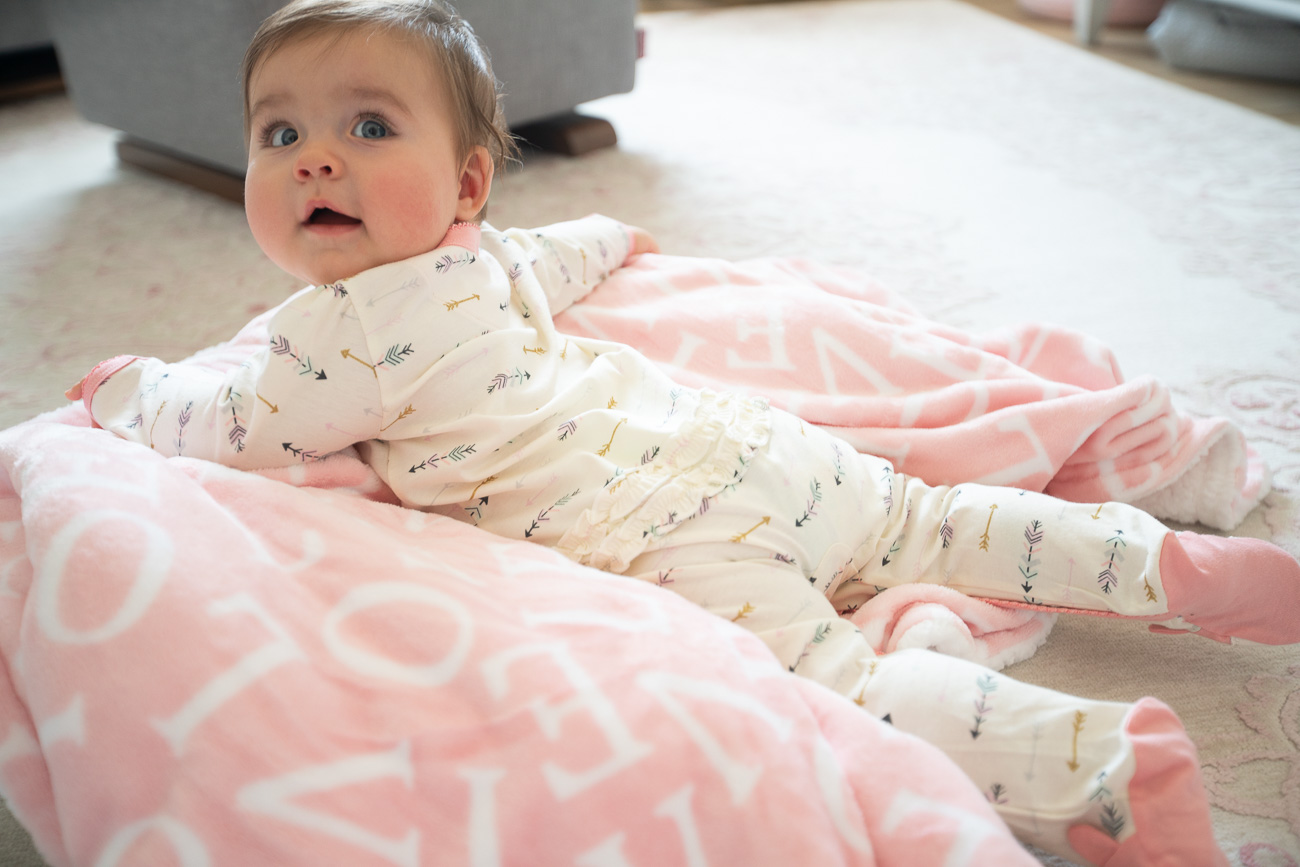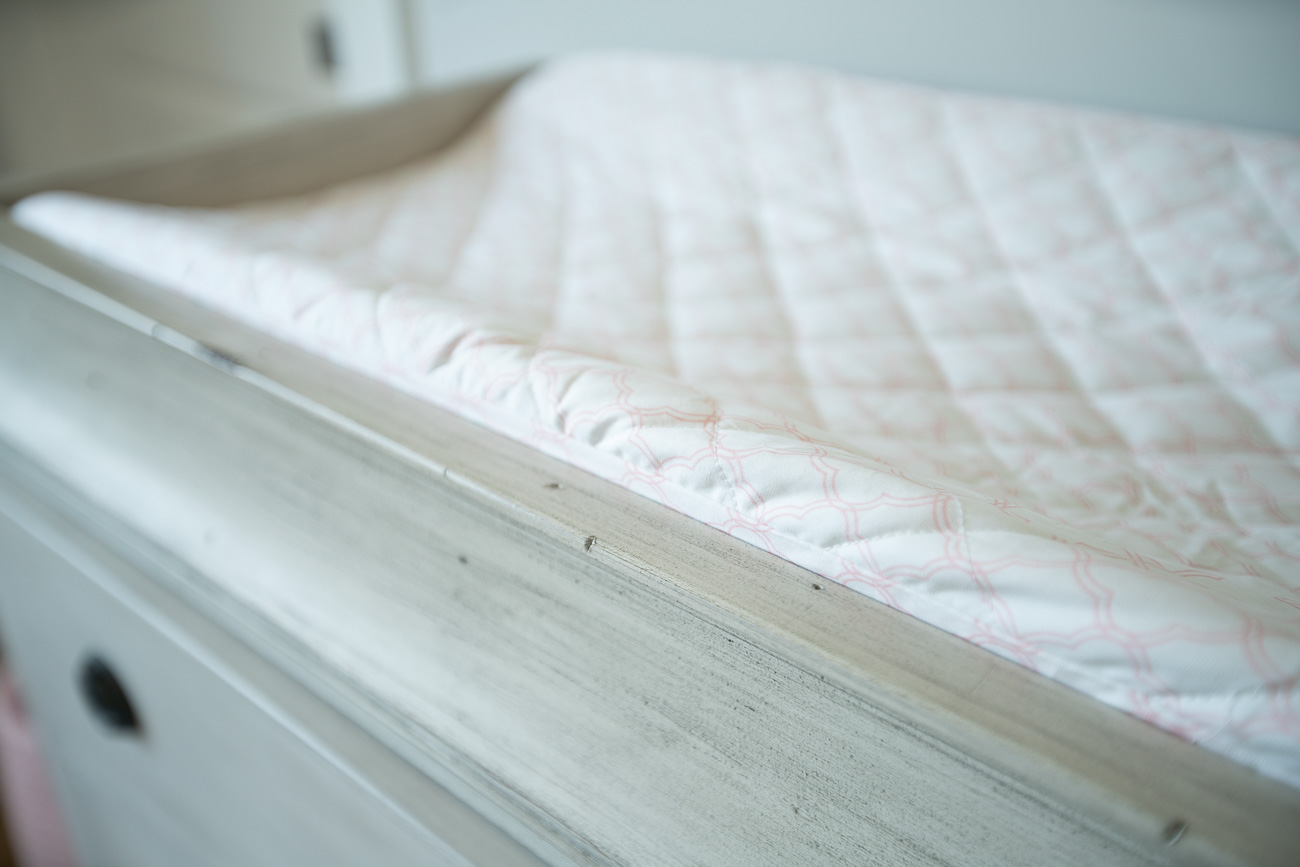 Thank you to Just Born for partnering with me to create this post.
When it comes to home decor, I'm not a pro.  I'm indecisive.  I'm unable to visualize pieces in a room unless they're physically in that space.  When it came to our nursery, it was as if I became a different person.  I knew exactly what I wanted…  Which colors, furniture style, overall look, etc.
Through trial and error, we were able to create the perfect nursery for our home and our baby girl.  Below, I'm sharing our top do's and don'ts that we've learned along the way for designing your little one's special space.
---
10 Nursery Do's and Don'ts
DO keep safety in mind.  There are so many things that we would normally decorate with that are no-no's for babies.  Check out this blog post for more info.
DON'T get too many opinions.  This goes for pretty much every area of life…  Keep your circle of your advisers very small.  Too much noise only creates confusion, and confusion only creates crazy.  Ain't nobody got time for crazy!
DO make it pretty.  Choose pieces that help to create a peaceful, calm and happy space.  You and baby will be spending a lot of time in this room, so make it somewhere you want to be.  Just Born offers a variety of pieces to create a beautiful nursery.  We love their Keepsake Collection Classic Vintage pieces for our nursery, as well as their Dream Collection Love blanket.  I can't forget the new Just Born layette collection made with organic cotton, which will be available for purchase on Amazon in September.
DON'T forget to keep it functional.  Selecting pieces that are pretty, but also functional like our Just Born changing table cover, is essential.
DO organize.  An organized nursery makes your life so much easier.  When everything has a place and everything is in it's place (when did I turn into my mom?!) life just flows better.  Create an organization system early on then organize as you decorate and receive/buy new pieces.
DON'T forget blackouts.  Nap time will be so much easier on mama if the room is darker.  Invest in blackout curtains and/or shades to keep the room as dark as possible for better baby sleep.
DO invest in a glider.  The only piece of furniture used more in the nursery than our crib and changing table is our glider.  Make sure it's comfy because you'll be spending a ton of time in it.
DON'T be afraid to make returns.  Just because it was a gift doesn't mean that you have to keep it.  If you don't love it, return it for something you'll actually use.
DO select a soft rug.  Baby will be rolling around, crawling and eventually taking tumbles from those unsteady early steps.  Choose an area rug or carpeting that will be help cushion baby's knees, hands and falls.
DON'T go overly themed.  Choose decor that will grow with baby so you don't have to shell out a ton of cash too soon for another design.
Leave a comment below with any of your nursery design tips and tricks for other new mamas!
9 Ways to Save Money on Baby Gear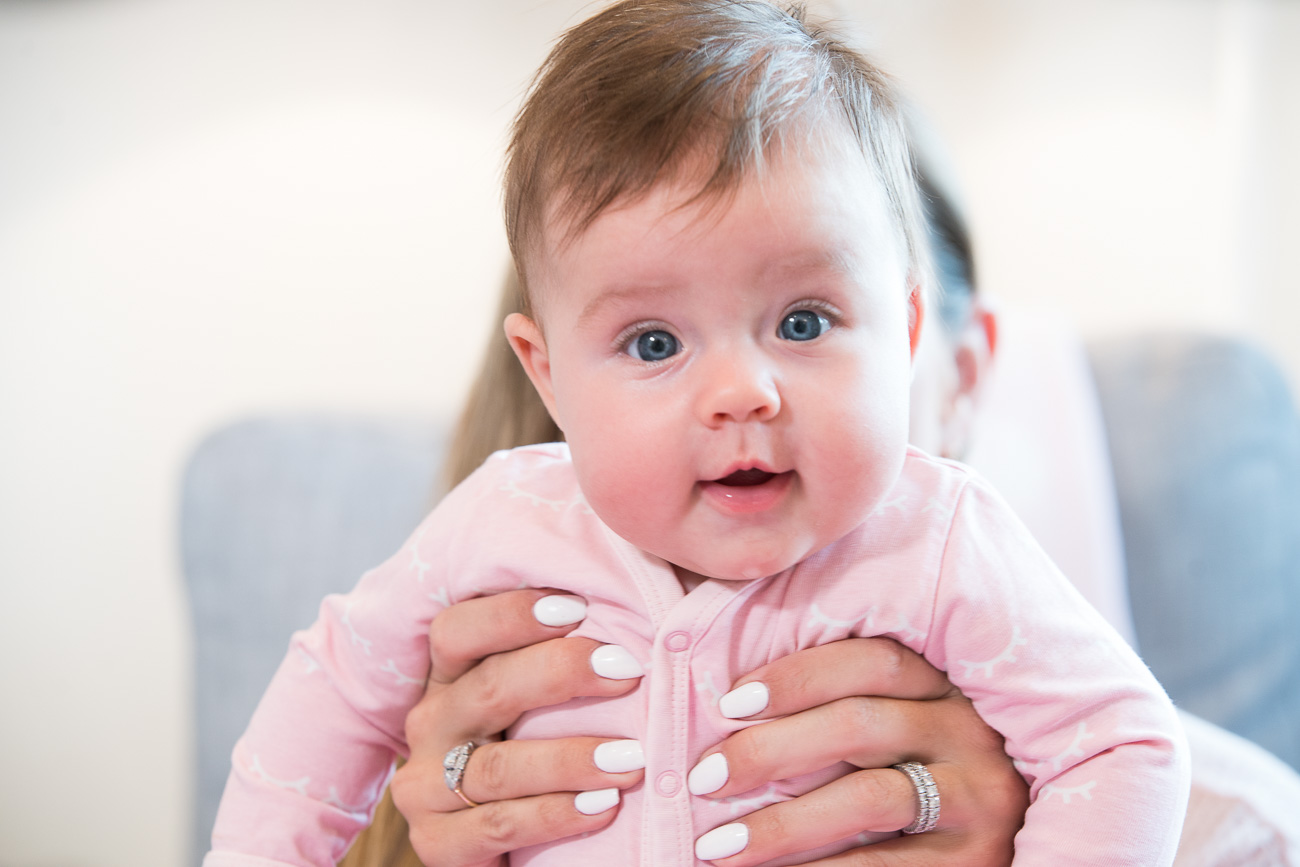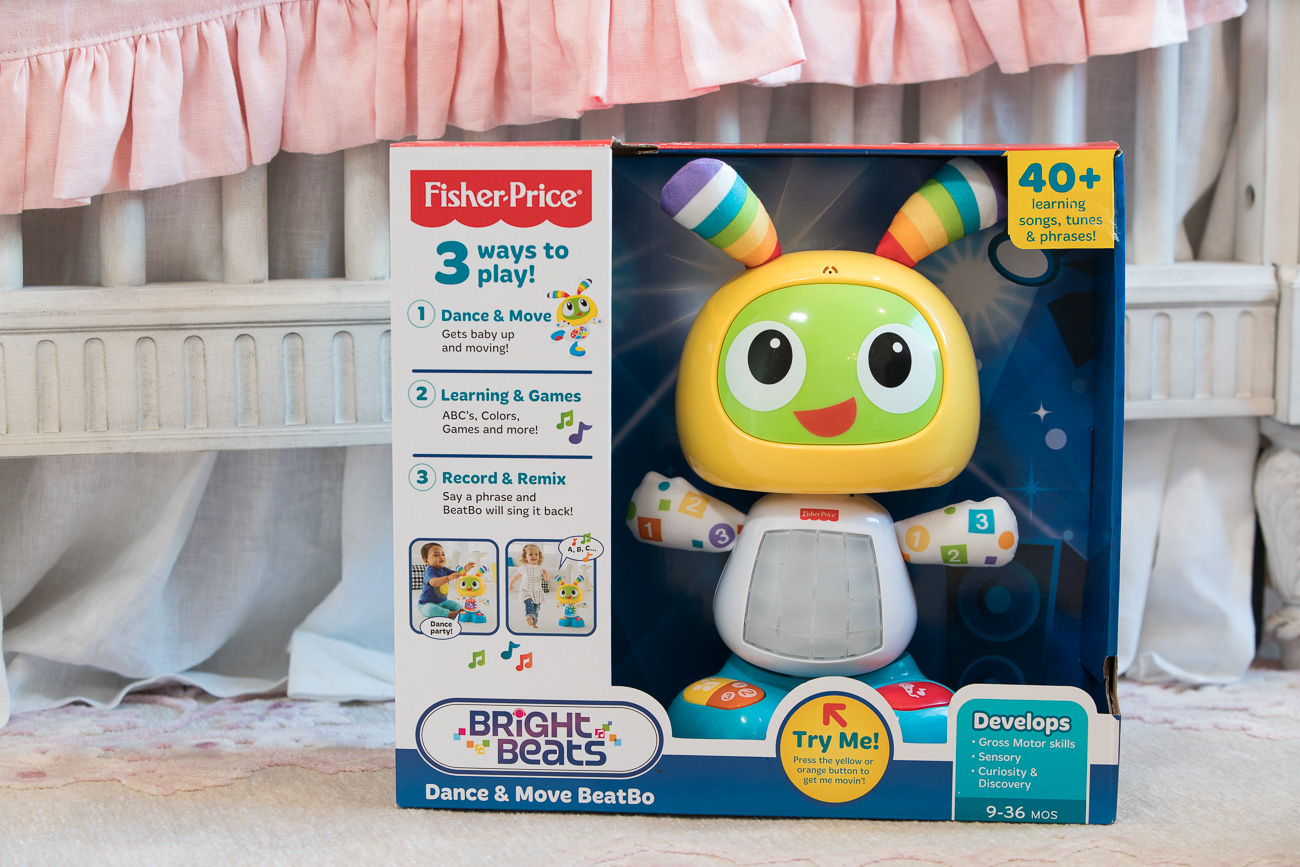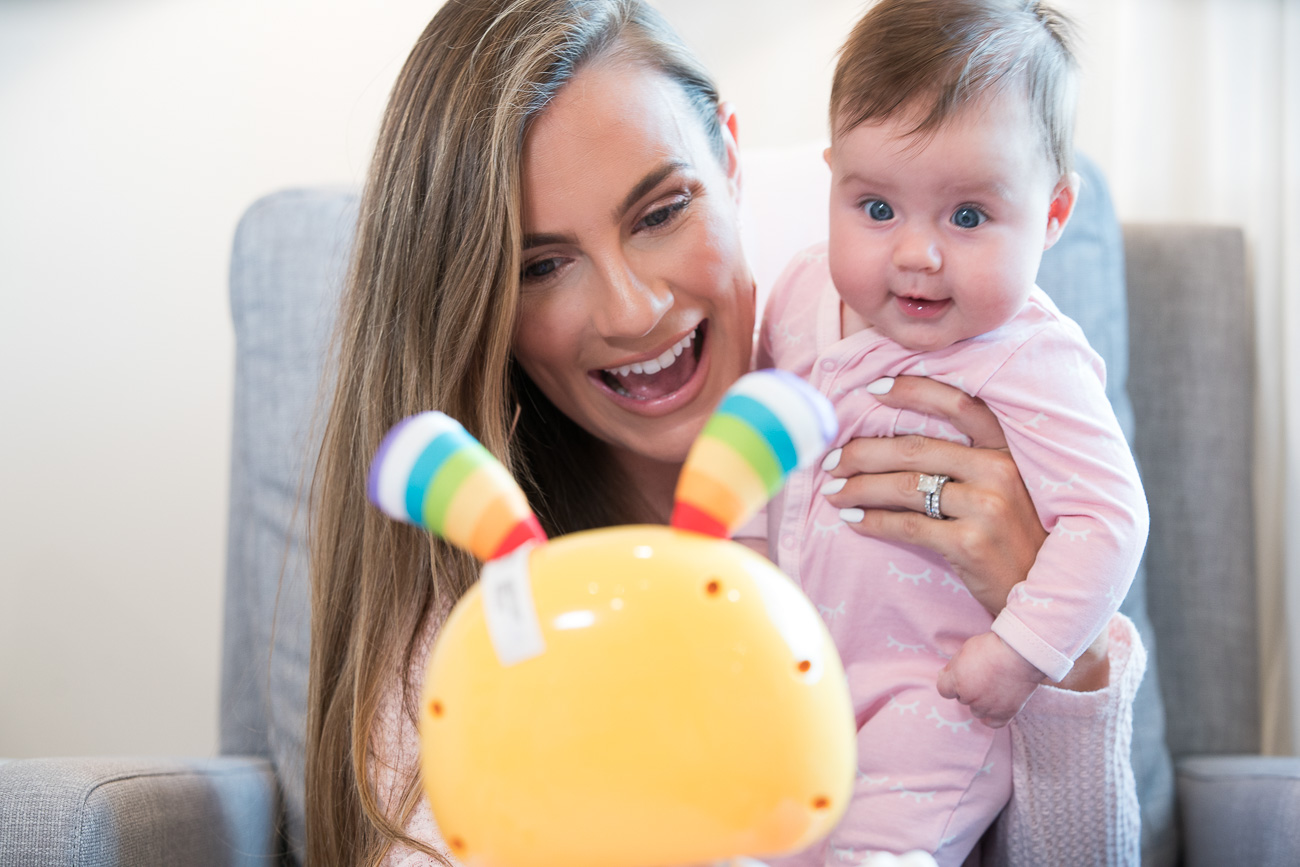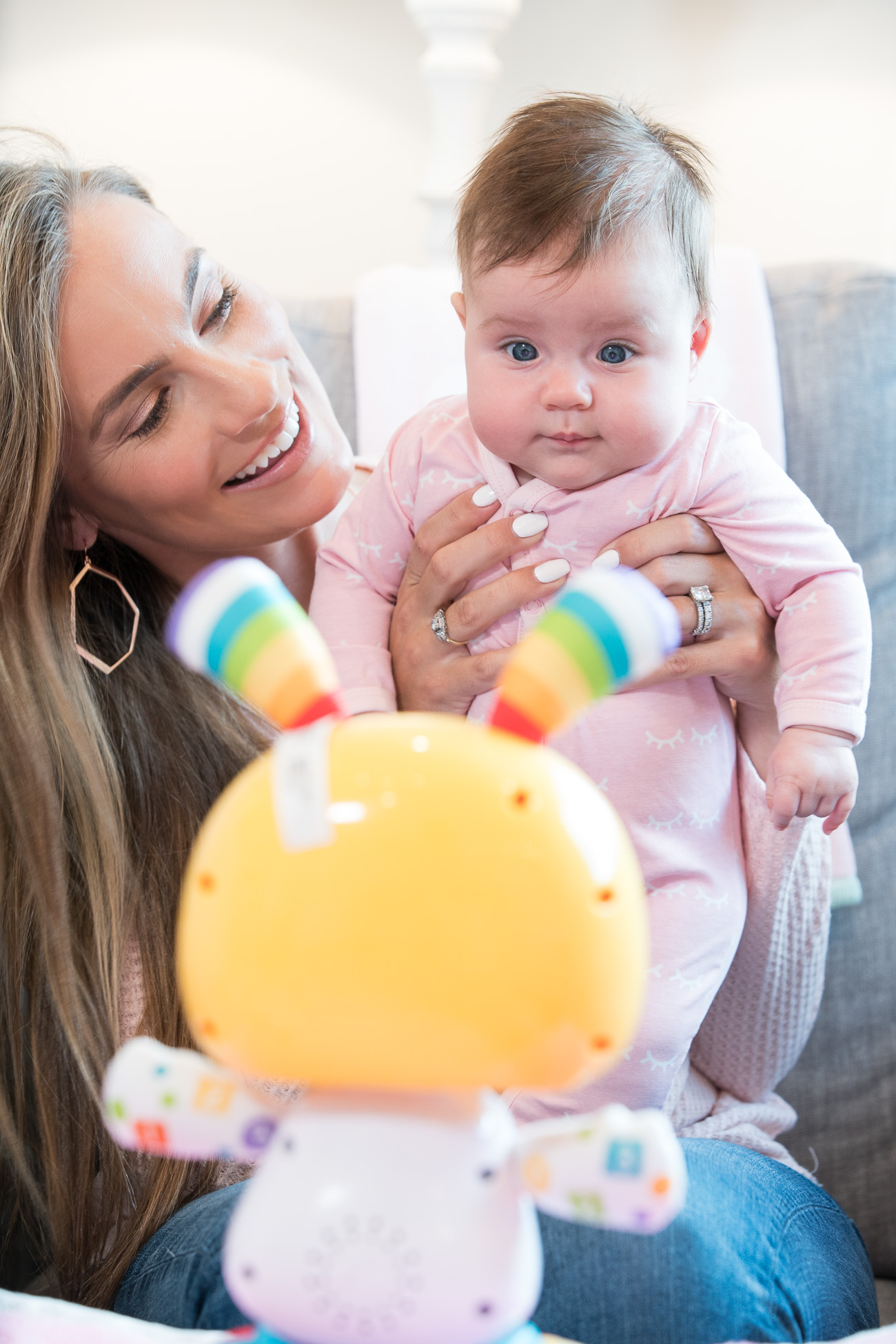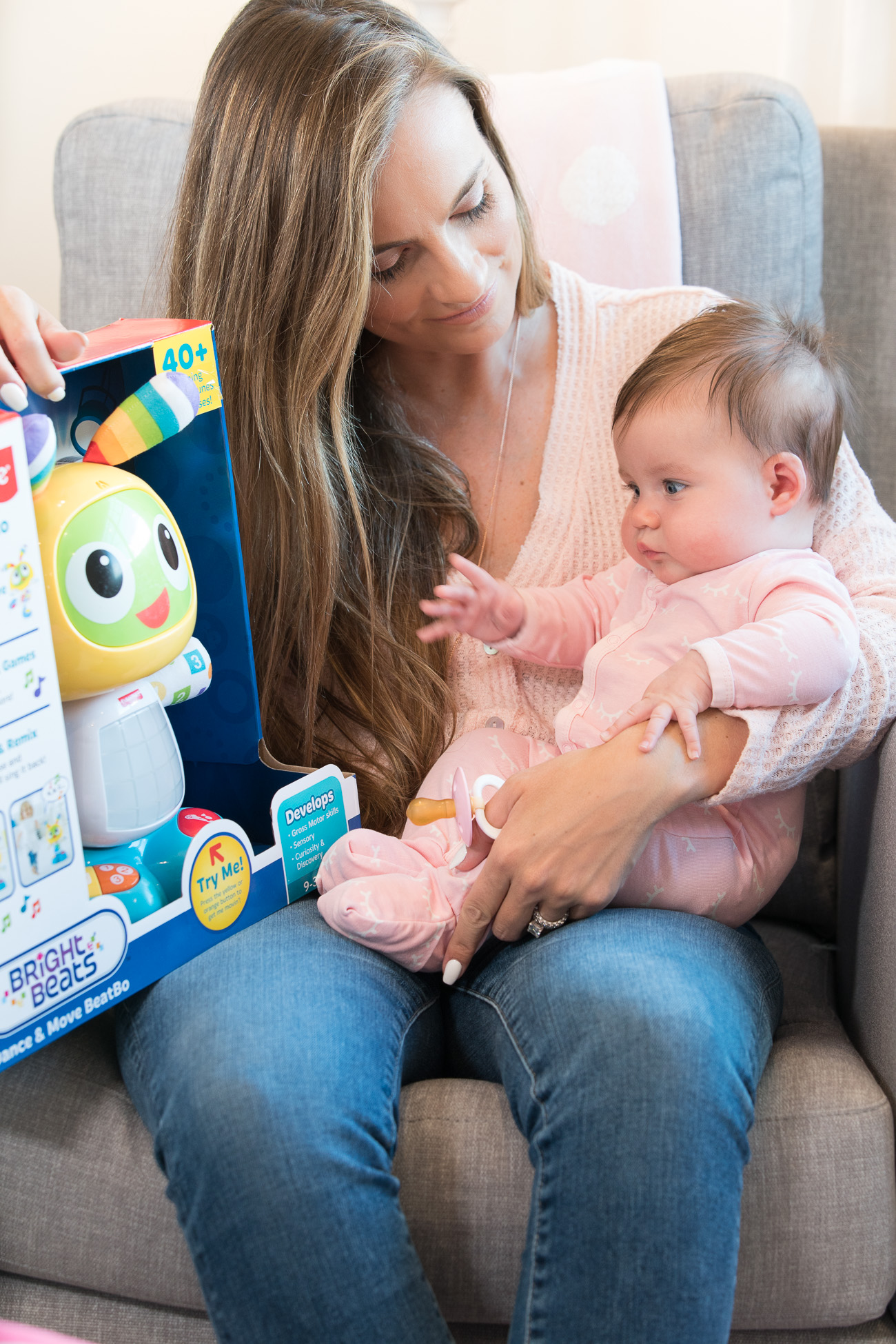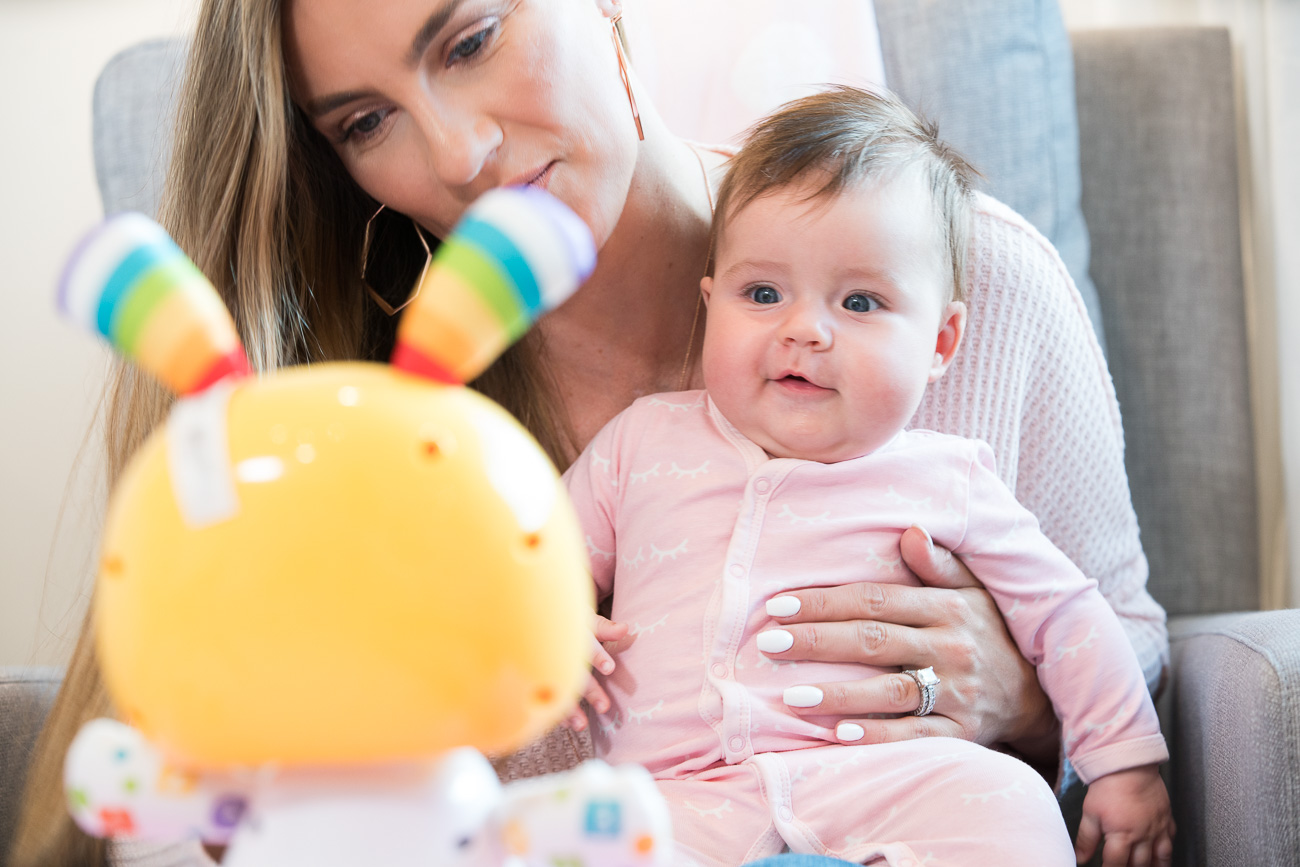 One thing I've learned since becoming a parent is that babies need stuff.  A whole lotta stuff.  These little ones ain't cheap!  If you're on a budget and about to become a new parent, it's a time to be creative.  I wanted to share a few tips and tricks about how to save money while prepping your life an home for your new bundle of joy.
Ways to Save Money on Baby Gear
Baby Registry

.  Chances are, your close family and friends are planning to throw you a shower since this is your first baby.  Be sure to register for gifts, so you will receive gifts that you really want. When registering, be smart and do your research.  Choose items that you know you'll get good use out of and can use down the road should you wish to have another kid. Hold off buying baby gear until your showers are over.  Be sure to return the products you won't use and exchange them for things you really do need.

Shop Smart

.  Compare prices and always check

eBay

.  Did you know that 81% of all merchandise sold on

eBay

is new and available with the "Buy It Now" option (no bidding necessary)?  So many products are available new in box and have free shipping. There are so many

great baby deals

like

this Fisher-Price BeatBo

(which MacKenlee loves, even though she's young!)  You can snag awesome things like my

Medela Breast Pump for 30% off

, our

Owlet Smart Sock for 28% off

or even our

4Moms Mamaroo

.  Did you know that eBay offers a Money Back Guarantee, Guaranteed Delivery and Price Match Guarantee?  All the more reason to shop

their baby deals first

!

Stock Up Early

.  While you're pregnant, when you see a great deal on items like diapers, stock up!  Did you know the average newborn goes through ten diapers a day? TEN. Those diapers stack up quick, so getting a head start on buying them in various sizes will be seriously appreciated by your future self.  Tip: Don't buy a ton of newborn products, you never know how big your little one will be at birth.

Don't Be Above Secondhand

.  If you have a friend who is offering to pass down some gently used baby gear, take them up on it!  Chances are that their babe didn't wear the clothes but a handful of times, if that, so why not at least check them out?

Buy A Convertible Crib

.  We chose a crib that converts to a toddler bed which is one less piece of furniture that we have to buy.

S

kip The Changing Table

.  We also chose a dresser that will grow with MacKenlee and just added a removable topper to turn the dresser top into a changing table.

Save clothes and gear for future kids

.

Donate Items You Won't Reuse/Don't Love

.  And get a receipt for your donation!  That's a great write-off come tax time.  Try selling the bigger ticket items at local consignment stores or even on Facebook Marketplace.

Breastfeed

.  Not every woman has the ability, but if you do, breastfeed as long as possible to cut out the costs of formula (not to mention all the other awesome benefits of breastfeeding.)  When it comes time for solids, consider making your own baby food.
What tips do you have for financially prepping for baby?  Let me know in the comments below!


Thank you to eBay for partnering with me to create this post.
MacKenlee Faire's Pink & Grey Nursery Reveal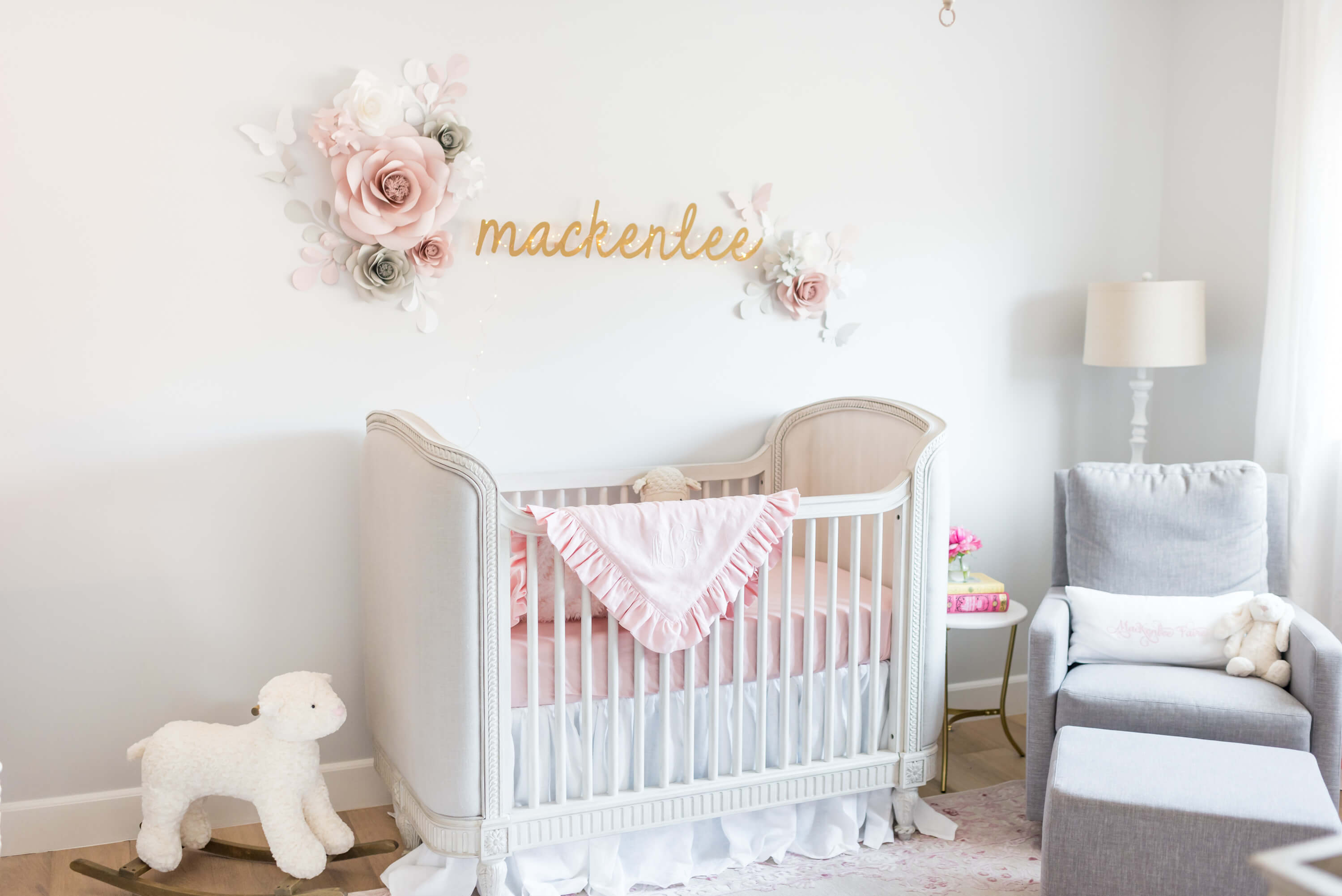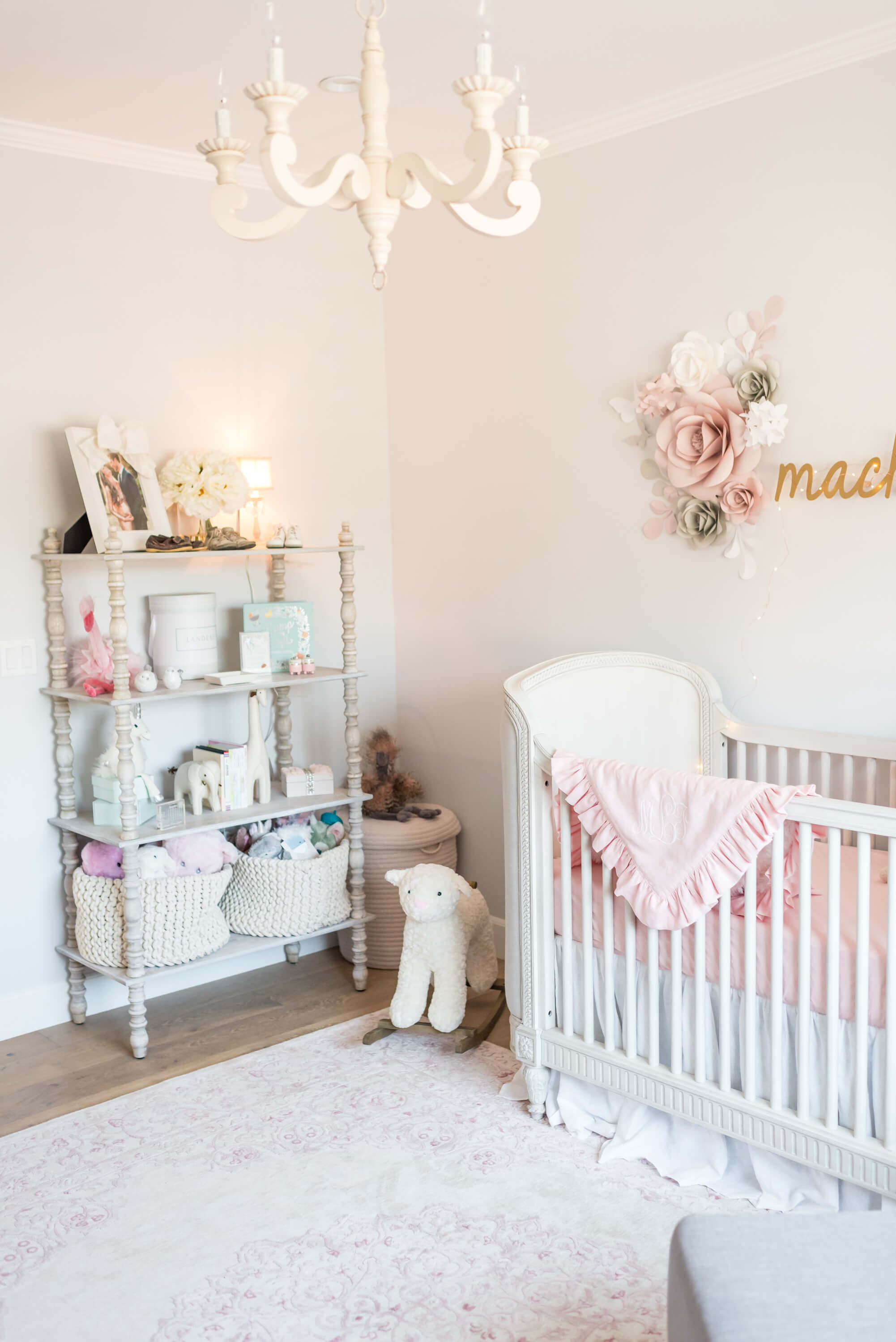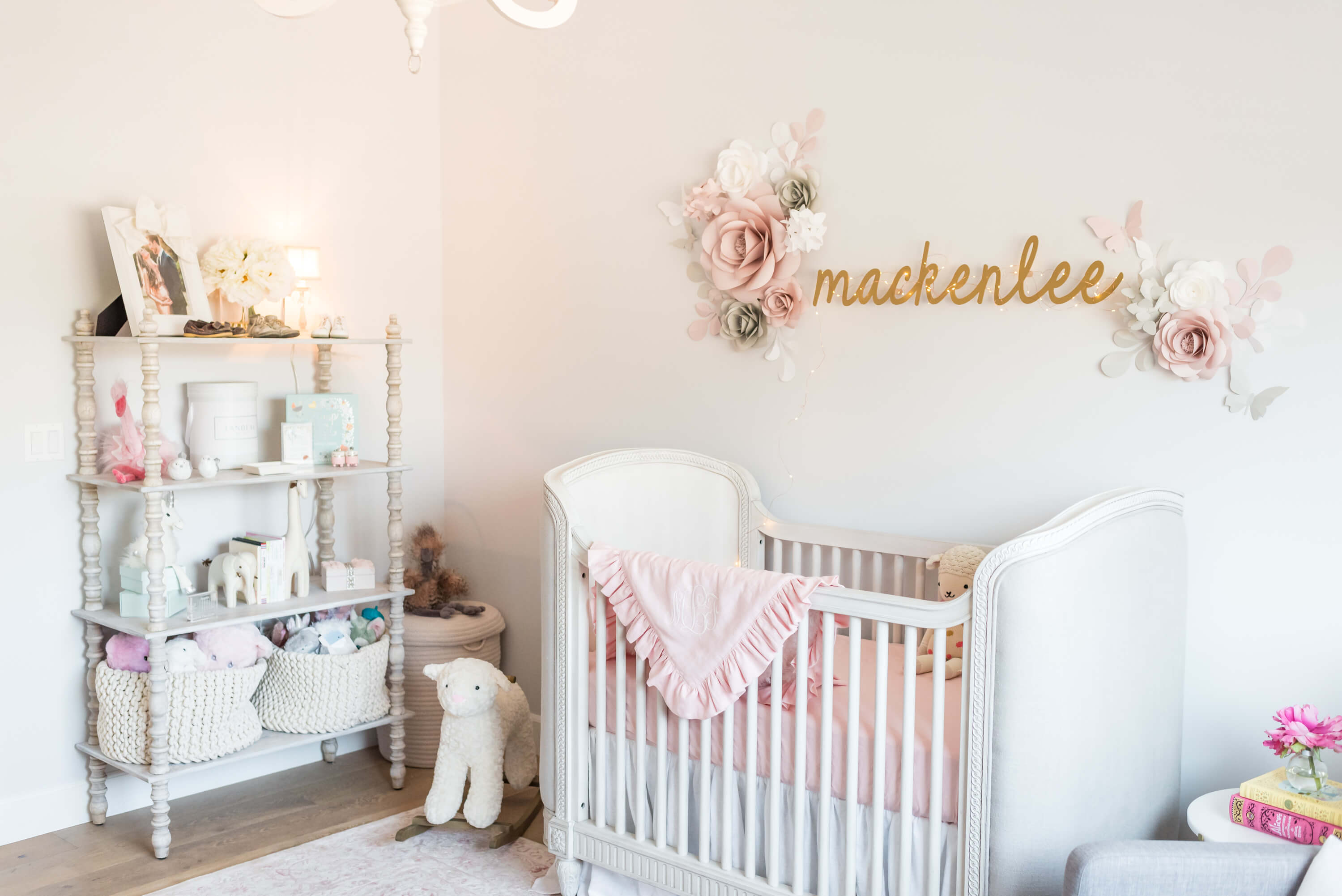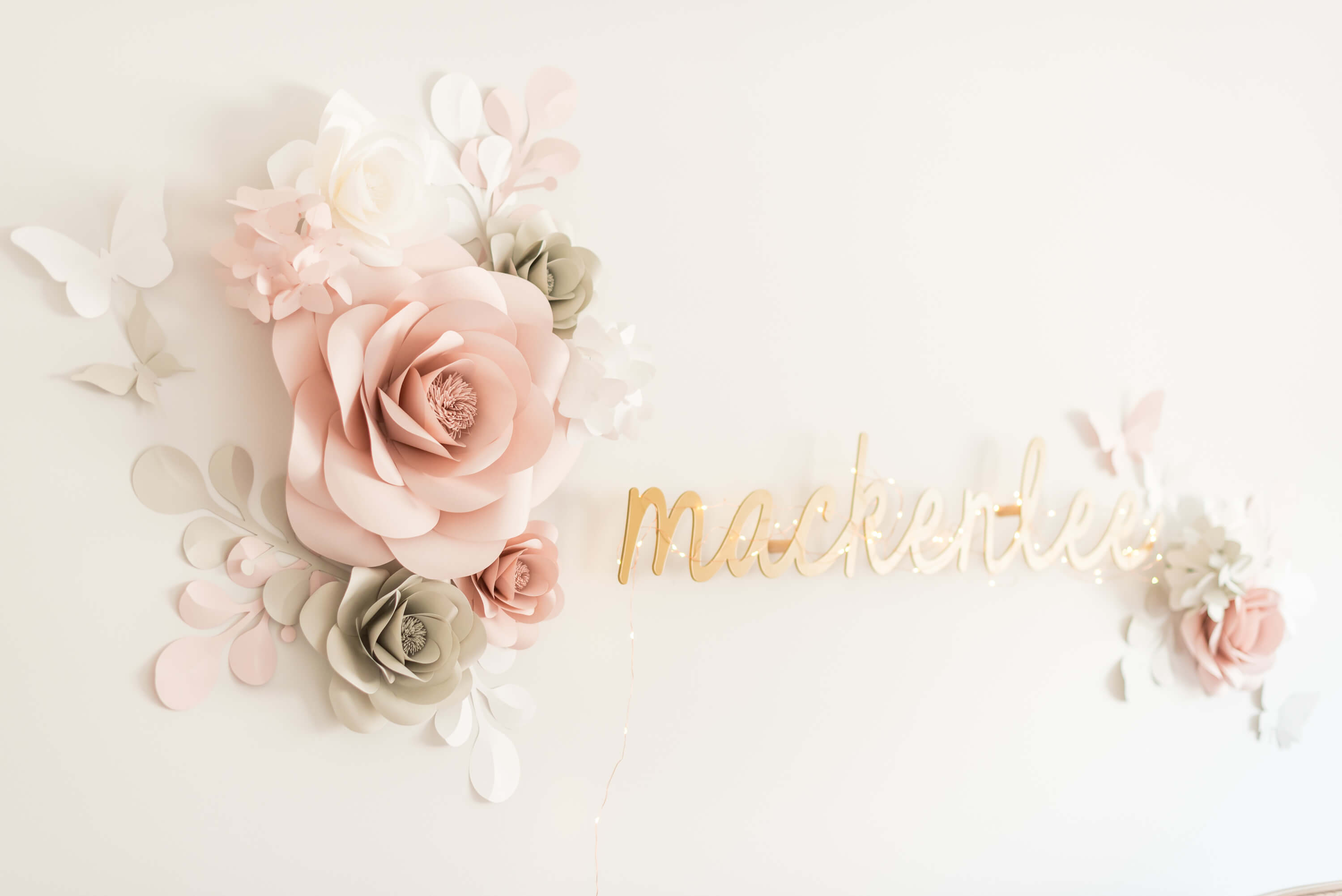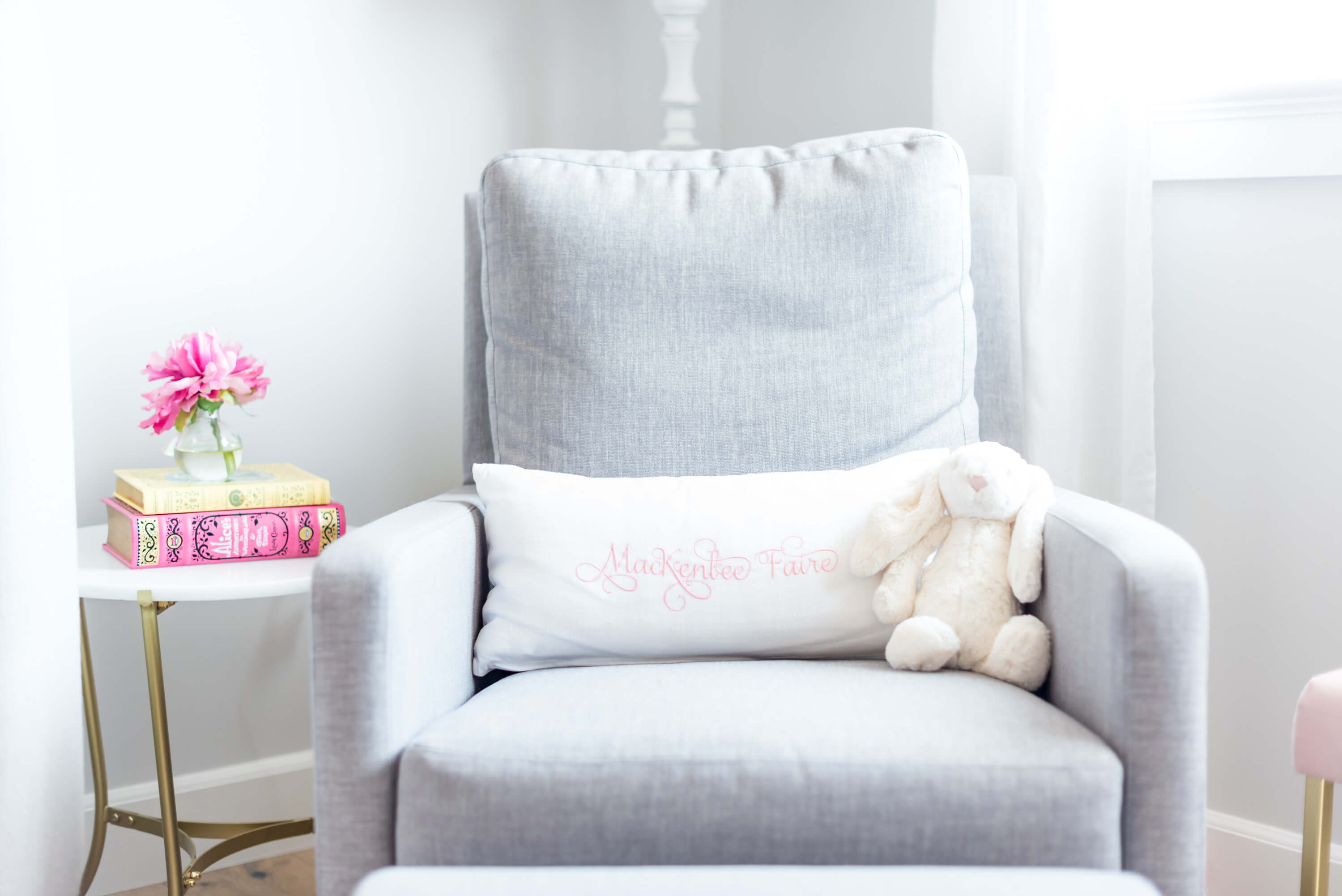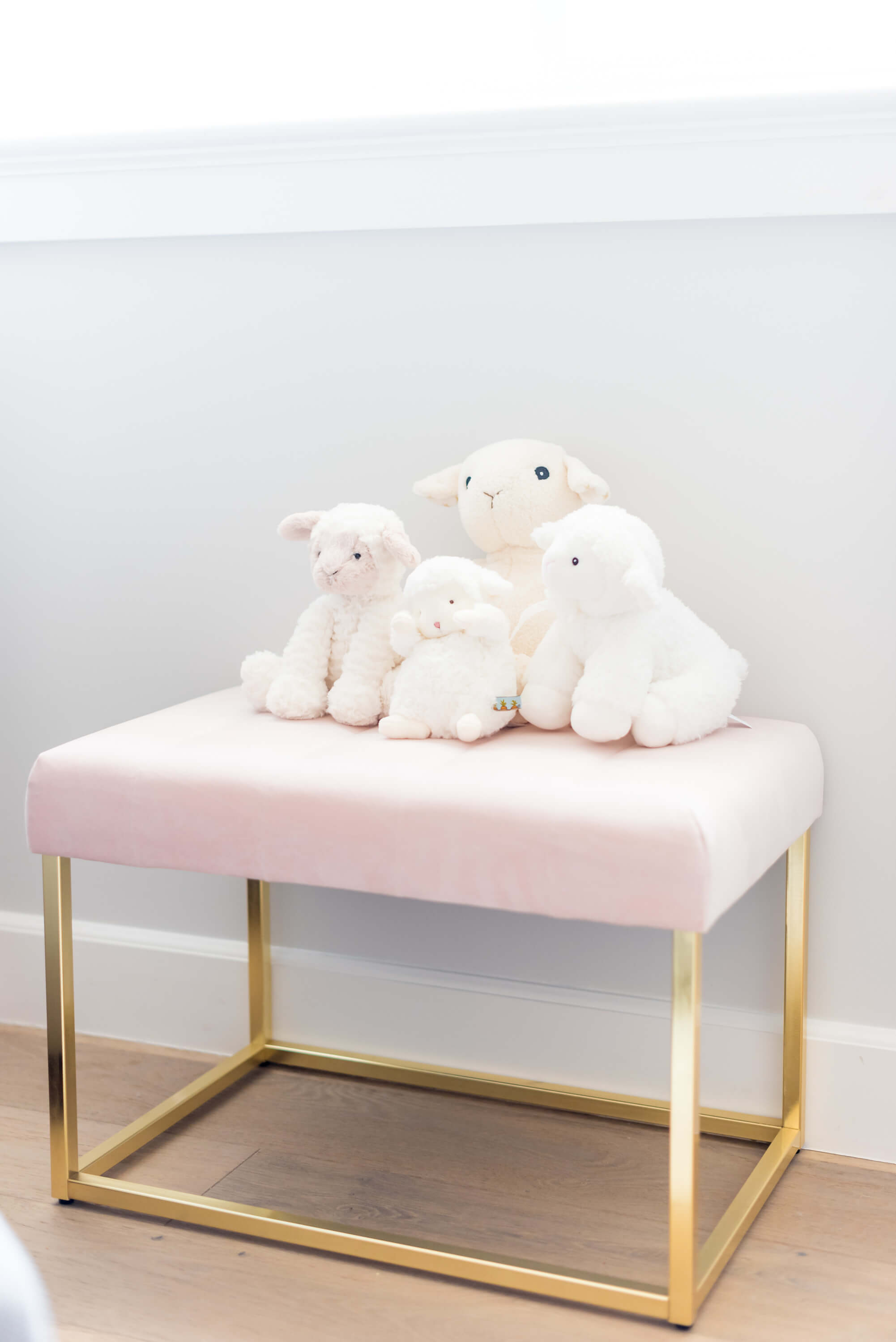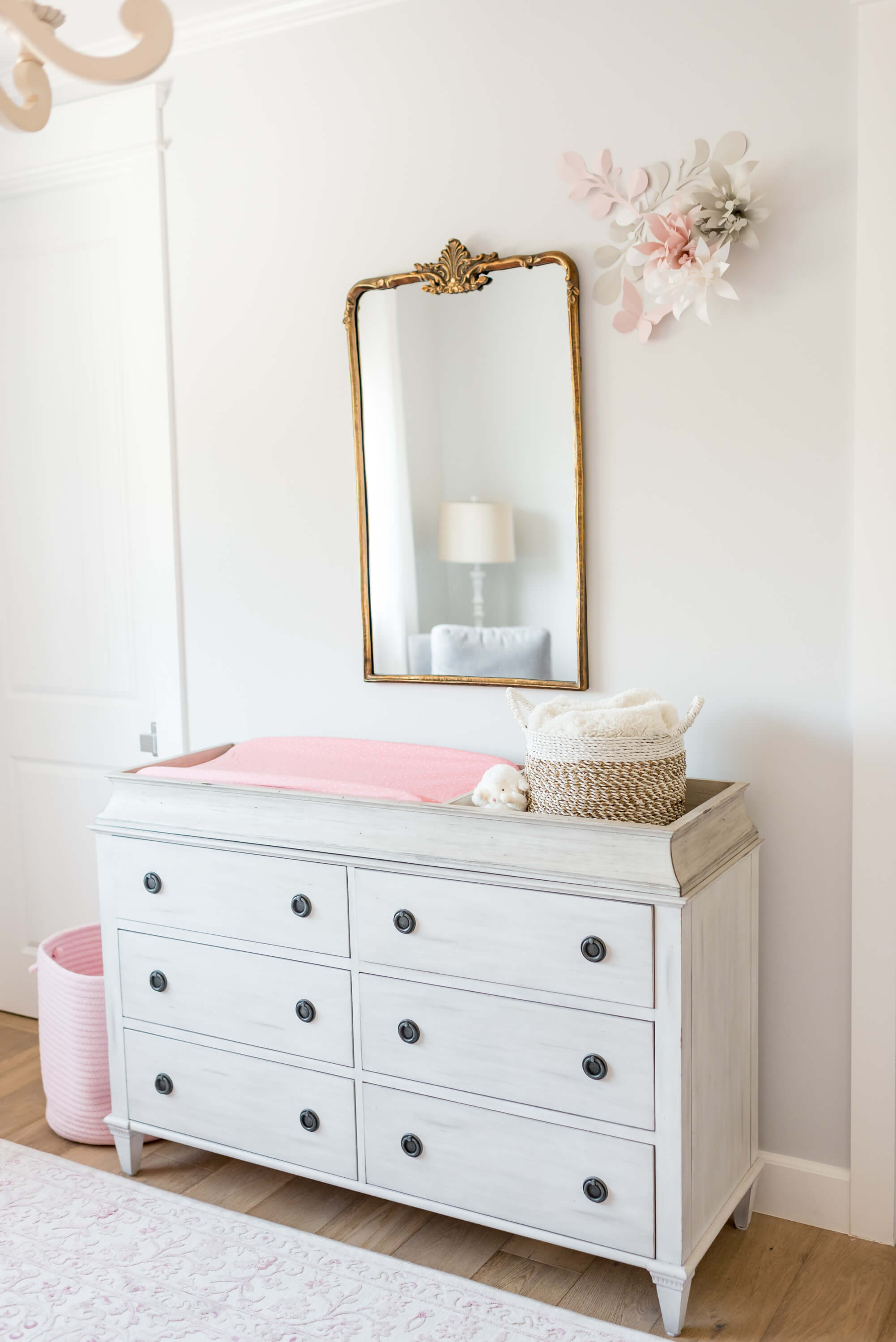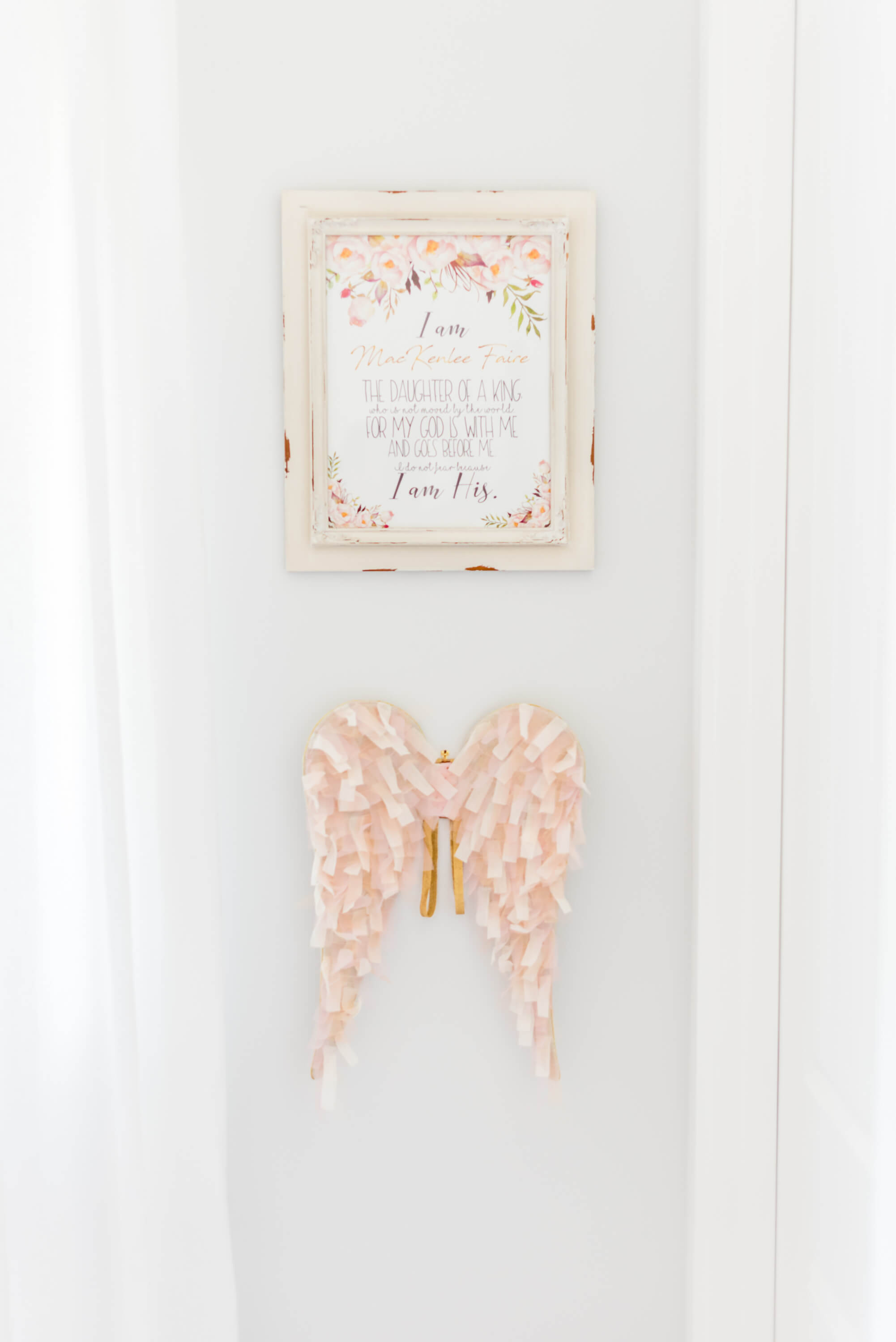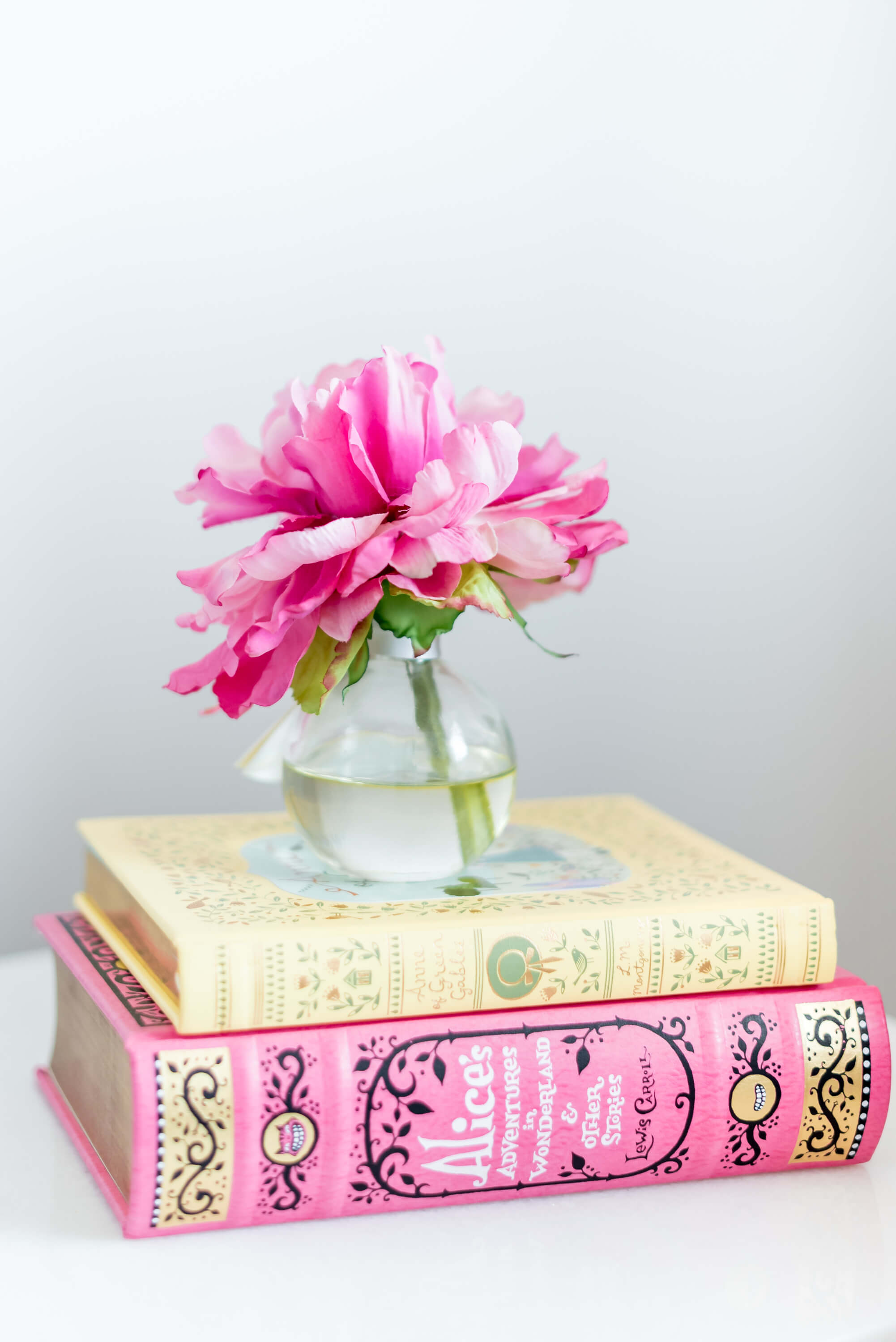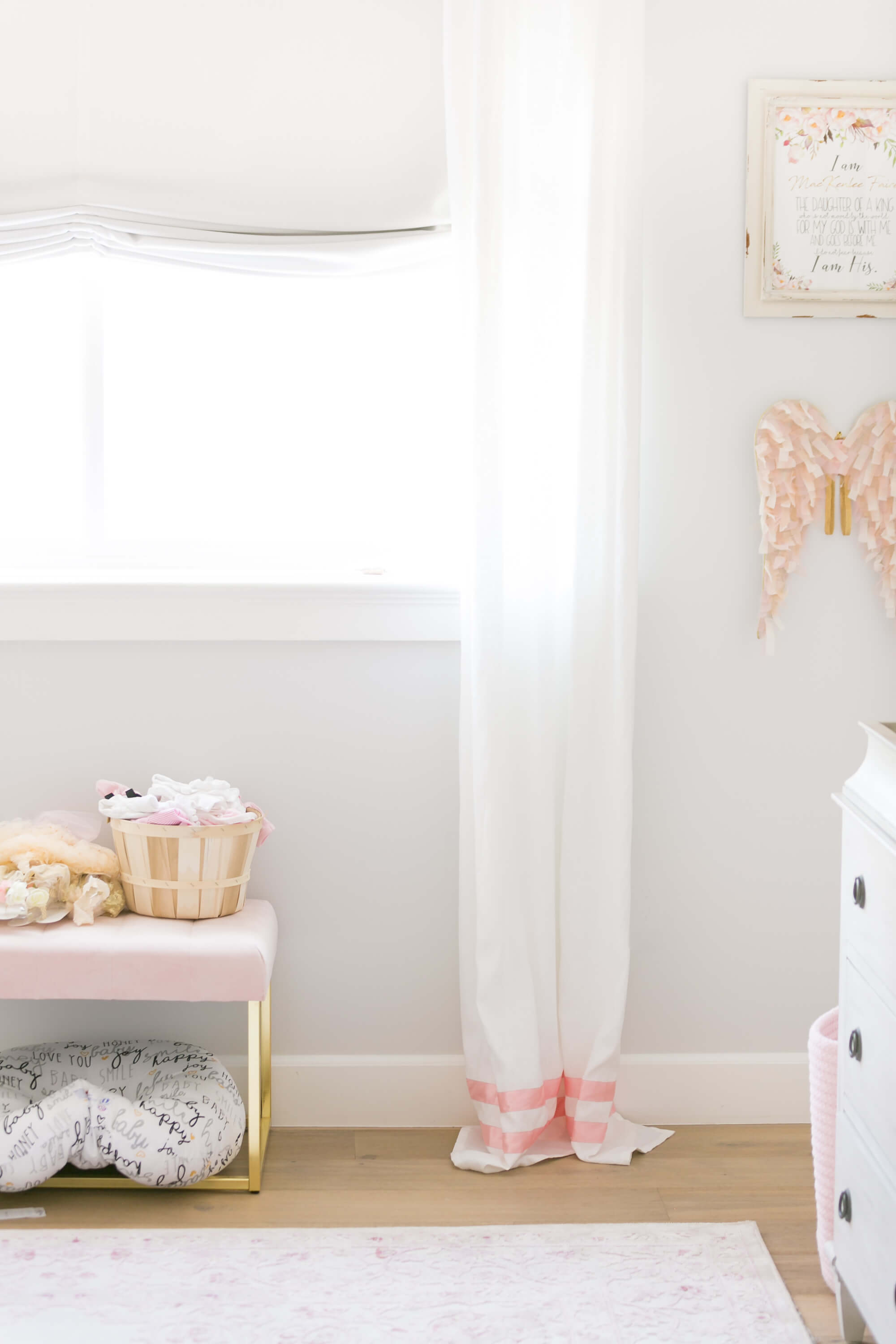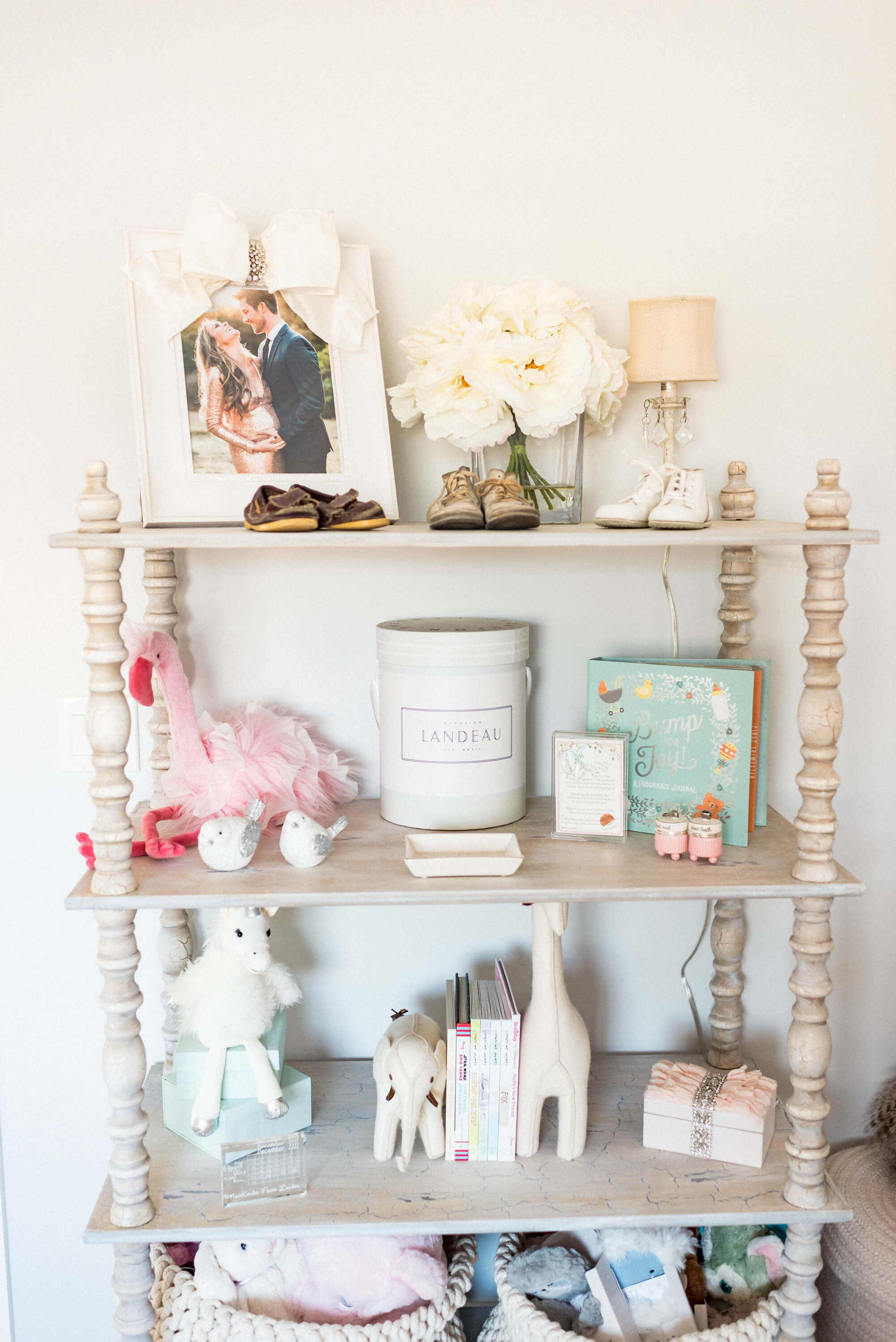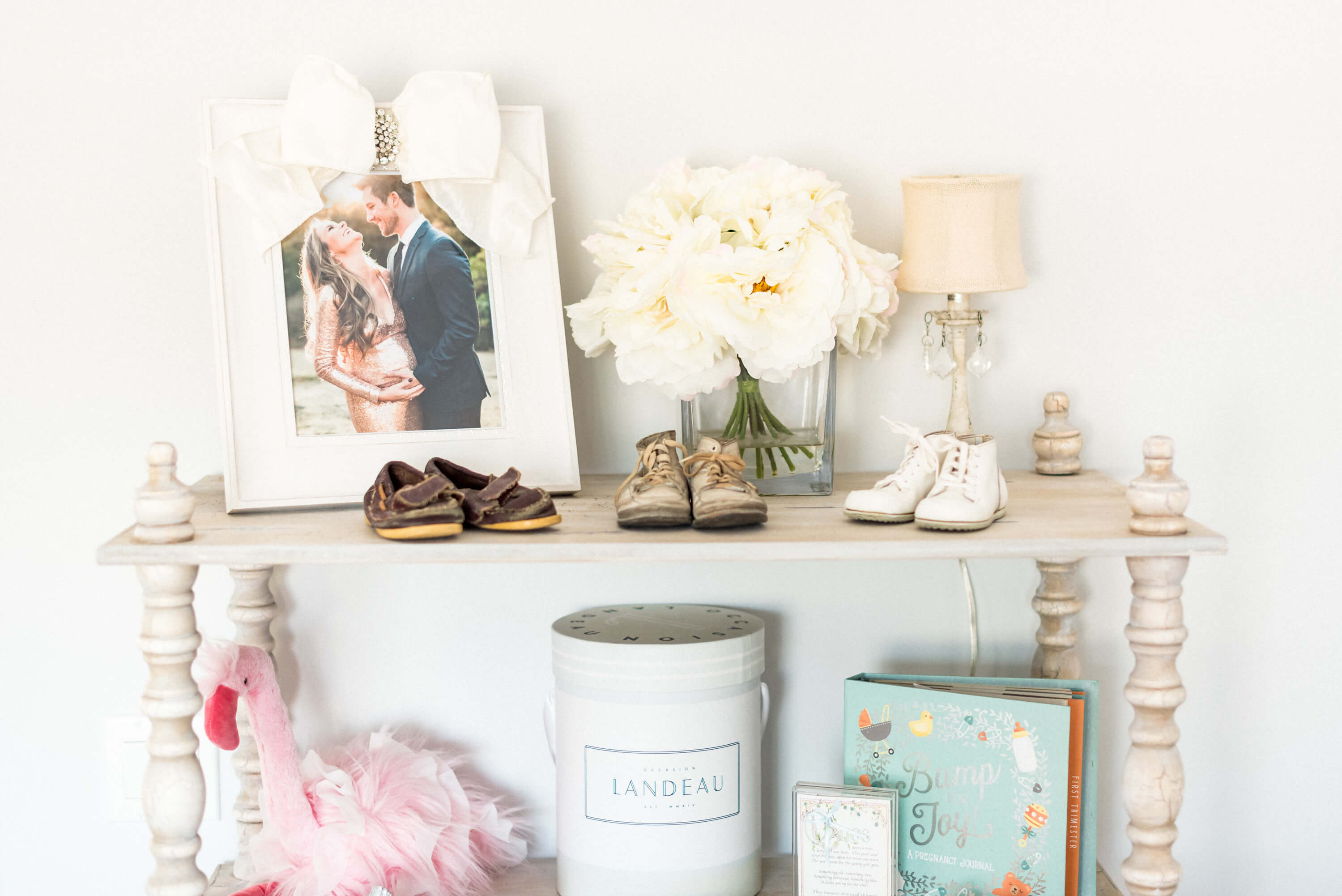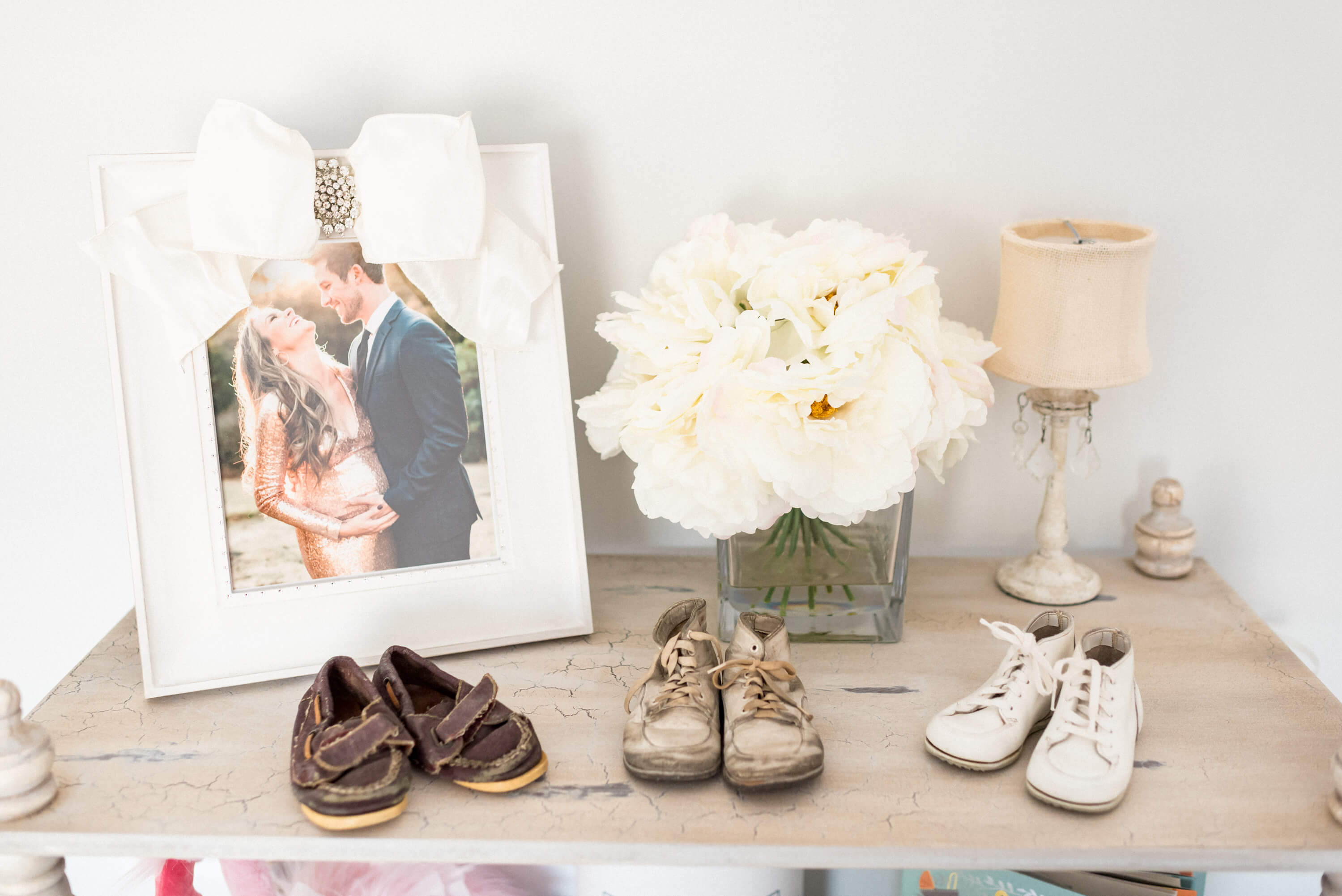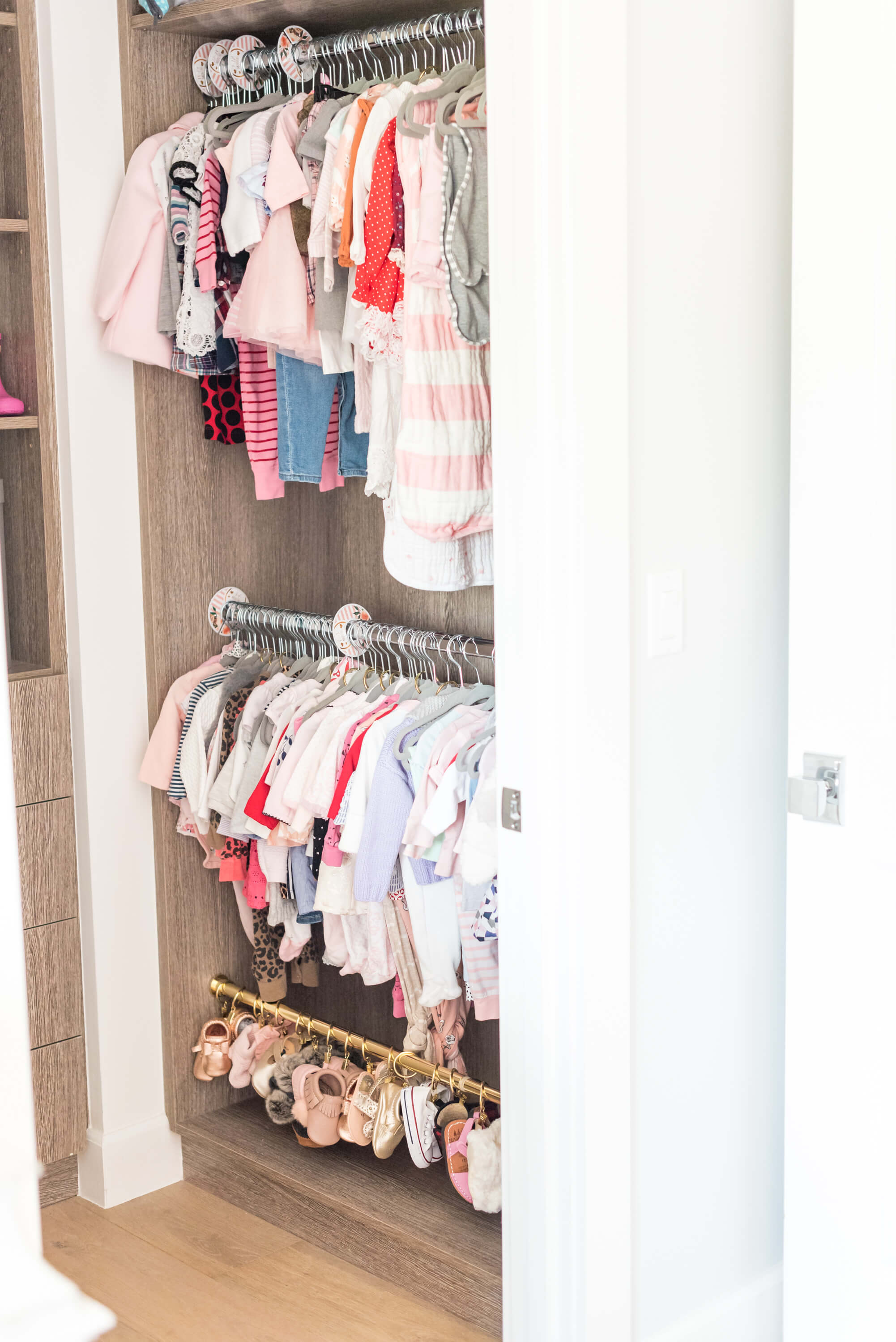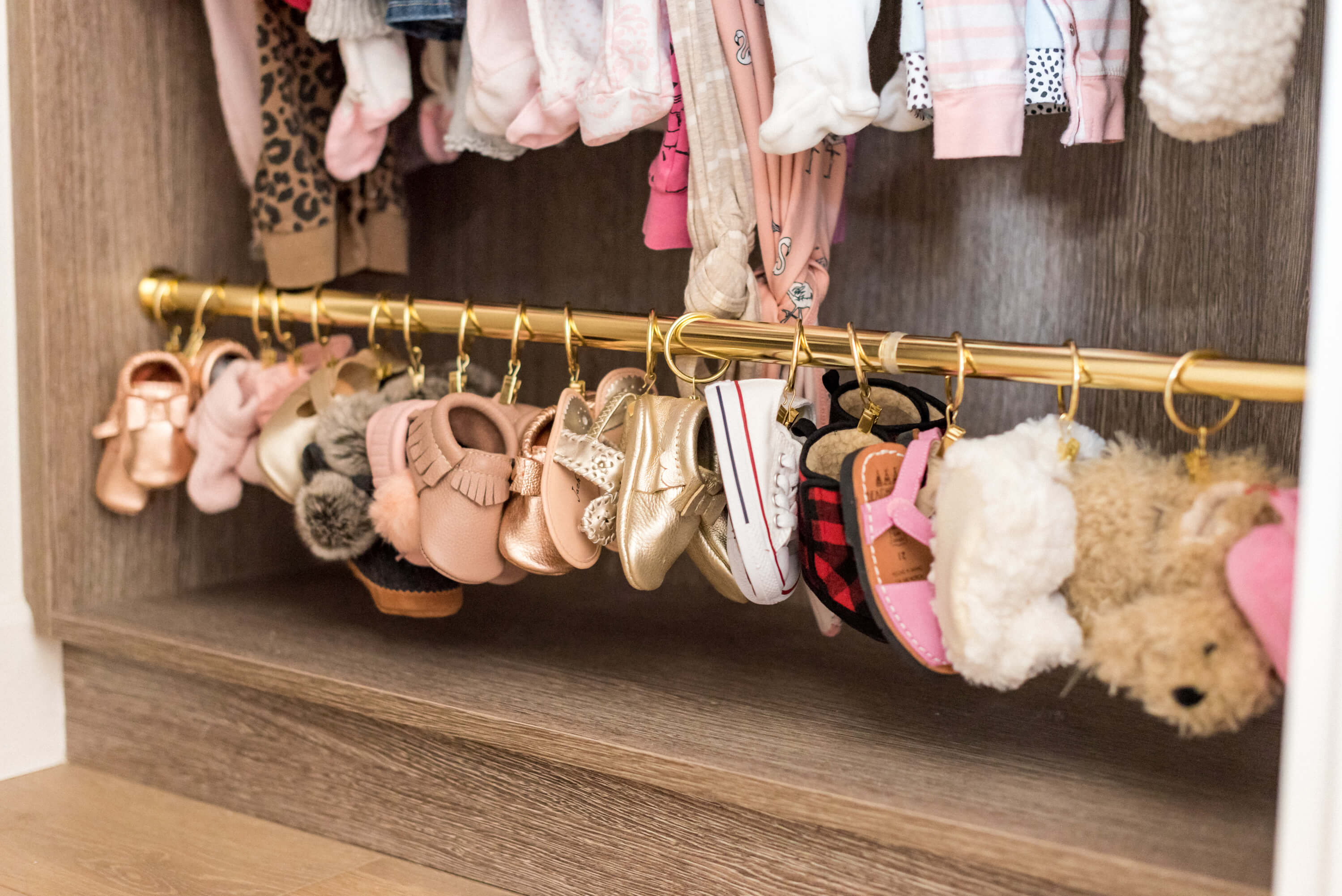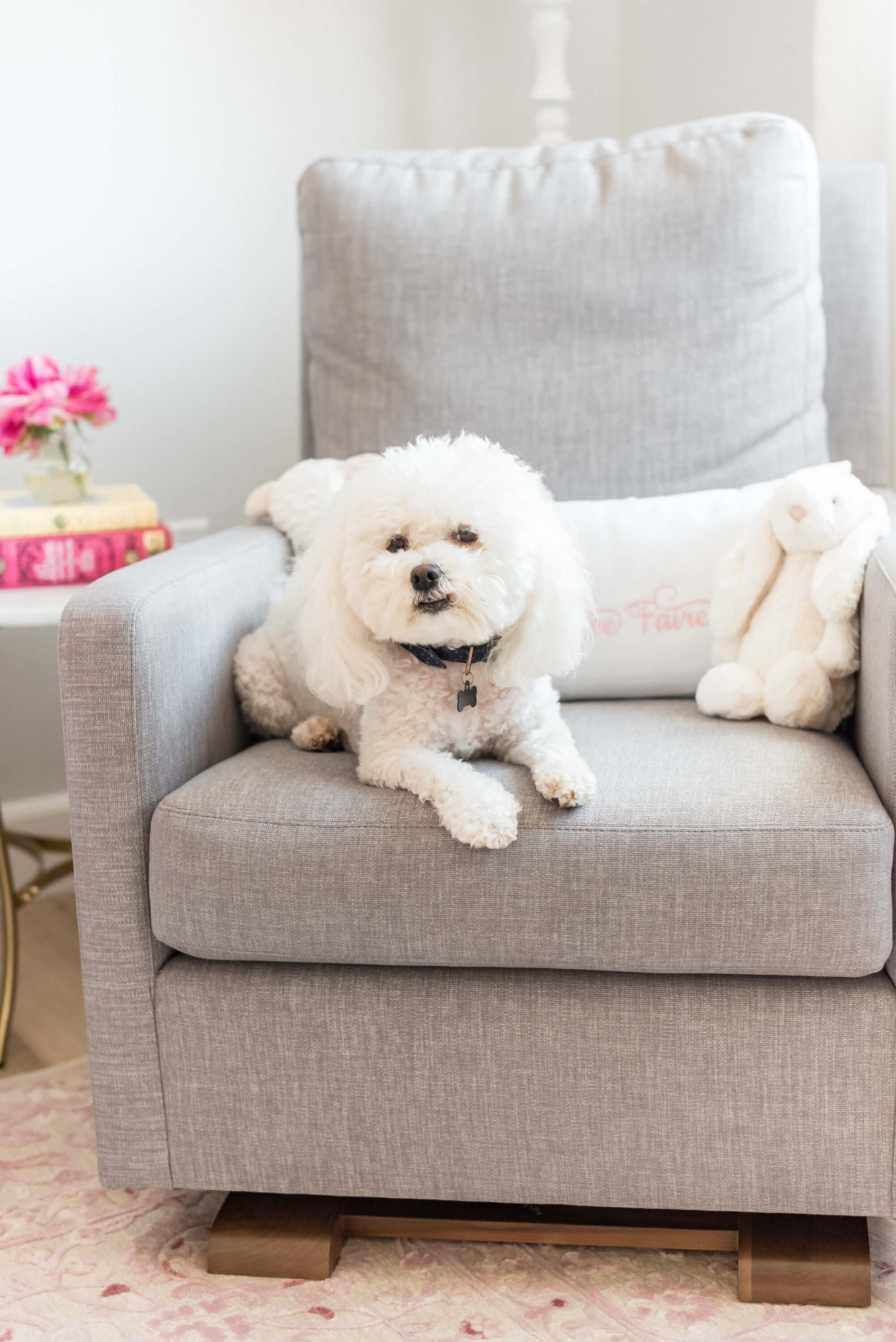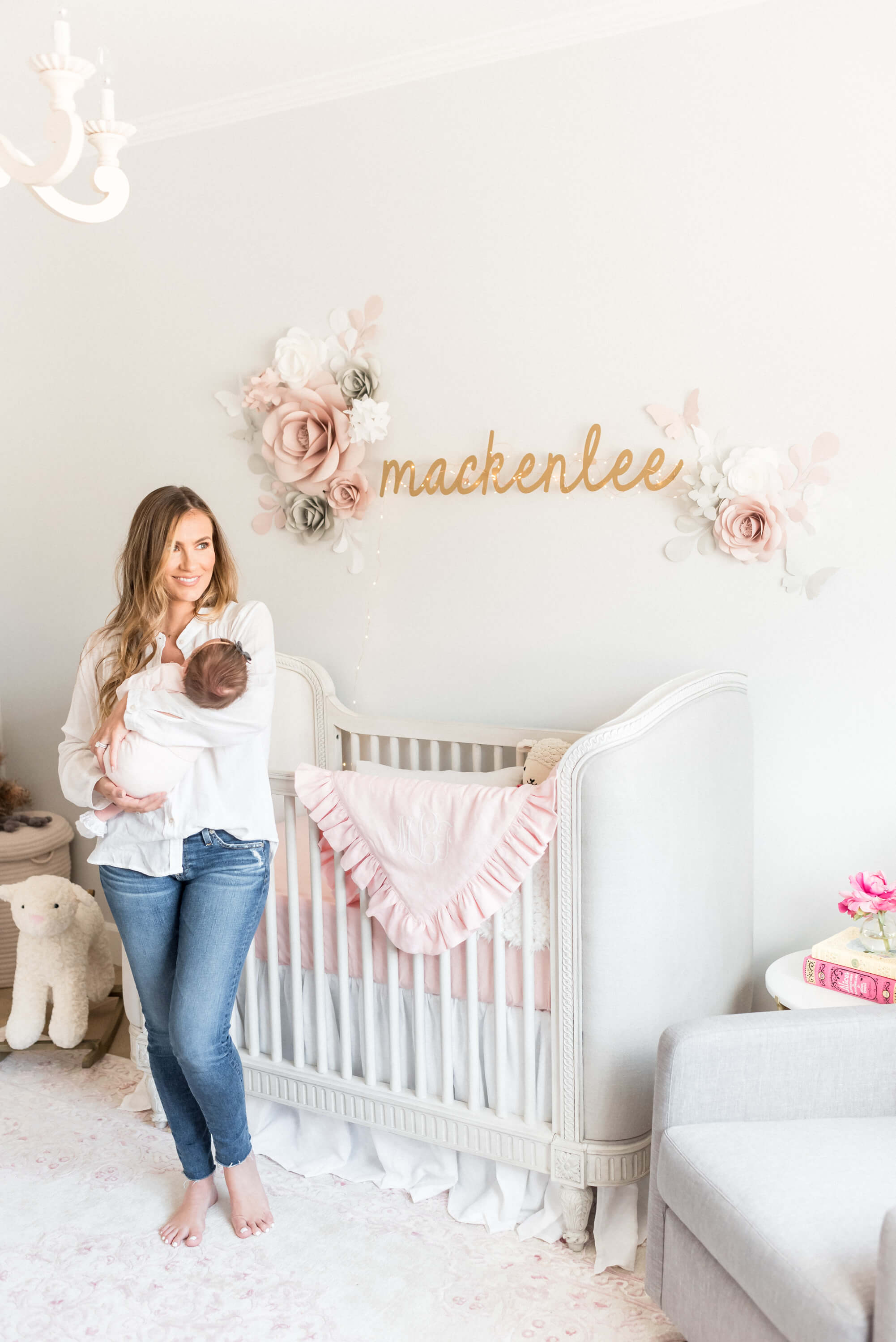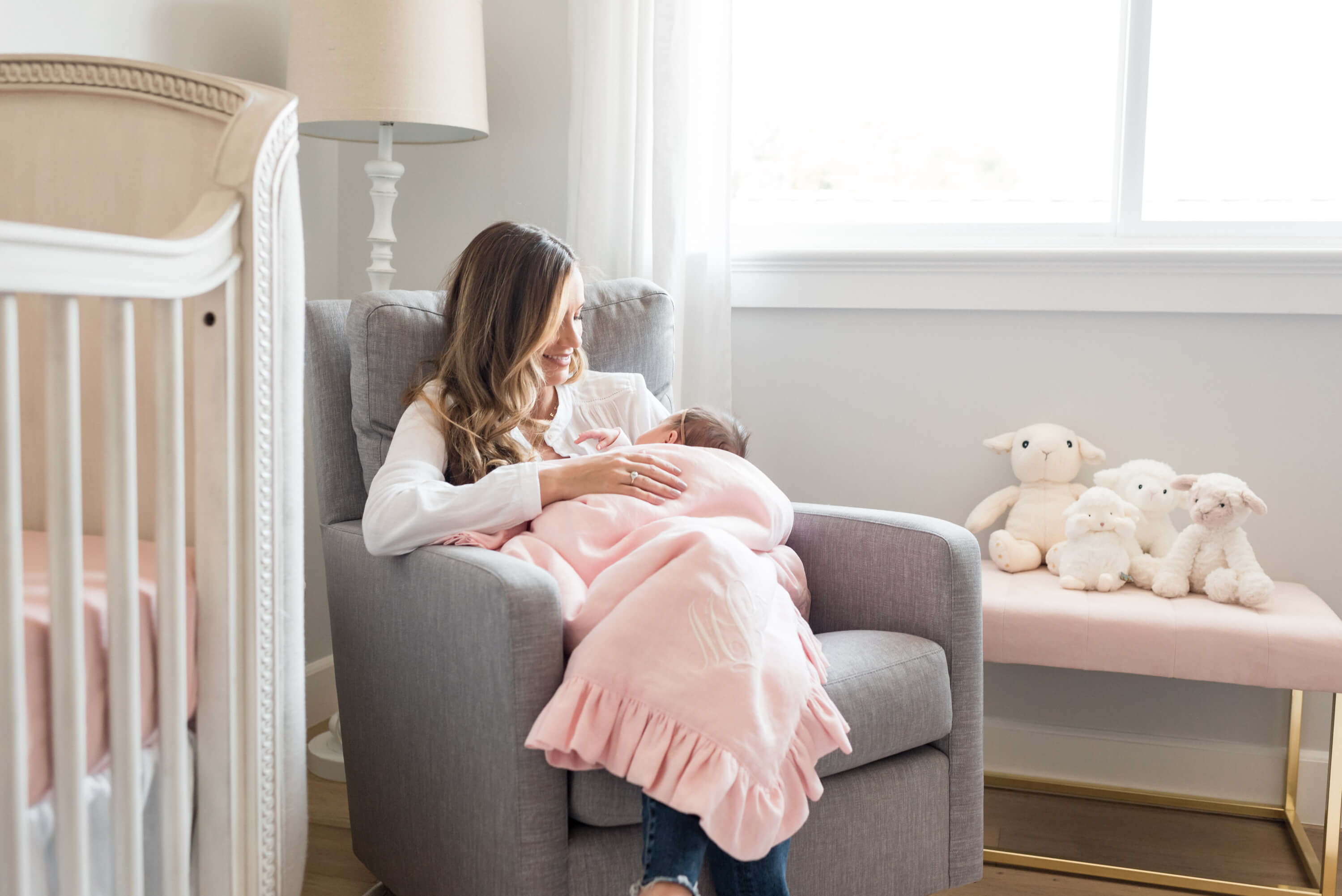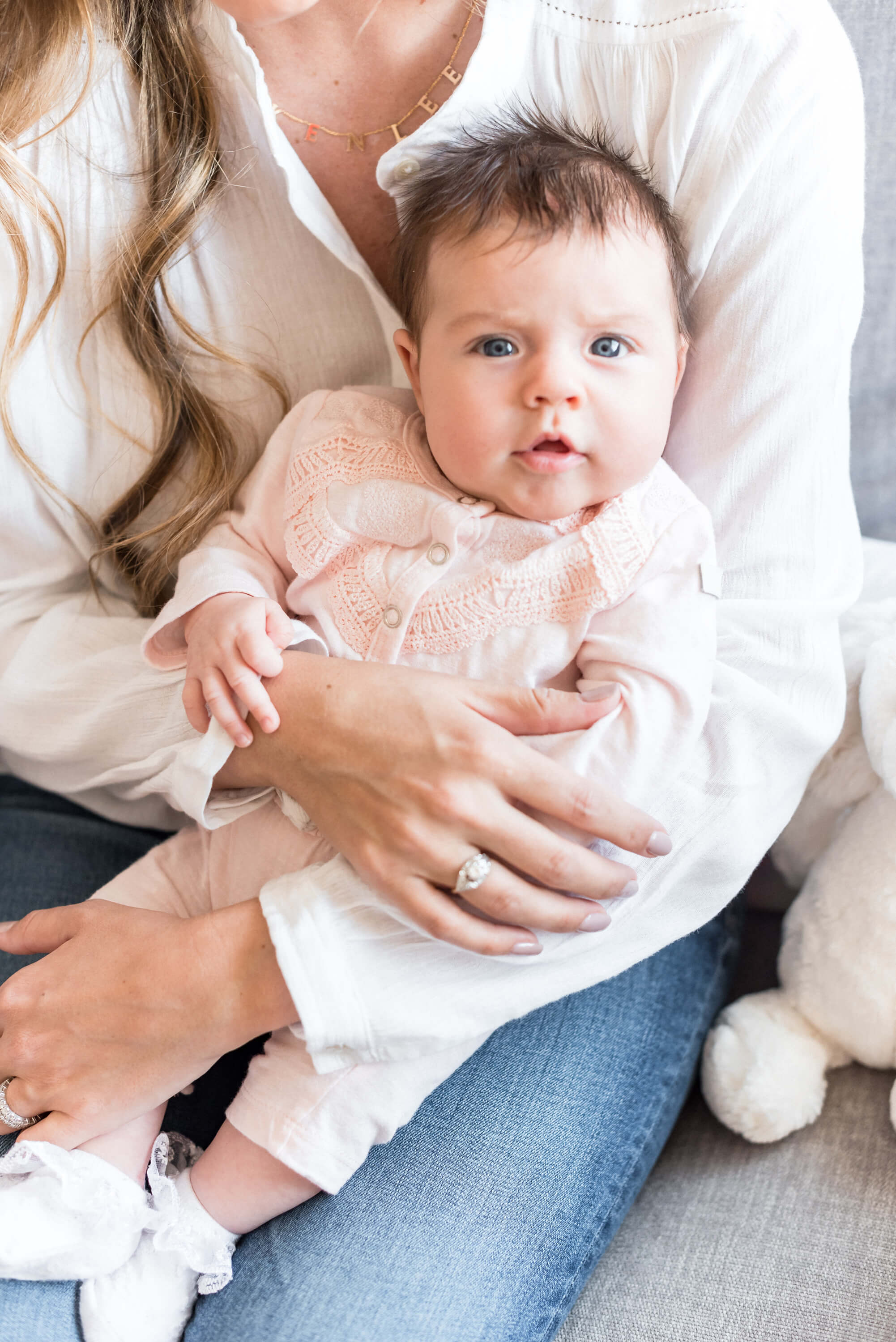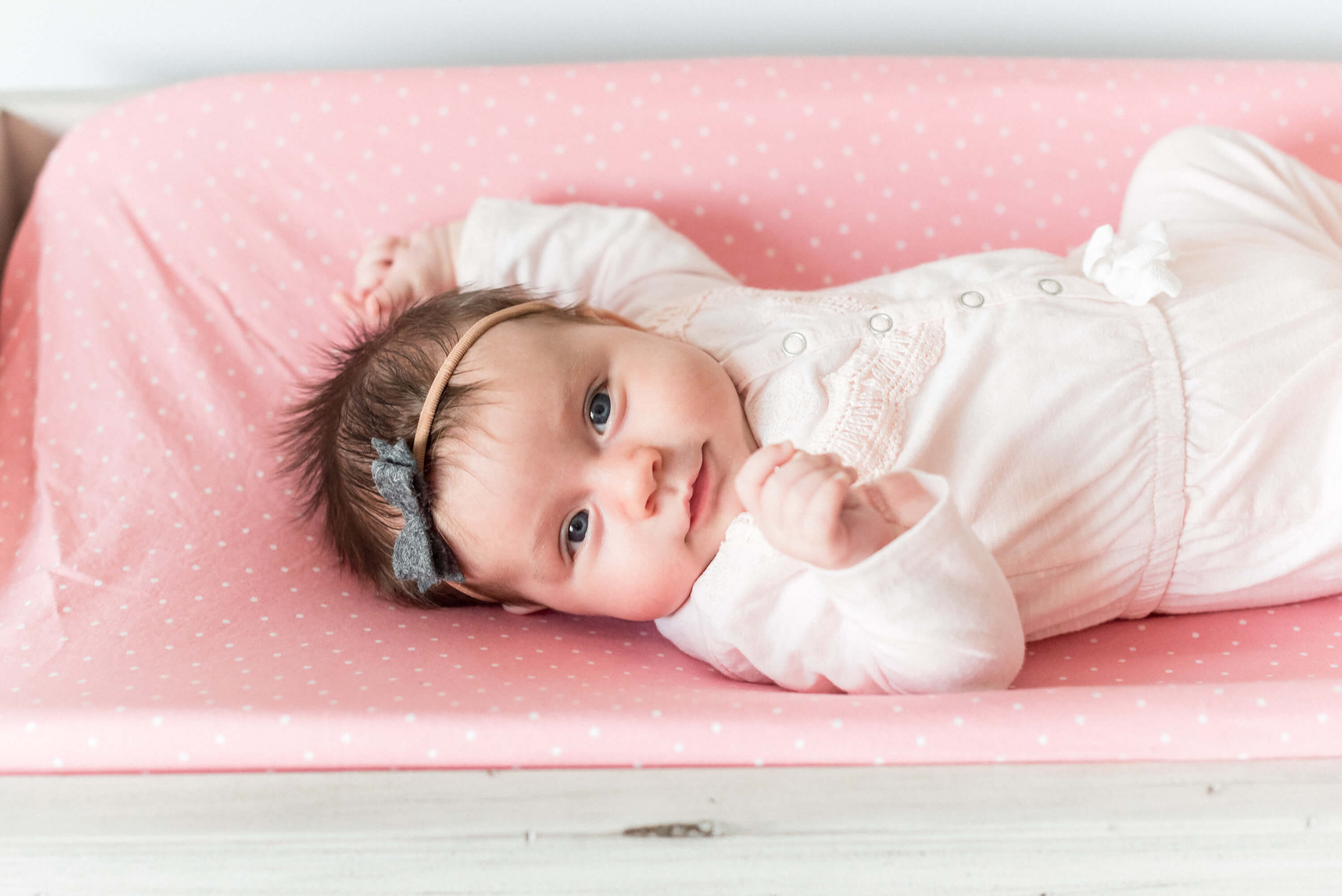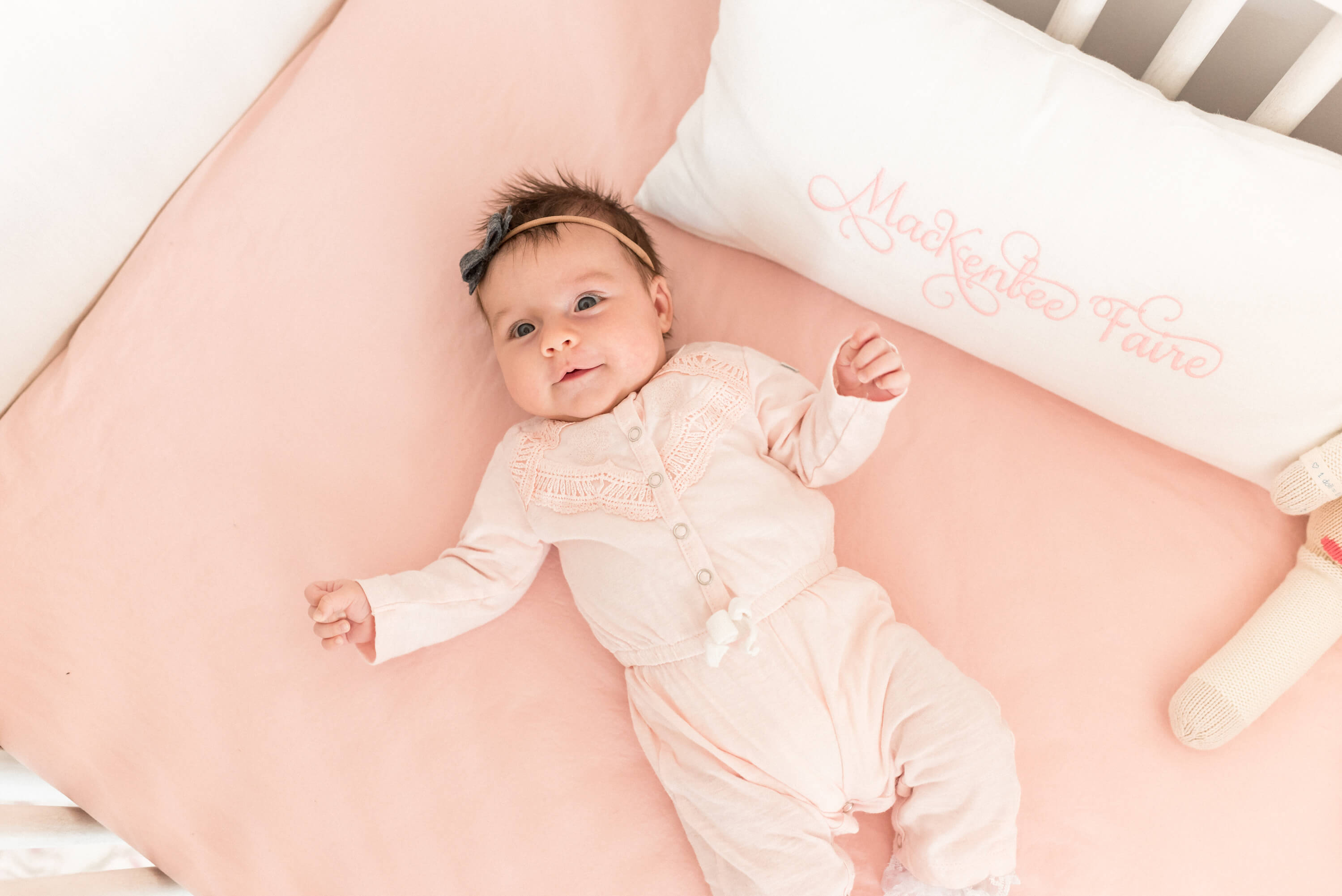 I'm so excited to finally share MacKenlee's nursery.  You may have already seen a lot of these photos on People Babies in their adorable article yesterday.
Here's a little about her sweet nursery…  I took my time finding the perfect pieces to make sure it was exactly what I wanted.  I knew the nursery needed to be a soft pink/blush with a mix of neutrals, so my first purchase was her crib and matching dresser/changing table.  Her crib is convertible and will grow with her into a toddler bed.  The changing table topper is removable, so it will be just a dresser once she no longer needs diaper changes.
Next was a glider.  We knew we'd spend many, many hours rocking baby girl, so we wanted a comfortable place to sit.  Our glider and rocking ottoman is already well loved.  We use it every night as part of her bedtime routine and I use it throughout the day when I nurse MacKenlee.
I teamed up with the incredibly sweet Tori from New Arrivals, Inc. to create the perfect linens.  I had my heart set on a white linen crib skirt that was flowy and laid beautifully on the floor…  Tori designed the perfect skirt!  She made matching white linen curtains with a pink ribbon detail.  The crib blanket and throw pillow were monogrammed in matching shades and add such a special touch to her room.  A big thank you to Tori for all her help in creating this precious space in our home.
Side note: How stinking cool is it that baby girl has a bedding set and paper flower set named after her?!
I went back and forth and back and forth over the walls.  I really wanted wallpaper, but in the end decided that a neutral paint would be best.  We chose Dunn Edwards paint in "Laced Veil" and it's perfect.  We've had several friends ask for the name so they can use this paint color in their own homes.  It's a beautiful grey paint that isn't too yellow or too blue, which is so hard to find.
Here's a list of everything in the nursery.  If I've missed anything, please comment below to let me know.
Photography by Kara Coleen.
---

Crib Bedding:  New Arrivals, INC. MacKenlee Faire Crib Collection [c/o]
Crib Blanket:  New Arrivals, INC. MacKenlee Faire Crib Collection [c/o]
White Linen Crib Skirt:  New Arrivals, INC. MacKenlee Faire Crib Collection [c/o]
Curtains:  New Arrivals, INC. [c/o]
Crib and Changing Table:  Restoration Hardware
Glider:  Monte Design [c/o]
Ottoman:  Monte Design [c/o]
Chandelier:  Restoration Hardware
8 x 10 Rug:  Everly Medallion
Floor Lamp:  Wayfair (Matt painted)
Side Table:  Joss & Main
Etagere (Shelves):  Joss & Main (Matt painted)
Wall Flowers:  MioGallery [c/o]
Name Wall Mount:  Winnie Dot
Fairy Lights:  Amazon
Mirror:  Anthropologie
Pink Bench:  Target
Angel Wings:  Anthropologie
Wall Art:  made by sister-in-law
Shelf Lamp:  Restoration Hardware
Crib Mattress:  Amazon
Gold Closet Rod:  Amazon
Gold Curtain Rings:  Amazon
Closet Dividers:  Amazon
Pink Hamper:  Restoration Hardware
Beige Hamper:  Overstock
Lamb Rocker:  Restoration Hardware
Stuffed Animals:  Lucy the Lamb [c/o], Flamingo, Unicorn, Lamb, Bunny & Ostrich
Books:  Alice in Wonderland (gift from Urban Decay), Anne of Green Gables (gift from a sweet reader), Bump for Joy!
Storage Baskets:  Restoration Hardware
Bookends:  Restoration Hardware
Jewelry Box:  Pottery Barn
MacKenlee Necklace:  Lola James [c/o] Code: Angela15 for 15% OFF