MacKenlee Faire's Pink & Grey Nursery Reveal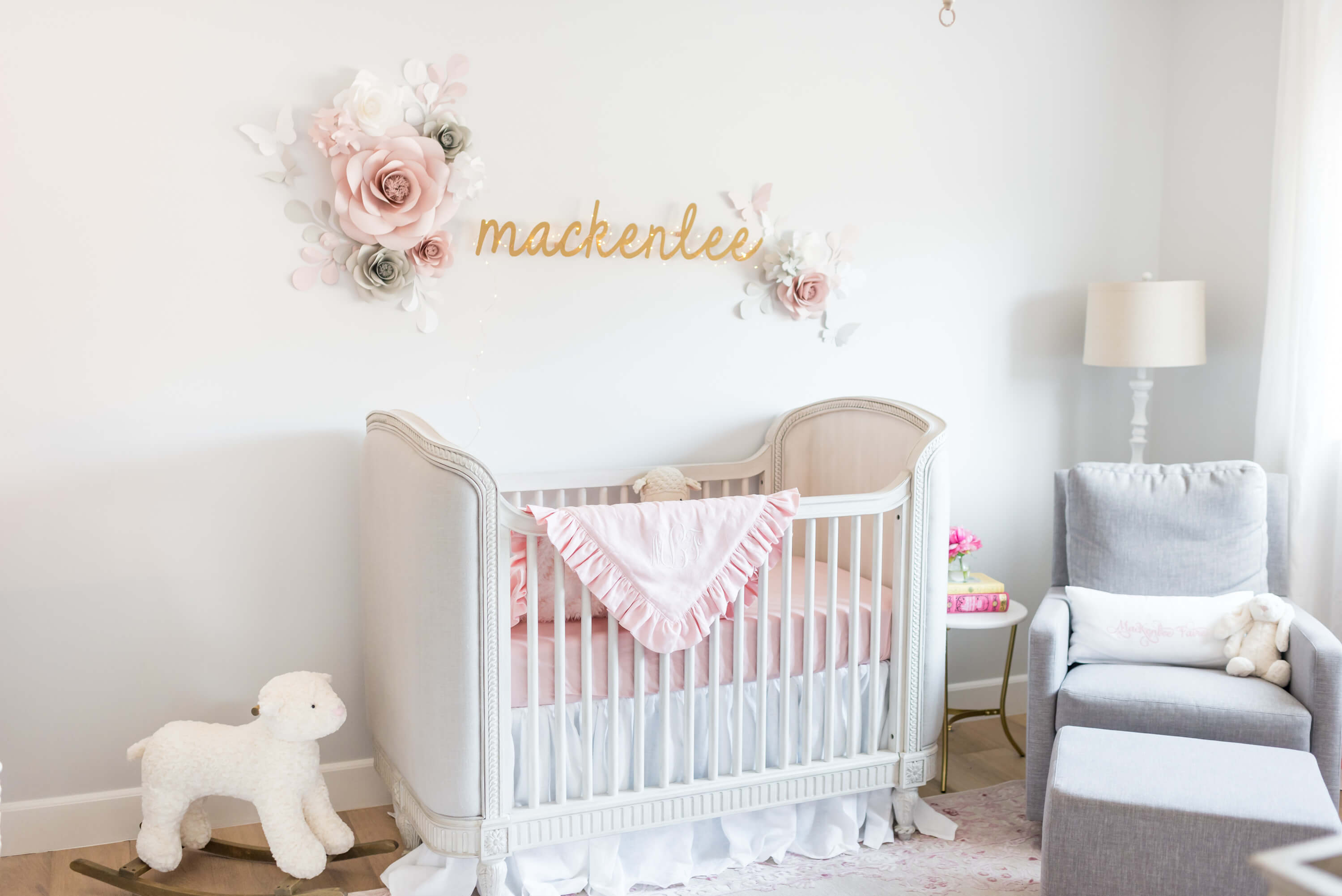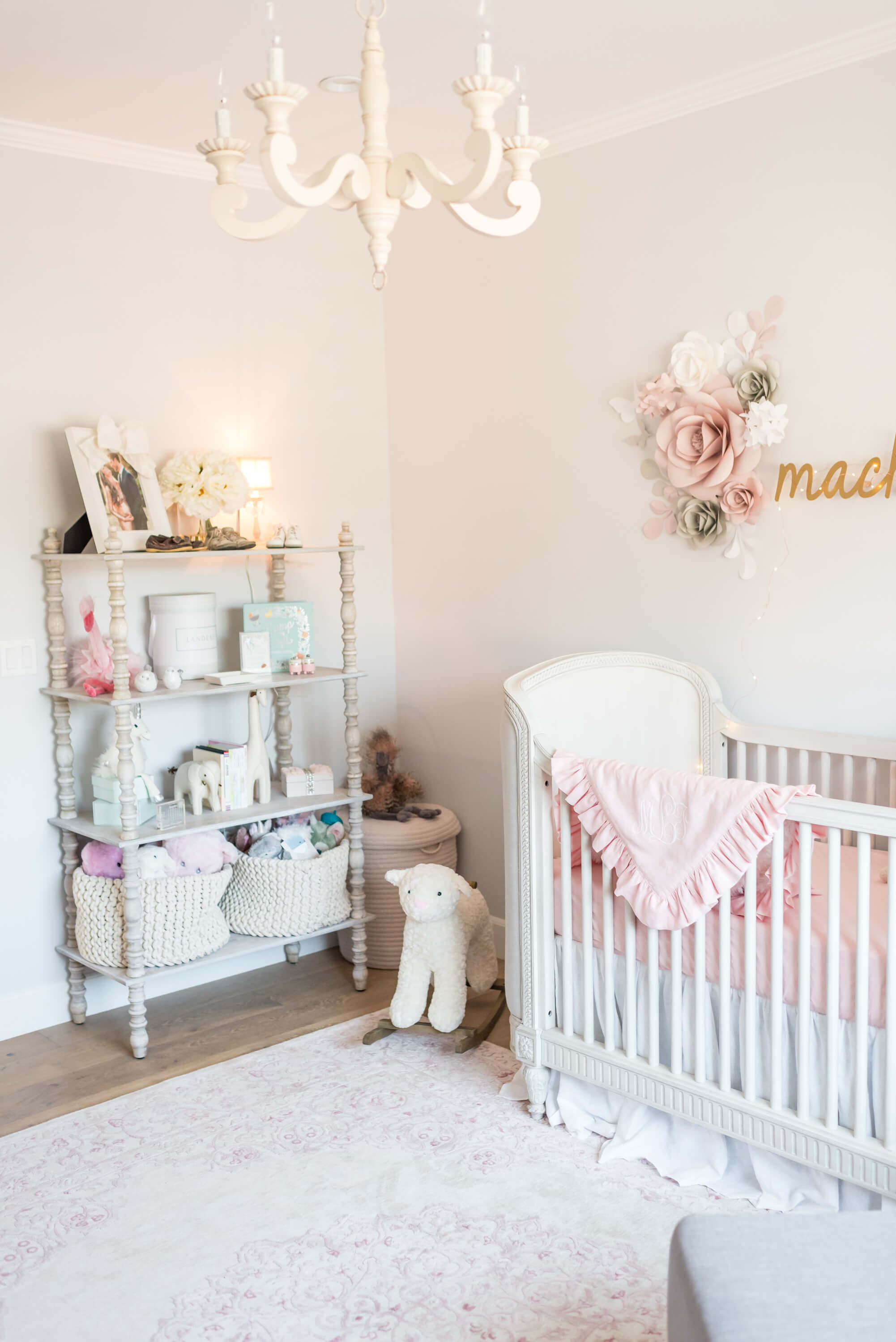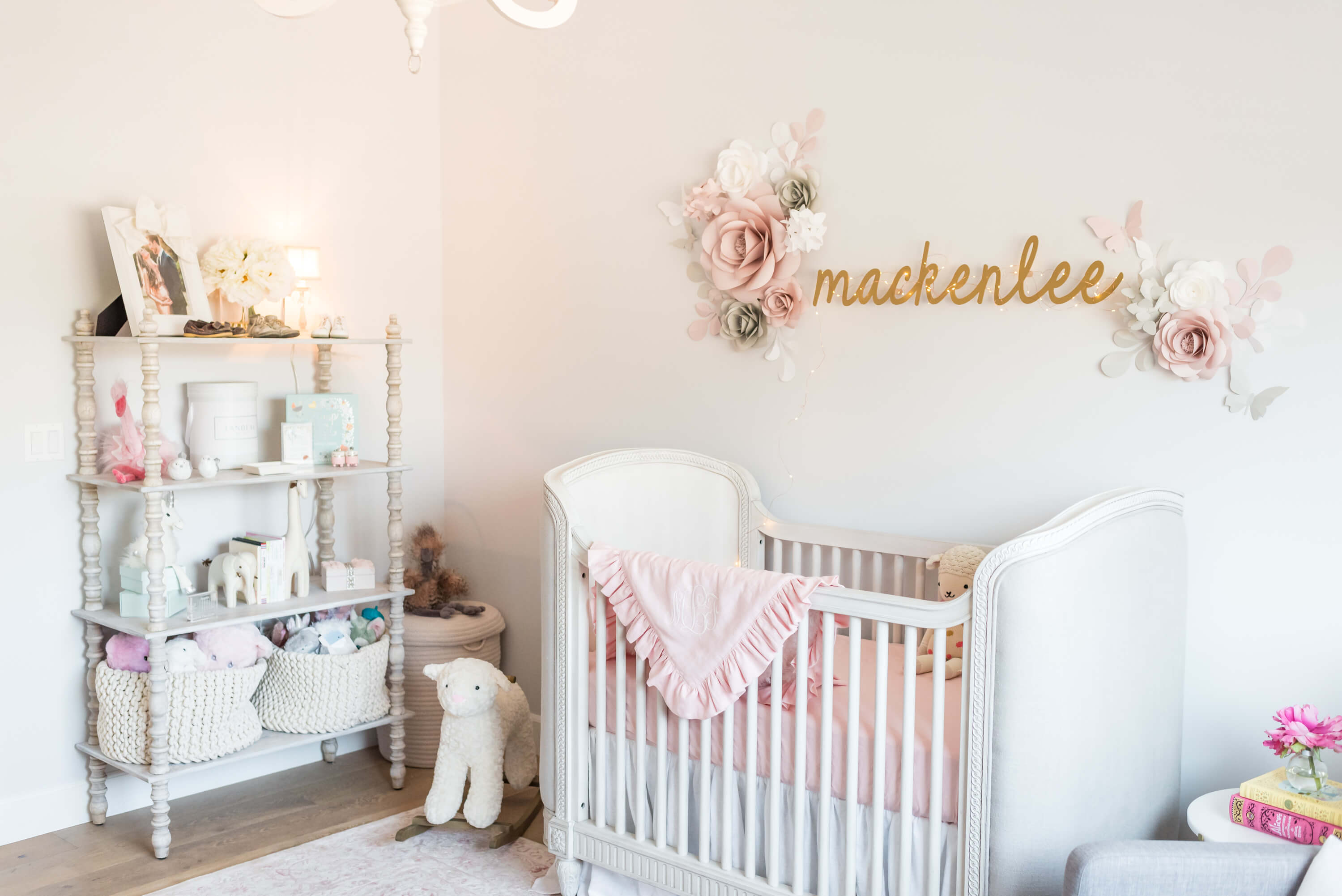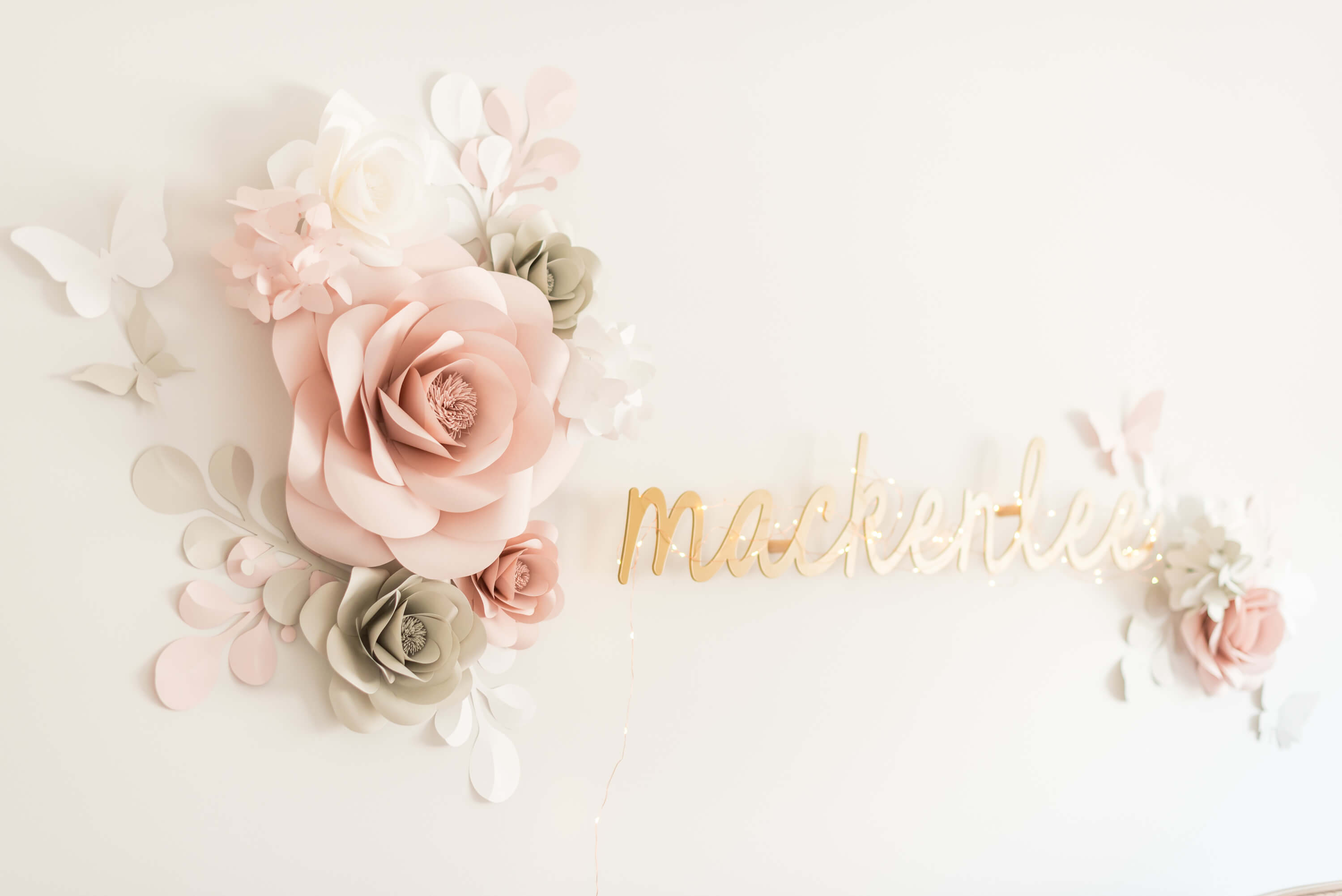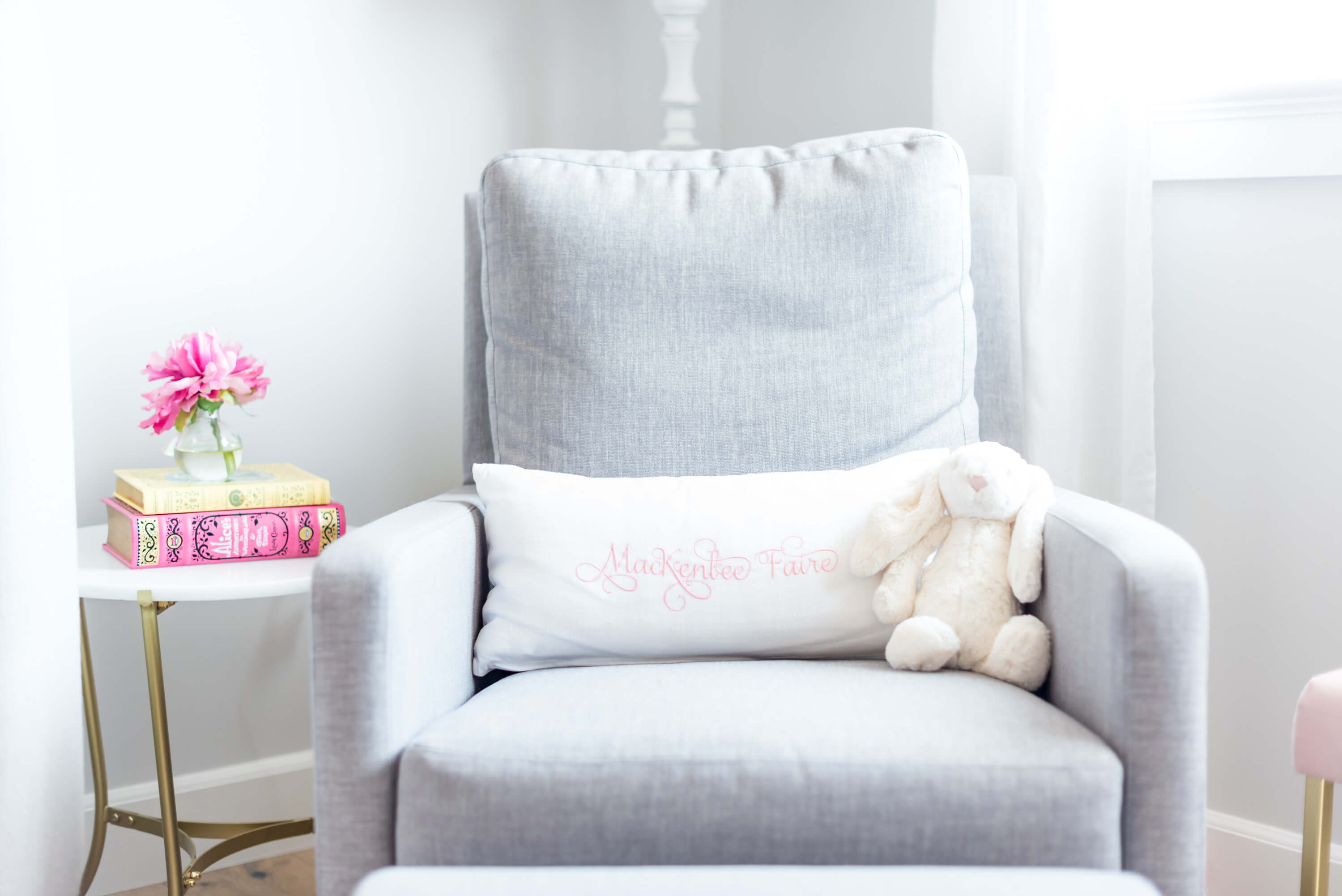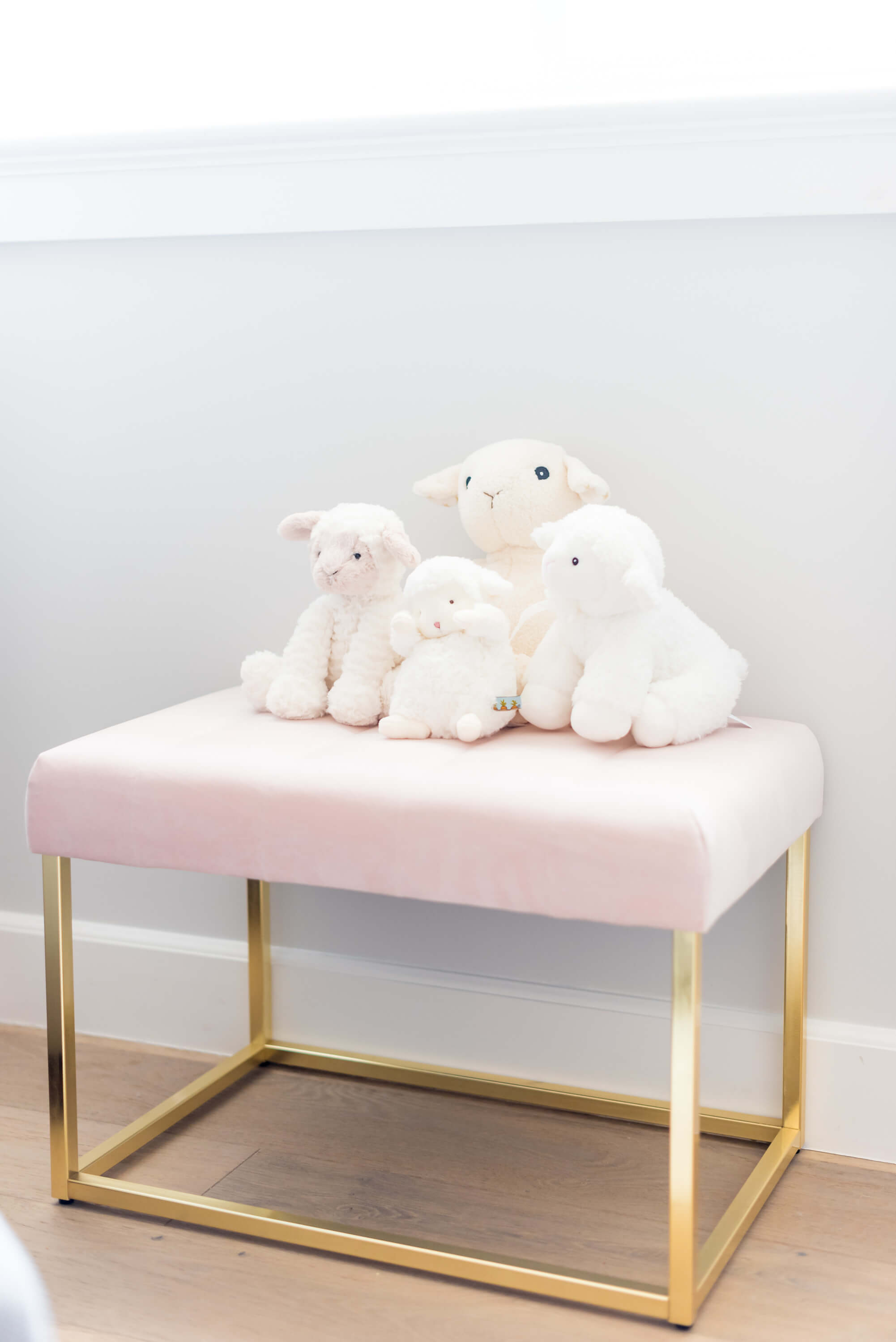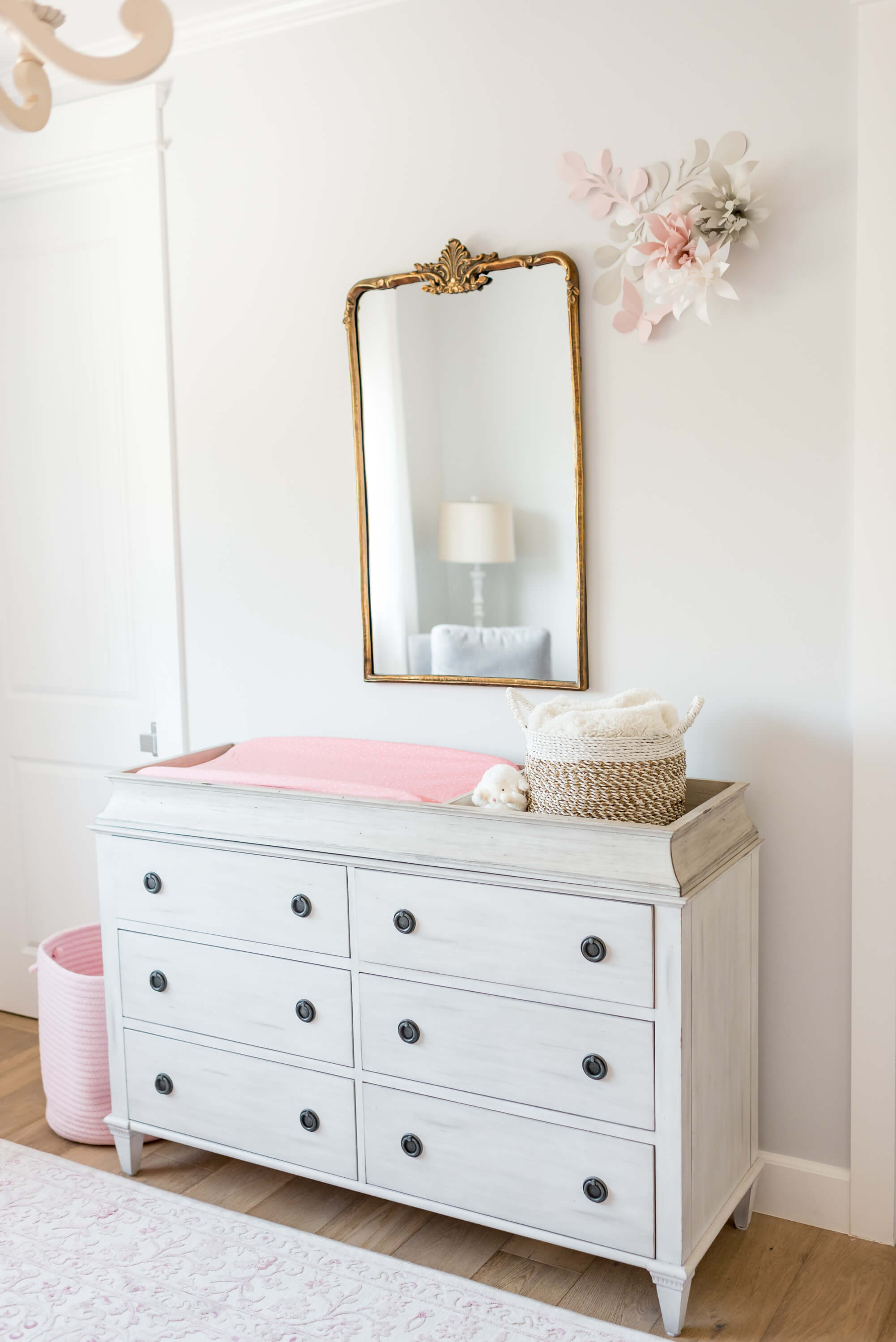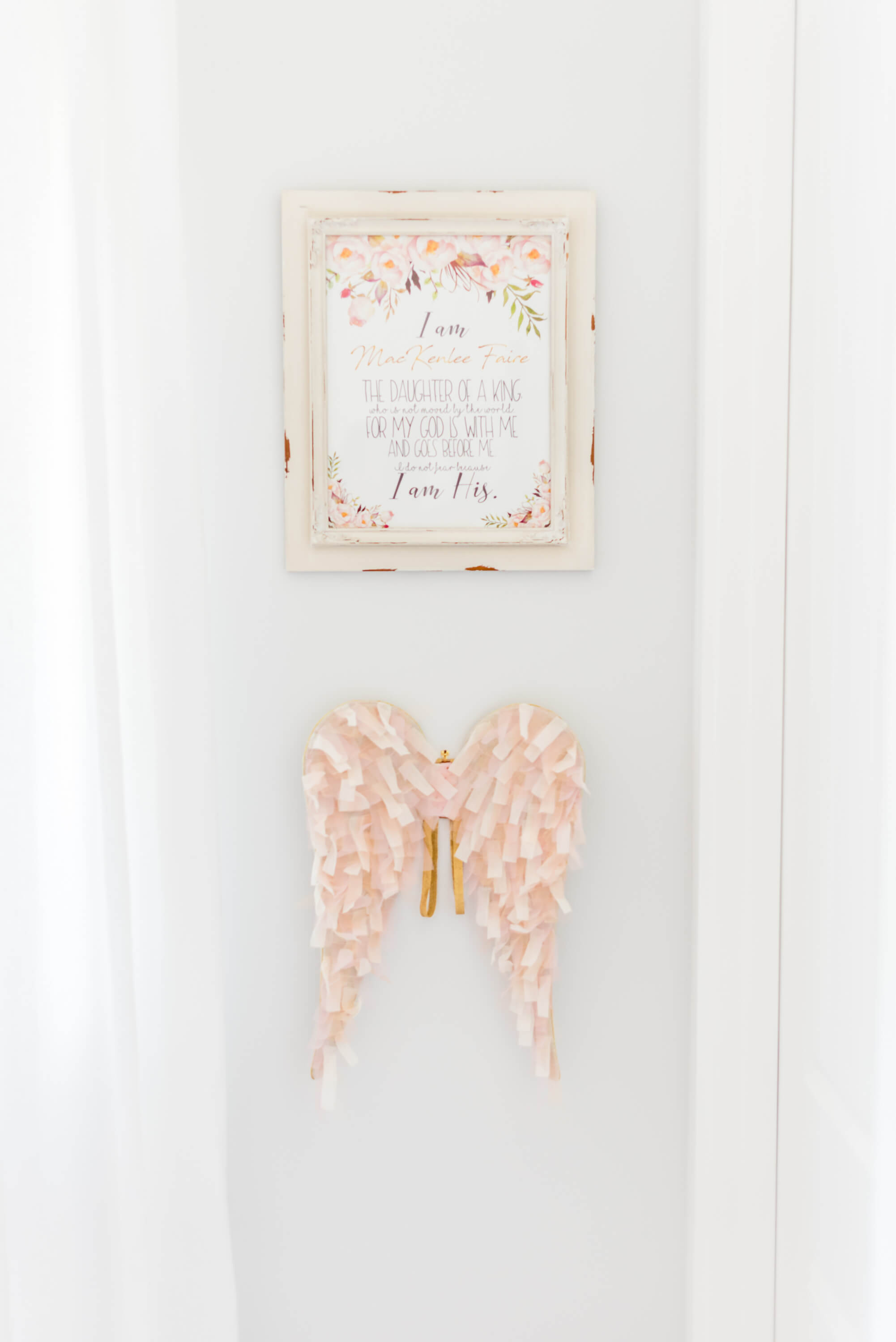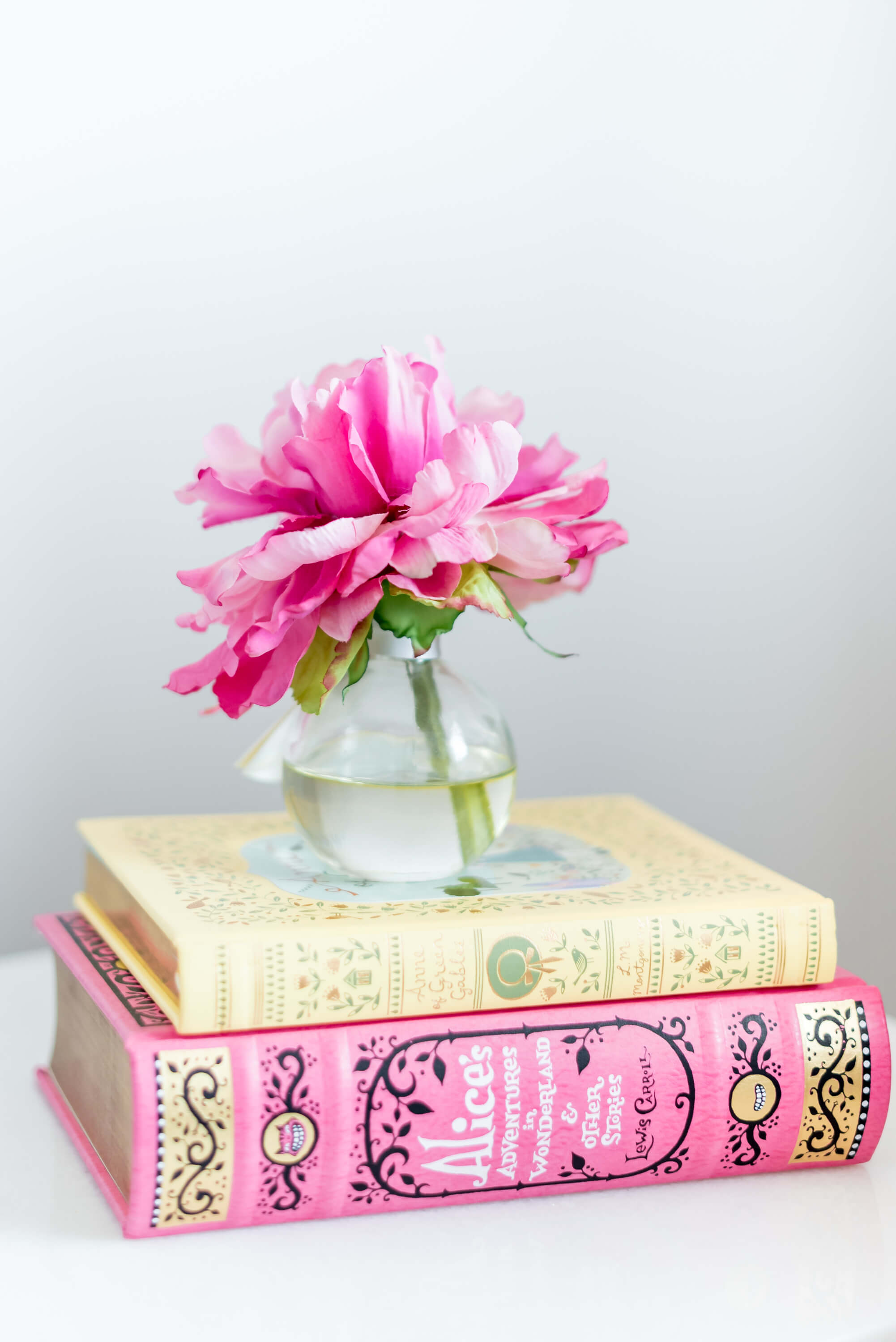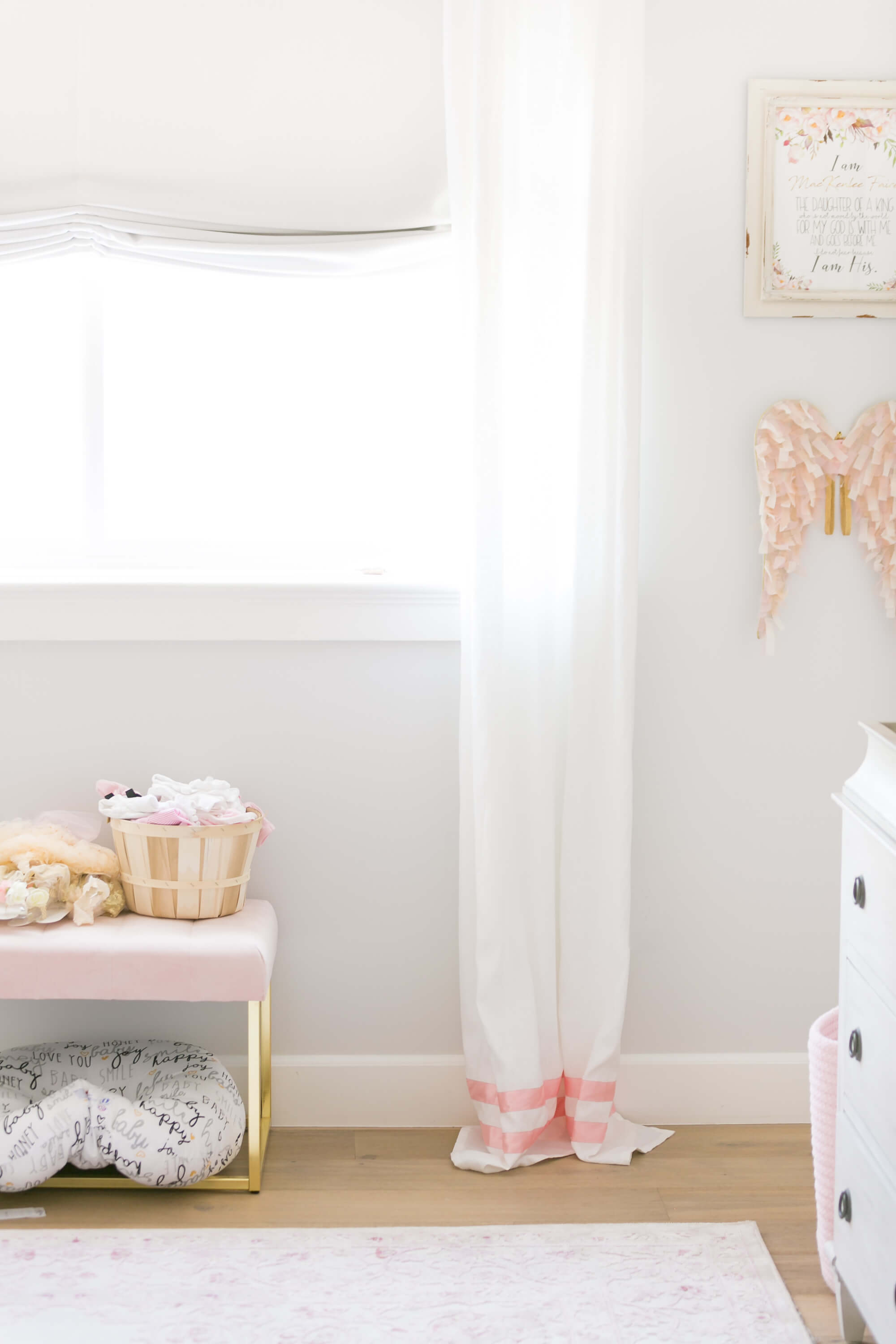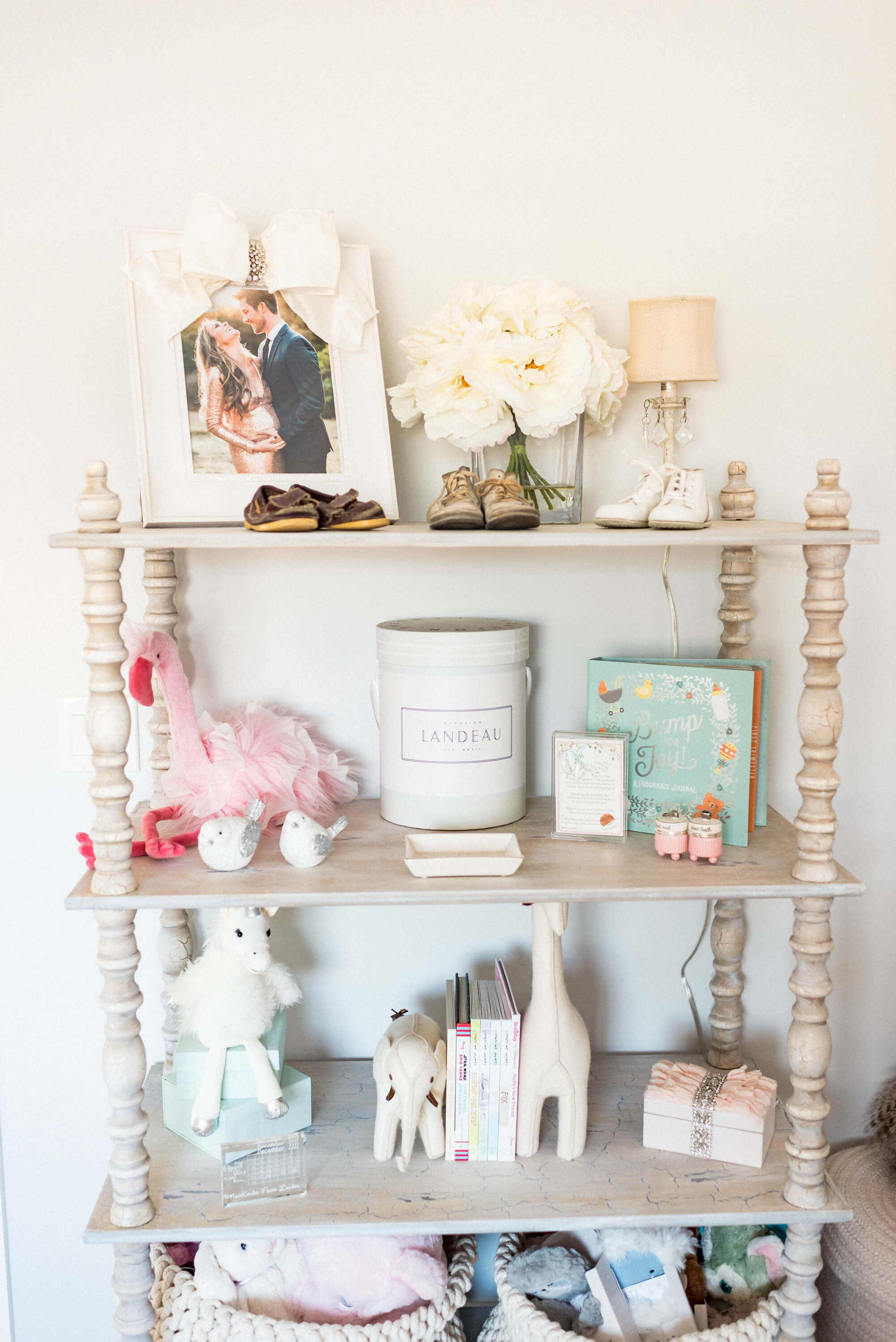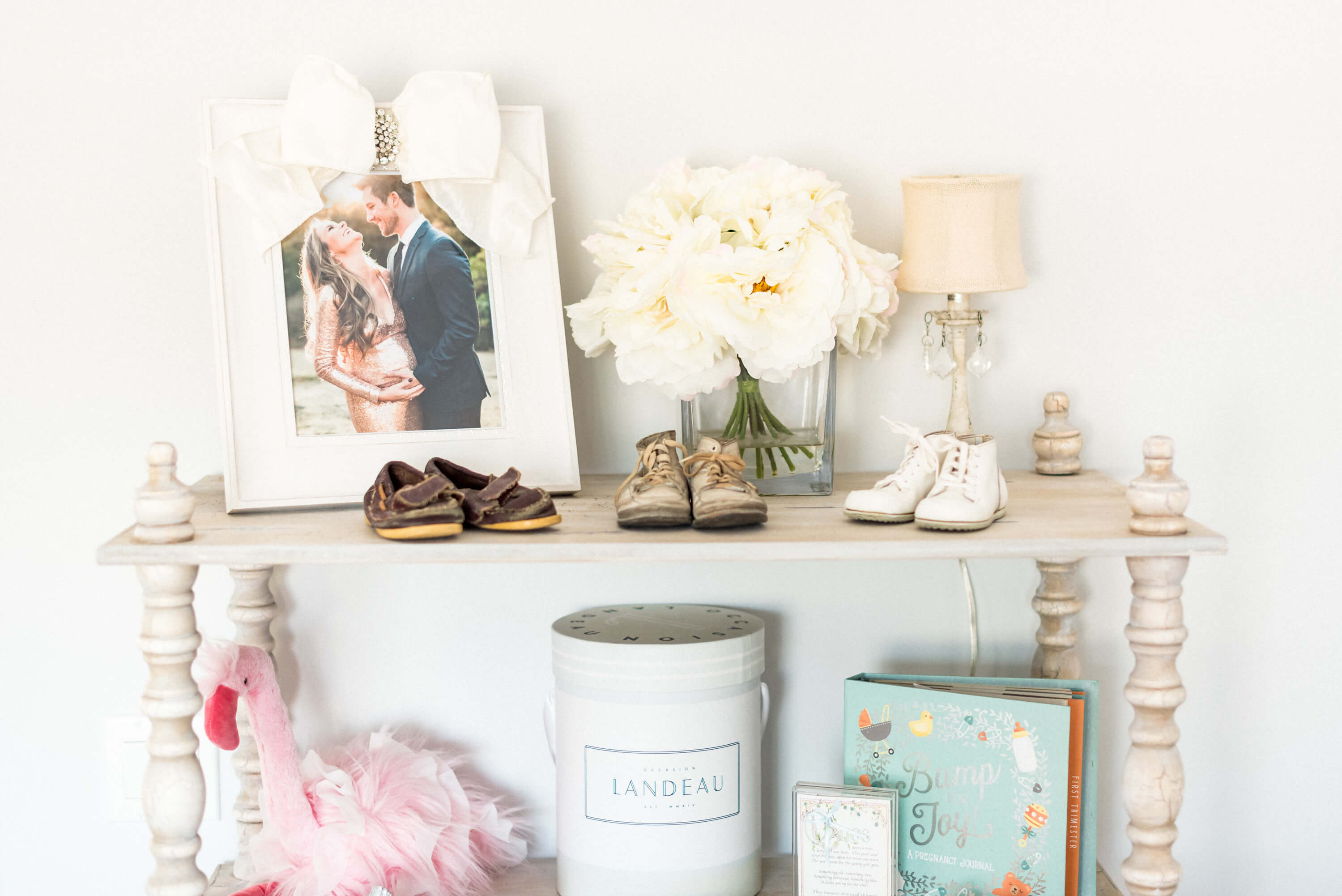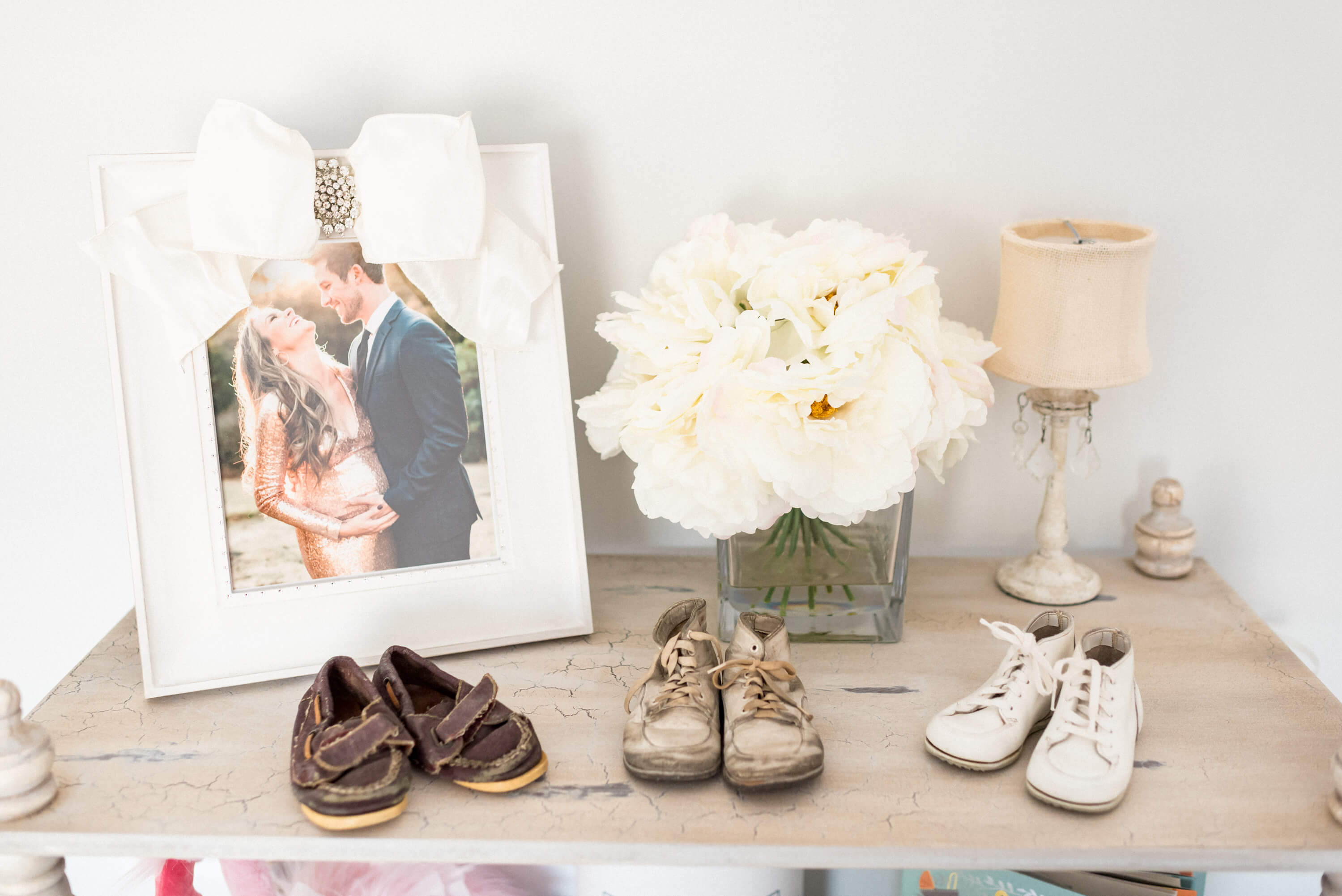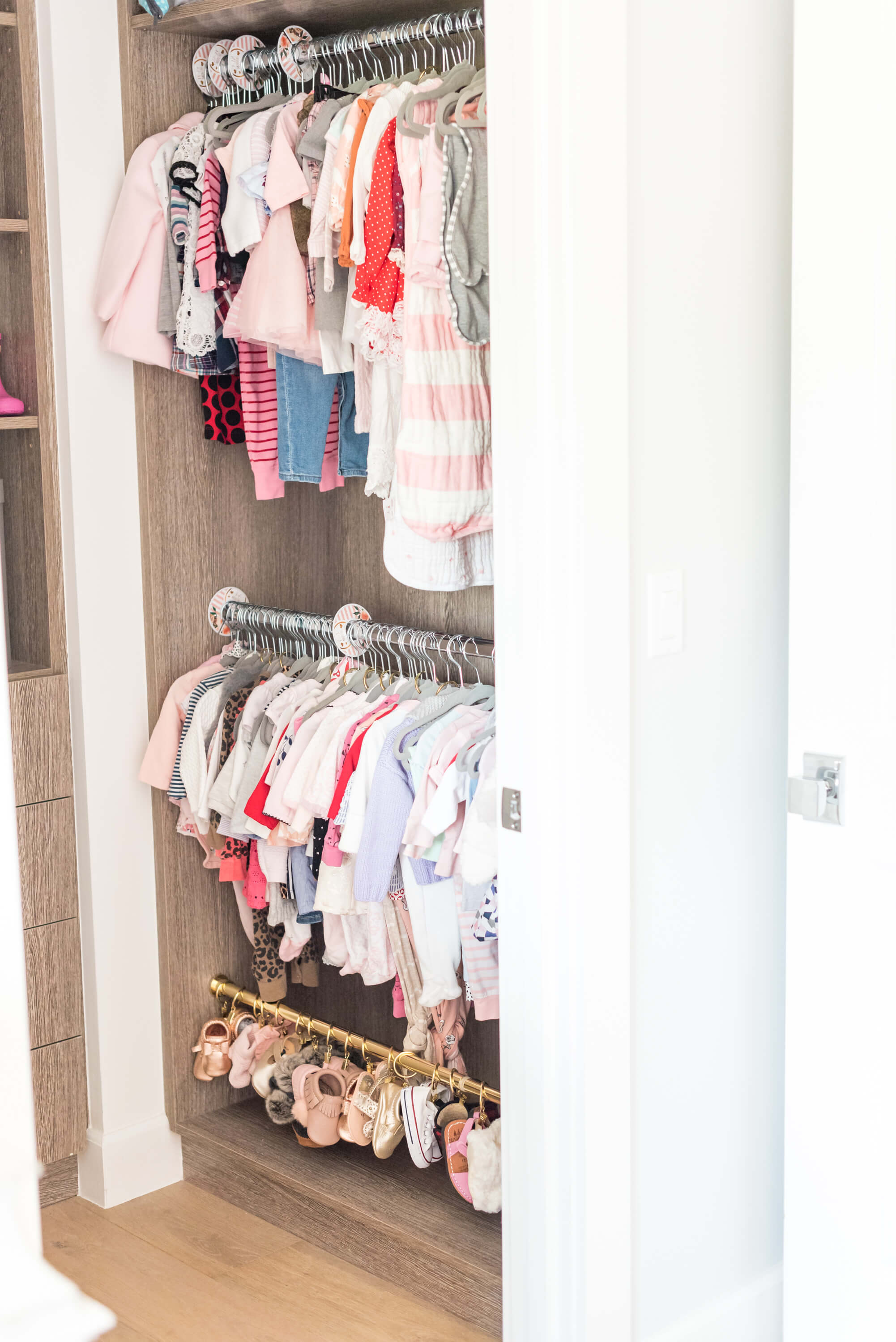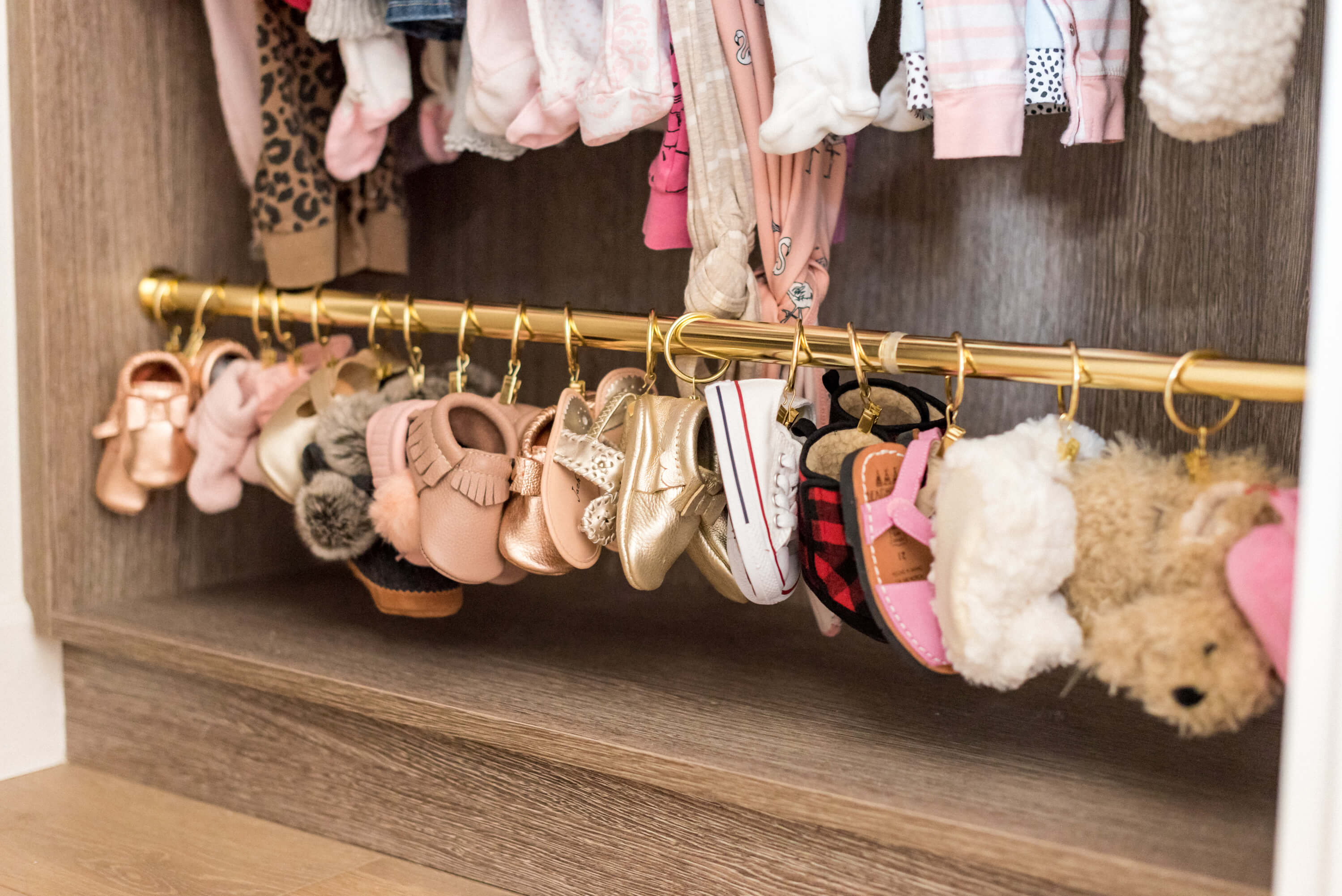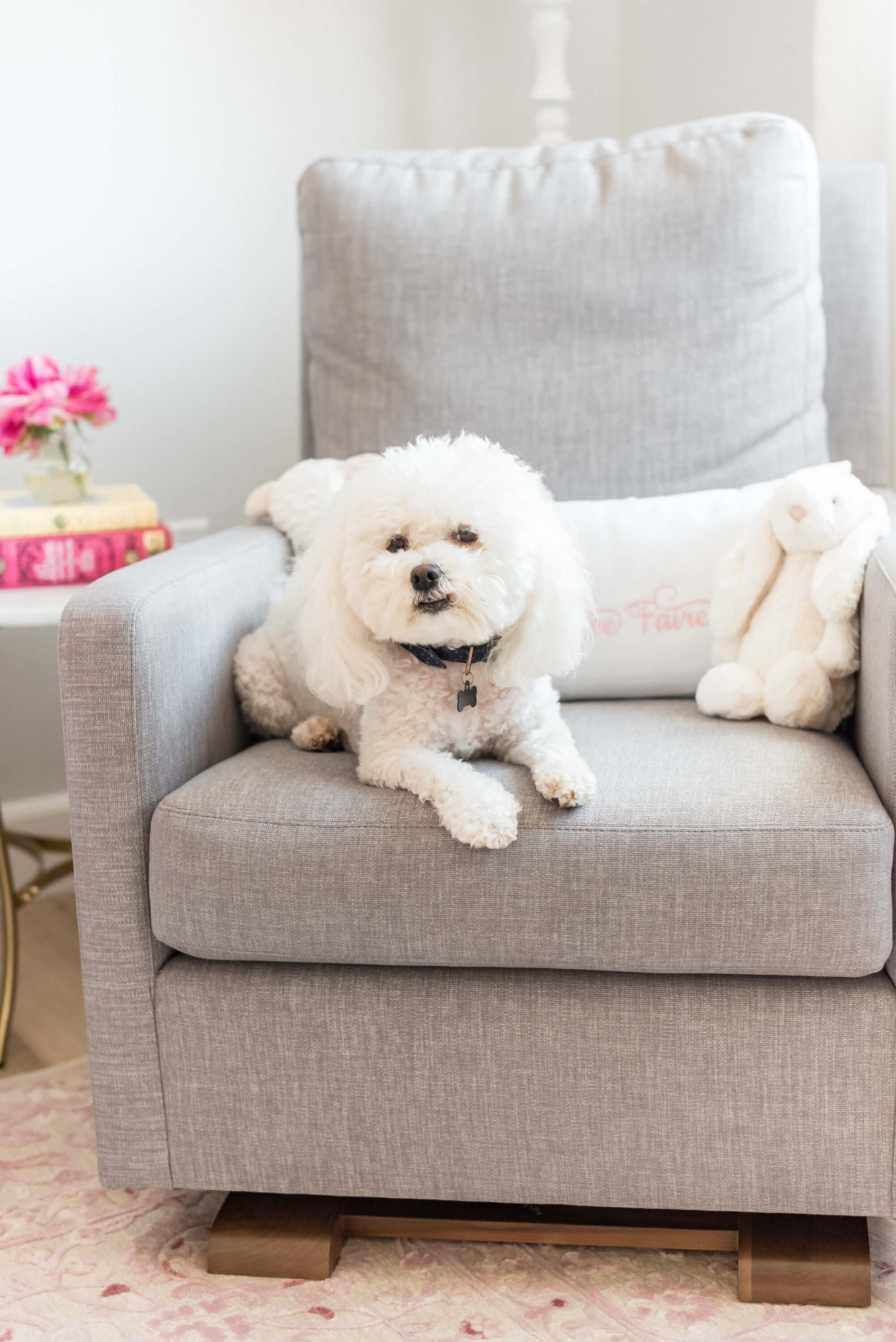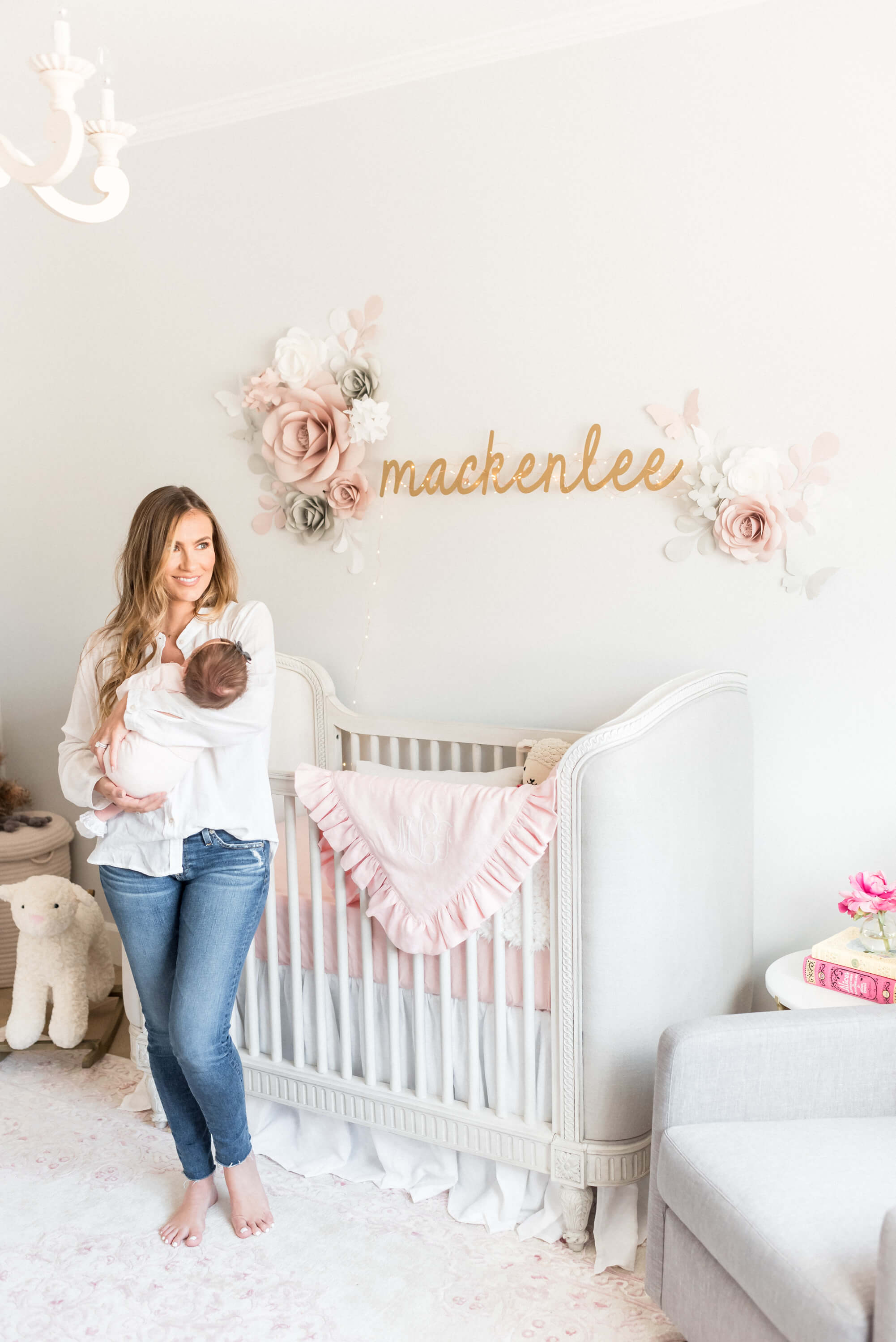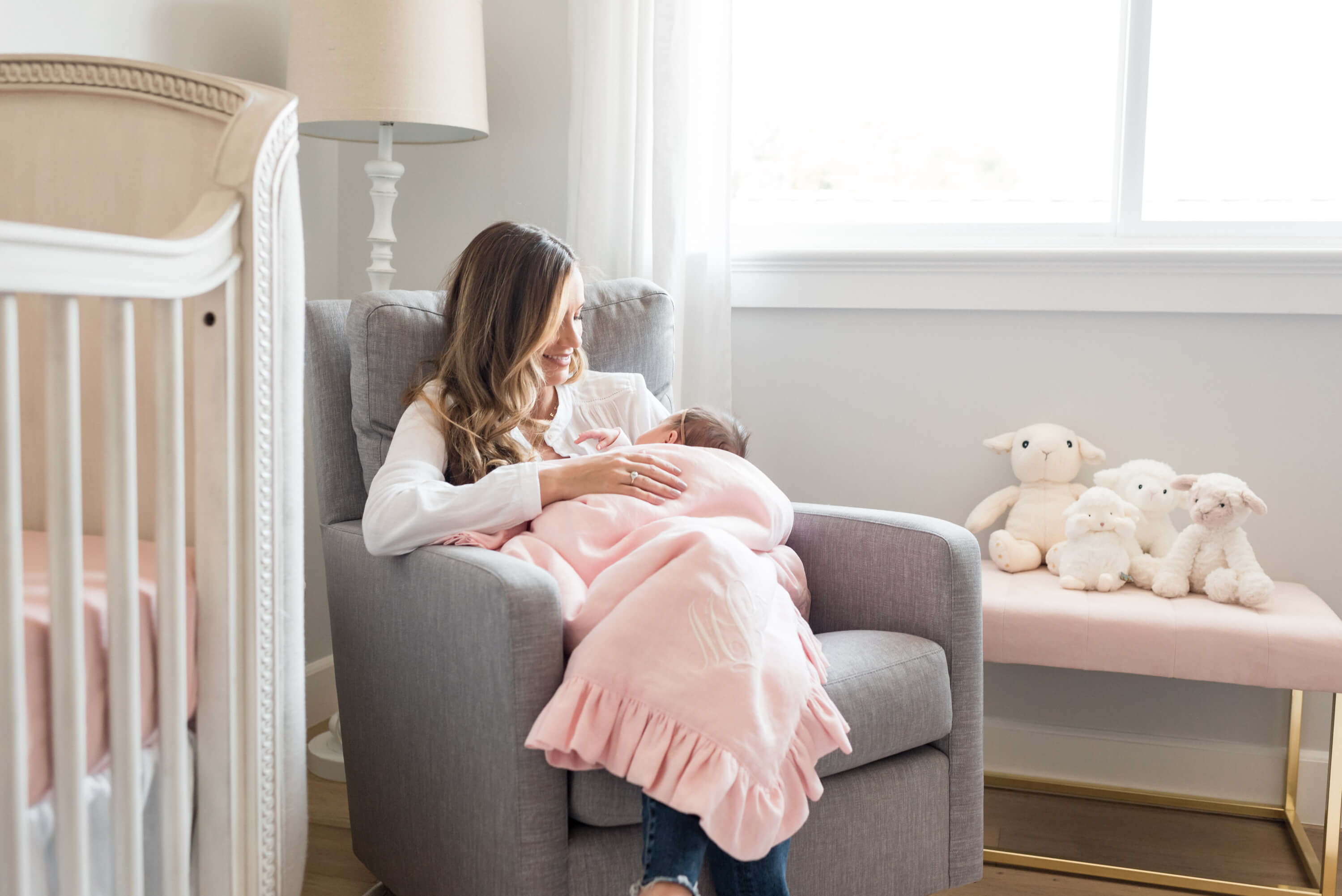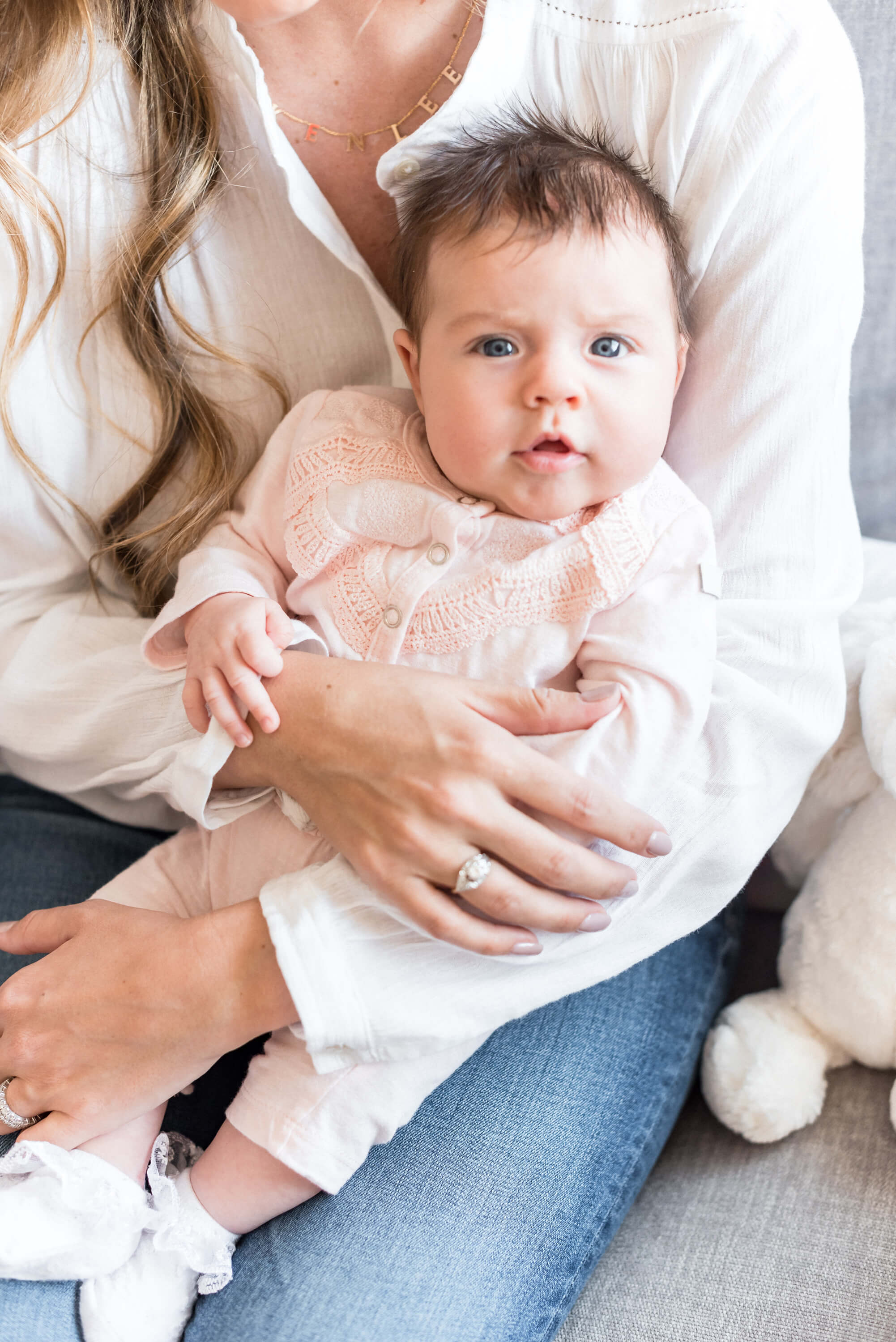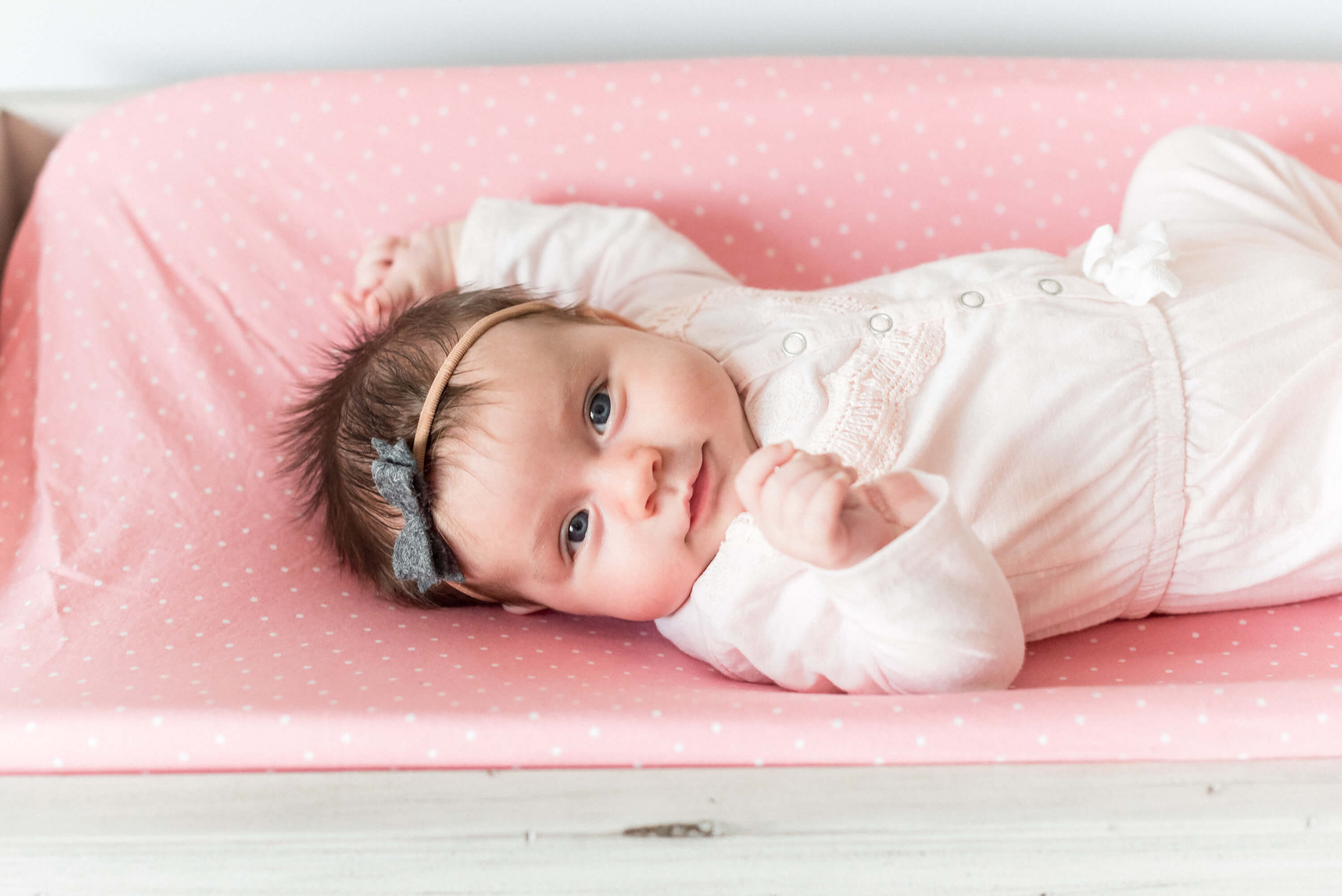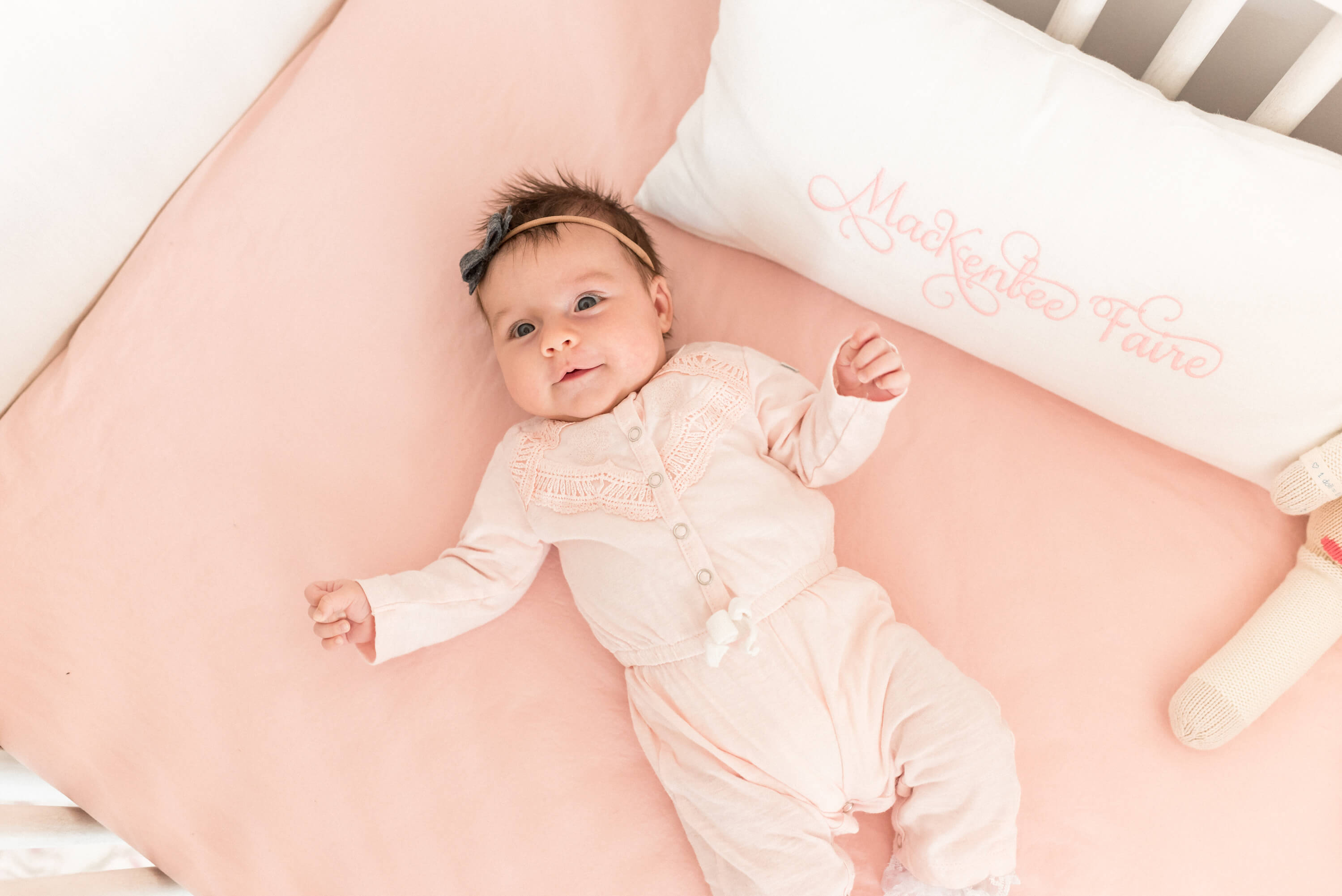 I'm so excited to finally share MacKenlee's nursery.  You may have already seen a lot of these photos on People Babies in their adorable article yesterday.
Here's a little about her sweet nursery…  I took my time finding the perfect pieces to make sure it was exactly what I wanted.  I knew the nursery needed to be a soft pink/blush with a mix of neutrals, so my first purchase was her crib and matching dresser/changing table.  Her crib is convertible and will grow with her into a toddler bed.  The changing table topper is removable, so it will be just a dresser once she no longer needs diaper changes.
Next was a glider.  We knew we'd spend many, many hours rocking baby girl, so we wanted a comfortable place to sit.  Our glider and rocking ottoman is already well loved.  We use it every night as part of her bedtime routine and I use it throughout the day when I nurse MacKenlee.
I teamed up with the incredibly sweet Tori from New Arrivals, Inc. to create the perfect linens.  I had my heart set on a white linen crib skirt that was flowy and laid beautifully on the floor…  Tori designed the perfect skirt!  She made matching white linen curtains with a pink ribbon detail.  The crib blanket and throw pillow were monogrammed in matching shades and add such a special touch to her room.  A big thank you to Tori for all her help in creating this precious space in our home.
Side note: How stinking cool is it that baby girl has a bedding set and paper flower set named after her?!
I went back and forth and back and forth over the walls.  I really wanted wallpaper, but in the end decided that a neutral paint would be best.  We chose Dunn Edwards paint in "Laced Veil" and it's perfect.  We've had several friends ask for the name so they can use this paint color in their own homes.  It's a beautiful grey paint that isn't too yellow or too blue, which is so hard to find.
Here's a list of everything in the nursery.  If I've missed anything, please comment below to let me know.
Photography by Kara Coleen.
---

Crib Bedding:  New Arrivals, INC. MacKenlee Faire Crib Collection [c/o]
Crib Blanket:  New Arrivals, INC. MacKenlee Faire Crib Collection [c/o]
White Linen Crib Skirt:  New Arrivals, INC. MacKenlee Faire Crib Collection [c/o]
Curtains:  New Arrivals, INC. [c/o]
Crib and Changing Table:  Restoration Hardware
Glider:  Monte Design [c/o]
Ottoman:  Monte Design [c/o]
Chandelier:  Restoration Hardware
8 x 10 Rug:  Everly Medallion
Floor Lamp:  Wayfair (Matt painted)
Side Table:  Joss & Main
Etagere (Shelves):  Joss & Main (Matt painted)
Wall Flowers:  MioGallery [c/o]
Name Wall Mount:  Winnie Dot
Fairy Lights:  Amazon
Mirror:  Anthropologie
Pink Bench:  Target
Angel Wings:  Anthropologie
Wall Art:  made by sister-in-law
Shelf Lamp:  Restoration Hardware
Crib Mattress:  Amazon
Gold Closet Rod:  Amazon
Gold Curtain Rings:  Amazon
Closet Dividers:  Amazon
Pink Hamper:  Restoration Hardware
Beige Hamper:  Overstock
Lamb Rocker:  Restoration Hardware
Stuffed Animals:  Lucy the Lamb [c/o], Flamingo, Unicorn, Lamb, Bunny & Ostrich
Books:  Alice in Wonderland (gift from Urban Decay), Anne of Green Gables (gift from a sweet reader), Bump for Joy!
Storage Baskets:  Restoration Hardware
Bookends:  Restoration Hardware
Jewelry Box:  Pottery Barn
MacKenlee Necklace:  Lola James [c/o] Code: Angela15 for 15% OFF
11 Ways to Make Your Nursery Safe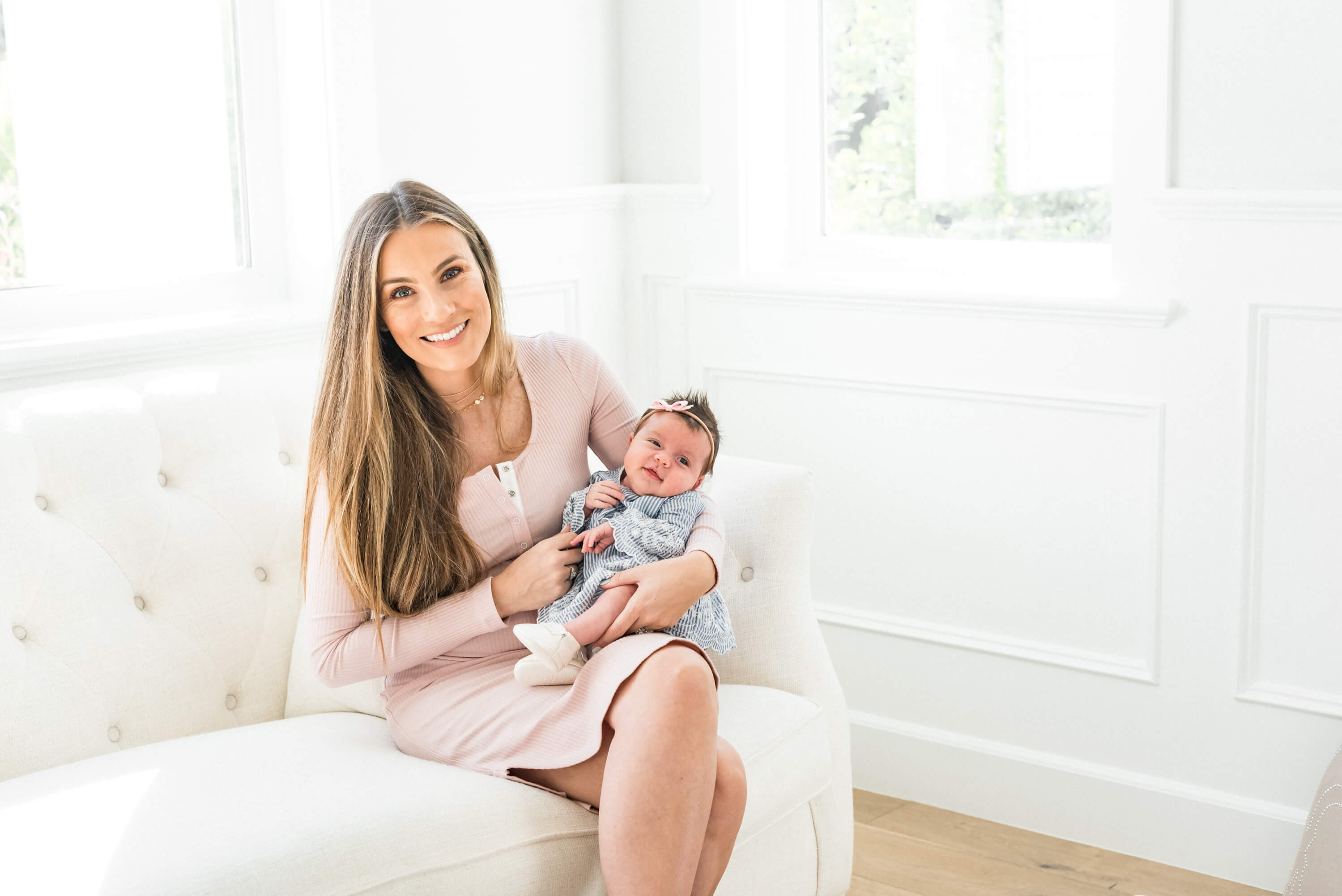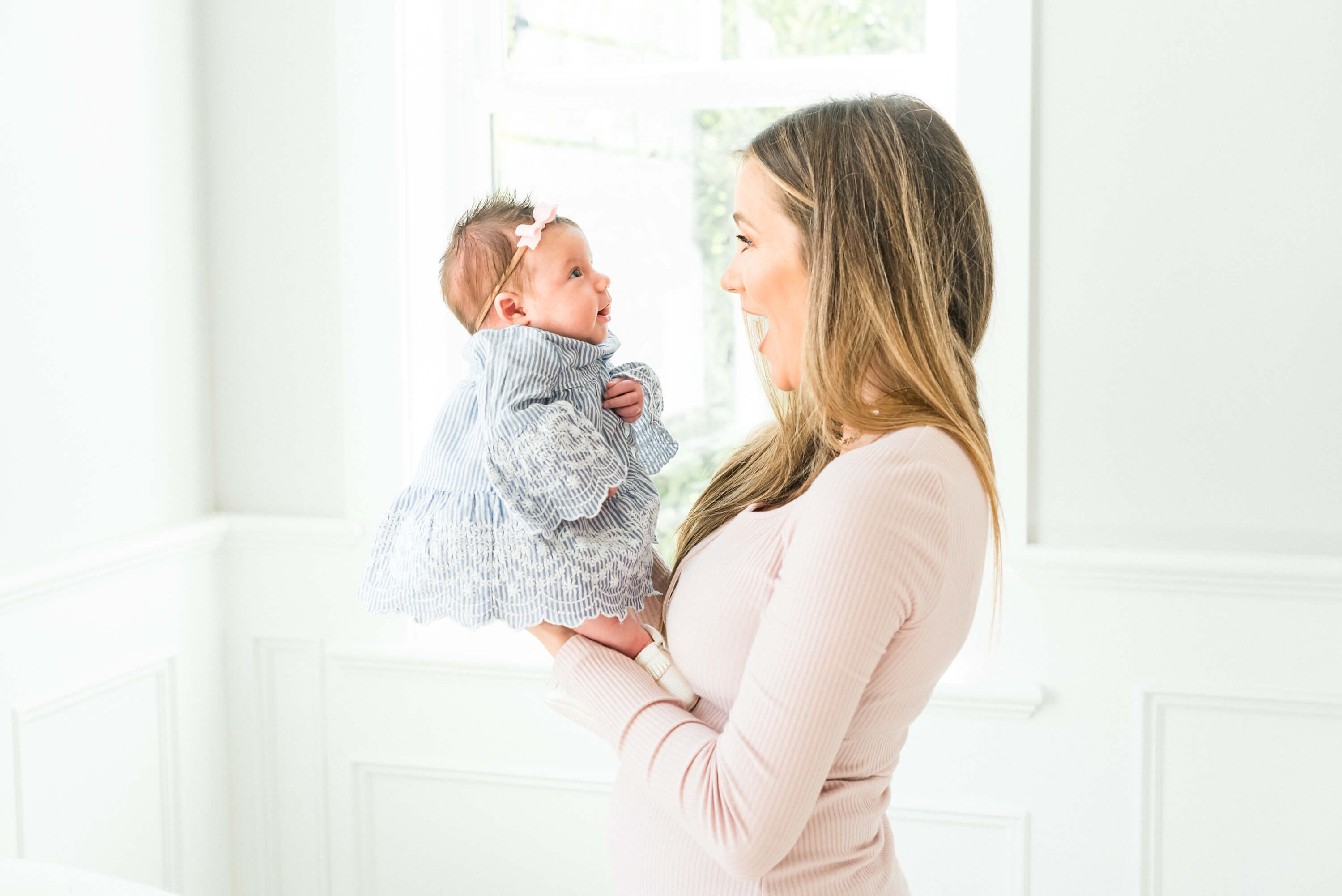 One of the first concerns Matt and I had when we started to plan for Miss MacKenlee's arrival was safety.  Of course, I wanted her nursery to be pretty, so we needed to find ways to marry safety and style.  We partnered with Nationwide's Make Safe Happen Program (makesafehappen.com) to help educate other parents and parents-to-be about how to keep your babies safe.  Check out the Make Safe Happen App for new safe sleep, safe nursery content and tips.
If you listen to Hello Bump Podcast, then you've been on this baby product and nursery journey with us.  You also know that Matt is a true researcher, so he spent a ton of time studying baby safety.  After doing our homework, we started to put our research to good use and took steps to make our home more baby-friendly.  We created the video below to show you some of the ways we made our little one's nursery safe along with our list of practical tips that all new parents need to know.
11 Ways to Keep Your Baby and Nursery Safe
Outlet Plugs.  I thought we'd start with the most obvious safety tip first: covering your electrical outlets.  This way nothing can be shoved into the outlets.

Knob Covers.  Doorknobs, cabinet pulls, oven knobs and faucets all need to be locked for baby's safety.  And don't forget to check your windows and install stops.
Keep the Crib Empty.  Remove all blankets, toys, stuffed animals and even bumpers to keep your little one safe while sleeping.  You want to make sure to use a firm mattress, fitted sheet and sleep sacks/swaddles for the safest sleeping environment.  Get more tips for safe sleeping in this video.
No Cords on Windows.  Be sure that your window treatments don't have hanging or looped cords that are reachable to prevent accidents.
Secure all electrical cords.  Use zip ties to secure cords to furniture so there are no loose wires.
Anchor Furniture.  As your baby grows, they naturally want to climb.  Keep them safe by anchoring any shelves, dressers, changing tables, etc. to the wall.
Baby Monitor.  Setting up a baby monitor in the nursery eases your nerves since you can see what your little one is doing at any given moment.
Use the Safety Straps.  Regardless of your baby's size, always use the safety strap on your changing table and keep one hand on your baby to prevent any rolling incidents.
Keep Changing Table Clear.  Once baby starts to grab and grasp items, keep the changing table clear of any products or caps they may grab and put in their mouth.
Move Crib Away from Windows.  Remember, babies like to climb, so keep their bed away from any windows.
Keep Your Windows Closed.  Never leave your little one unattended in a room with an open window.
This is a sponsored conversation written by me on behalf of Nationwide . The opinions and text are all mine.
Christmas Traditions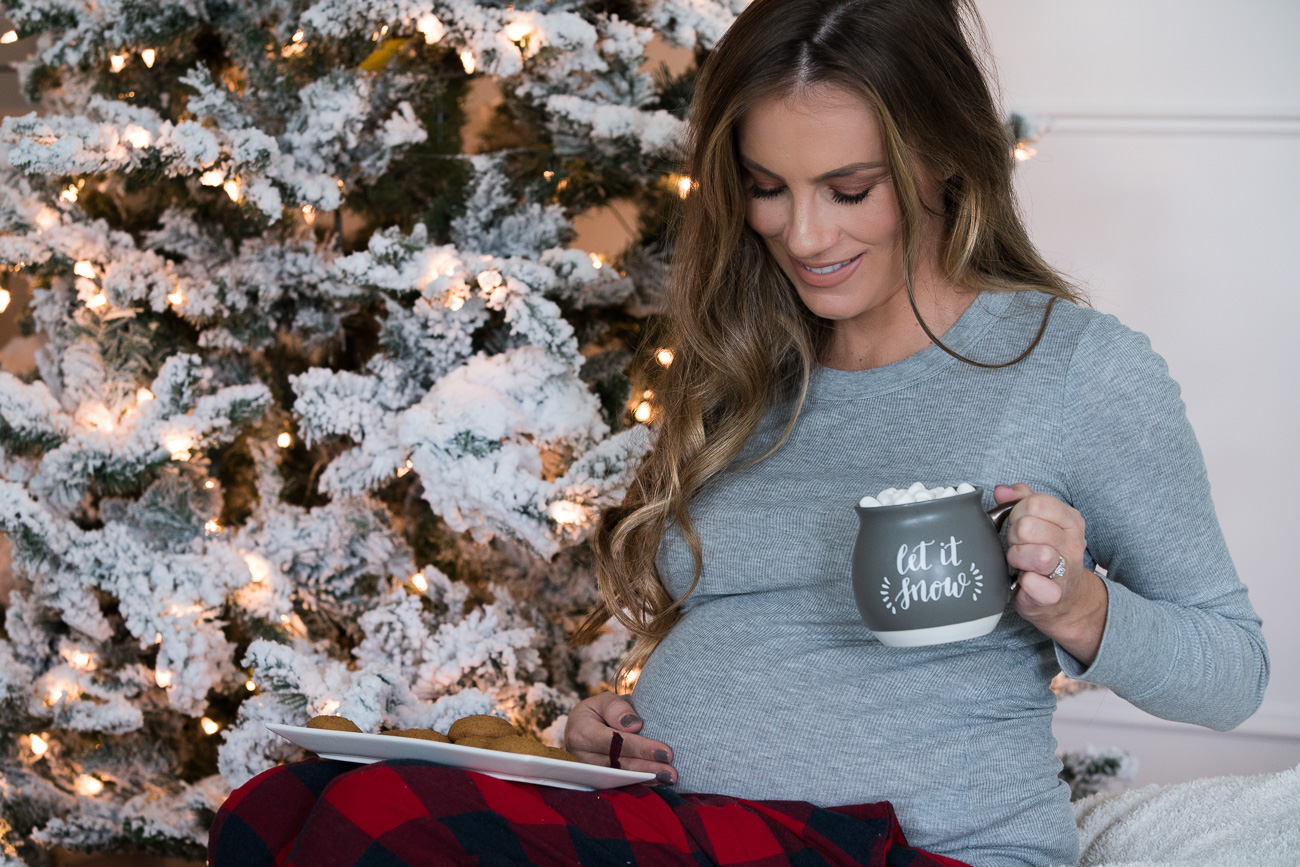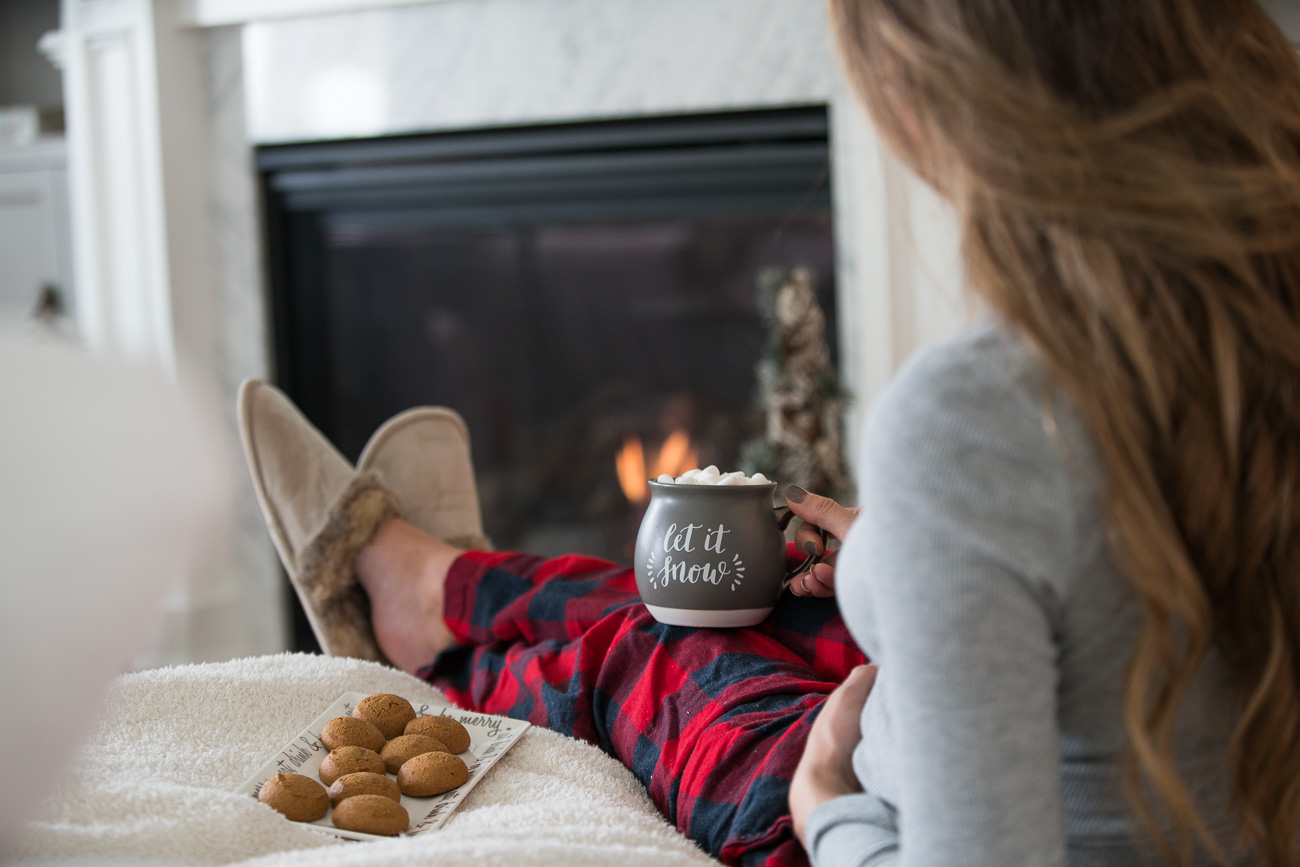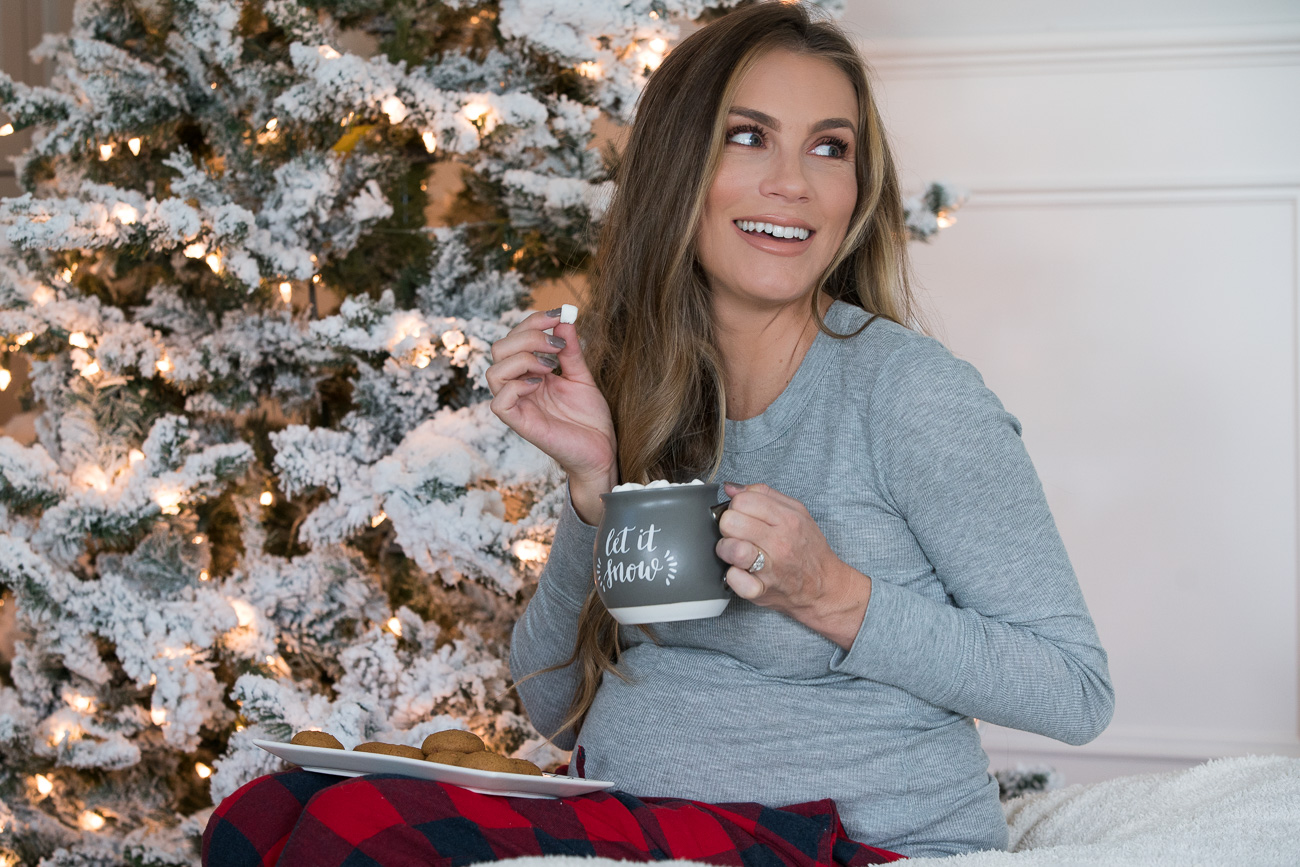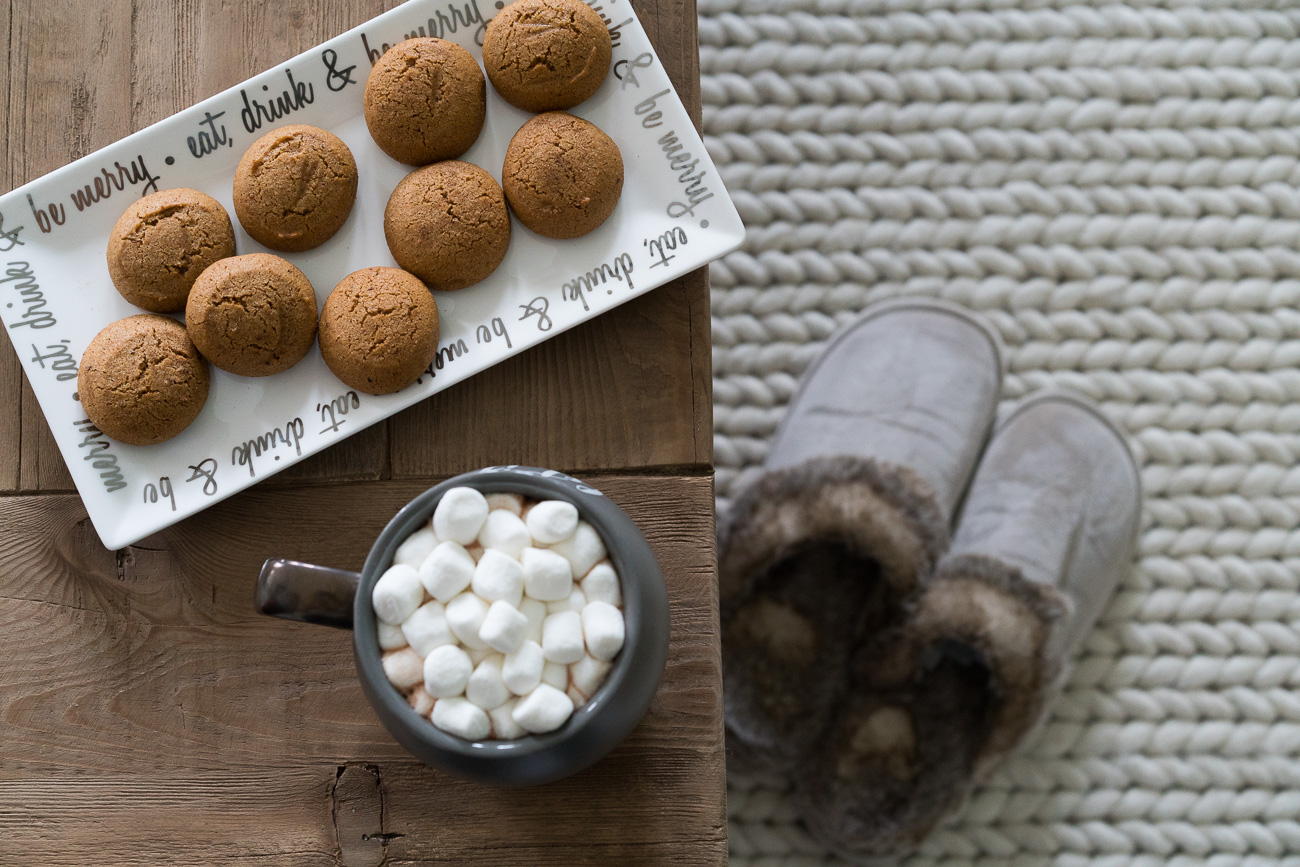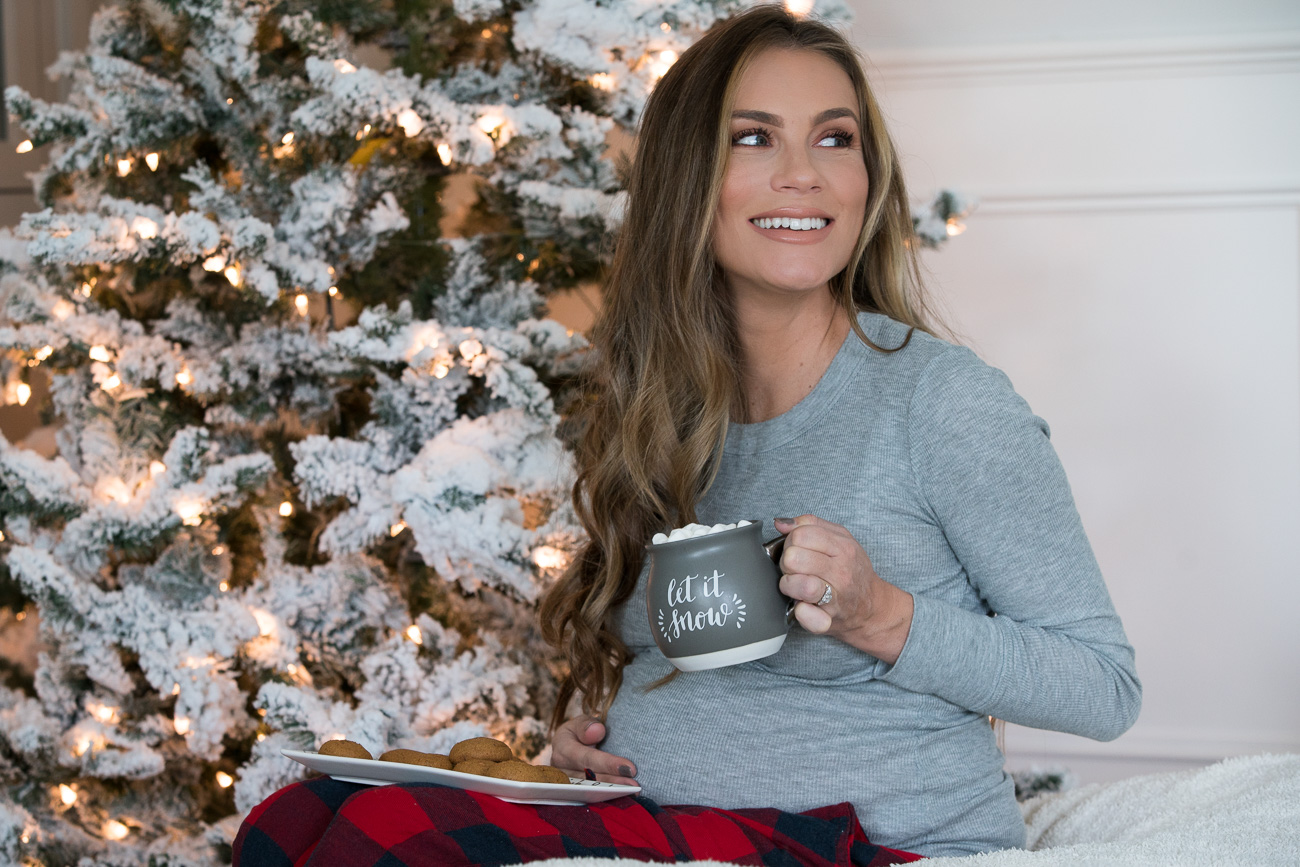 We're not quite ready to let Christmas go at the Lanter house.  We're still enjoying our decorations, Christmas cookies and classic movies.  We're trying to squeeze out every last drop of Christmas that we can get, lol.  Honestly, we're like this every year, but knowing that this was our last Christmas before baby L arrives, makes us want to be sure to really not miss out on anything.
I've had the worst leg pains this trimester which has really limited my evening activities.  This is the first year that we've been together that we skipped Christmas Eve candlelight church service, but I needed to stay off my feet.  Hopefully next year, we'll be able to pick up that tradition again.  Otherwise, we held true to every single one of our other Christmas traditions this year (except Disneyland, which my feet absolutely couldn't handle right now).  Some of those traditions include: baking cookies, going out to look at Christmas lights on Christmas night, breakfast at the Beverly Hills Hotel and more.
Leave a comment below and let me know if you and your family have any special traditions for Christmas that you look forward to each year.  I love getting new ideas from you about different things we could be doing!

Thermal Top: BP ($25!)  |  PJ Pants: borrowed from Matt lol!  |  Mug: Target  |  Slippers: similar  |  Throw Blanket: Barefoot Dreams