Master Bathroom Reveal and Organization Details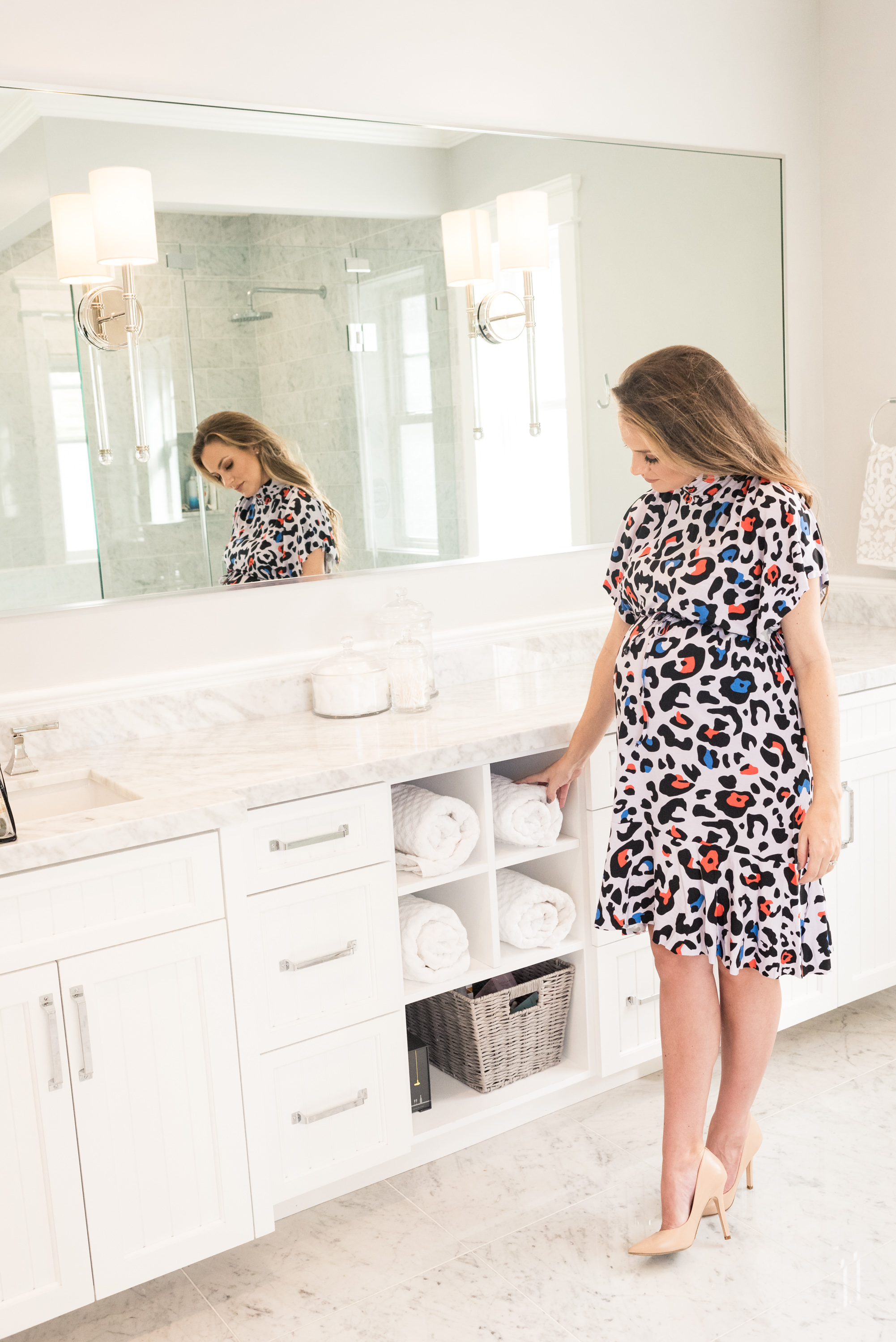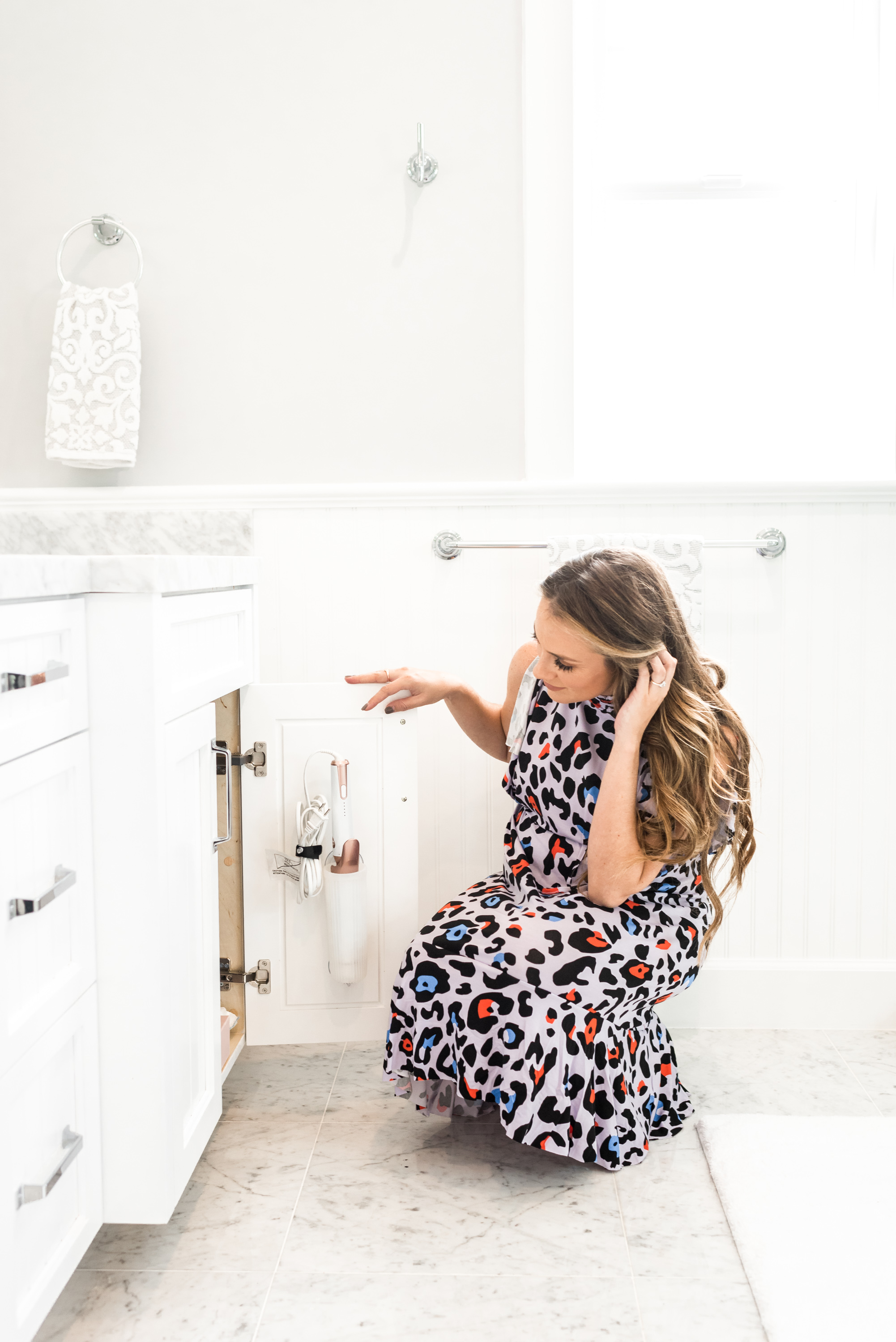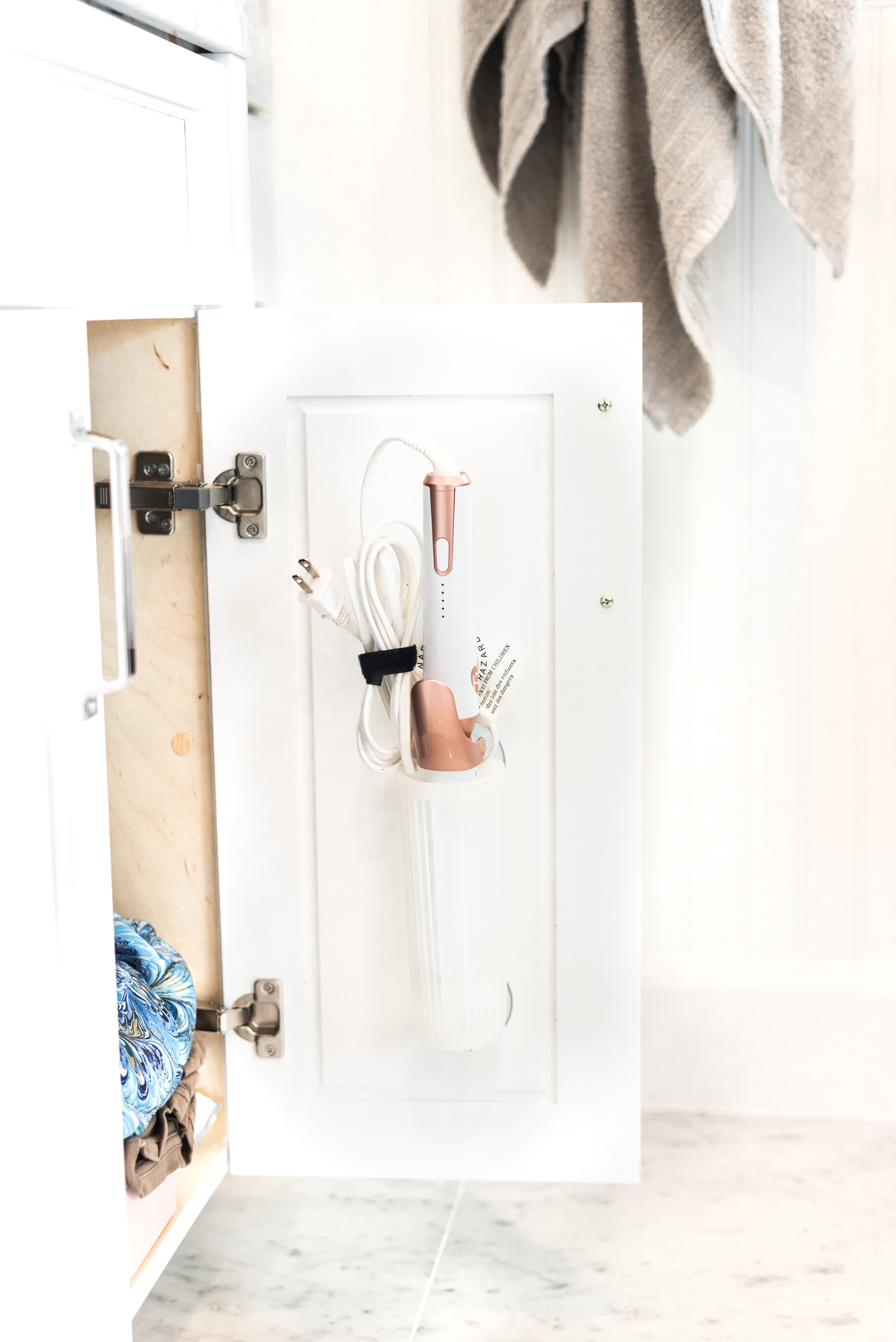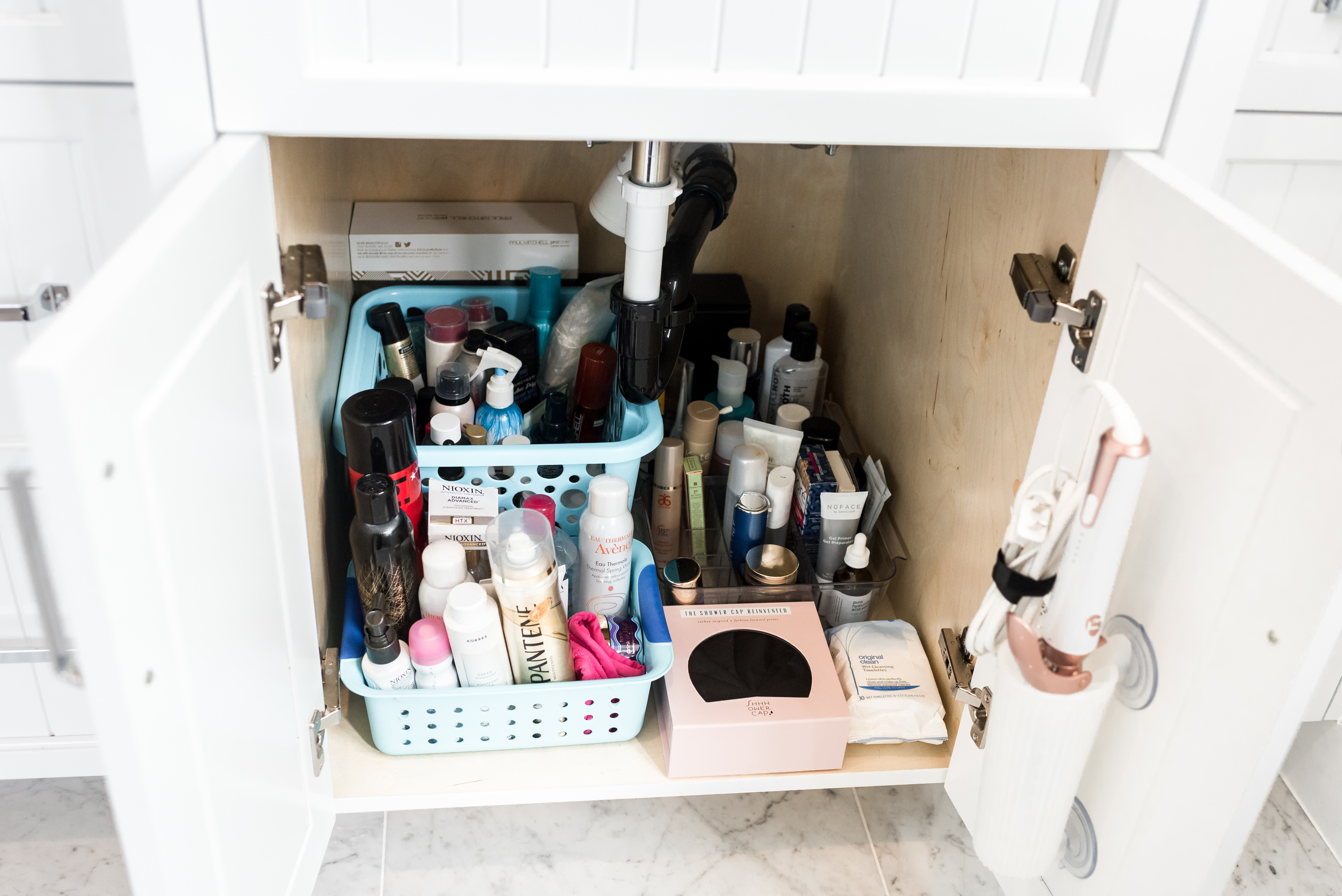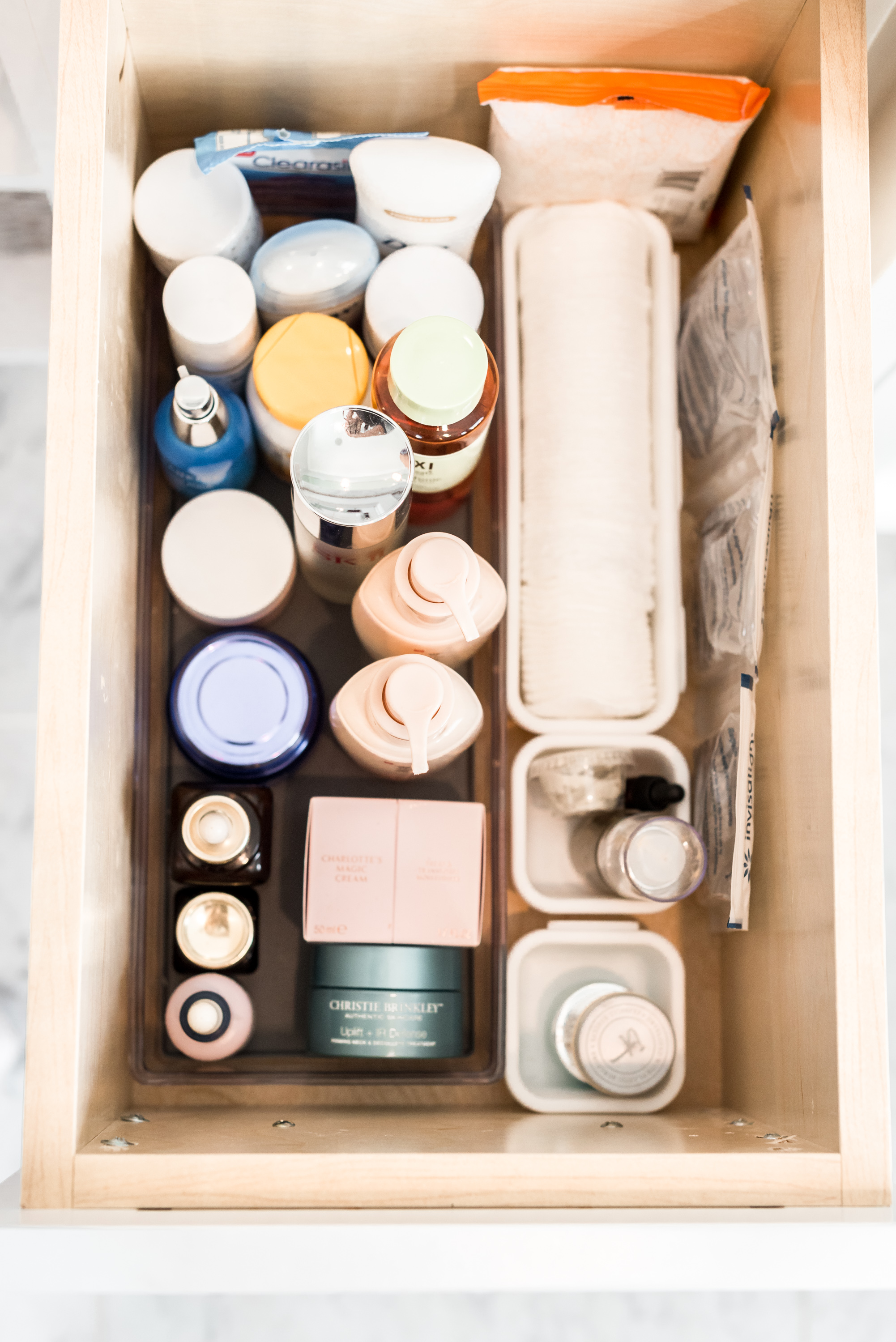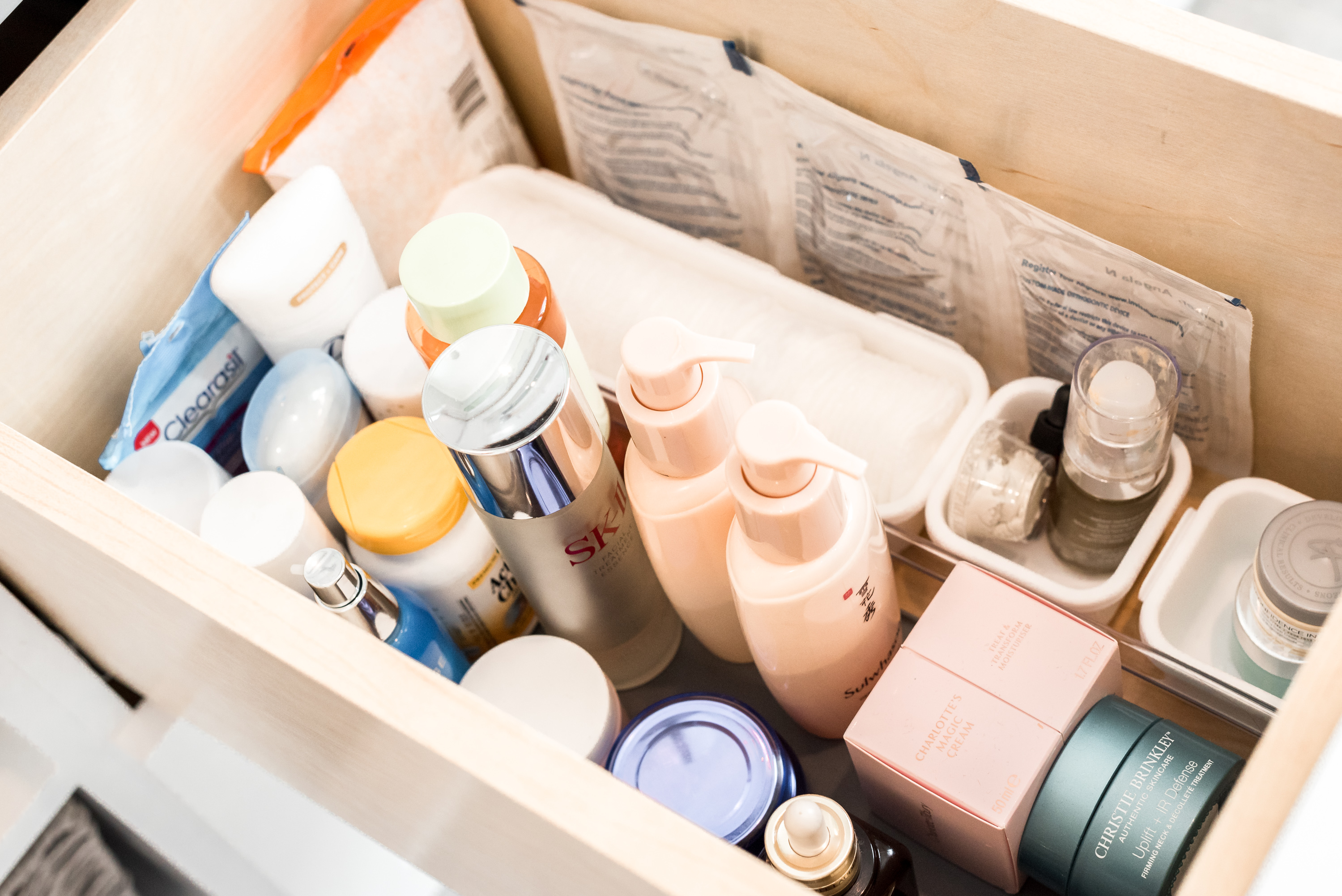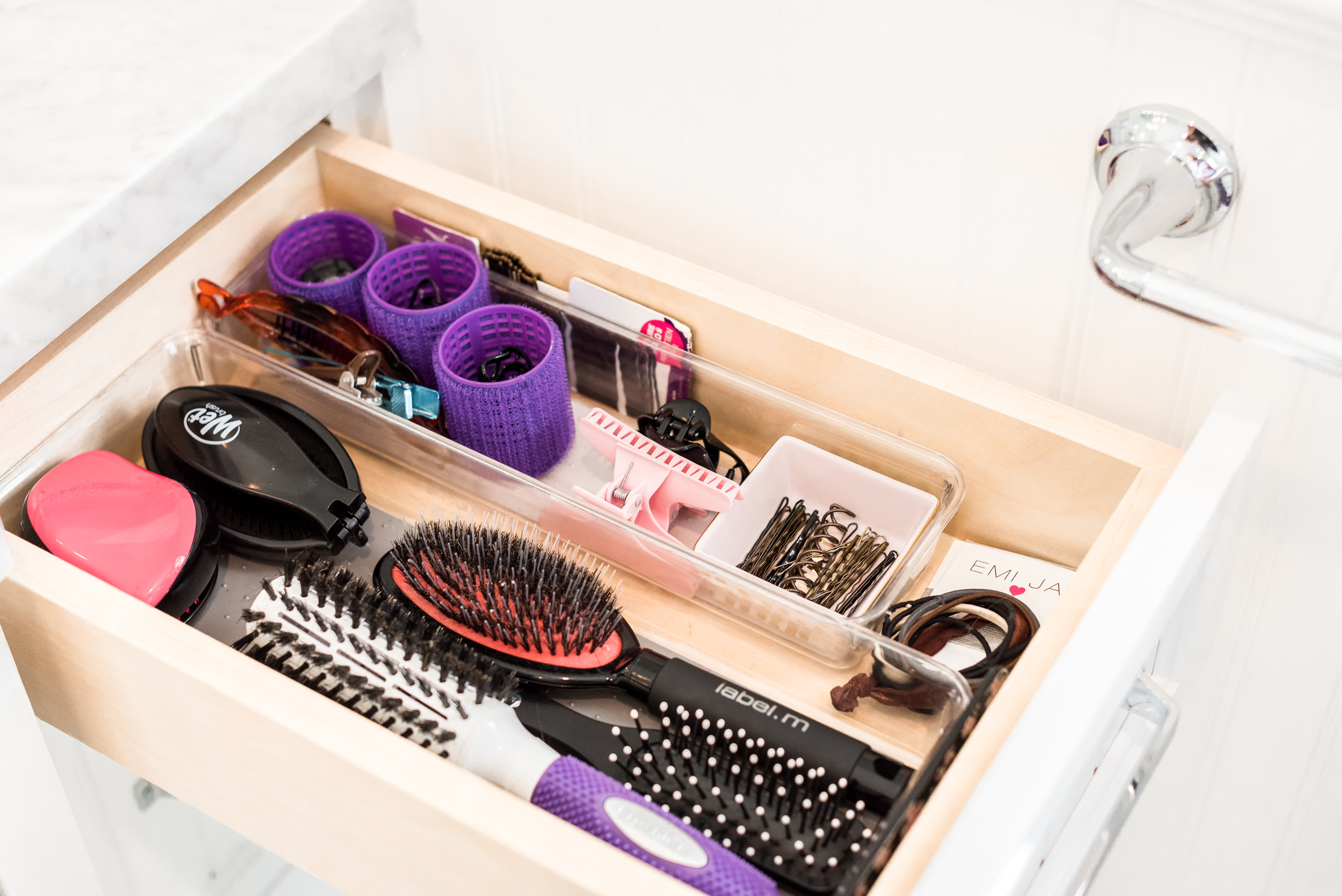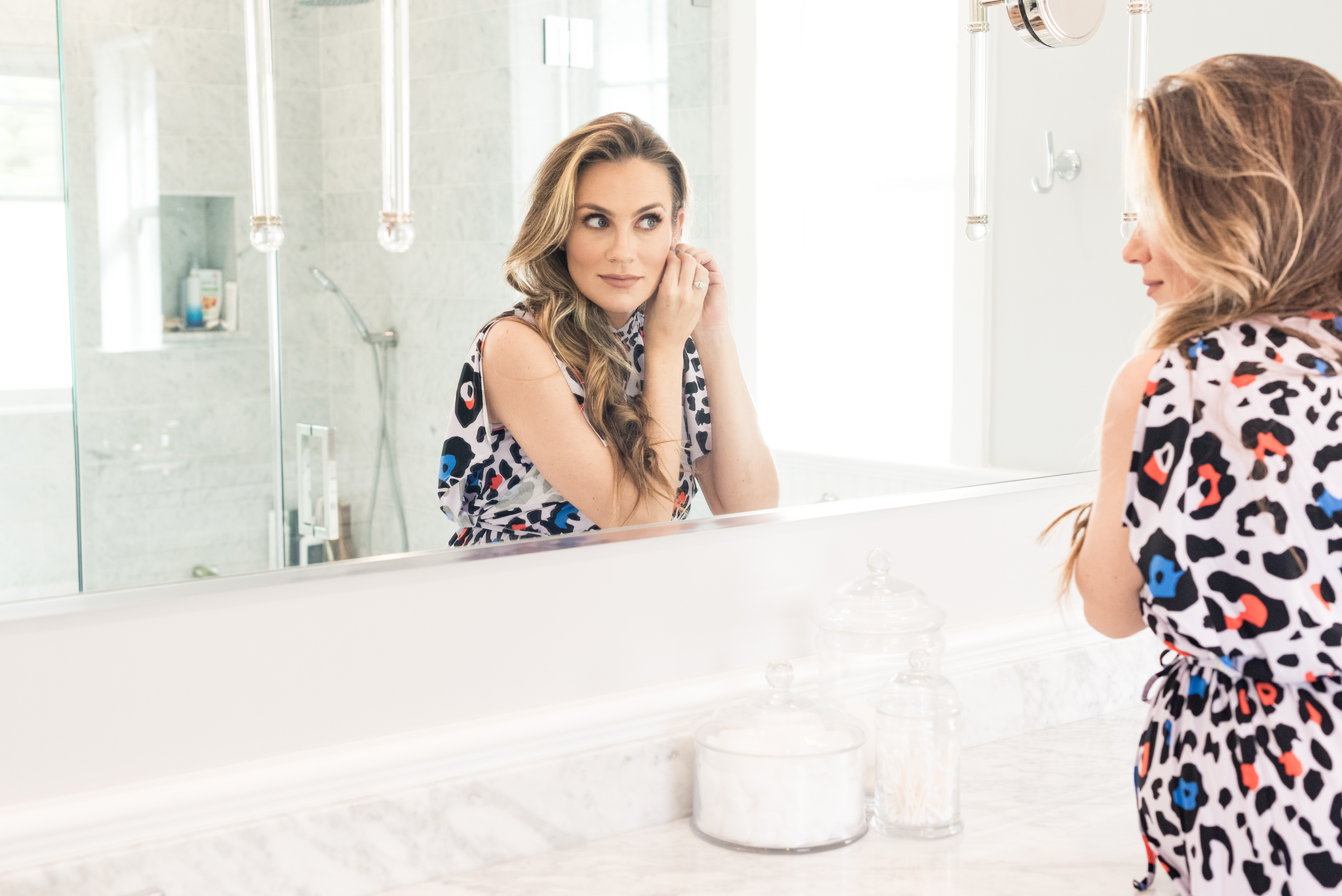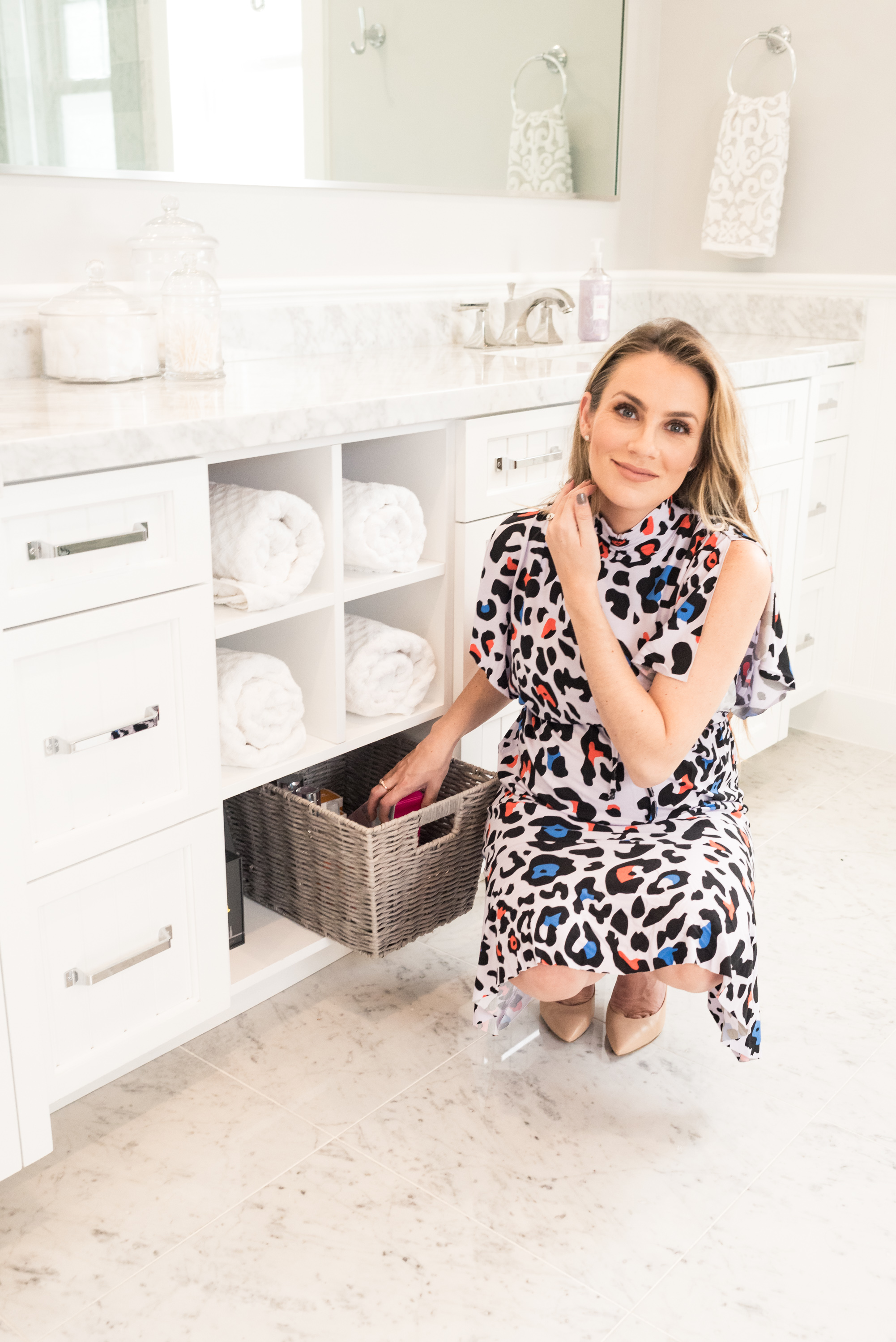 What I'm Wearing:
Dress: ASOS [c/o]  |  Heels: Charles David  |  Lipstick: MAC "Yash" (ON SALE!)
---
When we bought our house, one of my favorite rooms was the white marble bathroom.  I've always dreamed of a bright, white bathroom and I'm so thrilled to have that now.  I knew I needed to make the most of the drawer space I had in the bathroom, while keeping it as functional as possible.  The best way I found to do that is by using drawer organizers.  I chatted about the process originally in this blog post.
Organization can get pricey fast, so here's my routine to keeping the prices down:
First shop at Homegoods and T.J. Maxx for your organization essentials such as acrylic trays, drawers and drawer dividers.
Second, shop online at places such as Amazon, Target and Wayfair for the pieces you weren't able to find in store.
Last resort: The Container Store.  They have everything you need for a perfectly organized space…  But it's the most pricey option.
Under my bathroom sink, I used multiple types and sizes of plastic baskets and acrylic trays to keep the space organized and functional.  Below is my organization process based on product type.
Hair Products:
I grouped together the hair products I don't use on an everyday basis in a bigger basket towards the back left.  The hair products that I reach for daily are grouped together in a basket in the front left for easy access.
For my curling iron, I use the Classica & Lillie Curler Caddie to keep it neat and easy to reach.  I secured it to the inside of my cabinet door but it's made to suction perfectly on your vanity mirror. It suctioned perfectly to my cabinet door, but didn't on my tile. It can also be used to store your straightening iron. Because it's made of silicone, it won't melt and prevents burns to your surfaces.  Save $2 on the pink or blue Curler Caddies with this link, but hurry…  There's only limited quantities available!
As for my hairbrushes and hair clips, I used acrylic trays to keep them separate, but still easily accessible.  I try to clean my hairbrushes out after every use because I can't stand having hair in my drawers… GAG!  I also learned how to wash my hairbrushes to keep them clean and nice longer from Mawmaw.  If you'd like me to do a post about how I clean my hairbrushes, combs or even hair extensions, leave a comment below and let me know.
Skincare:
I divided up my skincare based on usage.  I keep my every day and night products in my drawer that I organize with trays from Homegoods.  I use a silverware organizer to keep my cotton round pads in a neat pile that I can grab easily to apply my toner and the two smaller trays to separate my eye products.
My face masks and speciality skincare products are stored in the trays under the sink and in the grey basket in the open shelves.
Q-tips, soap bars (we use Dove) and cotton balls are all stored in the glass jars on the counter top.  Because they're all white, they make for a pretty display while still being functional.
I'm still on the hunt for the perfect bathroom light fixture for over the bathtub.  Once I put the finishing touches on the bathroom, I'll show the room in it's entirety.
Photography by Kara Coleen.
---
GIVEAWAY:
I'm giving away three Curler Caddies to thee Gorgeous Girls.  All you have to do is sign up for my newsletter (if you're not already signed up, sign up by entering your email address here!) and leave a comment below on this blog post letting me know that you're signed up and which color Curler Caddie you want: Blush Pink or Spa Blue.  Winners will be chosen on Friday, December 8th.


My Baby Shower – Decor and Details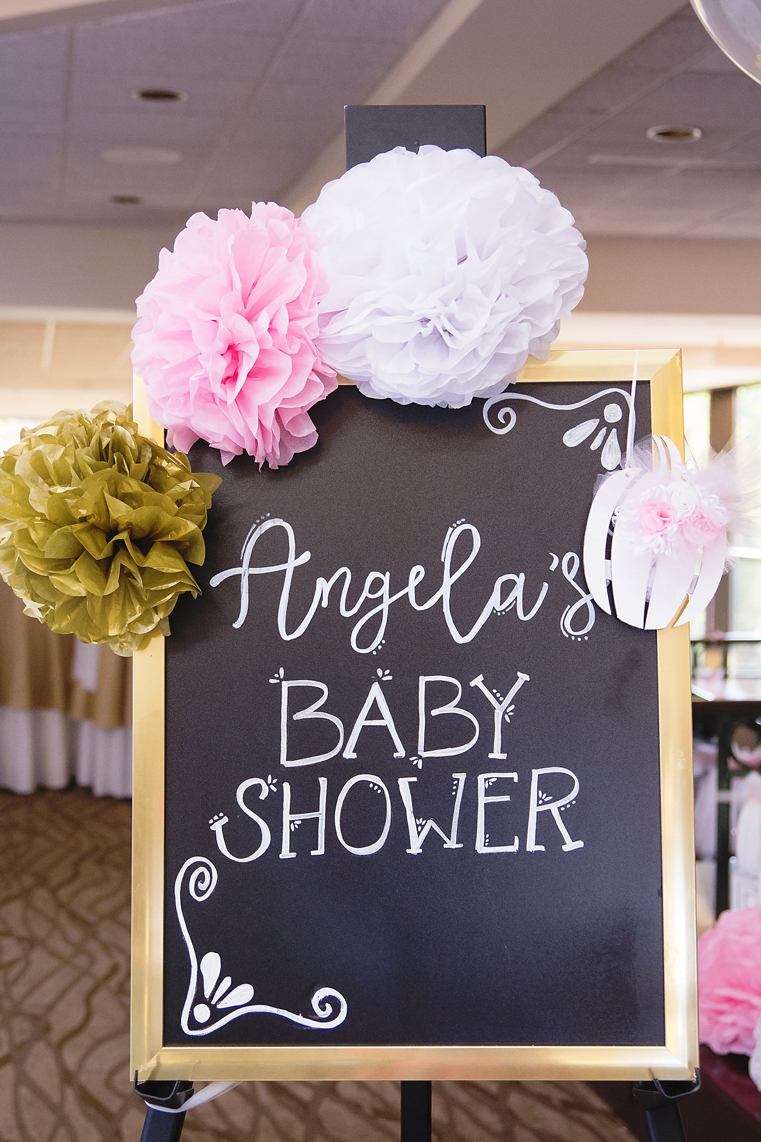 I'm so excited to share this post with y'all!  In case you missed it, earlier this month I shared what I wore to my Ohio baby shower in this post.  The shower was hosted at the Sheraton in Cuyahoga Falls, in the room overlooking the river.  I'm sharing the shower and all the fun details with you in today's post.  This week on Hello Bump Podcast, Matt and I chatted about our trip home to Ohio and the shower…  But now, I get to actually show you how everything turned out.
First up, and let's be honest, most importantly, is desserts.  The desserts and dessert table were adorable.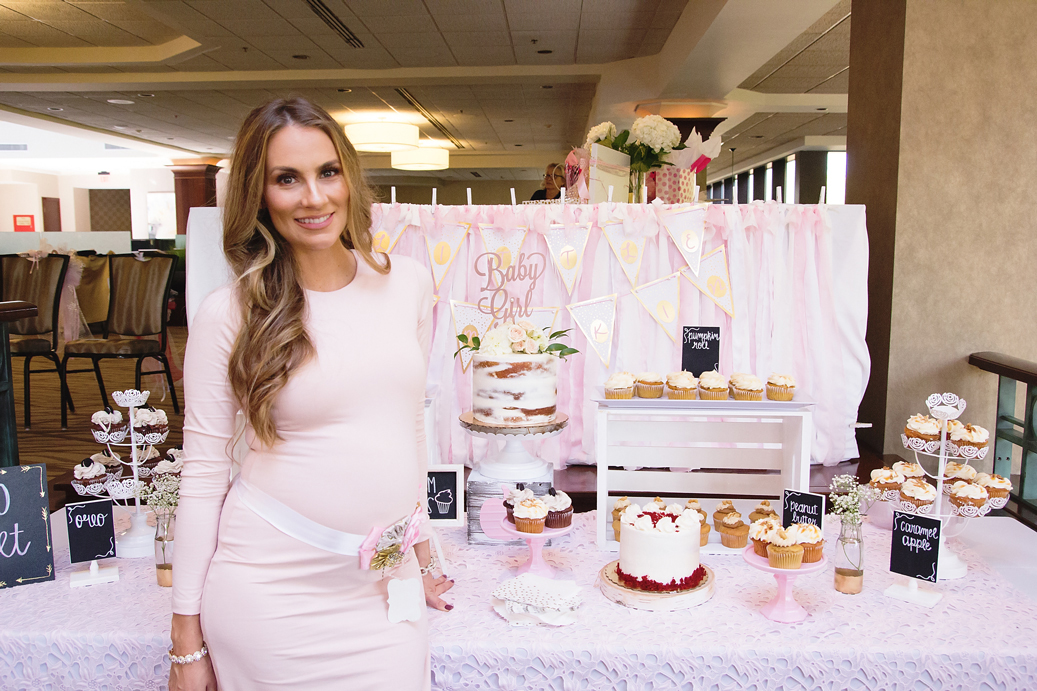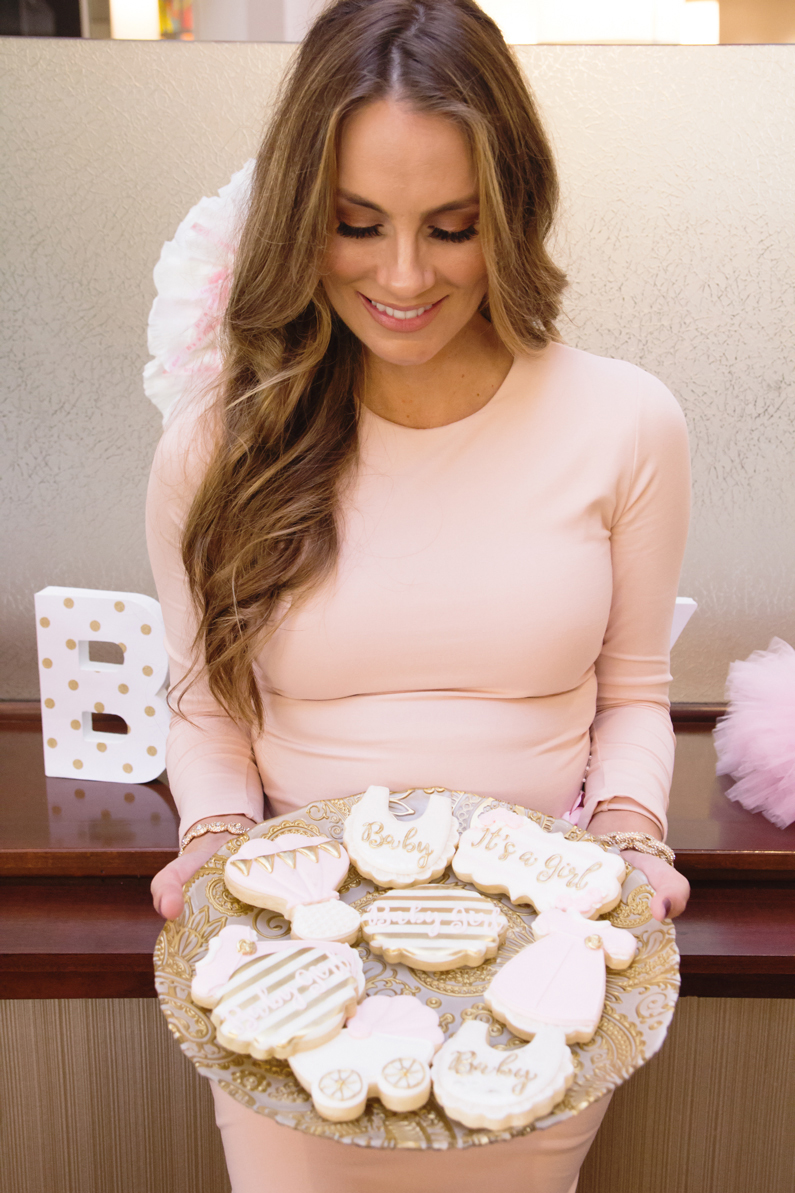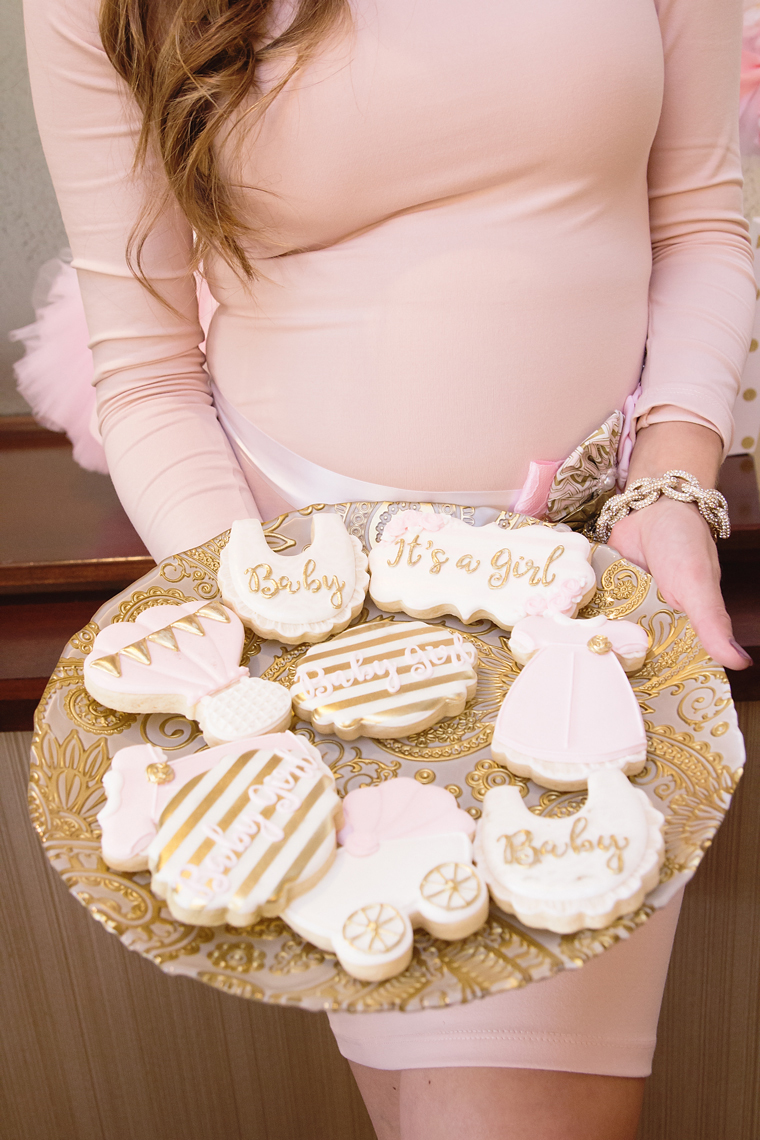 Gold and Pink Shower Cookies: Sugared Hearts Bakery [c/o]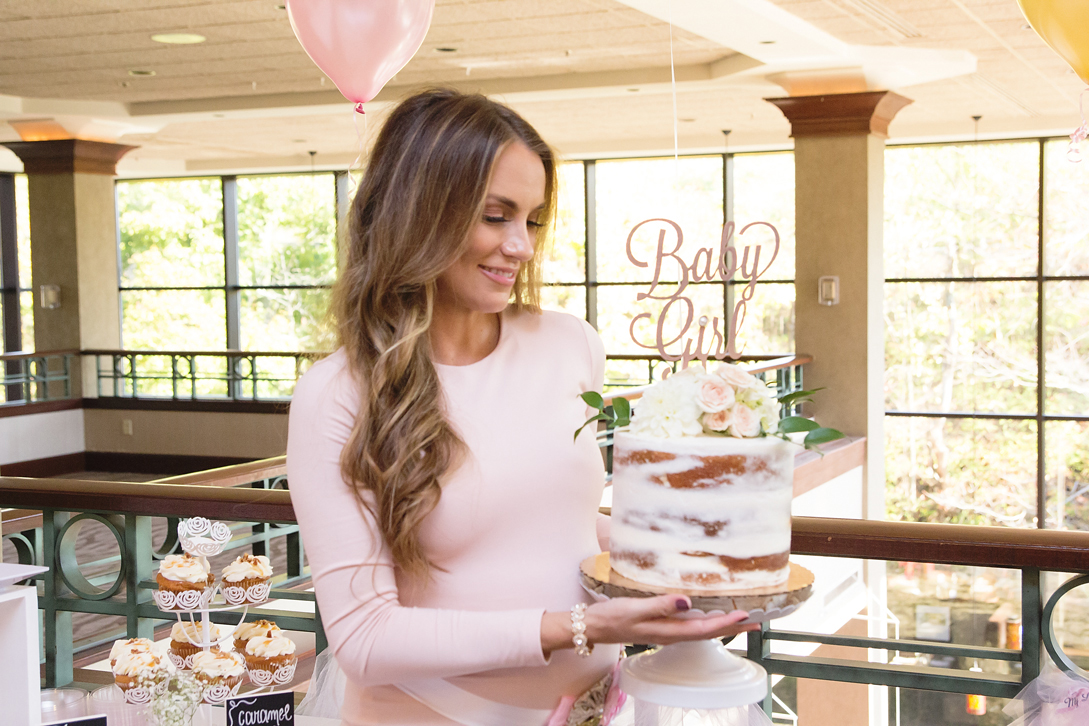 Naked Cake: Cake Wasted [c/o] 
Baby Girl Cake Topper: PS Weddings & Events [c/o]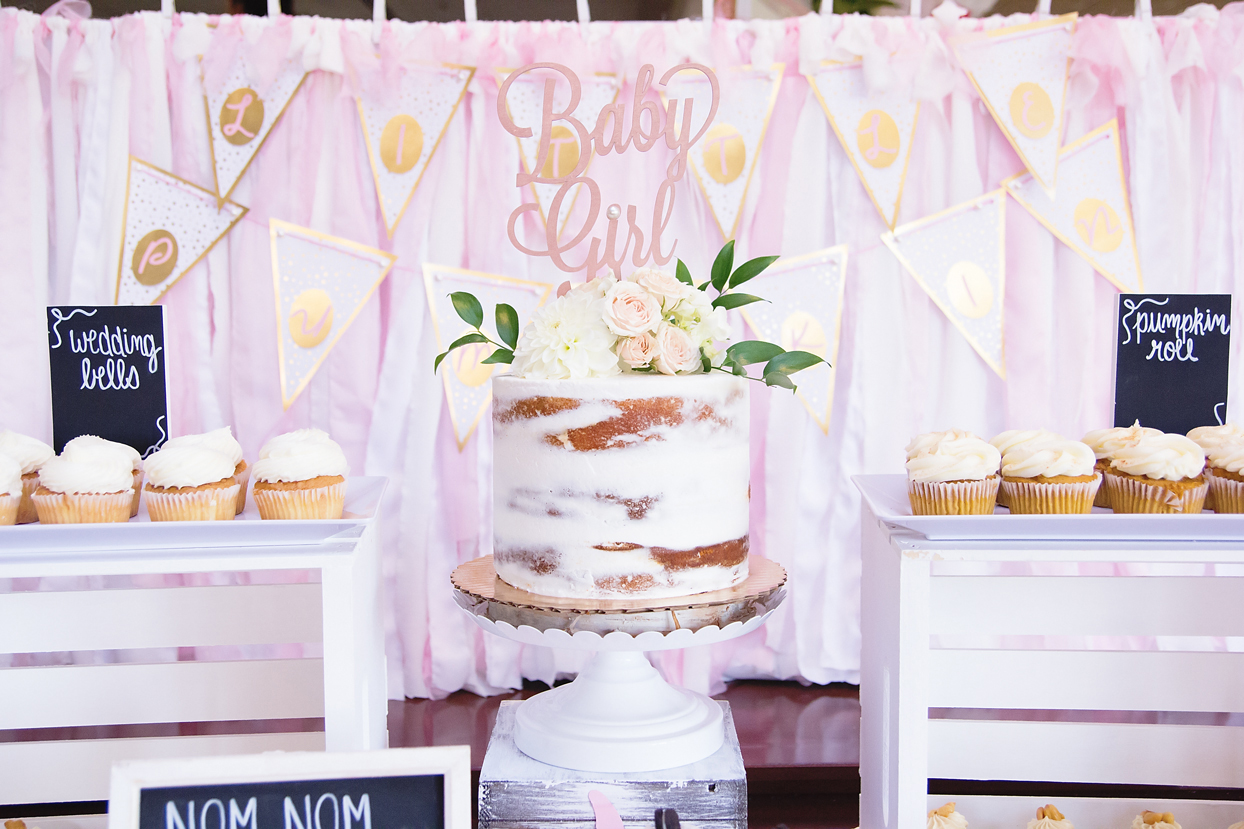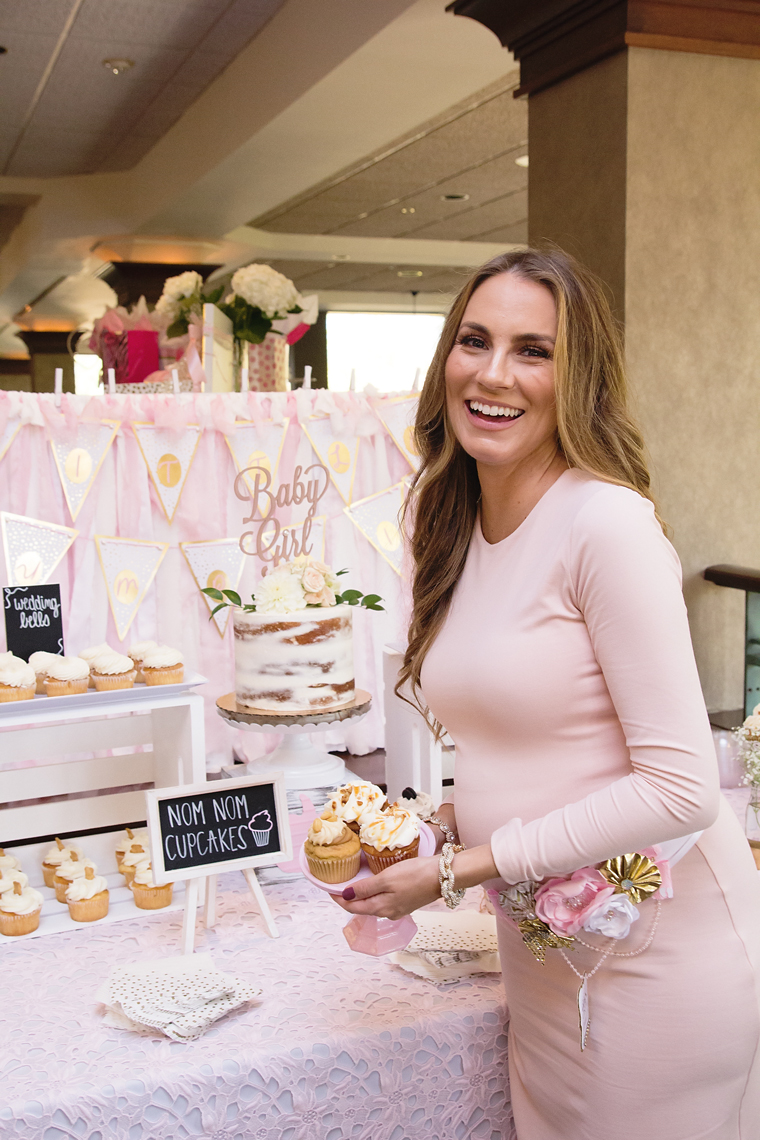 Cupcakes: Nom Nom Cupcake Factory [c/o]
Belly Sash: Bridal Bling N Bowtique [c/o]
My mom and cousin Mindy made these darling white and pink wreaths that you see above.  If you look closely, the details are so cute.  The wreath on the far left has a rocking horse and the wreath on the far right has a tiny white dress.  Don't miss the white pumpkins with pink tutus ad rose gold pumpkins along the ledge as well.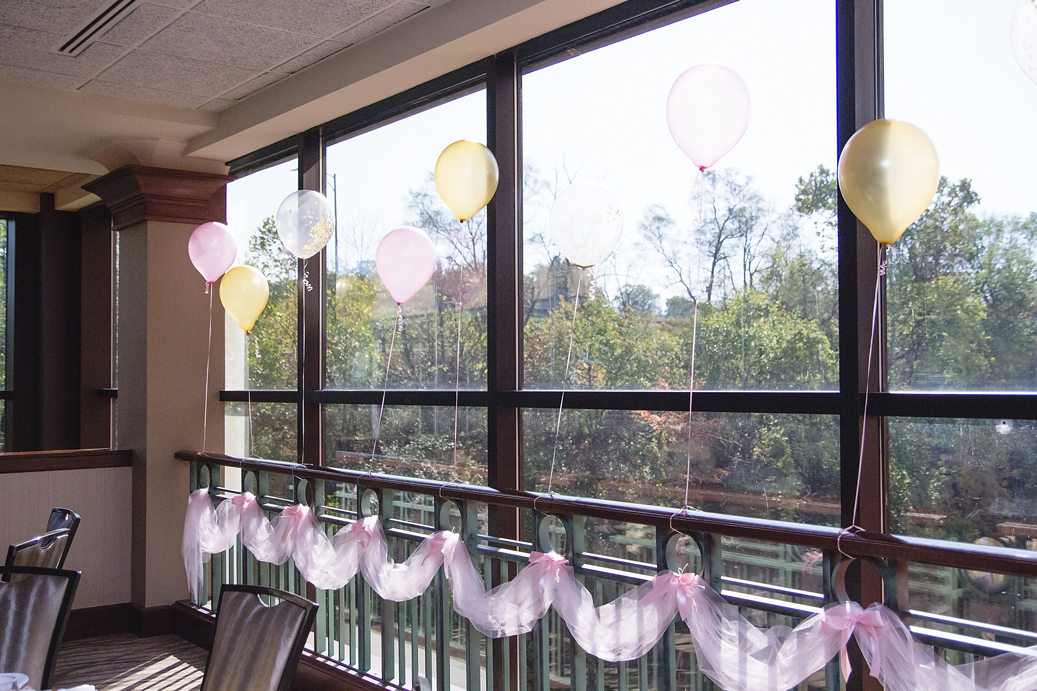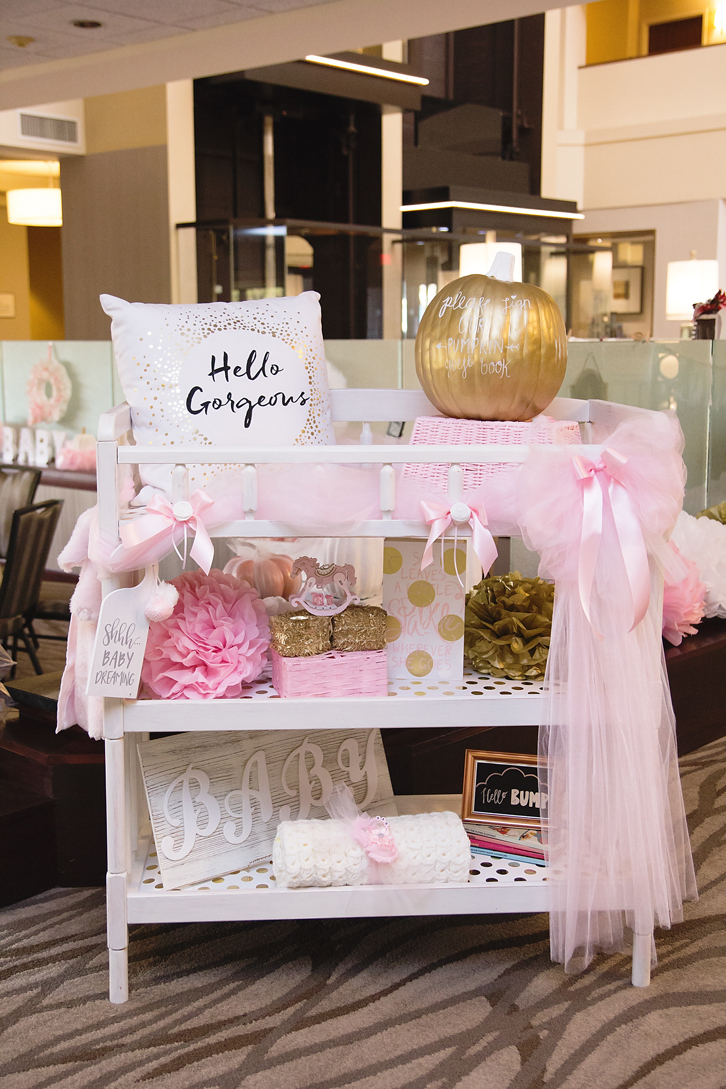 My mom and cousin repurposed this changing table as the welcome sign at the entrance of the shower.  I love that they found a Hello Gorgeous pillow.
The gold pumpkin on the top shelf was our guestbook.  Guests signed in with a white marker, so cute!
The pom poms on the middle shelf were all over the shower and so cute.  The tissue paper pom poms were from Paper White Designs.
On the bottom shelf, the white blanket was mine as a baby and was knitted by my mom's best friend's (my  Mama Jean) grandmother.  Don't you love the Hello Bump sign?!  Under the sign is a stack of my favorite books as a little girl.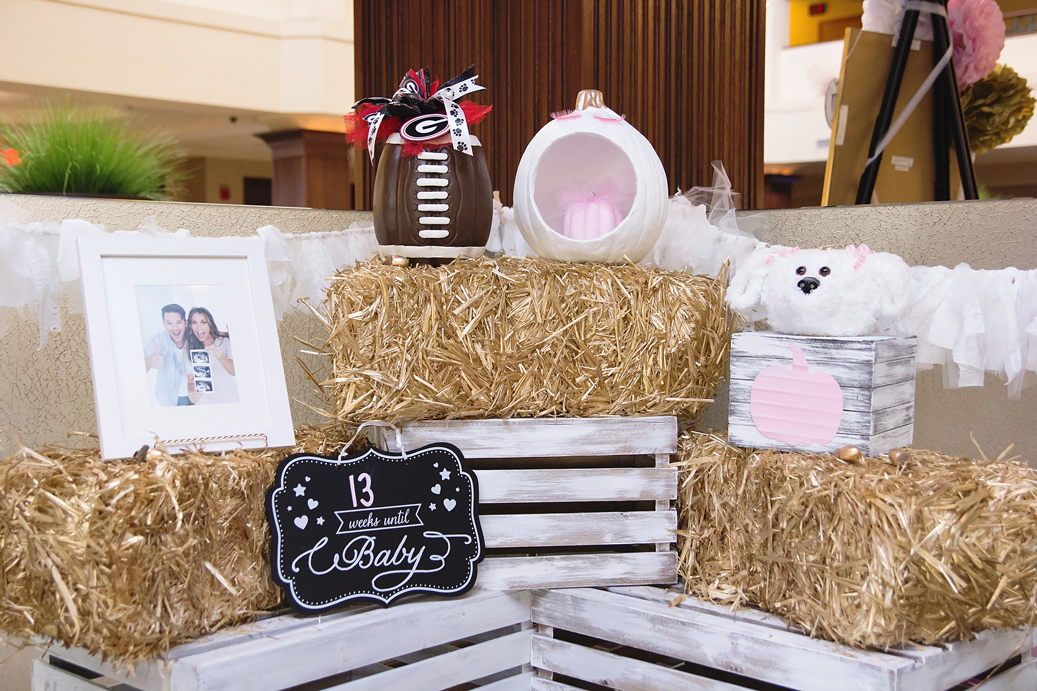 I loved this little corner.  My mom and cousin Mindy made these pumpkins: UGA for daddy, the glam pumpkin (hello pink lashes) with a baby pink pumpkin in the belly for me and even a Soka pumpkin too!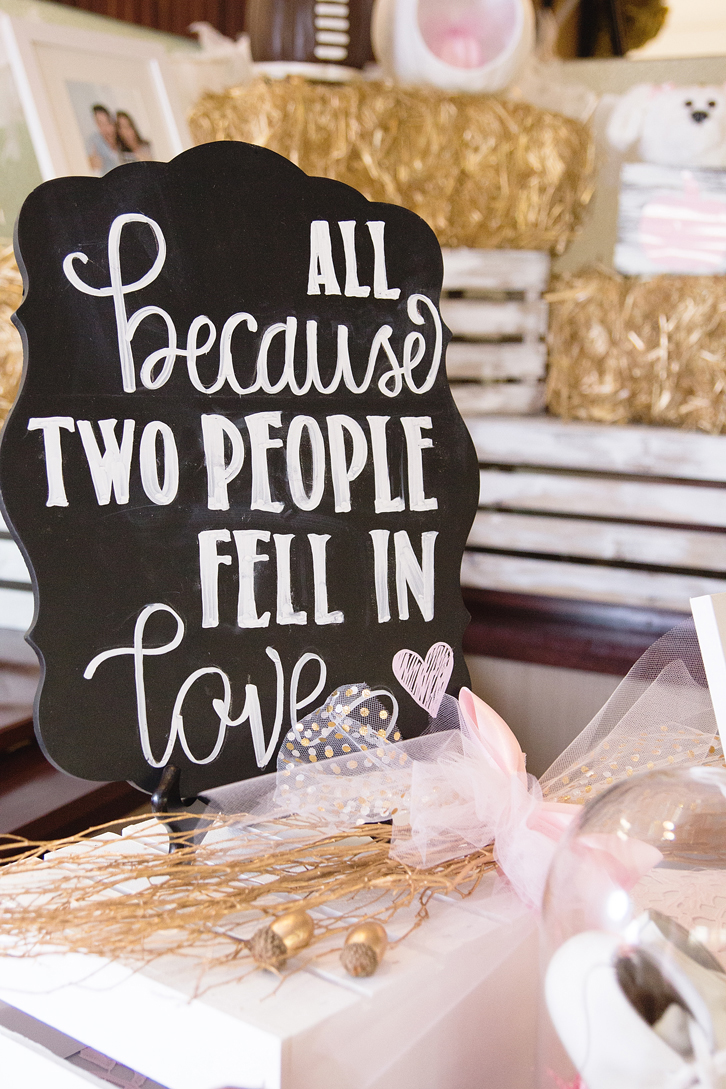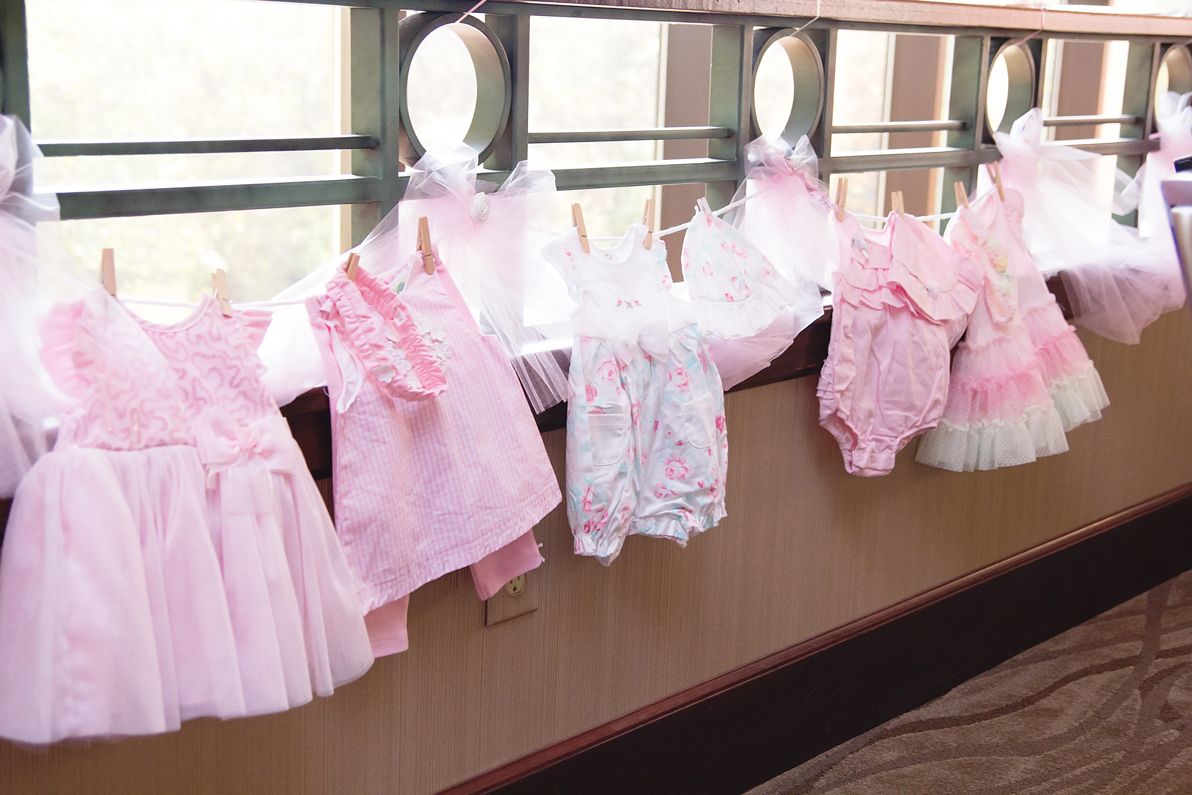 Along the other wall was a clothesline of baby girl clothes from one of my favorite brands, Little Me.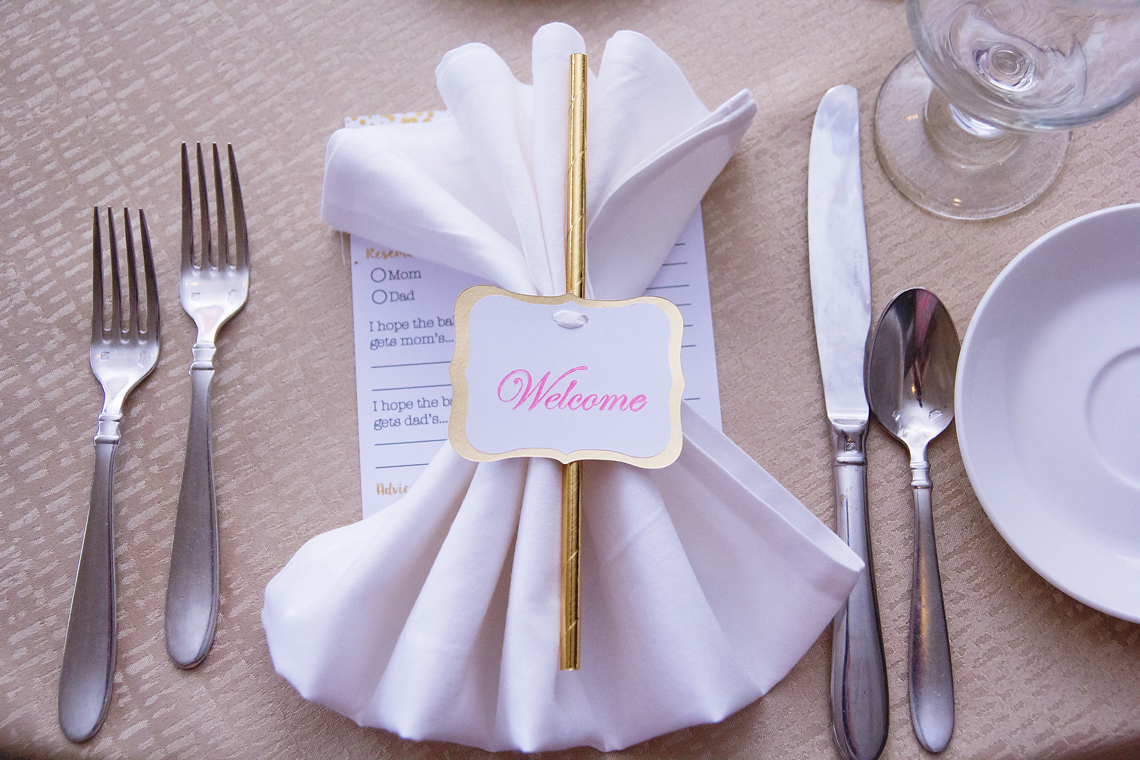 My Aunt Patty made these cute Welcome napkin holders paired with gold straws for each place setting.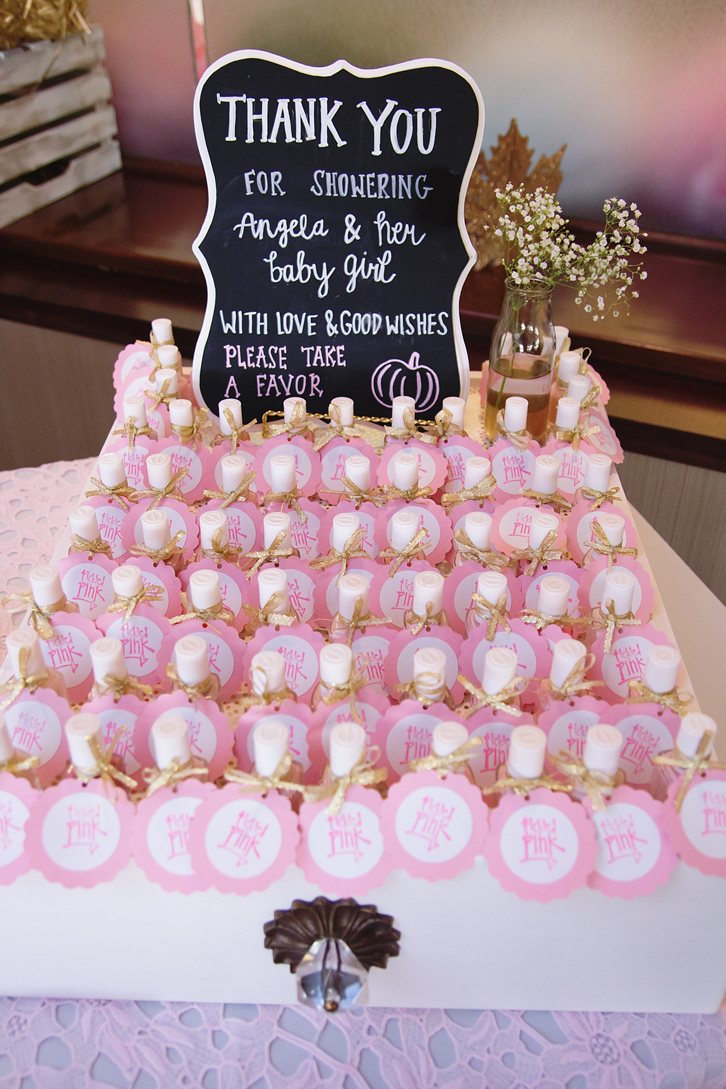 Last but not least, the favors.  Essie nail polish is hands down my favorite polish brand, so of course I'm going to pass down my pink polish love to my little girl.  Loved the personal touch of the Essie pink polishes with the "Tickled Pink" tags made also by my Aunt Patty.
Aren't all the details and special touches so perfect?  The shower couldn't have been more perfect.  I loved the pink, white and gold, "our little pumpkin" theme.  Everything was so pretty and feminine and special.  The amount of thought and time that everyone put into the shower was evident in all of the pretty little details.  A huge thank you to my mom, cousin Mindy, Aunt Gina, mother-in-law, cousin Jen and more who all pitched in to make this day of celebration so beautiful and full of love.  I hope  you enjoyed this peek into our special day.


Dining Room Reveal & Thanksgiving Tablescape
My first home tour on Hello Gorgeous was back in 2013.  I was a newlywed and a new blogger at the time.  When I look back at this old post, it's so crazy to think of how far we've come in just four short years.  We now live in a different house and we'll be a family of three before we know it.  So crazy!
I haven't shared a tablescape post since 2013 for one simple reason…  I didn't have a dining table.  Sounds crazy, I know.  Sometime after our first married Christmas, Hello Gorgeous began taking over our home.  We chose to forego our dining room, to have extra space for work.  We had a breakfast bar that we ate 99% of all our meals at.
I really enjoy decorating for holidays; however, practicality won out on the dining room space because of the other 11 months of the year.  Our new house has the space for a dedicated studio/office for me AND a dining room.  Cue the dancing red dress girl emofi here!
It's been so much fun picking out new pieces for our dining room.  So without further ado, here is our dining room all decorated for Thanksgiving.  Just a head's up, this room isn't 100% finished yet.  We're on the hunt for the perfect buffet and wall decor still.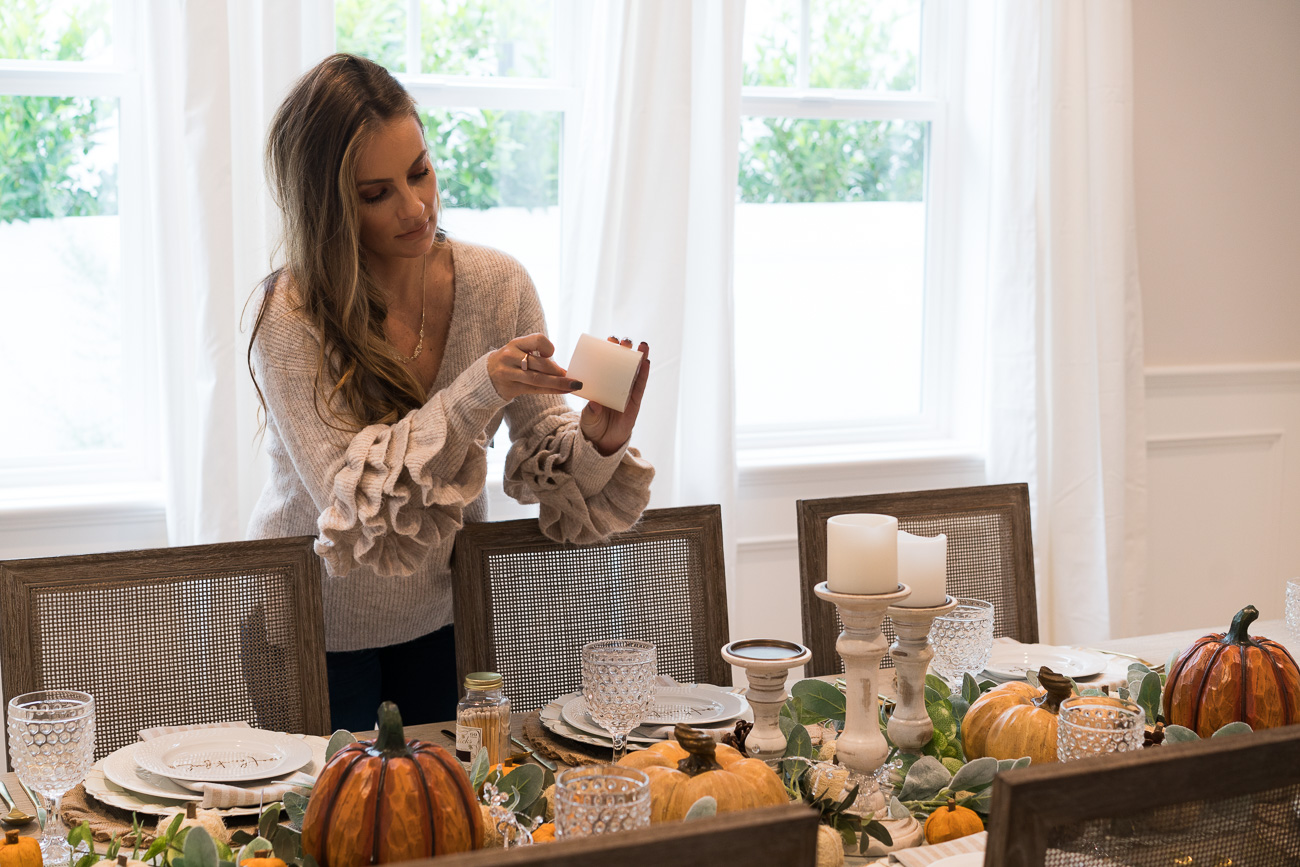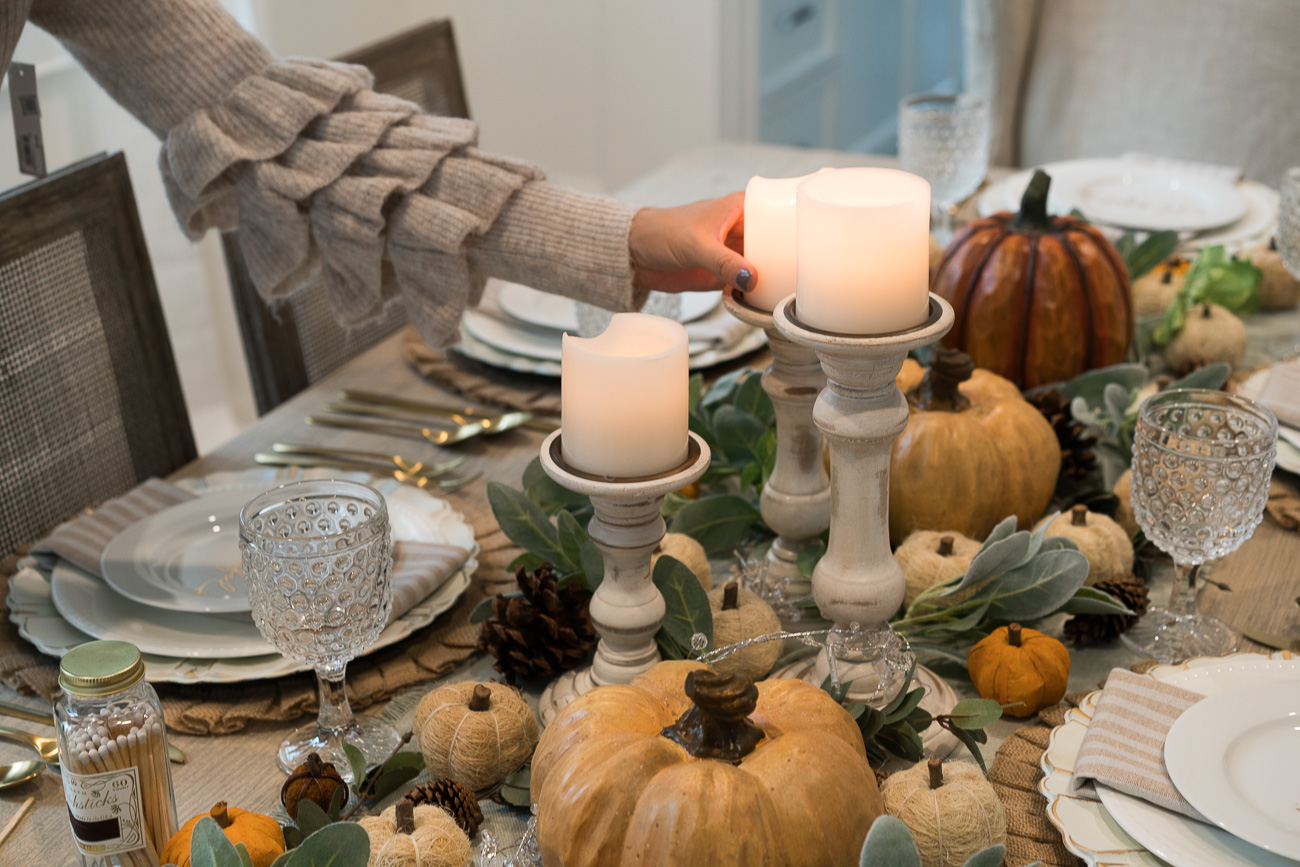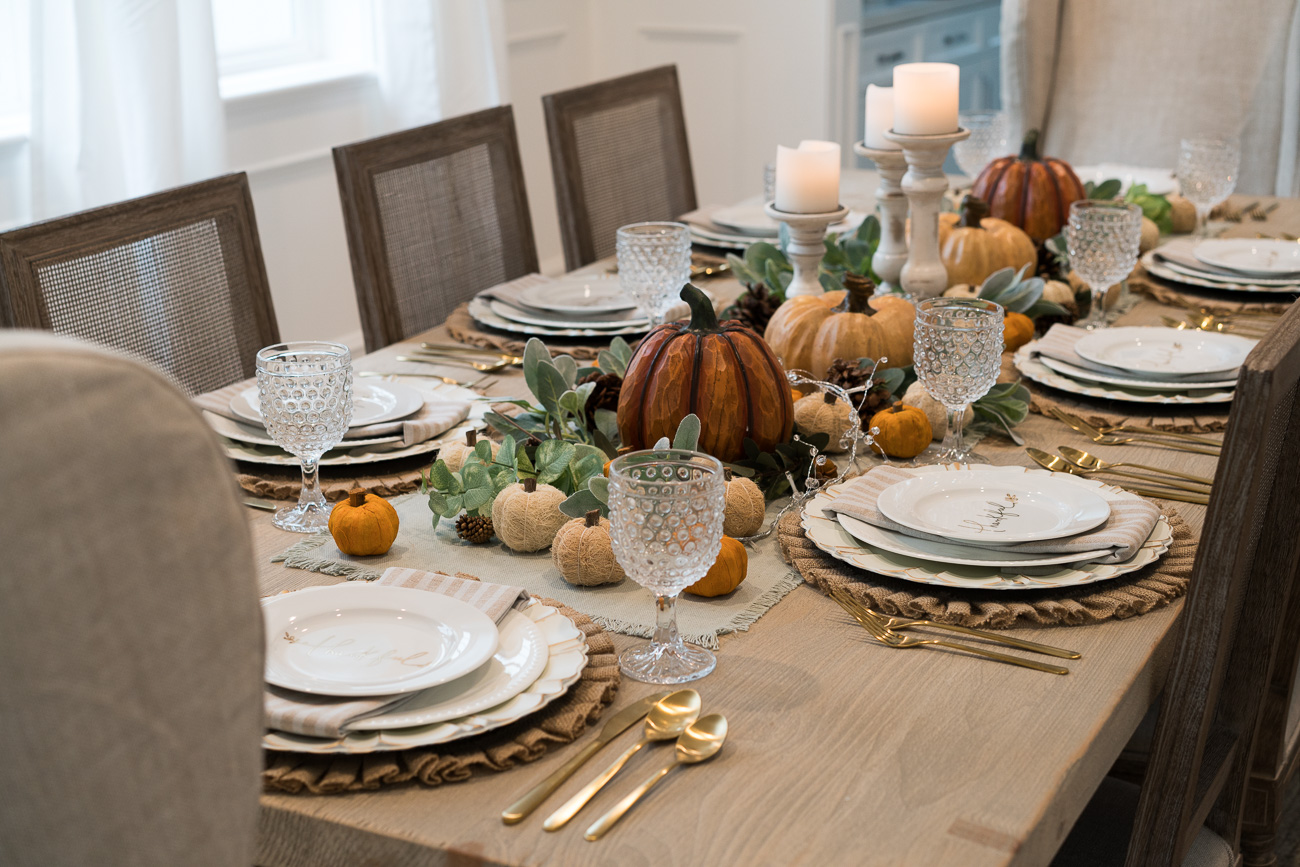 We fell in love with this dining table in April while visiting 30A, but we had no way of getting it home.  I was able to track it down on Wayfair and it turned out to be the perfect piece.  We paired it with french round back chairs and upholstered end chairs from Restoration Hardware and achieved the exact look I wanted.  Once I find the perfect buffet and wall decor, I'll show even more of the room.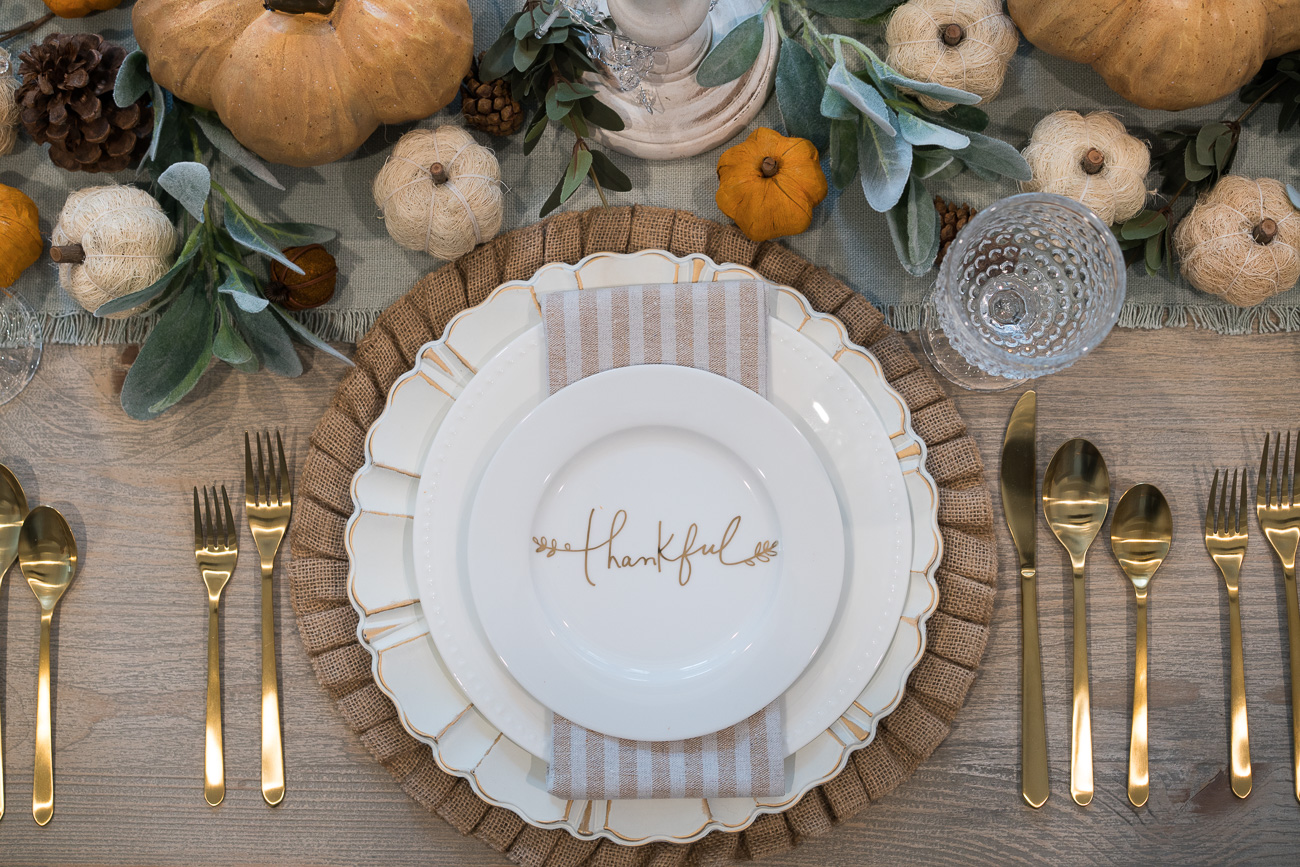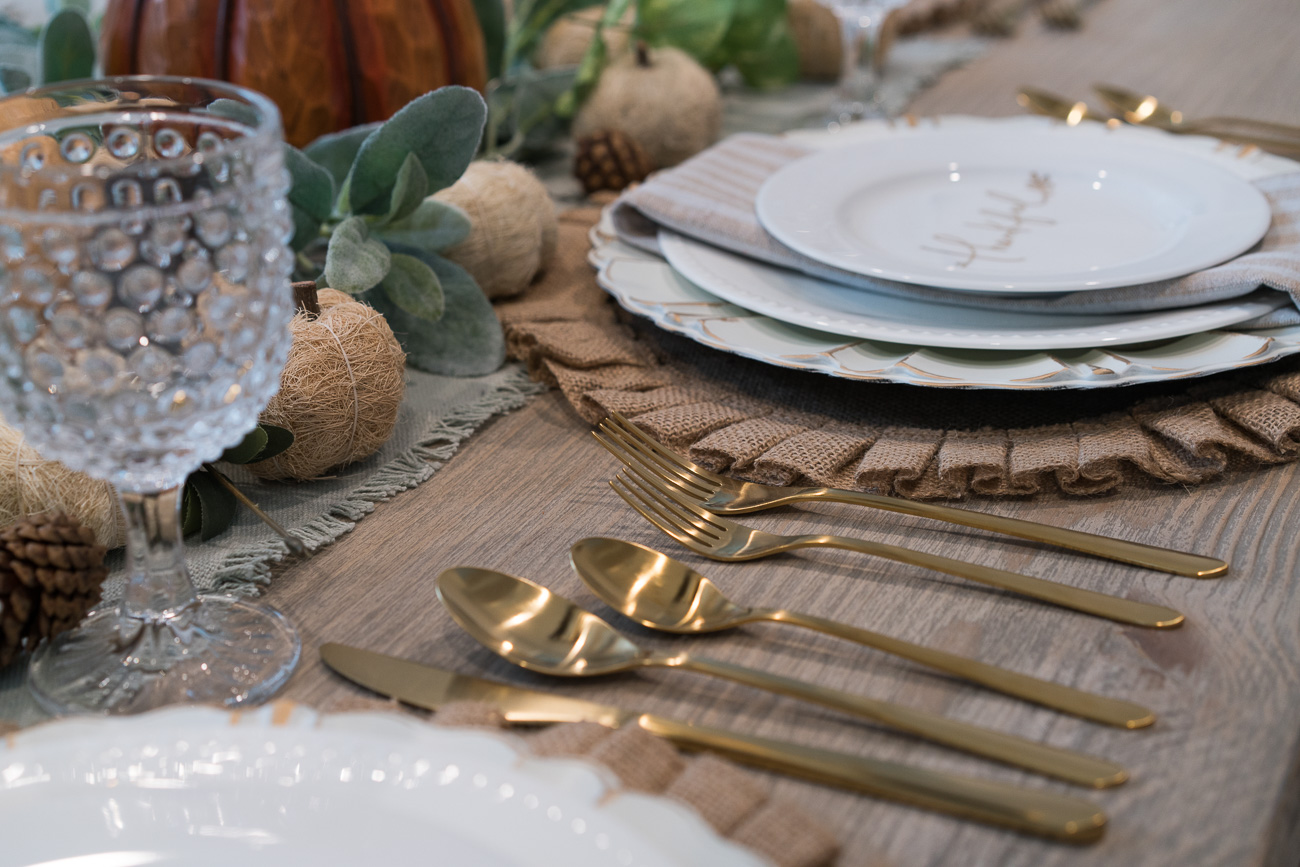 I wanted to create a beautiful table setting with warm tones.  I'm always looking for a reason to use gold flatware and Thanksgiving is the perfect excuse.  I'm really happy with the way this setting turned out with the burlap ruffled placemats, scalloped charger and delicate Thankful plate.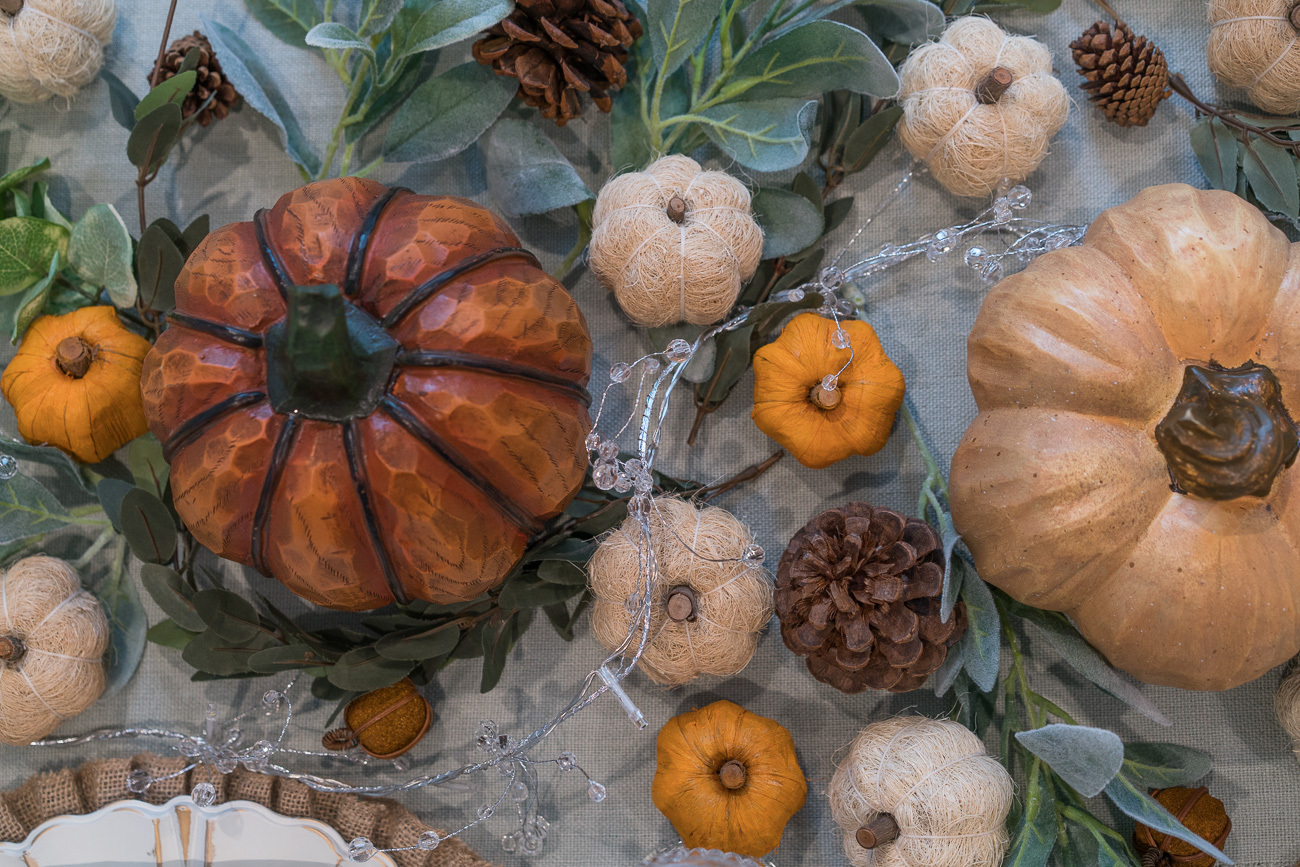 This post is so delayed because of my centerpiece.  I wanted to create my own centerpiece that fit the room perfectly.  I love to DIY when I can, but sometimes life just doesn't allow me to put the time into a project that I'd like to.  I decided to keep my everyday soft green runner and began decorating with these cute little white pumpkins I snagged at TJ Maxx.  I added in other pumpkins in various colors and sizes from Hobby Lobby and Homegoods along with my white wood candle holders from World Market.  Something was missing…  So, in came the fairy lights, pinecones and greenery…  Voila!  My centerpiece was complete.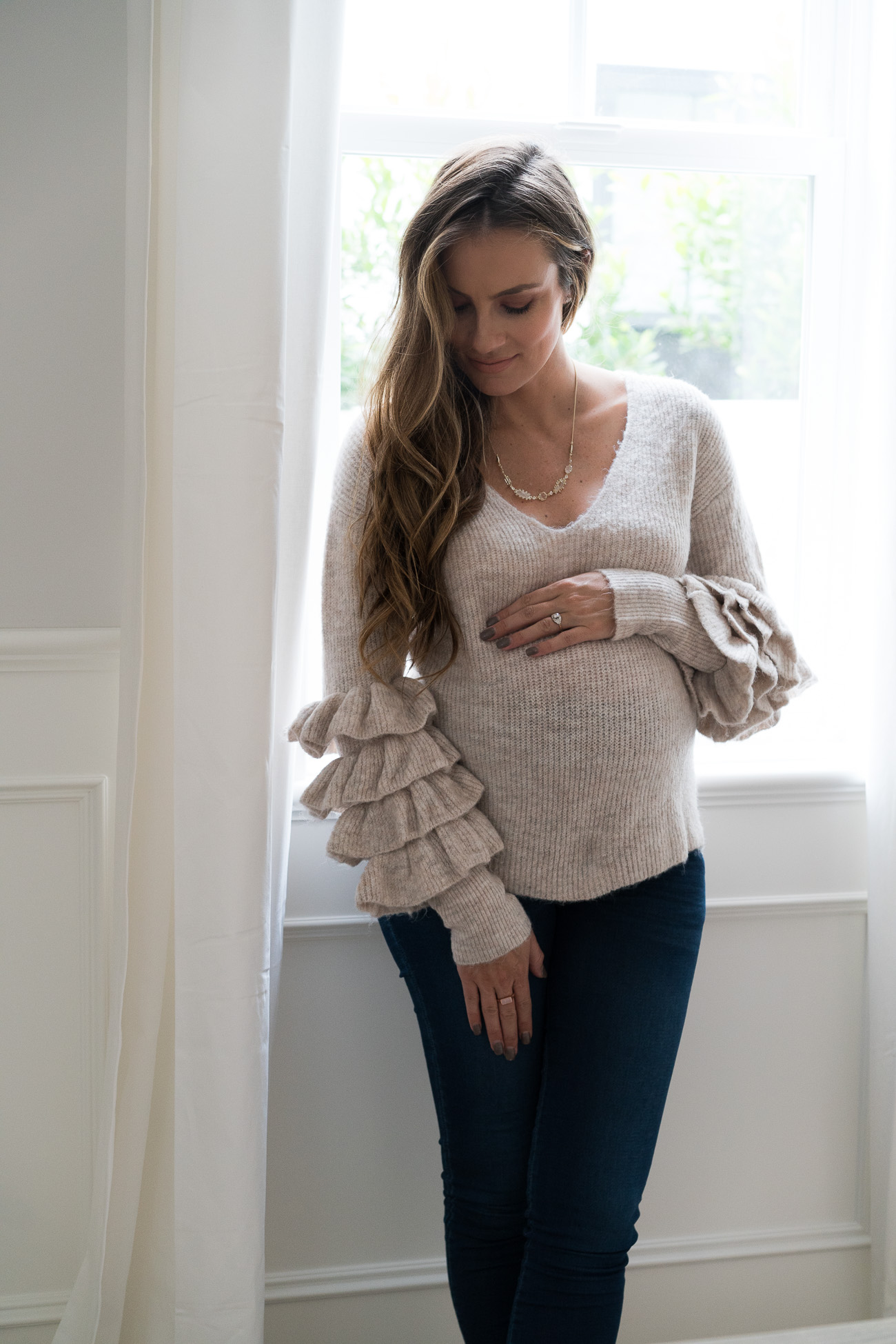 Sweater: BP. Ruffle Sleeve Sweater  //  Jeans: Ilitia [c/o]  //  Necklace: Kendra Scott [c/o]  //  Ring: Kendra Scott [c/o]
How do you decorate for Thanksgiving?  We have a hybrid of Thanksgiving meets Christmas going on in our house and honestly…  I love it.  We put up our new flocked Christmas tree in the family room and it's stunning.  I haven't decided how to decorate it yet, so Pinterest is calling my name!  All items in my table setting are listed below.