Small Business Saturday – My Faves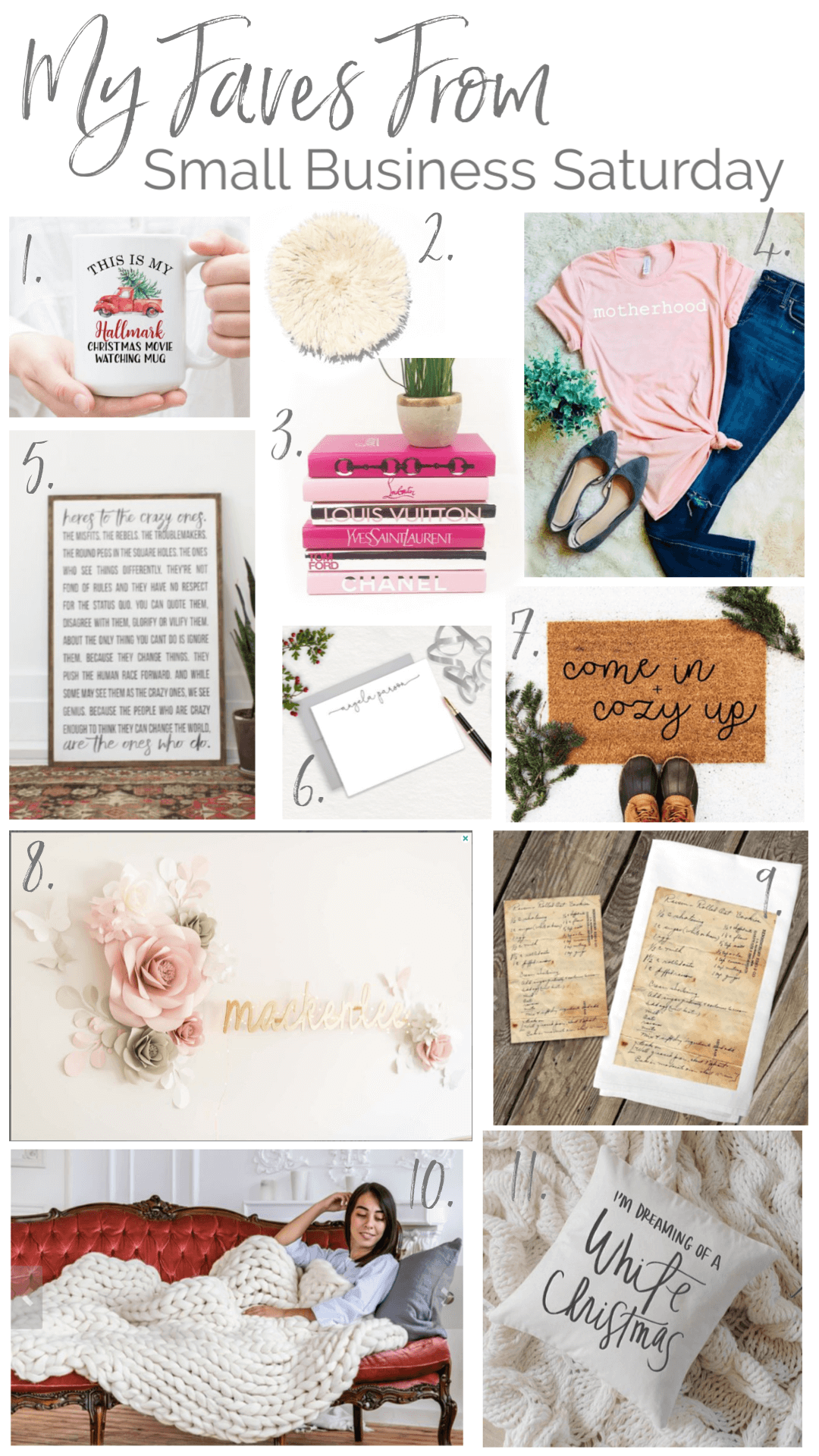 After yesterday's Black Friday madness, let's take a little time to celebrate all the amazing people who own, operate and dedicate their lives to small businesses.  I have such a special place in my heart for small business owners, being one myself, I understand the time, work and dedication it takes to run a business.
According to Wiki, a small business is: privately owned corporations, partnerships, or sole proprietorships that have fewer employees and/or less annual revenue than a regular-sized business or corporation.
I'd like to highlight some of my personal faves this Small Business Saturday.  First off, let's chat about the products from the collage above.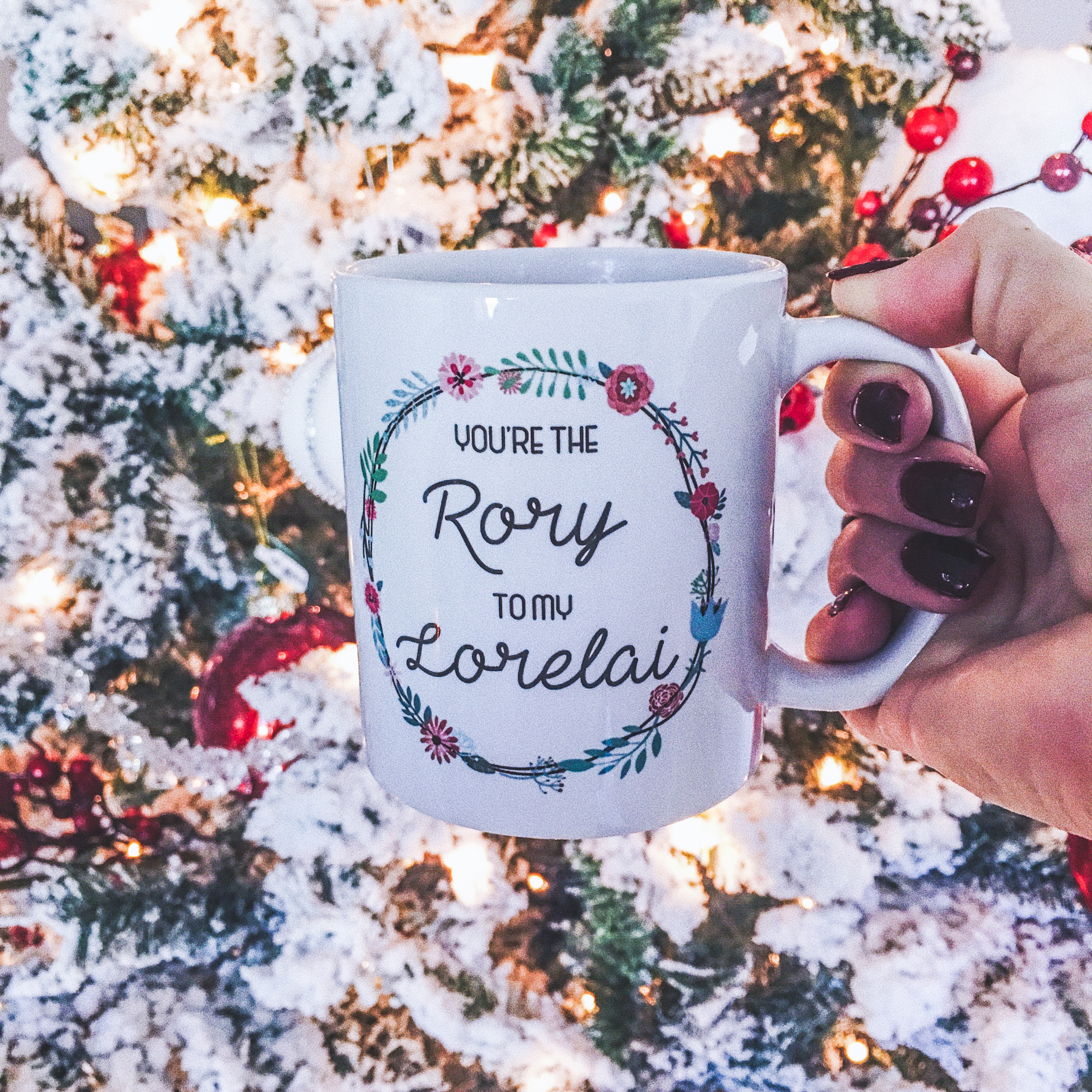 Coffee mugs:  I love coffee mugs.  But I especially love shopping for coffee mugs from the vendors on Etsy.  My mom bought me this Gilmore Girls coffee mug for my birthday and it's one of my favorites in my collection.  There are so many fun, kitschy and even beautiful mugs to choose from on Etsy, and you get to support small businesses when buying them.  This mug shop is 10% off today.
Juju Hats:  I've been seeing these decorative hats pop up all over Pinterest and I love them.  They're on sale 15% off today.
Coffee Table Books:  We have a ton of decorative books in our family room.  There's nothing quite like holding a book in your hands, it's one of my favorite things.  This makes sense since I host an online book club, lol.  These designer coffee table books are 20% off today. 
Tees:  If you're looking for a fun or a personalized tee shirt, small business is always the way to go.  From Kenny girl's Thanksgiving onesie (20% off!) to cozy Fall tees (15% off) to University gear (20% off), you can find it all and you can bet it's been made with love.  I loved my Thankful shirt from a few years back.
Signs:  House of Belonging created this sign for our formal living room at our old house with the lyrics to our wedding song.  Y'all loved it so much that the recreated it for many other customers.  It's now hanging in the entry/formal living room in our new house and it's such a special addition to our home.
Stationary:  Personalized stationary is one of my favorite office supplies to keep on hand for sending out quick notes of thanks.  This set is my most recent stationary purchase and it's 10% off today.
Doormats:  One of my favorite ways to festive-up my entry way is adding a fun doormat.  This shop is offering 50% off today.  5th and Grace Co. (my Merry Christmas mat) is 20% off today. 
Paper Flowers:  One of my favorite personal touches on our nursery is the paper flower set from Mio Gallery.  Buy our exact set today for 20% off.  Our nursery bedding was custom made by the incredible New Arrivals Inc.  Shop our bedding, the MacKenlee Faire Collection here and get this discount: 20% OFF WITH BLACKFRIDAY2018 IN CHECKOUT! 30% OFF SALE ITEMS WITH SALE30! EXP. 11.26.2018.
Recipe Tea Towels:  This is probably my favorite new find.  I love touches of old around my home, especially pieces that are family heirlooms.  These tea towels make such a great Christmas gift for the recipe lover in your life. 
Chunky Knit Blanket:  I love love love my chunky knit blanket.  The shop is currently taking a break, but I found this shop that is 30% off today. 
Throw Pillows:  PCB Home is one of my favorite spots to buy throw pillows and tea towels.  Today they're offering 25% off.
Now, I have a special shout out to a few of my very own Gorgeous Girls who are small business owners (all members of our private Facebook group!):
Twenty-Something Ideas (15% off)
Maria Ahrens Watercolor (20% 0ff)
Comment below with your favorite small businesses so I can discover new shops to shop from!
Shop Small Business Saturday

Easy Kid-Friendly Wreath for Fall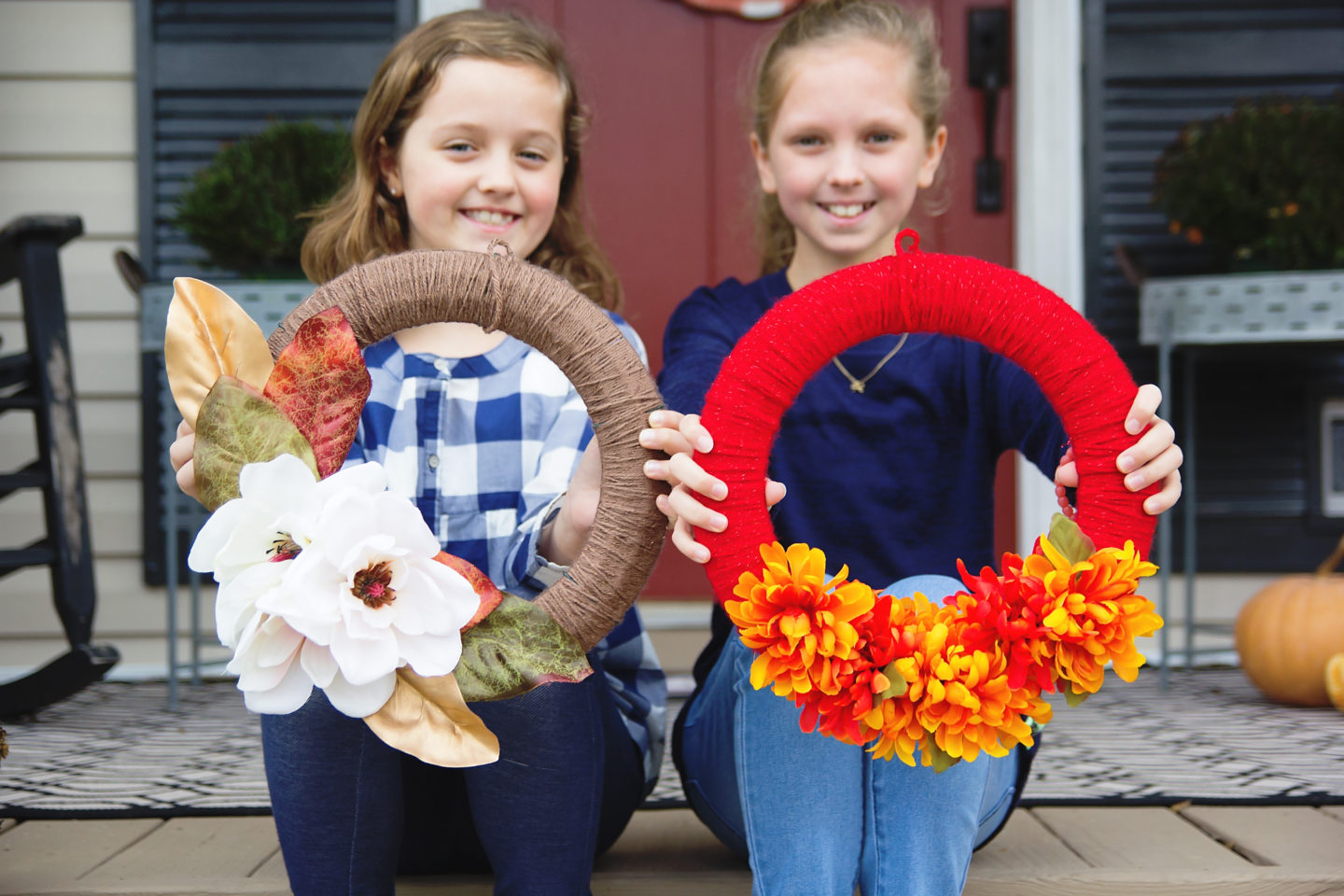 Hello there, lovely Gorgeous Girls! I'm Jenn, Ang's cousin and assistant here at HG. It's a pleasure to meet you and a big thanks to Ang for having me on here today.
If you haven't seen me before, I'm a wifey and mom to three amazing kiddos, ages 12, 10, and 8. I'm a blogger, a virtual assistant, and run a Young Living Essential Oil business! Our lives are constantly on the go but when we get down time, we take FULL advantage of it! We celebrated fall break a couple weeks ago and even though I had to work a bit, we tried our best to squeeze in as much fun as possible. After finding a few projects to keep little hands (and minds) busy, we stumbled upon some cute DIY wreath ideas on Pinterest and knew we needed to create our own.
My girls LOVE to get crafty with me. From going to the craft store and letting them pick out their own materials to teaching the safety of using a hot glue gun, we had the best time! There's a ton of great wreath ideas on Pinterest but we loved the yarn/faux flower wreaths the best.  We ran to our local shop and picked out all kinds of goodies. To make this project you'll need the following items:
1 wire wreath form (we bought 12 inch forms)
Yarn of your choice. I used Jute on mine for more of a farmhouse look.
Artificial flowers and whatever fun accessories you want to add.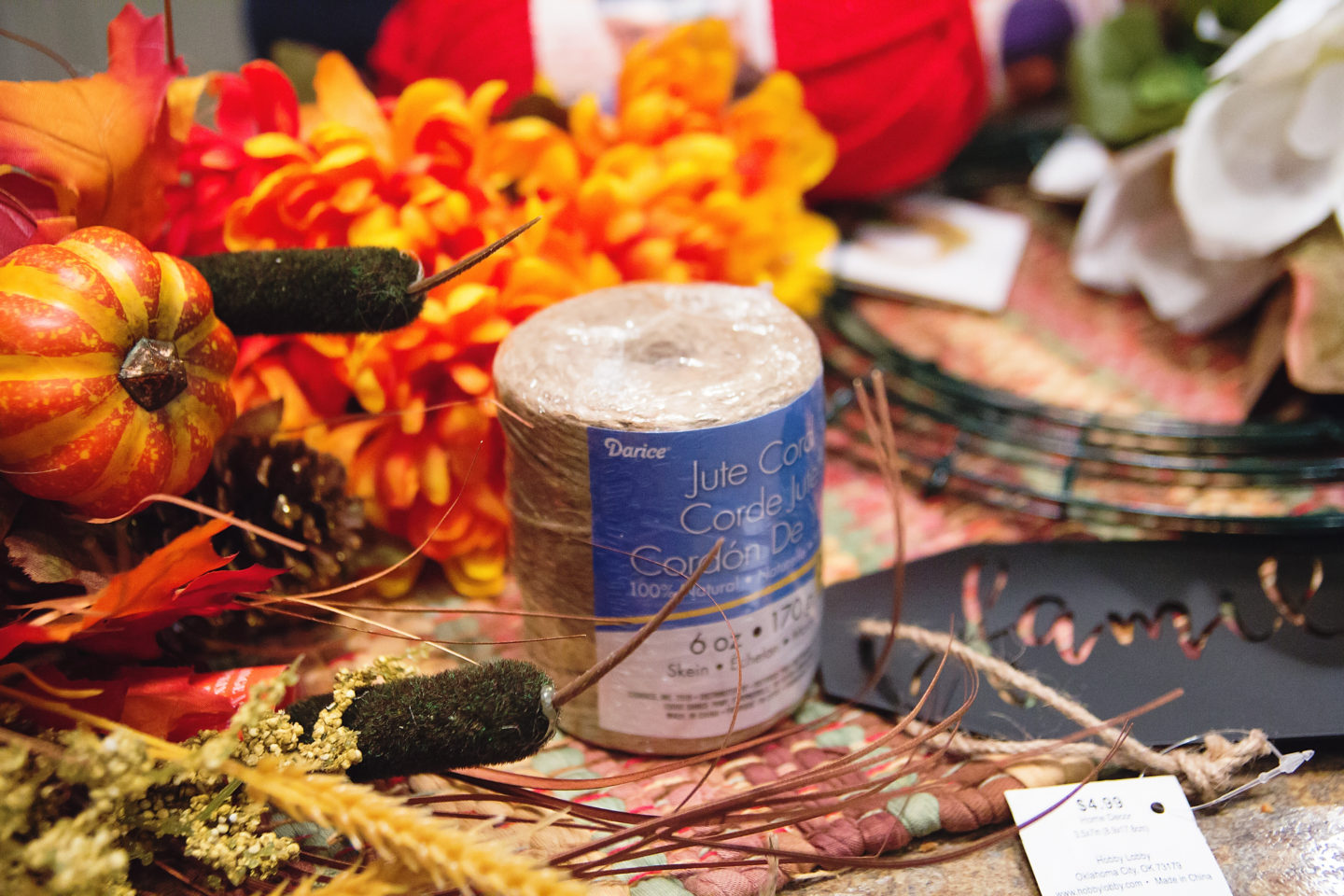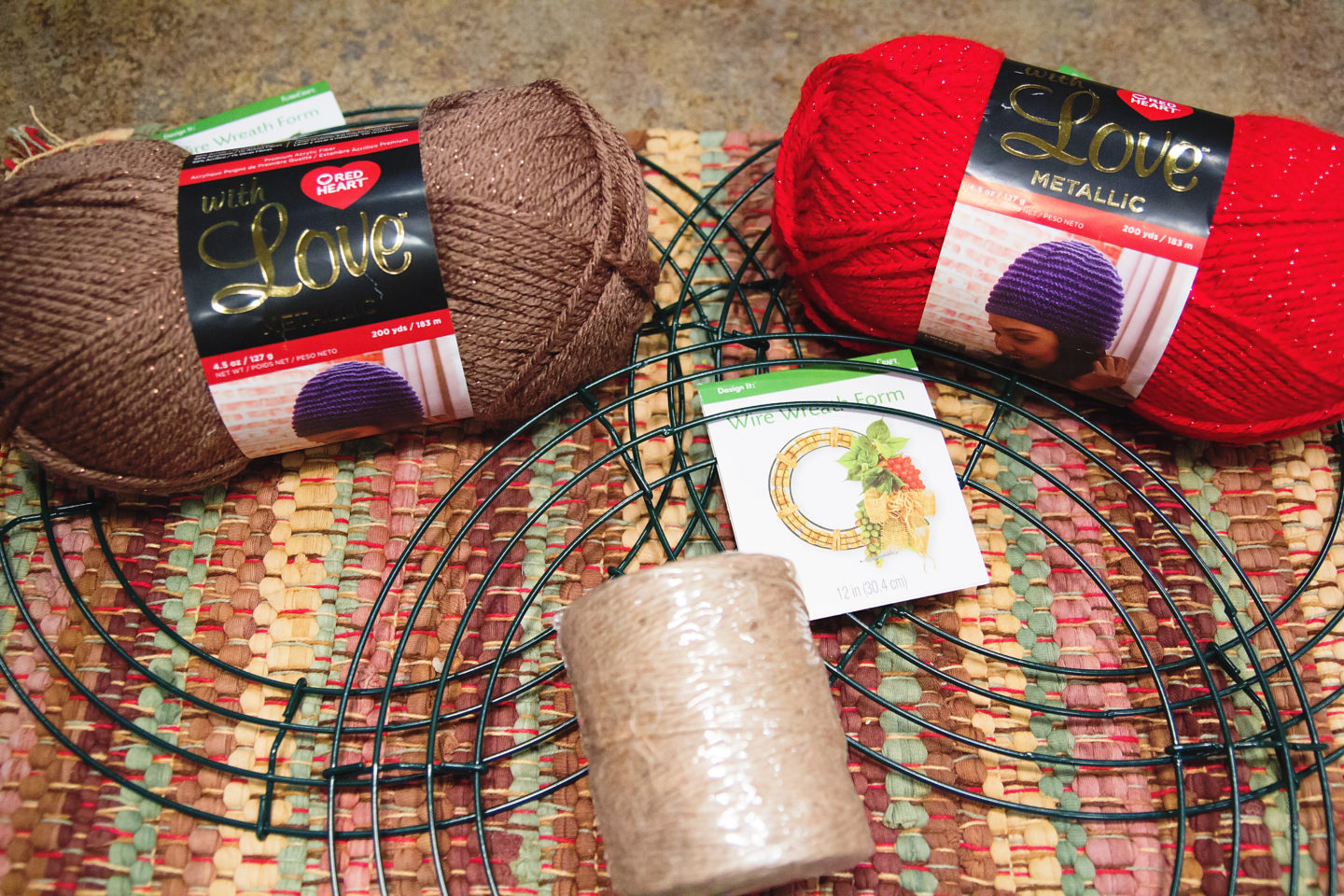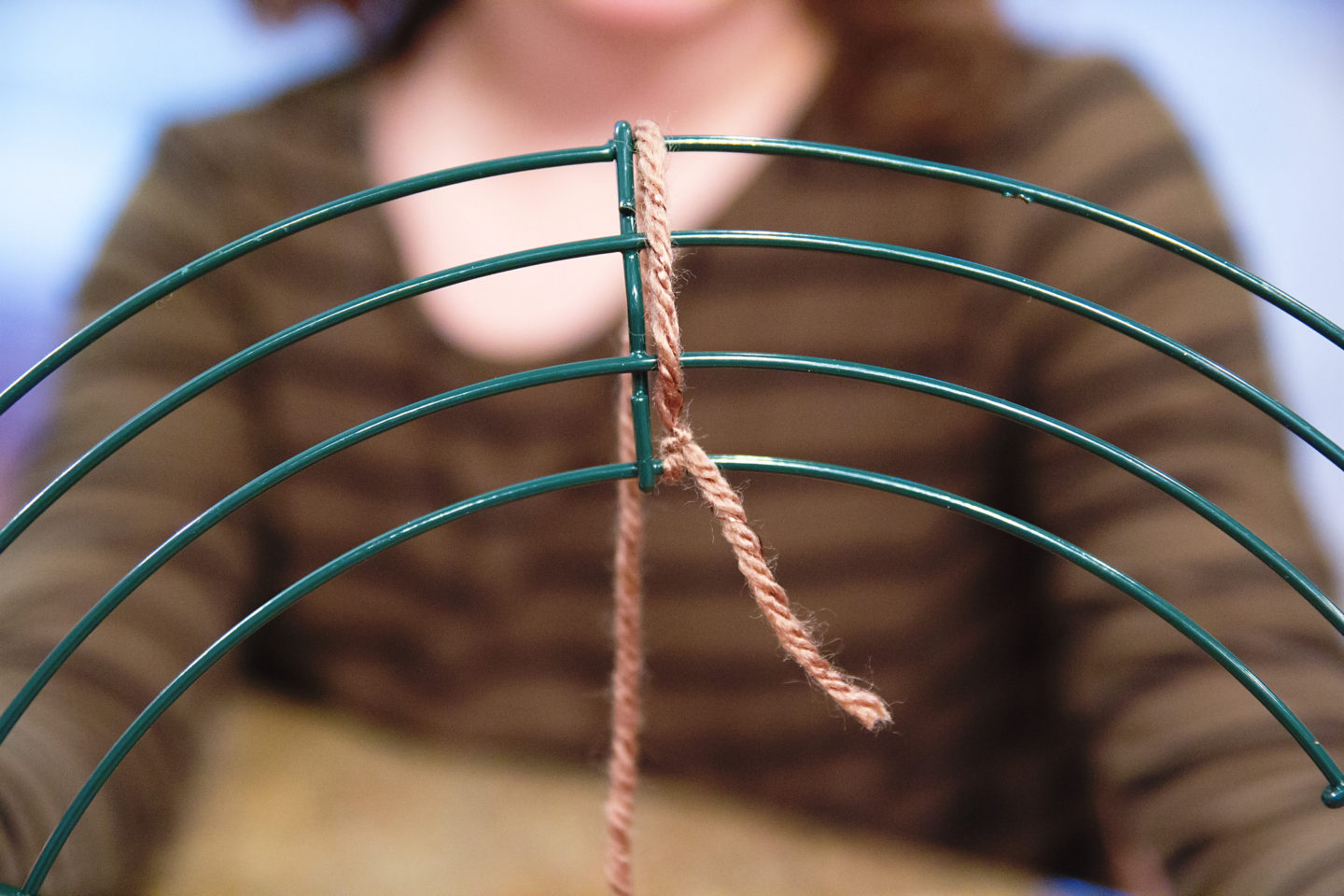 We started our wreaths by tying the yarn in a knot on the bottom ring and wrapping the entire form with yarn. We used about 1/2 a skein of yarn for each wreath but don't be afraid to use the whole thing and double layer if you see fit.  At the very end, leave enough yarn to make a loop to be able to hang them.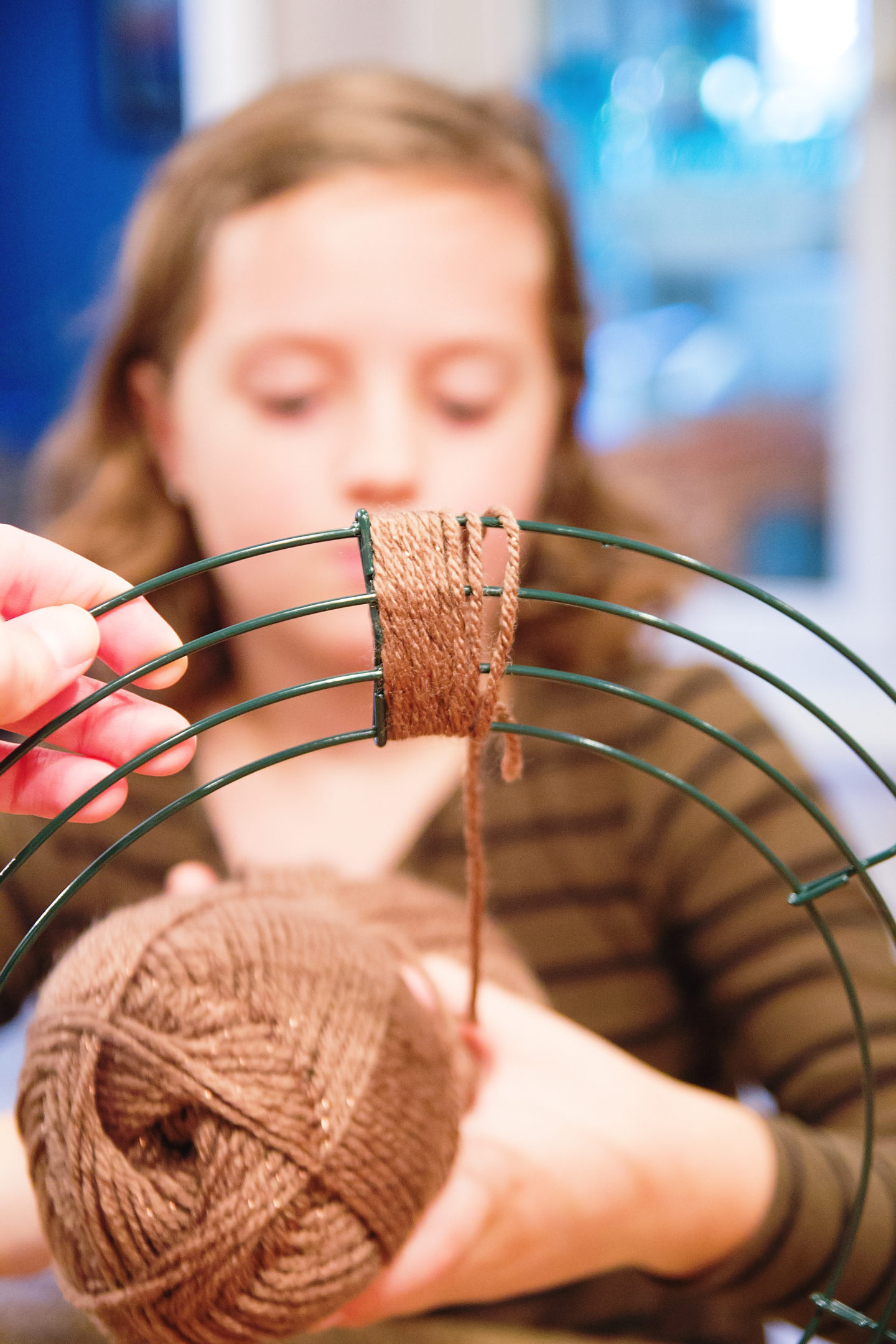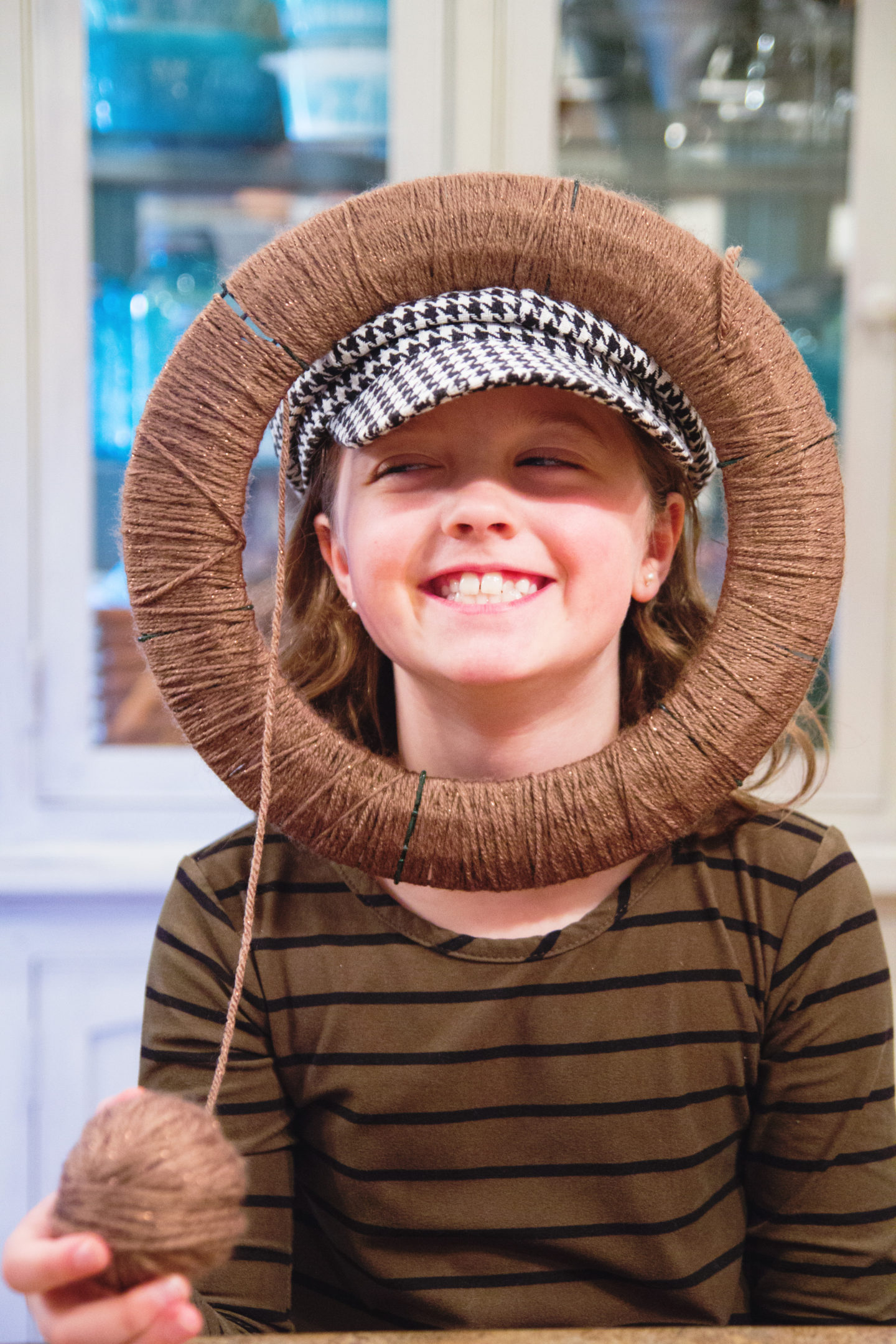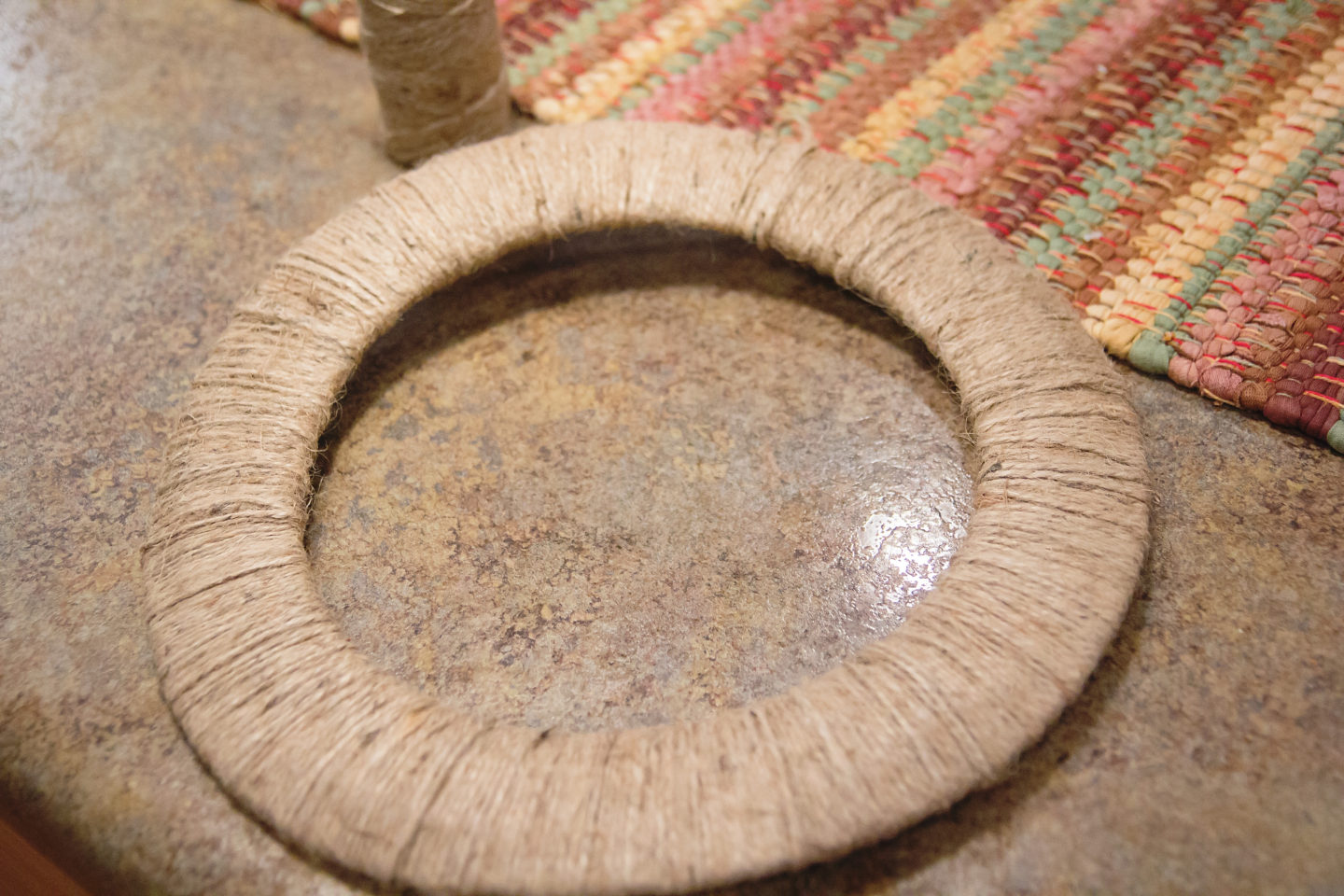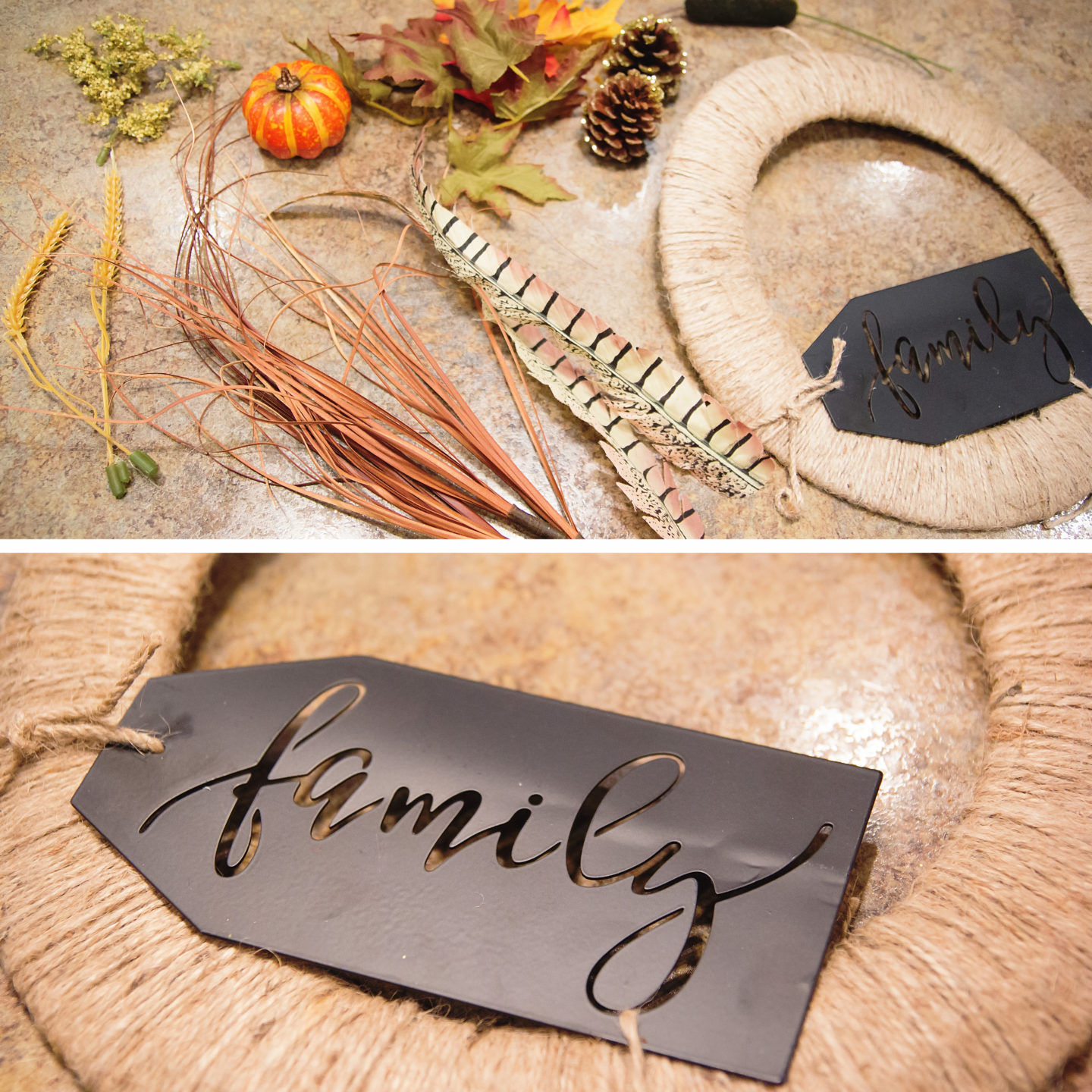 After we finished wrapping, it was time for the fun part, decorating. I let the girls come over and tell me exactly where they wanted each of their flowers and they carefully helped me glue them down. Hot glue guns are extremely hot so make sure you teach your kids to be safe around them.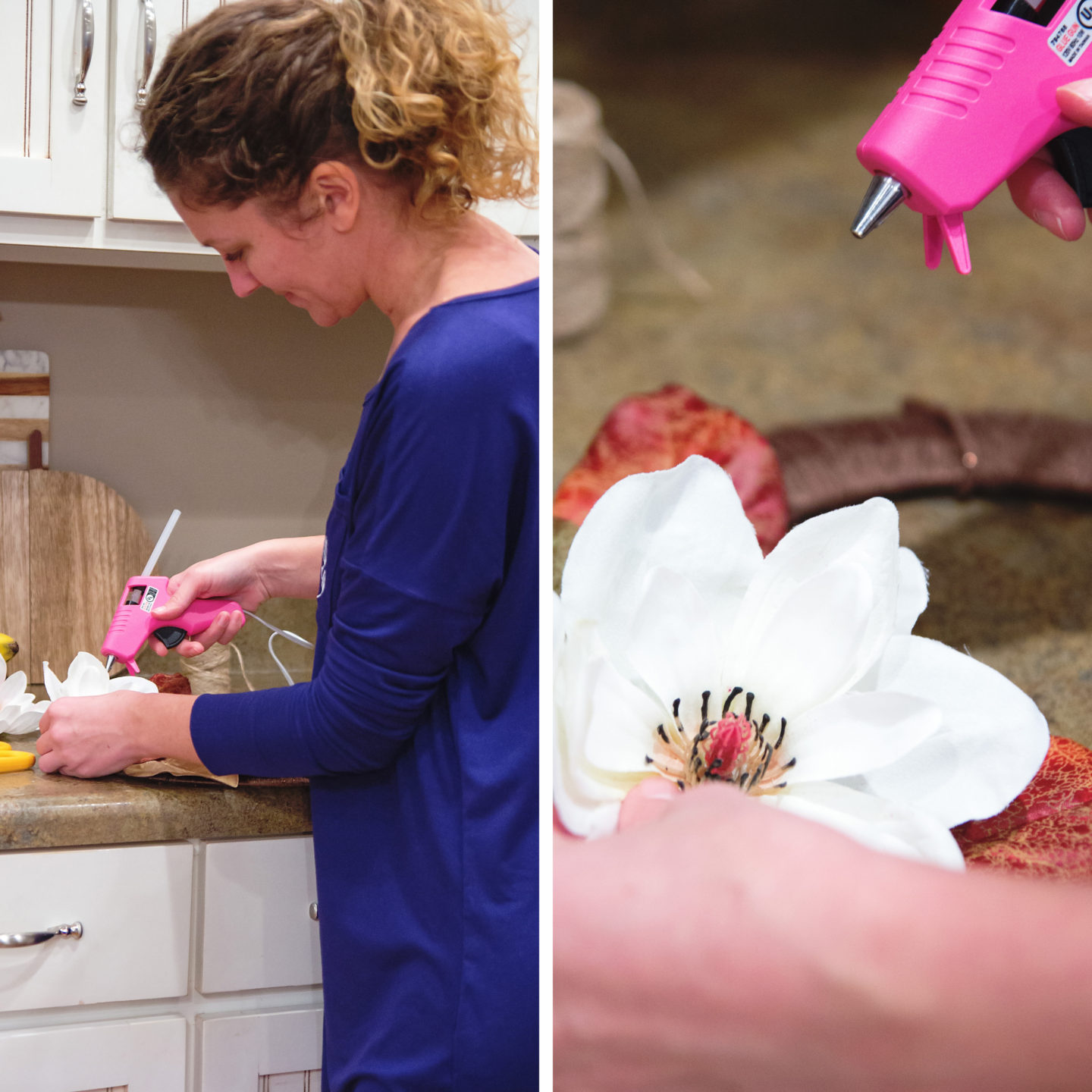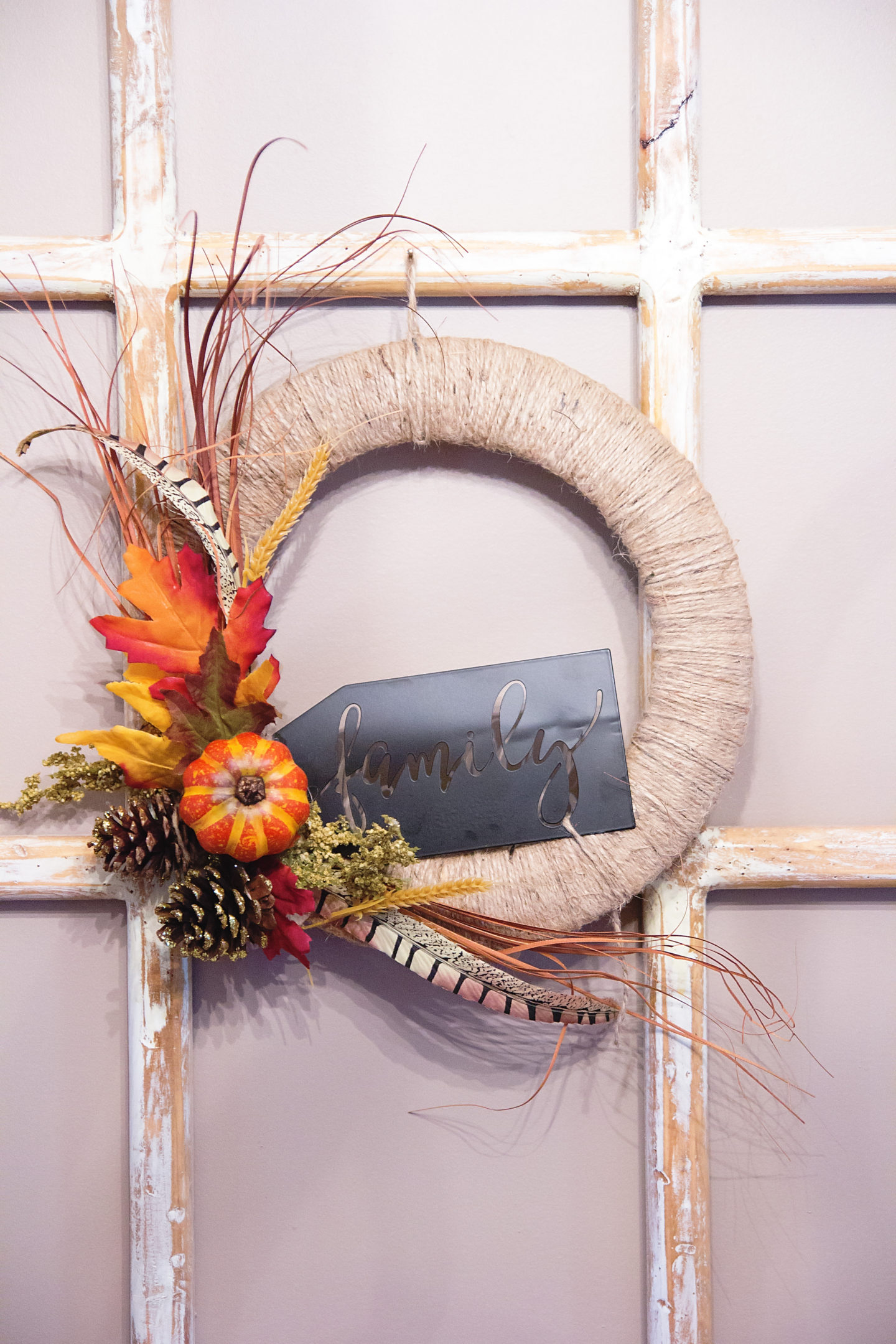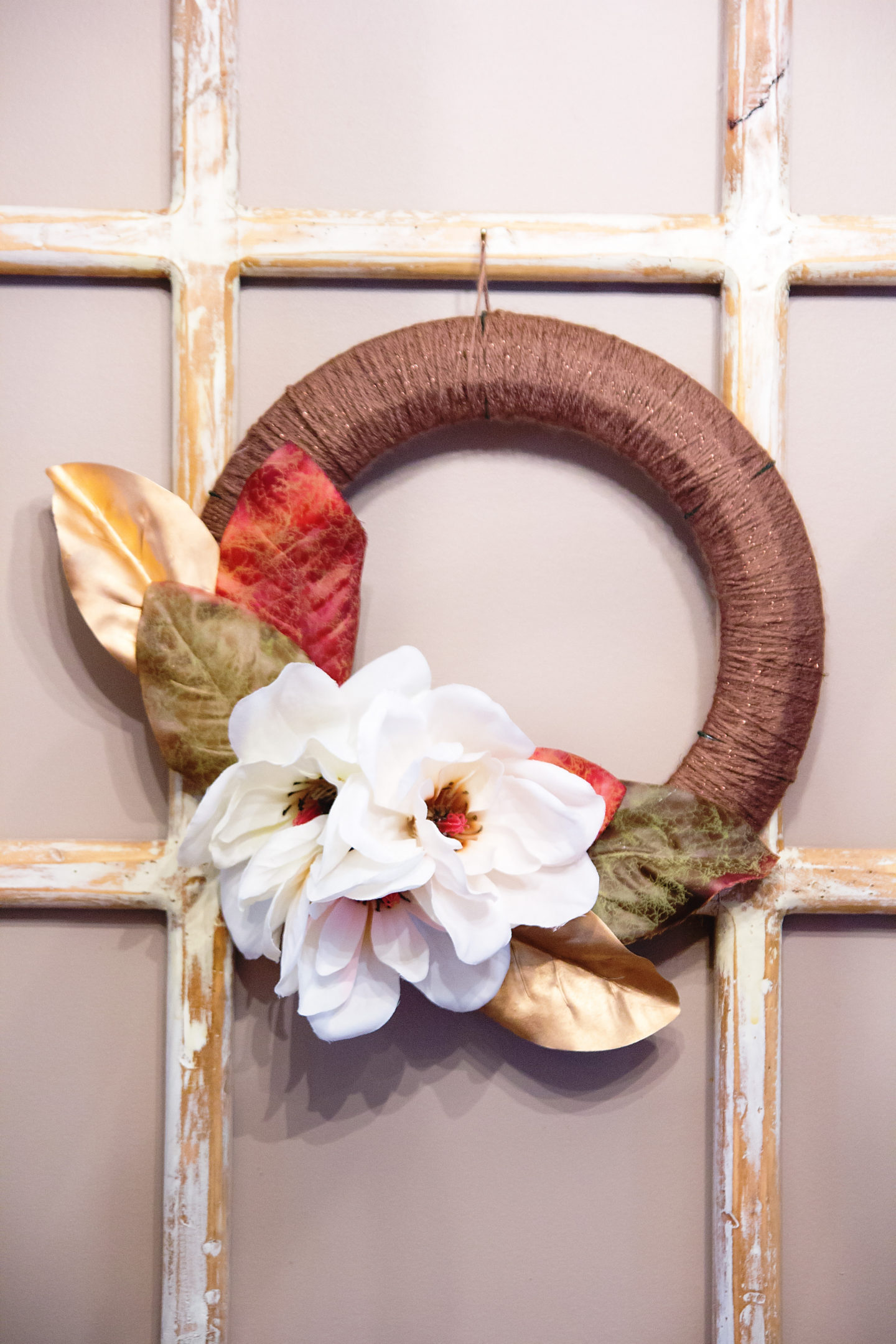 Ok, maybe the best part was the Little Debbie Pumpkin Delight treats and hot apple cider for a job well done!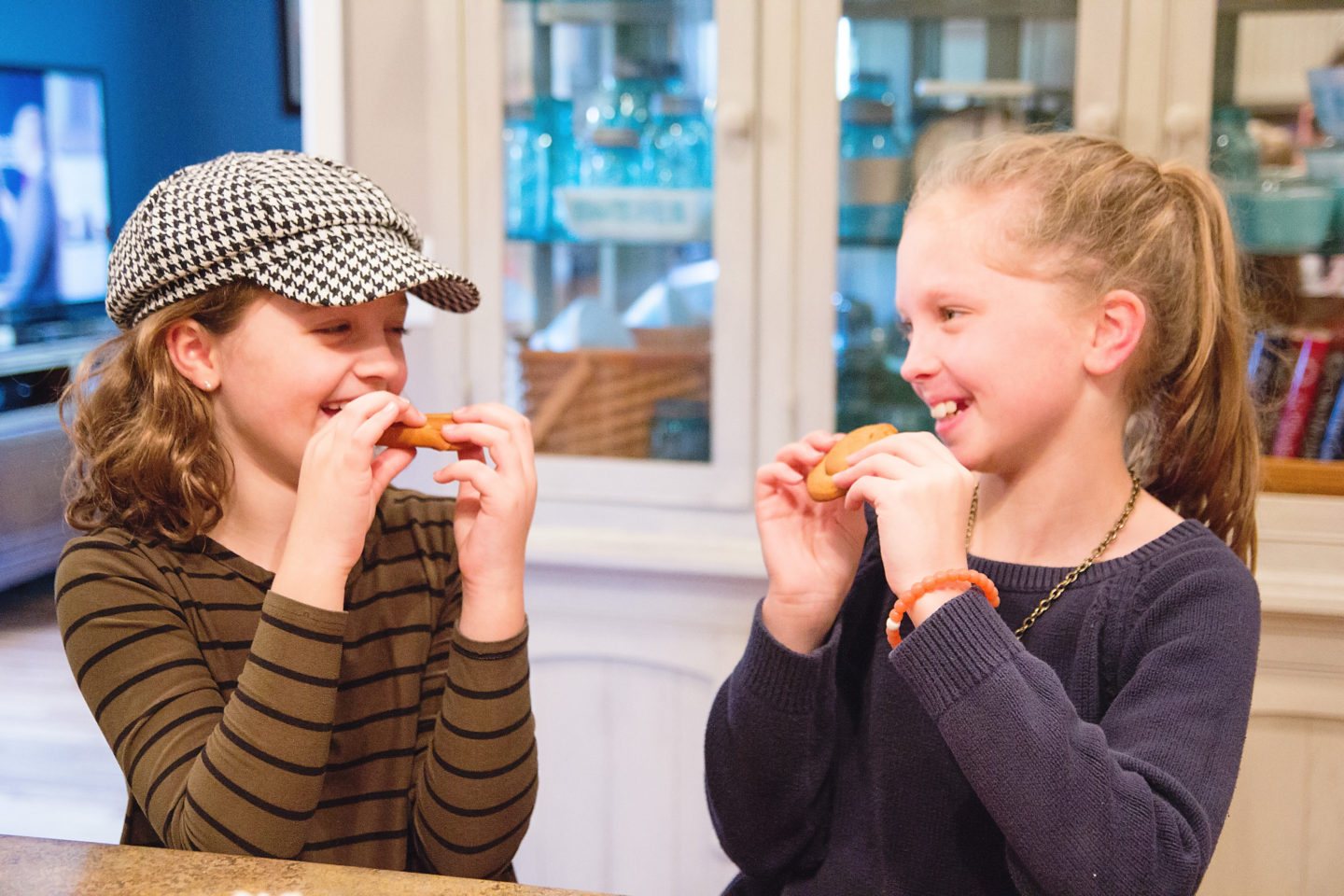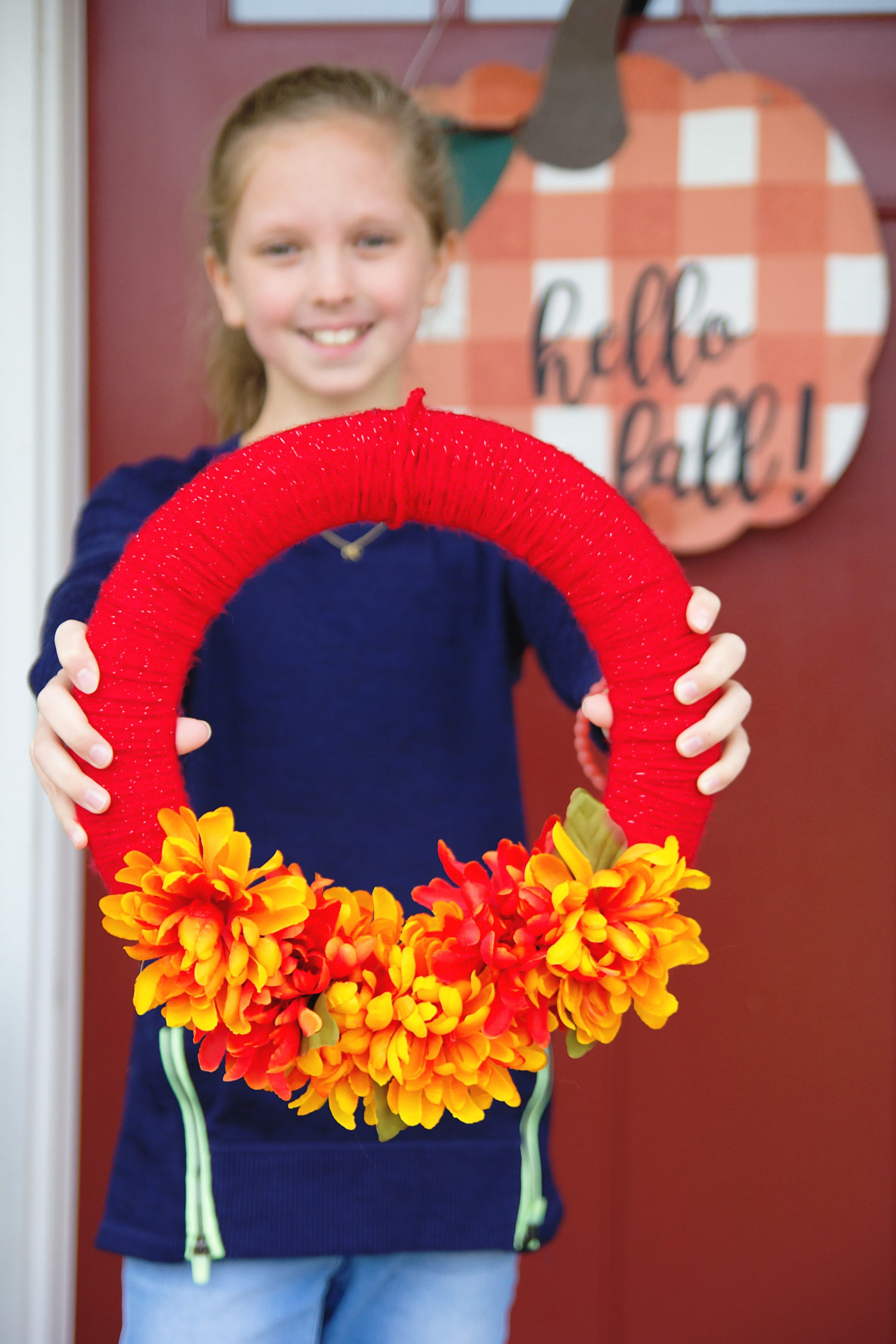 Thank you for joining us today for this fun little craft. If you have a craft you think we should try out, pop it into the comments below. We're looking for Thanksgiving break craft!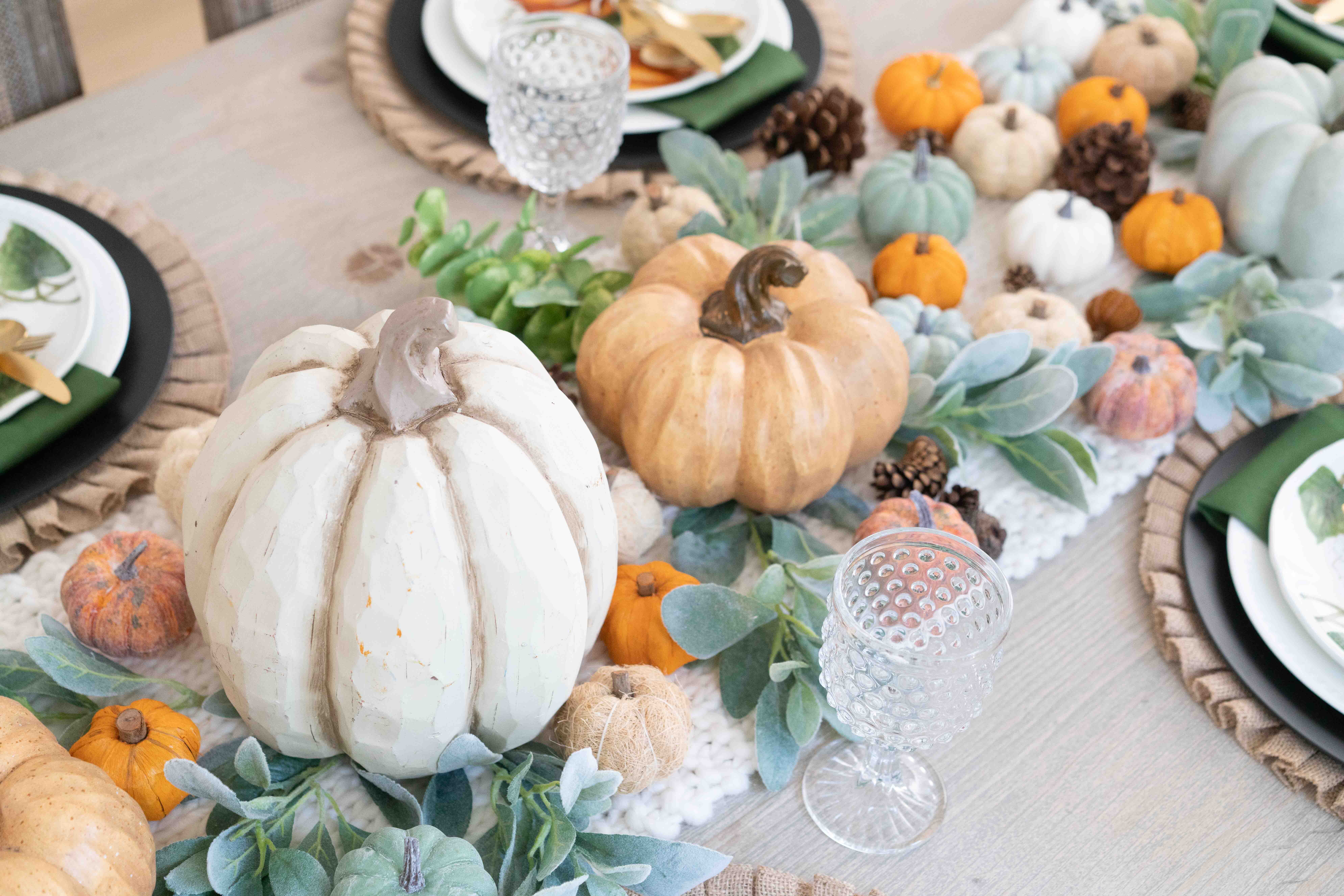 How to Decorate Your Dining Room for Fall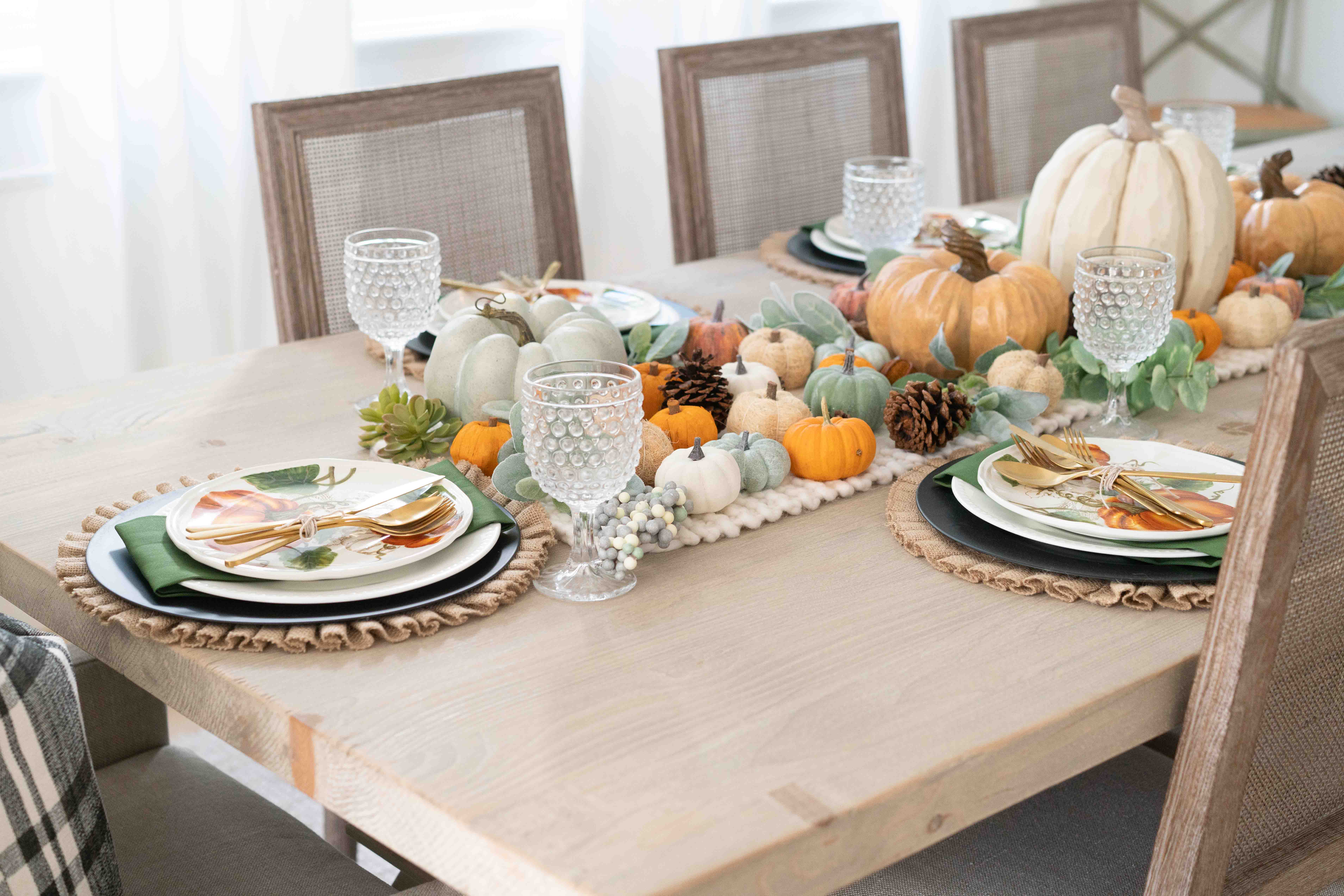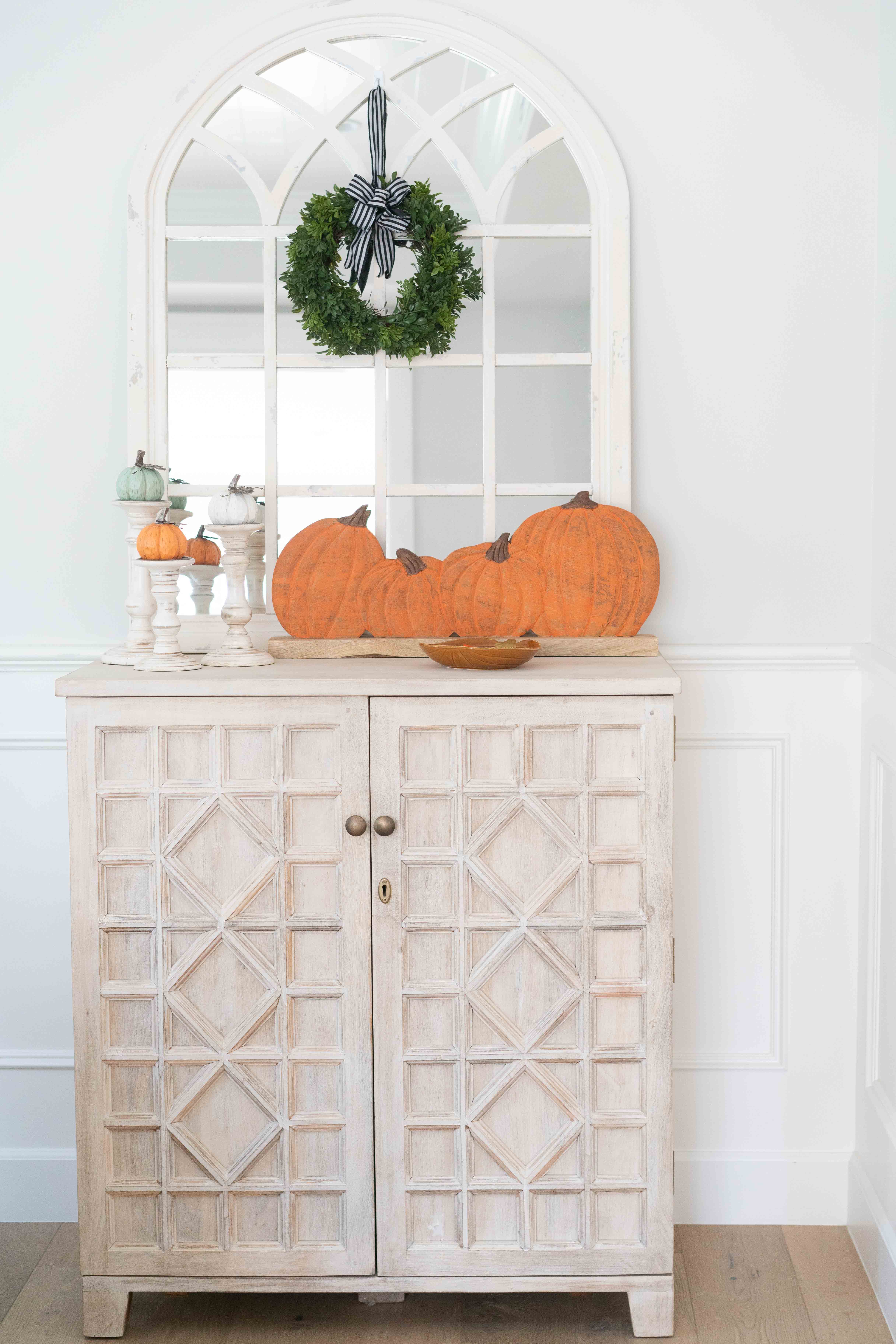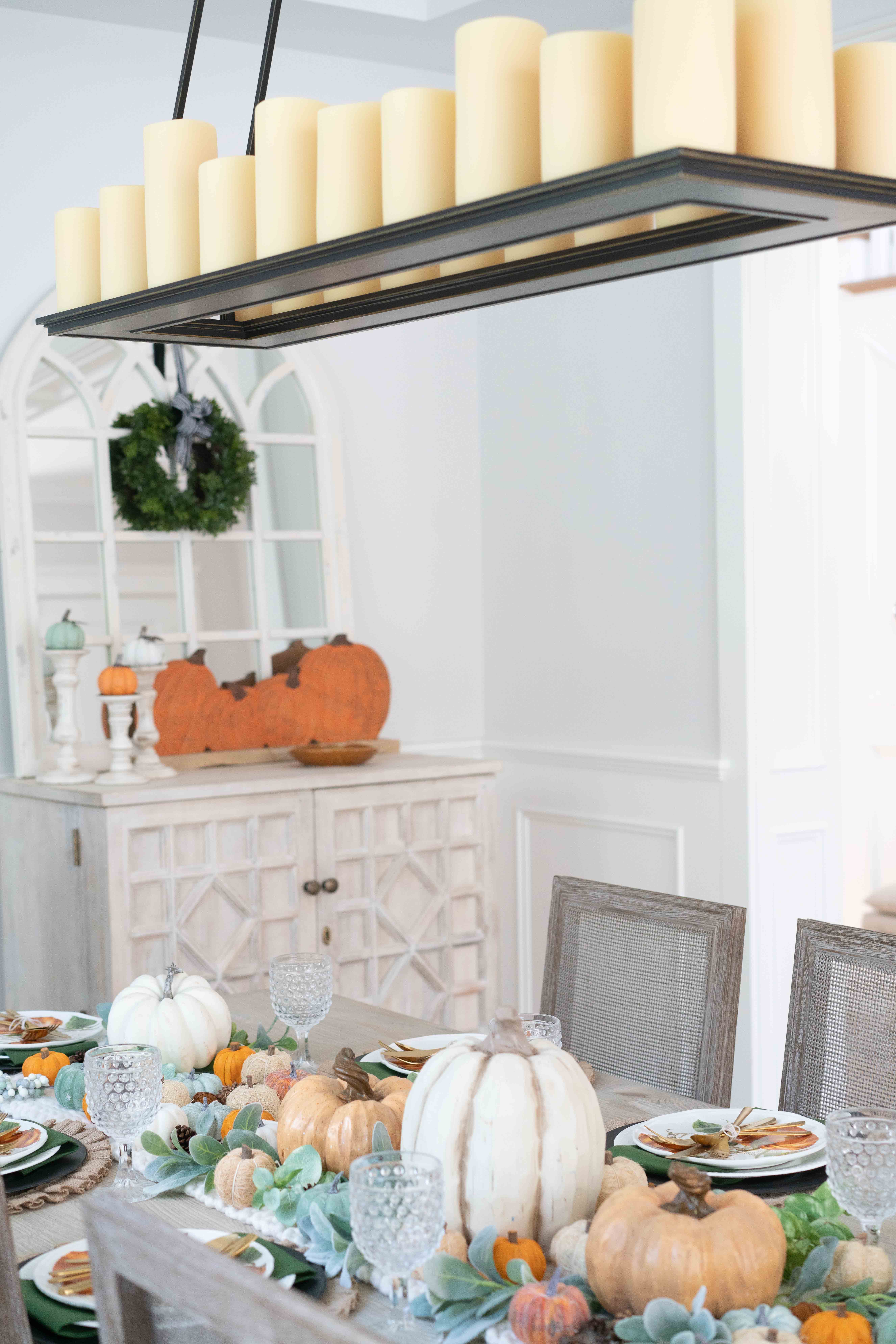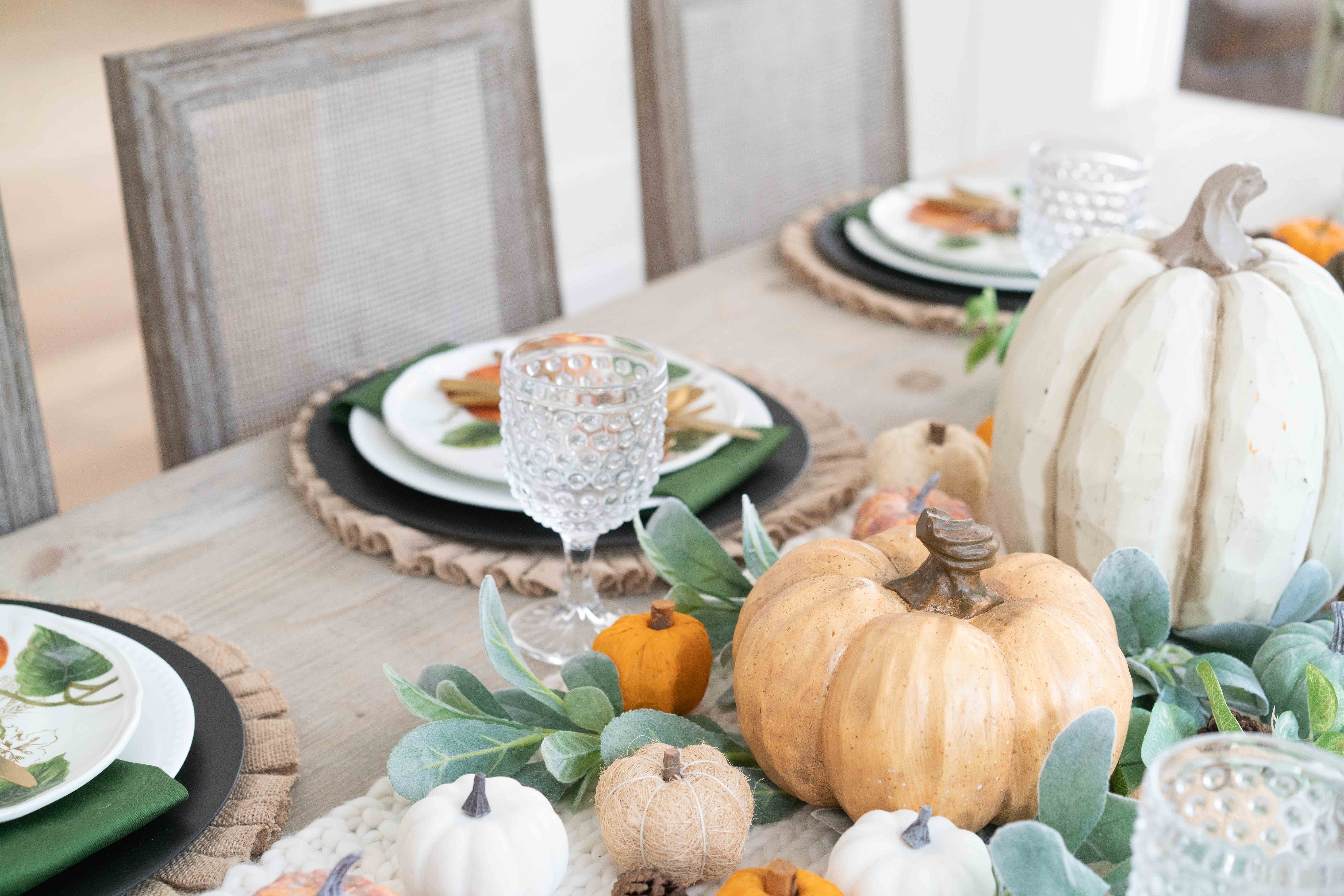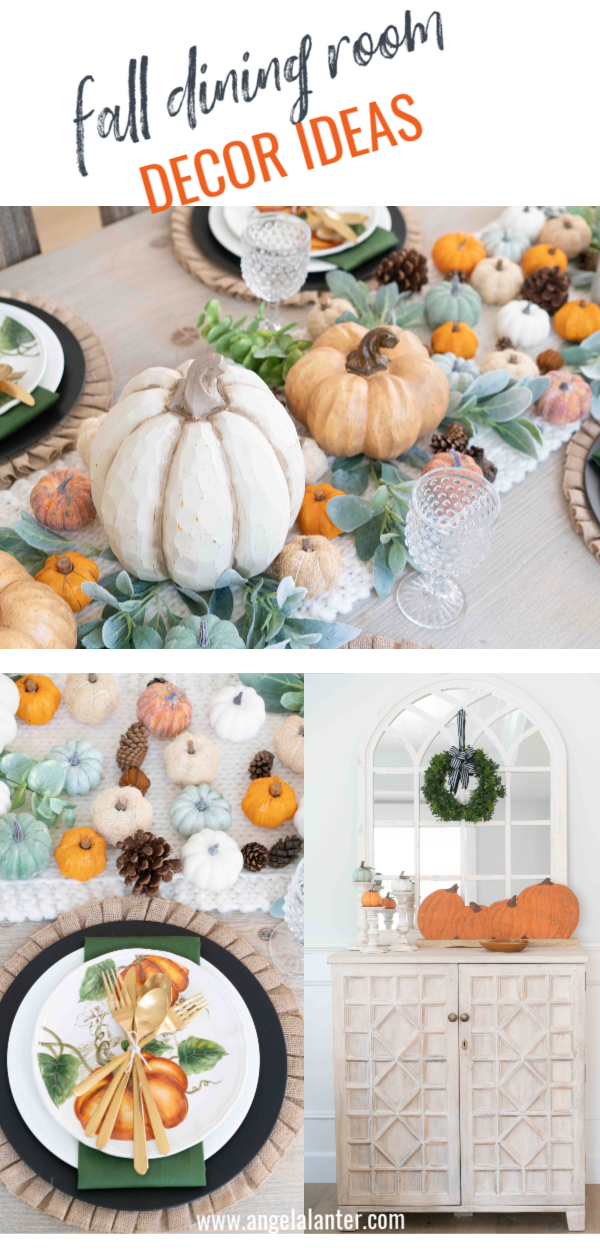 I love decorating for Fall because that means the best time of year is just right around the corner!  Last year, I showed y'all my dining room and Thanksgiving tablescape in this blog post.  I kept a lot of the main elements from last year the same but made a few small changes to freshen things up.
I love finding small ways to change up a room that won't break the bank.  Easy ways to do that is adding or changing throw pillows.  You can do that by buying new pillows or by simply changing the pillow covers.  I change my throw pillows out all the time for a quick room facelift throughout my house.  I found these black and white plaid pillows at my local Homegoods and fell in love.  I really liked the way they tied in the light fixture above my table, but I needed to find a way to bring black into my tablescape as well.  That's when I found these matte black chargers at Pier 1 and they did just the trick.
About my dining room furniture, my dining table is from Wayfair.  It's no longer available but this table is basically identical in a darker wash.  My chairs and light fixture are from Restoration Hardware.  These chairs from World Market are dupes for my chairs.  These slipcovered chairs from PB are also dupes for my end chairs.  This is my rug and it's so soft for a jute, love it!  My drapes (96″ so they'll lay gathered on the floor), curtain rods/hardware and bar (sold out) are all from Pottery Barn.
My mirror on my bar is from Kirkland's, but I had Matt repaint it because it was way more yellow in person than it looked online.  After Matt whitewashed it, it matched my PB bar perfectly.
My centerpiece is made up of a beautiful ivory chunky knit runner I found at Homegoods (similar here) and various pumpkins, greenery and pinecones.  My pumpkins were all purchased from Homegoods or TJ Maxx and my greenery I snagged at Hobby Lobby and Michael's.
I hope you enjoyed this video tour of my dining room and Fall tablescape!  Should I film a video of my Christmas decor?  If so, what would you like to see specifically?
Shop My Fall Decor