Christmas Home Tour // Merry Christmas!
Today is the best day of the year.  The day we celebrate Christ's birth with those we love.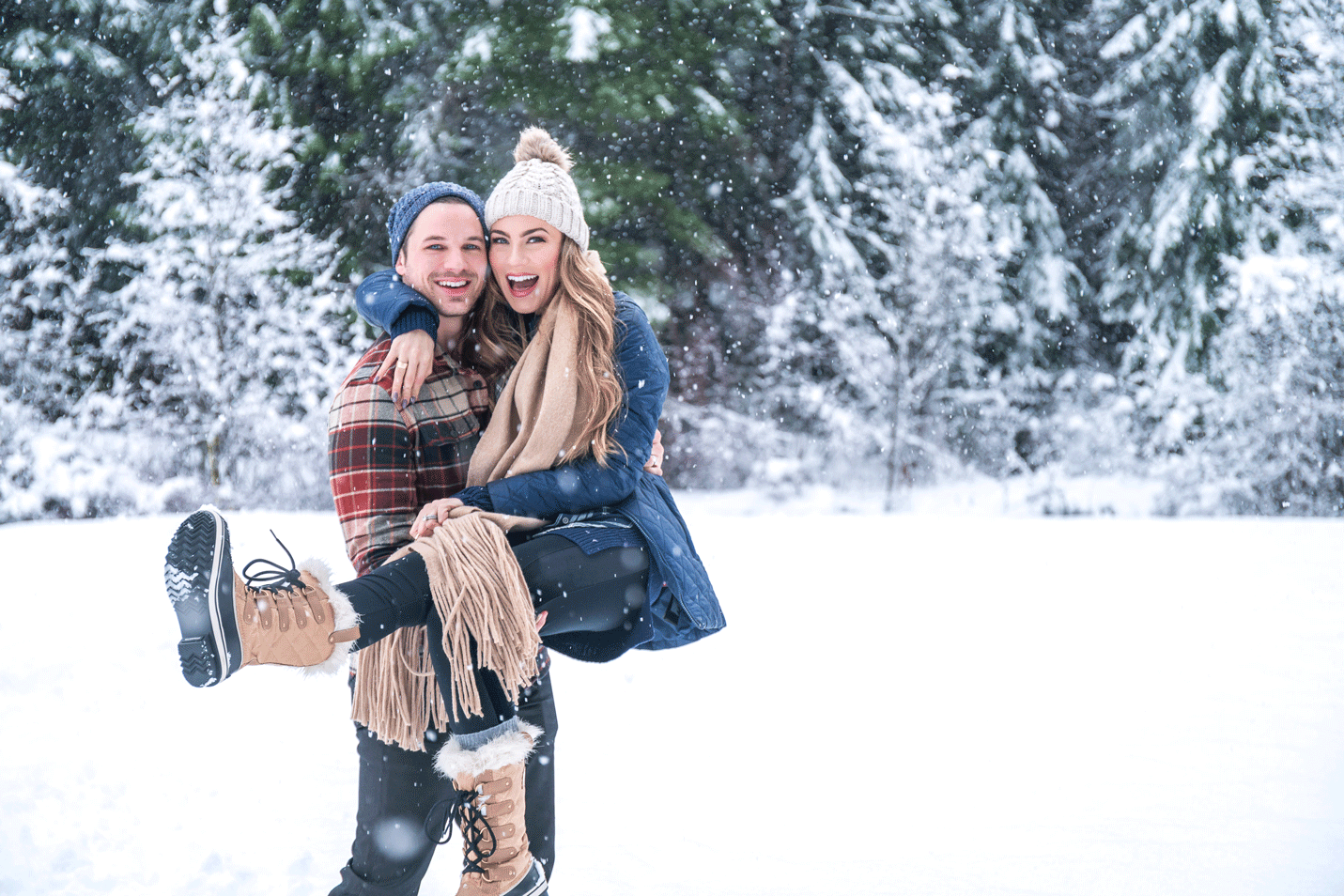 This is Matt & I's 2016 Christmas photo.  I'm so very blessed with a talented hubby that can manage to singlehandedly take such an amazing photo on his own!  We shot this while in Whistler over our Thanksgiving vacation.  We had such a lovely long weekend there.
I've been back in LA since the second weekend in December and I've been a busy little bee prepping the house for Christmas.  I'm sure you've noticed that I haven't been as active on my blog and socials as I normally am, and I apologize about that…  But I wanted to take a bit of a breather during our Christmas break at home, to just slow down and enjoy the season.
Once we get passed the holidays, and back into January, I'll pick up with my normal posting schedule.  For now, I'm just enjoying my much needed time with my hubby.
We snapped a few photos of our holiday decor to share with you, and give you a sneak peak into our home during the Christmas holiday…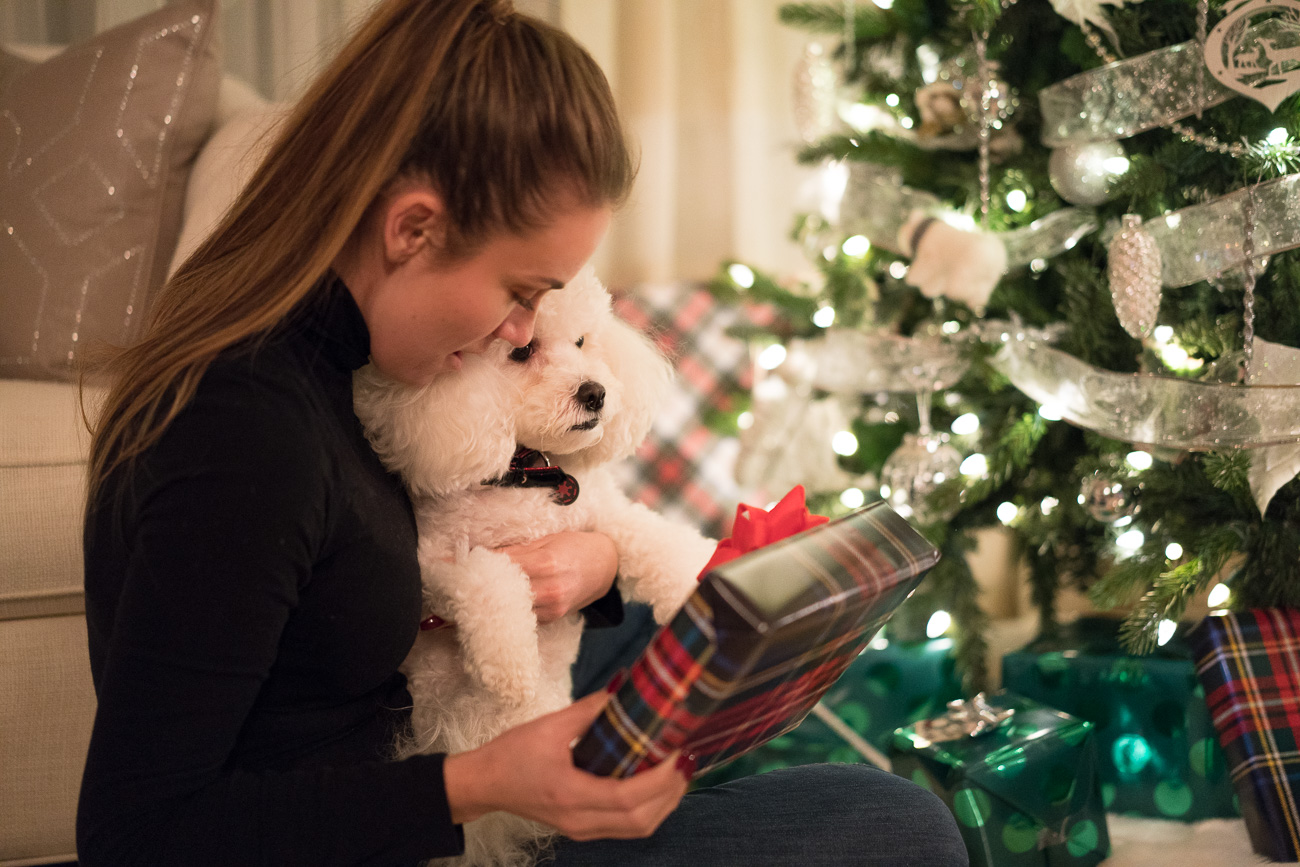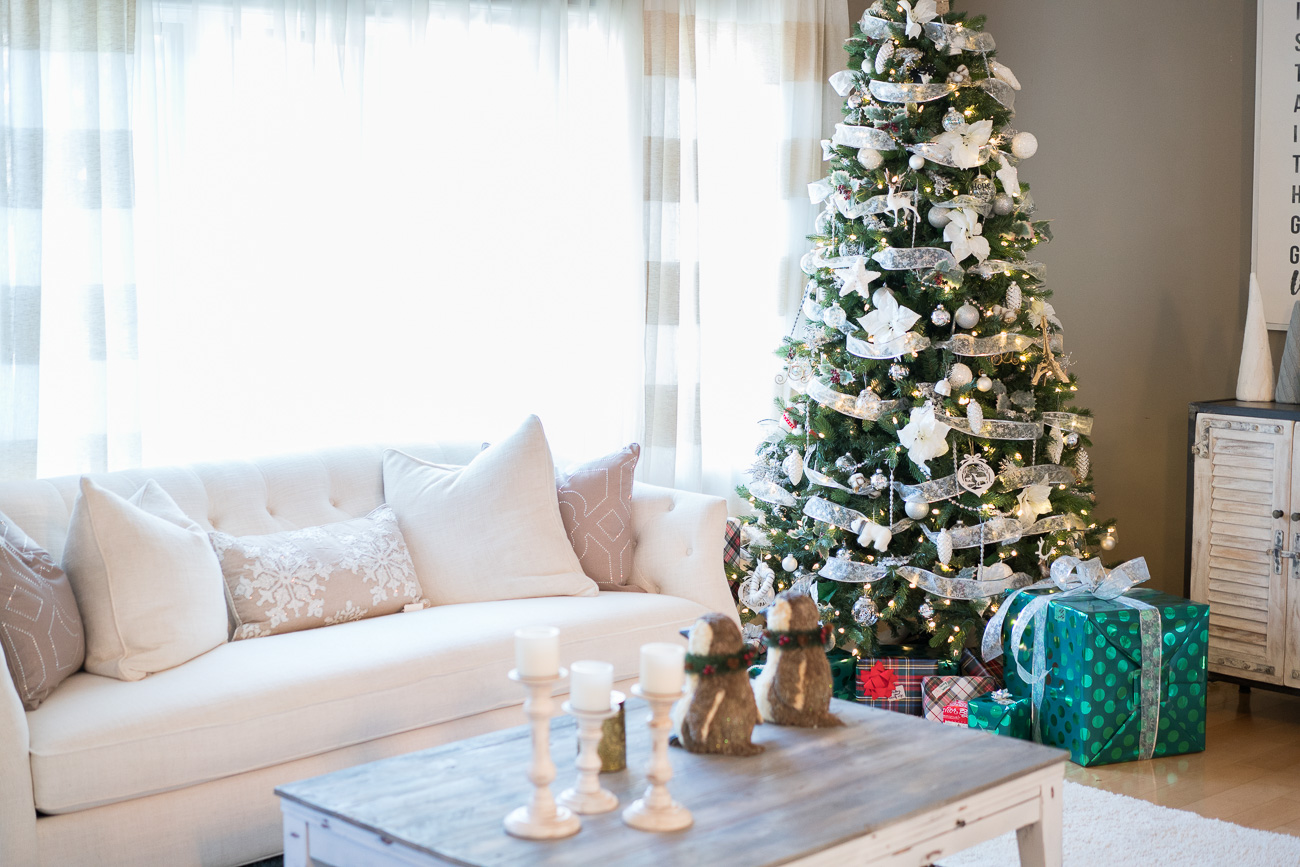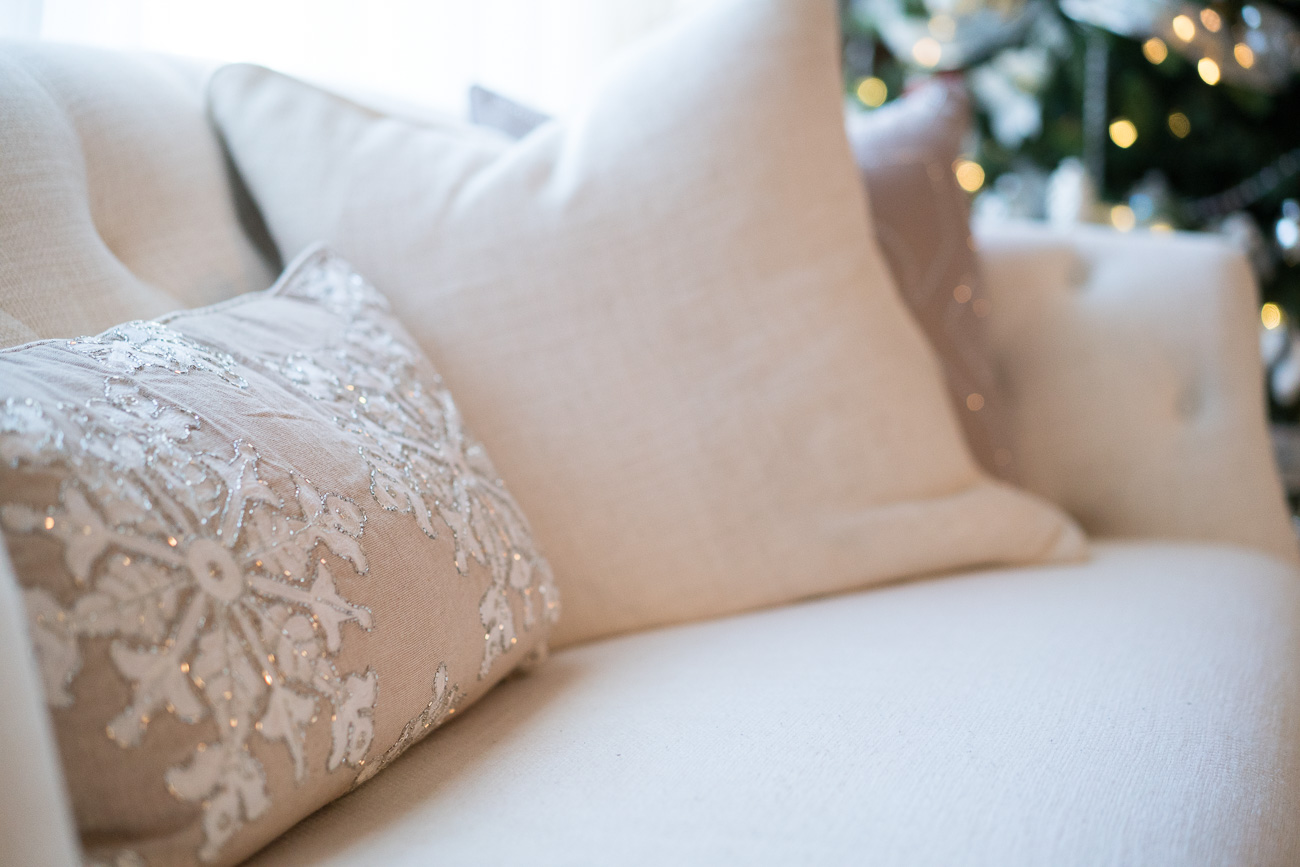 My mom flew out to LA last week and helped me put the finishing touches on my Christmas decor, including the gorgeous ribbon on my tree.  You can't see in the photos, but I finally found my off-white faux fur tree skirt that I've been looking for several years for!  The skirt sold out, but here's the link in case you want to see it.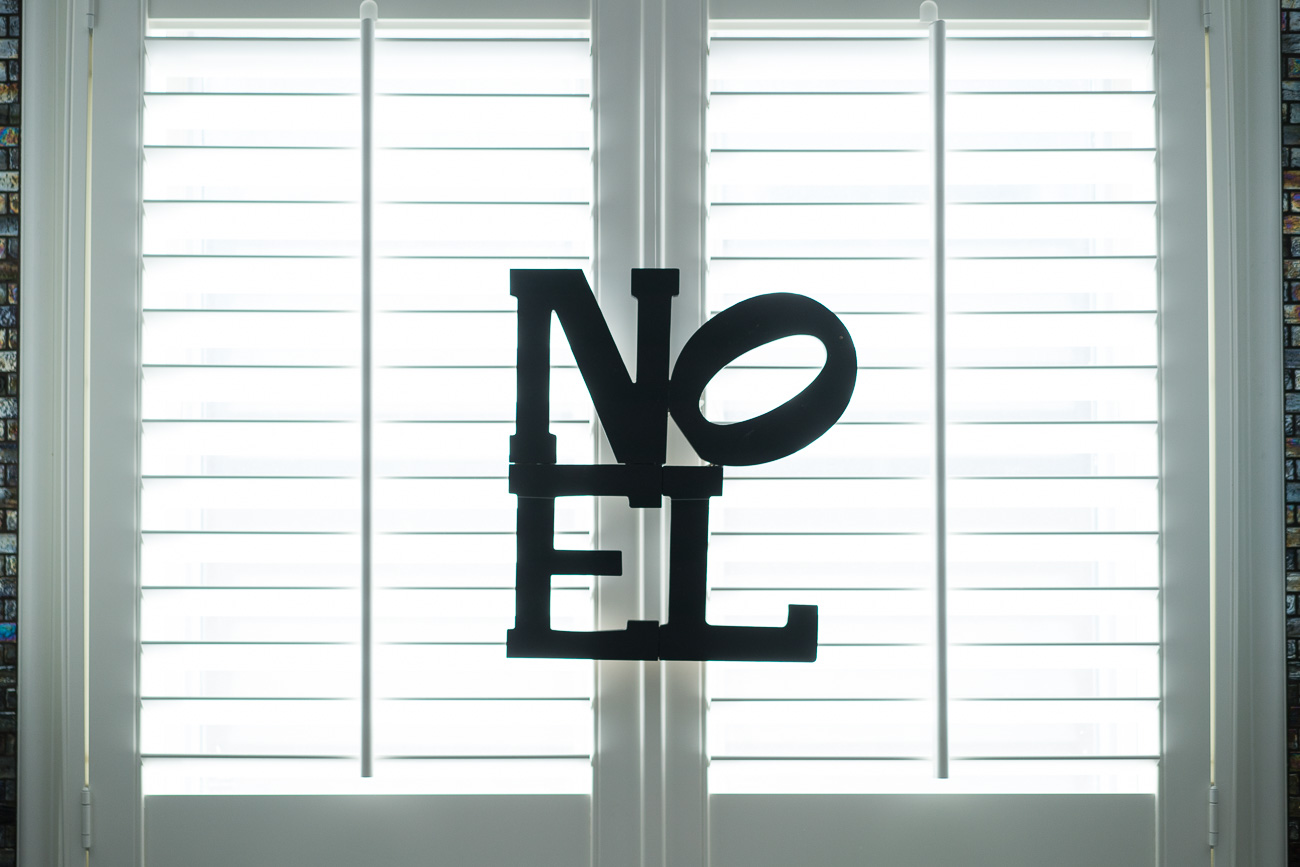 I made this Noel sign 5 years ago after seeing a similar one on Pinterest.  It's one of my favorite Christmas decorations.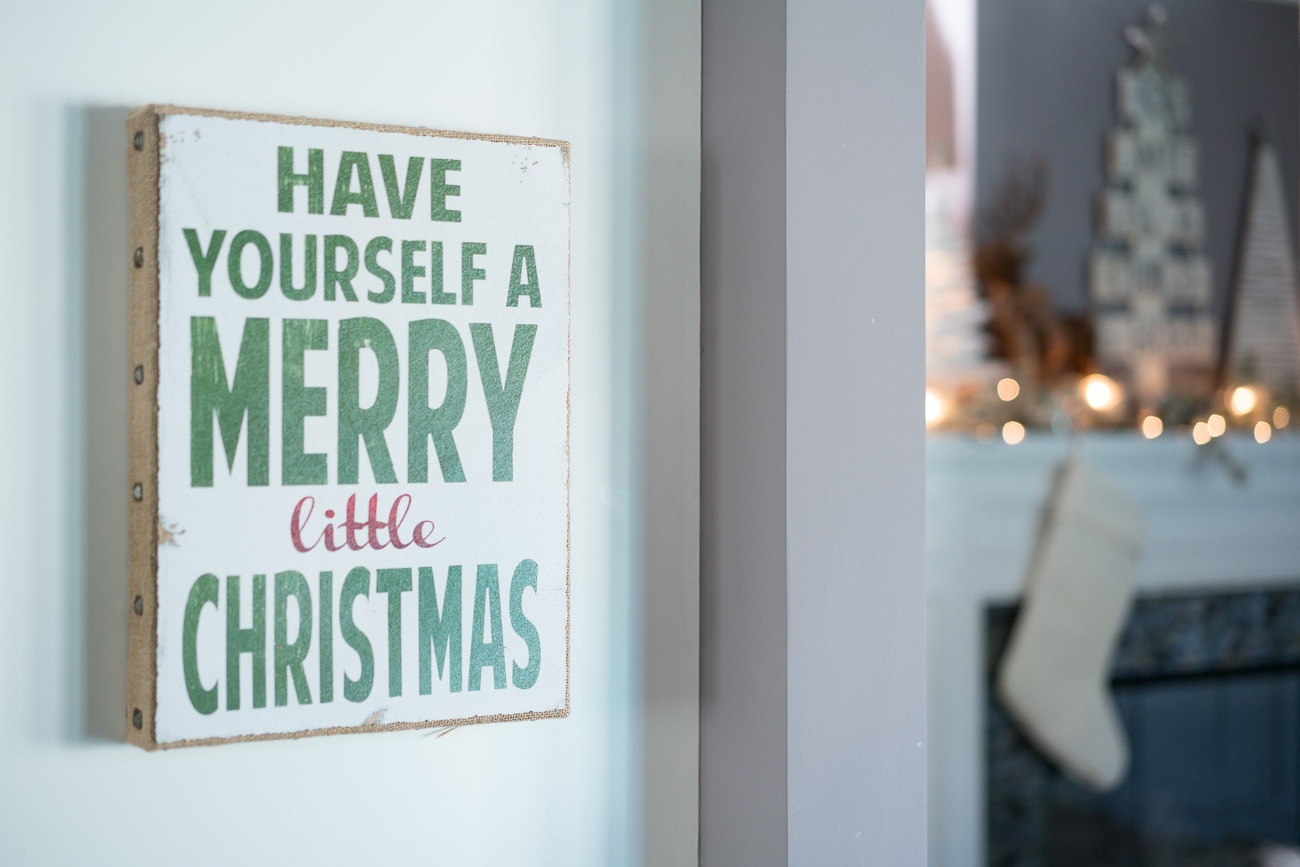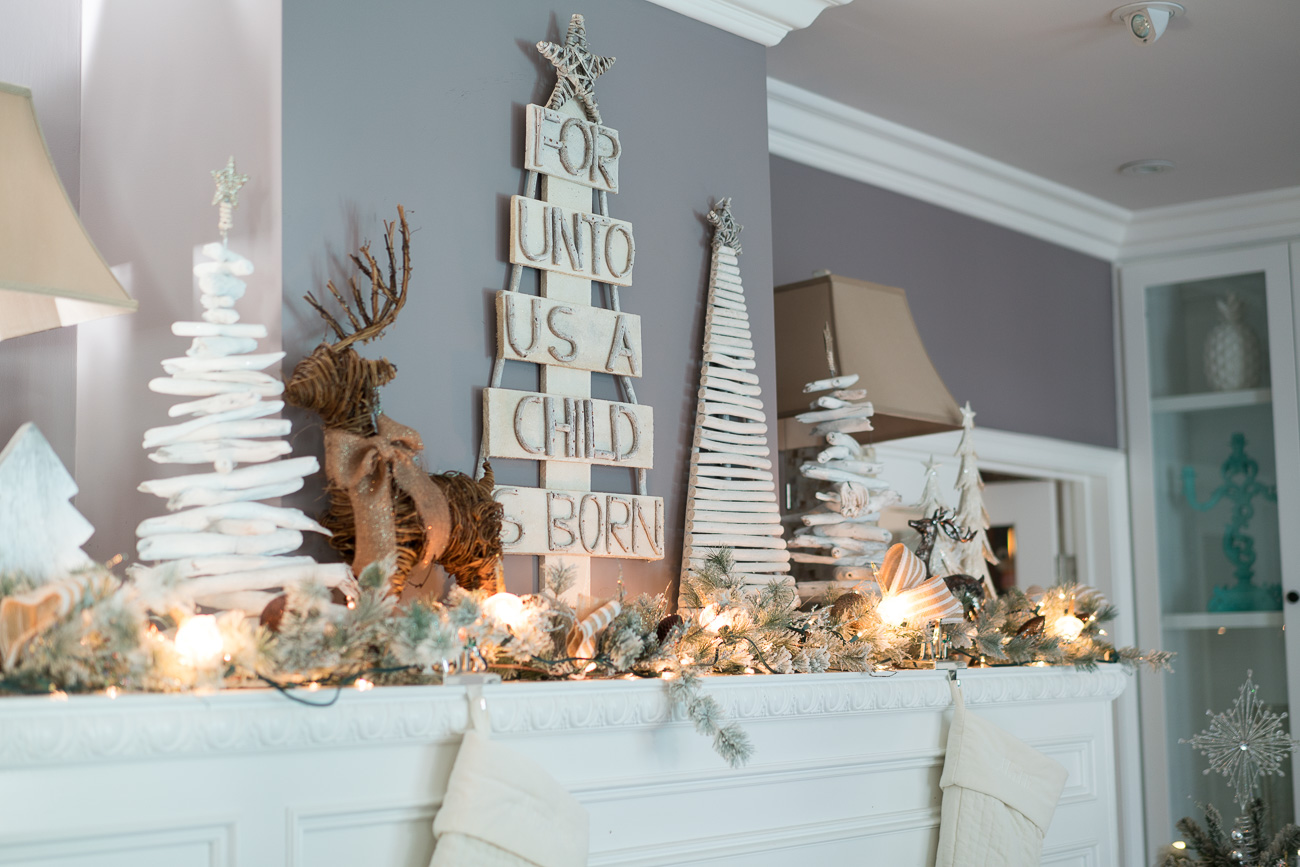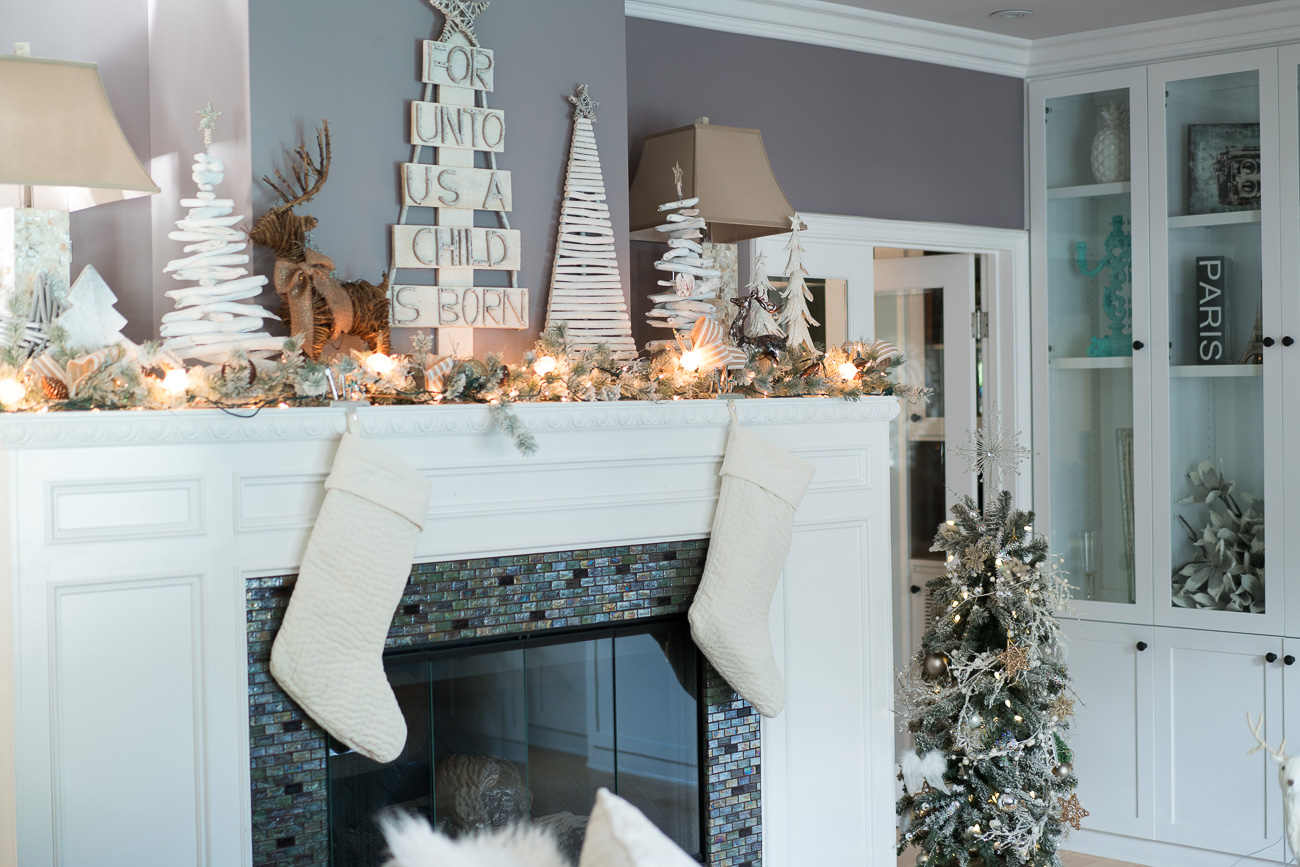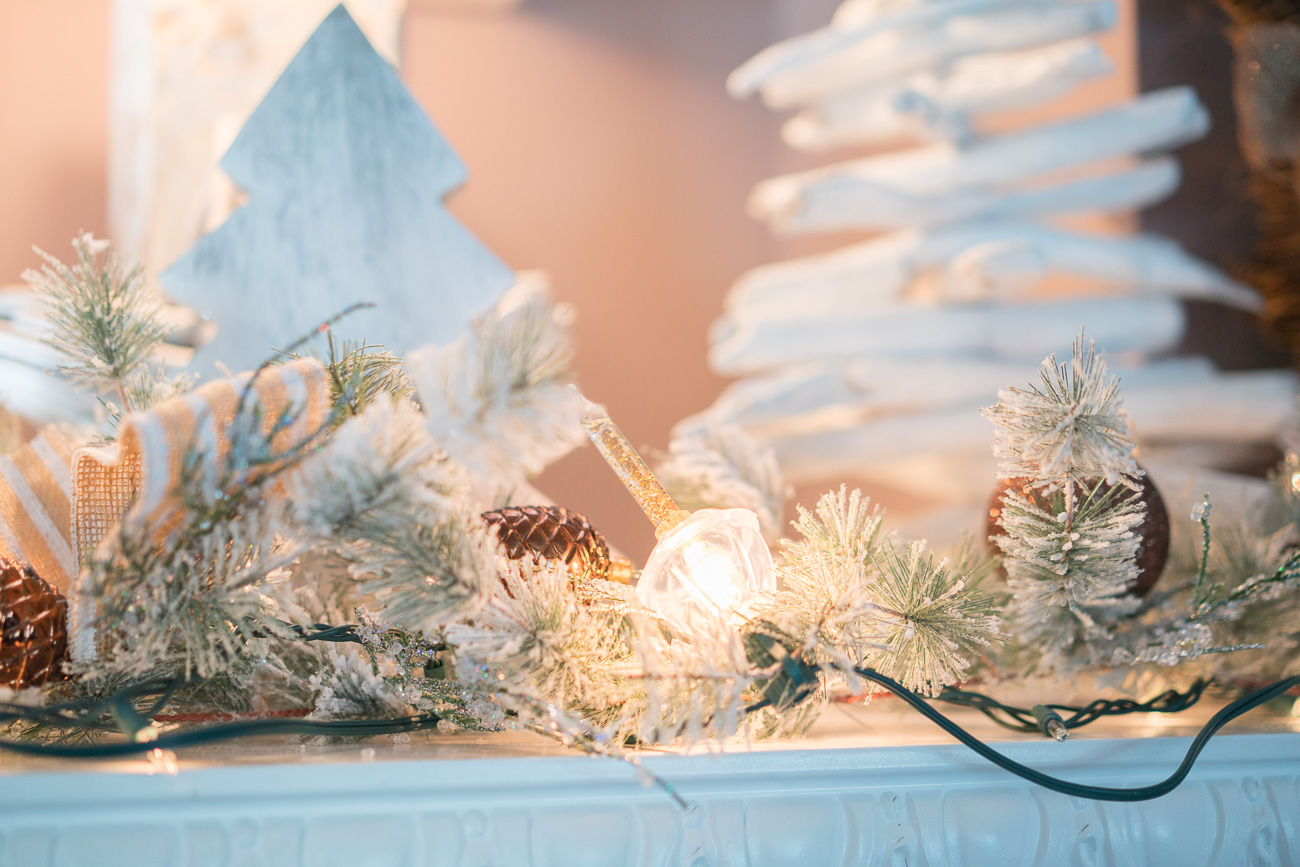 Our family room is my favorite room of the house.  Our Christmas decor is so beautiful in this room.  My mom bought me this mini flocked tree and garland two years ago and I love it so much.  My cousin, mom & I decorated my mantel and it's such a beautiful space in our home.
Matt has been talking about retro bubble lights for years, so this year I found some online and surprised him!  We added them to the garland and they're just such a fun festive touch.
---
Matt & I spent Christmas Eve doing our favorite traditions together.  We had a wonderful Christmas Day filled with presents and food in our cozy home.  I prepared our favorite Christmas dinner and now we're getting ready to end the day by watching, "It's a Wonderful Life."
I hope that you had a relaxing Christmas with your family and friends filled with lots of love, happiness and good food.  My hope is that you were able to cherish the moments with those you love and were able to remember the true reason why we celebrate this very special holiday.
I'm sending lots of love to my Gorgeous Fam on this Christmas Day!  I'm so thankful to have each and every one of you as a part of my virtual family.
Please leave a comment below and let me know what your favorite Christmas tradition is!  I love learning about other holiday traditions from around the country, and around the world.

Hello Home – Decor Update
I feel like owning a home is a never ending project.  Am I right?  The second I finish one project, I spot about 20 others that I want to tackle.  It can be fun, but if you're like me and home decor isn't your forte, then it can also be pretty stressful.  Here's a updated look into a couple of my home projects I've been working on.  For reference, here is my last home decor blog post so you can see what exactly has changed and what I've been working on.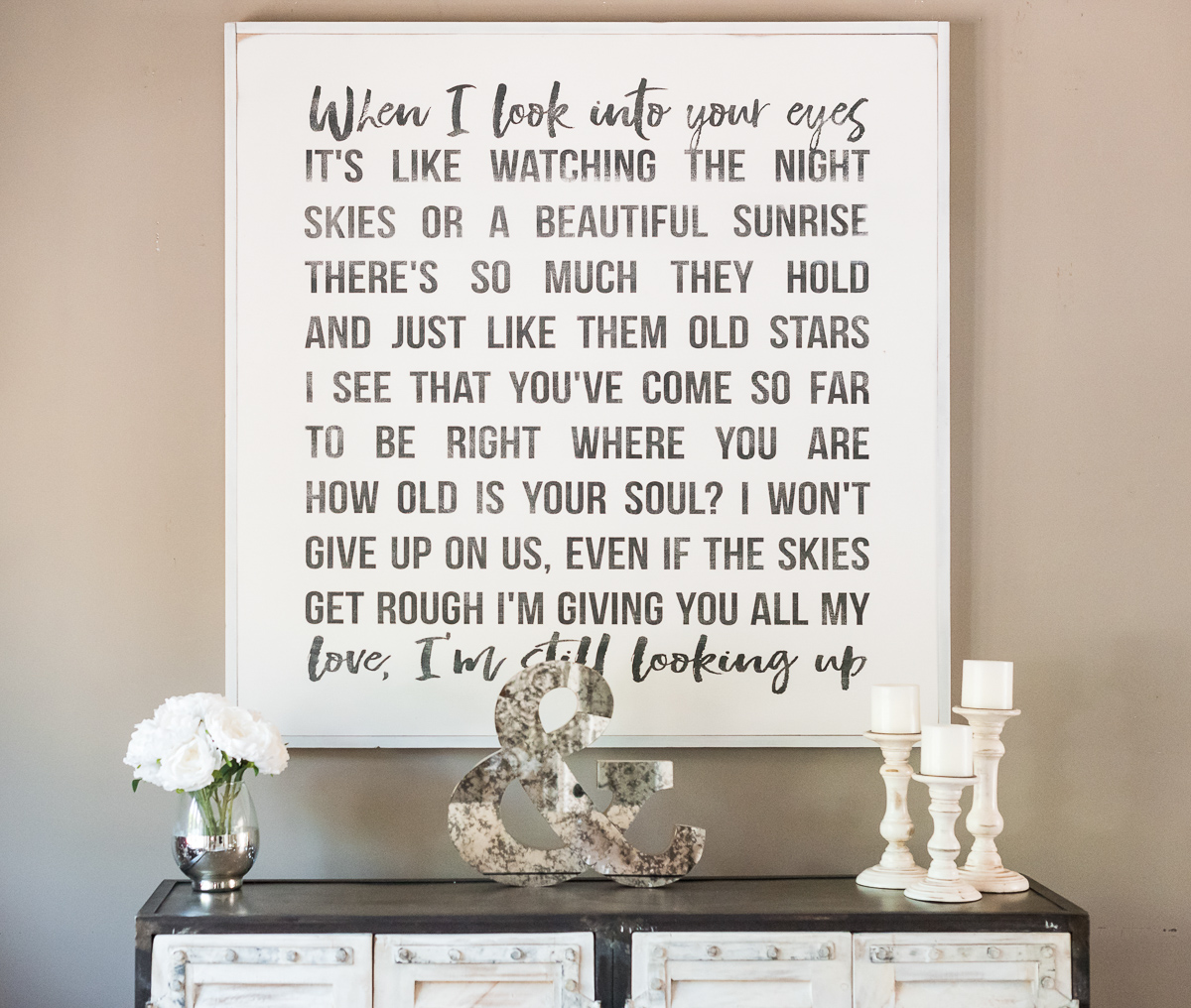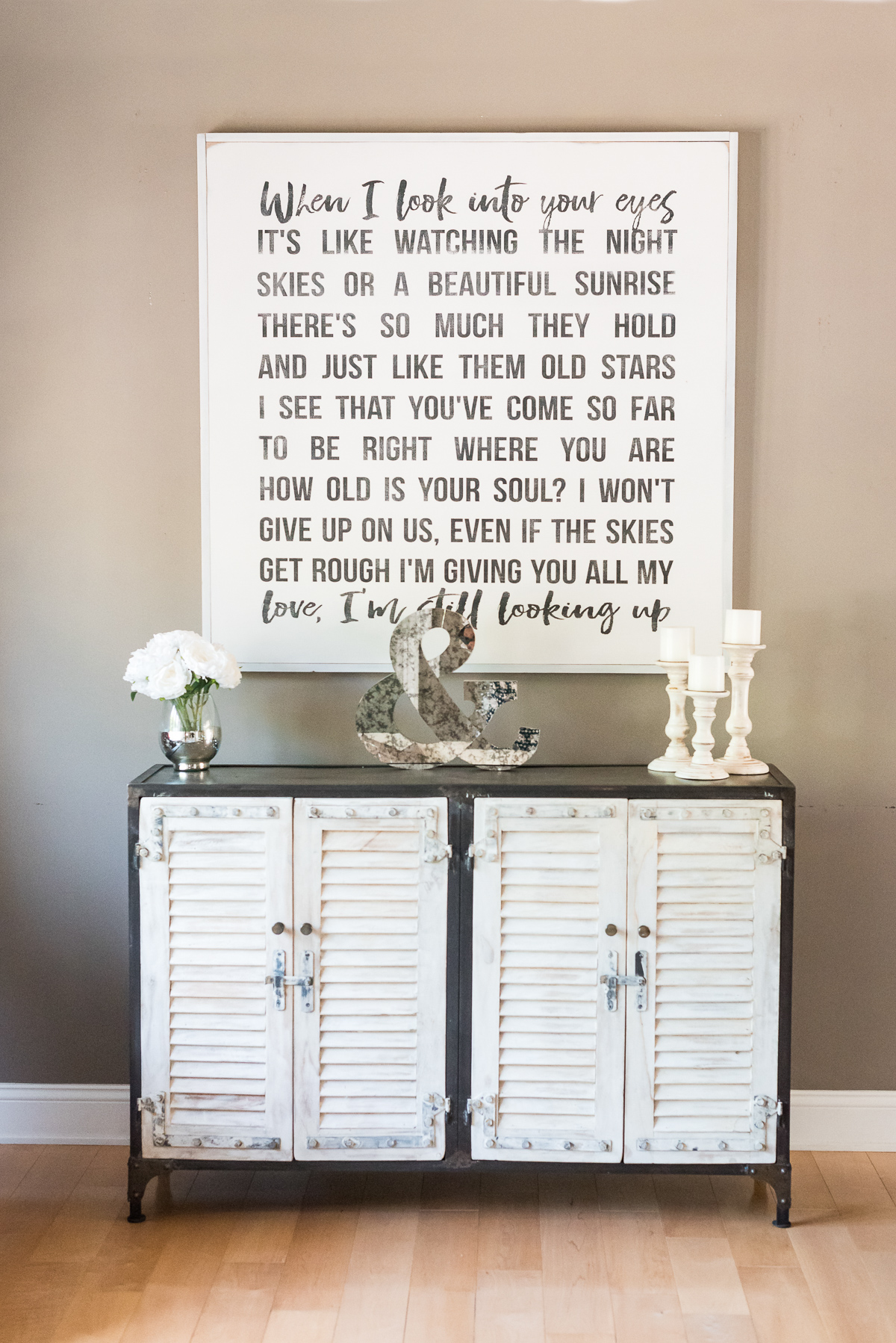 My friend, Megan Runion, came for a visit a couple of months ago and suggested that I check out the etsy shop, House of Belonging, for artwork for my massive wall in my living room.  I did and immediately fell in love.  I reached out and asked if they would be able to create a sign with our wedding song, "I Won't Give Up" by Jason Mraz.  The finished project is absolutely incredible!  They created a 4′ x 4′ sign with a distressed white frame and charcoal lettering to pair with Matt's handmade coffee table (see here for photos of our living room and coffee table).  I highly recommend House of Belonging for a special touch for your home!  Their pieces would make lovely gifts too.
"I Won't Give Up" Sign from House of Belonging  c/o  //  Living Spaces Buffet (purchased approx. 3 years ago)  //  Mirrored Ampersand (old);  love this one  //  World Market Whitewashed Candle Pillars  //  Homegoods Floral Arrangement; similar here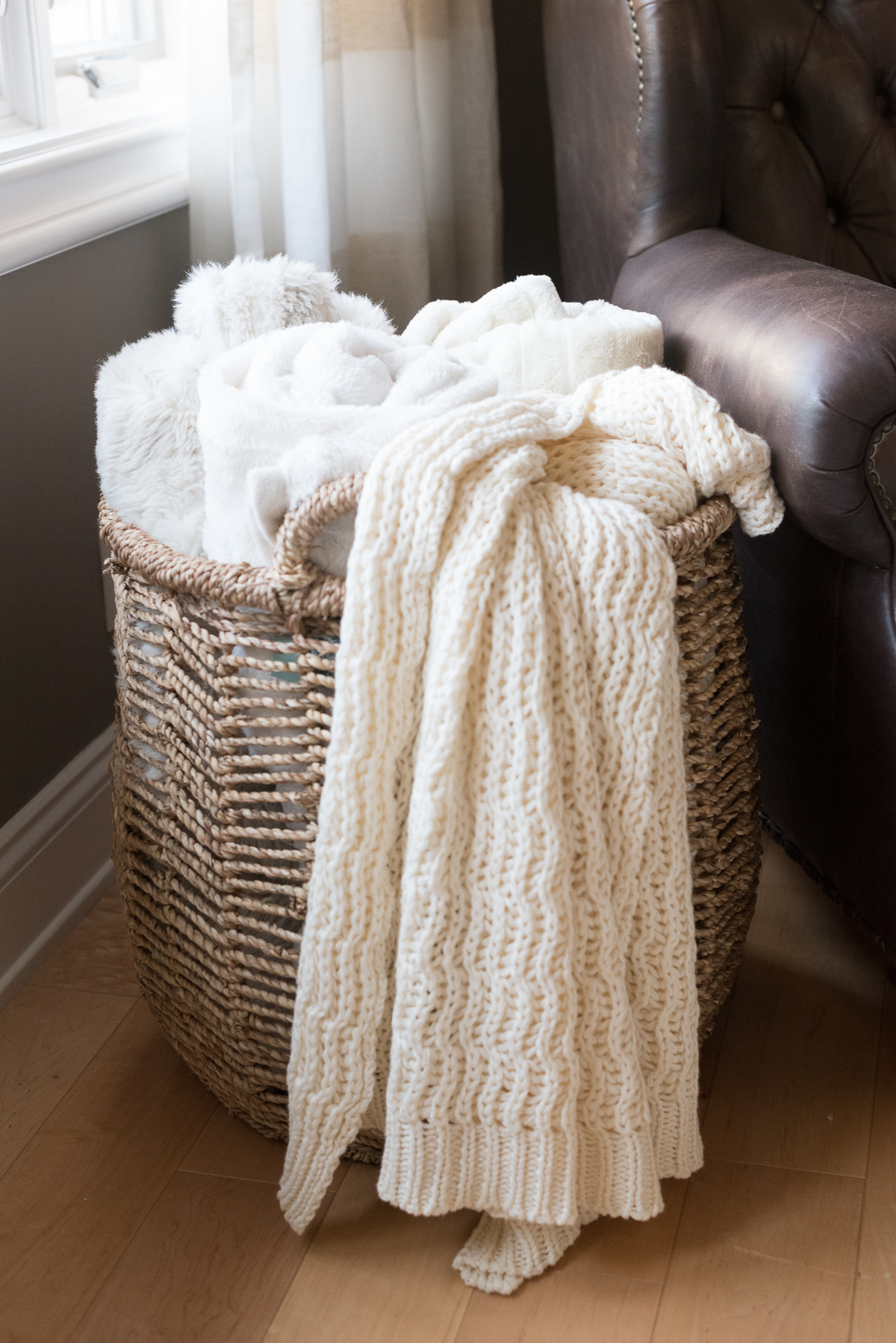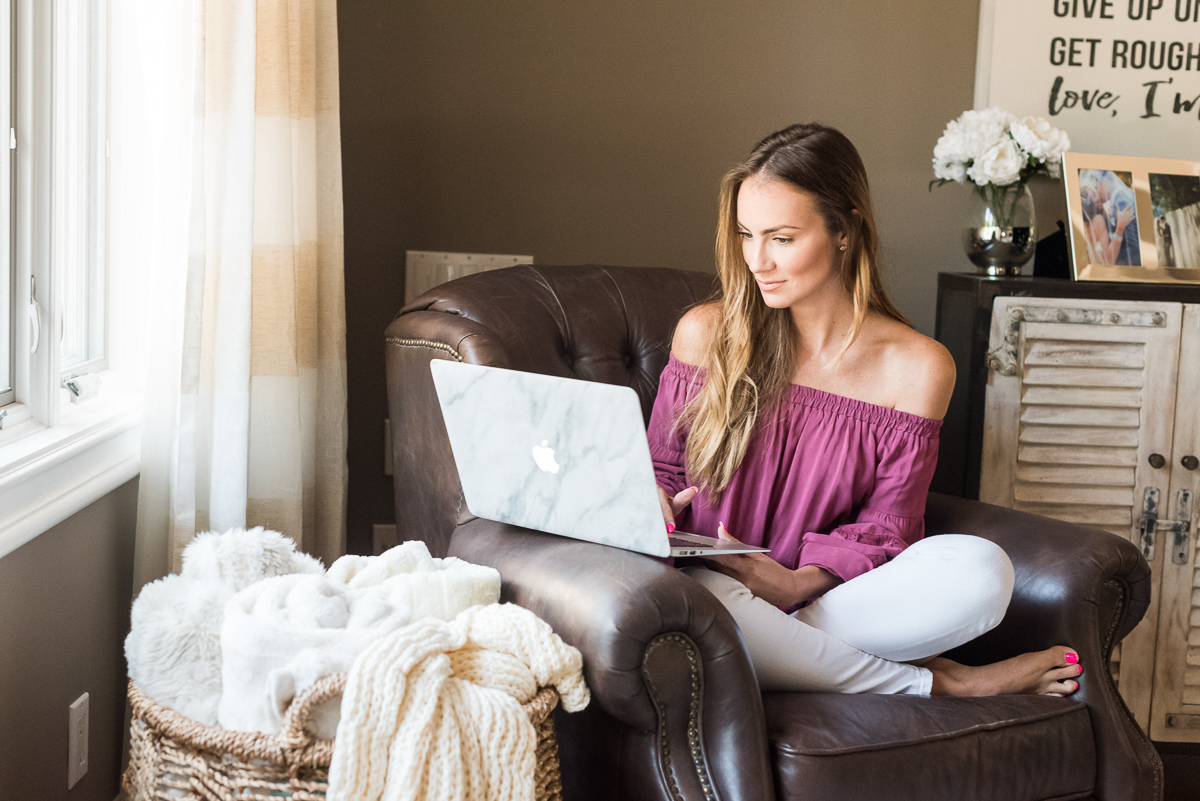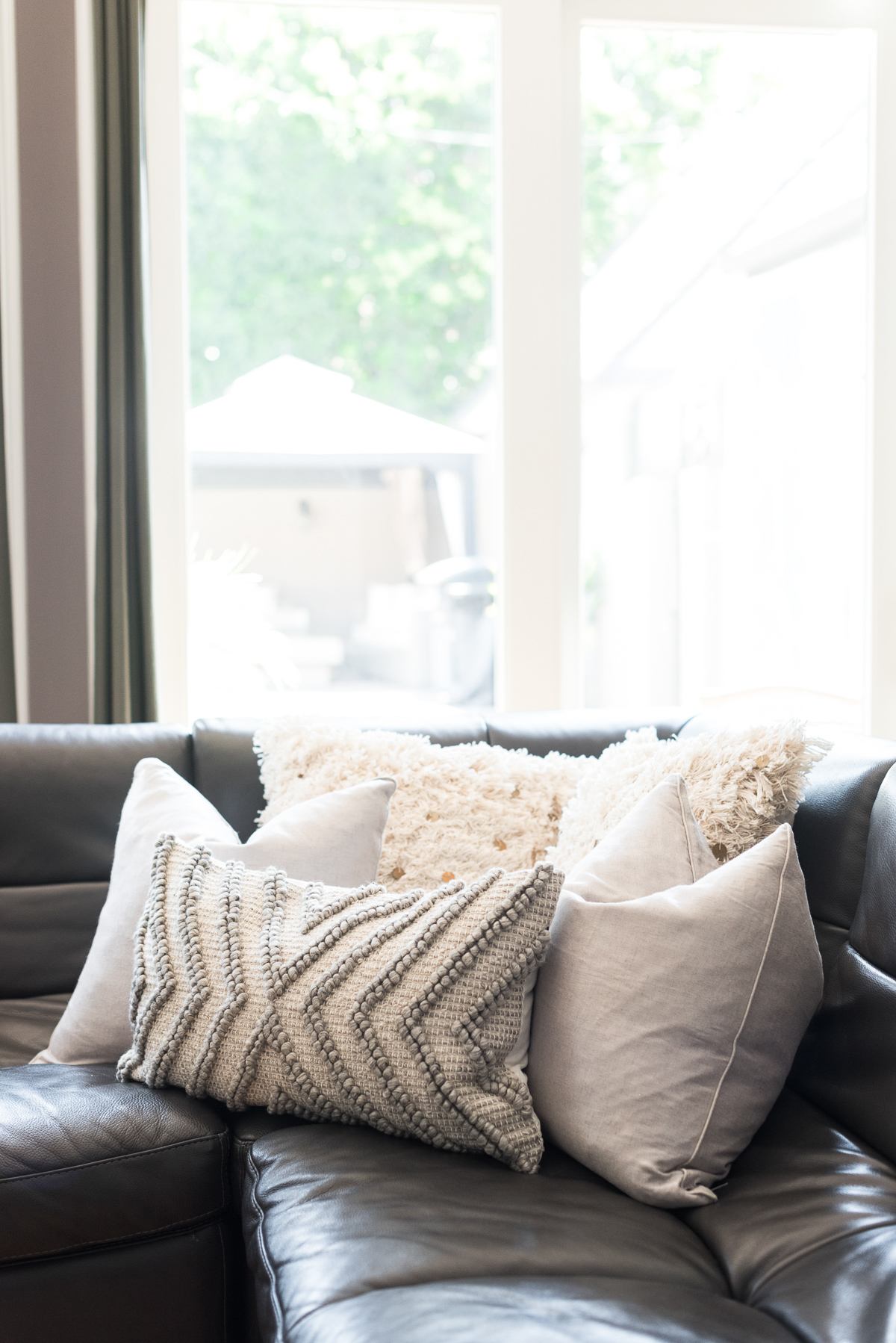 I am such a throw blanket and throw pillow fanatic.  Give me a bed or a sofa and I'll try to fill it up completely with blankets and pillows.  I started to notice that every single chair, sofa and bed in my house had a throw blanket on it…  And I realized I needed to reel it in.  I love the idea of having guests over and them being able to get cozy on my sofa with a blanket next to the fire.  But my need for throw blankets was overtaking my home, so I took to Pinterest (follow me here!) and found the idea of putting all of my blankets into one basket.  It's easy access to comfy blankets but it's also a cozy accent piece to my living room.  I picked up the above basket last week at Homegoods and love the little addition to my home!
Homegoods basket; similar basket here  //  My Favorite White Throw Blanket  //  Pillows all from Homegoods  //  similar tan throw pillows  //  similar Moroccan style throw pillows  //  similar lumbar decorative throw pillow
Wearing:  Off-the-Shoulder Top  //  Hudson White Skinny Jeans  c/o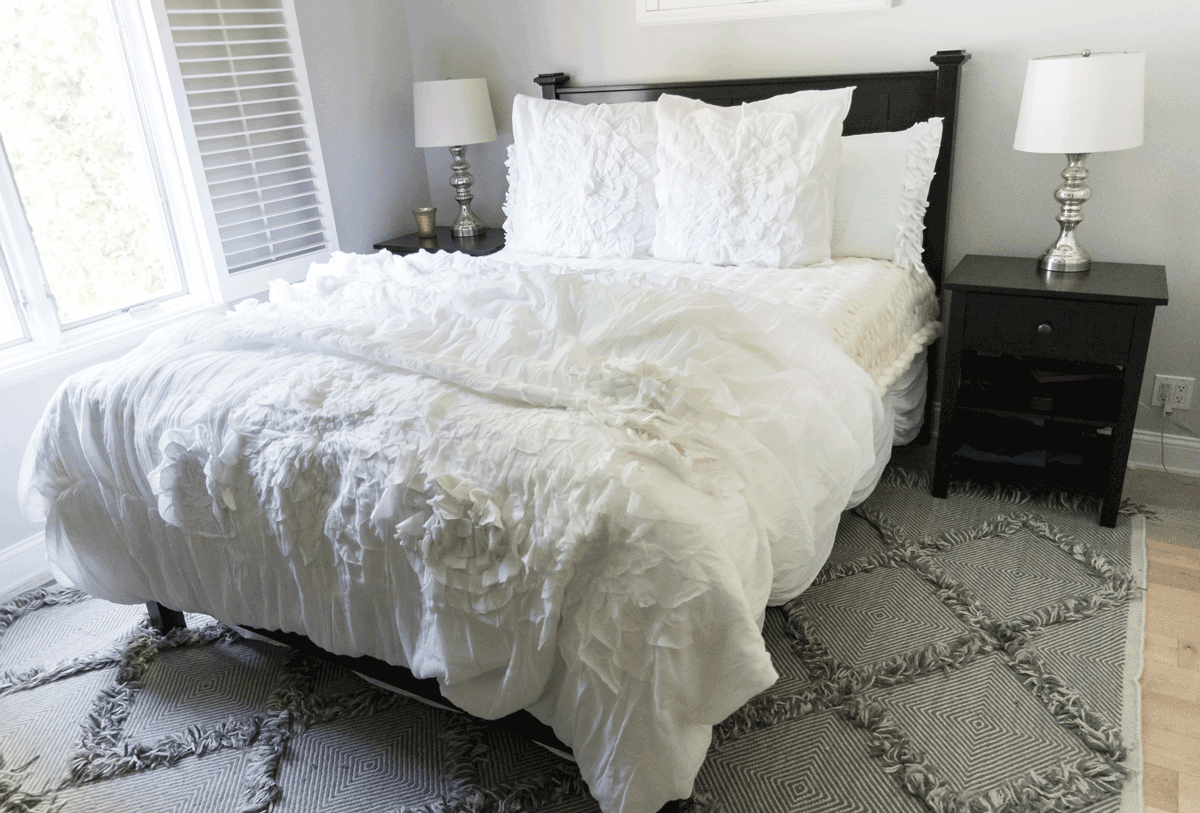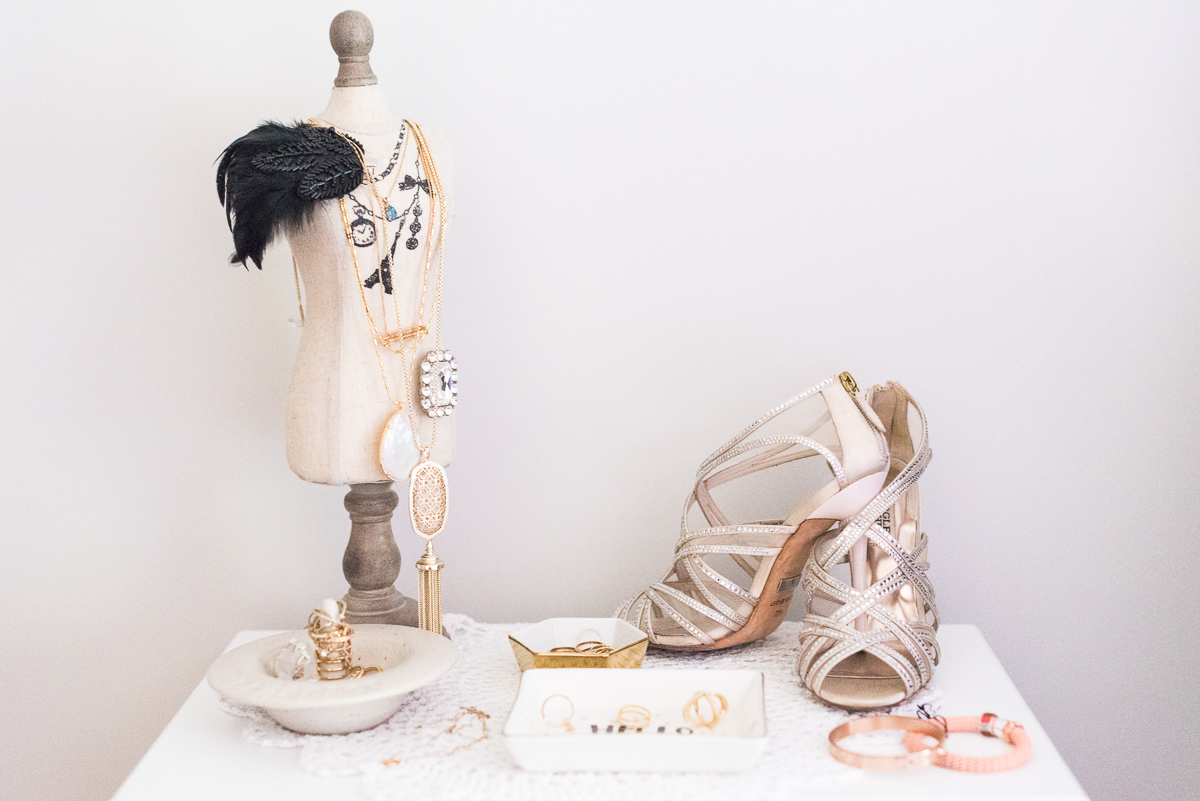 As you know, my guest room is a work in progress.  The walls were originally tan with a blue accent wall.  Matt painted the walls "Crushed Ice" from Sherwin Williams which I absolutely love.  Midday sun makes the walls look white, but in the evening they look a lovely shade of bluish-grey.
For bedding, I chose the most gorgeous throw blanket I've ever laid eyes on from Merrisson Wool (see details in this blog post).  I can't say enough how stunning this blanket is in person!  Then I added the Georgina Duvet set that I've been eyeing forever from Anthro.  This set is on the pricier side, but I did find this set from Nordstrom that's almost 1/2 the price and it's so lovely.  I love the flower detail on this bedding set, but the bed skirt is what really did me in.
I also found this frayed rug at Rugs USA, and it's such a cozy addition to the room.  The rug I chose is the larger (7'6″ x 9'6″) rectangle size and it fit perfectly into my guest room.
Next up is the furniture!  I still haven't decided whether I'm going to paint the current pieces or if I'm going to start from scratch.  What do you think would look best?  My current furniture set painted white or grey and distressed or new furniture altogether?  Let me know in the comments!
Rugs USA Dolcina Embossed Frayed Diamond Trellis Rug  c/o  //  Merrisson Wool Chunky Knit Throw Blanket  c/o  //  Bed Sheet Set (similar)  //  Georgina Duvet Cover  //  Georgina Pillow Shams  //  Georgina Euro Pillow Shams  //  Georgina Bed Skirt  //  Bedside Lamps (old); similar here  //  Crate & Barrel Nightstands
---
Now that we're up in Vancouver, my home projects will have to take a back burner.  We are finally in our rental home in Vancouver and now I'm busying myself with getting all moved in and situated.  When we move for projects, we rent furnished homes to allow less work, stress and moving for us.  The unit we moved into is very different than our home in LA.  Although it is fully furnished, I still like to put a few personal touches on the houses we temporarily live in to make it feel like home for Matt.  I'll be adding bedding, decorative items (pillows, throws, etc.) and also a home office for me since I work primarily from home.
I've been on the hunt for a desk that won't break the bank, but haven't had much luck.  I was hoping to find a great option at Homesense, but nothing quite fit my needs.  I wanted to do something other than IKEA, but it's looking like that's probably our best option.  If you have any home decor store suggestions for the Vancouver area, please leave them in the comments!
Photography by Kara Coleen.
See my updated Fall decor and tablescape in this post.
Sunday Six
I haven't posted a weekly round-up "Saturday Six" style post in too long.  I love these types of posts because they're just a fun hodge podge of the things I've been loving lately or what's been going on in my life.  I'm picking back up with a special Sunday edition.
As you all know, we have moved up to Vancouver for Matt's new show, "Timeless" to film.  We were only in Vancouver for less than one week before flying down to San Diego for Comic Con.  I traveled up to LA and have been here for the past week.  Matt came home to LA yesterday and all feels right in my world to have him home.  He's here for press events over the next several days.  I'll be staying here in LA for some work I have scheduled and then I'll head up to Vancouver next week to be with him.
I feel like I'm so all over the place right now with part of my belongings already up in Canada and everything else down here at home.  Being in this weird limbo is downright stressful.  I appreciate all of your comments on my recent post with suggestions on how to relax.  Your suggestions were so needed!
#1:  I wanted to have a good, home cooked meal for Matt last night since we were on the road for the past month and he's been alone in Vancouver the past week.  For dinner, I made my favorite pot roast recipe and it never disappoints.  If you love crockpot recipes as much as I do, this one is a keeper.  The roast is so tender after slow cooking it all day and the flavor explodes in your mouth with every.single.bite.  I love pairing this dish with fresh baked bread.  Click here for the full recipe.  It's super easy, so anyone can make it!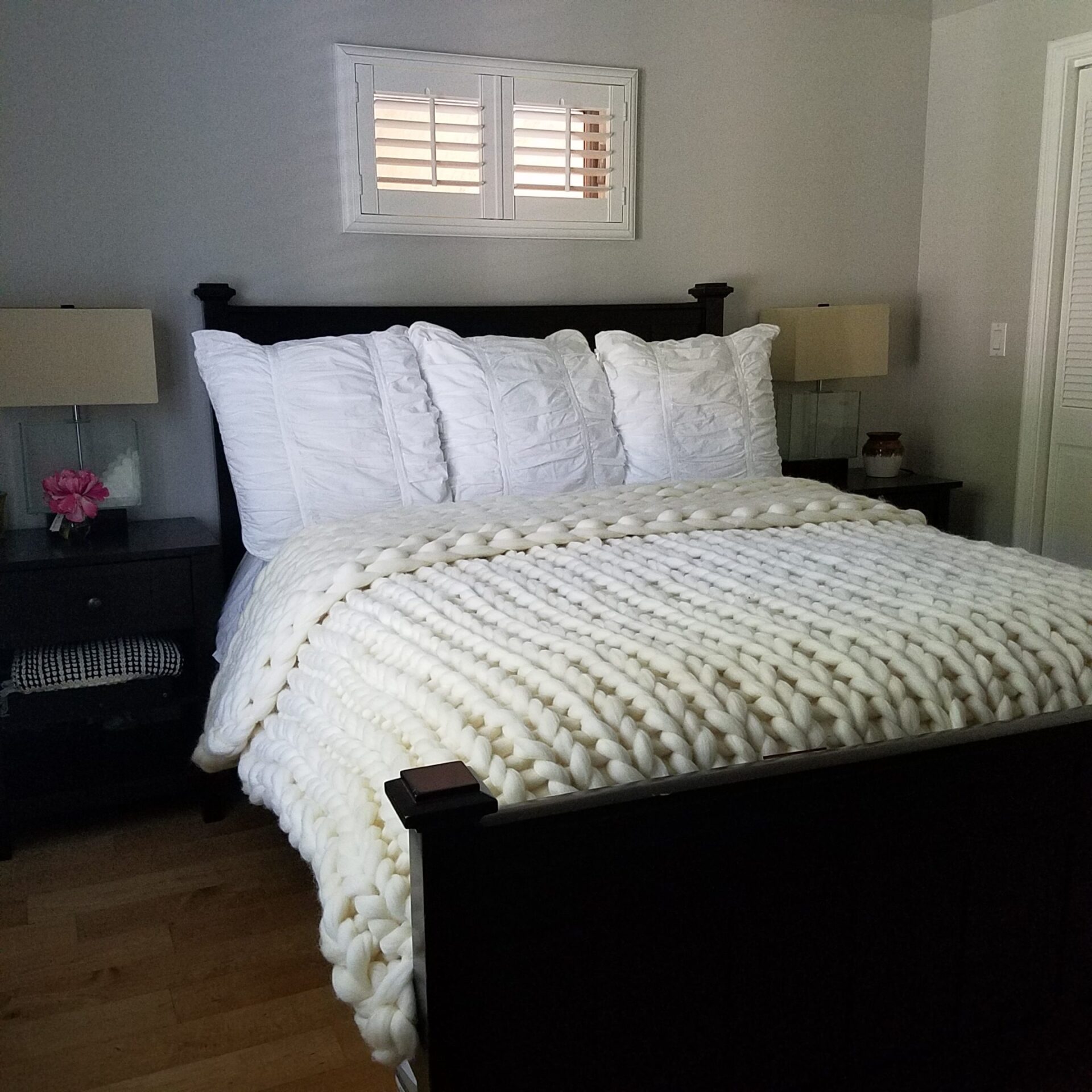 #2:  If you remember my "Glimpse Inside Our Home" post, then you know that my guest bedroom is my current home project I'm working on.  I found Merrisson on Etsy and immediately fell in love with their gorgeous knit blankets.  I haven't changed out my furniture yet, but I wanted to share this stunning blanket with you.  This blanket is so amazing for the upcoming fall and winter season.  It's incredibly warm and the quality is outstanding.  Everyone who sees this blanket in person goes crazy over it, it's that gorgeous.  I HIGHLY suggest these blankets.  Check out their Etsy Shop here.  I asked for a Queen size in "Off-White" just for reference.
#3:  I picked up this lace high neck bra from Urban Outfitters the other day and I love it.  It's currently on sale for $20 and comes in 5 different colors.  I bought a size Small in black.  I know what you're thinking, what the heck do I wear that with?!  Well, you can wear it alone as a super cute crop top (see this photo as an example).  Also, you could wear it under a super low cut top (example here) or under a wrap top (example here).  It would also be adorable under a sheer or see-through mock neck or turtleneck shirt.
#4:  I've been an Oreo freak my whole life.  When I bought a package of double stuffed Oreos in Vancouver, I never thought twice about what I was getting.  They are totally different in Canada.  I've had multiple Canadian followers snap me and say I'm wrong.  I'm not wrong.  Matt & I can both attest that the cream is different.  It's very different.  And I'm not happy about it.
#5:  I'm a big fan of Barefoot Dreams products.  My bathrobe and travel shawl are both Barefoot Dreams and they're softer than any other brand that I've ever encountered.  I ordered this cozy throw in cream from the Nordstrom Anniversary sale and it's incredible.  This is the perfect throw to wrap up on the couch with while you binge watch Netflix.  My dog is obsessed with it.  It's totally different than my Merrisson blanket (#2) in that it's not a blanket you have out on display.  This throw is purely for comfort's sake.
#6:  I'm currently at the end of Season 6 of Gilmore Girls and  I don't want it to end!  But, I happened to catch an episode of "Born This Way" on tv a week or two ago, and now I'm obsessed.  This show is not your typical junk reality show that you feel guilty about watching…  Or get embarrassed to admit that you watch.  It's positive, it's real and it's heartwarming.  It takes you into the daily lives of 7 young adults with Down Syndrome who live in LA.  Matt And I are about 5 episodes into Season 1.  So far, Rachel is my favorite cast member.  She's got the sweetest heart I've ever seen.
So that's my Sunday 6 for this week.  I hope to start this series back up because it's just a fun post for me to do.  Leave a comment with things that you've been loving lately.  I've just about finished my current book and am looking for a new summer read.  If you have any book suggestions, please leave the title and author info in the comments below.  xo